Summary
Epatociti primari costituirà un valido strumento per valutare le funzioni biochimiche, molecolari e metaboliche in un sistema fisiologicamente rilevante sperimentale. Noi descriviamo un protocollo affidabile per la perfusione di fegato di ratto in situ, che genera costantemente epatociti vitali fino to1.0 × 10
Abstract
La cultura degli epatociti primario è uno strumento prezioso che è stato ampiamente utilizzato nella ricerca di base della funzione epatica, patologia, la fisiopatologia, farmacologia e altri argomenti correlati. Il metodo basato su due fasi perfusione collagenasi per l'isolamento di epatociti intatti è stato introdotto da Berry e Friend nel 1969 1 e, da allora, ha subito molte modifiche. La tecnica più comunemente usata è stata descritta da Seglenin 1976 2. Essenzialmente, epatociti sono dissociate da ratti adulti anestetizzati da un non-ricircolo perfusione con collagenasi attraverso la vena porta. Le cellule isolate vengono quindi filtrata attraverso un filtro a pori 100 um nylon dimensioni delle maglie, e coltivate su piastre. Dopo 4 ore di coltura, il terreno viene sostituito con terreno contenente siero o privo di siero, ad esempio HepatoZYME-SFM, per il tempo aggiuntivo di cultura. Queste procedure richiedono operazioni chirurgiche cultura e sterili che possono essere meglio dimostrato dal video che da testo. Here, ci documentare i passaggi dettagliati di queste procedure sia da video e protocollo scritto, che consentono costantemente la generazione di epatociti vitali in gran numero.
Protocol
1. Preparazione
Tutti i buffer sono preparati al momento utilizzando una tecnica sterile e sterilizzato per filtrazione con un filtro di 0,22 micron Corning.
Preparare perfusione Buffer I aggiungendo la seguente soluzione salina bilanciata di Hank (HBSS, senza Ca 2 + e Mg 2 +, vedi Tabella 1): Mg 2 + (MgCl 2) a 0,9 mM, EDTA a 0,5 mM e HEPES a 25 mM.
Preparare perfusione tampone II aggiungendo il seguente HBSS (con Ca 2 + e Mg 2 +, vedi Tabella 1): HEPES a 25 mM.
Preparare perfusione tampone II plus collagenaseII: Sciogliere collagenasi II (1000 U), 300 ml di perfusione tampone II e conservare la soluzione in acqua calda-bagno prima di perfusione. Questa soluzione deve essere utilizzata entro 30 minuti perché l'attività della collagenasi II è diminuito con il tempo.
Preparare terreno completo William: Aggiungere il seguenteE a media Williams ': L-glutammina 2 mM, siero bovino fetale (FBS) al 5%, a 100 nM insulina, desametasone e 100 nm, penicillina 100 IU / ml e streptomicina a 100 mg / ml.
Questi buffer deve essere riscaldata per 30 minuti in bagno d'acqua a 42 ° C, una temperatura ottimale corrispondente ad una temperatura di uscita alla cannula di 37 ° C.
2. Perfusione Rat Liver per l'isolamento
Il sistema di perfusione costituito dalla pompa, autoclavabile tubazione di silastic e un bagno di acqua (vedi Figura 1). Pre-impostare la portata della pompa peristaltica perfusione a 10 ml / min.
Anestetizzare un ratto adulto (300 g di peso corporeo) con intraperitoneale (ip) ketamina (87 mg / kg di peso corporeo) più xilazina (13 mg / kg). Profondità dell'anestesia deve essere monitorata mediante pizzico punta. Quando il topo non risponde più agli stimoli nocivi, radersi i capelli addominale e preparazione l'addome con Betadine ed etanolo. Inserisci attraverso una incisione mediana.
Esporrela vena portale epatica attentamente spostando il visceri all'esterno destro della cavità addominale, ed inserire un 18-gauge angiocath nella vena porta (vedi Figura 1).
Collegare il tubo perfusato all'ago e avviare l'infusione in situ a una portata bassa (10 ml / min) con pre-riscaldato (37 ° C) Buffer I perfusione.
Se eseguita correttamente, il fegato deve immediatamente iniziare a sbollentare. Una volta cannulazione successo è confermata, effettuare un taglio a vena cava inferiore (IVC) per consentire efflusso (Figura 1). Un ulteriore test per la cannulazione di successo può essere eseguita applicando una leggera pressione con un tampone sterile sulla IVC, tutti i lobi del fegato dovrebbe iniziare rapidamente a gonfiarsi.
Aumentare la velocità del flusso di 25 ml / min. Il fegato dovrebbe diventare di colore pallido.
Passare il liquido di perfusione di perfusione tampone II plus collagenasi II senza interruzione del flusso per altri 6 minuti.
<li> Periodicamente (5-10 volte durante la digestione) applicare una pressione con un tampone alla IVC per intervalli di 5 secondi. Il fegato si gonfiano, che porta alla dissociazione maggiore epatica cella, a sua volta riduzione del tempo totale di digestione, e aumentando resa finale.
Dopo la perfusione collagenasi, fegato dovrebbe iniziare a guardare molle. Sezionare il libero fegato, posto in un pre-refrigerato beaker sterile con 20 ml di terreno completo William, e poi portarla al cofano coltura cellulare dei tessuti.
3. Cella di isolamento degli epatociti
All'interno del cofano coltura cellulare, usare un raschietto cella per disperdere delicatamente le cellule in terreno completo di William all'interno di una piastra di Petri sterile.
Filtrare la dispersione cellulare attraverso un filtro 100 dimensione dei pori cella um in una provetta conica da 50 ml per rimuovere tessuto connettivo e frammenti di tessuto non digerito.
Sospendere cellule in 40 ml di mezzo completo William e centrifugare a 50 xg per 3 min a 4 ° C.
Aspirare il supernatante, edelicatamente risospendere le cellule in mezzo completo 40 ml freddo di William per lavare le cellule. Ripetere centrifugazione.
Aspirare il surnatante e risospendere delicatamente le cellule con 25 ml di terreno completo di William. Aggiungere 25 ml di soluzione di Percoll 90% in PBS nel tubo e mescolare delicatamente.
Centrifugare a 200 xg per 10 min a 4 ° C. Aspirare le cellule morte dalla parte superiore del gradiente perché le cellule vitali rimanere sul fondo del gradiente Percoll.
Sospendere il pellet di cellule in 30 ml caldo terreno completo di William, e poi ripetere la centrifugazione e risospendere il pellet cellulare in 20 ml caldo terreno completo di William.
Contare le cellule all'interno della sospensione cellulare utilizzando un emocitometro e determinare la vitalità cellulare mediante colorazione con blu tripano.
4. Cultura degli epatociti
Diluire le cellule con mezzo completo caldo William a concentrazione preferita, ad esempio 2,5 x 10 5 cellule / ml. Celle di dischi ad un volume desiderato su piastre di coltura cellulare, per esempio. 5 x 10 5 cellule / 2 ml / pozzetto, 6 pozzetti / piastra, o 2,5 x 10 5 cellule / 1,5 ml / pozzetto, 12 pozzetti / piastra. Un rivestita con lastra è bene per colture di cellule epatiche.
In una preparazione tipica con> 85% cellule vitali, la densità cellulare dovrebbe raggiungere circa 60-70% di confluenza, che consente di contatto cellula-cellula mantenendo uno spazio sufficiente per gli epatociti crescere delle dimensioni delle cellule piena e dare un finale di confluenza 90-95%.
Al fine di formare un monostrato anche di epatociti, in altre parole, per minimizzare la tendenza per le cellule di aggregazione nella zona centrale del pozzo (più probabilmente dovuta al flusso d'aria all'interno della cella incubatore), le piastre consentono di rimanere all'interno la cultura cappa cellulare per 30 minuti prima di metterle in una incubatrice.
Coltivare le cellule a 37 ° C in atmosfera umidificata al 95% aria e 5% CO 2. Dopo 4 h-coltura, le cellule potrebbero o rimanere nello stesso medium contenente siero o sostituire il mezzo con siero-free media, ad esempio HepatoZYME-SFM (vedi Tabella 1). Il mezzo privo di siero aiuta a mantenere la morfologia delle cellule senza effetti negativi da ormoni quando un terreno privo di siero viene utilizzato.
Consentono alle cellule di recuperare e crescere almeno per una notte prima della sperimentazione. Si consiglia di utilizzare le cellule per il test entro 24 ore perché questo può aiutare a preservare la funzione degli enzimi critici (ad esempio, P450).
Sostituire il mezzo di crescita a intervalli di 2 giorni, se necessario.
5. Risultati rappresentativi
Le condizioni descritte generare periodicamente raccolti cellule di 1.0 x 10 8 cellule per la preparazione di un fegato di ratto. La vitalità degli epatociti misurata mediante esclusione con Trypan blu era costantemente all'interno dell'intervallo di 88 ~ 96%.
Come illustrato in figura 2, l'aggregato epatociti e cluster di forma dopo 4 ore la semina. Cellule più isolate appiattire e diffuso in crescita monostrato tipica. Entro 24 ore, i bordi delle cellule sono definite, superficie delle cellule è abbastanza regolare, e goccioline lipidiche sono visibili. Le cellule hanno da uno a tre nucleoli, di forma rotonda, situati al centro delle cellule, e la dimensione di visualizzazione nuclei coerente tra cellule (Figura 2).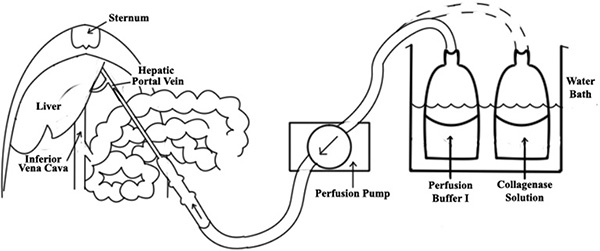 Figura 1. Un diagramma di perfusione del fegato. Una 18-gauge angiocath viene inserito nella vena porta di fegato, poi un tubo perfusato è collegato all'ago. Una volta cannulazione successo è confermato, fare un taglio alla vena cava inferiore (IVC) per consentire efflusso.

Figura 2. Morfologia di epatociti coltivati ​​nel tempo (4 ore a 24 ore), ingrandimento x 200. Dopo la coltura per 24 ore, le cellule diffuse in crescita monostrato tipico, e le giunzioni tra le cellule sono lineari.
| | | |
| --- | --- | --- |
| Nome del reattivo | Azienda | Numero di catalogo |
| HBSS (senza Ca 2 +, e Mg 2 +) | Invitrogen | 14174 |
| HBSS (con Ca 2 +, e Mg 2 +) | Invitrogen | 14025 |
| E Media Williams | Invitrogen | 12551-032 |
| Collegenase II | Worthington | LS004176 |
| Cella filtro (100 micron) | BD | 352360 |
| HepatoZYME-SFM | Invitrogen | 17705 |
| Percoll | Sigma | P4937 |
| Angiocath (18-gauge) | BD | 381705 |
Tabella 1.
Subscription Required. Please recommend JoVE to your librarian.
Discussion
Coltura primaria di epatociti è un modello in vitro ampiamente utilizzato per studiare vari aspetti della fisiologia del fegato e della patologia. Ad esempio, la cultura primaria viene utilizzata per valutare l'espressione e la funzione di enzimi che metabolizzano i farmaci inclusi i citocromi P450, metabolismo dei farmaci, interazioni farmaco-farmaco e dei meccanismi di citotossicità e genotossicità 3-7. Il protocollo descrive l'isolamento e la coltura di cellule epatiche di ratto è adattato dalle relazioni precedenti di Aiken et al. 8, 2,9,10 e altri con modifiche. Le condizioni descritte costantemente di generare epatociti vitali fino a 1,0 x 10 8 cellule per la preparazione con la vitalità delle cellule tra 88 ~ 96%. Di seguito sono riportati altri passaggi critici:
Come con qualsiasi protocollo che descrive la coltura cellulare, l'aspetto più critico è quello di evitare la contaminazione da agenti patogeni batterici o fungini mediante rigorose tecniche asettiche 11.
Desmosoma, noto anche come adherens macula, è una struttura cellulare specializzato per cellula-adesione cellulare. L'integrità del desmosoma bisogno di calcio, ed è ripartito per EDTA e calcio privi di media. La collagenasi enzimi si può dissociare il desmosoma, portando a cellule epatiche l'isolamento. Pertanto, la perfusione utilizza Ca 2 + media libero e successivamente Ca 2 + terreno ricco contenente Ca 2 + collagenasi dipendente, per la digestione.
Trattamento con collagenasi adeguato è assolutamente cruciale per la preparazione degli epatociti. La portata di Perfussion tampone II plus collegenase II deve essere mantenuto a 25 ml / min. Le cause comuni di insuccesso cultura epatociti includono: 1) povera cella dissociazione, che potrebbe essere dovuto a insufficiente perfusione buffer riscaldato a 37 ° C e / o velocità di perfusione lenta, e 2) la morte delle cellule, che could essere dovuto a digestione con collagenasi eccessiva.
Siate cauti quando si cambiano i media dopo la prima di 4 h cultura, come gli epatociti sono ancora relativamente fragile e può essere facilmente danneggiati o interrotti per contatto diretto, solo per la pipetta lungo il lato del bene, e mai direttamente sulla parte superiore delle celle.
Subscription Required. Please recommend JoVE to your librarian.
Disclosures
Non ci sono conflitti di interesse dichiarati.
Acknowledgments
Gli autori desiderano ringraziare il Sig. Josh Basford e il dottor Xiao Li-min per l'assistenza tecnica. Questo lavoro è stato sostenuto in parte da sovvenzioni NIH (DK70992 e DK92779 alla ML).