Summary
Kronisk infeksjon med jord-overførbare helminths (STHs) fører malabsorpsjon, stunting, og sløse i det voksende barnet. Derfor er det sannsynlig at disse infeksjonene også redusere den fysiske kondisjon for barn. Her visualiserer vi to teknikker for diagnostisering av STHs og 20-meter shuttle run test for å vurdere barns fysiske form.
Cite this Article
Copy Citation
Yap, P., Fürst, T., Müller, I., Kriemler, S., Utzinger, J., Steinmann, P. Determining Soil-transmitted Helminth Infection Status and Physical Fitness of School-aged Children. J. Vis. Exp. (66), e3966, doi:10.3791/3966 (2012).
Abstract
Jord-overførte helminth (STH) infeksjoner er vanlige. Faktisk er mer enn 1 milliard mennesker rammet, hovedsakelig i den tredje verden der fattigdom råder og hygiene atferd, vannforsyning, og sanitær er ofte mangelfull 1,2. Ascaris lumbricoides, Trichuris trichiura, og de ​​to hookworm arter, Ancylostoma duodenale og Necator americanus, er de mest utbredte STHs 3. Den estimerte globale byrden på grunn hookworm sykdom, ascariasis, og trichuriasis er 22,1, 10,5, og 6.400.000 disability-leveår (Dalys), henholdsvis 4. Videre er anslagsvis 30-100 millioner mennesker smittet med Strongyloides stercoralis, de mest forsømte STH arter av global betydning som kanskje også fører til en betydelig innvirkning på folkehelsen 5,6. Multiple-arter infeksjoner (dvs. ulike STHs skjult i en enkelt person) er vanlig, og infeksjoner har vært lin ked til redusert produktivitet og dermed økonomiske utsiktene for utviklingsland 1,3.

For diagnostisering av vanlige STHs, anbefaler Verdens helseorganisasjon (WHO) i Kato-Katz 7,8 teknikken, som er en relativt grei metode for å bestemme utbredelsen og intensiteten av slike infeksjoner. Det letter påvisning av parasitten egg som infiserte fag passerer i deres avføring.

Med hensyn til diagnosen S.stercoralis, er det i dag ingen enkel og nøyaktig verktøy tilgjengelig. Den Baermann teknikken er den mest utbredte ansatt metode for sin diagnose. Prinsippet bak Baermann teknikken er at aktiv S.stercoralis larver migrerer ut av en opplyst fersk avføringsprøve som larvene er phototactic 9. Det krever mindre sofistikerte laboratorium materialer og er mindre tidkrevende enn kultur og immunologiske metoder 5.

t "> tilleggslidelser forbundet med STH infeksjoner varierer fra akutte men felles symptomer som magesmerter, diaré og kløe, til kroniske symptomer, for eksempel anemi, under-og feilernæring, og kognitiv svikt 10. Siden symptomene er generelt uspesifikke og subtile, de ofte gå ubemerket, er regnet som en normal tilstand av berørte enkeltpersoner, eller behandles som symptomer på andre sykdommer som kan være mer vanlig i en gitt setting. Derfor kan det tenkes at den sanne byrden av STH infeksjoner er undervurdert av vurdering verktøy avhengig selverklærte tegn og symptomer som vanligvis er tilfellet i befolkningen-baserte undersøkelser.

På slutten av 1980-tallet og begynnelsen av 1990-tallet, understreket Stephenson og kolleger muligheten for STH infeksjoner senke den fysiske egnethet av gutter i alderen 6-12 år 11,12. Denne linjen av vitenskapelige undersøkelser fått ny giv nylig 13,14,15. Den 20-meter (m) shuttle run test ble utviklet end validert av Léger et al. 16 og brukes over hele verden til å måle aerob kapasitet for barn 17. Testen er enkel å standardisere og kan utføres hvor en 20-meter lang og flat kjører kurs og en lydkilde er tilgjengelige, noe som gjør bruken attraktiv i ressurs-begrenset innstillinger 13. Å legge til rette og standardisere forsøk på å vurdere om STH infeksjoner har en effekt på fysisk form for skolebarn, presenterer vi metoder som diagnostiserer STH infeksjoner eller tiltak fysisk trening som er enkle å utføre og ennå, gi nøyaktige og reproduserbare resultater. Dette vil bidra til å generere nye bevis om de helsemessige konsekvensene av STH infeksjoner.
Protocol
1. Kato-Katz Technique
Plasser en standard Kato-Katz mal med et hull for å holde 41,7 milligram (mg) av avføring på et objektglass.
Scoop 2-3 gram (g) av en frisk avføringsprøve på et stykke avispapir eller aluminiumsfolie, og trykk et stykke tråd eller plast netting på toppen å sil den.
Ved hjelp av en liten plast spatel, skrape siktet materialet av mesh og fylle hullet i Kato-Katz mal med det. For å fjerne overskudd fecal materiale, planere innholdet av hullet med spatelen.
Vertikalt fjerne malen uten å forstyrre den fecal materiale nå å følge objektglass. Malen og slikkepott kan rengjøres i vann med oppvaskmiddel, og gjenbrukes.
Plasser en stykke cellofan, pre-fuktet i glyserin-malakittgrønt oppløsningen i minst 24 timer (t), over den avføringsprøve på objektglass.
Å spre avføring inn i et tykt smøre forsiktig trykker på en ren microomfang lysbilde mot prøven lysbildet, jevnt fordele materialet innenfor en sirkel med en diameter som er litt mindre enn bredden av objektglass.
La lysbilde for å fjerne i 30-60 minutter (min), hvor lysbildene må holdes unna direkte sollys. Deretter systematisk undersøke tykke smear under et lysmikroskop (40-100x forstørrelse). Tell antall STH egg og stratify dem ved arter (dvs. A.lumbricoides, T.trichiura, og hookworm). Av notatet, kan andre helminth egg (f.eks Schistosoma mansoni) også påvises ved denne metoden, og bør telles og registreres separat.
For å få en standardisert estimat av intensiteten av infeksjon, konvensjonelt uttrykt som antall egg per gram avføring (EPG), multiplisere antall egg med 24 (24 x 41,7 mg ≈ 1 g).
2. Baermann Technique
Sett opp et stativ som kan holde et glass trakt og fest en gummislange, lukket viddha klipp, til bunnen av trakten.
Plasser en sil eller et stykke trådduk formet som en kjegle, i trakten og lag den med et stykke av medisinsk gasbind.
Fyll opp trakten med vann fra springen og sørge for at hele set-up ikke lekker.
Scoop 20-30 g fersk avføring på midten av den medisinske gasbind og sikre at den er helt nedsenket i vann. Tilsett mer vann om nødvendig. Brett den medisinske gasbind over prøven.
Nedenfra, skinne kunstig lys på trakten i 2 timer.
Drain 50 milliliter (ml) av den nedre del av vannet i trakten til et sentrifugerør ved forsiktig slippe klippet på gummislangen.
Sentrifuger oppsamlede vannet ved 600 xg (relativ sentrifugalkraft) i 5 minutter og forsiktig helle ut supernatanten uten å forstyrre sedimentet. Beholde siste dråper i røret.
Resuspendere sediment og pipette 2 dråper av løsningen på et objektglass og undersøke rasetunder et lysmikroskop (40x forstørrelse for deteksjon og 100-400x forstørrelse for arter bekreftelse). Første larver (L1) av S. stercoralis er i live og aktivt flytte under mikroskopet.
3. 20-m Shuttle Run Test
Mål en 20-m flatt og rett kjører kurs og merk den med kjegler.
Hjelp testen deltaker bære en pulsmåler på håndleddet og tilsvarende senderen rundt brystkassen 18. Dette utstyret gjør det mulig hjertefrekvens deltakeren skal måles før og etter testen og dermed overvåker hvorvidt deltakeren har øvd maksimal innsats.
Instruere deltakeren til å kjøre frem og tilbake på banen ved å følge tempoet i pre-innspilte lydsignaler som avgrenser 20-m runder. Starter med en løpehastighet på 8,5 kilometer i timen (km / t), frekvensen av signalene indikerer 20-meters intervaller øker med en tilsvarende på 0,5 km / t hvert min.
Sikre thpå deltaker starter en ny 20-m intervall hver gang et signal hørtes og skriver det før neste signal kommer.
Stopp deltaker hvis han / hun ikke klarer å følge tempoet i to påfølgende 20-meters intervaller.
Registrer den høyeste turtall indisert for siste intervallet som deltakeren har fullført all, sammen med alder og kjønn deltaker.
Kontroller at hjertefrekvensen oppnådd ved slutten av testen er barnets maksimal hjertefrekvens 19. Hvis dette hjertefrekvensen ikke er nådd, kan det hende at barnet ikke har utøvet maksimal innsats, og dermed testen bør gjentas.
Anslå den maksimale aerobe kapasitet (VO 2 max) av deltakeren, ved hjelp av en ligning fremsatt av Léger og medarbeidere: VO 2 max = 31.025 + 3.238 * hastighet (i km / t) - 3.248 * alder (i år) + 0,1536 * hastighet (i km / t) * alder (i år).
4. Representant Resultater
I form avSTH diagnosen med Kato-Katz teknikk, unike egenskaper ved de ulike helminth eggene tillate identifisering av de fleste arter 20. Eggene av A.lumbricoides (ca. 45-75 mikrometer (um) lang og 35-50 um bred, figur 1) har tykkere skall vegger enn egg av T.trichiura (figur 2) og hageorm (figur 3). Et befruktet egg av A.lumbricoides (figur 1) har en ytre albuminous pels, som gjør det ser gylden brun, mens en ikke-befruktede egg mangler denne ytre strøk og er litt langstrakt og større generelle. Egg av T.trichiura (ca 50 mikrometer lang og 22 mikrometer brede, figur 2) er langstrakt og har forskjellige polare plugger. Hookworm egg (ca 64-76 um lang og 36-40 um bred, figur 3), på den annen side, har en meget tynn vegg, etterfulgt av en klar ring rundt en tett klynge av celleri sentrum av egget.
S.stercoralis L 1 larver (figur 4) er ca 180-380 mikrometer lang og har en veldig kort munnhulen. En distinkt genital primordium (markert med en blå pil i figur 4) kan observeres og halen av larver (markert med en rød pil i figur 4) har en skarp ende.
Som den sanne effekt STH infeksjoner på fysisk form av barn er fremdeles debatteres 13,14,15, er det ingen representativt resultat for deres innvirkning på dette punktet. Tolkning av 20-m shuttle kjøre testresultater kan utføres på ulike måter. Den fysiske formen av barn kan sammenlignes mellom infiserte og ikke-infiserte pasienter, som er like med hensyn til alder og kjønn, andre potensielt relevante helsemessige forhold, sosioøkonomisk status og kulturelle vaner. Dette kan gjøres i en tverrsnittsundersøkelse 13,14,15 hvorSTH smittestatus og fysisk form av infiserte og ikke-infiserte barn er vurdert til et bestemt tidspunkt. Styrken av bevisene vil være høyere når du følger en randomisert kontrollert studie design der den fysiske egnethet av barn i skolealder blir vurdert før og etter anthelminthic / placebo, noe som åpner for både kort-og langsiktig vurdering. Man kan videre prøve å identifisere en mulig dose-respons-forholdet mellom intensiteten av STH infeksjoner og fysisk form og sammenligne ulike nivåer av multiparasitism 1 med fysisk form. I arbeidet presentert av Yap og medarbeidere 15, ble fysisk form, som vist ved VO 2 max, funnet å være betydelig redusert hos barn smittet med T.trichiura sammenlignet med barn som ikke var smittet med T.trichiura (figur 5) .

Figu . re 1 mikroskopiske bilder av A.lumbricoides egg: befruktet (A) og ikke-gjødslet (B) under 500x forstørrelse. Skala bar = 50 mikrometer.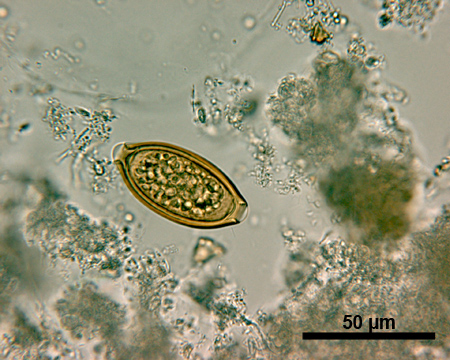 Figur 2. Mikroskopisk bilde av en T.trichiura egg under 500x forstørrelse. Scale bar = 50 mikrometer.

Figur 3. Mikroskopisk bilde av en hookworm egg under 500x forstørrelse. Skala bar = 50 mikrometer.

Figur 4. Mikroskopisk bilde av en S.stercoralis L 1 larve i henhold 250x forstørrelse. Pilene viser halen (rød) og genital primordium (blå). Skala bar = 100 mikrometer.
d/3966/3966fig5.jpg "/>
Figur 5. Graf som viser fysisk kondisjon av barn som er smittet med T.trichiura forhold til fysisk kondisjon av barn ikke er smittet med T. trichiura.
Subscription Required. Please recommend JoVE to your librarian.
Discussion
De tre protokollene er beskrevet i denne artikkelen har blitt testet og henrettet i den sør-vestlige delen av Yunnan provinsen, Folkerepublikken Kina blant medlemmer av Bulang etnisk minoritet 21 og i ulike deler av Afrika 6,13,14.
Det er flere maler tilgjengelig for Kato-Katz teknikk. Hver distinkt hole-størrelse vil levere en distinkt mengde avføring. For beregning av EPG, er det derfor nødvendig å kjenne enhet av malen, slik som å mangedoble telles antall egg med riktig faktor til å ankomme EPG anslaget. Videre, når hookworm er tilstede i fellesskap under gransking, er det viktig å lese lysbildene kort tid etter fremstilling (etter en clearing tid 30 min, men innenfor en maksimal clearing tid på 60 min). Den viktigste grunnen er at ved høye temperaturer, hookworm egg raskt løses 22. Tiden mellom fecal produksjon av studien parabonnent og undersøkelse av prøvene er også viktig som et intervall på 3 timer eller mer kan føre til en 50% reduksjon i følsomheten til Kato-Katz teknikk for hookworm diagnose 23. Til slutt, for å forbedre den diagnostiske sensitiviteten til Kato-Katz teknikk, spesielt i områder med lav intensitet STH infeksjoner, flere fecal prøver må man få en deltaker, og doble eller tredoble Kato-Katz tykke smears bør være forberedt fra hver avføringsprøve 7,24.
Med hensyn til Baermann teknikken, må forsiktighet utvises ved utfører forsøket som infeksiøs larver kan være til stede, og dermed må hansker. Selv om Baermann teknikken viser en betydelig høyere sensitivitet enn andre konsentrasjon teknikker og er mindre arbeidskrevende enn kultur metoder, er det viktige mangler. For eksempel er en stor mengde av fersk fecal materiale kreves, som er et problem når pasienter sender små fecal prøver.På den annen side kan en stor avføringsprøve øke sjansene for larvenes deteksjon i lav intensitet infeksjoner 9. I tillegg er det en risiko for at larver av andre nematoder som hookworm eller Trichostrongylus spp.., Kan være til stede, er således nøye mikroskopisk undersøkelse berettiget.
Det er direkte og indirekte måter å måle VO 2 max for aerobic fitness vurderinger. Direkte protokoller krever tredemøller, sykler ergometer, og andre spesialiserte og klumpete utstyr som kan måle volumet og gass konsentrasjoner av utåndet luft. En slik tilnærming er ikke gjennomførbart i en ressurs-begrenset landlige omgivelser i den tredje verden. For slike innstillinger, indirekte måter, for eksempel 20-m shuttle kjøre test, er de foretrukne metoder. Selv indirekte metoder er aldri så nøyaktig som direkte metoder, har 20-m shuttle run test etablert av Léger og medarbeidere vist høy reproduserbarhet (r = 0,89) og validity mot maksimalt oksygenopptak på en tredemølle 16. Videre kan utprøver og deltakeren forholdet være lavere og flere deltakere kan utføre testen på samme tid, noe som sparer menneskelige ressurser og tid. Pulsklokker er ikke vanligvis brukes i slike tester 13,16. Men gjør bruken etterforsker for å få ytterligere informasjon om deltakeren har øvd maksimal innsats i testen. Til slutt er det tilrådelig å la deltakerne gjøre en prøvetur av de første intervallene slik at de kan gjøre seg kjent med den løpende fart og kurs.
I konklusjonen, tror vi at en kombinasjon av de nevnte metoder, etter standard protokoller, gir mulighet for vurdering av forekomst og intensitet av STH infeksjoner og fysisk egnethet av barn i skolealder i en vitenskapelig forsvarlig, men likevel overkommelig og rimelig måte.
Subscription Required. Please recommend JoVE to your librarian.
Disclosures
Ingen interessekonflikter erklært.
Acknowledgements
Forfatterne er takknemlige for lokalsamfunnene i Yunnan-provinsen, Folkerepublikken Kina og Agboville, Côte d'Ivoire, for deres deltakelse i studiene som er beskrevet ovenfor. Vi står i gjeld til de lokale feltet lagene som har bistått i testing og gjennomføring av protokollene. Vi er spesielt takknemlig til følgende kolleger fra den sveitsiske Tropical og Public Health Institute: Yvette Endriss for å gi de mikroskopiske bilder, Hanspeter Marti og hans team for laboratorium støtte og Stefanie Krauth for hennes assistanse under videofilming. Til slutt vil vi takke de to anonyme referees for en rekke nyttige kommentarer.
Materials
Name
Company
Catalog Number
Comments

Note: Materials in this list are generic and can be obtained from different sources.

Kato-Katz kit
[400 plastic templates with a hole of 6 millimeter (mm) (diameter) in a 1.5 mm thick template; 400 plastic spatula; a 20-m role of nylon screen of 80 mesh size; a 20-m role of hydrophilic cellophane, 34 μm thick.]
Vestergaard Frandsen
Please note that the glycerin-malachite green solution is not included in this kit but can be bought from any chemical supplier.
Glass funnel [about 8 centimeter (cm) wide and 6 cm deep]
The glass funnel for the Baermann technique should be able to hold about 60 mL of water. The size of the rubber hose and gauze is dependent on the type of glass funnel used.
Biological microscope
Olympus
CX21LED/CX21
Centrifuge
Shanghai Medical Instruments Group
80 - 2T
Pre-recorded signals
Bitworks Design
Team Bleep Test Version 1.3.1
iPhone application
Heart rate monitor
POLAR
FT1
Watch and transmitter