Summary
Kronisk infektion med jord-överförda maskar (STHS) orsakar malabsorption, dvärgväxt och slöseri i det växande barnet. Därför är det troligt att dessa infektioner också minska den fysiska lämplighet för barn. Här visualisera vi två tekniker för diagnos av STHS och 20-meters buss Kör test för att bedöma barns fysiska kondition.
Cite this Article
Copy Citation
Yap, P., Fürst, T., Müller, I., Kriemler, S., Utzinger, J., Steinmann, P. Determining Soil-transmitted Helminth Infection Status and Physical Fitness of School-aged Children. J. Vis. Exp. (66), e3966, doi:10.3791/3966 (2012).
Abstract
Jord-överförda helmint (STH) infektioner är vanliga. I själva verket är mer än 1 miljard människor drabbas, främst i utvecklingsländerna där fattigdomen råder och hygien beteende, vattenförsörjning och sanitet är ofta bristfällig 1,2. Ascaris lumbricoides, Trichuris trichiura, och de två Hakmask arter, Ancylostoma duodenale och Necator americanus, är de vanligaste STHS 3. Den uppskattade globala bördan på grund av hakmask sjukdom, Ascariasis och trichuriasis är 22,1, 10,5 och 6400 tusen funktionsjusterade levnadsår (DALY) respektive 4. Dessutom är uppskattningsvis 30 till 100.000.000 människor infekterade med Strongyloides stercoralis, de mest försummade STH arter av global betydelse som utan tvekan också orsakar en betydande inverkan på folkhälsan 5,6. Flera arter infektioner (dvs. olika STHS hyste i en enda individ) är vanliga, och infektioner har Lin ked till sänkt produktivitet och därmed ekonomiska utsikterna i utvecklingsländerna 1,3.

För diagnos av gemensamma STHS rekommenderar Världshälsoorganisationen (WHO) i Kato-Katz teknik 7,8, vilket är en relativt enkel metod för bestämning av förekomst och intensitet av sådana infektioner. Det underlättar att upptäcka parasitens ägg som infekterade individer passerar i sin avföring.

När det gäller diagnos av S.stercoralis finns det för närvarande inget enkelt och exakt verktyg tillgängligt. Den Baermann tekniken är den mest använda metoden för dess diagnos. Principen bakom Baermann tekniken är att aktivt S.stercoralis larver vandra ut från en belyst färsk fekal prov som larverna är phototactic 9. Det kräver mindre sofistikerade laboratorieundersökningar material och är mindre tidskrävande än kultur-och immunologiska metoder 5.

t "> följdsjukdomar förknippade med STH infektioner varierar från akut men vanliga symtom som buksmärta, diarré, och klåda, till kroniska symtom, såsom anemi, under-och undernäring och kognitiv försämring 10. Eftersom symptomen är vanligtvis ospecifik och subtila, de ofta gå obemärkt förbi, anses vara ett normalt tillstånd genom drabbade individer, eller behandlas som symptom på andra sjukdomar som kan vara vanligare i en viss miljö. Därför är det tänkbart att den verkliga bördan av STH infektioner underskattas av bedömning verktyg att förlita sig på egen deklarerade tecken och symtom som vanligtvis är fallet i populationsbaserade undersökningar.

I slutet av 1980 och början av 1990, betonade Stephenson och kollegor möjlighet STH infektioner sänker fysiska lämplighet pojkar i åldern 6-12 år 11,12. Denna linje av vetenskaplig undersökning fick ny fart senare 13,14,15. Den 20-meter (m) buss kör testet utvecklades end godkänts av Léger et al. 16 och används över hela världen för att mäta konditionen av barn 17. Testet är lätt att standardisera och kan utföras överallt en 20-meter lång och platt kör kurs och en ljudkälla finns, vilket gör dess användning attraktiv resurs begränsad-inställningar 13. För att underlätta och standardisera försök att bedöma om STH infektioner har en effekt på fysiska lämplighet skolbarn presenterar vi metoder som diagnostisera STH infektioner eller åtgärd fysisk kondition som är enkla att utföra och ändå ge korrekta och reproducerbara resultat. Detta kommer att bidra till att skapa nya bevis om hälsoeffekterna av STH infektioner.
Protocol
1. Kato-Katz Teknik
Placera en vanlig Kato-Katz mall med ett hål för att hålla 41,7 milligram (mg) av avföring på ett objektglas.
Skopa 2-3 gram (g) av en färsk fekal prov på en bit tidningspapper eller aluminiumfolie, och trycker en bit tråd eller plastnät ovanpå till sikten den.
Med hjälp av en liten plastspatel, skrapa det siktade materialet från nätet och fullständigt fylla hålet i Kato-Katz mall med det. För att avlägsna överskott av fekalt material, plana innehållet i hålet med spateln.
Vertikalt bort mallen utan att störa det fekala materialet nu fastnat på objektglas. Mallen och spateln kan rengöras i vatten med diskmedel, och återanvändas.
Placera en bit cellofan, pre-indränkt i glycerin-malakitgrönt lösning under minst 24 timmar (h), över avföringsprov på objektglas.
För att sprida det fekala materialet till en tjock smet, tryck försiktigt en ren microtillämpningsområde glider mot provets objektglaset, jämn fördelning av materialet inuti en cirkel med en diameter som är något mindre än bredden på objektglaset.
Låt bilden för att rensa i 30-60 minuter (min), under vilken bilderna ska hållas borta från direkt solljus. Därefter, systematiskt undersöka den tjocka utstryket under ett ljusmikroskop (40-100x förstoring). Räkna antalet STH ägg och stratifiera dem per art (dvs. A.lumbricoides, T.trichiura och hakmask). Att notera, kan andra helmint ägg (t.ex. Schistosoma mansoni) också påvisas med denna metod och bör räknas och registreras separat.
För att få en standardiserad uppskattning av intensiteten av infektion, konventionellt uttryckt som antalet ägg per gram avföring (EPG), multiplicera ägget räkna med 24 (24 x 41,7 mg ≈ 1 g).
2. Baermann Teknik
Inrätta ett stativ som kan hålla ett glas tratt och bifoga en gummislang stängd kvickhethektar klämma, till botten av tratten.
Placera en sil eller en metalltråd skärm formad som en kon, i tratten och skiktet med en bit medicinsk gasväv.
Fyll tratten med kranvatten och se till att hela installation inte läcker.
Scoop 20-30 g färsk avföring på mitten av Gasbinda och se till att den är helt nedsänkt i vatten. Tillsätt mer vatten om det behövs. Vik Gasbinda över provet.
Underifrån, lysa artificiellt ljus vid tratten under 2 timmar.
Drain 50 milliliter (ml) av den nedre delen av vattnet i tratten till ett centrifugrör genom att försiktigt släppa klämman på gummislangen.
Centrifugera uppsamlade vattnet vid 600 xg (relativ centrifugalkraft) i 5 min och häll försiktigt ut supernatanten utan att störa sedimentet. Behåll de sista dropparna i röret.
Återsuspendera sediment och pipetten 2 droppar av lösningen på ett objektglas och undersök bildenunder ett ljusmikroskop (40x förstoring för detektering och 100-400x förstoring för arter bekräftelse). Första larvstadiet (L1) av S. stercoralis lever och aktivt gå under mikroskop.
3. 20-m Shuttle Kör test
Mät en 20-meter platt och rak kör kurs och markera den med kottar.
Hjälp testet deltagaren bära en pulsmätare på handleden och motsvarande sändaren runt bröstet 18. Denna utrustning gör det möjligt hjärtfrekvens deltagaren att mätas före och efter testet och därmed övervakar om deltagaren har utövat maximal ansträngning.
Instruera deltagaren att springa fram och tillbaka på kursen genom att följa takten i förinspelade ljudsignaler avgränsar 20-m varv. Börjar med en hastighet av 8,5 kilometer per timme (km / h), hur ofta de signaler som indikerar 20-m mellanrum ökar med en motsvarande 0,5 km / tim varje minut.
Se till epå deltagaren startar en ny 20-meter intervall varje gång en signal ljuder och avslutar den innan nästa signal kommer.
Stoppa deltagaren om han / hon inte följer takten för två på varandra följande 20-m mellanrum.
Anteckna högsta körhastigheten indicerat för sista intervall som deltagaren helt avslutats, tillsammans med ålder och kön för deltagaren.
Kontrollera att hjärtfrekvensen uppnås vid slutet av testet är barnets maximala hjärtfrekvens 19. Om denna puls inte uppnås, kan det hända att barnet inte har utövat maximal ansträngning, och därmed testet bör upprepas.
Beräkna den maximala aeroba kapaciteten (VO 2 max) av deltagaren, med hjälp av en ekvation som tas fram av Léger och medarbetare: VO 2 max = 31,025 + 3,238 * hastighet (i km / tim) - 3,248 * ålder (i år) + 0,1536 * hastighet (i km / tim) * ålder (i år).
4. Representativa resultat
I termer avSTH diagnos med Kato-Katz teknik, unika egenskaperna hos de olika helmint äggen möjliggöra identifiering av de flesta arter 20. Äggen av A.lumbricoides (cirka 45-75 mikrometer (| im) lång och 35-50 pm bred, figur 1) har tjockare skal väggar än ägg från T.trichiura (figur 2) och hakmask (figur 3). Ett befruktat ägg av A.lumbricoides (figur 1) har en yttre beläggning PROTEINÄMNEN, vilket gör att den ser gyllenbrun, medan en icke-befruktade ägget saknar denna yttre päls och är något långsträckt och större total. Äggen av T.trichiura (approximativt 50 fim lång och 22 jim bred, figur 2) är långsträckta och har distinkta polära pluggar. Hakmask ägg (approximativt 64-76 um långa och 36-40 pm bred, figur 3), å andra sidan, har en mycket tunn vägg, följt av en tydlig ring runt en tät kluster av celleri mitten av ägget.
S.stercoralis L 1 larver (figur 4) är cirka 180-380 nm lång och har en mycket kort munhålan. En distinkt genitala primordium (markerad med en blå pil i Figur 4) kan observeras och svansen av larver (markerad med en röd pil i figur 4) har en skarp ände.
Eftersom de verkliga effekterna av STH infektioner på fysisk kondition för barn fortfarande debatteras 13,14,15, finns det ingen representativ resultat för deras inverkan på denna punkt. Tolkning av 20-m testet shuttle run resultat kan utföras på olika sätt. Den fysiska kondition för barn kan jämföras mellan infekterade och icke-infekterade individer, som är likvärdiga i fråga om ålder och kön, andra potentiellt relevanta hygienkrav, socioekonomisk status och kulturella vanor. Detta kan göras i en tvärsnittsundersökning 13,14,15 därSTH infektionsstatus och fysisk kondition av infekterade och icke-infekterade barn bedöms vid en viss tidpunkt. Styrkan i bevisningen blir högre när man följer en randomiserad kontrollerad studie design där fysiska lämplighet skolbarn bedöms före och efter anthelminthic / placebo, vilket möjliggör både kort och lång sikt utvärdering. Man kan vidare försöka identifiera en eventuell dos-respons-förhållande mellan intensitet STH infektioner och fysisk kondition och jämföra olika multiparasitism 1 med fysisk kondition. I arbetet presenteras av Yap och medarbetare 15, var fysisk kondition, som skildras av VO 2 max visat sig vara signifikant reducerad hos barn infekterade med T.trichiura jämfört med barn som inte är infekterade med T.trichiura (Figur 5) .

Figu . re 1 Mikroskopiska bilder av A.lumbricoides ägg: befruktade (A) och icke-befruktade (B) under 500x förstoring. Skala bar = 50 | im.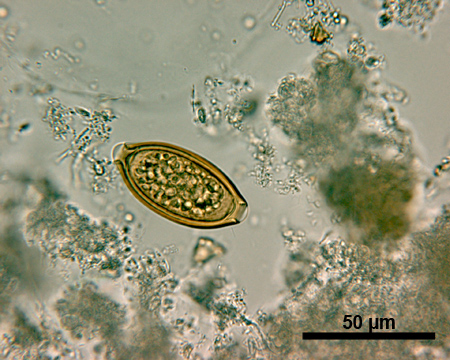 Figur 2. Mikroskopisk bild av en T.trichiura ägg i 500x förstoring. Skala bar = 50 um.

Figur 3. Mikroskopisk bild av en hakmask ägg i 500x förstoring. Skala bar = 50 | im.

Figur 4. Mikroskopisk bild av en S.stercoralis L 1 larv i 250X förstoring. Pilar indikerar svans (röd) och genital primordium (blå). Skala bar = 100 nm.
d/3966/3966fig5.jpg "/>
Figur 5. Diagram som visar den fysiska konditionen av barn infekterade med T.trichiura jämfört med fysiska konditionen av barn inte är infekterade med T. trichiura.
Subscription Required. Please recommend JoVE to your librarian.
Discussion
De tre protokollen som beskrivs i detta dokument har testats och exekveras i sydvästra delen av Yunnanprovinsen, Folkrepubliken Kina bland medlemmarna i Bulang etniska minoriteten 21 och i olika delar av Afrika 6,13,14.
Det finns flera mallar tillgängliga för Kato-Katz teknik. Varje distinkt hål-storlek kommer att leverera en distinkt mängd fekalt material. För beräkningen av EPG, är det därför nödvändigt att känna till enheten av mallen, så att multiplicera det räknade antalet ägg med den korrekta faktorn att komma fram till EPG uppskattningen. Dessutom, när hakmask förekommer i samhället under utredning, är det viktigt att läsa bilderna kort efter beredning (efter en clearing tid av 30 min men inom högst clearing tid av 60 minuter). Den främsta orsaken är att vid höga temperaturer, hakmask ägg snabbt upplösas 22. Tiden mellan fekal produktion av studien paranknytningen och undersökning av proverna är också viktig som ett intervall på 3 timmar eller mer kan leda till en 50% minskning av känsligheten för Kato-Katz teknik för hakmask diagnos 23. Slutligen, för att förbättra den diagnostiska känsligheten för Kato-Katz teknik, särskilt i områden med låg intensitet STH infektioner, flera fekala prover bör erhållas från en deltagare, och dubbla eller tredubbel Kato-Katz tjocka fläckar bör utarbetas av varje avföringsprov 7,24.
När det gäller Baermann tekniken, måste försiktighet tas när man utför experimentet som infektiösa larver kan vara närvarande och sålunda måste handskar bäras. Även om Baermann tekniken visar en betydligt högre känslighet än andra koncentration tekniker och är mindre arbetskrävande än odlingsmetoder, det finns viktiga brister. Exempelvis är en stor mängd färskt fekalt material erfordras, vilket är ett problem när patienter lämna små fekalprover.Å andra sidan kan en stor avföringsprov öka chanserna för larver detektion i lågintensiva infektioner 9. Dessutom finns det en risk för att larver av andra nematoder, såsom hakmask eller Trichostrongylus spp.., Kan vara närvarande, är således noggrann mikroskopisk undersökning motiverat.
Det finns direkta och indirekta sätt att mäta VO 2 max för kondition bedömningar. Direkta protokoll kräver löpband, ergometrar cykel och andra specialiserade och skrymmande utrustning som kan mäta volymen och gas koncentrationer av utandningsluften. Ett sådant tillvägagångssätt är inte möjligt i en resurs begränsad, lantlig miljö i utvecklingsländerna. För sådana inställningar indirekta sätt, till exempel den 20-meter transfer köra testet, är de föredragna metoderna. Även indirekta metoder är aldrig lika exakt som direkta metoder har den 20-meter Shuttle testkörningen inrättats genom Léger och medarbetare visade hög reproducerbarhet (R = 0,89) och validity mot maximala syreupptagningsförmågan på ett löpband 16. Dessutom kan utredaren och deltagare förhållandet vara lägre och flera deltagare kan utföra testet på samma gång, vilket sparar mänskliga resurser och tid. Pulsmätare inte används typiskt i sådana tester 13,16. Tillåter dock användningen utredaren att få ytterligare information om huruvida deltagaren har utövat maximal ansträngning i testet. Slutligen är det lämpligt att låta deltagarna göra en provkörning av de första intervallen så att de kan bekanta sig med hastighet och kurs.
Sammanfattningsvis anser vi att en kombination av de ovan nämnda metoder, efter standardprotokoll, möjliggör bedömning av förekomst och intensitet STH infektioner och fysiska lämplighet skolbarn i en vetenskapligt sund, ännu hanterbar och prisvärt sätt.
Subscription Required. Please recommend JoVE to your librarian.
Disclosures
Inga intressekonflikter deklareras.
Acknowledgements
Författarna är tacksamma för de samhällen i provinsen Yunnan, Folkrepubliken Kina och Agboville, Elfenbenskusten, för deras deltagande i de studier som beskrivs ovan. Vi står i tacksamhetsskuld till det lokala fältet lag som har hjälpt i testning och genomförande av protokollen. Vi är särskilt tacksamma till följande kollegor från den schweiziska Tropical och Folkhälsoinstitutet: Yvette Endriss för att tillhandahålla de mikroskopiska bilder, Hanspeter Marti och hans team för laboratorie stöd och Stefanie Krauth för hennes stöd under videofilmning. Slutligen tackar vi de två anonyma referenser för en rad värdefulla kommentarer.
Materials
Name
Company
Catalog Number
Comments

Note: Materials in this list are generic and can be obtained from different sources.

Kato-Katz kit
[400 plastic templates with a hole of 6 millimeter (mm) (diameter) in a 1.5 mm thick template; 400 plastic spatula; a 20-m role of nylon screen of 80 mesh size; a 20-m role of hydrophilic cellophane, 34 μm thick.]
Vestergaard Frandsen
Please note that the glycerin-malachite green solution is not included in this kit but can be bought from any chemical supplier.
Glass funnel [about 8 centimeter (cm) wide and 6 cm deep]
The glass funnel for the Baermann technique should be able to hold about 60 mL of water. The size of the rubber hose and gauze is dependent on the type of glass funnel used.
Biological microscope
Olympus
CX21LED/CX21
Centrifuge
Shanghai Medical Instruments Group
80 - 2T
Pre-recorded signals
Bitworks Design
Team Bleep Test Version 1.3.1
iPhone application
Heart rate monitor
POLAR
FT1
Watch and transmitter