Summary
En enkel protokol til fremstilling af ekstrakter af humane væv til anvendelse som en kilde til antigener i funktionelle T-celleassays er beskrevet. Denne fremgangsmåde tillader T-celle-reaktioner på vævs-afledte antigener, der skal måles
Cite this Article
Copy Citation | Download Citations

Necula, A., Chand, R., Albatat, B., Mannering, S. I. Extraction of Tissue Antigens for Functional Assays. J. Vis. Exp. (67), e4230, doi:10.3791/4230 (2012).
Abstract
Mange af de antigen-mål for adaptive immunrespons, genkendes af B-og T-celler, er ikke blevet defineret 1. Dette gælder især i autoimmune sygdomme og cancer 2. Vores mål er at undersøge de antigener genkendes af humane T-celler i den autoimmune sygdom type 1 diabetes 1,3,4,5. At analysere humane T-cellereaktioner mod vævet, hvor de antigener, der genkendes af T-celler identificeres ikke udviklede vi en metode til at udvinde proteinantigener fra humant væv i et format der er kompatibelt med funktionelle assays 6. Tidligere T-celle-reaktioner på urensede vævsekstrakter kunne ikke måles, fordi ekstraktionsmetoder opnåelse af et lysat, som indeholdt detergenter, der var toksiske for humane perifere mononukleære blodceller. Her beskriver vi en protokol til ekstraktion af proteiner fra humane væv i et format, der ikke er toksisk for humane T-celler. Vævet homogeniseres i en blanding af butan-1-ol, acetonitril og watis (BAW). Proteinkoncentrationen i vævsekstrakt måles, og en kendt masse af protein alikvoter i rør. Efter ekstraktion, er de organiske opløsningsmidler fjernet ved lyofilisering. Lyofiliserede vævsekstrakter kan lagres indtil brug. Til anvendelse i assays af immunfunktion, en suspension af immunceller, i egnede dyrkningsmedier kan tilsættes direkte til den frysetørrede ekstrakt. Cytokinproduktion og proliferation af PBMC, som svar på ekstrakter fremstillet ved denne metode, kunne let måles. Derfor er vores fremgangsmåde tillader hurtig fremstilling af humant væv lysater, der kan anvendes som en kilde til antigener i analysen af ​​T-cellereaktioner. Vi foreslår, at denne metode vil lette analysen af ​​adaptive immunresponser på væv i transplantation, cancer og autoimmunitet.
Protocol
1. Fremstilling miltvæv
Note-al menneskelig materiale skal behandles som potentielt smittefarlige og alle procedurer skal udføres i et Klasse II Laminar Flow kabinet. Ved hjælp af steril saks og pincet, fjerne fedt og fibrøst væv fra milt sektioner (~ 1-2 cm i størrelse) og trimme så meget af den ydre kapsel materiale som muligt.
Skær et lille stykke (1-2 cm 3) i miltvæv og placere hvert stykke i et sterilt 50 ml Falcon-rør.
Snap-fryse stykker af væv ved nedsænkning i flydende N 2.
Opbevar ved -80 ° C. En lignende forskrift er velegnet til andet væv (r).
2. Forberedelse menneskelige Islet for opbevaring
Kultur øer i CMRL-medier. Saml øvævsceller i et 10 ml konisk bund rør og vaskes to gange i PBS ved centrifugering ved 1.500 rpm i 5 min. Hæld PBS og dræne det tilbageværende buffer ved at placere den omvendte rør kortvarigt på en papirserviet. Vær forsigtig med ikkeat løsne øerne.
Når drænet, re-cap røret og snap-freeze i flydende nitrogen og opbevares ved -80 ° C.
3. Forberedelse Extract
Forbered BAW mix (10:30:60% volumen / volumen) og opbevares ved 4 ° C.
Glasset fjernes fra -80 ° C. Tø op ved stuetemperatur.
Tilsæt tilstrækkeligt iskold BAW at dække stykke væv. For øer brug 3-5 ml. For miltvæv anvende 10-20 ml afhængig af størrelsen af ​​det stykke væv.
Saml vævshomogenisator. Rens med "homogenisering" 10-20 ml 70% ethanol / vand.
Homogenisere vævet i flere stød, efter anbringelse af homogenisatoren probe ind i røret med vævet og BAW opløsning. Hold røret i et is-bucket derefter.
Rengør homogenisator mellem prøver, ved at homogenisere 10-20 ml 70% ethanol / vand og derefter BAW puffer. Dette forhindrer krydskontaminering af væv mellem samples.Dismantleand ren med 70% ethanol / vand efter ose.
Hvis en ekstrakt, der kun indeholder opløseligt materiale er påkrævet, centrifugeres homogeniseret vævsekstrakt ved 4.000 rpm ved stuetemperatur i 10 min. Hvis en mere rå ekstrakt kræves, spinde ved 1.000 rpm ved stuetemperatur i 5 minutter. Den mest egnede teknik til ekstraktion af BAW-uopløselige proteiner afhænger af den nedstrøms analyse af proteinerne. Til anvendelse i funktionelle immunologiske assays foreslår vi at forsøge at opløse uopløselige fraktion i 8 M urea som vi tidligere har fundet dette at være veltolereret 6.
Overfør supernatanten til et rent rør og lægge den på is.
Bestemme koncentrationen af ​​protein i ekstrakten under anvendelse af en BCA-analyse eller lignende.
4. Frysetørring Ekstrakter
Afhængigt af massen af protein kræves (dvs. 100 ug per rør) fortyndes homogenatet overensstemmelse hermed og dispensere alikvoter i mærket 5,0 ml steril, Falcon (12x75 mm) rør. Vi bruger ofte 100 ug / rør.
Brug en 18-20 gauge steril kanyle til at gøre 3 huller i låget på hvert rør.
Frys rør enten ved at placere dem på tøris i ~ 10 min eller i en -80 ° C fryser i> 1 time. Opbevares ved -80 ° C indtil klar til at sætte på frysetørreren.
Tænd frysetørrer og lad det ækvilibrere (-100 ° C). Det tager ca 30 min.
Afhængig af mængden, frysetørring være afsluttet inden for 3 timer, men vi rutinemæssigt forlade vores prøver natten over.
Efter afslutning af tørringen, slukkes vakuumpumpen og langsomt tillade trykket i kammeret. Fjern rack.
I en steril hætte, skal du fjerne de perforerede hætter fra rørene og erstatte dem med nye (Falcon 352.032).
Urinrørene opbevares ved -20 ° C. Prøver kan rekonstitueres i dyrkningsmedier, eller andre puffere, og anvendes i funktion eller biokemiske assays.
5. Repræsentative resultater
Figur 1 viser farvning af et proteingel fyldt med ekstrakt fra milt og ø forarmet pancreasvæv (mærket acinar) og renset humane øer (mærkede øer). Resultaterne viser en god repræsentation af proteiner med forskellig molekylvægt for hvert væv.
Kapaciteten af vævsekstrakter at stimulere humane T-celleproliferation blev testet under anvendelse af en CFSE-baserede proliferation assay 7 (figur 2). PBMC anvendes i dette assay, blev isoleret fra et individ med type 1 diabetes. At størrelsen af reaktionen er udtrykt som et forhold mellem antallet af CFSE dim celler pr 5.000 CD4 +, CFSE lyse celler uden antigen: af CFSE dim celler pr 5.000 CD4 +, CFSE lyse celler med antigen fra tredobbelte prøver 7. Resultaterne viser en svag, men detekterbar, proliferation som respons på acinære (CD1 = 3,5) og en stærkere respons på ø-ekstrakt (6,8). Inaktiveret influenzavirus (CDI = 142,6) indgår som enpositiv kontrol.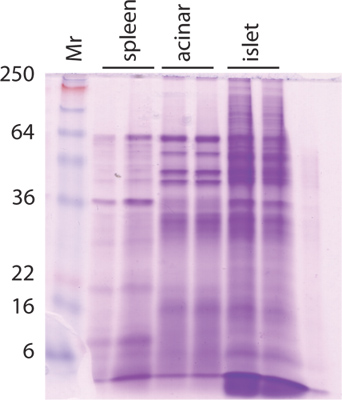 Fig. 1. Protein gel.

Figur 2. Resultater fra en CFSE-baseret proliferationsassay mod acinar og ø-ekstrakt. Klik her for at se større figur .
Subscription Required. Please recommend JoVE to your librarian.
Discussion
Denne protokol blev udviklet, fordi vi ønskede at generere et uddrag fra humant væv, der var fri for giftige kemikalier såsom vaskemidler. Specifikt har vi anvendt det til fremstilling af ekstrakter af humane væv, der kan anvendes i assays af human immunfunktion in vitro. Ekstrakter fremstillet under anvendelse af denne protokol kan også rekonstitueres i en buffer og anvendes til mange biokemiske analyser, såsom Western blotting eller væskekromatografi. Dette gør denne teknik anvendes på mange efterfølgende anvendelser.
Brug vores protokol svaret på vævsekstrakter er ikke stærke. Det forventes, fordi vi er på udkig efter svar på "selv"-antigener, i vores tilfælde T-celle responser mod ø-antigener er ofte svage 1. Tidligere fandt vi, at humane CD4 + T celle responser på rekombinant proinsulin og glutaminsyredecarboxylase (GAD), autoantigener i type 1-diabetes, kunne påvises ved hjælp af vores CFSE-baseredeproliferationsassay 7,8. Vi har valgt at anvende vævsekstrakter for at undgå problemer forbundet med anvendelse af syntetiske peptider 9 og rekombinante proteiner 10.
Vi ikke rutinemæssigt tilsættes proteaseinhibitorer til vores ekstraktioner. Tilstedeværelsen af proteaseinhibitorer kan inhibere antigen-bearbejdning og præsentation 11 og dermed inhibere T-cellereaktioner. I stedet har vi udfører udvinding på is i et forsøg på at forhindre protease-medieret nedbrydning. Til andre anvendelser optagelse af proteaseinhibitorer kan være gavnligt, hvis proteinnedbrydning er et problem.
Subscription Required. Please recommend JoVE to your librarian.
Disclosures
Ingen interessekonflikter erklæret.
Acknowledgements
Dette arbejde er støttet af tilskud fra Australian National Sundhed og Medical Research Council (NHMRC # 559.007) og den Juvenile Diabetes Research Foundation (JDRF 4-2006-1025) og den operationelle infrastruktur under Den victorianske regering. Vi takker medlemmerne af Tom Mandel Islet Transplantation Program Islet Isolation Team for at sikre de menneskelige væv. Humane væv blev opsamlet og anvendt med lokal etisk godkendelse (St. Vincents Hospital HREC-A 011/04 og St. Vincent Health HREC-A 135/08).
Materials
Name
Company
Catalog Number
Comments
5 ml 12 x 75 mm sterile polystyrene tubes
BD Falcon
352054
Caps for tubes polystyrene tubes (above)
BD Falcon
352032
50ml sterile tubes
Becton Dickinson
352070
Acetonitrile
Mallinckradt Chemicals
2856-10
Butan-1-ol
Sigma Aldrich
537993-IL
Homogenizer: PRO200
Bio-strategy
01-01200
10 x 115 mm saw-tooth generator
Lyophilizer
Virtis, Benchtop 4K
Sterile Needle 18-20 gauge
Becton Dickinson
REF 302032
CMRL-1066 Medium
Sigma
C0422
PBS
Sigma
D8537

Table 1. Specific reagents and equipment.