Summary
En enkel protokoll for fremstilling ekstrakter av menneskelig vev som skal brukes som en kilde for antigener i funksjonelle T-celle-analyser er beskrevet. Denne metoden tillater T-celle responser på vev-avledede antigener skal måles
Cite this Article
Copy Citation | Download Citations

Necula, A., Chand, R., Albatat, B., Mannering, S. I. Extraction of Tissue Antigens for Functional Assays. J. Vis. Exp. (67), e4230, doi:10.3791/4230 (2012).
Abstract
Mange av antigenet målene for adaptiv immunrespons, anerkjent av B-og T-celler, er ikke blitt definert 1. Dette gjelder særlig i autoimmune sykdommer og kreft to. Vårt mål er å undersøke antigener anerkjent av humane T-celler i autoimmune sykdom type 1 diabetes 1,3,4,5. Å analysere humane T-celle responser mot vev der antigener gjenkjent av T-celler er ikke identifisert vi utviklet en metode for å utvinne protein antigener fra humant vev i et format som er kompatibelt med funksjonelle analyser 6. Tidligere, T-celle responser på urenset vev ekstrakter kunne ikke måles fordi hentingsmetodene gi et lysat som inneholdt vaskemidler toksiske for humane perifere mononukleære blodceller. Her beskriver vi en protokoll for å trekke proteiner fra menneskelig vev i et format som ikke er giftig for humane T-celler. Vevet homogeniseres i en blanding av butan-1-ol, acetonitril og watER (BAW). Proteinkonsentrasjonen i vevekstrakt måles og en kjent masse av protein er alikvoteres inn rør. Etter ekstraksjon, blir de organiske løsningsmidler fjernet ved lyofilisering. Lyofiliserte vev ekstrakter kan lagres inntil nødvendig. For bruk i analyser av immunfunksjonen, en suspensjon av immunceller, i hensiktsmessige dyrkningsmedier, kan legges direkte på den lyofiliserte ekstrakt. Cytokin produksjon og proliferasjon av PBMC, som svar på ekstrakter fremstilt ved hjelp av denne metoden, ble lett målt. Derfor tillater vår metode den raske fremstilling av humane vev lysater som kan brukes som en kilde for antigener i analysen av T-celle responser. Vi foreslår at denne metoden vil lette analysen av adaptive immunresponser mot vev i transplantasjon, kreft og autoimmunitet.
Protocol
1. Forbereder Spleen Tissue
Note-all menneskelig materiale bør behandles som potensielt smittefarlige og alle prosedyrer bør gjennomføres i en klasse II Laminar Flow Cabinet. Bruke steril saks og tang, fjerne fett og bindevev fra milt seksjoner (~ 1-2 cm i størrelse) og klippe av så mye av det ytre kapsel materiale som mulig.
Skjær et lite stykke (1-2 cm 3) av milten vev og plassere hver brikke i et sterilt 50 ml Falcon-rør.
Snap-fryse biter av vev ved nedsenkning i flytende N 2.
Oppbevares ved -80 ° C. En lignende protokoll er egnet for andre vev (s).
2. Forbereder Menneskelig Islet for lagring
Kultur holmer i CMRL medier. Utlevering holmer i et 10 ml konisk bunn rør og vask to ganger i PBS ved sentrifugering ved 1500 rpm i 5 min. Hell av PBS og tøm gjenværende buffer ved å plassere den omvendte røret kort på et papirhåndkle. Vær forsiktig så du ikkeå fjerne holmer.
Gang drenert, re-cap røret og snap-fryse i flytende nitrogen og lagres ved -80 ° C.
3. Forbereder Extract
Forbered BAW mix (10:30:60% v / v) og oppbevar ved 4 ° C.
Fjern røret fra -80 ° C. Tine i romtemperatur.
Legge tilstrekkelig iskald BAW å dekke stykke vev. For holmer bruke 3-5 ml. For milt vev bruke 10-20 ml avhengig av størrelsen av stykke vev.
Monter vevet homogenizer. Rens 'homogenisere' 10-20 ml 70% etanol / vann.
Homogenisere vevet i flere bursts, etter å ha plassert homogenisatoren sonde inn røret med vev og BAW løsning. Holde røret i et is-bøtte etterpå.
Grundig rense homogenisatoren mellom prøvene, ved homogenisering 10-20 ml 70% etanol / vann og deretter BAW buffer. Dette forhindrer kryssforurensning av vev mellom samples.Dismantleand ren med 70% etanol / vann etter osse.
Hvis en ekstrakt inneholdende bare løselig materiale er nødvendig, sentrifuger homogenisert vevekstrakt ved 4000 rpm ved romtemperatur i 10 min. Hvis en mer rå ekstrakt kreves, spinne ved 1000 rpm ved romtemperatur i 5 min. Den mest hensiktsmessige metode for å trekke ut de BAW-uløselige proteiner avhenger nedstrøms analyse av proteiner. For bruk i funksjonelle immunologiske analyser vil vi foreslå å forsøke å oppløse vannløselig fraksjon i 8 M urea som vi tidligere har funnet dette å være godt tolerert 6.
Overfør supernatanten til et rent rør og sette den på is.
Bestemme konsentrasjonen av protein i ekstraktet ved hjelp av en BCA assay eller lignende.
4. Frysetørking Ekstrakter
Avhengig av massen av protein kreves (dvs. 100 ug per rør) fortynnes homogenatet tilsvarende og dispensere alikvoter inn merket 5,0 ml steril, Falcon (12x75 mm) rør. Vi ofte bruker 100 mikrogram / tube.
Bruk en 18-20 måleren steril sprøytenål ​​å lage 3 hull i hatten av hvert rør.
Fryse rør enten ved å plassere dem på tørris for ~ 10 min, eller i en -80 ° C fryser for> 1 time. Oppbevares ved -80 ° C til den er klar til å sette på lyophilizer.
Slå på fryse-tørrere og tillate ekvilibrere (-100 ° C). Dette tar ca 30 min.
Avhengig av volumet kan frysetørking være ferdig innen 3 timer, men vi rutinemessig lar våre prøver over natten.
Etter fullførelse av tørkesyklusen, slå av vakuumpumpe og langsomt la trykket inn i kammeret. Fjern rack.
I et sterilt hette, fjerne perforerte caps fra rørene og erstatte med nye (Falcon 352 032).
Oppbevar rørene ved -20 ° C. Prøver kan bli rekonstituert i kulturmedia, eller andre buffere, og brukes i funksjon eller biokjemiske analyser.
5. Representant Resultater
Figur 1 viser farging av et proteingel lastet med ekstrakt fra milt og holme utarmet pankreasvevet (merket acinar) og renset menneskelige holmer (merket holmer). Resultatene viser en god representasjon av proteiner av forskjellig molekylvekt for hvert vev.
Kapasiteten på vev ekstrakter å stimulere humane T-celleproliferasjon ble testet ved hjelp av en CFSE-basert spredning analysen 7 (figur 2). Den PBMC brukt i denne analysen ble isolert fra et individ med type 1 diabetes. Omfanget av responsen er uttrykt som et forhold mellom antall CFSE dim celler pr 5.000 CD4 +, CFSE lyse celler uten antigen: av CFSE dim celler pr 5.000 CD4 +, CFSE lyse celler med antigen fra triplikate prøver 7. Resultatene viser en svak, men påvisbare, proliferasjon i respons til acinøs (CD1 = 3,5) og en sterkere respons på holme ekstrakt (6,8). Inaktivert influensavirus (CDI = 142,6) inngår som enpositiv kontroll.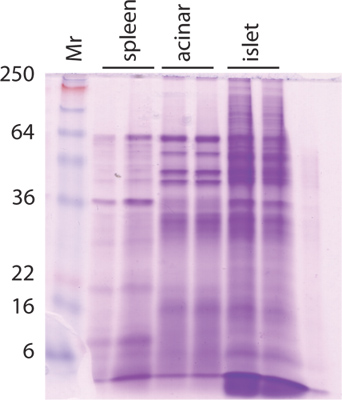 Figur 1. Protein gel.

Figur 2. Resultater fra en CFSE-baserte spredning analysen mot acinar og holme ekstrakt. Klikk her for å se større figur .
Subscription Required. Please recommend JoVE to your librarian.
Discussion
Denne protokollen ble utviklet fordi vi ønsket å generere et utdrag fra menneskelig vev som var fri for giftige kjemikalier som vaskemidler. Spesifikt vi har brukt det å forberede ekstrakter av menneskelig vev som kan brukes i analyser av humant immun funksjon in vitro. Ekstrakter fremstilt ved hjelp av denne protokollen kan likeledes rekonstitueres i enhver buffer og brukes for mange biokjemiske analyser, som Western blotting eller væskekromatografi. Dette gjør denne teknikken som gjelder for mange nedstrøms applikasjoner.
Ved å bruke vår protokoll responsen på vev ekstrakter er ikke sterk. Dette er forventet fordi vi leter etter svar på 'selv' antigener, i vårt tilfelle T-celle respons mot holmen antigener er ofte svake 1. Tidligere har vi funnet at menneskelige CD4 + T celle responser til rekombinant proinsulin og glutaminsyre decarboxylase (GAD), autoantigener i type 1 diabetes, kan påvises ved hjelp av vår CFSE-basertespredning analysen 7,8. Vi har valgt å bruke vev ekstrakter for å unngå problemer forbundet med å bruke syntetiske peptider 9 og rekombinante proteiner 10.
Vi har ikke rutinemessig legge proteasehemmere til vår extractions. Nærvær av proteasehemmere kan hemme antigen prosessering og presentasjon 11 og følgelig hemme T-celle responser. Stedet vi utfører ekstraksjonen på isen i et forsøk på å hindre protease-mediert nedbrytning. For andre applikasjoner inkludering av proteasehemmere kan være gunstig hvis proteinnedbrytning er et problem.
Subscription Required. Please recommend JoVE to your librarian.
Disclosures
Ingen interessekonflikter erklært.
Acknowledgements
Dette arbeidet er støttet med tilskudd fra Australian National Health and Medical Research Council (NHMRC # 559007) og Juvenile Diabetes Research Foundation (JDRF 4-2006-1025) og Operational Infrastruktur Scheme av den viktorianske regjeringen. Vi takker medlemmene av Tom Mandel Islet Transplantasjon Program Islet Isolation Team for å gi de menneskelige vev. Menneskelig vev ble samlet inn og brukt med lokal etisk godkjenning (St. Vincent Hospital HREC-A 011/04 og St. Vincent er Helse HREC-A 135/08).
Materials
Name
Company
Catalog Number
Comments
5 ml 12 x 75 mm sterile polystyrene tubes
BD Falcon
352054
Caps for tubes polystyrene tubes (above)
BD Falcon
352032
50ml sterile tubes
Becton Dickinson
352070
Acetonitrile
Mallinckradt Chemicals
2856-10
Butan-1-ol
Sigma Aldrich
537993-IL
Homogenizer: PRO200
Bio-strategy
01-01200
10 x 115 mm saw-tooth generator
Lyophilizer
Virtis, Benchtop 4K
Sterile Needle 18-20 gauge
Becton Dickinson
REF 302032
CMRL-1066 Medium
Sigma
C0422
PBS
Sigma
D8537

Table 1. Specific reagents and equipment.