Summary
En roman protokoll for den mekaniske utarbeidelse av testiklene cellesuspensjoner fra gnager materialet, unngå enzymer og vaskemidler, er beskrevet. Metoden er svært enkel, rask, reproduserbar, og gjengir god kvalitet cellesuspensjoner, som er egnet for flow sortering og RNA ekstraksjon.
Cite this Article
Copy Citation | Download Citations | Reprints and Permissions

Rodríguez-Casuriaga, R., Folle, G. A., Santiñaque, F., López-Carro, B., Geisinger, A. Simple and Efficient Technique for the Preparation of Testicular Cell Suspensions. J. Vis. Exp. (78), e50102, doi:10.3791/50102 (2013).
Abstract
Pattedyr testiklene er svært komplekse organer som inneholder over 30 forskjellige celletyper, inkludert somatiske testikkelceller og ulike stadier av kimlinje celler. Denne heterogenitet er en viktig ulempe når det gjelder studium av basene av spermatogenesen hos pattedyr, som rene eller anrikede cellepopulasjoner i visse stadier av utvikling av spermiene er nødvendig for de fleste molekylære analyser 1.
Forskjellige strategier som 2,3 Staput, sentrifugal elutriation 1, og strømningscytometri (FC) 4,5 er anvendt for å oppnå anriket eller renset testikulære cellepopulasjoner for å muliggjøre differensiell genekspresjon studier.
Det kreves at cellene er i suspensjon i de fleste berikelse / rensing tilnærminger. Ideelt sett vil cellesuspensjonen være representative for den opprinnelige vev, har en høy andel av levedyktige celler og noen multinucleates - som har en tendens til å danne grunn avsyncytiale natur seminiferous epitel 6,7 - og mangel celle klumper en. Tidligere rapporter hadde dokumentert at testiklene cellesuspensjoner utarbeidet av en utelukkende mekanisk metode klumpet seg lettere enn trypsinisert seg en. På den annen side, enzymatiske behandlinger med RNases og / eller disaggregating enzymer som trypsin og kollagenase fører til spesifikke makromolekyler degradering, noe som er uønsket for visse anvendelser nedstrøms. Den ideelle prosess skal være så kort som mulig, og involvere minimal manipulering, slik at man oppnår en god bevaring av makromolekyler av interesse, slik som mRNA. Nåværende protokoller for utarbeidelse av cellesuspensjoner fra solide vev er vanligvis tidkrevende, svært avhengig av operatør, og kan selektivt skade visse celletyper 1,8.
Protokollen som presenteres her kombinerer fordelene med en meget reproduserbar og ekstremt kort mekanisk disaggregation med enbsence for enzymatisk behandling, som fører til god kvalitet cellesuspensjoner som kan brukes for flowcytometrisk analyse og sortering 4, og utenforliggende genekspresjon studier 9.
Protocol
En. Utarbeidelse av cellesuspensjoner
Ofre prøven som skal brukes følge anbefalingene fra de spesialiserte komiteer som IACUC eller tilsvarende (i Uruguay, National Commission for forsøk med dyr [CNEA]). I vårt tilfelle ble det en overdose av pentobarbital administreres.
Dissekere testiklene følgende standard godkjente prosedyrer og plassere dem i en 96 mm glass petriskål på is, som inneholder 10 ml iskald DMEM supplert med 10% kalvefosterserum.
Fjern hvite hinne og kutte decapsulated testiklene i firkantede biter av 2-3 mm på hver side.
Disse bitene blir deretter behandlet i en Medimachine, en automatisert mekanisk kvern hvor vevet er dekomponeres i en disponibel enhet inneholder en perforert rustfri stålsikt-og en metall-rotoren. For å gjøre dette, plasserer en ml kaldt supplert DMEM og 4-5 av disse brikkene i en 50 mikrometer disponibel enhet, slå på disaggregator, og prosessen for 50 sek følge de enkle instruksjonene fra produsenten.
Gjenopprette den resulterende celle suspensjon fra disaggregation enhet ved hjelp av en 3 - 5 ml sprøyte uten nål.
Filtrere gjennom en 50 mikrometer nylon mesh, tidligere dynket med 0,5 ml supplert DMEM.
Filtrere suspensjonen igjen ved hjelp av en gjennomvåt 25 mikrometer nylon mesh, og legg på is.
Telle i en Neubauer kammer og justere mobilnettet konsentrasjon til 1-2 x 10 7 celler / ml med supplert DMEM. Minst 4 x 10 7 celler / gram av testis materiale oppnås vanligvis.
Til slutt legger NDA (2-naftol-6 ,8-disulfonsyre, dikaliumperoksodisulfat salt) til en endelig konsentrasjon på 0,2% for å forhindre celle-klumper.
Valgfritt: sjekke celle levedyktighet av testiklene cellesuspensjoner med en kommersielt tilgjengelig levedyktighet kit for dyreceller, etter produsentens anvisninger.
2. Flowcytometrisk analyse
ve_content "> Vi har brukt en Becton-Dickinson FACSVantage flowcytometer utstyrt med en sammenhengende argon ion laser innstilt til et utslipp på 488 nm for analyse av celler farget med høye konsentrasjoner av propidium jodid (PI). (Spørsmålet om PI inngang til unfixed cellene under stress har blitt behandlet annetsteds
9,10).
For PI farging, tilsett fluorokrom ved en endelig konsentrasjon på 50 ug / ml til cellesuspensjonen, og inkuber i 10 min ved 0 ° C i mørket.
Laser kraft er satt til 100 mW og en 575/26 band pass filter brukes for å samle PI-slippes fluorescens i FL2.
Vi utfører FC målinger med en 70 mikrometer dyse. For sortering spermatocyte populasjoner, satt sortering modus i Normal-R eller Normal-C med tre sortert dråper som konvolutt. Hold prøven og samling rør på 3-4 ° C ved hjelp av en kjøleenhet. Juster prøven differensial for å analysere celler med en hastighet på 500 til 1500 per sekund.
Bruk CellQuest programvare (BD) til å analyserede følgende parametere: fremover diffusjon (FSC-H); sidespredning (SSC-H); totale utsendte fluorescenslys eller puls-område (FL2-A), og varigheten av fluorescensemisjon eller puls-bredde (FL2-w).
Alternativt har vi benyttet det vitale fargestoff Hoechst 33342 til en endelig konsentrasjon på 5 ug / ml og inkubert i 10 min ved 37 ° C i mørke. Cell analyse ble utført ved hjelp av en MoFlo cytometer (DakoCytomation) utstyrt med en UV-eksitasjonsbølgelengde laser som drives ved 25 mW og anvendelse av en 70 mikrometer dyse. Datamanipulasjon ble utført med Summit v4.3 programvare (DakoCytomation).
Subscription Required. Please recommend JoVE to your librarian.
Representative Results
Et eksempel på en vel disaggregert cellesuspensjon fra rotte prøvene fremstilt med den protokoll som er beskrevet her, er vist i figur 1.
I forhold til enzymatiske behandlinger 6,8 og med tidligere beskrevne mekaniske disaggregation metode 2, er den som presenteres her mye raskere, innebærer mindre håndtering, er lett reproduserbar (ikke avhenger av operatøren), og gjengir knappe celleavfall (spesielt i forhold til andre mekaniske metoder) og svært få multinucleates (som har blitt beskrevet å danne som en konsekvens av omfattende vev manipulasjon 1,2). Dessuten, i motsetning til enzymatiske behandlinger, det unngår bruken av RNases, trypsin og kollagenase, som kan favorisere makromolekyler degradering.
På den annen side, selv om det tidligere rapporter har dokumentert at testikulære cellesuspensjoner fremstilt ved en utelukkende mekanisk metode klumpet seg lettere enn på trypsinisertes 1, gjengitt ved anvendelse av den foreliggende fremgangsmåte meget lite klumper i den cellulære suspensjoner, som kan sees i figur 1. I den forstand har vi funnet inkludering av NDA svært effektiv i å forebygge celle klumper, og unngå munnstykket tilstopping under påfølgende flyt studier. Figur 1 avslører også knapphet på celle rusk, som også er tydelig i FC histogrammer avbildet i Figur 2.
Dessuten cellesuspensjoner fremstilt med denne metode viser en adekvat representasjon av de forskjellige testikler celletyper. Dette ble avsluttet ved å sammenligne den cellulære sammensetningen av testiklene cellesuspensjoner utarbeidet av metoden som presenteres her med data rapportert fra celletall i tverrsnitt av seminiferous tubuli, og med cellesuspensjoner forberedt bruke andre metoder også (tabell 1).
FC histogrammer innhentet for suspensjoner utarbeidet av present protokollen og farget enten med Hoechst 33342 (Figur 2A) eller PI (figur 2B) ikke vesentlig forskjellig fra tidligere rapporterte de åtte, også støtter antagelsen om at prosedyren ikke skader selektivt noen bestemt celletype.
Testiklene celletyper basert på DNA innhold
Intakt testis en (%)
Medimachine - tilberedte suspensjoner b (%)
Trypsinisert suspensjoner en (%)
A) Mus musculus
C
66,2
62.5
79.6
2C
16.4
18.4
7.3
4C </ Td>
17.9
18.7
8.7
Annet
-
-
4.6
B) Cavia porcellus
C
66.5
65,5
N / D
2C
11.0
11.5
N / D
4C
22.5
23,0
N / D
en Cell teller ble vurdert av mikroskopiske observasjon.
B-celler ble vurdert av flowcytometri.
Tabell 1. De relative prosentdeler av voksne testikler cellepopulasjoner differerer i deres DNA-innhold for cellesuspensjoner fra mus (A) og marsvin (B) fremstilt ved herved presenteres metode, sammenlignet med intakte testis og - for mus - To trypsin forberedt suspensjoner (modifisert fra Geisinger og Rodríguez-Casuriaga, Cytogenet. Genome Res. 128, 46 (2010)). DNA-innholdet er: C (runde og elongating spermatider, spermatozoer), 2C (testiklene somatiske celler, spermatogonier, sekundære spermatocytter), og 4C (primære spermatocytter og noen voksende spermatogonier i G2 fase).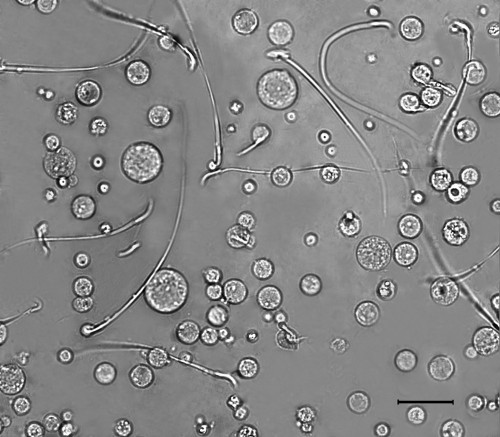 Figur 1. Delvis utsikt over en celle suspensjon fra voksne rotter testis utarbeidet av den nåværende protokollen og visualisert ved fase kontrast mikroskopi. Som man kan se, er celle cytoplasms godt bevart. Den linje svarer til 25 pm. Gjengitt fra Rodríguez-Casuriaga, et al., Biol. Proced. Online. 11., 184 (2009).
Figur 2. FC DNA innholdsanalyse av testiklene cellesuspensjoner fra voksne rotter, mus, marsvin, og fra 21 dager etter fødsel (DPP) rotteunger, farget med den vitale fargestoff Hoechst 33342 (A) eller med PI (B).
I alle tilfeller C, 2C og 4C cellepopulasjoner kan lett beskrevet i histogrammene oppnådd med begge fluoroforer, samt den tilsynelatende sub-haploid topp til venstre for C-populasjonen. Denne sistnevnte topp har vist seg å inneholde spermatozoa, som vises som et separat, mindre farget subpopulasjon grunn av deres kondensert kromatin tilstand
12..
Legg merke til mangelen på rusk i all grafikk. Dette er spesielt tydelig i 21 DPP (juvenile eksemplarer) profiler, som mangler spermatider og spermatozoer. Endret fra Geisinger og Rodríguez-Casuriaga,
Cytogenet.
Genome Res.
128,
46 (2010).
Klikk her for å se større figur.

Figur 3. 4C cellepopulasjonen sortert fra en testicular celle suspensjon av voksen rotte. Sortert celler ble deponert på rene poly-L-lysin-behandlede lysbilder og observert under fase-kontrast mikroskopi (A) eller lyse felt etter Giemsa farging (B). Bar = 20 mikrometer. Gjengitt fra Geisinger og Rodríguez-Casuriaga, Cytogenet. Genome Res. 128, 46 (2010).
tp_upload/50102/50102fig4highres.jpg "/>
. Figur 4 A) FC-analyse av en voksen marsvin testikulær celle suspensjon fremstilt med den protokoll som er beskrevet her (a), histogram,. (B), dot plot. Legg merke til de to subpopulasjoner i 4C cellepopulasjon. B) Analyse av sorterte celler fra 4C R3 (A, B) og R4 (a ', b')-regioner. (A, a '), epifluorescence mikroskop bilder av pi-fargede cellene . Merk at atomkjerner fra R3 regionen er relativt mindre. Bar: 10 mikrometer (b, b '), Laser Konfokalmikroskopi av immuncytokjemisk reaksjoner på spredning celler ved hjelp av et antistoff mot Sycp3 (Synaptonemal kompleks [SC] protein tre, en lateral element komponent).. Bildet kan konkluderes at R3 brøkdel tilsvarer tidlig (lepto / zygotene) meiocytes, der enkle økser og korte strekninger av sentre kan sees, mens R4 inneholder pachytene meiocytes, med comstendig montert sentre. Endret fra Rodríguez-Casuriaga, et al., Cytometry A. 79, 625 (2011). Klikk her for å se større figur.

Figur 5. A) agarosegelelektroforese av total RNA ekstrahert fra spermatogenic flyt-sorterte fraksjoner celle 2C, R3 og R4 (forklaring på de to sistnevnte fraksjoner er i figur 4). Cellesuspensjoner ble fremstilt med den protokoll som er beskrevet her. B) autoradiogram av en denaturerende polyakrylamid elektroforese gel viser differensiallikninger cDNA band innhentet ved hjelp av "mRNA differensial display"-metoden (RNAimage; GenHunter Corporation, Nashville, Tennessee) for en av primer kombinasjoner fra settet. mRNA fra de samme tre celle populasjoner som i et al., Cytometry 79 A., 625 (2011).
Subscription Required. Please recommend JoVE to your librarian.
Discussion
Den optimaliserte metoden beskrevet her gjør utarbeidelse av cellesuspensjoner fra gnager testikkelvev i en svært rask og reproduserbar måte, unngå enzym og vaskemiddel behandling og opprettholde god celle integritet og skriver proporsjoner. Den korte prosedyren (15 min span inkluderer testis disseksjon, vevsskjæring, og behandling), minimal håndtering involvert, og fravær av enzymatiske behandlinger er noen av de viktigste fordelene. Alle disse ville forklare den gode konservering av kort levetid makromolekyler, som er kritisk når et representativt utvalg av forbindelser som finnes i den originale cellepopulasjon er nødvendig.
Om bruk av enten PI eller Hoechst 33342, har vi observert ingen åpenbare forskjeller i profilene som følge av flowcytometrisk analyse av testiklene cellesuspensjoner med ansettelse av den ene eller den andre fargestoffer. Fargestoffet valget vil heller være avhengig av brukerens preferanser og ledige plasser, ogden planlagte videre bruk. På den ene siden, er PI billigere, og av utbredt anvendelse som ikke krever bruk av flowcytometere og sortering har en UV laser. På den andre, kunne selv om vi har med hell brukt PI-fargede celler for skjulte sortering og differensiallikninger genuttrykk studier (figur 4), Hoechst 33342 eller annen vital fargestoff med lave cytotoksisitetstester nivåer være å foretrekke valg for hvor full celle levedyktighet er nødvendig, slik som bakterie cellekultur og / eller transplantasjon 4..
Vi har vært i stand til å sortere spesifikke cellepopulasjoner oppnå over 95% renhet enten for utvalgte testikulære populasjoner med ulike DNA-innhold 4 (figur 3), eller til og med for subpopulasjoner med den samme DNA-innhold, men forskjellige kromatin kondensasjonsprodukter nivåer (figur 4). Denne siste kan gjøres så lenge subpopulasjoner av interesse kan individualiseres i cytometriske profiler, particularly i prikkplotter. For eksempel, til nå har vi vært i stand til å sortere ulike stadier av marsvin meiocytes jeg ni, men ikke diskriminere og sortere subpopulasjoner innenfor 2C befolkningen rett og slett ved farging av DNA. Sortert celler har gjort god kvalitet RNA, slik at nedstrøms differensial genuttrykk analyser 9 (figur 5).
Som kan sees i protokollen beskrivelse, er det meget enkelt, lett reproduserbare, og krever ikke særlig kyndig personell. Vi anser det kan tas i bruk for en lang rekke anvendelser som involverer flowcytometri eller ikke. Den tidligere spenner fra enkle testicular innholdsanalyse for rask kontroll av spermatogenic forhånd, til andre med preparativ mål som flyt rensing av spesifikke celle populasjoner for skjulte molekylære studier, som vist her.
Subscription Required. Please recommend JoVE to your librarian.
Acknowledgments
Dette arbeidet ble delvis støttet av CSIC (I + D prosjekt C022) og PEDECIBA. Forfatterne ønsker å takke Mariela Bollati og Valentina Porro fra Cell Biology Unit (Institut Pasteur de Montevideo) for deres generøse samarbeid om MoFlo celle sorter, og Merial-Montevideo for forsiktig gi alle marsvin prøver som brukes i dette prosjektet. Figur 1 ble gjengitt med tillatelse fra BioMed Central, figur 2 og 3, og tabell 1 med tillatelse fra S. Karger AG, Basel, og figur 4 og 5 ble gjengitt eller tilpasses med tillatelse fra John Wiley & Sons, Inc (copyright eies av Wiley- Blackwell, 2011).
Materials
| | | | |
| --- | --- | --- | --- |
| Name | Company | Catalog Number | Comments |
| Medimachine system | BD | 340587 | |
| Medicon unit (50 μm) | BD | 340591 | |
| Filcon unit (50 μm) | BD | 340603 | |
| DMEM | Gibco | 430-2100 | |
| Fetal calf serum | PAA | A11-151 | |
| NDA | Chemos BmbH | 277081 | |
| H–chst 33342 | Sigma-Aldrich | 14533 | Stock solution 5 mg/ml; used at a final concentration of 5 μg/ml |
| Propidium iodide | Sigma-Aldrich | 287075 | Stock solution 1 mg/ml; used at a final concentration of 50 μg/ml |
References
Meistrich, M. L. Separation of spermatogenic cells and nuclei from rodent testes. Methods of Cell Biology. Prescott, D. M. 15, Academic Press. New York. 15-54 (1977).
Lam, D. M. K., Furrer, R., Bruce, W. R. The separation, physical characterization, and differentiation kinetics of spermatogonial cells of the mouse. Proc. Natl. Acad. Sci. USA. 65, 192-199 (1970).
Romrell, L. J., Bellve, A. R., Fawcet, D. W. Separation of mouse spermatogenic cells by sedimentation velocity. Dev. Biol. 19, 119-131 (1976).
Geisinger, A., Rodríguez-Casuriaga, R. Flow cytometry for gene expression studies in mammalian spermatogenesis. Cytogenet. Genome Res. 128, 46-56 (2010).
Getun, I. V., Torres, B., Bois, P. R. Flow cytometry purification of mouse meiotic cells. J. Vis. Exp. (50), e2602 (2011).
Meistrich, M. L. Separation of mouse spermatogenic cells by velocity sedimentation. J. Cell Physiol. 80, 299-312 (1972).
Meistrich, M. L., Bruce, W. R., Clermont, Y. Cellular composition of fractions of mouse testis cells following velocity sedimentation separation. Exp. Cell Res. 79, 213-227 (1973).
Malkov, M., Fisher, Y., Don, J. Developmental schedule of the postnatal rat testis determined by flow cytometry. Biol. Rep. 59, 84-92 (1998).
Rodríguez-Casuriaga, R., Geisinger, A., Santiñaque, F., López, B., Folle, G. High-purity flow sorting of early meiocytes based on DNA analysis of guinea pig spermatogenic cells. Cytometry A. 79, 625-634 (2011).
Davey, H. M., Hexley, P. Red but not dead? Membranes of stressed Saccharomyces cerevisiae are permeable to propidium iodide. Environ. Microbiol. 13, 163-171 (2011).
Rodríguez-Casuriaga, R., Geisinger, A., López-Carro, B., Porro, V., Wettstein, R., Folle, G. A. Ultra-fast and optimized method for the preparation of rodent testicular cells for flow cytometric analysis. Biol. Proced. Online. 11, 184-195 (2009).
Spanò, M., Evenson, D. P. Flow cytometric analysis for reproductive biology. Biol Cell. 78, 53-62 (1993).