Summary
En roman protokol for den mekaniske tilberedning af testikelkræft cellesuspensioner fra gnaver materiale, undgå enzymer og rengøringsmidler, der er beskrevet. Fremgangsmåden er meget enkel, hurtig, reproducerbar, og gør god kvalitet cellesuspensioner, som er egnet til flow sortering og RNA-ekstraktion.
Cite this Article
Copy Citation | Download Citations | Reprints and Permissions

Rodríguez-Casuriaga, R., Folle, G. A., Santiñaque, F., López-Carro, B., Geisinger, A. Simple and Efficient Technique for the Preparation of Testicular Cell Suspensions. J. Vis. Exp. (78), e50102, doi:10.3791/50102 (2013).
Abstract
Mammale testikler er meget komplekse organer, der indeholder over 30 forskellige celletyper, herunder somatiske testikelceller og forskellige stadier af kønscelleoverførsel celler. Denne uensartethed er en vigtig ulempe vedrørende undersøgelse af grundlaget for pattedyr spermatogenesen, som rene eller beriget celle populationer i visse faser af udviklingen af sæd der er behov for de fleste molekylære analyser 1..
Forskellige strategier såsom Staput 2,3, centrifugal slæmning 1, og flowcytometri (FC) 4,5 er blevet anvendt til at opnå berigede eller oprensede testiklerne cellepopulationer for at muliggøre differential genekspressionsstudier.
Det kræves, at cellerne er i suspension fleste berigelse / oprensning tilgange. Ideelt set vil cellesuspensionen være repræsentativ for det oprindelige væv, har en høj andel af levedygtige celler og få multinucleates - som har en tendens til at danne grund afsyncytial karakter seminiferous epitel 6,7 - og mangel celleklumper 1.. Tidligere rapporter havde dokumenteret, at testiklerne cellesuspensioner udarbejdet af en udelukkende mekanisk metode klumpet lettere end trypsinerede dem 1.. På den anden side, behandlinger enzymatiske med RNAser og / eller disaggregering enzymer som trypsin og collagenase føre til specifikke makromolekyler nedbrydning, hvilket er uønsket for visse efterfølgende anvendelser. Den ideelle proces bør være så kort som muligt og involvere minimal manipulation, således at der opnås en god konservering af makromolekyler af interesse såsom mRNA'er. Nuværende protokoller til fremstilling af cellesuspensioner fra faste væv er normalt tidskrævende, stærkt afhængig af operatøren, og kan selektivt beskadige visse celletyper 1,8.
Protokollen præsenteres her kombinerer fordelene ved en meget reproducerbar og ultrakort mekanisk disaggregering med enbsence af enzymatisk behandling, hvilket fører til god kvalitet cellesuspensioner, der kan bruges til flowcytometrisk analyse og sortering 4, og skjulte genekspressionsstudier 9..
Protocol
1.. Fremstilling af cellesuspensioner
Sacrifice prøven skal anvendes efter anbefalingerne fra fagudvalgene såsom IACUC eller tilsvarende (i Uruguay, Nationale Kommission for dyreforsøg [CNEA]). I vores tilfælde var en overdosis af pentobarbital administreres.
Dissekere testiklerne efter standard godkendte procedurer og placere dem i en 96 mm glas petriskål på is, som indeholder 10 ml iskold DMEM suppleret med 10% føtalt kalveserum.
Fjern Tunica albuginea og skær decapsulated testikler i firkantede stykker af 2 - 3 mm på hver side.
Disse stykker behandles derefter i en Medimachine, en automatiseret mekanisk mølle, hvor vævet er opdelt i en enhed til engangsbrug, der indeholder en perforeret rustfrit stål skærm og en metal rotor. For at gøre dette, sted 1 ml koldt suppleret DMEM og 4. - 5. af disse stykker i en 50 um enhed til engangsbrug, tænd disaggregator og proces for 50 sekunder efter de enkle instruktioner fra producenten.
Recover den resulterende cellesuspension fra opdeling enheden med en 3-5 ml sprøjte uden kanyle.
Filtreres gennem et 50 um nylon mesh, tidligere gennemblødt med 0,5 ml suppleret DMEM.
Filtrere suspensionen igen ved hjælp af en gennemblødt 25 um nylon mesh, og anbring på is.
Tæl i et Neubauer kammer og justere cellulære koncentration til 1 - 2 x 10 7 celler / ml med suppleret DMEM. Mindst 4 x 10 7 celler / gram af testis materiale fås sædvanligvis.
Endelig tilsættes NDA (2-naphthol-6 ,8-disulfonsyre, dikaliumsalt) til en slutkoncentration på 0,2% for at forhindre celle sammenklumpning.
Valgfrit: check celle levedygtighed testiklerne cellesuspensioner med et kommercielt tilgængeligt levedygtighed kit til dyreceller efter producentens anvisninger.
2.. Flowcytometrianalyse
ve_content "> Vi har brugt en Becton-Dickinson FACSVantage flowcytometer udstyret med en sammenhængende argonionlaser indstillet til at udsende på 488 nm til analyse af celler farvet med høje koncentrationer af propidiumiodid (PI). (Spørgsmålet PI indgang til fastbundet celler under stress er blevet behandlet andetsteds
9,10).
PI farvning, tilføje fluorochrom ved en slutkoncentration på 50 ug / ml til cellesuspensionen, og inkuberes i 10 minutter ved 0 ° C i mørke.
Laser effekt er sat til 100 mW og 575/26 band pass filter bruges til at indsamle PI-udsendte fluorescens i FL2.
Vi udfører FC målinger med en 70 um dyse. Til sortering spermatocyte befolkninger, sæt sortering tilstanden i Normal-R eller Normal-C, ved hjælp af 3 sorteret dråber som kuvert. Hold prøve og opsamlingsrør til 3 - 4 ° C ved hjælp af en køleenhed. Juster prøve forskellen til at analysere celler med en hastighed på 500 til 1.500 per sekund.
Brug CellQuest software (BD) at analyserefølgende parametre: fremad scatter (FSC-H), side scatter (SSC-H), total udsendes fluorescens eller puls-området (FL2-A), og varigheden af ​​fluorescensemissionen eller puls-bredde (FL2-W).
Alternativt har vi ansat den vitale farvestof Hoechst 33342 til en slutkoncentration på 5 ug / ml og inkuberet i 10 minutter ved 37 ° C i mørke. Celleanalyse blev udført ved hjælp af en MoFlo cytometer (DakoCytomation) udstyret med en UV excitationsbølgelængde laser, som fungerer ved 25 mW og anvendelse af en 70 um dyse. Datamanipulation blev udført med Summit v4.3 software (DakoCytomation).
Subscription Required. Please recommend JoVE to your librarian.
Representative Results
Et eksempel på et godt disaggregerede cellesuspension fra rotte testikler fremstillet med protokollen beskrevet her er vist i figur 1..
I forhold til enzymatiske behandlinger 6,8 og tidligere beskrevne mekaniske opdelingsniveauer metoder 2, er den præsenteres her meget hurtigere, indebærer mindre håndtering, er let at reproducere (ikke afhænger af operatøren), og gør knappe cellefragment (især sammenlignet med andre mekaniske metoder) og meget få multinucleates (som er blevet beskrevet til at danne som en konsekvens af omfattende væv manipulation 1,2). Desuden, i modsætning til enzymatiske behandlinger, det undgår brugen af ​​RNAser, trypsin og collagenase, som kunne favorisere makromolekyler nedbrydning.
På den anden side, tidligere rapporter selvom havde dokumenteret, at testiklerne cellesuspensioner fremstillet ved en udelukkende mekanisk metode sammenklumpede lettere end trypsinbehandlet påes 1, anvendelsen af den foreliggende fremgangsmåde gøres meget lidt sammenklumpning i de cellulære suspensioner, som det kan ses i figur 1. I den forstand har vi fundet optagelse af NDA meget effektive i forebyggelsen celle sammenklumpning og undgå tilstopning af dyser under efterfølgende flow undersøgelser. Figur 1 viser også knaphed på cellerester, der er også indlysende i FC histogrammer i figur 2 afbildede.
Desuden cellesuspensionerne fremstillet med denne metode viser en passende repræsentation af de forskellige testikel celletyper. Dette blev afsluttet ved at sammenligne den cellulære sammensætning af testikulære cellesuspensioner fremstillet ved fremgangsmåden præsenteres her med data rapporteret fra celletal i tværsnit af sædkanalerne, og med cellesuspensioner fremstilles ved hjælp af andre metoder samt (tabel 1).
FC histogrammer opnået for suspensioner udarbejdet af present protokol og farves enten med Hoechst 33342 (figur 2A) eller PI (figur 2B) ikke væsentligt adskiller sig fra tidligere rapporterede dem 8, også støtter den antagelse, at proceduren ikke selektivt skade nogen specifik celletype.
Testikelkræft celletyper baseret på DNA-indhold
Intakt testikel a (%)
Medimachine - tilberedte suspensioner b (%)
Trypsinerede suspensioner a (%)
A) Mus musculus
C
66.2
62,5
79,6
2C
16.4
18.4
7.3
4C </ Td>
17.9
18.7
8.7
Andre
-
-
4.6
B) Cavia porcellus
C
66,5
65,5
N / D
2C
11.0
11.5
N / D
4C
22.5
23,0
N / D
a Celletællinger blev vurderet ved mikroskopisk observation.
b Celletællinger blev vurderet ved flowcytometri.
Tabel 1. Relative procentdel af voksne testiklerne cellepopulationer forskellige i deres DNA indhold til cellesuspensioner fra mus (A) og marsvin (B) fremstillet ved herved præsenterede metode, sammenlignet med intakte testis og - for mus - to trypsin forberedte suspensioner (Modified fra Geisinger og Rodríguez-Casuriaga, Cytogenet. Genome Res. 128, 46 (2010)). DNA indhold er: C (runde og elongerende spermatider, spermatozoer), 2C (testikel somatiske celler, spermatogonier, sekundære spermatocytter) og 4C (primære spermatocytter og et par prolifererende spermatogonier i G2 fase).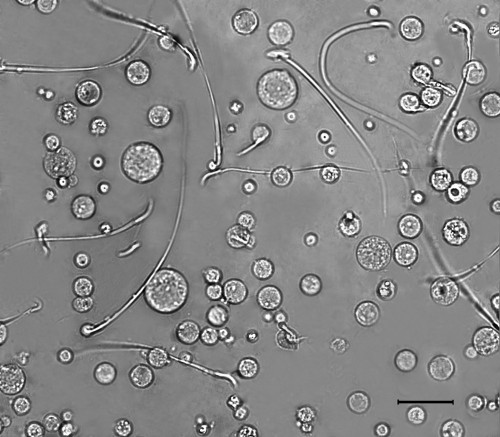 Figur 1. Indskrænkede udsigt på en celle suspension fra voksne rotter testis udarbejdet af den nuværende protokol og visualiseres ved fasekontrast mikroskopi. Som det kan ses, er celle cytoplasmaer velbevarede. Linjen svarer til 25 um. Gengivet fra Rodríguez-Casuriaga, et al. Biol. Proced. Online. 11. 184 (2009).
Figur 2. FC DNA-indholdet analyse af testikelkræft cellesuspensioner fra voksne rotter, mus, marsvin, og fra 21 dage post partum (DPP) rotteunger, farves med den vitale farvestof Hoechst 33342 (A) eller med PI (B).
I alle de tilfælde C, 2C og 4C cellepopulationer kan nemt beskrevet i histogrammerne opnået med begge farvestoffer, samt tilsyneladende sub-haploide peak til venstre af C befolkning. Sidstnævnte top har vist sig at indeholde spermatozoer, der fremtræder som et særskilt, mindre farvede subpopulation grund af deres kondenseret kromatin stand
12.
Bemærk knapheden af ​​vragdele i alle grafik. Dette er især tydeligt i de 21 DPP (unge enheder) profiler, som mangler spermatider og sædcellerne. Modificeret fra Geisinger og Rodríguez-Casuriaga,
Cytogenet.
Genome Res.
128,
46 (2010).
Klik her for at se større figur.

Figur 3. 4C cellepopulation sorteret fra en testikelkræft cellesuspension af voksne rotter. Sorterede celler blev deponeret på rene poly-L-lysin-behandlede objektglas og observeret under fase-kontrast mikroskopi (A) eller lysfelt efter Giemsa farvning (B). Bar = 20 um. Gengivet fra Geisinger og Rodríguez-Casuriaga, Cytogenet. Genome Res. 128, 46 (2010).
tp_upload/50102/50102fig4highres.jpg "/>
. Figur 4 A) FC analyse af en voksen marsvin testikelkræft celle suspension fremstillet med protokollen beskrevet her (a), histogram,. (B), punktdiagram. Bemærk de to subpopulationer i 4C-celle population. B) Analyse af sorterede celler fra 4C R3 (a, b) og R4 (a ', b')-regioner. (A, a '), epifluorescensmikroskop billeder af PI-farvede celler . Bemærk at kerner fra R3 region er forholdsvis mindre. Bar: 10 m (b, b '), Laser konfokal mikroskopi af immunocytokemiske reaktioner på spread celler ved hjælp af et antistof mod Sycp3 (Synaptonemal kompleks [SC] protein 3, et lateralt element komponent).. Det billede giver den konklusion, at R3 fraktion svarer til tidligt (lepto / zygotene) meiocytter, hvor simple økser og korte strækninger af SCS kan ses, mens R4 indeholder pachytene meiocytter med comhelt samlet SCS. Modificeret fra Rodríguez-Casuriaga, et al., Cytometry A. 79 625 (2011). Klik her for at se større figur.

Figur 5. A) Agarosegelelektroforese af de samlede RNA'er ekstraheret fra spermatogeneseskader flow-sorteret cellefraktioner 2C, R3 og R4 (forklaring på de to sidstnævnte fraktioner er i figur 4). Cellesuspensioner blev fremstillet med protokollen beskrevet her. B) autoradiogram af en denaturerende polyacrylamidelektroforese gel, der viser differential cDNA bånd opnået ved hjælp af "mRNA forskellen display"-metoden (RNAimage, GenHunter Corporation, Nashville, TN) i én af de primerkombinationer fra sættet. mRNA'er fra de samme tre cellepopulationer som i et al., Cytometry A. 79, 625 (2011).
Subscription Required. Please recommend JoVE to your librarian.
Discussion
Den optimerede her beskrevne metode muliggør fremstillingen af ​​cellesuspensioner fra gnaver testikelvævet i en meget hurtig og reproducerbar måde, der undgår enzym og vaskemiddel behandling og opretholde god celle integritet og type proportioner. Den korte procedure (15 min span omfatter testis dissektion, vævs skæring og forarbejdning), minimal involveret håndtering, og fravær af enzymatiske behandlinger er nogle af de vigtigste fordele. Alle disse ville forklare den gode bevarelse af korte levetid makromolekyler, der er kritisk, når et repræsentativt udsnit af forbindelser til stede i den oprindelige cellepopulation er påkrævet.
Vedrørende anvendelse af enten PI eller Hoechst 33342, har vi observeret nogen tydelige forskelle i profilerne følge flowcytometrisk analyse af testikelkræft cellesuspensioner med ansættelse af den ene eller den anden farve. Farvestoffet valg vil snarere afhænge af brugerens præferencer og de disponible, ogom planlagt yderligere brug. På den ene side, er PI billigere, og af den udbredte anvendelse som ikke kræver anvendelse af flowcytometre og sorteringsanlæg med en UV-laser. På den anden side kunne selv om vi med succes har brugt PI-farvede celler for skjulte sortering og differentierede genekspressionsstudier (figur 4), Hoechst 33342 eller en anden vigtig farvestof med lav cytotoksicitet niveauer være de foretrukne valg for applikationer, hvor fuld cellelevedygtigheden er påkrævet, såsom kim cellekultur og / eller transplantation 4..
Vi har været i stand til at sortere specifikke cellepopulationer opnår mere end 95% renhed enten for udvalgte testikelkræft populationer med forskellige DNA-indhold 4 (figur 3), eller endog for undergrupper med den samme DNA-indhold, men forskellige chromatinkondensering niveauer (figur 4). Sidstnævnte kan opnås, så længe delpopulationer af interesse kan individualiseres i cytometriske profiler, particularly i dot plots. For eksempel nu op, vi har været i stand til at sortere de forskellige stadier af marsvin meiocytter I 9, men ikke at diskriminere og sortere delpopulationer inden for 2C befolkning blot ved farvning af DNA. Sorterede celler har gjort god kvalitet RNA tillader downstream forskellen i genekspression analyser 9 (fig. 5).
Som det kan ses i protokollen beskrivelse, det er meget simpelt, let reproducerbar, og kræver ikke specielt uddannet personale. Vi anser det kan vedtages for en bred vifte af applikationer, der omfatter flowcytometri eller ej. Den tidligere spænder fra simple testikelkræft indholdsanalyse til hurtig kontrol af spermatogene forvejen, andre med præparativ mål såsom flow rensning af specifikke cellepopulationer for skjulte molekylære studier som vist her.
Subscription Required. Please recommend JoVE to your librarian.
Acknowledgments
Dette arbejde blev delvist støttet af CSIC (I + U-projekt C022) og PEDECIBA. Forfatterne vil gerne takke Mariela Bollati og Valentina Porro fra Cell Biology Unit (Institut Pasteur de Montevideo) for deres generøse samarbejde vedrørende MoFlo cellesorteringsapparat og Merial-Montevideo for forsigtigt give alle de marsvin prøver, der anvendes i dette projekt. Figur 1 blev gengivet med tilladelse fra BioMed Central, figur 2 og 3, og tabel 1 med tilladelse fra S. Karger AG, Basel, og figur 4 og 5 er gengivet eller tilpasset med tilladelse fra John Wiley & Sons, Inc (ophavsret ejes af Wiley- Blackwell, 2011).
Materials
| | | | |
| --- | --- | --- | --- |
| Name | Company | Catalog Number | Comments |
| Medimachine system | BD | 340587 | |
| Medicon unit (50 μm) | BD | 340591 | |
| Filcon unit (50 μm) | BD | 340603 | |
| DMEM | Gibco | 430-2100 | |
| Fetal calf serum | PAA | A11-151 | |
| NDA | Chemos BmbH | 277081 | |
| H–chst 33342 | Sigma-Aldrich | 14533 | Stock solution 5 mg/ml; used at a final concentration of 5 μg/ml |
| Propidium iodide | Sigma-Aldrich | 287075 | Stock solution 1 mg/ml; used at a final concentration of 50 μg/ml |
References
Meistrich, M. L. Separation of spermatogenic cells and nuclei from rodent testes. Methods of Cell Biology. Prescott, D. M. 15, Academic Press. New York. 15-54 (1977).
Lam, D. M. K., Furrer, R., Bruce, W. R. The separation, physical characterization, and differentiation kinetics of spermatogonial cells of the mouse. Proc. Natl. Acad. Sci. USA. 65, 192-199 (1970).
Romrell, L. J., Bellve, A. R., Fawcet, D. W. Separation of mouse spermatogenic cells by sedimentation velocity. Dev. Biol. 19, 119-131 (1976).
Geisinger, A., Rodríguez-Casuriaga, R. Flow cytometry for gene expression studies in mammalian spermatogenesis. Cytogenet. Genome Res. 128, 46-56 (2010).
Getun, I. V., Torres, B., Bois, P. R. Flow cytometry purification of mouse meiotic cells. J. Vis. Exp. (50), e2602 (2011).
Meistrich, M. L. Separation of mouse spermatogenic cells by velocity sedimentation. J. Cell Physiol. 80, 299-312 (1972).
Meistrich, M. L., Bruce, W. R., Clermont, Y. Cellular composition of fractions of mouse testis cells following velocity sedimentation separation. Exp. Cell Res. 79, 213-227 (1973).
Malkov, M., Fisher, Y., Don, J. Developmental schedule of the postnatal rat testis determined by flow cytometry. Biol. Rep. 59, 84-92 (1998).
Rodríguez-Casuriaga, R., Geisinger, A., Santiñaque, F., López, B., Folle, G. High-purity flow sorting of early meiocytes based on DNA analysis of guinea pig spermatogenic cells. Cytometry A. 79, 625-634 (2011).
Davey, H. M., Hexley, P. Red but not dead? Membranes of stressed Saccharomyces cerevisiae are permeable to propidium iodide. Environ. Microbiol. 13, 163-171 (2011).
Rodríguez-Casuriaga, R., Geisinger, A., López-Carro, B., Porro, V., Wettstein, R., Folle, G. A. Ultra-fast and optimized method for the preparation of rodent testicular cells for flow cytometric analysis. Biol. Proced. Online. 11, 184-195 (2009).
Spanò, M., Evenson, D. P. Flow cytometric analysis for reproductive biology. Biol Cell. 78, 53-62 (1993).