Summary
Dette notatet beskriver en striaghforward og effektiv metode for å intubere mus for lungefunksjonen målinger eller pulmonal drypping, som gjør at musene å komme seg og bli studert på senere tidspunkt. Prosedyren innebærer en rimelig fiberoptisk lyskilde som direkte lyser opp luftrøret.
Cite this Article
Copy Citation | Download Citations

Das, S., MacDonald, K., Chang, H. Y., Mitzner, W. A Simple Method of Mouse Lung Intubation. J. Vis. Exp. (73), e50318, doi:10.3791/50318 (2013).
Abstract
En enkel prosedyre for å intubere mus for lungefunksjonen målinger ville ha flere fordeler i longitudinelle studier med begrenset antall eller dyre dyr. En av grunnene til at dette ikke er gjort mer rutinemessig er at det er relativt vanskelig, til tross for det er flere publiserte studier som beskriver måter å oppnå den. I denne artikkelen viser vi en prosedyre som eliminerer en av de store hindrene tilknyttet denne intubasjon, at av visualisere luftrøret under hele tiden av intubasjon. Tilnærmingen bruker en 0,5 mm fiberoptiske lyskilde som tjener som et innføringskateter å dirigere intubasjon kanylen inn i musen luftrøret. Vi viser at det er mulig å bruke denne fremgangsmåten til å måle lungemekanikk i individuelle mus over en tid løpet av minst flere uker. Teknikken kan settes opp med relativt liten kostnad og kompetanse, og det kan være rutinemessig oppnås med relativt liten opplæring. Dette bør makE det mulig for ethvert laboratorium å rutinemessig utføre denne intubasjon, og dermed lar longitudinelle studier i individuelle mus, for derved å minimere antall mus trengs og øke statistisk styrke ved hjelp hver mus som sin egen kontroll.
Introduction
I 1999 publiserte Brown et al. En artikkel som beskriver en fremgangsmåte for intubasjon av musen lunge 1. Slik teknikk har betydelig nytte i å gjøre gjenta lungefunksjon eller bronchoalveolar lavage i enkelte mus i longitudinelle studier 2. Siden den opprinnelige artikkelen har det vært flere andre papirer som har beskrevet ulike tilnærminger til mus intubasjon 3-9. Mens alle disse metodene kan brukes med hell, de vanligvis krever betydelig opplæring eller pris. En av de viktigste problemene med en slik intubasjon er at når intubasjon kanyle tilnærminger nærmer luftrøret påvente innsetting, blokkerer kanylen selv lyset og dermed visualisering av hvor det er behov for å gå. Dermed blir innsettingen blind på de mest kritiske tidspunkt. I denne artikkelen viser vi hvordan du enkelt og billig eliminere dette visualisering problem, og dermed sikre en vellykket intubering med relativt lite trening ellererfaring.
Subscription Required. Please recommend JoVE to your librarian.
Protocol
1. Forberedelse til prosedyren
Man må først få tak i og forberede følgende elementer:
Kanylen. For intubasjon på 20-35 g mus, bruker vi en 1 eller 1,5 tommer lang, 20 gauge IV kateter (BD Insylte, Sparks, MD eller Jelco Optiva, Carlsbad, CA). En ny sterilt kateter kan brukes for hver mus, men katetre kan også brukes om igjen etter sterilisering ved bløtlegging i 70% etanol over natten. Selv om verken svelget eller luftrøret av musen er sterile riktig renslighet, herunder bruk av sterile hansker og instrumenter, bør følges.
Den fiberoptiske kabelen. Vi bruker ≈ 70 cm av 0,5 mm optisk kabel fra Edmund Optics, men lengden er ikke kritisk. Det er viktig å sørge for at fiber har sin kant glattet, siden etter å kutte kabelen til lengden med en barberhøvel, er kanten igjen relativt kraftig, og det tar ikke mye innsats for å pierce tracheal veggen. Men jeg deter veldig lett å glatte denne kanten ved å holde fiberen ca 2 cm fra enden, og deretter å gjøre små sirkler i noen sekunder med kantene av spissen berøre et stykke 1000 grit smergelpapir (se demonstrasjon i videoen og figur 1 av Macdonald et al. 10). Den andre enden er satt inn gjennom en gummipropp. Dette gjøres enklest ved først å skyve en 18-gauge nål gjennom proppen, setter den optiske fiber gjennom nålen boringen, og deretter trekke ut nålen. Gummiproppen er koblet til en 150 watt halogen lyskilde (f.eks NCL-150, Volpi USA eller annen eller lyskilde, enda mindre enn 150 watt). Det er viktig å sørge for å bruke en stopper laget av silikon gummi (eller annen varmebestandig materiale), siden vanlig gummi eller kork kan brenne når de er plassert så nær den varme lyskilden.
2. Utføre Intubasjon
Se figurene 1 og 2. Sett fiberoptisk kabel through et kort stykke silikon gummi slangen (≈ 0,8 mm ID x 4 mm OD, Cole-Palmer, EW-96410-13). Knytte dette gummislange ganske stramt, som samtidig gir den fiberoptiske kabelen som skal justeres. Innsetting silikonslangen elegant i Luer enden av kanylen løser fiberoptisk kabelen posisjon inne kanylen. Justere plasseringen av den fiberoptiske kabelen, slik at den strekker seg gjennom kanylen ≈ 4 mm foran kanylen tips.
Plasser bedøvet mus på en vertikal støtte, suspendert ved sine øvre fortenner (figur 3). Fleste etterforskere finner den beste visualisering med ventrale side av musen mot seg selv. Veldig forsiktig ut tungen og hold med tommelen og pekefingeren. Langfingeren plasseres mellom hals og plast støtte. Trekkraft på tungen med pekefingeren og tommelen er brukt for å åpne munnen, og for å rette ut intubasjon banen, er vinkelen på hodet justeres med langfingeren bak nakkenvist i figur 3.
Bruke den fiberoptiske kabelen som lyskilde og introducer, presse det gjennom visualiserte stemmebåndene. Hvis ledningene ikke er synlige, trekk forsiktig hardere på tungen med langfingeren som støtte. Når de settes, fremme kanylen ≈ 5 mm lenger. Deretter blir veldig forsiktig for ikke å flytte kanylen, trekke fiberoptisk kabel. Ligge musen ned og sikre kanylen med et stykke tape og støtte kanylens endestykke på et stykke Plastilina (modellering leire), som vist i figur 4.
Fremgangsmåten i trinn 3 kan ikke lett lært eller demonstrert, siden det er en solo operasjon. Men ved små justeringer av trekkraft på tungen og støtte bak hodet nesten alle som prøver dette snart finne den riktige måten å posisjonere musen til å visualisere stemmebåndene.
Subscription Required. Please recommend JoVE to your librarian.
Representative Results
Som en evaluering av metoden brukte vi fire 20 uker gamle hann BALB / c mus med gjennomsnittlig vekt (± SEM) på 27,7 ± 0,40 g. De ble studert på fem påfølgende uker, hvor lungen motstand ble målt ved hjelp av et system som tidligere beskrevet 11. Hver mus ble bedøvet med ketamin (100 ug / g BW) og xylazin (15 ug / g BW) i saltløsning via IP injeksjon. De ble deretter intubert som beskrevet ovenfor. Hvis det er noen tvil om kanylen er i luftrøret og ikke i spiserøret, kan dette ved hjelp av en liten valideres dental speil. Holde speilet i en fryser, og når det er nødvendig sted foran Luer knutepunkt av kateteret. Hvis kateteret er i luftrøret, vil utåndet pust danne en synlig kondensat på speilet.
Etter intubasjon vi deretter koblet musene til respiratoren og målte Lung Resistance Musene ble ventilert med en rate på 2 Hz og tidevanns volum på 0,2 ml, og respiratoriske resis ning ble målt ved den inspiratoriske okklusjon metoden som tidligere beskrevet 11. Figur 5 viser 5 ukentlige målinger i hver av de 4 mus. Reproduserbarhet er utmerket, som viser at, i det minste med én ukes mellomrom, er det ingen effekt av tidligere måling. Dette er konsistent med tidligere rapporterte ukentlige vurdering av mekanikere og BAL celle profiler i enkelte BALB / c mus med en mer vanskelig og potensielt traumatisk prosedyre 2.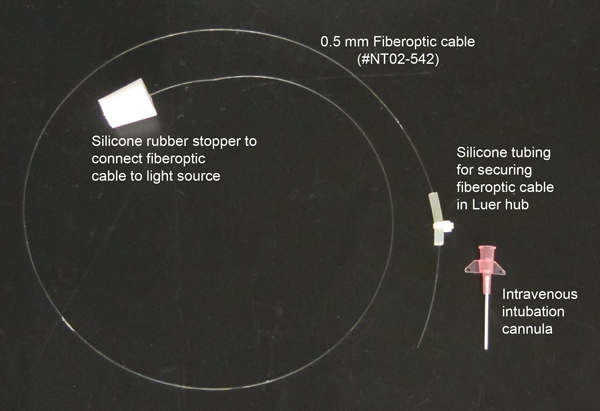 Figur 1. Bilde som viser elementer som brukes for intubasjon. Den fiberoptiske kabelen er vist satt inn i en silikon gummipropp, med et lite stykke av silikon gummi rør bundet nær den motsatte enden. En silikon gummiproppen er festet til lyskilden som vist i figur 2.
">
Figur 2. Bilde viser gummipropp tilknyttet lyskilde med andre enden av fiberoptiske kabelen innføres gjennom intubasjon kanylen.
En enkel støtte stå å holde musen under intubasjon er også vist på den venstre.

Figur 3. To perspektiver som viser plasseringen av musen klargjort for intubasjon.

Figur 4. Denne figuren viser en intubert mus klar for ventilasjon. Tape rundt munnen bidrar til å holde kanylen beveger seg. En liten del av Plastilina (modelleire) gir en praktisk resten å sikre at kanylen knutepunkt for tilkobling til respiratoren.
ontent "fo: keep-together.within-page =" always ">
Figur 5. Lunge motstand fra hver av 4 mus (i forskjellige farger) målt ved 5 ukentlige intervaller.

Figur 6. Vist er et diagram registrering av luftveistrykk i en intubert mus etter injeksjoner av 0,5, 0,75 og 1 ml. Hvert volum ble holdt til 20-40 sek, og deretter løslatt før da neste inflasjon. Selv om det kan være en svært langsom lekkasje etter spenningsavlastende utvinning, ville dette ha ubetydelig innvirkning på normal ventilasjon eller vurdering av dynamiske lungefunksjonen målinger. Klikk her for å se større figur .
Subscription Required. Please recommend JoVE to your librarian.
Discussion
Fremgangsmåten beskrevet her har flere fordeler. Først anordningen er enkel og relativt billig .. Fabrikasjon av apparatet krever ingen spesielle verktøy eller kostbart utstyr. Bruken av et kateter som også introduserer er lyskilden betyr at en aldri mister synet av tracheal åpningen som innføringskateteret nærmer tracheal åpningen. Bruk av en 0,5 mm introducer tjener også for å minimere traume som kan oppstå med en innledende innsetting av et større kanyle. Vi merker oss at en lignende optisk probe er tilgjengelig fra en kommersiell leverandør (Braintree Scientific, Braintree, MA). Deres enhet bruker en batteridrevet lyskilde og optisk fiber.
I dette arbeidet, testet vi prosedyren med gjentatt måling av lungemekanikk, men slike intubasjon kunne like gjerne benyttes til å innpode kjemikalier eller celler i lungen, som har blitt beskrevet for gjentatt utlevering av LPS 12. I tillegg, enforutgående rapport med en mer primitiv intubasjon prosedyren beskrevet evnen til å gjøre gjentatte BAL i individuelle mus 2, og dette ville være mye mer bare oppnådd med den nye intubasjon tilnærming.
I praksis har metoden beskrevet her vært lett lært å stipendiater, studenter og teknikere som aldri hadde forsøkt intubasjon. Faktisk, i løpet gruppe treningsøktene, noen av studentene blir tilstrekkeleg dugleik å deretter lære noen av de andre elevene som ennå ikke hadde prøvd det. Denne metoden har derfor en betydelig fordel som det minimerer antall mus som trengs for praksis og bør tillate minimal skade i gjentatte studier.
Ved å gjøre det intubasjon, er det flere praktiske problemstillinger som bør nevnes. Det er viktig å være så skånsom som mulig med tilbaketrekkingen av tungen i den innledende åpning av munnen. Hvis ubeskyttede pinsett benyttes er det lett å skade tungen, og dette kan LEAd til døden av musen. I først lære å gjøre intubasjon, er den viktigste bruk av finger bak nakken for å justere vinkelen av hodet for å aktivere visualisering av tracheal åpningen. Når det gjøres riktig, med tilstrekkelig trekkraft på tungen, kan stemmebåndene lett bli sett. Det er denne første visualisering trinnet som vanligvis krever mest tid, siden når tracheal åpningen er sett, er det relativt enkelt å sette inn fiberkabel og venekateter. Utgangspunktet hvis det er et problem med denne visualiseringen er trainee ofte ikke trekke på tungen med tilstrekkelig kraft. Øke denne pull litt vil rette visualiseringen banen slik stemmebåndene kan sees. Hamacher, et al., Beskrev et unikt intubasjon system med mikroskopisk visualisering 4. Deres online video av denne intubasjon er utmerket og svært lærerikt, selv om det betyr å posisjonere hodet og nakken er ikke helt klart fra vidEO og figur. Mens systemet de beskriver synes å fungere svært effektivt, det krever en dedikert mikroskop. Bruk av systemet og prosedyren vi beskriver, stemmebåndene og tracheal åpning kan ses med det blotte øye. I vårt opprinnelige beskrivelsen av denne metoden 10, beskrev vi en fremgangsmåte for å legge til en kjegle til intubasjon kanylen. Denne Cone kiler i den smale musen pharynx og hindrer kanylen blir satt inn for dypt. Vi har funnet at denne kile er nyttig i å lære prosedyren, siden det er svært enkelt å sette kanylen til carina eller utenfor, eventuelt trenge gjennom en luftvei vegg. Enkle instruksjonene for å dikte kilen kan bli funnet i dette papiret. Men når noen lærer prosedyren godt nok og hvor du vil plassere kanylen er denne tilpasningen ikke lenger er nødvendig.
Til slutt bør vi merke oss at vi har bare testet denne prosedyren med 20 g kanyle i unge voksne mus av noen få stammer. I denne situasjonen har vi validert at luftrøret og stemmebåndene kan gi en svært god tetning rundt kanylen med normal ventilasjon press, dvs. det er minimal luftlekkasje ut av lungene med mekanisk ventilasjon. Figur 6 viser resultater fra den kanylering i en C57BL / 6 mus, hvor 3 økende luft boluser (0,5, 0,75, og 1 ml) ble brukt til å blåse lungene. Det er klart fra denne figuren enn trykket lekkasjer er minimal til en luftveistrykk på minst 15 CMH 2 O. Men hvis man bruker vesentlig yngre eller eldre mus, eller mus fra stammer med en annen lunge anatomi, så det ville være klokt å bekrefte at det er minimale lekkasjer. Hvis det er, kan prosedyren da kreve bruk av en annen størrelse kanyle.
Oppsummert er intubasjon prosedyren beskriver her billig å dikte og enkelt å bruke, og det bør sette de fleste etterforskere og laboranter raskt lære å lykkesintubere mus med relativt liten erfaring.
Subscription Required. Please recommend JoVE to your librarian.
Disclosures
Ingen av forfatterne har noen interessekonflikter å avsløre.
Acknowledgments
Støttet av NIH HL-10342.
Materials
| | | | |
| --- | --- | --- | --- |
| Name | Company | Catalog Number | Comments |
| Intubation cannula | BD Insylte, Sparks, MD or Jelco Optiva, Carlsbad, CA | | 1-in.-long, 20-gauge intravenous (IV) catheter |
| Fiber-optic cable | Edmund Optics, Barrington, NJ | #NT02-542 | Approximately 2-ft length of 0.5-mm optical fiber (Communication grade plastic fiber). The edge of the fiber end that is inserted into the trachea should be gently rounded by holding the fiber ≈2 cm from the end and then making small circles while dragging the tip for a few seconds on 1,000-grit emory paper. |
| Light Source | Volpi | NCL-150 | Although we use a 150-W halogen light source, any equivalent light source, even with much lower wattage can be used. |
| Aluminum tube | | | One inch O.D., with 1/16 inch wall. This may need to be change to fit whichever light source is used. |
| Rubber stopper | | | A #4 rubber stopper fits the 1 inch tube. |
| Small silicone rubber tube | Cole-Palmer | EW-96410-13 | A ≈1.5 cm piece of silicone rubber tubing (0.8 inner diameter, 4 mm outer diameter) |
| Angled support stand | | | Ours is constucted from plexiglass, but any material to which a thread or wire can be affixed to hold the mouse at an almost vertical angle can be use. |