Summary
Vi præsenterer metoder til at undersøge effekten af ​​PSM'er og andre toksiner udskilt af
Cite this Article
Copy Citation | Download Citations | Reprints and Permissions

Surewaard, B. G. J., van Strijp, J. A. G., Nijland, R. Studying Interactions of Staphylococcus aureus with Neutrophils by Flow Cytometry and Time Lapse Microscopy. J. Vis. Exp. (77), e50788, doi:10.3791/50788 (2013).
Abstract
Vi præsenterer metoder til at undersøge effekten af phenol opløselige modulins (PSM'er) og andre toksiner produceres og udskilles af Staphylococcus aureus på neutrofiler. At studere virkningerne af PSM'er på neutrofiler vi isolerer friske neutrofiler hjælp densitetsgradientcentrifugering. Disse neutrofiler er fyldt med et farvestof, der fluorescerer ved calciummobilisering. Aktiveringen af ​​neutrofiler ved PSM'er indleder en hurtig og forbigående stigning i den frie intracellulære calciumkoncentration. I en flowcytometri eksperiment denne hurtig mobilisering kan måles ved overvågning af fluorescensen af et præ-loadet farvestof, der reagerer på den forøgede koncentration af frit Ca2 +. Med denne metode kan vi bestemme PSM nødvendige koncentration for at aktivere neutrofile, og måle effekten af ​​specifikke og generelle inhibitorer af neutrofil aktivering.
For at undersøge ekspressionen af ​​PSM'erne i intracellulære rum, we har konstrueret reporter fusioner af initiativtagerne til PSMα operon til GFP. Når disse reporter stammer af S. aureus er fagocyteret af neutrofiler, kan induktionen af ekspression observeret ved hjælp af fluorescensmikroskopi.
Introduction
Neutrofile (PMN'er) er professionelle fagocytter, der spiller en central rolle i det medfødte immunforsvar mod Staphylococcus aureus 1.. Den konstante kamp mellem vært og mikrobe har ført til et våbenkapløb af begge. Senest EF-associerede (CA) stammer af meticillin resistente S. aureus (MRSA) er dukket op, synes at være meget effektive i omgåelse af neutrofile drab 2,3. Overdreven phenol opløselig modulin (PSM'erne) fremstilling af CA-MRSA er blevet forbundet med højere virulens 4,5. Humane neutrofiler kan genkende disse PSM'er via FPR2 som fører til aktivering af denne G-protein koblet receptor 6.. En af de tidligste begivenheder mobilisering af intracellulære lagre af calcium (Ca 2 +). Ca2 + virker som en sekundær budbringer for en række effektorfunktioner PMN'er herunder degranulering og fagocytose 7.. Derfor Ca 2 + er en meget følsom indikator forfunktionsevne af PSM'er at aktivere PMN'er. At undersøge virkningerne af PSM'er på neutrofiler, er friske neutrofiler isoleres og fyldt med et farvestof, som fluorescerer ved calciummobilisering. I et flowcytometri eksperiment denne hurtig mobilisering kan måles. Ved hjælp af denne metode, er det muligt at studere de direkte virkninger af toksiske og andre komponenter på neutrofiler, og bestemme den laveste koncentration, hvor disse er aktive. For os er det et meget nyttigt redskab til at undersøge effekten af mange proteiner produceret af S. aureus er involveret i immun unddragelse, såsom FPR2 inhiberende protein (FLIPR) 8, FLIPR-lignende 7, og Kemotaksi hæmmende protein af Staphylococcus aureus (spåner) 9.. Alle disse proteiner har vist sig at hæmme calciummobilisering i neutrofiler ved binding til receptoren anerkende agonist.
For nylig har vores gruppe beskrevet, at PSM'er funktionelt hæmmes af serumlipoproteiner 10 </ Sup>. Disse lipoproteiner er rigeligt til stede i blod og humant væv, hvilket indikerer, at PSM'er udøve deres funktion primært i det intracellulære miljø. Tilgængeligheden af ​​calciummobilisering assayet tilladt os at præcist at måle effekten af ​​serumlipoproteiner på aktivering af neutrofiler af PSM'er angivet ved betydelig hæmning af meget lave koncentrationer af serum.
Eftersom PSM'er funktionelt inhiberes af serum, vi antager, at der er en vigtig funktion for PSM'er som intracellulære toksiner. Vi har derfor forsøgt at fastlægge den rolle PSM'er efter fagocytose. For at undersøge ekspressionen af PSM'erne i intercellulære rum, vi har opbygget reporter fusioner af initiativtagerne til psmα operon til GFP. Når disse reporter stammer af S. aureus blev fagocyteret af neutrofiler, blev induktionen af udtrykket observerbare hjælp fluorescensmikroskopi 10.. Naturligvis er denne technique tillader undersøgelse af ekspressionen af et stort antal gener i S. aureus eller andre patogener efter fagocytose. Eftersom for S. aureus overleve i intercellulære niche er meget vigtigt at overvinde det medfødte immunsystem 11 10 12, studere rollen af gener aktiveres i denne niche er yderst relevant for forståelsen af virulens.
Subscription Required. Please recommend JoVE to your librarian.
Protocol
1.. Isolering af PMNs af menneskeblod ved massefyldecentrifugering
Tegn 5 9 ml rør af hepariniseret veneblod.
Forbered dual layer Ficoll gradienter (4 gradienter for 5 rør blod) som følger: Hæld 12 ml af en massefylde 1,119 g / ml Ficoll opløsning i et 50 ml rør og omhyggeligt lag 10 ml af en massefylde 1,077 g / ml Ficoll opløsning på toppen.
Fortyndes blodet med et tilsvarende volumen PBS.
Lag det fortyndede blod forsigtigt på dual layer Ficoll gradient, 20-25 ml pr gradient.
Centrifugeres 20 minutter ved 396 xg i en svingende spand rotor, 22 ° C uden bremsning.
Forbered kold RPMI indeholdende 0,05% humant serumalbumin (RPMI-HSA). Også forberede 9 ml sterilt deioniseret H 2 O. Pre-cool både RPMI og H 2 O på is.
Aspirer øverste Ficoll lag indeholdende plasma (gul farvet) og PBMC, og det andet lag af Ficoll (hvid farvet) med anvendelse af en vakuumpumpe (sætte en steril pipettespids påpipetten).
Saml PMNs i 50 ml rør ved hjælp af en lille plastik pipette (1 tube for PMN fraktioner af hver 2 stigninger), og læg dem på is.
Tilsæt koldt RPMI-HSA til et samlet volumen på 50 ml og centrifugeres i 10 minutter ved 249 xg ved 4 ° C.
Tag supernatanten med anvendelse af en vakuumpumpe og vortex pelleten forsigtigt (erytrocytter og PMN).
Tilføj 9 ml sterilt deioniseret H 2 O og starte timeren. Stop hyper osmotisk chok efter 30 sek præcist, ved at tilsætte 1 ml 10 gange koncentrerede PBS. Bemærk: 30 sek er meget kritiske.
Tilsæt koldt RPMI-HSA til et samlet volumen på 50 ml og centrifugeres i 10 minutter ved 249 xg ved 4 ° C.
Tag supernatanten med anvendelse af en vakuumpumpe og indsamle PMN pellet i 1 rør med et defineret volumen (1-2 ml) RPMI-HSA.
Bestem mængden af celler og justeres koncentrationen til 1,10 7 celler / ml. Afhængig af donor, vil udbyttet af isolerede PMNs være betweda 5 x 10 6 og 3 x 10 7 PMN'er fra hver 9 ml rør af blod
2.. Flowcytometriske Assay for Vurdering af calciummobilisering i Human PMNs
Vejeceller (5 x 10 6 celler / ml) med 2 pM Fluo-3-AM i RPMI-HSA og inkuberes i 20 minutter ved stuetemperatur vuggende langsomt, ved hjælp af for eksempel en vuggende rystebord, beskyttet mod lys.
I mellemtiden forberede en seriefortynding (fx 3 gange) af stimulus på 10x slutkoncentrationen. PSMα3 anvendes i denne protokol, men enhver GPCR stimulus, der virker på neutrofiler er egnet.
Forbered 10x koncentreret inhibitor af receptoren i RPMI-HSA. Når inhibitoren virker på påvirkning (f.eks HDL på PSMα3) præ-inkuberes 25 ul stimulus med et lige volumen af inhibitor i 10 min ved stuetemperatur.
Vask cellerne ved tilsætning af 10 ml RPMI-HSA og centrifugeres i 249 xg ved stuetemperatur. Resuspender cellerne til 5 x10 6 celler / ml.
Lige før forsøget, fortyndes cellerne til 2x10 6 celler / ml i RPMI-HSA og tilsæt 200 ul celler pr FACS rør. Udvandet PMNs er meget skrøbelige. Holde dem for længe på denne koncentration vil føre til automatisk aktivering, det samme gælder for kraftig rystning eller pipettering.
Fastgør slangen til flowcytometeret, vent 3 sek og start erhvervelsen. Efter en fast tidsperiode (fx 8 sek), tag røret og hurtigere tilføje 50 pi stimulus til prøven. Umiddelbart re-vedhæfte røret på prøveholder og fortsætte købet.
Start med den laveste og slutter med den højeste koncentration af stimulus. Vask flowcytometret nålen regelmæssigt efter hver kørsel med RPMI-HSA.
Analysere data med flowcytometri analyse software. Sammenligne den gennemsnitlige fluorescenssignal før tilsætning af stimulus til, at der efter tilsætning af stimulus og benytte passende positive og negative kontroller til at beregne acvation styrke for hver af de målte fortynding.
Alternativt når inhibitoren virker på receptor præ-inkuberes cellerne med inhibitoren.
3.. Fluorescensmikroskopi Analyse Bacteria GFP Expression efter fagocytose af PMN'er
Grow S. aureus stammer, der indeholder en reporter konstruktion af interesse i løbet af natten i bouillon (med antibiotika, når der kræves for at opretholde reporterplasmidet). I dette tilfælde stamme MW2 indeholdende en PSMα GFP reporter konstrukt anvendes 10, dyrkes i et 50 ml plastrør med 5 ml LB-dyrkningsmedium.
For at fjerne al GFP fra O / N udtryk fortynde kulturer OD 660 0,01 og vokse til OD 660 0.1. Redilute denne kultur 1:30 og overvåge væksten indtil kulturen når en OD660 på 0,1. Saml bakterierne ved centrifugering og vaskes en gang i DPBS. Resuspender i 01:10 af det oprindelige volumen for at opnå en OD660 på 1,0 eller rdigt 5,10 8 CFU / ml.
Bland bakterier (1,10 7 / ml) med frisk isolerede PMN'er (1,10 6 / ml) i RPMI-HSA (10:1) i et 1,5 ml mikrorør og tilføje samlet humant serum til en slutkoncentration på 10%. Ryst på et rystebord i 10 min ved 37 ° C for at stimulere fagocytose. Fortynde PMNs læsset med bakterier til 5,10 5 PMNs / ml og pipette 250 pi i en brønd på en 8 godt kammer dækglas.
Billede af PMNs med bakterier på et mikroskop. Et inverteret mikroskop udstyret med et 40X/0.85 NA objektiv fungerer godt og bør indkapslet i et mørkt miljø kammer at holde miljøet stabilt ved 37 ° C. Erhverve billeder for en række forudindstillede positioner via kameraet hver 5-10 min i både den lyse felt og GFP kanal til følge GFP produktion i tid.
Subscription Required. Please recommend JoVE to your librarian.
Representative Results
Flowcytometrisk assay til vurdering af calciummobilisering i humane PMN'er
Inkubering neutrofiler med en koncentration række syntetiske PSMα3 resulterer i hurtig aktivering som målt ved calciumflux, hvilket viser sig ved en stigning i signalet i FL-1. Præ-inkubering af syntetisk PSMα3 med 0,01%, 0,1% eller 1% humant serum inhiberede signifikant evnen til at fremkalde calcium flux (Figur 1).
Analyse af GFP-ekspression i bakterier efter fagocytose af PMN'er hjælp fluorescensmikroskopi
Fagocytose bakterier indeholdende en PSMα-GFP reporter konstruere 10 start fluorescerer grønt mellem 1 og 2 timer efter fagocytose, hvilket indikerer ekspression fra PSMα promotoren. Bakterier uden for neutrofiler fluorescerer ikke, eller vise fluorescens efter de ekstracellulære bakterier har dannet tætte mikrokolonier (figur 2). Dissedata indikerer, at ekspressionen af ​​PSMα hurtigt er tændt, når bakterier fagocyteret af PMNs.

Figur 1. Neutrofilaktivering af PSMα3. Aktivering af Neutrofiler ved et koncentrationsinterval på PSMα3, som målt ved calciummobilisering. Når meget lave mængder af serum tilføjet neutrofilaktivering hæmmes, og ved 1% serum næppe nogen aktivering er synlig på disse PSMα3 koncentrationer (Tilpasset fra henvisningen 10).

Figur 2. Induktion af ekspression af PSMα efter fagocytose.Neutrofiler fik lov til fagocytose S. aureus indeholdende en reporter konstrukt ifølge promotoren for PSMα fusioneret til GFP. Ca. 1 time efter start på fagocytose de intracellulære bakterier begynder at fluorescerer grønt, hvilket indikerer udtryk for PSM α operon, mens bakterierne udenfor neutrofile (#) ikke inducerer PSM α udtryk i denne tidsramme (Tilpasset fra henvisningen 10).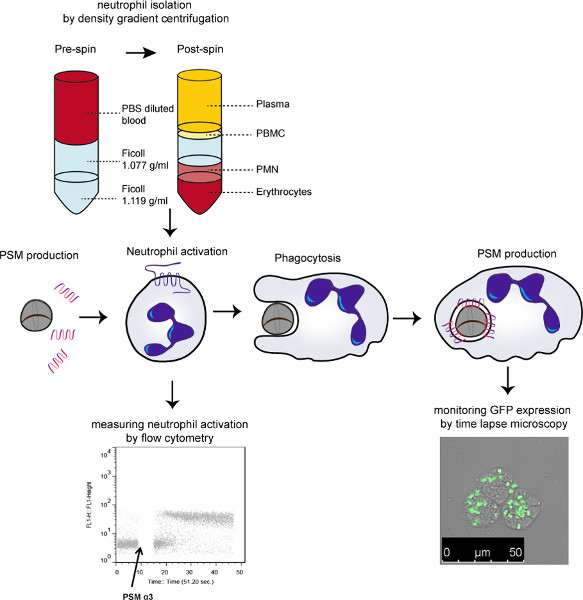 Figur 3. Skematisk model af forsøgene udført. Neutrofiler blev isoleret og inkuberet med PSM'er at måle aktiveringen virkning af disse små amfipatiske helixer i en calciummobilisering assay. Da serum blev tilsat, blev PSM'er neutraliserede og ikke længere aktiveret neutrofiler. At studere den intracellulære EXPREssion af PSM'er, blev en stamme indeholdende en fusion af PSMα-promotoren til GFP blandet med serum og neutrofiler til at tillade fagocytose. GFP-ekspression blev fulgt ved hjælp af time-lapse mikroskopi. Klik her for at se større figur .
Subscription Required. Please recommend JoVE to your librarian.
Discussion
I de her beskrevne metoder nogle trin er meget kritisk. Vi vil fremhæve disse her.
Til isolering af neutrofiler ved densitetsgradientcentrifugering er det vigtigt ikke at forstyrre lagene under eller efter centrifugeringstrin. Når sugning neutrofilerne hjælp af en plastic pipette, så sørg for ikke at presse ballonen, mens i det lag af celler, vil så skubbe væske forstyrre lag. Også visuelt inspicere pelleten af ​​neutrofiler efter osmotisk chok og centrifugeringstrin. Hvis pelleten er stadig rød erytrocyt lysis var ikke effektiv nok, og skal gentages en gang mere. Hvis dette sker jævnligt, øge inkubationstiden med deioniseret H2O med op til fem sekunder for at få en mere fuldstændig erythrocyt lyse.
For calciummobilisering metode er det vigtigt at have neutrofiler, som er isoleret frisk. Generelt celler, der er blevet gemt i køleskabet tilo længe vil ikke reagere så godt. De enten kan have aktiveret allerede forårsager et fald i virkningen af ​​den tilsatte stimulus, eller er døde og vil ikke reagere på alle. Stærk sammenlægning af neutrofiler er et tegn på, at de ikke er friske længere, og skal kasseres.
I mikroskopi setup flere ting er vigtige. At være i stand til at observere en forøgelse af GFP inde i bakterier, er det nødvendigt, at den yderst stabile GFP-proteinet er fjernet fra bakterien ved flere fortyndingstrin og vækst under betingelser, hvor genet af interesse udtrykkes ved et meget lavt niveau eller slet ikke alle. I vores tilfælde er som psmα operonen udtrykkes ved høje celledensiteter 13, to gentagne fortyndingstrin inden cellerne når mid-log-fase, er tilstrækkelige. Også for disse forsøg, er det bedst, at de neutrofile er friske, især da du måske ønsker at følge dem i flere timer i mikroskopet. Tilføjelse propidiumiodid (PI) til RPMI-HSA buffer vil tillade visualisering af forstyrrelser af neutrofil membran ved ekspression af PSM'erne. Når PI er tilføjet, sørg for, at de nødvendige filtre findes i mikroskopet, så den røde PI-fluorescens ikke interfererer med den grønne GFP-fluorescens. Især når du bruger lange pass filtre til GFP, vil PI absolut blande sig. En anden interessant mulighed er at bruge flere fluorescerende reportere i bakterier, såsom en kromosomal integration af FFP kombineret med en GFP reporter, som giver mulighed for overvågning af alle bakterier ved konfokal mikroskopi, hvor det er vanskeligt at se umærkede bakterier. Også i bredt felt fluorescensmikroskopi bruger flere etiketter har klare fordele. En ulempe ved at bruge de stabile fluorescerende journalister, som vi har gjort, er deres stabilitet. Den meget langsomme omsætning GFP-proteinet kun tillader overvågning af ON-kontakten på reporteren kan OFF-kontakten ikke kan visualiseres nemt. For denne ville bruge EIThendes ustabile GFP konstruktioner, eller brug en luminescens ekspressionssystem drevet af fx Lux operon 14..
Subscription Required. Please recommend JoVE to your librarian.
Disclosures
Forfatterne erklærer, at de ikke har nogen konkurrerende finansielle interesser.
Acknowledgments
Materials
| | | | |
| --- | --- | --- | --- |
| Name | Company | Catalog Number | Comments |
| Fluo-3, AM | Molecular Probes / Life Technologies | F-1241 | |
| Ficoll-Paque | GE Healthcare | 17-5442-03 | density 1.077 g/ml |
| Histopaque | Sigma | 11191 | density 1.119 g/ml |
| RPMI 1640 | Gibco, Life Technologies | 52400-025 | contains 25 mM HEPES and L-glutamine |
| Leica TCS SP5 microscope | Leica Microsystems, The Netherlands | TCS SP5 | objective: HCX PL APO 40x/0.85 |
| FACSCalibur | BD Biosciences | FACSCalibur | Very important that the tube can be removed and replaced during the measurement process |