Summary
We methode om het effect van PSMs en andere toxines uitgescheiden door bestuderen
Cite this Article
Copy Citation | Download Citations | Reprints and Permissions

Surewaard, B. G. J., van Strijp, J. A. G., Nijland, R. Studying Interactions of Staphylococcus aureus with Neutrophils by Flow Cytometry and Time Lapse Microscopy. J. Vis. Exp. (77), e50788, doi:10.3791/50788 (2013).
Abstract
We methode om het effect van fenol oplosbare modulins (PSMs) en andere toxinen geproduceerd en uitgescheiden door Staphylococcus aureus op neutrofielen bestuderen. Om de effecten van de PSMs op neutrofielen we isoleren verse neutrofielen behulp dichtheidsgradiëntcentrifugatie bestuderen. De neutrofielen worden geladen met een kleurstof die fluoresceert bij calcium mobilisatie. De activering van neutrofielen door PSMs initieert een snelle en voorbijgaande verhoging van de vrije intracellulaire calciumconcentratie. In een flow cytometrie experiment kan deze snelle mobilisatie gemeten door het volgen van de fluorescentie van een vooraf geladen kleurstof die reageert op de verhoogde concentratie vrije Ca 2 +. Met deze methode kunnen we de PSM concentratie nodig om de neutrofielen activeren, en meet de effecten van specifieke en algemene remmers van de neutrofiel activatie bepalen.
Om de expressie van de PSMs onderzoeken in de intracellulaire ruimte, we reporter fusies van de promoter van het operon PSMα GFP geconstrueerd hebben. Wanneer deze reporter stammen van S. aureus gefagocyteerd door neutrofielen, kan de inductie van expressie worden waargenomen met behulp van fluorescentie microscopie.
Introduction
Neutrofielen (PMN's) zijn professionele fagocyten die een belangrijke rol spelen bij de aangeboren immuunrespons tegen Staphylococcus aureus 1. De voortdurende strijd tussen gastheer en microbe heeft geleid tot een wapenwedloop van beide. Onlangs, community-geassocieerde (CA) stammen van meticilline resistente S. aureus (MRSA) naar voren zijn gekomen die lijken erg efficiënt te zijn in het omzeilen van neutrofielen doden 2,3. Overmatige fenol oplosbaar modulin (PSMs) productie van CA-MRSA is geassocieerd met hogere virulentie 4,5. Menselijke neutrofielen kunnen deze PSMs herkennen via FPR2 die leiden tot activering van deze G-eiwit gekoppelde receptor 6. Een van de vroegste gebeurtenissen is de mobilisatie van intracellulaire opslagplaatsen van calcium (Ca2 +). Ca 2 + fungeert als een tweede boodschapper voor verschillende effectorfuncties van PMNs waaronder degranulatie en fagocytose 7. Daarom Ca 2 + is een zeer gevoelige indicator van defunctionele capaciteit van PSMs aan PMN's te activeren. Om de effecten van PSMs op neutrofielen bestuderen, zijn verse neutrofielen geïsoleerd en geladen met een kleurstof die fluoresceert bij de mobilisatie van calcium. In een flowcytometrie experiment kan deze snelle mobilisatie worden gemeten. Met deze methode is het mogelijk om het directe effect van toxische en andere componenten op neutrofielen bestuderen en bepalen de laagste concentratie waarbij deze actief zijn. Voor ons, het is een zeer nuttig instrument om het effect van vele eiwitten geproduceerd door S. studeren aureus betrokken bij immuun ontduiking, zoals FPR2 remmend eiwit (FLIPR) 8, FLIPR-achtige 7, en Chemotaxis remmend eiwit van Staphylococcus aureus (CHIPS) 9. Al deze eiwitten aangetoond dat het calcium mobilisatie neutrofielen remt door binding aan de receptor herkennen van de agonist.
Onlangs heeft onze groep beschreven die PSMs functioneel worden geremd door serum lipoproteïnen 10 </ Sup>. Deze lipoproteïnen zijn overvloedig aanwezig in het bloed en menselijk weefsel, wat aangeeft dat PSMs oefenen hun functie voornamelijk in de intracellulaire omgeving. De beschikbaarheid van calcium mobilisatie assay toegestaan ​​om het effect van serum lipoproteïnen nauwkeurig te meten bij activering van neutrofielen door PSMs, aangegeven door de aanzienlijke remming door zeer lage concentraties serum.
Aangezien de PSMs functioneel geremd door serum, veronderstelden we dat er een belangrijke functie voor PSMs als intracellulaire toxines. We hebben daarom getracht de rol van PSMs na fagocytose bepalen. Om de expressie van de PSMs in de intercellulaire ruimte te onderzoeken, hebben we reporter fusies van de promoter van het operon psmα GFP geconstrueerd. Wanneer deze reporter stammen van S. aureus werden gefagocyteerd door neutrofielen, werd de inductie van expressie waarneembaar met behulp van fluorescentie microscopie 10. Uiteraard is deze technique maakt het onderzoek mogelijk van de expressie van een groot aantal genen in S. aureus of andere ziekteverwekkers na fagocytose. Aangezien voor S. aureus overleven in de intercellulaire niche is zeer belangrijk om het aangeboren immuunsysteem 11 10 12 overwinnen, het bestuderen van de rol van genen geactiveerd in deze niche is zeer relevant voor het begrijpen van de virulentie.
Subscription Required. Please recommend JoVE to your librarian.
Protocol
1. Isolatie van PMN's uit menselijk bloed door dichtheidscentrifugeren
Teken 5 9 ml tubes van heparine veneuze bloed.
Bereid dual layer Ficoll gradiënten (4 gradiënten van 5 buisjes bloed) als volgt: Giet 12 ml van een dichtheid van 1,119 g / ml Ficoll-oplossing in een 50 ml buis en voorzichtig laag 10 ml met een dichtheid 1,077 g / ml Ficoll-oplossing geplaatst.
Verdun het bloed met een gelijk volume PBS.
Layer het verdunde bloed zorgvuldig op de dual layer Ficoll gradiënt; 20-25 ml per gradiënt.
Centrifugeer 20 minuten bij 396 xg in een swingende emmer rotor, 22 ° C zonder remmen.
Bereid koud RPMI bevattende 0,05% menselijk serumalbumine (RPMI-HSA). Ook bereiden 9 ml steriel gedemineraliseerd H 2 O. Pre-cool zowel de RPMI en H 2 O op ijs.
Zuig de bovenste laag met Ficoll plasma (geel gekleurde) en PBMC en de tweede laag van Ficoll (witte kleur) met behulp van een vacuümpomp (zet een steriele pipet opde pipet).
Verzamel de PMN in 50 ml buizen met behulp van een klein plastic pipet (1 tube voor de PMN fracties van elk 2 hellingen), en leg ze op ijs.
Voeg koud RPMI-HSA tot een totaal volume van 50 ml en centrifugeer gedurende 10 min bij 249 xg bij 4 ° C.
Verwijder het supernatant met behulp van een vacuümpomp en de pellet voorzichtig vortex (erytrocyten en PMNs).
Voeg 9 ml steriel gedemineraliseerd H 2 O en start de timer. Stop de hyper osmotische shock na 30 seconden precies, door het toevoegen van 1 ml 10 keer geconcentreerd PBS. Opmerking: de 30 seconden zijn zeer kritisch.
Voeg koud RPMI-HSA tot een totaal volume van 50 ml en centrifugeer gedurende 10 min bij 249 xg bij 4 ° C.
Verwijder het supernatant met behulp van een vacuümpomp en verzamel de PMN pellet in 1 tube met een bepaald volume (1-2 ml) RPMI-HSA.
Bepaal het aantal cellen en de concentratie aan te passen aan 1,10 7 cellen / ml. Afhankelijk van de donor, de opbrengst van geïsoleerde PMN's zijn betwenl 5 x 10 6 en 3 x 10 7 PMN van elke 9 ml buisje bloed
2. Flowcytometrische Assay voor het beoordelen van calcium mobilisatie in Human PMN
Load cellen (5 x 10 6 cellen / ml) met 2 uM Fluo-3-AM in RPMI-HSA en incubeer gedurende 20 minuten bij kamertemperatuur langzaam schommelen, met bijvoorbeeld een rocking platform shaker, beschermd tegen licht.
Bereid intussen een seriële verdunning (bijv. 3-voudig) van de stimulus 10x eindconcentratie. PSMα3 wordt gebruikt in dit protocol, maar elke GPCR prikkel die werkt op neutrofielen geschikt is.
Bereid 10x geconcentreerde inhibitor van de receptor in RPMI-HSA. Wanneer de remmer werkt op de stimulus (bijvoorbeeld HDL op PSMα3) pre-incubeer 25 gl stimulus met een gelijk volume van remmer gedurende 10 minuten bij kamertemperatuur.
Was de cellen door toevoeging van 10 ml RPMI-HSA en centrifugeer 249 xg bij kamertemperatuur. Resuspendeer cellen 5 x10 6 cellen / ml.
Vlak voor het experiment Verdun de cellen 2x10 6 cellen / ml in RPMI-HSA en voeg 200 ul FACS cellen per buisje. Verdunde PMN zijn erg kwetsbaar. Houden ze te lang bij deze concentratie zal leiden tot automatische activering; hetzelfde geldt voor heftig schudden of pipetteren.
Bevestig de buis naar de flowcytometer, wacht 3 sec en start acquisitie. Na een bepaalde periode (bv. 8 sec), opstijgen van de buis en snel voeg 50 ul stimulans voor het monster. Onmiddellijk opnieuw bevestigen van de buis op het monster houder en verder de overname.
Begin met de laagste en eindigen met de hoogste concentratie van de stimulus. Regelmatig wassen van de flowcytometer naald na elke run met RPMI-HSA.
Analyseren van gegevens met flowcytometrie-analyse software. Vergelijk de gemiddelde fluorescentiesignaal vóór toevoeging van de stimulus die na toevoeging van de stimulus en gebruik de positieve en negatieve controles voor het berekenen van de aczendvermogen kracht voor elke verdunning gemeten.
Ook wanneer de remmer werkt op de receptor pre-incuberen van de cellen met de remmer.
3. Fluorescentie microscopie Analyse van bacteriën GFP expressie na Fagocytose door PMN
Groeien S. aureus stammen die een reporter construct van rente over nacht in bouillon (met antibiotica wanneer dat nodig is om de reporter plasmide te behouden). In dit geval stam MW2 met een PSMα GFP reporter construct wordt gebruikt 10, gekweekt in een 50 ml plastic buis met 5 ml LB-kweekmedium.
Om alle GFP uit O / N uitdrukking te verwijderen, verdunnen de culturen om OD 660 0.01 en groeien tot OD 660 0.1. Redilute deze cultuur 1:30, en de groei te volgen totdat de cultuur een OD 660 van 0,1 bereikt. Verzamel de bacteriën door centrifugeren en een keer wassen in DPBS. Resuspendeer in 1:10 van het oorspronkelijke volume tot een OD 660 van 1,0 of r vindengrondig worden 5.10 8 CFU / ml.
Meng de bacteriën (1,10 7 / ml) met vers geïsoleerde PMN (1,10 6 / ml) in RPMI-HSA (10:1) in een 1,5 ml microbuisjes en voeg samengevoegd menselijk serum tot een eindconcentratie van 10%. Schudden op een schudplateau gedurende 10 minuten bij 37 ° C te stimuleren fagocytose. Verdun de PMN's geladen met bacteriën tot 5.10 5 PMN / ml en pipet 250 ul in een put van een 8 goed chambered dekglaasje.
Beeld de PMNs met bacteriën op een microscoop. Een omgekeerde microscoop uitgerust met een 40X/0.85 NA doelstelling werkt en worden ingekapseld in een donkere omgeving kamer naar de omgeving stabiel te houden op 37 ° C. Afbeeldingen ophalen van een aantal vooraf ingestelde posities met de camera elke 5-10 min in zowel helderveld en GFP kanaal GFP productie in tijd te volgen.
Subscription Required. Please recommend JoVE to your librarian.
Representative Results
Flow cytometrische assay voor de beoordeling van calcium mobilisatie in menselijke PMN
Incuberen neutrofielen met een concentratie reeks synthetische PSMα3 resulteert in snelle activering zoals gemeten door calcium flux, die blijkt uit een toename van het signaal FL-1. Pre-incubatie van synthetische PSMα3 met 0,01%, 0,1% en 1% menselijk serum remde het vermogen om calcium fluxen (figuur 1) opwekken.
Analyse van GFP expressie in bacteriën na fagocytose door PMN's met behulp van fluorescentie microscopie
Gefagocyteerde bacteriën daarin een PSMα-GFP reporter construct 10 start om fluoresceren groen tussen 1 en 2 uur na fagocytose, met vermelding van expressie van de PSMα promotor. Bacteriën buiten de neutrofielen niet fluoresceren of fluorescentie vertonen nadat de extracellulaire bacteriën dichte microkolonies (figuur 2) zijn gevormd. Dezegegevens blijkt dat de expressie van PSMα snel wordt ingeschakeld als bacteriën gefagocyteerd door PMN's.

Figuur 1. Neutrofiel activering door PSMα3. Activering van neutrofielen bij een concentratiebereik van PSMα3, zoals gemeten door calcium mobilisatie. Wanneer zeer kleine hoeveelheden in het serum wordt toegevoegd de neutrofiel activering wordt geremd, en bij 1% serum nauwelijks activering is zichtbaar op deze PSMα3 concentraties (Aangepast uit referentie 10).

Figuur 2. Inductie van expressie van PSMα na fagocytose.Neutrofielen mochten fagocyteren S. aureus met een reporter construct van de promotor van PSMα gefuseerd met GFP. Ongeveer 1 uur na aanvang van fagocytose de intracellulaire bacteriën beginnen te groen, wat aangeeft uitdrukking van de PSM α operon fluoresceren, terwijl de bacteriën buiten de neutrofielen (#) niet de psm α expressie in deze periode (Aangepast uit referentie 10) induceren.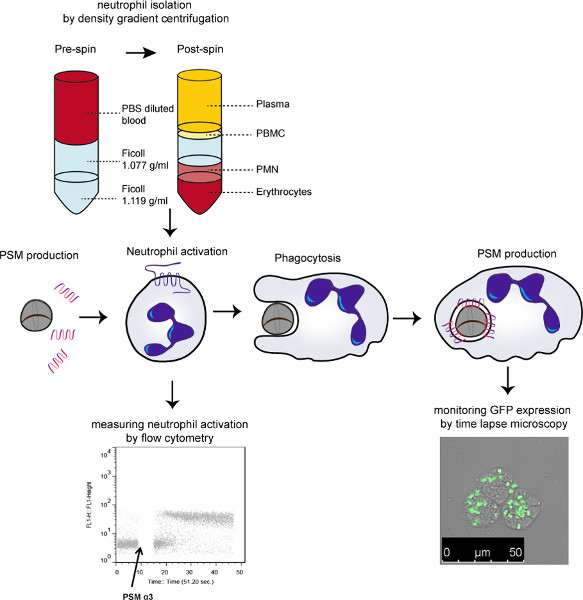 Figuur 3. Schematisch model van de uitgevoerde experimenten. Neutrofielen werden geïsoleerd en geïncubeerd met PSMs het activeren effect van deze kleine amfipathische helices in een calcium mobilisatie assay te meten. Wanneer serum werd toegevoegd, werden de PSMs geneutraliseerd en niet meer geactiveerd neutrofielen. Om de intracellulaire expre bestuderenssion van de PSMs, werd een stam die een fusie van het PSMα-promoter GFP gemengd met serum en neutrofielen fagocytose mogelijk. GFP-expressie werd gevolgd met behulp van time-lapse fluorescentie microscopie. Klik hier om een grotere afbeelding te bekijken .
Subscription Required. Please recommend JoVE to your librarian.
Discussion
In de hier beschreven werkwijzen aantal stappen zeer kritisch. We zullen deze hier benadrukken.
Voor de isolatie van neutrofielen door dichtheidsgradiënt centrifugatie is het belangrijk om de lagen te verstoren tijdens of na de centrifugatiestappen. Wanneer opzuigen de neutrofielen met een plastic pipet, zorg ervoor dat niet aan de ballon te knijpen, terwijl in de laag van cellen, zal als het uitwerpen vloeistof de lagen te verstoren. Ook visueel de pellet van neutrofielen na de osmotische shock en centrifugeren stap. Als de pellet is nog steeds rood de erytrocyten lysis was niet effectief genoeg, en moet nogmaals worden herhaald. Als dit regelmatig gebeurt, verhoging van de incubatietijd met gedemineraliseerd H 2 O met maximaal vijf seconden om een vollediger erytrocyten lysis krijgen.
Voor de calciummobilisatie werkwijze is het belangrijk dat neutrofielen vers geïsoleerd zijn. Algemeen cellen die zijn opgeslagen in de koelkasto lang niet zo goed reageren. Of ze misschien al geactiveerd waardoor een afname van het effect van de toegevoegde stimulus of gestorven en reageren helemaal niet. Sterke aggregatie van neutrofielen is een teken dat ze niet meer vers en moet worden weggegooid.
In de microscopie setup verschillende dingen zijn belangrijk. Om een ​​toename van GFP in de bacteriën nemen, is het noodzakelijk dat het zeer stabiele GFP eiwit uit de bacterie wordt verwijderd door meerdere verdunningsstappen en groei onder omstandigheden waarbij het gen van belang tot expressie wordt gebracht op een zeer laag niveau of niet allemaal. In ons geval, als de psmα operon wordt uitgedrukt bij hoge celdichtheden 13, de herhaling verdunningsstappen voordat de cellen te bereiken mid-log fase voldoende. Ook voor deze experimenten, is het het beste dat de neutrofielen zijn fris, vooral omdat je zou willen om hen te volgen gedurende enkele uren in de microscoop. Toevoegen van propidiumjodide (PI) aan de RPMI-HSA buffer zal visualisatie van de verstoring van de neutrofiel membraan door de expressie van de PSMs. Wanneer PI wordt toegevoegd, zorg ervoor dat de juiste filters zijn beschikbaar in de microscoop, zodat de rode PI fluorescentie niet interfereert met de groene GFP-fluorescentie. Vooral bij het gebruik van lange pass filters voor GFP, zal de PI zeker bemoeien. Een andere interessante mogelijkheid is om meerdere fluorescente reporters gebruikt in bacteriën, zoals een chromosomale integratie van GFP gekoppeld aan een GFP reporter, die het mogelijk maken voor de bewaking van alle bacteriën via confocale microscopie, waar het moeilijk is om niet-gelabelde bacteriën zien. Ook in brede veld fluorescentie microscopie met behulp van meerdere labels heeft duidelijke voordelen. Een nadeel van het gebruik van de stabiele fluorescerende reporters zoals wij gedaan hebben is hun stabiliteit. De zeer trage omzet van het GFP-eiwit laat alleen de controle van de ON-schakelaar van de verslaggever, de OFF-schakelaar kan niet gevisualiseerd gemakkelijk zijn. Voor zou dit ene moeten eit gebruikenhaar instabiele GFP constructen, of gebruik een luminescentie expressie systeem aangedreven door bijvoorbeeld de Lux operon 14.
Subscription Required. Please recommend JoVE to your librarian.
Disclosures
De auteurs verklaren dat zij geen concurrerende financiële belangen.
Acknowledgments
Materials
| | | | |
| --- | --- | --- | --- |
| Name | Company | Catalog Number | Comments |
| Fluo-3, AM | Molecular Probes / Life Technologies | F-1241 | |
| Ficoll-Paque | GE Healthcare | 17-5442-03 | density 1.077 g/ml |
| Histopaque | Sigma | 11191 | density 1.119 g/ml |
| RPMI 1640 | Gibco, Life Technologies | 52400-025 | contains 25 mM HEPES and L-glutamine |
| Leica TCS SP5 microscope | Leica Microsystems, The Netherlands | TCS SP5 | objective: HCX PL APO 40x/0.85 |
| FACSCalibur | BD Biosciences | FACSCalibur | Very important that the tube can be removed and replaced during the measurement process |