Summary
Vi presenterer metoder for å studere effekten av PSMS og andre giftstoffer utskilt av
Cite this Article
Copy Citation | Download Citations | Reprints and Permissions

Surewaard, B. G. J., van Strijp, J. A. G., Nijland, R. Studying Interactions of Staphylococcus aureus with Neutrophils by Flow Cytometry and Time Lapse Microscopy. J. Vis. Exp. (77), e50788, doi:10.3791/50788 (2013).
Abstract
Vi presenterer metoder for å studere effekten av fenol oppløselige modulins (PSMS) og andre giftstoffer som produseres og utskilles av Staphylococcus aureus på neutrofiler. For å studere effektene av de PSMS på Neutrofilene Isoler ferske nøytrofiler ved hjelp av tetthetsgradient-sentrifugering. Disse nøytrofile er lastet med et fargestoff som fluoresces på kalsium mobilisering. Aktivering av nøytrofiler ved PSMS initierer en rask og forbigående økning i fritt intracellulært kalsium-konsentrasjon. I en flowcytometri eksperiment denne rask mobilisering kan måles ved å overvåke fluorescensen av et forhåndslastet fargestoff som reagerer på den økte konsentrasjonen av fri Ca2 +. Ved hjelp av denne metoden kan vi bestemme PSM konsentrasjonen som er nødvendig for å aktivere nøytrofile, og måle effekten av spesifikke og generelle hemmere av nøytrofile aktivering.
For å undersøke uttrykket av PSMS i den intracellulære plass, we har konstruert reporter fusjoner av arrangøren av den PSMα operon til GFP. Når disse reporter stammer av S. aureus er phagocytosed av nøytrofile, kan induksjon av uttrykket observeres med fluorescens mikroskopi.
Introduction
Nøytrofile (PMN) er profesjonelle fagocytter som spiller en nøkkelrolle i det medfødte immunforsvaret mot Staphylococcus aureus en. Den konstante kampen mellom vert og mikrobe har ført til et våpenkappløp av begge. Nylig, community-tilknyttede (CA) stammer av Meticillin resistente S. aureus (MRSA) har dukket opp som ser ut til å være svært effektiv i omgåelse av nøytrofile drapet 2,3. Overdreven fenol løselig modulin (PSMS) produksjon av CA-MRSA har vært forbundet med høyere virulens 4,5. Menneskelige nøytrofile kan gjenkjenne disse PSMS via FPR2 som fører til aktivering av denne G-protein koblet reseptor seks. En av de tidligste begivenheter er mobiliseringen av intracellulære lagre av kalsium (Ca2 +). Ca 2 + fungerer som en sekundær budbringer for en rekke effektor funksjoner av PMN inkludert degranulering og fagocytose 7.. Derfor Ca 2 + er en svært følsom indikator påfunksjonell kapasitet på PSMS å aktivere PMN. Å studere effekter av PSMS på nøytrofile, er friske nøytrofile isolert og lastet med et fargestoff som fluoresces på kalsium mobilisering. I en flowcytometri eksperiment denne rask mobilisering kan måles. Ved hjelp av denne metode, er det mulig å studere de direkte effektene av giftige og andre komponenter på neutrofiler, og bestemme den laveste konsentrasjon ved hvilken disse er aktive. For oss er det et svært nyttig verktøy for å studere effekten av mange proteiner som produseres av S. aureus involvert i immune unndragelse, for eksempel FPR2 hemmende protein (FLIPR) 8, FLIPR-aktig 7, og Chemotaxis hemmende protein av Staphylococcus aureus (CHIPS) 9. Alle disse proteiner har blitt vist å hemme kalsium-mobilisering i neutrofiler ved å binde til reseptoren gjenkjenne agonisten.
Nylig har vår gruppe beskrevet som PSMS er funksjonelt hemmet av serum lipoproteiner 10 </ Sup>. Disse lipoproteiner er rikelig tilstede i blod og vev fra mennesker, som indikerer at PSMS utøve sin funksjon i første rekke i den intracellulære miljøet. Tilgjengeligheten av kalsium-mobilisering analysen tillater oss å nøyaktig måle effekten av serum lipoproteiner på aktivering av nøytrofiler ved PSMS, angitt med betydelig hemning ved meget lave konsentrasjoner av serum.
Siden PSMS er funksjonelt inhiberes av serum, hypotese vi at det er en viktig funksjon for PSMS som intracellulære giftstoffer. Vi har derfor forsøkt å finne ut hvilken rolle PSMS etter fagocytose. For å undersøke uttrykket av PSMS i intracellulære plass, har vi bygget reporter fusjoner av arrangøren av den psmα operon til GFP. Når disse reporter stammer av S. aureus ble phagocytosed av nøytrofile ble induksjon av uttrykket observerbar med fluorescens mikroskopi 10. Selvfølgelig, dette technique tillater undersøkelse av ekspresjonen av et stort antall gener i S. aureus eller andre patogener etter fagocytose. Siden for S. aureus overleve i det intracellulære nisje er svært viktig for å overvinne det medfødte immunsystemet 11 10 12, studere rollen til gener aktiveres i denne nisjen er svært relevant for å forstå dens virulens.
Subscription Required. Please recommend JoVE to your librarian.
Protocol
En. Isolering av PMN fra humant blod etter Tetthet Sentrifugering
Tegn 5 9 ml rør av heparinisert venøs blod.
Forbered tolags Ficoll gradienter (4 gradienter for 5 rør blod) som følger: Hell 12 ml av en densitet 1,119 g / ml Ficoll-løsning i et 50 ml rør og forsiktig lag 10 ml av en densitet 1,077 g / ml Ficoll løsning på toppen.
Fortynn blodet med et like stort volum av PBS.
Lag fortynnet blod nøye på dual layer Ficoll gradient, 20-25 ml per gradient.
Sentrifuger 20 min ved 396 xg i en svingende bøtte rotor, 22 ° C uten bremsing.
Forbered kaldt RPMI som inneholder 0,05% humant serumalbumin (RPMI-HSA). Også forberede 9 ml sterilt avionisert H 2 O. Pre-cool både RPMI og H 2 O på is.
Aspirer øverste Ficoll-lag inneholdende plasma (gul farge) og PBMC, og det andre laget av Ficoll (hvit farge) med bruk av en vakuumpumpe (sette en steril pipette påpipetten).
Samle PMN i 50 ml rør ved hjelp av en liten plast pipette (1 tube for PMN fraksjoner av hver 2 gradienter), og plassere dem på is.
Legg kald RPMI-HSA til et totalt volum på 50 ml og sentrifuger i 10 min ved 249 x g ved 4 ° C.
Ta av supernatanten ved bruk av en vakuumpumpe og virvle pelleten forsiktig (erytrocytter og PMN).
Legg til 9 ml sterilt avionisert H 2 O og starte tidtakeren. Stopp hyper osmotisk sjokk etter 30 sek nøyaktig, ved å legge til 1 ml 10 ganger konsentrert PBS. Merk: 30 sek er svært kritisk.
Legg kald RPMI-HSA til et totalt volum på 50 ml og sentrifuger i 10 min ved 249 x g ved 4 ° C.
Ta av supernatanten ved bruk av en vakuumpumpe og samle PMN pellet i en tube med et definert volum (1-2 ml) RPMI-HSA.
Bestemme mengden av celler og justere konsentrasjonen til 1,10 7 celler / ml. Avhengig av donor, vil utbyttet av isolerte PMN være betweno 5 x 10 6 og 3 x 10 7 PMN fra hver 9 ml tube av blod
2. Flowcytometrisk analysen for vurdering av kalsium Mobilisering i Menneskelige PMN
Veieceller (5 x 10 6 celler / ml) med 2 uM Fluo-3-AM i RPMI-HSA og inkuberes i 20 min ved romtemperatur vuggende langsomt under anvendelse av for eksempel en gyngende plattform shaker, beskyttet mot lys.
I mellomtiden forberede en seriefortynning (for eksempel 3-ganger) av stimulus ved 10x sluttkonsentrasjon. PSMα3 er brukt i denne protokollen, men en hvilken som helst GPCR stimulus som virker på nøytrofiler er egnet.
Forbered 10x konsentrert inhibitor av reseptor i RPMI-HSA. Når inhibitoren virker på stimulus (for eksempel HDL på PSMα3) pre-inkuberes 25 ul stimulus med et likt volum av inhibitor i 10 minutter ved romtemperatur.
Vask cellene ved tilsetning av 10 ml RPMI-HSA og sentrifuger i 249 xg ved romtemperatur. Resuspender celler til 5 x10 6 celler / ml.
Like før forsøket, fortynn cellene til 2x10 6 celler / ml i RPMI-HSA og tilsett 200 ul celler per FACS rør. Utvannet PMN er svært skjøre. Holde dem for lenge ved denne konsentrasjonen vil føre til automatisk aktivering, det samme gjelder for kraftig risting eller pipettering.
Fest røret til strømningscytometeret, vent 3 sek og starte oppkjøpet. Etter en bestemt tidsperiode (for eksempel 8 sek), ta av røret og raskt tilsett 50 mL stimulans til prøven. Umiddelbart re-feste slangen på prøven holderen og fortsette oppkjøpet.
Start med den laveste og slutter med den høyeste konsentrasjonen av stimulus. Vask strømningscytometeret nål regelmessig etter hvert løp med RPMI-HSA.
Analysere data med flowcytometri analyse programvare. Sammenligne den gjennomsnittlige fluorescens-signalet før tilsetning av stimulus til fra at etter tilsetning av stimulus og bruke de riktige positive og negative kontroller for å beregne acaktiverings styrke for hver fortynning målt.
Alternativt når inhibitoren virker på reseptor-pre-Inkuber cellene med inhibitoren.
3. Fluorescensmikroskopi Analyse av bakterier GFP Expression etter Fagocytose av PMN
Grow S. aureus-stammer inneholdende en reporter konstruksjon av interesse over natten i buljong (med antibiotika når det kreves for å opprettholde reporter-plasmid). I dette tilfelle belastningen MW2 inneholdende en PSMα GFP reporter konstruktet blir brukt 10, dyrket i et 50 ml plastrør med 5 ml LB dyrkningsmedium.
For å fjerne all GFP fra O / N uttrykk, fortynne kulturer til OD 660 0,01 og vokse til OD 660 0,1. Redilute denne kulturen 01:30, og overvåke vekst frem til kulturen når en OD 660 på 0,1. Samle bakterier ved sentrifugering og vaske en gang i DPBS. Resuspender i 1:10 av det opprinnelige volum for å oppnå en OD 660 på 1,0 eller rlig 5.10 8 CFU / ml.
Bland bakterier (1.10 7 / ml) med nylig isolerte PMN (1.10 6 / ml) i RPMI-HSA (forhold 10:01) i et 1,5 ml mikrorør og tilsett sammenslått humant serum til en endelig konsentrasjon på 10%. Ryst på en gyngende plattform i 10 min ved 37 ° C for å stimulere fagocytose. Fortynne PMN lastet med bakterier til 5,10 5 PMN / ml og pipette 250 mL i en brønn av en åtte godt kamret dekkglass.
Bilde av PMN med bakterier på et mikroskop. En invertert mikroskop utstyrt med en 40X/0.85 NA objektiv fungerer godt og bør være innkapslet i et mørkt miljø kammer for å holde miljøet stabil ved 37 ° C. Hente bilder for en rekke forhåndsinnstilte posisjoner med kameraet hver 5-10 min i både lyse feltet og GFP kanalen for å følge GFP produksjon i tid.
Subscription Required. Please recommend JoVE to your librarian.
Representative Results
Flowcytometrisk analysen for vurdering av kalsium mobilisering i menneskelige PMN
Inkubering av neutrofiler med en konsentrasjon serie av syntetiske PSMα3 resulterer i hurtig aktivering målt ved kalsium-fluks, som er vist ved en økning i signalet i FL-1. Pre-inkubasjon av syntetisk PSMα3 med 0,01%, 0,1% eller 1% humant serum inhiberte signifikant evne til å fremkalle kalsium-flukser (figur 1).
Analyse av GFP uttrykk i bakterier etter fagocytose av PMN med fluorescens mikroskopi
Phagocytosed bakterier som inneholder en PSMα-GFP reporter konstruere 10 start til fluoresce grønt mellom en og to timer etter fagocytose, indikerer uttrykk fra PSMα promoter. Bakterier utenfor nøytrofile ikke fluoresce, eller vise fluorescens bare etter de ekstracellulære bakterier har dannet tette microcolonies (figur 2). DisseDataene indikerer at uttrykket av PSMα er raskt slått på når bakterier blir phagocytosed av PMN.

Figur 1. Neutrofil aktivering ved PSMα3. Aktivering av nøytrofile ved et konsentrasjonsområde på mellom PSMα3, målt ved kalsium-mobilisering. Når svært lave mengder av serum legges nøytrofile aktivering hemmes, og ved 1% serum knapt noen aktivering er synlig på disse PSMα3 konsentrasjoner (Tilpasset fra referanse 10).

Figur 2. Induksjon av uttrykk for PSMα etter fagocytose.Nøytrofile fikk lov til å phagocytose S. aureus inneholder en reporter konstruere av arrangøren av PSMα smeltet til GFP. Omtrent en time etter starten på fagocytose de intracellulære bakterier begynner å fluoresce grønt, som indikerer uttrykk for psm α operon, mens bakteriene utenfor nøytrofile (#) ikke indusere psm α uttrykk i dette tidsrommet (Tilpasset fra referanse 10).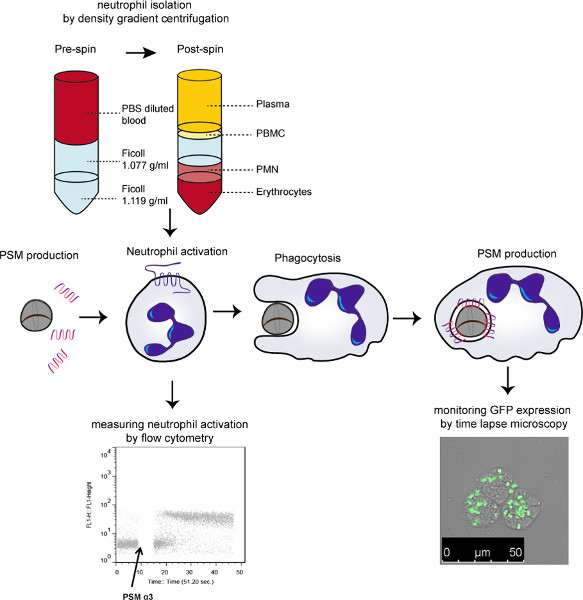 Figur 3. Skjematisk modell av forsøkene utført. Neutrofiler ble isolert og inkubert med PSMS å måle aktiveringen virkning av disse små amfipatiske helikser i en kalsium-mobilisering assay. Når serum ble tilsatt, ble PSMS nøytralisert og ikke lenger er aktivert neutrofilene. Å studere den intracellulære expression av PSMS, ble en belastning som inneholder en blanding av PSMα-arrangøren til GFP blandet med serum og nøytrofile å tillate fagocytose. GFP uttrykket ble fulgt ved hjelp av time-lapse fluorescens mikroskopi. Klikk her for å se større figur .
Subscription Required. Please recommend JoVE to your librarian.
Discussion
I de fremgangsmåter som er beskrevet her noen trinn er meget kritisk. Vi vil markere disse her.
For isolering av nøytrofiler ved densitets-gradientsentrifugering er det viktig ikke å forstyrre lagene under eller etter sentrifugeringen trinn. Når aspirere de nøytrofile bruker en plast pipette, sørg for ikke å presse ballongen mens i lag med celler, vil som løser ut væske forstyrre lagene. Også visuelt inspisere pellet av nøytrofile etter osmotisk sjokk og sentrifugering trinn. Dersom pelleten fremdeles er rød erytrocytt lysering var ikke effektive nok, og må gjentas en gang til. Hvis dette skjer regelmessig, øke inkubasjonstid med avionisert H 2 O med opp til fem sekunder for å få en mer komplett erytrocytt lysis.
For kalsiummobilisering metode er det viktig å ha nøytrofiler som er isolert frisk. Generelt, celler som har blitt lagret i kjøleskapet tilo lenge vil ikke svare så godt. De enten kan ha aktivert allerede forårsaker en reduksjon i effekten av den tilsatte stimulus, eller er døde, og vil ikke reagerer i det hele tatt. Sterk aggregering av nøytrofile er et tegn på at de ikke er fersk lenger og skal kastes.
I mikroskopi setup flere ting er viktig. For å være i stand til å observere en økning av GFP inne bakterier, er det nødvendig at den svært stabil GFP protein er fjernet fra bakterier av flere fortynnings trinn og vekst under betingelser hvor genet av interesse blir uttrykt på et meget lavt nivå eller ikke i det hele alle. I vårt tilfelle, er som psmα operon uttrykt ved høye celletetthet 13, to gjentatte fortynning trinn før cellene nå er mid-log fase tilstrekkelig. Også for disse forsøkene, er det best at de nøytrofile er friske, spesielt siden du kanskje ønsker å følge dem i flere timer i mikroskopet. Legge propidium jodid (PI) i RPMI-HSA buffer vil tillate visualisering av forstyrrelse av nøytrofile membran av uttrykket av de PSMS. Når PI er lagt til, sørge for at de riktige filtre er tilgjengelig i mikroskopet slik at den røde PI fluorescens ikke forstyrrer den grønne GFP fluorescens. Spesielt når du bruker lange pass filter for GFP, vil PI definitivt forstyrre. En annen interessant mulighet er å bruke flere fluorescerende reportere i bakteriene, for eksempel en kromosomal integrering av CFP kombinert med en GFP reporter, noe som ville tillate overvåking av alle bakterier ved bruk av konfokal mikroskopi, hvor det er vanskelig å se ikke-merkede bakterier. Også i bredt felt fluorescens mikroskopi bruker flere etiketter har klare fordeler. En ulempe med å bruke de stabile fluorescerende reportere som vi har gjort er deres stabilitet. Den svært treg omsetning av GFP protein bare tillater overvåking av ON-bryteren på reporteren, kan OFF-bryteren ikke bli visualisert lett. For dette ville trenge å bruke eithennes ustabile GFP konstruksjoner, eller bruke en luminescence uttrykk system drevet av f.eks Lux operon 14.
Subscription Required. Please recommend JoVE to your librarian.
Disclosures
Forfatterne erklærer at de har ingen konkurrerende finansielle interesser.
Acknowledgments
Materials
| | | | |
| --- | --- | --- | --- |
| Name | Company | Catalog Number | Comments |
| Fluo-3, AM | Molecular Probes / Life Technologies | F-1241 | |
| Ficoll-Paque | GE Healthcare | 17-5442-03 | density 1.077 g/ml |
| Histopaque | Sigma | 11191 | density 1.119 g/ml |
| RPMI 1640 | Gibco, Life Technologies | 52400-025 | contains 25 mM HEPES and L-glutamine |
| Leica TCS SP5 microscope | Leica Microsystems, The Netherlands | TCS SP5 | objective: HCX PL APO 40x/0.85 |
| FACSCalibur | BD Biosciences | FACSCalibur | Very important that the tube can be removed and replaced during the measurement process |