Summary
Vi presenterer en enkel og effektiv protokoll for generering av menneskelige makrofager. Buffy coats behandles ved dobbelt tetthetsgradient sentrifugering og isolerte monocytter blir deretter differensiert til makrofager i Teflon-belagt cellekultur poser. Dette maksimerer macrophage avlinger og forenkler celle høsting for senere eksperimenter.
Cite this Article
Copy Citation | Download Citations

Menck, K., Behme, D., Pantke, M., Reiling, N., Binder, C., Pukrop, T., Klemm, F. Isolation of Human Monocytes by Double Gradient Centrifugation and Their Differentiation to Macrophages in Teflon-coated Cell Culture Bags. J. Vis. Exp. (91), e51554, doi:10.3791/51554 (2014).
Abstract
Menneskelige makrofager er involvert i en mengde patologiske prosesser som spenner fra infeksjonssykdommer til kreft. Dermed de utgjør et verdifullt verktøy for å forstå de underliggende mekanismene for disse sykdommene. Vi har derfor presentere en enkel protokoll for isolering av humane monocytter fra buffy coats, etterfulgt av en differensierings prosedyre som resulterer i høye utbytter macrophage. Teknikken er avhengig for det meste på vanlig tilgjengelig laboratorieutstyr, og dermed gir en kostnadseffektiv og tidseffektiv måte for å oppnå store mengder av humane makrofager. Kort fortalt blir buffy coats fra friske blodgivere kastes en dobbelt tetthetsgradient sentrifugering for å høste monocytter fra perifert blod. Disse monocytter dyrkes deretter i fluorerte etylen-propylen (FEP) Teflon-belagt cellekultur poser i nærvær av makrofag kolonistimulerende faktor (M-CSF). De differensierte makrofager lett kan høstes og brukes til senere studier og funksjonell somsier. Viktige metoder for kvalitetskontroll og validering av isolasjon og differensiering tiltak vil bli markert i protokollen. Oppsummert protokollen beskrevet her at forskerne kan rutinemessig og reproduserbart isolere humane makrofager uten behov for kostnadskrevende verktøy. Videre kan sykdomsmodeller bli undersøkt i en syngen humant system omgå anvendelse av murine makrofager.
Introduction
Celler fra monocyttisk avstamning og deres terminalt differensierte derivative - makrofager - utviser en slående plastisitet i forhold til sin biologiske funksjon, som fører til deres engasjement i så ulike prosesser som utvikling, vev reparasjon, og immunitet en. Sistnevnte er på grunn av deres phagocytic og antigen-presentasjon evne som plasserer makrofager i skjæringspunktet mellom det medfødte og adaptive immunrespons to. Imidlertid, til deres evne utskille cytokiner, kjemokiner, vekstfaktorer og andre signalmolekyler 1 ikke bare forsterker deres immun-modulerende funksjon, men også tjener som et grunnlag for sine ytterligere funksjoner. Forsøk på å speile disse ulike aktiverings trinnene i sammenheng med ikke-mikrobielle medierte forholdene har resultert i M1 og M2 kategorier 3. Mens denne klassifiseringen er ikke komplett, gir det mulighet for en grunnleggende forståelse av makrofag biologi.
På grunn av disse mangefasetterte evner det kommer ikke som noen overraskelse at makrofager er forbundet med mange forhold som på en eller annen måte involverer vev remodeling eller betennelse. Ved siden av sin grunnleggende rolle i anerkjennelse og rydding av invaderende patogener 4-6, har makrofager i økende grad kommet i fokus i aterosklerose, fibrose, fedme og kreft 7-10. En reproduserbar metode for generering av humane makrofager er derfor av avgjørende betydning for en forståelse av disse patologier. Her presenterer vi en fremgangsmåte basert på isolering av humane monocytter fra perifert blod fra friske donorer ved en dobbelt tetthetsgradient sentrifuge teknikken som tidligere beskrevet for 11. For å lette differensiering til makrofager, blir de isolerte monocyttiske celler inkubert i nærvær av lave konsentrasjoner av M-CSF og normalt humant serum 12. For å lette videre håndtering og celle slakting blir differensiering gjennomført i gass gjennomtrengelig FEPTeflon-belagt cellekultur poser med en hydrofob overflate 12-15. De resulterende hvilende makrofager kan bli utsatt for en rekke analyser som de er fremdeles i stand til å reagere på enten en M1 eller M2-aktig måte. Alternative metoder for monocyte isolasjon og påfølgende differensiering for eksempel magnetiske aktivert celle sortering (MACS) eller motstrøms sentrifugal elueringstid (CCE) har noen begrensninger når det gjelder avkastning, kostnader og tid som kreves. Protokollen beskrevet heri har den fordelen at den kan bli utført med standard laboratorieutstyr uten behov for spesielle reagenser (f.eks MACS magnetiske kuler) eller enheter (f.eks, CCE apparater), og gjør det mulig for behandling av store mengder celler.
Protocol
1. Fremstilling av humant AB serum Sterile
Samle 4-5 poser med fersk frosset plasma (FFP). Lagre poser ved -20 ° C inntil nok poser har blitt samlet inn.
Tine poser og inkuberes i 30 min ved 56 ° C i et vannbad for å inaktivere komplement og fjerne fibrin.
Grundig desinfisere utsiden av posene og overføre plasma til 50 ml rør.
Sentrifuger ved 3000 xg i 15 min ved romtemperatur for å bli kvitt utfellinger og gjenværende blodplater.
Bassenget hele Supernatantene og forkaste pellets.
Delmengde serumprøver i 15 ml rør og oppbevar ved -20 ° C.
MERK: Alternativt kan kommersielt tilgjengelig varmeinaktivert normal menneskelig AB serum brukes.
2. Isolering av Monocytter
For å lette avbalansering av sentrifugen, er det anbefalt å behandle to buffy coats i parallell. Men ta care å bruke separate materialer for hver donor, og ikke for å blande cellene. I tilfelle buffy coats ikke kan oppnås lett, kan 400 ml heparinisert perifert blod brukes i stedet.
Nøye desinfisere plastposer med Buffy strøk og overføre innholdet i hver buffycoat til to 50 ml rør.
For hver buffy coat fylle tre 50 ml rør med 15 ml Ficoll-løsning (1,077 g / ml). Den Ficoll bør være ved romtemperatur i blandingen.
Layer 30-35 ml av buffy coat blod på toppen av Ficoll-løsning for den første densitetsgradient. Vær forsiktig med å gjøre dette sakte og forsiktig for å unngå å blande begge lag.
Sentrifuger ved 400 x g uten brems i 30 min ved romtemperatur.
For hver gradient samle den hvite ringen av perifere mononukleære blodceller (PBMC) som ligger mellom de to faser med en plast Pasteur pipette og overføres til et 50 ml rør.
Fyll hver tube med PBS-EDTA (1 mm) opp til 40 ml totalt.
Sentrifuger ved 300 xg i 10 min uten brems ved romtemperatur.
Aspirer supernatanten og pelleten vaskes igjen med 40 ml PBS-EDTA (1 mM).
For hver donor bassenget pellets i 20 ml RPMI-1640 uten fenolrødt + 10% FCS.
Klargjør iso-osmotisk Percoll-løsning for den andre densitetsgradient: I to givere blande 23,13 ml Percoll-oppløsning (densitet: 1,131 g / ml) i et 50 ml rør med 1,87 ml 10-fold PBS. Deretter overfører 23 ml av denne løsning til en ny 50 ml rør og tilsett 27 ml RPMI-1640 med fenol rødt + 10% FCS for å oppnå en 46% iso-osmotisk løsning Percoll. Den Percoll bør være ved romtemperatur i blandingen.
For hver donor overføring 25 ml av den klare Percoll-løsning til en 50 ml rør og lag av PBMC-løsning fremstilt i 2,9) på toppen av Percoll-løsning. Vær forsiktig med å gjøre dette veldig sakte end nøye, begge lag har en tendens til å blande seg lettere. Hvis det gjøres fullstendig av de to faser kan skilles på grunn av deres forskjell i farge.
Sentrifuger ved 550 x g uten brems i 30 min ved romtemperatur.
For hver gradient samle den hvite ringen av monocytter som ligger mellom de to faser med en plast Pasteur pipette og overføres til et 50 ml rør.
Fyll hver tube med PBS-EDTA (1 mm) opp til 50 ml totalt.
Sentrifuger ved 400 xg i 10 min uten brems ved romtemperatur.
Aspirer supernatanten og resuspender pelleten i 20 ml RPMI-1640 med fenol rødt + 10% FCS.
3. Differensiering av monocytter til Makrofager
Bestem antall isolerte monocytter i en 1:10 fortynning i trypan blå. Bare telle de store, ofte uregelmessig formede celler, som er monocytter. Teller ikke de mindre, rund-formede celler som er lymfocytter.
NOTE: Monocytt tall trenger ikke å være bestemt for nøyaktig fordi de bare gir et hint om hvor mange og hvilke FEP Teflon-belagt poser (små eller store) må brukes for differensiering av cellene.
For 1,0-1,5 x 10 8 monocytter fra en donor, seede cellene i et stort FEP Teflon-belagt cellekultur posen. For hver pose forberede kulturmedium bestående av 174 ml RPMI-1640, 2% humant AB serum (som fremstilt i avsnitt 1), 1% penicillin / streptomycin, og 2,5 ng / ml M-CSF (totalt volum: 180 ml).

For 3,0 til 5,0 x 10 7 monocytter fra en donor, seede cellene i en liten teflonbelagt cellekultur posen. For hver pose forberede kulturmediet bestående av 28,5 ml RPMI-1640, 2% humant AB serum (som fremstilt i avsnitt 1), 1% penicillin / streptomycin, og 2,5 ng / ml M-CSF (totalt volum: 30 ml).
MERK: Hvis f.eks, er 8,0 x 10 7 monocytter innhentet, anbefaler vi å frø dem i two mindre volum poser med 4,0 x 10 7 celler hver. I stedet for M-CSF, kan monocytter alternativt bli differensiert med granulocytt makrofag koloni-stimulerende faktor (GM-CSF) til samme konsentrasjon (2.5 ng / ml).

Legg til cellesuspensjonen (20 ml) til den klare mediet og bland forsiktig. Hvis to poser fremstilles fra en donor, tilsett 20 ml RPMI-1640 til cellesuspensjonen, og deretter legge til halvparten av suspensjonen til hver medium preparat.
Valgfritt: For å bestemme om den har forblitt monocytt preparatet sterile, rive en dråpe av cellesuspensjonen på en blod-agar-plate og inkuberes over natten ved 37 ° C.
Stram slire av en 50 ml perfusor sprøyte på pluggen av FEP Teflon-belagt cellekultur pose og fyll den med forberedt cellesuspensjon.
Trekk ut sprøyten og skyv den gjenværende luft ut av posen. Lukk posen med en avsluttende kjegle.
Inkuber poser i 6-7 dager ved 3776; C med 5% CO 2.
4. Macrophage innhøstings
Plasser FEP Teflon-belagte cellekultur sekker med differensierte makrofager på is i minst 1 time for å lette løsgjøring av celler (en inkubasjonstid på opptil 3 timer er mulig). Sørg for at hele overflaten av posen er dekket med is.
Trekk posen med minimal press 10x over kanten av et skrivebord / bord.
Desinfisere forsiktig utsiden av posen, og fjerne den avsluttende kjegle.
Stram en 50 ml sprøyte på pluggen av sekken, fjerne cellesuspensjonen, og overføre den til 50 ml rør.
Sentrifuger ved 400 xg i 10 min ved romtemperatur for å spinne ned cellene.
Aspirer supernatanten og basseng pelletene fra en pose i 10 ml RPMI-1640 + 10% FCS i total.
Bestem celletallet i et hemocytometer (1: 4-1: 10 fortynning i trypan blått). Bare telle de store runde celler.
MERK: Etter å differensiere makrofagene i FEP Teflon-belagte poser, det kan være gjenværende cellene f.eks, lymfocytter, avhengig av donoren, og på kvaliteten av monocytt isolasjon.
Å gjenbruke FEP Teflon-belagte poser, vaske dem to ganger med 70% etanol for å fjerne rester av celler. Fylle dem med 50 ml 70% etanol og inkuberes over natten. Vask posene 3x med sterilt PBS, vikle dem i steriliserings papir, og sterilisere i en autoklav ved anvendelse av standard prosedyrer.
MERK: cellekultur poser kan brukes flere ganger uten tap i makrofager avkastning. Men vi bestemte oss for å forkaste poser etter 10 bruker før de begynner å lekke.
For etterfølgende eksperimenter kulturmakrofager i RPMI-1640 + 10% FCS. Dersom lavere serumkonsentrasjon er nødvendig, er det også mulig dyrking i RPMI-1640 med 1% FCS. Seed og inkuberes cellene i 3-4 timer. Etter denne perioden, oppmerksom på at makrofager feste seg til overflaten av celledyrkningsskål menseventuelle kontaminerende celler (dvs. erytrocytter, lymfocytter, og dendrittiske celler) bor i suspensjon. Vask cellene i det minste to ganger med PBS for å fjerne ikke-adherente celler.
For å demontere dyrkede makrofager fra cellekultur parabolen for videre eksperimenter, nøye skrape dem av overflaten. Alternativt inkuber retter i 20 min på is, aspirere kulturmediet, og tilsett 1 ml enzym-fri celledissosieringsmedium buffer. Etter 5 min inkubasjon ved 37 ° C, tilsett 4 ml PBS, og løsne cellene ved å pipettere opp og ned i minst 3 min.
Representative Results
Den første densitet gradient sentrifugering ved bruk av Ficoll gir et hvitt interfase som inneholder PBMC (figur 1A) ie lymfocytter og monocytter. Dette kan bekreftes gjennom en mar-Gruenwald farging (figurene 1B og C) av de innsamlede celler som viser både et høyt kjerne / cytoplasma-forhold (som er typisk for lymfocytter) og bean- eller ringformede kjerner (typisk for monocytter). Når disse cellene blir deretter påsatt på en andre ved hjelp av Percoll tetthetsgradient, kan monocyttene bli ytterligere separert fra lymfocyttene og igjen vises som et hvitt interfase (figurene 1D-F). For hver buffycoat den beskrevne dobbel Densitetsgradientsentrifugering gir rutinemessig 150 ± 40 x 10 6 monocytter som kan differensieres til 70 ± 30 x 10 6 makrofager (figur 2) per buffycoat. Gjennomsnittet makrofag avkastning fra20 uavhengige forberedelser var 47 ± 14% av totale isolerte monocytter.
Etter Percoll-gradient sentrifugering kan det fortsatt være noen gjenværende ikke-monocyttiske celler til stede i preparatet som er avhengig av bloddonor så vel som på nøyaktigheten av isoleringsprosessen. Men etter differensiering fase av 6-7 dager, består utarbeidelse hovedsakelig av modne makrofager (figur 3) som kan bli ytterligere beriket på grunn av sin tilslutning til plastoverflater, en funksjon som ikke deles av de tilfeldige forurensende celler (Tall 4A og B). Når belagt, flertallet av makrofager viser en klassisk "stekt egg" morfologi mens det er også celler med en strukket spindel-lignende fenotype (figurene 4C og D). Dette gjenspeiles av deres F-aktin distribusjon innen cytoplasma og vedheft klynger. De differensierte cellerer preget av uttrykket av CD45, CD14, CD16, CD206 (mannose reseptor), CD11b og CD11c som er typiske markører for modne makrofager (figur 5). Tilstedeværelsen av CD11b argumenterer mot en hovedsakelig dendrittisk differensiering som er støttet av det faktum at cellene er negative for den dendrittiske celle markør CD209 (DC-SIGN).
Etter differensiering prosessen cellene forbli funksjonelt og metabolsk aktiv i ca 5-7 dager (figur 6) som det kan visualiseres ved Calcein AM farging og deres evne til å ta opp ekstracellulære vesikler utøst fra kreftceller. I tillegg kan cellene fremdeles bli aktivert, som vist for eksempel for stimulering med lipopolysakkarid (LPS), som resulterer i ekspresjon av en rekke pro-inflammatoriske gener (figur 7).
Figur 1. Utseende og sammensetningen av PBMC- og monocytt-lag etter dobbelt tetthetsgradient sentrifugering. Fotografi som illustrerer (A) PBMC-bandet etter Ficoll-gradient, og (D) den monocytt-fase etter at iso-osmotisk Percoll sentrifugering. May-Gruenwald stainings av Cytospin preparater fra (B, C) ​​PBMC fraksjon og den gjenværende (E, F) monocytter. Scale bar = 200 mikrometer i B og E, = 50 mikrometer i C og F.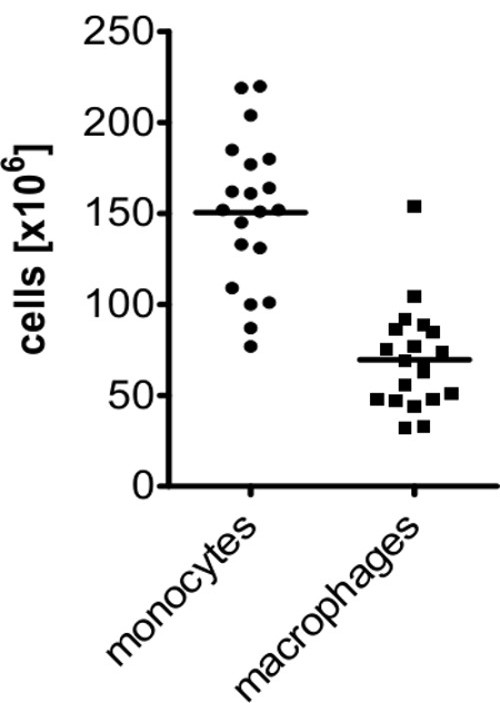 Figur 2. Utbytte av monocytter og makrofager. Representative celle tellinger av isolerte monocytter og makrofager av 20 buffycoat preparations.

Figur 3. mikrografer og cellestørrelse målinger av monocytter og makrofager. Fasekontrastmikroskopi av monocytisk cellesuspensjon før (A) og etter (B) makrofag differensiering. Tilsvarende cellestørrelse histogrammer av monocytter (C) og makrofager (D). Scale bar = 100 mikrometer.

Figur 4. Morfologi og cytoskeletal organisering av heftende makrofager. Fasekontrastmikroskopi av heftende makrofager før (A) og etter (B) fjerning av ikke-adherenT-celler. (C, D) Phalloidin-TRITC farging av trådformede aktin i heftende, ikke-stimulerte makrofager. Scale bar = 100 mikrometer i AC, 20 mikrometer i D. Klikk her for å se en større versjon av dette tallet.

Figur 5. Immunfenotype av differensierte makrofager. Flowcytometri analyse av makrofager etter 6 dager med differensiering i FEP Teflon-belagte cellekultur poser (markert med rødt). De tilsvarende isotype Kontrollene vises i grått. Vennligst klikk her for å se en større versjon av dette tallet.
Figur 6. Opptak av tumorcelle mikrovesikler av makrofager.
Mikrografer av heftmakrofager etter utstilling til PKH26-merket (rød fluorescerende) tumorcelle-avledet mikrovesikler. Bilder blir overlappet til det tilsvarende
(A)
lysfelt eller
(B)
cytosoliske farging med levedyktighet fargestoff calcein AM. Scale barer = 100 mikrometer.
Vennligst klikk her for å se en større versjon av dette tallet.

Figur 7. Oppregulering av IL-1-β, Wnt5a, TNFa, IL-6, MMP-2, MMP-7, MMP og MT1-etter stimulasjon av makrofager med LPS (100 ng / ml) i 24 timer. Gene ekspresjon ble målt med kvantitativ RT-PCR fra total-RNA-prøvene (A) og normalisert om HPRT1 og GNB2L1 ekspresjon. Verdiene som vises, er sammenleggbare endringer i forhold til den ubehandlede kontroll (betyr ± SD, n = 5, * p <0,05, ** p <0,01, *** p <0,001). TNFa og IL-6-induksjon etter LPS-stimulering ble ytterligere bekreftet ved ELISA (B) (middel ± SD, * p <0,05).
Discussion
Makrofager er viktige effektorceller av den medfødte immunsystemet, og viser viktige funksjoner i immunomodulering, antigen presentasjon og vev homeostase. På grunn av deres bemerkelsesverdige plastisitet, er de i stand til å reagere på forskjellige stimuli med endring av deres fenotype. Men er så langt en masse data om makrofag polarisering oppnådd i murine system, selv om det finnes rapporter som viser at bare rundt 50% av makrofager polarisering markører kan være direkte oversatt fra mus til menneske 16. Derfor presenterer vi her en metode for å oppnå primære humane makrofager i tilstrekkelig antall og renhet uten behov for kostbare materialer, f.eks MACS magnetiske perler eller en motstrøm sentrifugal elueringstid enhet.
Metoden er basert på isolering av monocytter fra PBMC og deres påfølgende differensiering til makrofager i FEP Teflon-belagt cellekultur poser i nærvær av lave concentrations av M-CSF 11-13. Mens monocytter utgjør mindre enn 5 til 10% av perifert blod leukocytter hos mennesker, ved stimulering de rekrutteres til perifere områder der de skiller til beboe vevsmakrofager eller dendrittiske celler 17. Cytokin M-CSF er viktig for monocyte overlevelse og driver deres differensiering til makrofager 18,19. Så langt har M-CSF-konsentrasjoner som ble valgt for monocytt differensiering varierte opp til 100 ng / ml, men i vår protokoll er vi i stand til å skaffe et tilstrekkelig antall modne makrofager med en M-CSF-konsentrasjon på bare 2,5 ng / ml 12 20. I tillegg, dyrkes cellene i FEP Teflon-belagte cellekultur poser som letter løsgjøring av makrofager og deres påfølgende såing i definerte celleantall. Siden posene kan brukes om igjen flere ganger, reduseres denne ytterligere kostnader for isoleringsprosessen.
De makrofager oppnådd med denne prosedyrener svært positive for CD45, CD14, CD11b, CD11c og vis uttrykk for mannose reseptor CD206 som argumenterer for en befolkning på rene, modne makrofager 21,22. Spesielt høye CD14 ekspresjon er typisk for makrofager differensiert i nærvær av M-CSF 23. Etter såing av cellene, viser de en rask tilslutning til plastoverflater med noen celler som viser en typisk spindel-lignende morfologi, mens andre fremvise en stekt egg fenotype. Dette er i samsvar med observasjoner fra andre forfattere 18,22,24.
Det ble rapportert at monocytt differensiering i nærvær av M-CSF fører til M2-polariserte makrofager 16,25. Imidlertid, makrofager isolert ved vår protokoll er fortsatt i stand til å svare på et bredt spekter av stimuli, inkludert eksponering av tumorcelleavledet mikrovesikler og ko-kultur med tumorceller 26,27 eller eksponering overfor LPS som de reagerer med induksjon av pro- inflammatoriske gener som for eksempel IL-1 &# 946 ;, TNF-alfa, Wnt5a, eller ulike matriksmetalloproteinaser som anses typisk for M1-polariserte makrofager 3,5,28.
Som konklusjon, isolering av monocytter etter dobbelt tetthetsgradient sentrifugering og påfølgende differensiering til makrofager i FEP Teflon-belagte cellekultur poser fører til et høyt antall makrofager uten behov for teknisk vanskelige eller kostbare fremgangsmåter. De oppnådde makrofager kan utnyttes for påfølgende analyse som strekker seg fra klassiske aktivering gjennom LPS til ko-kulturen med tumorceller.
Disclosures
Forfatterne har ingenting å avsløre som ingen interessekonflikt eksisterer.
Acknowledgments
Forfatterne ønsker å takke Mrs. Meike Schaffrinski for henne alltid utmerket teknisk assistanse i løpet av de siste årene.
Dette arbeidet ble finansiert gjennom den tyske Research Council (DFG) innenfor den felles forskningsgruppe 942 (FOR942) og ved Research Program for Det medisinske fakultet, Georg-August-universitetet Göttingen.
Materials
| | | | |
| --- | --- | --- | --- |
| Name | Company | Catalog Number | Comments |
| Antibodies for immunophenotyping | Beckman Coulter | | for example: CD11c-PE (IM1760), CD45-FITC (7782), IgG1-PE isotype control (A07796), IgG1-FITC isotype control (A07795) |
| | BioLegends | | for example: CD14-FITC (325603), CD206-PE (321105) |
| Axiovert 200M microscope | Zeiss | | |
| Calcein AM | AnaSpec | 89201 | |
| Combi-stopper closing cones | Braun | 4495101 | |
| 1x PBS, w/o Ca and Mg | Pan biotech | P04-36500 | for PBS-EDTA (1 mM) add 1 ml 0.5 M EDTA per 500 ml PBS |
| 10x PBS, w/o Ca and Mg | Invitrogen | 14200-067 | |
| EDTA (Titriplex III) | Merck | 1084211000 | prepare a 0.5 M solution in H2O, use a sterile filter |
| Cell dissociation buffer (enzyme-free, PBS-based) | Gibco | 13151-014 | |
| Fetal calf serum (FCS) | Invitrogen | 10091148 | heat-inactivated |
| Ficoll (density 1.077 g/ml) | Biochrom AG | L6115 | |
| FACSCanto II | BD Biosciences | | |
| Goat anti-mouse FITC | santa cruz | sc-2010 | |
| LPS from E.coli | Sigma | L8274 | final conc: 100 ng/ml |
| Multifuge 3 L-R | Heraeus | | |
| Penicillin/streptomycin | Biochrom AG | A2213 | |
| Percoll (density 1.131 g/ml) | GE Healthcare | 17-0891-02 | |
| Perfusor syringe 50 ml | Braun | 8728844F | |
| Phalloidin-TRITC | Sigma | P1951 | resuspend in methanol (c = 0.1 mg/ml) |
| | | | |
| --- | --- | --- | --- |
| Name | Company | Catalog Number | Comments |
| Plastic disposable Pasteur pipettes | LVL technologies | 2655181 | |
| rh M-CSF | ImmunoTools | 11343117 | Resuspend in 500 µl sterile H2O (c = 100 ng/µl), aliquot |
| RPMI-1640 with phenol red | Gibco | 21875-034 | |
| RPMI-1640 without phenol red | Gibco | 11835-063 | |
| Sterilization paper | VP group | 3KFKFS230116 | |
| Trypan blue stain (0.4% w/v) | Sigma | T8154 | |
| FEP Teflon-coated cell culture bag, small | CellGenix | 72-C | |
| FEP Teflon-coated cell culture bag, large | CellGenix | 197-C | |