Cite this Article
Copy Citation | Download Citations

Bar-Joseph, H., Stemmer, S. M., Tsarfaty, I., Shalgi, R., Ben-Aharon, I. Chemotherapy-induced Vascular Toxicity - Real-time In vivo Imaging of Vessel Impairment. J. Vis. Exp. (95), e51650, doi:10.3791/51650 (2015).
Abstract
Visse klasser af kemoterapi kan udøve akutte vaskulære ændringer, der kan udvikle sig til langvarige forhold, som kan prædisponerer patienten for en øget risiko for vaskulær sygelighed. Men selv montere kliniske beviser, der er en mangel på klare studier af vaskulær toksicitet og derfor ætiologien af ​​en heterogen gruppe af vaskulære / kardiovaskulære lidelser stadig at blive belyst. Endvidere kan den mekanisme, der kan ligge til grund for vaskulær toksicitet er fuldstændig forskellig fra principperne for kemoterapi-induceret kardiotoksicitet, som er relateret til direkte myocyt skade. Vi har etableret en real-time, in vivo molekylær billeddannelse platform til at vurdere den potentielle akutte vaskulære toksicitet af anti-cancer behandlinger.
Vi har oprettet en platform af in vivo, høj opløsning molekylær billeddannelse i mus, som er egnet til at visualisere kar indenfor snævre organer og reference- blood fartøjer i de samme personer, mens hver enkelt tjener som sin egen kontrol. Blodkarrenes vægge blev forringet, efter doxorubicin administration, der repræsenterer en unik mekanisme af vaskulær toksicitet, som kan være den tidlige begivenhed i slutningen-orgel skade. Heri er metoden til fibered konfokal fluorescensmikroskopi (FCFM) baseret imaging beskrevet, hvilket giver en innovativ indstilling for at forstå fysiologiske fænomener på cellulært og sub-cellulære niveauer i animalske fag.
Introduction
Klinisk evidens for, at flere klasser af kemoterapi fremkalde forskellige vaskulære patologier manifesteret ved Raynaud fænomen, hypertension, myocardialinfarction, cerebrovaskulær angreb, og hepatisk veno-occlusivedisease 1,2. "» Utilsigtet "anti-angiogenese lægemidler" er en forholdsvis nyt begreb, som beskriver konventionelle kemoterapeutiske midler, der virker som mulige angiogeneseinhibitorer, selv om de ikke oprindeligt udviklet til dette formål 3-5, men designet til at fjerne tumorceller ved at pålægge så lidt "sikkerhed skade "på normale celler som muligt 3. Flere kemoterapier er underforstået som vasculo-giftstoffer som observeret i kliniske undersøgelser af serum biomarkører. Blandt disse er alkyleringsmidler (såsom cyclophosphamid), platinforbindelser (såsom cisplatin) og anthracycliner 1,2,5-7.
Akutte kardiovaskulære komplikationer kan opstå som result vaskulær toksicitet induceret af kemoterapi. De kan udvikle sig til kroniske lidelser som åreforkalkning og redegøre for øget risiko for sen vaskulær sygelighed. Men på trods af stigende klinisk bevis, der er en mangel på udpegede undersøgelser med vægt mekanismen af ​​vaskulær toksicitet og derfor er yderligere belysning af den nøjagtige patogenese de påfører berettiget.
En stor udfordring i at afsløre mekanismen for kemoterapi-induceret vaskulær toksicitet stammer fra kompleksiteten i at undersøge vaskulær funktion in vivo. Vi beskriver heri en platform af høj opløsning in vivo molekylær billeddannelse i mus, der gør det muligt at fange blodgennemstrømning og fartøjernes karakteristika. Denne platform letter påvisning af direkte behandling inducerede vaskulære virkninger: i realtid, samt efter dem over en periode inden for de samme individer.
Subscription Required. Please recommend JoVE to your librarian.
Protocol
Etik erklæring: Alle forsøg blev godkendt af Institutional Animal Care og brug Udvalg. Animal pleje var efter fastlagte retningslinier. ICR hunmus (7-8 uger gammel, 25-30 g) blev anbragt i aircondition, lys kontrolleret dyrefaciliteter af Sackler medicinske fakultet i Tel-Aviv University. På sigt blev dyr aflivet med anæstesi overdosis.
1. fibred Konfokal Fluorescens mikroskopi (FCFM) Kalibrering
Tænd enheden.
Slut mikrosonde (mini0 / 30).
Kalibrer indretningen ifølge producentens anvisninger.
2. Mus Forberedelse til Imaging
Bedøver af en subkutan injektion af både Ketaset (100 mg / kg) og XYL-M2 (6 mg / kg). Bekræft ordentlig bedøvelse ved passivitet til tå-knivspids.
Incise huden under lysken for at afsløre de femorale blodkar. Hold incisionssted fugtig med saltvand efter snit.
Varm halen ved hjælp af en pose (eller en handske) fyldt med varmt vand (ikke for varmt at røre) i ca. 30 sek. Forbered en intravenøs (IV) shunt til administration af FITC dextran (et kontrastmiddel) og enten saltvand eller kemoterapeutisk middel, ved at indsætte en nål (30 g, 1/2 inch) i halevenen og fastgørelse af en 1 ml sprøjte til det . Sørg venen er åben ved at indsprøjte saltvand.
BEMÆRK: En intravenøs administration af FITC dextran (høj molekylvægt; 100 pi; 10 mg / ml; 2,000 kDa) letter visualisere den femorale mikrovaskulatur af FCFM. Doxorubicin (100 pi; 8 mg / kg adriamycin) eller saltvand vil også blive senere indgives IV i den forvarmede halevenen.
Anbring musen dvask på en polystyren fase. Fastgør musen til puden og fastholde position ved hjælp kirurgisk gaffatape.
title "> 3. Imaging femoral blodkar ved FCFM Under og efter administration af doxorubicin eller saltvand
BEMÆRK: fibered konfokalt mikroskop anvendt i denne undersøgelse består af to enheder: (1) mikrosonde (mini0 / 30). (2) Laser scanning enhed (LSU-488; 488 nm bølgelængde).
Udfør alle tidspunkter omgange analyser ved hjælp af LSU 488 nm bølgelængde laser.
BEMÆRK: Hovedenheden detektor detekterer filtreret (500-650 nm) udsendte fluorescens. De tilkøbte billeder rekonstrueres bagefter og vises med en hastighed på 12 billeder / sek.
Afbryd forsigtigt sprøjten fra kanylen og vedlægge en ny sprøjte indeholdende FITC dextran. Forvalter (IV) 100 pi FITC dextran.
Skift mikrosonde (mini0 / 30) til en egnet synsfelt og fiksere den, efter justering af z-aksen, for at opnå det tilsvarende billede. Vent det første signal at falme indtil en klar og fokuseret signal er visible.
Optag en baseline blodgennemstrømning i en kort stabilisering periode (~ 30 sek). Tilslut derefter til nålen anden sprøjte, der indeholder enten doxorubicin eller saltvand. IV administrere 100 pi doxorubicin eller saltvand.
Overvåge strømmen af ​​indsprøjtet FITC-dextran kontinuerligt i 20 min. På FCFM-tilhørende software, skal du bruge knappen diameter på den øverste lineal for at måle blodkarrene og kategorisere dem som små (<15 pm) eller store (> 15 pm).
Aflive dyret med anæstesi overdosering.
Subscription Required. Please recommend JoVE to your librarian.
Representative Results
In vivo kontinuerlig billeddannelse på real-time
Den billeddannende apparat bruges her er en high definition, fibered konfokalt mikroskop, er udstyret med en sonde, der muliggør visualisering af kar og dens reaktion på forskellige stimuli som kemoterapi. Denne metode er minimalt invasiv, idet selv om det kan lette billeddannelse af dybe kar eller organ, kræver et lille snit for sonden. De probe bundter består af titusinder af fibre, mikroskop optik og en proprietær præcision stik. En skematisk fremstilling er vist i figur 1.
Imaging femoral mikrovaskulatur
Vi har klassificeret netværket femoral blodvaskulaturs ifølge fartøjer diameter (lille <15 um, stor> 15 um) ved FCFM i mus injiceret med FITC-dextran. En hurtig vasokonstriktion (2 - 5 min) af små fartøjer blev induceret af doxorubicin. En komplet disappearance af FITC-dextran fluorescerende, 8 minutter efter doxorubicin behandling (figur 2A fx pile; Video 1). I flere mus, reduktion af det fluorescerende signal i blodkarret og øge signal om dens omgivelser blev observeret i perivaskulær region, et par sekunder efter doxorubicin administration (figur 2B g, pile). Disse resultater viser, at stigningen i karpermeabilitet og lækage af høj molekylvægt dextran fra blodkarret til de omgivende væv. Nr fluorescenssignal var tydelig efter administration af doxorubicin i mus, der ikke var injiceret tidligere med FITC-dextran. Paclitaxel-behandlede mus demonstrerede lignende blod fartøjer struktur og flow med det hos saltvandsinjicerede mus (ikke vist), i hele måleperioden.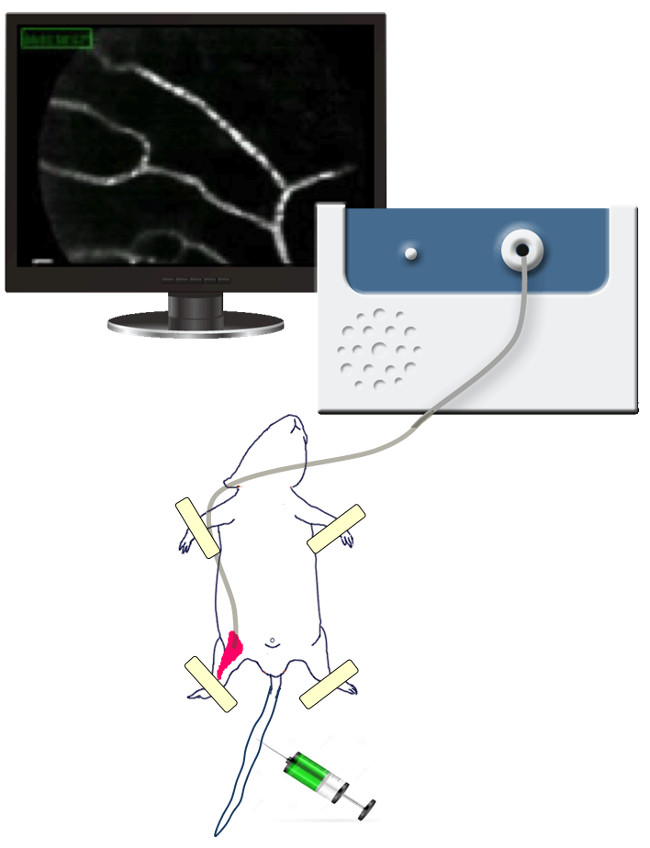 Figur 1. FCFM Den konfokal mikroskop anvendes her består af to enheder: den mikrosonde (mini0 / 30) og laserscanning enhed (LSU-488; 488 nm bølgelængde)..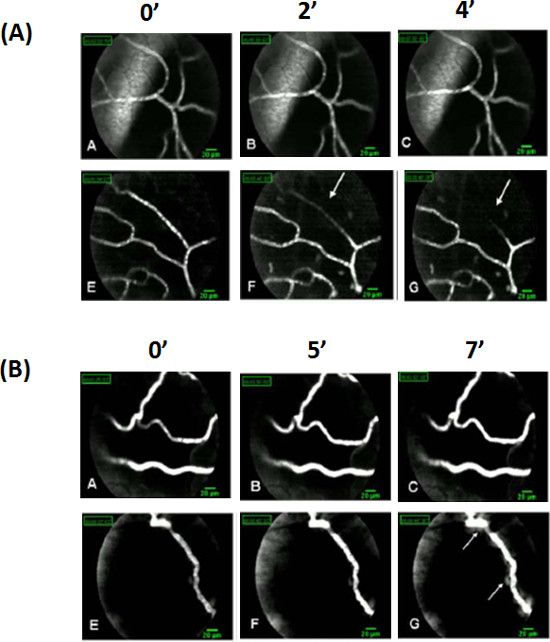 Figur 2. Billeder af FITC-dextran fluorescenssignal i femoral mikrovaskulatur. Fartøjer blev dichotomously klassificeret til mindre (<15 pm) eller større (> 15 pm) efter deres kaliber. Femoral mikrovaskulatur af FITC dextran (100 pi; 10 mg / ml). Injicerede mus blev afbildet før og under intravenøs administration af enten doxorubicin eller saltvand (A) mindre fartøjer, afbildes af FCFM begyndte karforsnævrende akut 2 min efter doxorubicin administration (f , pil), der viser en kontinuerlig indsnævring af det fluorescerende signal, indtil den fuldstændige forsvinden, uden genvinding tilsyneladende forbedring af signalet under next otte minutter i realtid imaging (g, pil). (B) Udseende i nogle snapshots af et "tåget" området omkring blodkar vægge af kemoterapi-injicerede mus (g pil) umiddelbart efter injektion, viser potentiale Dextran-FITC lækage. Klik her for at se en større udgave af dette tal.
Video 1. Femoral mikrovaskulatur billeddannelse. En repræsentant fotograferet film af FITC-dextran fluorescerende mindre (<15 um i diameter) blodkar. Æggestokkene og femoral mikrovaskulatur tid laps fotografering: mus injiceret med 100 pi FITC-dextran (10 mg / ml) blev afbildet og fotograferet fra det øjeblik af IV indgivelse af doxorubicin. 2-5 min efter doxorubicin injektion, mindre fartøjer viste dramatiske vasokonstriktion efterfulgt af fuldstændig afskaffelse af det fluorescerende signal, allerede 8 min efter treatment. (AVI) Klik her for at se denne video.
Subscription Required. Please recommend JoVE to your librarian.
Discussion
Evaluering kemoterapi-induceret vaskulær toksicitet er udfordrende på grund af vanskeligheden ved at visualisere dynamikken i vaskulatur som reaktion på en stimuli i realtid. Talrige kliniske undersøgelser har impliceret, at flere kemoterapi forårsager direkte vaskulær skade, men mekanismen og karakteristika denne toksicitet er endnu ikke klarlagt. Vi har etableret en real-time, in vivo molekylær billeddannelse platform til vurdering af potentialet vaskulær toksicitet kemoterapi i mus bestående af fibered konfokal fluorescensmikroskopi som beskrevet heri 8-10. Denne høj opløsning molekylær billeddannelse af mus er velegnet til visualisering arteriel blodgennemstrømning og fartøjernes arkitektur. Det muliggør påvisning i realtid af behandlingsrelaterede inducerede komplikationer i samme dyr over en længere periode. Vi evaluerede to klasser af kemoterapier: doxorubicin, som vides at være giftige for endotelceller in vitro såvel som i vævS opnået fra dyr behandlet med doxorubicin 10-15, og paclitaxel som en kontrol kemoterapi, som tidligere evidens for enhver vaskulær effekt er meget begrænset.
Den laserscanning konfokal teknologi FCFM letter sporing fluorescens-farvet dybe væv på real-time og producerer time-lapse video billeder af blodkar in vivo 9. I vores undersøgelse blev FCFM bruges til at observere den akutte vaskulære effekt af doxorubicin, som en prototype vaskulotoksisk agent. Denne effekt, som begyndte kort efter doxorubicin administration, var afhængig af blodkar størrelse: jo mindre skibenes diameter, jo mere fremtrædende skaden. Fluorescenssignalet af lille diameter (<15 um) fartøjer formindsket gradvist som et resultat af konstant fartøjer konstriktion forårsaget af doxorubicin. Ingen tilsyneladende opsving blev fundet under den næste 8 min af real-time imaging. Stor diameter (> 15 pm) fartøjer var mindre beskadiget; integritetaf deres mur blev kompromitteret, udviser en uregelmæssig overflade. Disse virkninger var unik for doxorubicin og var ikke tydeligt, når paclitaxel blev anvendt, hvilket indikerer, at denne metode afgrænser omhyggeligt den specifikke virkning af lægemidlet.
Ændringer og fejlfinding
I hele protokollen kan lasereffekten ændres under baseline optagelse for at illustrere skibene. Dog må laser magt ikke ændres under forsøget. Desuden kan en høj laser power blege fluorescens middel under tid. Derudover, når optagelsen er afsluttet, er det muligt at ændre kontrasten af ​​filmen og til at redigere sin længde og hastighed. Målinger af fartøjerne kan så foretages, og forandringer, der sker kan følges.
Begrænsninger af teknikken og kritiske trin
Den FCMF enheden har nogle begrænsninger. Regionen af ​​interesse (ROI) kan ændre sig i løbet afimaging tid. Derudover kan det afbildede område tørre ud; man skal holde området hydreret. Fluorescensen middel kan blegemiddel og signalet vil blive tabt. Et afgørende skridt man skal være opmærksom på er at holde dyret, og sonden godt fast for at undgå ændringer i ROI.
Betydning og fremtidige applikationer
Den etablerede eksperimentelle platform kan fungere som en umiddelbar test for respons på kemoterapi eller alternativt som en potentiel biologisk markør for at karakterisere de potentielle vaskulær toksicitet profil. Baseret på det undersøgte mekanismen af ​​vaskulær nyrefunktion, kan fremgangsmåden også være anvendelige i fremtiden at vurdere de mulige midler specificeret til at reducere vaskulær toksicitet induceret af kemoterapi. Behovet for at mindske de potentielle langsigtede vaskulære komplikationer i kræft overlevende driver os til at udforske mekanismen bag kemoterapi-induceret vaskulær toksicitet.
Subscription Required. Please recommend JoVE to your librarian.
Materials
| | | | |
| --- | --- | --- | --- |
| Name | Company | Catalog Number | Comments |
| general anesthesia | Fort Dodge Animal Health, IA, USA and Biove Laboratories, France | | 100 mg/kg ketaset and 6 mg/kg XYL-M2 |
| depilatory cream (Veet) | ReckittBenckiser, Bristol, UK | | |
| 30 G, 1/2 inch needle attached to 1 ml syringe | | | |
| FITC dextran (10 mg/ml; MW 2,000 kDa) | Sigma | FD2000S | 100 μl volume |
| Doxorubicin | Teva, Israel | | 8 mg/kg, Adriamycin |
| paclitaxel | Taro, Israel | | 1.2 mg/kg, Medexel |
| saline | | | |