Cite this Article
Copy Citation | Download Citations

Chung, Y. R., Kim, E., Abdel-Wahab, O. Femoral Bone Marrow Aspiration in Live Mice. J. Vis. Exp. (89), e51660, doi:10.3791/51660 (2014).
Protocol
Alle dyr prosedyrer som er beskrevet i denne protokollen ble gjennomført i henhold til Retningslinjer for omsorg og bruk av forsøksdyr, og ble godkjent av Institutional Animal Care og bruk Committee (IACUCs) ved Memorial Sloan-Kettering Cancer Center.
En. Aspirasjon av benmarg (BM) Celler fra femur
Anesthetize mus som vil gjennomgå femoral benmarg aspirasjon med isofluran (1-4%) administreres med en presisjon fordamper. Dybde av anestesi bør overvåkes hver 5-10 min gjennom hele fremgangsmåten ved å observere at det ikke er noen forandring i respirasjonsfrekvens forbundet med kirurgisk manipulering og / eller i øre, tå, og hale klemme. Anestesi blir innført med isofluran, og også opprettholdt gjennom prosedyren med isofluran. En fortrinns pre-prosess dose av buprenorfin i en dose på 0,05 til 0,1 mg / kg subkutant hver 6-12 timer kan brukes for å forhindre smerte forbundet med fremgangsmåten som en adjunct til Carprofen.
Påfør ophthalmic salve til øynene til musa etter induksjon av anestesi for å forhindre hornhinnen tørking.
Pelsen blir nøye klippet fra et område av huden ca 150% større enn arealet av den tilsiktede aspirasjon side. Løs pels fjernes med en fuktig kompress. Vennligst hold musen på en sirkulerende varmt vann pad eller andre trygge termostatstyrt overflate for å hindre hypotermi under prosedyren.
Desinfiser hele benet inneholder femur som vil gjennomgå aspirasjon med tre sett med vekslende Scrubs (alternerende med enten en povidonjodid (Betadine) eller en klorheksidin (Nolvasan) skrubbe og 70% isopropyl alkohol eller 70% etanol gjennomvåt gasbind svamper).
Fukt en 0,5 ml sprøyte tuberculin (volum: 0,5 cc; Fasthet: 27,5 G) med steril fosfat-bufret saltvann (PBS) før aspirering av BM. Fyll sprøyten med 200-500 pl av PBS og umiddelbart utvise PBS. Gjenta denne prosedyren 2-3 tIME.
Hold tibia bøyd fra femur ved å trykke på tibia med enten ringfingeren eller lillefingeren. Bekrefte at en egnet bedøvelse flyet har blitt oppnådd. Sprøyten holdes ved hjelp av tommel-og pekefingeren. Dette tillater at condyles å bli utsatt for og muliggjør innsetting av nålen.
Etter å tisse i sprøyte, stikk nålen gjennom patellarsenen slik at nålen er avleiret sikkert mellom de to condyles av femur. Ved å holde diaphysis nær epiphysis av femur med tommelen og pekefingeren, er nålen settes inn i skaftet på femur lett.
Sving nålen utover og oppover slik at den er parallell med akselen av femur. Denne handlingen forenkler gjenfinning av beinmargs innholdet fra femur akselen.
Skru kanylen med klokken og mot klokken mens du presser den sakte inn i lårbens marg hulrom. Bekreft riktig plassering av nålen ved å forsiktig bevege syRinge lateralt.
Trekk forsiktig nålen stempelet tilbake, og skaper undertrykk, mens du beveger nålen frem og tilbake innenfor BM hulrom. Merk: Volumet av BM aspirert vil være ca 5 pl som vanligvis svarer til 0,4 til 0,8 x 10 6 mononukleære celler. Vellykket aspirasjon vil bli bekreftet visuelt av utseendet av blod i toppen av nålen i bunnen av sprøyten. Hvis blod ikke blir sett i sprøyten er det sannsynlig at et lite bein eller vev fragment er fast i nålen. Dette kan fjernes fra nålen ved å bevege stempelet opp og ned i PBS (dette er en grunn til at sprøyten skal bli fylt inn med PBS før aspirering av BM). Hvis vevet ikke kan forskyves fra sprøyten, bruk en ny nål og sprøyte (igjen våt sprøyten med 200-500 mL PBS).
Når BM er vellykket aspirert fra femur, trekk ut nålen og sprøyten fra femur og mus.
Flytt aspirert BM til en mikro tube prefilled med 500 mL PBS. For de fleste anvendelser bør BM-celler da bli holdt på is inntil videre behandling hvis det er mulig.
Etter fullføring av prosedyren, administrere smertestillende med carprofen 5 mg / kg subkutant. Deretter fjerne mus fra anestesi og plassere på en oppvarmet pad til den er helt restituert. MERK: Det bør ikke være noe problem eller nød opplevd å følge prosedyren aspirasjon hvis det gjøres på riktig måte.
Før retur mus til boligområdet, at de er i stand til å ambulate og når mat og vann. Observer mus for tegn på stress eller infeksjon innlegg prosedyre i neste 24 timers. Tegn inkluderer: konstant blødning, anemi, slapphet. Hvis noen av disse symptomene er sett innlegget prosedyre, bør dyret (e) skal avlives. Merk: BM aspirasjon / prøvetaking kan gjentas, men gjenta prosedyren skal utføres på motsatt femur å hindre gjentatte traumer til det samme beinet. Det er lite informasjon tilgjengelig om frfrembringe frekvensskiftnøklede at BM aspirasjon kan utføres. Femoral benmarg aspirasjon er generelt gjentas ikke oftere enn hver 2. uke.
2. Vurdering av Cellular innhold i Aspirert BM Cells
Pellet celler hentet fra BM aspirasjon og sted i en mikrorøret ved sentrifugering ved 300 xg i 5 min ved 4 o C eller RT.
Aspirer supernatanten og resuspender pelleten i 500 pl av ACK røde blodlegemer lysis buffer ("ammonium-klorid, kalium-" lysis buffer).
Inkuber cellene i røde cellelysebuffer i 10 min og deretter til 1 ml PBS og spinne ned i blandingen på nytt ved 300 xg i 5 min ved 4 ° C eller romtemperatur. Merk: Det røde blodlegemer lysert pellet består nå av BM mononukleære celler. Disse kan bli resuspendert i FACS farging, celletelling, transplantasjon, cytospin-analyse og / eller en hvilken som helst annen bruk (på samme måte som BM-celler høstet fra mus ofret ville bli benyttet).
Subscription Required. Please recommend JoVE to your librarian.
Representative Results
Femoral BM aspirasjon av en live C57/B6 mus ble utnyttet til å skaffe BM mononukleære celler etterfulgt av konvensjonell BM høsten på samme mus etter avliving. BM mononukleære celler oppnådd ved de to fremgangsmåter ble deretter analysert ved hjelp av (1) cytologisk analyse av BM-celler, (2) bestemmelse av den relative hyppighet av hematopoetiske stammen / stamceller (HSPCs), og (3) ex vivo kultur av sorterte HSPCs. I det siste eksperiment, lineage-negative Sca1 + c-kit + (LSK) celler ble sortert fra mononukleære celler oppnådd ved BM aspirasjon, samt fra konvensjonell BM innhøsting. 150 LSK celler fremstilt ved hver metode ble deretter belagt i methylcellulose semi-faste medier som inneholder myeloide-erythroid cytokiner for 7 dager i teknisk duplikat. Resultatene vist i figur 1 A data, B viser at lignende typer og mengder av bulkceller og HSPCs ble sett av morfologiske og flowcytometrisk analyse ved hjelp av enten femoral BM aspirasjon eller konvensjonell BM innhøsting.
For å kvantitativt hvor mange prosent av LSK og myeloide stamceller sett med konvensjonell benmarg innhøsting versus lår benmarg aspirasjon, vi sammenlignet andelen av LSK og MP subpopulasjoner som en frekvens av total levende celler i tre uavhengige ambisjoner og konvensjonelle marg avlinger. Denne informasjonen, som vises i figur 1C, avslører en nedgang i LSK og MP subpopulasjoner fra benmarg samlet inn av femoral aspirasjon sammenlignet med konvensjonelle marg høst (selv om denne forskjellen var ikke statistisk signifikant for enhver populasjon).
Sortering av LSK-celler etterfulgt av ex vivo-kultur i metylcellulose førte til lignende kolonitall og celletyper som oppnås ved femoral benmarg aspirasjon og konvensjonell BM høsting (som vist i figur 1D). Typene koloni observert og oppregnet inkluderer CFU-GEMM (granulocytter, erytrocytt, monocytter, megakaryocyte colony-forming unit), CFU-GM (granulocytt den, monocytt colony forming unit) og BFU-E (erythroid sprekkdannende enhet).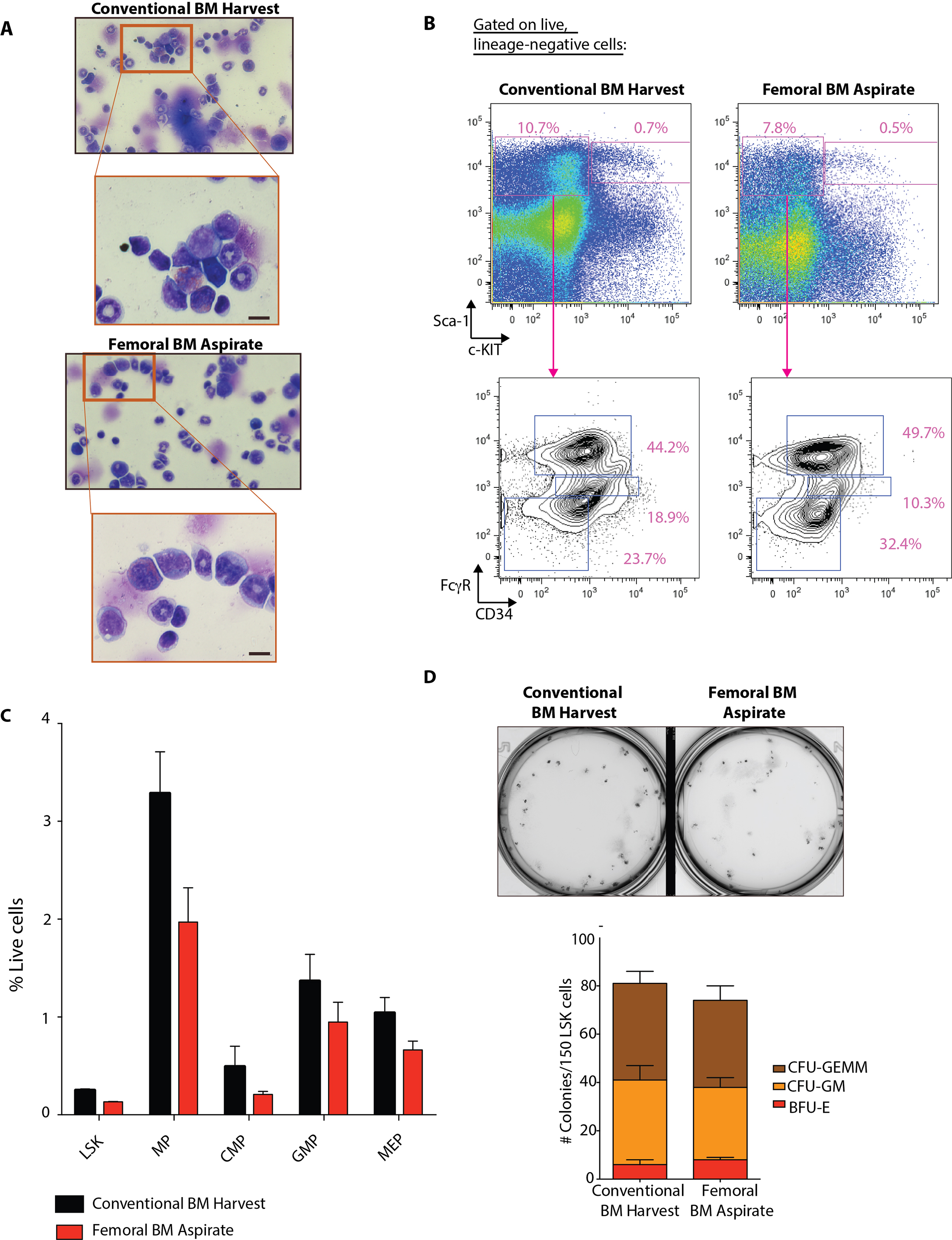 Figur 1. Femoral benmarg (BM) aspirasjon i levende mus til rette for undersøkelse av marg innholdet uten offer av mus. (A) Wright Giemsa farget cytospins av mononukleære celler oppnås gjennom BM aspirasjon av levende mus. Omtrent 0,4 til 0,8 x 10 6 mononukleære celler kan oppnås i hvert enkelt femoral aspirasjon. Vist her er typisk marg innholdet i villtype 6-ukers gamle C57/B6 mus innhentet av femoral BM aspirasjon (høyre) versus konvensjonell BM celleisolasjon gjennom ofring av mus (til venstre) (skala bar representerer 10 mikrometer). (B) Femoral BM aspirasjon gir et tilstrekkelig antall celler for å vurdereling av blodkreft stammen / stamfar rommet som illustrert her (Høyre: celler fra BM aspirer, Venstre: celler fremstilt ved høsting av margen fra ofret mus). Lineage-negative Sca-1 + c-Kit + (LSK) celler som inneholder blodkreft stamceller samt avstamning-negative Sca-1-c-KIT + myeloide stamceller og deres undergrupper som definert av CD34 og FcγR uttrykk ble analysert (forelder gate er å leve , lineage-negative celler). Prosenter vist referere til prosent av cellene innenfor porten. (C) Kvantifisering av LSK (celler, myeloid progenitor (MP) celler, felles myeloide stamceller (avstamning-negative Sca-1-c-KIT + CD34 + FcγR middels +), granulocytt-makrofag stamceller (avstamning-negative Sca-1-c-KIT + CD34 + FcγR +), og megakaryocyte-erytroide stamceller (avstamning-negative Sca-1-c-KIT + CD34-FcγR-), som en frekvens av levende celler fra konvensjonell marg innhøsting (n = 3) og lårbens benmarg aspirasjon (n = 3). Feilfelt representerer standard deavviket. (D) Representative fotografier av methylcellulose koloni analyseresultatene en uke etter plating av 150 LSK celler i myeloid / erythroid inneholder methylcellulose (over) og antall og typer kolonier observert ved bruk LSK celler fra hver metode. Typene koloni observert og oppregnet inkluderer CFU-GEMM (granulocytter, erytrocytt, monocytter, megakaryocyte koloni-forming unit), CFU-GM (granulocytter, monocytter kolonidannende enhet), og BFU-E (erythroid burst-forming unit). Vennligst klikk her for å se en større versjon av dette tallet.
Subscription Required. Please recommend JoVE to your librarian.
Discussion
Serie BM aspirasjon er et rutineinngrep kritisk til klinisk undersøkelse av hematologisk lidelser hos mennesker. Evnen til å utføre en tilsvarende serie prøver av BM i mus for karakterisering av den cellulære sammensetning og bestanddeler av BM gjennom lange forsøk er likeledes meget verdifull. Denne fremgangsmåten er nyttig for karakterisering av HSPC 's uten å ofre mus, men også for å påvise tilstedeværelse av flere celletyper i BM i tilfeller hvor innholdet i den perifere blod kanskje ikke er representative for de cellene som befinner seg i BM. Serie BM aspirasjon har blitt brukt svært effektivt for dette senere hensikt i å overvåke tilstedeværelsen av menneskelige celler xenografted inn immunsupprimerte mus for eksempel tre. Gitt at 0,4 til 0,8 x 10 6 celler blir vanligvis funnet med hver BM aspirasjon, kan disse celler benyttes til en rekke formål blant annet cytologisk analyse (figur 1A), diagnostisk flowcytometri (figur 1B), strømnings-cytometrisk celleseparasjon, etterfulgt av ytterligere nedstrøms bruk av sorterte celler inkludert kultur av celler (figur 1C), nukleinsyre-ekstraksjon, proteinutvinning for analyser rettet mot proteomikk karakterisering av et begrenset antall celler, og til og med ytterligere transplantasjon utklipte celler. På samme tid er det viktig å merke seg at antallet HSCs hentet i hvert femoral aspirasjon er begrenset av det totale antall celler som er hentet i denne fremgangsmåten. For eksempel vurderer definisjonen av HSCs som avstamning-negative Sca1 + cKIT + CD150 + CD48-CD244-celler, er frekvensen av HSCs ca 10 HSCs/100, 000 celler 7. Basert på denne frekvensen, er ca 40-80 HSCs forventes å bli hentet med hver prosedyre aspirasjon. Også, som det fremgår av figur 1C, hyppigheten av LSK og stamceller er lavere, om enn ikke nådde statistisk signifikans, i bein Marrow celler innhentet via femoral benmarg aspirasjon sammenlignet med konvensjonelle benmarg innhøsting. Vi tror denne relative nedgangen i LSK og stamfar frekvens sett med aspirasjon i forhold til kirurgisk benmarg innhøsting er knyttet til smitte med perifert blod som oppstår med lårbens benmarg aspirasjon. Disse begrensningene i lårbens benmarg aspirasjon i å vurdere sjeldne cellepopulasjoner i margen bør bemerkes. En ekstra oppmerksom er at vi har vanligvis utført denne prosedyren i mus av 6 ukers alder eller eldre. Vi tror at denne prosedyren ville være stadig mer teknisk utfordrende med mus mindre enn seks uker gamle.
Denne teknikken er også godt egnet for å vurdere kimerisme av BM i motsetning til det perifere blod i forbindelse med en pågående konkurranse rekonstituering eksperiment. I disse assays, er den funksjonelle potensialet av HSC-er fra et eksperimentelt sett av mus testes mot et sett kjent antall HSC &# 8217; s med avlesning blir perifert blod kimerisme samt kimerisme av HSC-tallet (se anmeldelse av Purton et al 8.). Kimerisme av perifert blod kan kontrast fra kimerisme i BM hvis forstyrrelsene påvirker stamcellerommet føre til svekket differensiering av HSPC sin til modne sirkulerende blodceller. Gitt at definitiv hematopoiesis ikke er nedfelt før minst 16 uker etter transplantasjon 9 og at kimerisme kan endres etter enda lengre tidsperioder 10, teknikker som letter tidligere tilgang til HSPC rommet slik som vist her, kan være spesielt nyttig. I en nylig eksempel, konkurranse transplantasjon av BM celler fra mus med homozygot post-natal sletting av Dnmt3a av Challen et al. Avslørt redusert kimerisme fra Dnmt3a-null mus i perifert blod, men en paradoksal økning i HSC kimerisme av Dnmt3a-Null HSC-er i BM 11. Dette resultatet var en indikasjon på en differensiering defekt Dnmt3a - / - HSC er til tross for en økning i selvfornyelse. Videre ble dette resultatet bare sett ved tidsbestemt offer av mottaker transplanterte mus i seriekonkurransetransplantasjons eksperimenter med intervaller på hver 16. uke. Derfor analyser som gir mulighet for prøvetaking av BM celler i parallell med perifert blod uten å kreve offer av mus og tillater kontinuerlig observasjon av mus er ganske nyttig.
Som nevnt tidligere, teknikken vist her er lik den teknikk som benyttes for intrafemoral injeksjon direkte inn i marghulen plass på mus 2,3. Direkte intrafemoral injeksjon har vist seg å være svært nyttig i å tilrettelegge humane xenograft studier på mus der det har vist seg å gi bedre engraftment i direkte sammenligning med intravenøs injeksjon 6,12,13. Denne teknikken har til og med tillateed for identifikasjon av tidligere ukjent klasse av hurtig fyller humane HSCs.
Foreløpig er det ikke kjent om gjentatt prøvetaking av BM i mus gjennom samme femur påvirker cellulære sammensetningen av BM eller antall marg cellene hentes med gjentatte ambisjoner. Videre er det minimum av tid tilrådelig å utføre gjentatte aspireringsprosedyrer fra samme femur ikke kjent. Når du utfører gjentatte femoral benmargs ambisjoner i samme mus, veksle femur brukes for BM aspirasjon og utføre serie BM aspirates med intervaller på> to uker. Videre arbeid fokusert på å forstå de potensielle effektene, om noen, av serie femoral BM aspirasjon prosedyrer i mus ved bestemte intervaller om papirtyper og antall celler hentet fra BM eller arkitektur av BM er nødvendig.
Subscription Required. Please recommend JoVE to your librarian.
Disclosures
Forfatterne har ingenting å avsløre.
Materials
| | | | |
| --- | --- | --- | --- |
| Name | Company | Catalog Number | Comments |
| PBS | PAA | H15-002 | |
| Bovine serum albumin | PAA | K41-001 | |
| ACK lysis buffer | Homemade | | in 1 L. Adjust pH 7.2 ~ 7.4 and filter sterile with 0.22 μm vacuum filter. |
| 8.3 g Ammonium chloride | Fisher Scientific | A661-500 | |
| 1 g Potassium bicarbonate | Fisher Scientific | P184-500 | |
| 200 μl 0.5 M EDTA pH 8 | Gibco | 15575-038 | |
| RPMI 1640 | PAA | E15-842 | |
| 0.5 ml Tuberculin syringe 27.5 G | Becton Dickinson | 305620 | |
| Sterile cell strainer 70 μm | Fisher Scientific | 22363548 | |
| Isoflurane, USP | Attane | NDC:66794-014-25 | |
| Blunt-end needle | Stemcell Technologies | 28110 | |
| PrecisionGlide needle 23 G | Becton Dickinson | 305193 | |
| 3 ml Syringe Luer-Lok tip | Becton Dickinson | 309657 | |
| Non-tissue culture treated plate, 6 Well | Becton Dickinson | 351146 | |
| 12 x 75 mm 5 ml tubes | Becton Dickinson | 352054 | FACS staining |
| 12 x 75 mm 5 ml tubes with cell-strainer cap | Becton Dickinson | 352235 | FACS staining |
| NK1.1 APC-Cy7 | Biolegend | 108723 | |
| CD11b APC-Cy7 | Biolegend | 101225 | |
| CD45R (B220) APC-Cy7 | Biolegend | 103223 | |
| CD3 APC-Cy7 | Biolegend | 100222 | |
| Ly-6G and Ly-6C (Gr-1) APC-Cy7 | Biolegend | 108423 | |
| Ter119 APC-Cy7 | Biolegend | 116223 | |
| CD19 APC-Cy7 | Biolegend | 302217 | |
| CD4 APC-Cy7 | BioLegend | 317417 | |
| CD117 (c-KIT) PE | BioLegend | 105808 | |
| Ly-6A/E (Sca-1) PE-Cy7 | Biolegend | 122513 | |
| CD34 APC | Biolegend | 128612 | |
| CD16/32 e450 | eBioscience | 48-0161-82 | |
| DAPI (4′,6-Diamidino-2-phenylindole dihydrochloride) | Sigma-Aldrich | 32670 | |
| MethoCult GF M3434 | STEMCELLTECHNOLOGIES | 3434 | For methocellulose culture |
| Carprofen | Crescent Chemical Company | C11045850 | 1 dose (5mg/kg) |
| Flow cytometer, LSRFortessa | Becton Dickinson | | |
| Puralube vet ointment (sterile petrolatum ophthalmic ointment) | Dechra-US | 17033-211-38 | |