Cite this Article
Copy Citation | Download Citations

Chung, Y. R., Kim, E., Abdel-Wahab, O. Femoral Bone Marrow Aspiration in Live Mice. J. Vis. Exp. (89), e51660, doi:10.3791/51660 (2014).
Protocol
Alle animalske beskrevet i denne protokol blev gennemført i overensstemmelse med de retningslinjer for pasning og anvendelse af forsøgsdyr og blev godkendt af Institutional Animal Care og brug Udvalg (IACUCs) ved Memorial Sloan-Kettering Cancer Center.
1.. Aspiration af knoglemarv (BM) Celler fra lårbenet
Bedøver musen, som vil gennemgå femoral knoglemarv aspiration med isofluran (1-4%) administreret med en præcision vaporizer. Dybde af anæstesi bør overvåges hver 5-10 min hele proceduren ved at observere, at der ikke er nogen ændring i respirationsfrekvens er forbundet med kirurgisk manipulation og / eller øre, tå og hale knivspids. Anæstesi induceres med isofluran og også opretholdt under hele proceduren med isofluran. En forebyggende præ-proceduremæssige dosis af buprenorphin i en dosis på 0,05-0,1 mg / kg subkutant hver 6-12 timer, kan anvendes til at forebygge smerter forbundet med den procedure, som adjunct til Carprofen.
Påfør oftalmologiske salve til øjnene af mus efter induktion af anæstesi for at forhindre udtørring af hornhinden.
Pelsen forsigtigt klippet fra et hudområde omkring 150% større end arealet af den påtænkte aspiration site. Løs pels fjernes med en fugtig gaze. Opbevar venligst musen på en cirkulerende varmt vand pad eller anden sikker termostatstyret overflade for at forhindre hypotermi under proceduren.
Desinficere hele benet indeholder lårben, som vil gennemgå aspiration med tre sæt vekslende scrubs (skiftende med enten en povidon-jod (Betadine) eller en klorhexidin (Nolvasan) krat og 70% isopropylalkohol eller 70% ethanol gennemblødt gaze svampe).
Væd en 0,5 ml tuberculinsprøjte (volumen: 0,5 cc gauge: 27,5 g) med steril phosphatpufret saltopløsning (PBS) før sugning BM. Fyld sprøjten med 200-500 pi PBS og straks bortvise PBS. Gentag denne procedure 2-3 tIME'er.
Hold skinnebenet bøjet fra lårbenet ved at skubbe skinneben med enten ringfingeren eller femte finger. Bekræft, at en egnet bedøvelsesmiddel plan er nået. Sprøjten holdes ved hjælp af tommel-og pegefinger. Dette gør det muligt kondylerne at blive udsat og letter indføring af nålen.
Efter befugtning sprøjten stikkes nålen gennem patellarsenen så nålen sidder fast mellem de to kondyler af lårbenet. Ved at holde diafysen tæt epifysen af ​​lårbenet med tommel-og pegefinger, nålen indsættes i skaftet af lårben nemt.
Drej nålen udad og opad, således at den er parallel med skaftet af lårbenet. Denne foranstaltning letter udtagning af knoglemarv indhold fra lårbenet akslen.
Drej nålen med og mod uret samtidig med at skubbe den langsomt ind i femoral marv hulrum. Bekræfte korrekt positionering af nålen ved forsigtigt at bevæge SYRinge sideværts.
Træk forsigtigt nålepressestempel tilbage, skaber undertryk, mens flytte nålen frem og tilbage inden for BM hulrum. Bemærk: Mængden af BM aspireret vil være cirka 5 pi som typisk svarer til 0,4-0,8 x 10 6 mononukleære celler. Vellykket aspiration vil blive bekræftet visuelt ved tilsynekomsten af ​​blod i toppen af ​​nålen i bunden af ​​sprøjten. Hvis der ikke blod ses i sprøjten er det sandsynligt, at en lille knogle eller væv fragment fast i nålen. Dette kan fjernes fra kanylen ved at bevæge stemplet op og ned i PBS (dette er en af ​​grundene til sprøjten skal udfyldt med PBS før sugning BM). Hvis vævet ikke kan fjernes fra sprøjten, bruge en ny nål og sprøjte (igen våd sprøjten med 200-500 pi PBS).
Når BM er lykkedes aspireret fra lårbenet, fjernes kanylen og sprøjten fra lårbenet og mus.
Flyt aspirerede BM til et mikrofugerør PRefilled med 500 pi PBS. Til de fleste anvendelser bør BM celler derefter opbevares på is indtil yderligere behandling, hvis muligt.
Efter afslutningen af ​​den procedure, administrere smertestillende med carprofen 5 mg / kg subkutant. Derefter fjerne musen fra anæstesi og placere på en opvarmet pude indtil fuldt tilbagebetalt. BEMÆRK: Der bør ikke være nogen komplikationer eller nød oplevet efter aspiration procedure, hvis det gøres ordentligt.
Før vi vender tilbage mus til boligområdet, sikre, at de er i stand til at ambulate og nå mad og vand. Overhold mus for tegn på angst eller infektion efter proceduren i det næste 24 timer. Tegn inkluderer: konstant blødning, anæmi, sløvhed. Hvis nogen af ​​disse tegn ses efter procedure, bør dyret (r) aflives. Bemærk: BM aspiration / prøvetagning kan gentages, men gentagelsen procedure skal udføres på den modsatte lårben for at forhindre gentagne traumer på samme ben. Der er kun få oplysninger om frequency at BM aspiration kan udføres. Femoral knoglemarv aspiration er generelt gentages ikke oftere end hver 2. uge.
2.. Vurdering af cellulære indhold i Indsugning BM Cells
Pellet celler hentet fra BM aspiration og sted i et mikrofugerør ved centrifugering ved 300 xg i 5 minutter ved 4 ° C eller RT.
Aspirere supernatanten og derefter pellet resuspenderes i 500 pi ACK røde blodlegemer lysisbuffer ("ammonium-chlorid-kalium" lysisbuffer).
Inkubér cellerne i røde blodlegemer lysisbuffer i 10 min og derefter tilsættes 1 ml af PBS og spin ned blandingen igen ved 300 x g i 5 min ved 4 ° C eller stuetemperatur. Bemærk: Den røde blodlegemer lyseret pellet består nu af BM mononukleære celler. Disse kan resuspenderes til FACS farvning celletælling, transplantation, cytospin analyse og / eller enhver anden brug (ligesom BM celler høstet fra ofrede mus ville blive brugt).
Subscription Required. Please recommend JoVE to your librarian.
Representative Results
Femoral BM aspiration af en levende C57/B6 mus blev anvendt til at opnå BM mononukleære celler efterfulgt af konventionel BM høst af samme mus efter offer. BM mononukleære celler opnået ved de to metoder blev derefter analyseret ved (1) cytologisk analyse af BM-celler, (2) at bestemme den relative hyppighed af hæmatopoietiske stamceller / progenitorceller (HSPCs) og (3) ex vivo kultur af sorterede HSPCs. I sidstnævnte eksperiment, slægt-negative Sca1 + c-KIT + (LSK)-celler blev sorteret fra mononukleære celler opnået ved BM aspiration samt fra konventionel BM høst. 150 LSK celler, der ved hver metode blev derefter forgyldt med methylcelluloseskiver halvfaste medier indeholdende myeloide-erythroid cytokiner 7 dage i teknisk eksemplarer. De er vist i figur 1 A data B illustrerer, at lignende typer og proportioner af bulk celler og HSPCs blev set af morfologiske og flowcytometrianalyse hjælp af enten femoral BM aspiration eller konventionel BM høst.
For kvantitativt at bestemme procentdelen af ​​LSK og myeloide progenitorceller set med konventionel knoglemarvs høst versus femoral knoglemarv aspiration, sammenlignede vi procentdelen af ​​LSK og MP subpopulationer som en frekvens af den samlede levende celler i 3 uafhængige forhåbninger og konventionelle marv høst. Disse data, der vises i figur 1C, afslører en nedgang i LSK og MP subpopulationer fra knoglemarv indsamlet af femoral aspiration sammenlignet med konventionelt marv høst (selv om denne forskel var ikke statistisk signifikant for nogen befolkningen).
Sortering af LSK-celler efterfulgt af ex vivo-kultur i methylcellulose resulterede i lignende koloni numre og celletyper opnået ved femoral knoglemarv aspiration og konventionelle BM høst (som vist i figur 1D). De typer koloni observerede og opregnede omfatter CFU-GEMM (granulocyt, erythrocyt, monocyt, megakaryocyte kolonidannende enhed), CFU-GM (den, forming unit granulocyt monocyt koloni), og BFU-E (erythroid burst-forming unit).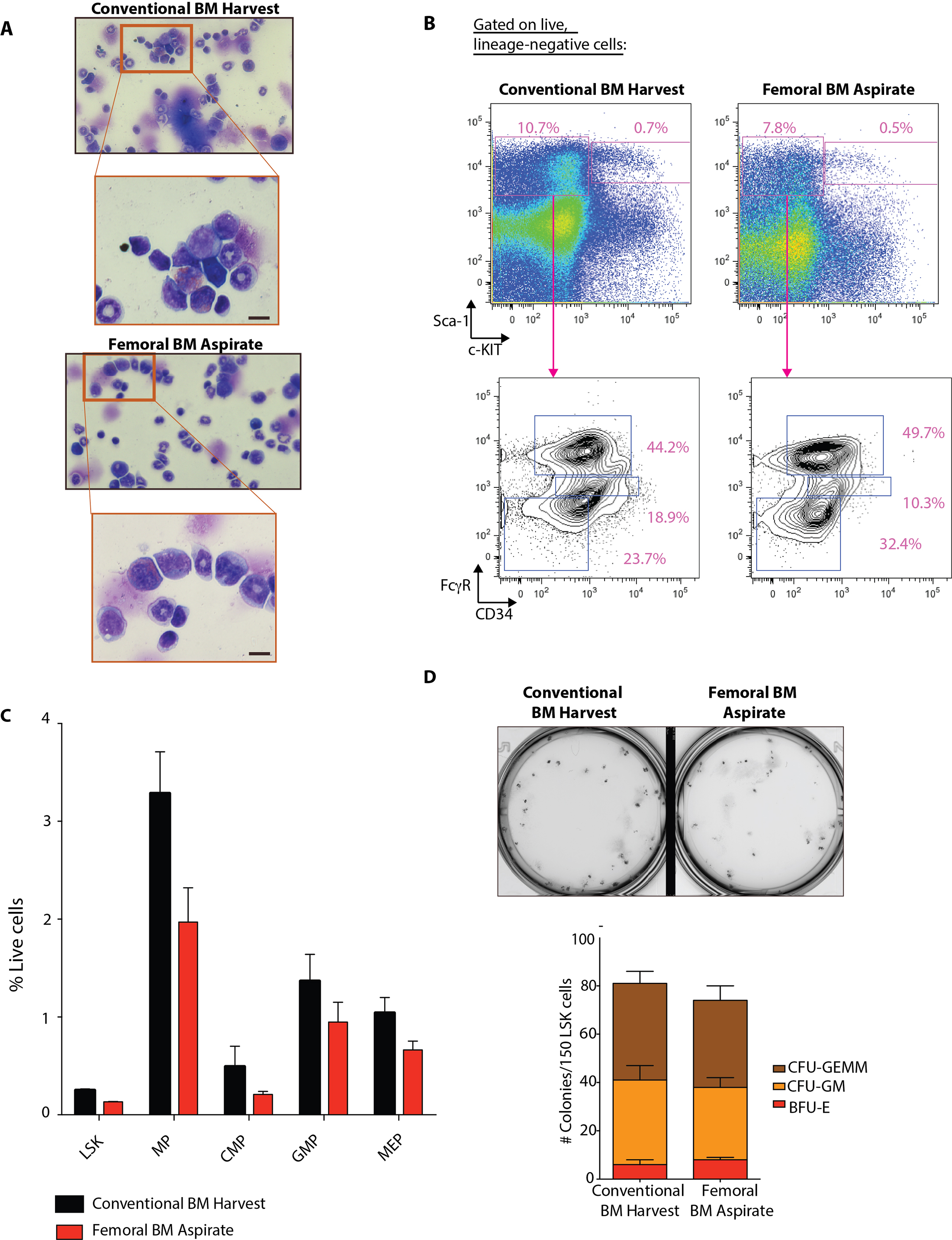 Figur 1.. Femoral knoglemarv (BM) aspiration i levende mus for at lette undersøgelsen af marv indhold uden ofring af mus. (A) Wright Giemsa farves cytospins af mononukleære celler opnået via BM aspiration af levende mus. Ca. 0,4-0,8 x 10 6 mononukleære celler kan opnås i hvert enkelt femoral aspiration. Vist her er typisk marv indholdet af vildtype 6-ugers gamle C57/B6 mus opnået ved femoral BM aspiration (til højre) versus konventionel BM celleisolering gennem ofring af mus (venstre) (skala bar udgør 10 um). (B) Femoral BM aspiration giver et tilstrækkeligt antal celler til at vurdereling af hæmatopoietiske stamceller / stamfader rum som illustreret her (Højre: celler fra BM aspirat, Venstre: celler opnået ved høst af marv fra ofret mus). Lineage-negative Sca-1 + c-kit + (LSK) celler, der indeholder hæmatopoietiske stamceller samt slægt-negative Sca-1-c-KIT + myeloide og deres undertyper som defineret af CD34 og FcyR ekspression blev analyseret (parent gate lever , slægt-negative celler). Procenter refererer til procent af celler i porten. (C) Kvantificering af LSK (celler, myeloide progenitor (MP)-celler, fælles myeloide (slægt-negative Sca-1-c-KIT + CD34 + FcyR mellemliggende +), granulocyt-makrofag progenitorceller (slægt-negative Sca-1-c-KIT + CD34 + FcyR +) og megakaryocyt-erythroide stamceller (slægt-negative Sca-1-c-KIT + CD34-FcyR-), som en frekvens af levende celler fra konventionel marv høst (n = 3) og femoral knoglemarv aspiration (n = 3). Fejlsøjler repræsenterer standardafvigelseafvigelse. (D) Repræsentative fotografier af methylcellulose koloni analyseresultater en uge efter forkromning af 150 LSK celler i myeloid / erythroid indeholdende methylcellulose (ovenfor), og antallet og typen af kolonier observerede hjælp LSK celler fra hver metode. De typer koloni observerede og opregnede omfatter CFU-GEMM (granulocyt, erythrocyt, monocyt, megakaryocyt kolonidannende enhed), CFU-GM (og danner enhed granulocyt monocyt koloni), og BFU-E (burst-forming unit erythroid). Klik her for at se en større version af dette tal.
Subscription Required. Please recommend JoVE to your librarian.
Discussion
Seriel BM aspiration er en rutinemæssig procedure kritisk til den kliniske undersøgelse af hæmatologiske lidelser hos mennesker. Evnen til at udføre en analog seriel prøvetagning af BM i mus til karakterisering af den cellulære sammensætning og bestanddele af BM hele langvarige eksperimenter er ligeledes meget værdifuld. Denne fremgangsmåde er nyttig til karakterisering af HSPC er uden at ofre den mus, men også til påvisning af tilstedeværelsen af ​​yderligere celletyper i BM i tilfælde, hvor indholdet af det perifere blod ikke kan være reflekterende af cellerne, der er bosiddende i BM. Seriel BM aspiration er blevet brugt meget effektivt til dette senere formål i overvågningen af forekomsten af humane celler xenotransplanteret i immunkompromitterede mus for eksempel 3. Eftersom 0,4-0,8 x 10 6 celler typisk er hentet med hver BM aspiration, kan disse celler anvendes til en række formål, herunder cytologisk analyse (figur 1A), diagnostisk flowcytometri (figur 1B) flowcytometrisk celle separation efterfulgt af yderligere downstream brug af sorterede celler herunder kultur af celler (figur 1C), nukleinsyre ekstraktion, protein udtræk til analyser rettet mod proteomisk karakterisering af begrænsede celle numre, og endnu længere transplantation af ekstraherede celler. Samtidig er det vigtigt at bemærke, at antallet af HSC'er hentet i hver femoral aspiration begrænset af det samlede antal celler, der er hentet i denne procedure. For eksempel i betragtning af definitionen af HSCs som slægt-negative Sca1 + cKIT + CD150 + CD48-CD244-celler, hyppigheden af HSC'er er cirka 10 HSCs/100, 000 celler 7. Baseret på denne frekvens, er ca 40-80 HSCs forventes at blive hentet med hver aspiration procedure. Også som angivet i fig 1C, hyppigheden af LSK og progenitorceller er lavere, omend ikke nå statistisk signifikans, i knogler Marrow celler opnået via femoral knoglemarv aspiration sammenlignet med konventionel knoglemarvs høst. Vi mener, at dette relative fald i LSK og stamfader frekvens set med aspiration i forhold til kirurgisk knoglemarv høst er relateret til forurening med perifert blod, der opstår med femoral knoglemarv aspiration. Disse begrænsninger femoral knoglemarv aspiration evaluere sjældne cellepopulationer i marven bør bemærkes. En ekstra bemærkning er, at vi typisk har udført denne procedure i mus på 6 uger gamle eller ældre. Vi mener, at denne procedure ville være mere teknisk udfordrende med mus mindre end 6 uger.
Denne teknik er også velegnet til at vurdere kimærisme af BM i modsætning til det perifere blod i forbindelse med en igangværende konkurrencedygtig rekonstitution eksperiment. I disse analyser er den funktionelle potentiale HSC er fra en eksperimentel sæt af mus testet mod et sæt kendt antal HSC &# 8217 s med udlæsningen være perifert blod kimærisme samt kimærisme af HSC (se gennemgang af Purton m.fl. 8..). Kimærisme af det perifere blod kan kontrast fra kimærisme i BM hvis perturbationer påvirker hæmatopoietisk stamcelletransplantation rum resulterer i forringet differentiering af HSPC er til modne cirkulerende blodceller. Da der endelig hæmatopoiesis ikke er oprettet indtil mindst 16 uger efter transplantation 9, og at kimærisme kan ændre sig efter endnu længere tid 10, teknikker der letter tidligere adgang til HSPC rum som illustreret her, kan være særlig nyttige. I et nyligt eksempel, konkurrencedygtig transplantation af BM celler fra mus med homozygot postnatale sletning af Dnmt3a af Challen et al. Afsløret reduceret kimærisme fra Dnmt3a-null mus i det perifere blod, men en paradoksal stigning i HSC kimærisme af Dnmt3a-Null HSC i BM 11. Dette resultat var udtryk for en differentiering defekt Dnmt3a - / - HSC er trods en stigning i selv-fornyelse. Desuden blev dette resultat kun ses ved tidsindstillet ofring af modtagerlandenes transplanterede mus i serielle konkurrencedygtige transplantationsforsøg med intervaller på hver 16 uger. Derfor assays, som tillader prøvetagning af BM celler parallelt med perifert blod uden at kræve ofring af mus og tillader fortsat observation af mus er ganske nyttige.
Som tidligere nævnt er den teknik demonstreret her svarer til den anvendte teknik til intrafemoral injektion direkte i marven hulrum mus 2,3. Direkte intrafemoral injektion har vist sig at være meget nyttige i at lette xenografundersøgelser menneske i mus, hvor det har vist sig at give forbedret transplantation i direkte sammenligning med intravenøs injektion 6,12,13. Denne teknik har endda tilladeed til identifikation af hidtil ukendt klasse af hurtigt befolker menneskelige HSCs.
I øjeblikket er det uvist, om gentagen prøvetagning af BM i mus gennem det samme lårben påvirker den cellulære sammensætning af BM eller antallet af marv celler hentet med gentagne forhåbninger. Desuden er den mindste mængde tid tilrådeligt at udføre gentagne aspiration procedurer fra samme lårben ikke kendt. Når du udfører gentagne femorale knoglemarv forhåbninger i den samme mus, skifte lårbenet bruges til BM aspiration og udføre serielle BM aspirater med intervaller på> 2 uger. Yderligere indsats fokuseret på at forstå de potentielle virkninger, hvis nogen, af serielle femorale BM aspiration procedurer i mus med bestemte intervaller på de typer og antallet af celler, der er hentet fra BM eller arkitektur af BM er nødvendige.
Subscription Required. Please recommend JoVE to your librarian.
Disclosures
Forfatterne har ikke noget at afsløre.
Materials
| | | | |
| --- | --- | --- | --- |
| Name | Company | Catalog Number | Comments |
| PBS | PAA | H15-002 | |
| Bovine serum albumin | PAA | K41-001 | |
| ACK lysis buffer | Homemade | | in 1 L. Adjust pH 7.2 ~ 7.4 and filter sterile with 0.22 μm vacuum filter. |
| 8.3 g Ammonium chloride | Fisher Scientific | A661-500 | |
| 1 g Potassium bicarbonate | Fisher Scientific | P184-500 | |
| 200 μl 0.5 M EDTA pH 8 | Gibco | 15575-038 | |
| RPMI 1640 | PAA | E15-842 | |
| 0.5 ml Tuberculin syringe 27.5 G | Becton Dickinson | 305620 | |
| Sterile cell strainer 70 μm | Fisher Scientific | 22363548 | |
| Isoflurane, USP | Attane | NDC:66794-014-25 | |
| Blunt-end needle | Stemcell Technologies | 28110 | |
| PrecisionGlide needle 23 G | Becton Dickinson | 305193 | |
| 3 ml Syringe Luer-Lok tip | Becton Dickinson | 309657 | |
| Non-tissue culture treated plate, 6 Well | Becton Dickinson | 351146 | |
| 12 x 75 mm 5 ml tubes | Becton Dickinson | 352054 | FACS staining |
| 12 x 75 mm 5 ml tubes with cell-strainer cap | Becton Dickinson | 352235 | FACS staining |
| NK1.1 APC-Cy7 | Biolegend | 108723 | |
| CD11b APC-Cy7 | Biolegend | 101225 | |
| CD45R (B220) APC-Cy7 | Biolegend | 103223 | |
| CD3 APC-Cy7 | Biolegend | 100222 | |
| Ly-6G and Ly-6C (Gr-1) APC-Cy7 | Biolegend | 108423 | |
| Ter119 APC-Cy7 | Biolegend | 116223 | |
| CD19 APC-Cy7 | Biolegend | 302217 | |
| CD4 APC-Cy7 | BioLegend | 317417 | |
| CD117 (c-KIT) PE | BioLegend | 105808 | |
| Ly-6A/E (Sca-1) PE-Cy7 | Biolegend | 122513 | |
| CD34 APC | Biolegend | 128612 | |
| CD16/32 e450 | eBioscience | 48-0161-82 | |
| DAPI (4′,6-Diamidino-2-phenylindole dihydrochloride) | Sigma-Aldrich | 32670 | |
| MethoCult GF M3434 | STEMCELLTECHNOLOGIES | 3434 | For methocellulose culture |
| Carprofen | Crescent Chemical Company | C11045850 | 1 dose (5mg/kg) |
| Flow cytometer, LSRFortessa | Becton Dickinson | | |
| Puralube vet ointment (sterile petrolatum ophthalmic ointment) | Dechra-US | 17033-211-38 | |