Summary
Der Fokus Formation Assay bietet eine einfache Methode, um die transformierende Potential eines Kandidaten Onkogen zu bewerten.
Cite this Article
Copy Citation | Download Citations

Alvarez, A., Barisone, G. A., Diaz, E. Focus Formation: A Cell-based Assay to Determine the Oncogenic Potential of a Gene. J. Vis. Exp. (94), e51742, doi:10.3791/51742 (2014).
Introduction
Tumorzellen von ihren normalen Gegenstücken durch eine Vielzahl von Änderungen zu unterscheiden, von den Mustern der Genexpression Epigenomics morphologischen und proliferative Veränderungen. Unter den letzteren eine geringere Abhängigkeit von Serum, Kontaktverlust (Dichte) Inhibition des Erwerbs von verankerungsunabhängiges Proliferation und schließlich die Fähigkeit, Tumoren zu bilden, wenn sie in Tiere injiziert sind nützlich, messbare Indikatoren Entartungs 3. Mehrere in vitro- und in vivo-Assays für zelluläre Transformation entwickelt worden. In-vitro-Assays zielen auf die Identifizierung und Messung von Veränderungen der Kulturmorphologie (Fokus-Assay), Kultur Dynamik (Wachstumsrate, Sättigungsdichte) und Wachstumsfaktor (Wachstums verringerten Serum) oder Ankerplatz (Wachstum in Weichagar) Anforderungen. Der Goldstandard für die Bestimmung der bösartigen Natur eines Zelltyps bleibt der Tumorbildung (Xenografts) in Versuchstieren. Jedoch ter kostet und Länge der in vivo-Studien nicht immer machen sie zu rechtfertigen als ersten Validierungsschritt oder Screening von Kandidaten Onkogene. Obwohl keine in vitro-Test liefert eine definitive Beurteilung der onkogenen Potentials eines Gens, sie geben Einblick in onkogene Potenzial, das in vivo-Studien gezieltere Zukunft kann. Eine der am weitesten verbreiteten Systeme zur Bewertung der onkogenen Potential in vitro wird die Fokusbildungs-Assay 2. Dieser Ansatz beruht auf der Verwendung von NIH 3T3-Maus-Fibroblasten, einer nicht-transformierten Zelllinie, die starke Kontakthemmung zeigt. Überexpression eines Onkogens zu einem Verlust der Wachstumsdichte abhängig; transformierte Zellen können dann wachsen in mehreren Schichten bildet "Foci", leicht gegen den Hintergrund Monoschicht von nicht-transformierten Zellen visualisiert. Die Fokusbildungs-Assay, dann misst die Fähigkeit eines Kandidaten-Onkogens zur malignen Transformation zu induzieren, wie durch den Verlust des Kontakts belegt INHIBition als messbare Phänotyp. Die FFA wurde zur Transformation durch die Überexpression von Proteinkinasen (zB Src 4, BRAF 5), Transkriptionsfaktoren (zB N-myc 6), G-Protein-gekoppelten Rezeptoren (zB P2RY8 7) und GTPasen (zB evaluieren Ras 1), unter anderem. Die relative Leichtigkeit dieses Assays ist es eine gute Wahl, die eine schnelle und optisch klare Antwort, ob die Überexpression des Gens ausreicht, um NIH 3T3-Maus-Fibroblasten-Zellen zu transformieren in vitro bereitstellt.
Die in diesem Protokoll beschrieben FFA verwendet die Plat-E Verpackungszelllinie 8, die viralen Verpackungsproteine ​​enthält, und der retrovirale Vektor pBabePuro 9 (Addgene Plasmid 1764) zu Retrovirus zu produzieren. Nach Transfektion mit dem pBaBepuro Konstrukt das Gen von Interesse enthält, wird das PLAT-E-Zellinie ecotropen Retroviren, die verwendet werden können, um NIH 3T3 Zellen zu infizieren, zu erzeugen. Tseine Methode der viralen Gentransfer ist effizienter als herkömmliche chemische Transfektionsmethoden und bietet einen Weg, um nachhaltig das Gen 10 auszudrücken. Sobald sie in das Genom der NIH-3T3-Zellen eingebaut wird, wird die Überexpression des Gens von Interesse von der viralen langen terminalen Wiederholungen (LTR) -Promotor 11 angetrieben. Diese konstante Ausdruck kann verwendet werden, um festzustellen, ob das Gen von Interesse hat onkogene Aktivität, wie durch die Bildung von Foci auf den NIH 3T3-Zellen gemessen werden.
Subscription Required. Please recommend JoVE to your librarian.
Protocol
1. Die Herstellung der viralen Vektoren
Die codierenden Sequenzen für das Gen von Interesse, sowie die positive und negative Kontrollen werden durch traditionelle Klonierungsverfahren (PCR-Amplifikation, Restriktionsspaltung und Ligation) in pBaBepuro eingefügt. Es gibt vier Restriktionsstellen auf dem Vektor, wobei die DNA eingefügt werden kann: BamHI, SnaBI, SalI und EcoRI.
Bereiten Transfektion-grade Plasmid-DNA aus kompetenten Zellen mit dem QIAGEN Plasmid Midi Kit.
Messen DNA-Konzentration mit einem NanoDrop2000 Spektralphotometer.
2. Retrovirus Produktion
Die Plat-E Verpackungszelllinie wird verwendet, um ecotrope Retrovirus, das die cDNA von Interesse für NIH 3T3-Zellen liefern produzieren wird.
Gründung Plat-E Kulturen aus eingefrorenen Zellen

Tauen schnell Plat-E-Zellen in einem 37 ° C Wasserbad und Transfer zu einem 15 ml konischen Röhrchen. Langsam 9 ml Plat-E-Medium (Dulbecco modifiziertes Eagle-Medium (DMEM) + 10% fötalem Rinderserum (FBS) + Penicillin und Streptomycin).
Zentrifugieren Sie die Röhrchen bei 180 x g für 5 min und den Überstand verwerfen.
Resuspendieren der Zellen mit 10 ml von PLAT-E-Medium, und in ein 10 cm Kulturschale.
Inkubieren der Zellen in einem 37 ° C, 5% CO 2 kultiviert, bis sie 80-90% Konfluenz (etwa 2 Tage).

Zell Splitting

Saugen Sie das Medium und waschen Sie die Zellen einmal mit PBS.
2 ml 0,05% Trypsin-EDTA und Inkubation für 1 min bei RT.
Trennen Sie die Zellen, die durch Fingertippen, 10 ml Plat-E-Medium, und übertragen Sie die Zellsuspension in ein 15-ml-Tube.
Zentrifugieren Sie die Röhrchen bei 180 x g für 5 min und den Überstand verwerfen.
Die Zellen mit 10 ml Plat-E-Medium und Saatgut in neue Gerichte zu 1: 4-1: 6 Verdünnungen.

Plat-E Seeding und Transfektion

Seed 2 x 10 6Zellen pro 10 cm Kulturschale mit Plat-E-Medium ohne Antibiotika.
Die Zellen O / N Inkubieren bei 37 ° C, 5% CO 2 -Inkubator.
Am nächsten Tag, Transfer 300 ul Opti-MEM in 1,5 ml Mikrozentrifugenröhrchen.
Hinzufügen 27 ul Polyethylenimin (PEI), ein kostengünstiges Transfektionsreagenz 12, auf die vorbereitete Rohr mit Opti-MEM. Vorsichtig mischen Finger klopfen und Inkubation für 5 min bei RT.
In 9 ug Transfektion-Grade-Plasmid-DNA in der Opti-MEM / PEI Rohr, vorsichtig mischen durch Vortexen und Inkubation für 15 min bei RT.
Fügen Sie die DNA / PEI Komplex tropfenweise in die Plat-E Gericht, und Inkubation O / N bei 37 ° C, 5% CO 2.
Am nächsten Tag, saugen Sie den Medium, das das Transfektionsreagenz und 10 ml frisches Plat-E-Medium (ohne Antibiotika).
Rückkehr der Zellen in den Inkubator.
3. NIH 3T3 Cells and Infection
Gründung NIH3T3 Kulturen und Seeding

Tauen schnell NIH 3T3-Zellen in einem 37 ° C Wasserbad und Transfer in ein 15-ml-Tube. Langsame Zugabe von 9 ml NIH 3T3-Medium (DMEM + 10% FBS).
Zentrifugieren Sie die Röhrchen bei 180 x g für 5 min und den Überstand verwerfen.
Resuspendieren der Zellen mit 10 ml von NIH 3T3-Medium und in ein 10 cm Kulturschale.
Inkubieren der Zellen in einem 37 ° C, 5% CO 2 -Inkubator. Es ist sehr wichtig, dass die NIH 3T3 Zellen werden stets underconfluent (50-60%), wenn die Frequenz der spontanen Transformation (und daher basale Foci-Bildung) erhöht, wenn eine Kultur Konfluenz erreicht.
Seed 3 x 10 5 Zellen pro 10 cm Schale und Inkubation O / N für die Infektion am nächsten Tag.

Infektion

Ernte der retroviralen Überstand vom PLAT-E-Schale unter Verwendung einer 10 ml Plastikspritze, die durch Filtrieren über eine 0,45 um Porengrße Nylonmembranfilter, und Überführung in eine 15 mlRohr.
10 ml frisches Plat-E-Medium zu den Zellen (ohne Antibiotika), und bringt sie in den Inkubator.
Saugen Sie das Medium aus dem NIH 3T3 Zell Gericht angesteckt zu werden, und mit 5 ml regelmäßigen NIH 3T3 Medium und 5 ml virushaltige Überstand gefiltert.
Hinzufügen Polybren in die Schale in einer Konzentration von 6 ug / ml.
Die Zellen O / N bei 37 ° C, 5% CO 2.
Am nächsten Tag, wiederholen Sie die Schritte 3.2.1 - 3.2.5 für eine zweite Runde der Infektion.
Ersetzen Sie die virushaltige Medium mit regelmäßigen NIH 3T3 Medium.
Lassen Sie die NIH 3T3-Zellen zu 2-3 Wochen wachsen, Ersetzen des Mediums wie nötig. Überprüfen der Expression des Proteins von Interesse durch herkömmliche Protein Elektrophorese und Immunoblot auf ganzer Zellysate von Replika-Platten.
4. Die Färbung und Quantifizierung
Kristallviolett-Färbung

Saugen Sie das NIH 3T3 Medium und Ort der Gerichteauf Eis.
Die Gerichte mit eiskaltem PBS zweimal waschen.
Befestigen Sie die Zellen mit eiskaltem Methanol für 10 min.
Entfernen Sie die Gerichte aus Eis, saugen Sie den Methanol und 3 ml 0,5% Kristallviolett-Lösung in 25% Methanol (RT) gemacht.
Das Geschirr Inkubation für 5 min bei RT.
Saugen Sie das Kristallviolett-Lösung und spülen Sie sorgfältig die Schale mit Milli-Q H 2 O, bis keine Farbe löst sich in der Spülung.
Lassen Sie die Gerichte nach O / N auf einem Labortisch trocknen (unbedeckt).

Foci Quantifizierung

Sobald die Gerichte sind trocken, mit einem Lineal, um die dunkel gefärbten Sammlungen von Zellen auf der Platte zu messen. Zählen nur jene, die größer als 5 mm im Durchmesser, wie die "Foci". Nehmen Sie die Anzahl der Brennpunkte und berechnen Mittelwerte und die Bedeutung im Vergleich zu den Kontrollen.
Subscription Required. Please recommend JoVE to your librarian.
Representative Results
MXD3 eine basische Helix-Loop-Helix-Leucin-Zipper (bHLHZ) Transkriptionsfaktor, der ein Mitglied der MYC / MAX / MAD-Netzwerk ist. Es ist ein atypisches Mitglied der Familie MAD 13-15, und es wurde berichtet, dass bei der Karzinogenese 16,17 beteiligt sein. Im Vergleich zu pBaBepuro (negative Kontrolle) und MYC (positive Kontrolle), die NIH 3T3 Geschirr wo MXD3 überexprimiert wurde, hatten signifikant weniger Foci (1A). Die Daten in Abbildung 1B wurden aus verschiedenen Experimenten gesammelt, um die Signifikanz zu bestimmen.
Es gab anfängliche Interesse bei der Ermittlung onkogenen Potentials MXD3 ist, weil es eine ähnliche Aktivität wie MYC (die bekannten Onkogen) hat. Ergebnisse aus diesem Assay jedoch dürften MXD3 nicht als ein Onkogen fungieren.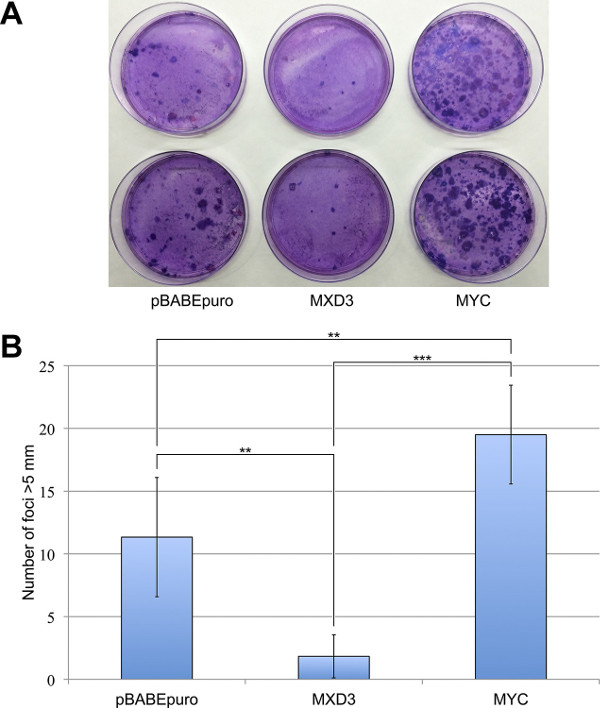 Abbildung 1. Fokus BildungstestErgebnisse. Das onkogene Potenzial von MXD3 wurde vom Schwerpunkt Bildungstest (FFA) in NIH 3T3-Zellen bestimmt. (A) Bilder von Zellen aus einem einzelnen Experiment mit Hema 3. Hinweis gebeizt: Kristallviolett als Alternative Fleck verwendet werden. (B) Kombinierte Ergebnisse aus drei Experimenten. Alle Experimente wurden doppelt durchgeführt. Fokus zählt für jedes Experiment sind wie folgt: Experiment # 1: pBaBepuro (13, 11), MXD3 (3, 4), MYCN (23, 19); Experiment # 2: pBaBepuro (8, 7), MXD3 (1, 0), MYCN (22, 20); Experiment # 3: pBaBepuro (9, 20), MXD3 (3, 0), MYCN (21, 12). Fehlerbalken stellen die Standardabweichung der Anzahl der Schwerpunkte in den drei Experimenten. Bedeutung: ** p <0,01; *** P <0,001. Bitte klicken Sie hier, um eine größere Version dieses Bild anzuzeigen.
Subscription Required. Please recommend JoVE to your librarian.
Discussion
Die FFA bietet eine schnelle und einfache Methode, um eine maligne Transformation in vitro zu bewerten. Es ist offen für das Screening einer relativ großen Anzahl von Kandidaten-Gene und ihrer bescheidenen technischen Anforderungen machen es kosteneffektiv. Ferner können zwei oder mehr Gene coexprimiert werden (manchmal als "Kooperation" assay), die tumorigene Potenzial der Kombination zu bewerten. Die Vorteile dieses Tests verlassen sich auf ihre einfache Technik, die einfache Quantifizierung und seiner relativ kurzen Durchlaufzeit. Es muss jedoch betont werden, dass es die Grenzen darstellen aller in vitro-Assays. Der Test evaluiert onkogene Transformation durch Messen eines phänotypischen Merkmals von Krebszellen, nämlich ihre Fähigkeit, über eine Monoschicht in einer Kulturschale wachsen. Negative Ergebnisse sollten daher mit Vorsicht interpretiert werden, als eine besondere Onkogen kann Transformation induzieren, ohne die Förderung dieser besonderen Phänotype oder Koexpression mit einem anderen Gen (dh genannten Kooperations) erfordern. In diesem Fall ist es empfehlenswert, für die Transformation durch andere in vitro-Verfahren, wie die Bestimmung der Proliferationsrate und Serum Anforderungen und / oder verankerungsunabhängige Wachstum von beispielsweise der Weichagar-Assay beurteilt.
Obwohl die FFA-Technik ist einfach, müssen mehrere Bedingungen einzuhalten. Am wichtigsten ist, ist es wichtig, ein Subklon von 3T3-Zellen, die sehr niedrige spontane Umwandlung zeigt verwenden. Wobei vorge neoplasic (eine Funktion, die diese Zellinie sehr empfindlich für diesen Assay ist), können bestimmte Fläschchen eine signifikante Anzahl von bereits transformierten Zellen enthalten, was zu einer inakzeptabel hohen Grundniveaus für den Assay. Um spontane Umwandlung zu minimieren ist es sehr wichtig, dass der Ausgangskultur wird aus einer seriösen Quelle erhalten. Darüber hinaus sollten die Zellen in regelmäßigen Abständen subkultiviert werden und niemals zur Konfluenz erreichen.Wir empfehlen Ihnen vorbei Kulturen, wenn sie etwa 50% Konfluenz erreichen. Aus diesem Grund ist es wichtig, zusätzliche Konstrukte um als Kontrollen verwendet zu erstellen. In unseren Experimenten verwendeten wir pBaBepuro enthaltenden MYC (einem bekannten Onkogen) 18 und leere pBaBepuro als positive und negative Kontrolle dienen, jeweils.
Das Konstrukt von Interesse kann in den 3T3-Zellen unter Verwendung einer Vielzahl von Verfahren eingeführt werden; am häufigsten, traditionelle Transfektionsmethoden verwendet. In dem hier vorgestellten Protokoll die Verwendung viraler Transduktion stellt eine zuverlässige, effiziente und konsistente Methode der Gen-Lieferung. Weiterhin ist die Verwendung von ecotropen Retro macht dieses Assay relativ sicher im Umgang Potential onkogenen Konstrukte; aber richtigen Vorsichtsmaßnahmen zur Biosicherheit sollte natürlich beachtet werden.
Bei der Durchführung des obigen Protokolls sollten Replikaplatte Experimenten um sowohl Fleck und Ernten der Zellen von den pl durchgeführt werdenates. Dann können die geernteten Zellen verwendet werden, um Überexpression des Gens von Interesse durch Immunoblot bestätigen.
Obwohl virale Gentransfer stellt mehrere Vorteile gegenüber Transformation sollte angemerkt werden, dass es präsentieren einige Nachteile auf, wie gut funktioniert, und viele Labors verwenden noch Standard-Transformationsprotokolle. Virale Transduktion möglicherweise nicht geeignet, wenn starke Überexpression erforderlich ist; andererseits könnte die physiologische Relevanz der sehr hohe Expressionsniveaus von Plasmid Transfektion erreicht fraglich.
Schließlich ist hervorzuheben, dass ein zweiter Test wird in der Regel erforderlich, um sicherzustellen, dass die Brennpunkte durch onkogene Transformation werden. Foci können (vor der Färbung) abgeholt und in Soft-Agar zur verankerungsunabhängigen Verbreitung bestätigen.
Subscription Required. Please recommend JoVE to your librarian.
Disclosures
Die Autoren haben nichts zu offenbaren.
Acknowledgments
Diese Arbeit wurde durch einen Zuschuss von der NIH Direktor Neue Innovator Award Program (ED) unterstützt. AA wurde zum Teil von Undergraduate-Auszeichnungen von der National Cancer Institute und der National Science Foundation unterstützt.
Materials
| | | | |
| --- | --- | --- | --- |
| Name | Company | Catalog Number | Comments |
| pBABE-puro vector | Addgene | Plasmid 1764 | cloning vector |
| Platinum-E Retroviral Packaging Cell Line, Ecotropic | Cell Biolabs, Inc. | RV-101 | cell line for viral production |
| NIH 3T3 Cell Line murine | Sigma-Aldrich | 93061524 | cell line for focus formation assay |
| 10 ml BD Luer-Lok tip syringe | BD Biosciences | 309604 | viral production reagent |
| 0.45 μm Puradisc Syringe Filter | Whatman | 6750-2504 | viral production reagent |
| Polyethylenimine (PEI) | Polysciences, Inc. | 23966-2 | cell transfection reagent |
| Polybrene Infection / Transfection Reagent | EMD Millipore | TR-1003-G | cell transfection reagent |
| Crystal Violet | Fisher Scientific | C581-25 | cell stain reagent |
| Plasmid Plus Midi Kit | QIAGEN | 12945 | plasmid purification |
| BD Falcon Tissue Culture Dishes | BD Biosciences | 353003 | cell culture supplies |
| Dulbecco's Modified Eagle Medium (DMEM) | Gibco | 11995-065 | cell culture media |
| 0.05% Trypsin-EDTA | Gibco | 25300-054 | cell culture supplies |
| Opti-MEM I Reduced Serum Medium | Gibco | 31985-062 | cell culture media |
| Fetal Bovine Serum (FBS) | Gibco | 16000-044 | cell culture media |
References
Clark, G. J., Cox, A. D., Graham, S. M., Der, C. J. Biological assays for Ras transformation. Methods in enzymology. 255-395 (1995).
Celis, J. E. Cell biology : a laboratory handbook. 3rd edn, Elsevier Academic. 345-352 (2006).
Raptis, L., Vultur, A. Neoplastic transformation assays. Methods in molecular biology. 165, 151-164 (2001).
Johnson, P. J., Coussens, P. M., Danko, A. V., Shalloway, D. Overexpressed pp60c-src can induce focus formation without complete transformation of NIH 3T3 cells. Molecular and cellular biology. 5, 1073-1083 (1985).
Bonner, T. I., Kerby, S. B., Sutrave, P., Gunnell, M. A., Mark, G., Rapp, U. R. Structure and biological activity of human homologs of the raf/mil oncogene. IMolecular and cellular biology. 5, 71400-71407 (1985).
Yancopoulos, G. D., et al. N-myc can cooperate with ras to transform normal cells in culture. Proceedings of the National Academy of Sciences of the United States of America. 82, 5455-5459 (1985).
Fujiwara, S., et al. Transforming activity of purinergic receptor P2Y, G protein coupled, 8 revealed by retroviral expression screening. Leukemia & lymphoma. 48, 978-986 (2007).
Morita, S., Kojima, T., Kitamura, T. Plat-E: an efficient and stable system for transient packaging of retroviruses. Gene. 7, 1063-1066 (2000).
Morgenstern, J. P., Land, H. Advanced mammalian gene transfer: high titre retroviral vectors with multiple drug selection markers and a complementary helper-free packaging cell line. Nucleic acids research. 18, 3587-3596 (1990).
Kim, T. K., Eberwine, J. H. Mammalian cell transfection: the present and the future. Analytical and bioanalytical chemistry. 397, 3173-3178 (2010).
Klaver, B., Berkhout, B. Comparison of 5' and 3' long terminal repeat promoter function in human immunodeficiency virus. Journal of virology. 68, 3830-3840 (1994).
Fukumoto, Y., et al. Cost-effective gene transfection by DNA compaction at pH 4.0 using acidified, long shelf-life polyethylenimine. Cytotechnology. 62, 73-82 (2010).
Fox, E. J., Wright, S. C. S-phase-specific expression of the Mad3 gene in proliferating and differentiating cells. The Biochemical journal. 359, 361-367 (2001).
Yun, J. S., Rust, J. M., Ishimaru, T., Diaz, E. A novel role of the Mad family member Mad3 in cerebellar granule neuron precursor proliferation. Molecular and cellular biology. 27, 8178-8189 (2007).
Gore, Y., Lantner, F., Hart, G., Shachar, I. Mad3 negatively regulates B cell differentiation in the spleen by inducing Id2 expression. Molecular biology of the cell. 21, 1864-1871 (2010).
Barisone, G. A., Yun, J. S., Diaz, E. From cerebellar proliferation to tumorigenesis: new insights into the role of Mad3. Cell cycle. 7, 423-427 (2008).
Barisone, G. A., et al. Role of MXD3 in proliferation of DAOY human medulloblastoma cells. PloS One. 7, e38508 (2012).
Nair, S. K., Burley, S. K. X-ray structures of Myc-Max and Mad-Max recognizing DNA. Molecular bases of regulation by proto-oncogenic transcription factors. Cell. 112, 193-205 (2003).