Cite this Article
Copy Citation | Download Citations

Peterson, J. R., Agarwal, S., Brownley, R. C., Loder, S. J., Ranganathan, K., Cederna, P. S., Mishina, Y., Wang, S. C., Levi, B. Direct Mouse Trauma/Burn Model of Heterotopic Ossification. J. Vis. Exp. (102), e52880, doi:10.3791/52880 (2015).
Protocol
Etikk uttalelse: Alle dyr prosedyrer ble utført i henhold til god dyre praksis som definert i retningslinjene gitt i veiledningen for bruk og vedlikehold av forsøksdyr: Åttende Edition fra Institutt for Laboratory Animal forskning (ILAR, 2011) og var godkjent av Institutional Animal Care og bruk komité ved University of Michigan (PRO0001553).
1. Muse kirurgiske prosedyrer
MERK: Bruk 8-10 uker gammel C57BL / 6 mus. Andre aldre, bakgrunner og stammer av mus kan også brukes til å teste ulike forhold eller genetiske make-up. For tenotomy del av prosedyren, opprettholde sterile forhold ved å bruke ansiktsmaske, hår panser og sterile kjole, hansker, og instrumenter. Kirurgiske områder bør sterilely forberedt med povidon-jod og sterile drapering. Unngå hypotermi ved hjelp av en veterinær varmepute og oppvarming gjennoppliving løsninger til 37 ° C før administrativesjon.
Anesthetize mus med 2,5% inhalert isofluran. Bruk en nesekonus å forlate ryggen og hind-lemmer lett tilgjengelig. Juster frekvensen av isofluran administrasjon for å opprettholde riktig respirasjonsfrekvens og farge på slimhinner og for å sikre anestesi ved å sjekke muskeltonus, toe klype, og hornhinnen refleks. Påfør tørt oftalmisk salve til musens øyne for å hindre tørr øyeskader under prosedyren. Opprettholde tilstrekkelig kroppstemperatur ved hjelp av en veterinær oppvarming puten eller varmt vann sirkulasjonspumpe under kirurgiske feltet.
Administrere buprenorfin, 0,1 mg / kg, subkutant umiddelbart før kirurgi for analgesi.
Nært barbere operasjonsstedet til venstre bakfot bruker clippers fra hælen til kneet.
Tett barbering dorsum av musen, som begynner over ryggen og strekker det barberte området til venstre for rygglinjen, rydde et område på minst 2 cm x 3 cm for å imøtekomme brannskade.
Forbered kirurgiske området, inkludert bakpoten til kneet ved hjelp av tre alternerende povidonjodid skrubb.
Utfør et langsgående snitt langs mediale aspekt av den venstre akillessene. Utvid snittet så akillessene kan enkelt visualiseres; ca 0,5 cm.
Utfør en Achilles tenotomy med skarp disseksjon av senen på midtpunktet med skarpe vev saks. Sett ett blad av vev saks i vevet planet under sene og dissekere langs flyet før bladet er på senen midtpunktet. Lukk saksebladene å kutte senen kraftig.
MERK: Sørg for inkludering av alle bakre sener inkludert Gastrocnemius, Soleus, og plantaris sener.
Oppnå hemostase ved å legge press med steril kompress (det skal være minimal blødning) og lukke huden snittet med en 5-0 Vicryl sting.
Utfør rygg delvis tykkelse brenne med en aluminiumsblokk som veier 35 g med omtrent measurements 2 cm x 2 cm x 3 cm ble oppvarmet til 60 ° C i et vannbad påført på det barberte dorsum av musen for 17 sek.
MERK: Oppnå passende brannsårdybde ved å hvile blokken på toppen av en bedøvet mus, slik at hele overflatearealet av blokken er i kontakt med mus, men unngå å bruke noen ekstra trykk til blokken, dvs. tillate tyngdekraften å bli den eneste kraft som holder blokken på plass. En tynn plasthåndtak festet til den ene side av blokken er -hensiktsmessig for manipulering, stabilisering, og uthenting fra det varme vannbad. Dette vil skape en omtrent 30% total kroppsoverflate brenne i en 8-10 uker gamle C57BL / 6 mus. Denne kontakt brenne ble valgt fremfor andre metoder (flamme- eller brann skålde) på grunn av ensartetheten av brannsårdybde over såret og reproduserbarhet mellom dyrene.
Tørk branns med gasbind og bruke en Tegaderm dressing.
Administrere varmet gjennoppliving væsker: Ringer-laktat oppløsning 1 mlintraperitoneal injeksjon og 0,5 ml subkutan injeksjon. Denne engangs administrasjon av gjenoppliving er tilstrekkelig for å bli frisk fra brannskader og tenotomy.
MERK: Ikke returner bedøvede mus til bolig bur med andre mus, hus individuelt i rene bur i henhold overvåking inntil mus er fullt restituert. Typisk utvinning skjer innen 1-6 timer. Burn nettsteder generelt leges i løpet av 2-4 uker, og er sjelden komplisert av sårinfeksjon hvis de oppbevares i rene bomiljø.
Administrer Buprenorfin 0,1 mg / kg subkutan injeksjon hver 12. time i 3 dager etter inngrepet. Overvåke HO vekst med serie μCT skanner ved passende mellomrom. Ektopisk bein vekst er først tydelig rundt 3 uker post-op ved μCT.
MERK: De fleste HO utbyggingen er fullført ved 9 uker post-op. Vi har ikke observert en forskjell i HO volum eller plassering med gjentatte μCT skanner bi-ukentlig i 15 uker sammenlignet med et enkelt endepunkt μCT skanne på 15 uker.På slutten av forsøkene, avlive alle mus med CO 2 innånding henhold til institusjonelle retningslinjer og kontrollere døden med halshugging etter 10 min.
2. μCT Oppkjøp og analyse
Fest bedøvet musen på skanneren i liggende stilling. Tape baklemmene sikkert til sengs for å hindre pustebevegelsesartefakter. Inkluder luft, vann, og hydroksyapatitt inneholder fantom under musen for bildekalibrering.
Åpne Bone Analyse programvare og definerer et område av interesse (ROI) som omfatter begge bakbena fra hofteleddet proksimalt til tuppen av bakpoten distalt. Få et bilde ved hjelp av følgende parametere:. 80 kV, 500 uA og 1300 msek eksponerings, 48 mikrometer voxel størrelse 14,15
Kalibrere bildet til Hounsfield-enheter (HU) ved å tegne en ROI i hver av de tre fantom kamre og legge inn den gjennomsnittlige tettheten i de aktuelle feltene iprogramvaren.
Bruke "grabben" -verktøyet i programvaren, re-orientere bildet slik at tibia av venstre bakben er parallelt langs Z-aksen slik at det klar anatomisk visning for avgrensning av ortotopiske kortikale bein strukturer og HO.
Begynnelsen på kneet, bla distalt gjennom bilde skiver til HO er oppstått. Bruke den manuelle spline verktøy, gjør en ROI rundt ektopisk bein på hver 5. skive fortsetter distalt gjennom poten eller til HO har blitt overgått. Bruk ekstrapolere verktøy for å utvide og sy ROIs sammen til en ROI som inneholder all HO.
Lag en 3D ROI og velg analysen menyen. Beregn benvolum ved å sette nedre og øvre grenseverdier som best viser bein vinduet. Bruk de samme faste terskelverdier for alle skanninger.
Subscription Required. Please recommend JoVE to your librarian.
Representative Results
I denne studien dag er protokollen beskrevet for tidligere utgitt musemodell for traumer / brenne indusert HO. 14-17 Dette innebærer etableringen av samtidige lokaliserte muskel- og skjelettskader med en Achilles tenotomy og global inflammatorisk fornærmelse med delvis tykkelse brenne skade. Dette resulterer i dannelsen av reaktive pålitelig bein på tenotomy nettsted som kan bli fulgt med serie imaging. Hittil har alle mus (mer enn 50) som har påført både Achilles tenotomy og brannskade utviklet en målbar mengde HO på tenotomy nettstedet. For å kvantifisere dannelse av ektopisk ben, er en kalibrert bilde μCT protokoll som brukes ved hvert ønsket tidspunkt punkt. Tillegg av en brannskade i kombinasjon med akilles tenotomy har vist seg å være nøkkelen til induksjon av betydelig HO. Med begge skader som skjer samtidig er det en betydelig økning i mengden av ektopisk ben som er dannet på stedet i forhold til tenotomy AcHilles tenotomy alene (figur 1). 17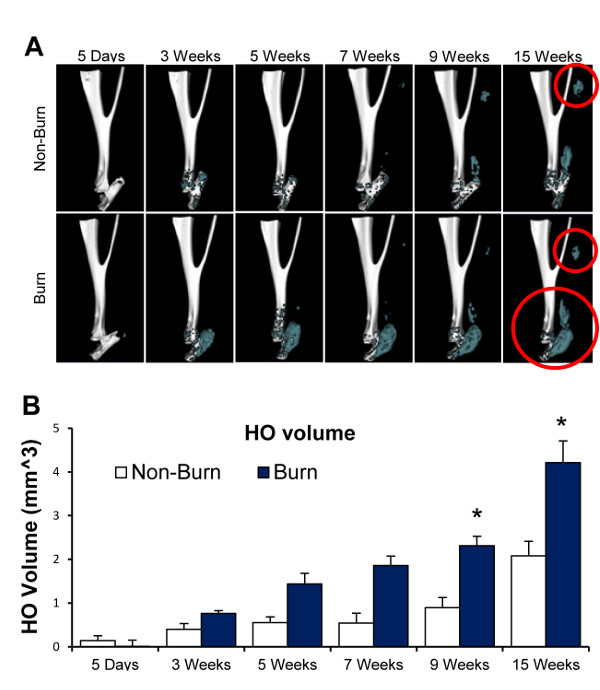 Figur 1. HO utvikling etter Achilles tenotomy med eller uten samtidig brannskade. Alle mus fikk en Achilles tenotomy av venstre bakben, halvparten av musene fikk også en 30% TBSA delvis tykkelse brenne skade på ryggen. μCT skanninger ble gjennomført på 5 dager og 3, 5, 7, 9 og 15 uker etter skaden. (A). Representative 3D rekonstruksjoner er vist med orthotopic bein hvit og HO farget blå. Røde sirkler indikerer niduses av HO. Ektopisk ben utvikler seg i området av tenotomy samt steder fjerne og nære til skadestedet i den nedre lem. Ligner på HO sett clnically, kan dette reaktive bein være sammenhengende med skjelett bein eller utvikle eksternt i bløtvev. (B). Kvantifisering av HO var comferdigstilt med en kalibrert bildeprotokoll og vist i diagrammet. HO har vedvart utover 15 uker, men utviklings platåer mellom 9-15 uker med størst veksthastigheten vanligvis sett mellom 5-9 uker. Data er midler +/- SD, n = 4 per gruppe, Student t-test, * P <0.05 (Vær oppmerksom på at dette er tidligere publisert data, endret fra 17). Klikk her for å se en større versjon av dette tallet.
Subscription Required. Please recommend JoVE to your librarian.
Materials
| | | | |
| --- | --- | --- | --- |
| Name | Company | Catalog Number | Comments |
| C57BL/6 mice | Jackson Laboratory | 664 | 8-10 weeks old |
| Isoflurane – Fluriso | VET one, Boise, ID | V1 501017 | |
| Buprenorphine – Buprenex | Reckitt Benckiser Healthcare | NDC 12496-0757-1 | 0.3 mg/ml solution |
| Betadine | Owens and Minor, Mechanicsville, VA | 2047PVP202 | |
| 5-0 Vicryl sutures | Ethicon, Summerville, NJ | J493 | |
| Tegaderm Film, 6 cm x 7 cm | 3M | 1624W | Cut in half to properly cover burn site |
| µCT - GE eXplore Locus SP | GE Healthcare Pre-Clinical Imaging, London, ON, Canada | | |
| Microview 2.2 Advanced Bone Analysis Application | GE Healthcare Pre-Clinical Imaging, London, ON, Canada | | |