Cite this Article
Copy Citation | Download Citations

Baczynska, A. M., Shaw, S., Roberts, H. C., Cooper, C., Aihie Sayer, A., Patel, H. P. Human Vastus Lateralis Skeletal Muscle Biopsy Using the Weil-Blakesley Conchotome. J. Vis. Exp. (109), e53075, doi:10.3791/53075 (2016).
Abstract
Perkutan muskel biopsi under anvendelse af Weil-Blakesley conchotome er veletableret i både kliniske og forskning praksis. Det er en sikker, effektiv og veltolereret teknik. Den Weil-Blakesley conchotome har en skarp bidende spids med en 4 - 6 mm bredt hul. Det er indsat gennem et 5 - 10 mm incision i huden og kan manøvreres til kontrolleret vævspenetration. Spidsen åbnes og lukkes i vævet og derefter drejes 90 -180 ° at skære musklen. Mængden af ​​musklen opnået efter gentagen prøvetagning kan variere fra 20 mg til 290 mg, som kan behandles til både histologi og molekylære studier. Såret skal holdes tørt og energisk fysisk aktivitet holdes på et minimum i ca. 72 timer, selv om normale niveauer af aktivitet kan genstarte umiddelbart efter proceduren. Denne procedure er sikker og effektiv, når tæt opmærksomhed til udvælgelsen af ​​emner, fuld aseptik og post procedure pleje. Både højre og venstre vAstus lateralis er egnede til biopsi afhængig deltager præference.
Introduction
Indhentning skeletmuskulatur til diagnosticering af en myopati og andre neuromuskulære degenerative sygdomme er afhængig af sikre og effektive metoder, der er acceptable og ikke invaliderende for patienterne 1. Historisk metoder til at opnå muskelvæv til analyse omfattede åbne biopsier udføres under generel anæstesi eller fra post mortem. Disse teknikker tilladt direkte visualisering af musklen og tillades et større stykke af muskel, der skal biopsi. I betragtning af de potentielle ulemper disse teknikker har til patienten i form af hospitalsophold og nyttiggørelse, blev perkutan 'halvåbne' muskel biopsi metoder introduceret som alternativer. Denne teknik blev uropført af Duchenne (1806-1875), som brugte en egenproducerede nål med en trocar og var i stand til at opnå en muskel prøve fra et levende emne uden generel anæstesi 2. Siden da har forskellige former for biopsinåle blevet anvendt 3,4,5. Men biopsi nEedle udviklet af Bergstrom i 1962 har været den mest anvendte i klinisk praksis; både børn og voksne, samt i forskning 6,7,8,9,10. Det besidder en skarp trocar, en skæring kanyle og en skubber stang at udvise vævet indlæg biopsi. Muskel udbytter opnås via denne procedure er blevet rapporteret at variere fra 25 -293 mg efter gentagen prøvetagning 11,9.
Henriksson introducerede Weil-Blakesley conchotome i 1979 som et alternativ halvåbne muskel biopsi metode (figur 1) 12. Instrumentet er en enkelt struktur i modsætning til Bergstrom konstruktion og er udformet som en forcep med en skarp bidende spids. Spidsen størrelse kan variere fra 4 mm til 6 mm i bredden. Når de to kanter af bidende spids imod, er en hul dannes der sikrer opsamling af musklen. Den conchotome indsættes gennem et 5 - 10 mm incision i huden og undgår behovet for en trokar til at gennemtrænge muskler og den overliggende fascia som scalpel kan anvendes til at lave et spor ned til musklen.
Denne fremgangsmåde tillader styret vævsgennemtrængning med en høj grad af manøvredygtighed 13,14. Det er især nyttigt for steder, hvor unødigt pres potentielt kan beskadige neurovaskulære eller underliggende knoglestrukturer f.eks., På det sted, tibialis anterior 15,14. Muskel udbytter ved hjælp af conchotome kan være variabel og i vores praksis 20 - er opnået 200 mg muskel efter gentagen prøvetagning. En potentiel fordel ved conchotome over Bergstrom nålen, ud over den høje grad af manøvredygtighed det tilbyder, er, at den bidende spidsen ikke skal skærpes eller udskiftes så ofte som trokaren af Bergstrom konstruktionen 16.
Det overordnede mål for muskelbiopsi hjælp af Weil Blakesley conchotome er at opnå tilstrækkelige mængder af muskelvæv for at aktivere histokemi og molekylær analyse for både diagnostiske og research undersøgelse. Det er en enkel og sikker fremgangsmåde, der kan læres nemt. Med denne teknik, muskel egnet til biopsi omfatter biceps, triceps, deltoid, gastrocnemius, tibialis anterior, soleus og sacrospinals 17,15,7,18,14. Den yderste del af vastus lateralis er den mest almindelige sted bruges til biopsi, da den undgår de vigtigste neurovaskulære strukturer i låret. Det er identificeret ca. to tredjedele ned en imaginær linje mellem forreste spina iliaca superior og patella. Muskel morfologi data, for eksempel myofibre område, myofibre proportioner, kapillær densitet stammer fra vastus lateralis er bredt tilgængelige i litteraturen muliggør sammenligning mellem undersøgelser 11,19 prøvetagning.
Subscription Required. Please recommend JoVE to your librarian.
Protocol
Etik erklæring: En beskrivelse af muskelbiopsi procedure vi følger inden for vores institution følger nu. Proceduren for muskelbiopsi anvendes i Hertfordshire sarkopeni Study, som er blevet godkendt af Hertfordshire Forskningsudvalget nummer 07 / Q0204 / 68. Alle deltagere gav skriftligt informeret samtykke 20.
BEMÆRK: En enkelt operatør kan udføre proceduren, hjulpet af en assistent, der kan engagere deltageren i samtale med henblik på at reducere angst og sikre, at de er komfortable på alle tidspunkter. Proceduren rummet skal være udstyret med en håndvask, et højdejusterbart sofa, rene overflader og en procedure vogn.
1. Forbered deltageren (figur 2)
Spørg deltageren at lægge komfortabelt, liggende på en sofa. Udsætte foretrukne låret fra lysken krølle. Spred et absorberende ark under den udsatte låret. Sørg for, at benet forbliver lige og afslappet under hele proceduren, menlåret er spændt øjeblik for at skitsere de vastus lateralis.
Marker proceduren webstedet ca. to tredjedele ned en imaginær linje fra den forreste spina iliaca superior til knæskallen.
2. Forbered huden (figur 2)
Barbering huden til ca. 4 cm i diameter omkring foreslåede biopsi site med en steril barbering klinge og rengør huden med en spritserviet.
BEMÆRK: Dette er for at forhindre enhver efterfølgende hår indespærring i såret under helingsprocessen. Dette trin er valgfrit efter operatørens præference.
Infiltrere huden og overliggende fascia med lokalbedøvelse. Brug en 25 G nål til at rejse en subkutan bleb 2% lidocain derefter infiltrere dybere ind i det subkutane væv med en 23 G nål. Til formål at trænge ind til mindst halvdelen til en tomme, afhængigt af det subkutane indhold vævet på biopsi site. Denne dybde bør være tilstrækkelig til at sikre de overliggende fascia er bedøvet. Tillad 2 - 5, min for bedøvelsesmiddel til handling. Bekræft anæstesi ved sondering huden forsigtigt med nål eller skalpel vingespids.
3. Forbered en steril Field (figur 2)
Vask hænderne med sæbe og vedligeholde rene hænder, indtil en steril kjole er slidt. Dæk hænder med sterile handsker, før du opretter et sterilt felt om proceduren vognen.
Steriliser biopsi site med 2% klorhexidin / isopropylalkohol løsning eller en jod baseret hud desinfektionsmiddel. Anvende en steril afdækning med et klæbemiddel åbning for at blotlægge biopsistedet men også at bevare et sterilt felt.
4. Udfør Procedure (figur 2)
Med en størrelse 11 skalpel en 5 - 10 mm incision på huden og ned og gennem det overliggende fascia. Sæt lukket bidende spids conchotome gennem snittet i en ret vinkel til den lange akse af femur til en dybde midling halv til en tomme. Hvis det er nødvendigt brugden frie hånd til at holde og støtte låret omkring biopsistedet mens spidsen af ​​conchotome åbnes og lukkes i musklen.
Drej conchotome gennem 90 - 180 ° at skære musklen. Træk conchotome og åbne spidsen på steril gaze fugtet med sterilt normalt saltvand. Gentag proceduren i det indre sårområdet, hvis det er nødvendigt, for at opnå tilstrækkelig muskelvæv. Overfør gaze i en beholder anbragt på is. Overfør beholderen til et præparat laboratorium til at behandle muskel ifølge den lokale institutionelle protokol.
5. Indlæg Procedure (figur 2)
Påfør direkte tryk på såret i op til 5 min. Lukke såret med Steri-strips ved at placere dem parallelt med såret i modsætning til vinkelret at undgå potentielt fjerne arvæv og genåbning såret hvis Steri-strips fjernes utilsigtet. Placer en steril absorberende bandage på Steri-strips og binde en to-lagsbandage til komprimering og sikkert med tape.
Forklar sårbandage metode til deltageren, som de vil have til at udføre en forbindingsskift 3 - 4 dage efter indgrebet. Sørg for, at deltageren fjerner kompressionsbandage før sengetid senere aftenen.
6. Indlæg Biopsi Advice
Informer den deltager, er det almindeligt at opleve nogle låret stivhed, som kan afhjælpes ved blid motion (f.eks., Gå). Brug enkle analgesi såsom acetaminophen. Advar deltageren om forbigående følelsesløshed omkring biopsi site, der kan vare i op til to uger samt den potentielle komplikation af sårinfektion.
7. Instruktioner til Subject post Procedure
Spørg deltageren for at undgå kraftig aktivitet i 72 timer (såsom klatring, løb, tunge løft). Spørg deltageren for at undgå nedsænkning i vand i 48 - 72 timer. Men instruere participant til wrap plastfolie eller lignende omkring biopsi webstedet når under et brusebad for at holde forbindingen tør.
Spørg deltageren til at ændre forbindingen efter 3 - 4 dage, og fjern de Steri-strips efter en uge.
BEMÆRK: Deltageren skal have skriftlige instruktioner til post biopsi pleje, reservedele forbindinger og nødhjælp kontaktoplysninger teamet har ansvaret for at udføre proceduren.
Subscription Required. Please recommend JoVE to your librarian.
Representative Results
Den ovenfor beskrevne fremgangsmåde er sikkert og acceptabelt i både kliniske og forskningsmæssige indstillinger. Når biopsi udføres som en del af den diagnostiske proces, bør musklen vælges efter patientens symptomer og tegn på muskelsvaghed. Den biopsi websted bør være fri for tidligere skader, kontrakturer eller instrumentering 21,1. I forskning, kan det være nødvendigt standardiserede betingelser såsom fastende eller udelukkelse af patienter med diabetes 19. Antikoagulanter såsom warfarin skal stoppes og koagulationstid kontrolleres før proceduren. Enkel aspirin i en dosis på 75 mg kan fortsættes som vores erfaring viser, at det ikke i væsentlig grad øger risikoen for overskydende blødning 22. Endvidere bør det overvejes at deltagerne tage stoffer, der forringer sårheling. Væsentlige, bør risikoen for at stoppe medicin afvejes mod fordelene ved proceduren i hvertilfælde. Under deltager udvælgelse, bør en detaljeret historie af potentielle allergi over for lokalbedøvelse, jod / klorhexidin og sårbandager og brugte alternativer efter behov. Deltagerne bør advares om den sjældne, men potentielle forekomst af allergiske reaktioner, som kan manifestere sig som øget rødme i huden, lokal hævelse eller blærer. Under disse omstændigheder fjernelse af forbindingen (er) og behandling med antihistaminer / steroider kan være nødvendig.
Proceduren tager ca. 15 - 20 min. Det er vigtigt at være meget opmærksom på aseptik for at minimere risikoen for sårinfektion. Under proceduren deltagerne kan opleve nogle ubehag. Forekomst af enhver skarp smerte kan nødvendiggøre yderligere infiltration af lokalbedøvelse. Efter proceduren, låret stivhed er almindeligt erfarne og kan afhjælpes ved blid motion (f.eks., Gå). I Hertfordshire sarkopeniStudy (HSS), de smertescore målt med smerten visuel analog skala (VAS) (skala fra 0 mm - "ingen smerte" til 100 mm - "smerte så slemt som kan være ') var typisk lav med en median på 7 mm under proceduren, og 4 mm en dag efter den procedure, hvilket tyder på de emner i denne forskningsundersøgelse fundet proceduren minimalt smertefuld 22 (Materialer Table) .Den sats på sår komplikationer rapporteret i litteraturen varierer fra 1% til 3% og omfatter hovedsagelig sår hæmatom dannelse 13,9,14. En undersøgelse beskrev en alvorlig en sub-fascial hæmatom og en efterfølgende dyb venetrombose 13. I HSS var hastigheden af sår komplikationer (beskrevet som en hård klump under arret i 3 uger) 1% 22. Deltagerne kan opleve følelsesløshed omkring den lille incision givet behov for at incise gennem huden og subkutant væv. Vores erfaring denne følelsesløshed har været forbigående og har fuldt afklaret inden for et eller to wee ks.
Med hensyn til repræsentative histologiske resultater, vi tidligere studerede sammenhængen mellem udviklingsmæssige påvirkninger og muskel morfologi 19. I denne undersøgelse betyder Type I myofibre område (SD) i 48 lavere fødselsvægt (≤3.18 kg) mænd var 4903 um 2 (1354 um 2) og 4644 um 2 (1022 um 2) 47 højere fødselsvægt (≥3.63 kg) mænd, mens den gennemsnitlige type II myofibre område var 4046 um 2 (1166 um 2) og 3859 um 2 (1127 um 2) i lavere og højere fødselsvægt mænd hhv.

Figur 1. Billede af Weil-Blakesley Conchotome. The Weil-Blakesley conchotome med en 6 mm bidende spids anvendes i denne undersøgelse.5 / 53075fig1large.jpg "target =" _ blank "> Klik her for at se en større version af dette tal.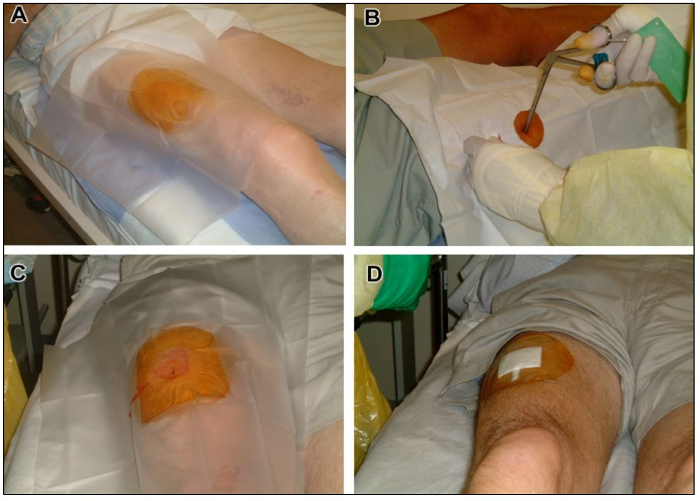 Figur 2. muskelbiopsi Technique Brug af Weil-Blakesley Conchotome. (A) Benet blev eksponeret fra lysken krølle. Den biopsi område i de vastus lateralis blev barberet af hår, mærket, infiltreret med lidocain og rengøres med antiseptisk. Biopsi område blev isoleret. Huden og overliggende fascia blev derefter punkteret med en størrelse 11 skalpel. (B) Den conchotome blev indsat i sporet fra skalpellen og drejes 90 ° for at udskære muskel. C & D. De 5 -. 10 mm sår blev lukket med Steri-strips og klædt (Tidligere offentliggjort 22) Klik her for at se et larger version af dette tal.

Figur 3. Steri-striben Applikation. De sterilflødeprodukter strimler anvendes parallelt med den lille snit. Denne metode er forbundet med en god helingshastighed; typisk inden for en uge. Klik her for at se en større version af dette tal.

Figur 4. muskelbiopsier af vastus lateralis. Klik her for at se en større version af dette tal.
Median (Interquartile Range [IQR])
Under proceduren
7 (1 - 34)
indlæg procedure En dag
4 (0 - 16)
indlæg procedure Syv dage
1 (0 - 4)
Daglig aktivitet er taget
N (%)
Efter en dags
60 (65%)
Efter to dage
26 (28%)
Mere end to dage
7 (7%)
Tabel 1. Smerter Visual Analog Scale (VAS) Score og genoptagelse af aktiviteterne i 93 Forskning Deltagere efter Conchotome muskelbiopsi i Hertfordshire sarkopeni Study. Smerten skala varierede fra 0 mm - »ingen smerte" tilmaksimalt 100 mm - "smerte så slemt som kan være". De fleste af deltagerne genoptog sædvanlige daglige aktivitet den første dag efter procedure.
Subscription Required. Please recommend JoVE to your librarian.
Discussion
For at sikre deltager sikkerhed og udfører muskelbiopsi effektivt, er det vigtigt at være opmærksom på kritiske skridt i protokollen.
Deltagerne skal vælges efter nøje overvejer udelukkelseskriterierne for at undgå komplikationer såsom blødning og dårlig sårheling. Streng aseptik hele proceduren er afgørende. Anvendelse af den rigtige teknik vil sikre deltager komfort, minimere uønsket traumer til deltagers væv og tillade en tilstrækkelig udbytte prøve til analyse. Lejlighedsvis kan det være vanskeligt at opnå en muskel prøve, især hvis deltageren har overdreven subkutane fedtvæv. Overskydende blødning kan forekomme selv efter omhyggelig udvælgelse af deltagere, i hvilket tilfælde en beslutning om at gå videre med proceduren bør gøres. Direkte tryk på sårstedet i op til 5 min, kan være nødvendigt at fremme hæmostase og minimere blå mærker. En anden metode til at minimere blødning er atbruge lidocain med adrenalin, som vil forårsage en lokal vasokonstriktion. Imidlertid kan epinephrin forstyrre senere analyser og forsigtighed skal udvises. Det er forfatterens præference ikke at bruge adrenalin under denne procedure.
Flere analyser kan udføres i muskelvæv givet de fremskridt inden mikroskopi, billedanalyse, histokemisk og molekylære analysemetoder. Disse omfatter vurdering muskel morfologi f.eks., Fibersammensætning, fiber tværsnitsareal, vaskularisering, enkelt fiber kontraktil aktivitet, analyse af RNA, protein samt enzymaktivitet 23,24,25,19,26,27. Selvom anvendes rutinemæssigt i den kliniske diagnostiske proces for myopati, er muskel biopsi stigende udført i forskning. For eksempel har vi tidligere vist, at udviklingsmæssige indflydelse på muskel morfologi kan forklare sammenhængen mellem lavere fødselsvægt og sarkopeni 19. Potentielle begrænsninger i denne teknik, similar til andre semi-åbne teknikker, omfatter er begrænset til et sted, hvor morfologi dvs muskelfiber type kan ikke være repræsentativ for hele muskel gruppe.
Muskel biopsi med Weil Blakesley conchotome er en realistisk og acceptabel procedure. Denne procedure giver en alternativ metode til Bergstrom og andre nål biopsi metoder. Det er let at styre og giver en god prøve udbytte til analyse. Den komplikation er lav og ubehag holdes på et minimum, når proceduren er udført ved hjælp af en standardiseret teknik, som beskrevet ovenfor, strenge aseptiske forhold vedligeholdes og omfattende rådgivning på post biopsi pleje er givet.
Subscription Required. Please recommend JoVE to your librarian.
Materials
Name
Company
Catalog Number
Comments
Weil-Blakesley conchotome
Gebrüder Zepf Medizintechnik, Dürbheim, Germany
None
6 mm biting tip
5 ml 2% lidocaine
Generic use
None
One 5 ml vial should suffice for adequate anaesthesia
Alcohol swab
Generic use
None
5 ml syringe
Generic use
None
25 G and 23 G sterile needles
Generic use
None
Sterile scalpel size 11
Generic use
None
Sterile gauze squares
Generic use
None
Sodium chloride 0.9% 10 ml
Fannin
1122/002/001
Steri-Drape™ Small Drape with Adhesive Aperture
3M
1020
ChloraPrep 2% w/v /70% v/v cutaneous solution
CareFusion
270400
Two
Steri-Strip™ 1/4 inch x 3 inch Reinforced Adhesive Skin Closures
3M
R1541
PRIMAPORE sterile dressing 15 cm x 8 cm
Smith &
Nephew
66000318
Cotton crepe bandage Hospicrepe 233 7,5 cm x 4,5 m
Hartmann
915562
Flexible cohesive bandage Co-Plus LF
BSN medical
2904565
Disposable absorbent sheet
Generic use
None
Micropore or transpore tape
Generic use
None
Sterile gown with sterile paper towels
Generic use
None
Sterile gloves
Generic use
None
References
Dubowitz, V., Sewry, C. A., Oldfords, A. Muscle Biopsy: A Practical Approach. 4th ed, Saunders Elsevier. China. (2013).
Parent, A. Duchenne De Boulogne: a pioneer in neurology and medical photography. Can J Neurol Sci. 32, (3), 369-377 (2005).
Hayot, M., Michaud, A., Koechlin, C., Caron, M. A., Leblanc, P., Prefaut, C., Maltais, F. Skeletal muscle microbiopsy: a validation study of a minimally invasive technique. Eur Respir J. 25, (3), 431-440 (2005).
O'Rourke, K. S., Blaivas, M., Ike, R. W. Utility of needle muscle biopsy in a university rheumatology practice. J Rheumatol. 21, (3), 413-424 (1994).
O'Rourke, K. S., Ike, R. W. Muscle biopsy. Curr Opin Rheumatol. 7, (6), 462-468 (1995).
Bergstrom, J. Muscle electrolytes in man. Scand J Clin Lab Invest. 14, Suppl 68. (1962).
Edwards, R., Young, A., Wiles, M. Needle biopsy of skeletal muscle in the diagnosis of myopathy and the clinical study of muscle function and repair. N Engl J Med. 302, (5), 261-271 (1980).
Edwards, R. H. Percutaneous needle-biopsy of skeletal muscle in diagnosis and research. Lancet. 2, (7724), 593-595 (1971).
Edwards, R. H., Round, J. M., Jones, D. A. Needle biopsy of skeletal muscle: a review of 10 years experience. Muscle Nerve. 6, (9), 676-683 (1983).
Shanely, R. A., Zwetsloot, K. A., Triplett, N. T., Meaney, M. P., Farris, G. E., Nieman, D. C. Human skeletal muscle biopsy procedures using the modified Bergstrom technique. J Vis Exp. (91), e51812 (2014).
Coggan, A. R. Muscle biopsy as a tool in the study of aging. J Gerontol A Biol Sci Med Sci. 50, 30-34 (1995).
Henriksson, K. G. 'Semi-open' muscle biopsy technique. A simple outpatient procedure. Acta Neurol Scand. 59, (6), 317-323 (1979).
Dorph, C., Nennesmo, I., Lundberg, I. E. Percutaneous conchotome muscle biopsy. A useful diagnostic and assessment tool. J Rheumatol. 28, (7), 1591-1599 (2001).
Poulsen, M. B., Bojsen-Moller, M., Jakobsen, J., Andersen, H. Percutaneous conchotome biopsy of the deltoid and quadricep muscles in the diagnosis of neuromuscular disorders. J Clin Neuromuscul Dis. 7, (1), 36-41 (2005).
Dietrichson, P., Mellgren, S. I., Skre, H. Muscle biopsy with the percutaneous conchotome technique. J Oslo City Hosp. 30, (5), 73-79 (1980).
Dietrichson, P., Coakley, J., Smith, P. E., Griffiths, R. D., Helliwell, T. R., Edwards, R. H. Conchotome and needle percutaneous biopsy of skeletal muscle. J Neurol Neurosurg Psychiatry. 50, (11), 1461-1467 (1987).
Andonopoulos, A. P., Papadimitriou, C., Melachrinou, M., Meimaris, N., Vlahanastasi, C., Bounas, A., Georgiou, P. Asymptomatic gastrocnemius muscle biopsy: an extremely sensitive and specific test in the pathologic confirmation of sarcoidosis presenting with hilar adenopathy. Clin Exp Rheumatol. 19, (5), 569-572 (2001).
Helliwell, T. R., Coakley, J., Smith, P. E., Edwards, R. H. The morphology and morphometry of the normal human tibialis anterior muscle. Neuropathol Appl Neurobiol. 13, (4), 297-307 (1987).
Patel, H. P., Jameson, K. A., Syddall, H. E., Martin, H. J., Stewart, C. E., Cooper, C., Sayer, A. A. Developmental influences, muscle morphology, and sarcopenia in community-dwelling older men. J Gerontol A Biol Sci Med Sci. 67, (1), 82-87 (2012).
Patel, H. P., Syddall, H. E., Martin, H. J., Stewart, C. E., Cooper, C., Sayer, A. A. Hertfordshire Sarcopenia Study: design and methods. BMC Geriatrics. 10, (1), 43 (2010).
Anderson, J. R. Recommendations for the biopsy procedure and assessment of skeletal muscle biopsies. Virchows Arch. 431, (4), 227-233 (1997).
Patel, H. P., Syddall, H. E., Martin, H. J., Cooper, C., Stewart, C., Sayer, A. A. The Feasibility and Acceptability of Muscle Biopsy in Epidemiological Studies: Findings from the Hertfordshire Sarcopenia Study (HSS). J Nutr Health Aging. 15, (1), 10-15 (2011).
Charifi, N., Kadi, F., Feasson, L., Costes, F., Geyssant, A., Denis, C. Enhancement of microvessel tortuosity in the vastus lateralis muscle of old men in response to endurance training. J Physiol. 554, (Pt 2), 559-569 (2004).
Frontera, W. R., Suh, D., Krivickas, L. S., Hughes, V. A., Goldstein, R., Roubenoff, R. Skeletal muscle fiber quality in older men and women. Am J Physiol Cell Physiol. 279, (3), C611-C618 (2000).
He, J., Watkins, S., Kelley, D. E. Skeletal muscle lipid content and oxidative enzyme activity in relation to muscle fiber type in type 2 diabetes and obesity. Diabetes. 50, (4), 817-823 (2001).
Patel, H. P., Al-Shanti, N., Davies, L. C., Barton, S. J., Grounds, M. D., Tellam, R. L., Stewart, C. E., Cooper, C., Sayer, A. A. Lean mass, muscle strength and gene expression in community dwelling older men: findings from the Hertfordshire Sarcopenia Study (HSS). Calcif Tissue Int. 95, (4), 308-316 (2014).
Peterson, C. M., Johannsen, D. L., Ravussin, E. Skeletal muscle mitochondria and aging: a review. J Aging Res. 2012, 194821 (2012).