Cite this Article
Copy Citation | Download Citations

Baczynska, A. M., Shaw, S., Roberts, H. C., Cooper, C., Aihie Sayer, A., Patel, H. P. Human Vastus Lateralis Skeletal Muscle Biopsy Using the Weil-Blakesley Conchotome. J. Vis. Exp. (109), e53075, doi:10.3791/53075 (2016).
Abstract
Perkutan muskelbiopsi med hjälp av Weil-Blakesley conchotome är väl etablerat i både kliniska och forskning praktik. Det är en säker, effektiv och väl tolererad teknik. Weil-Blakesley conchotome har en skarp bitande spets med en 4-6 mm bred ihålig. Den är införd genom ett 5 - 10 mm snitt i huden och kan manövreras för styrd vävnadspenetrering. Spetsen öppnas och stängs inuti vävnaden och sedan roteras 90 -180 ° för att skära muskeln. Mängden muskler erhölls efter upprepad provtagning kan variera från 20 mg till 290 mg som kan bearbetas för både histologi och molekylära studier. Såret måste hållas torr och kraftig fysisk aktivitet begränsas till ett minimum för ca 72 timmar, även om normala nivåer av aktivitet kan starta omedelbart efter ingreppet. Detta förfarande är säker och effektiv när uppmärksamhet ägnas åt valet av ämnen, fullt aseptik och efter proceduren vård. Både höger och vänster vAstus later är lämpliga för biopsi beroende deltagare önskemål.
Introduction
Erhålla skelettmuskulatur för diagnos av en myopati och andra neuromuskulära degenerativa sjukdomar bygger på säkra och effektiva metoder som är acceptabla och inte oskadliggörande till patienter 1. Historiskt, metoder för att få muskelvävnad för analys ingår öppna biopsier utförs under narkos eller obduktion. Dessa tekniker tillät direkt visualisering av muskeln och tillåts en större bit av muskeln som skall biopsideras. Med tanke på de potentiella nackdelarna dessa tekniker har till patienten i form av sjukhusvistelse och återhämtning, var perkutan "halvöppna" muskelbiopsi metoder infördes som alternativ. Denna teknik uruppfördes av Duchenne (1806-1875), som använde egentillverkade nål med en trokar och kunde få en muskelprov från en levande ämne utan narkos 2. Sedan dess har olika former av biopsinålar använts 3,4,5. Men biopsi needle utvecklats av Bergström 1962 har varit den vanligaste i klinisk praxis; både hos barn och vuxna, liksom i forskning 6,7,8,9,10. Den har en skarp trokar, en skärkanyl och en tryckstaven för att driva vävnaden efter biopsi. Muskel avkastning som erhållits från denna procedur har rapporterats variera från 25 -293 mg efter upprepad provtagning 11,9.
Henriksson introducerade Weil-Blakesley conchotome 1979 som ett alternativ halvöppna muskelbiopsi metod (Figur 1) 12. Instrumentet är en enda struktur till skillnad från Bergstrom konstruktionen och är utformad som en tång med en vass bitande spets. Den spetsstorlek kan variera från 4 mm till 6 mm i bredd. När de två kanterna hos den bitande spetsen motsätta, är en ihålig formad som säkerställer infångning av muskeln. Den conchotome är införd genom ett 5 - 10 mm snitt i huden och undviker behovet av en trokar för att penetrera muskel och den överliggande fascia som en scalpel kan användas för att göra ett spår ner till muskeln.
Denna metod tillåter kontrollerad vävnadspenetrering med en hög grad av manövrerbarhet 13,14. Det är särskilt användbart för platser där otillbörliga påtryckningar skulle kunna skada neurovaskulära eller underliggande benstrukturer t.ex.. Vid platsen för tibialis anterior 15,14. Muskel avkastning med hjälp av conchotome kan variera och i vår praktiken 20 - 200 mg av muskler har erhållits efter upprepad provtagning. En potentiell fördel med conchotome över Bergström nålen, förutom den höga graden av manövrerbarhet den erbjuder, är att den bitande spetsen inte behöver slipas eller bytas ut så ofta som trokaren av Bergström bygga 16.
Det övergripande målet för muskelbiopsi använder Weil Blakesley conchotome är att erhålla tillräckliga mängder av muskelvävnad för att möjliggöra histokemi och molekylär analys för både diagnostik och research studie. Det är en enkel och säker procedur som kan läras lätt. Med denna teknik, muskel lämplig för biopsi ingår biceps, triceps, delta, gastrocnemius, tibialis anterior, soleus och sacrospinals 17,15,7,18,14. Den yttersta delen av vastus lateralis är den vanligaste platsen som används för biopsi som den undviker de huvudsakliga neurovaskulära strukturer i låret. Den identifieras cirka två tredjedelar ned en imaginär linje som förbinder den främre övre spinae iliacea och knäskålen. Muskel morfologi data, exempelvis myofibre område, myofibre proportioner, kapillärtäthet härrör från vastus later provtagning är allmänt tillgängliga i litteraturen tillåter jämförelser mellan studier 11,19.
Subscription Required. Please recommend JoVE to your librarian.
Protocol
Etik uttalande: En beskrivning av muskelbiopsi förfarande följer vi inom vår institution nu följer. Den muskelbiopsi förfarande används i Hertfordshire sarcopeni studie som har godkänts av Hertfordshire forskningskommittén nummer 07 / Q0204 / 68. Alla deltagare gav skriftligt informerat samtycke 20.
OBS: En enda operatör kan utföra proceduren, med hjälp av en assistent som kan engagera deltagaren i samtalet för att minska ångest och se till att de är bekväma hela tiden. Förfarandet rummet bör förses med ett handfat, en höj- och sänkbar soffa, rena ytor och ett förfarande vagn.
1. Förbered deltagaren (Figur 2)
Be deltagaren att lägga bekvämt, liggande på en soffa. Exponera den föredragna låret från ljumsken veck. Sprid en absorberande engångs upptagna under den exponerade låret. Se till att benet förblir rak och avslappnad under hela förfarandet menlåret är spänd kortvarigt för att beskriva vastus lateralis.
Markera det förfarande språk ungefär två tredjedelar ned en imaginär linje från den främre övre spinae iliacea till knäskålen.
2. Förbered huden (Figur 2)
Raka huden till ca 4 cm i diameter som omger den föreslagna biopsi platsen med en steril rakning blad och rengör huden med en spritsudd.
OBS: Detta är för att förhindra eventuella efterföljande hår fastnar i såret under läkningsprocessen. Detta steg är valfritt beroende på förarens önskemål.
Infiltrera huden och överliggande fascia med lokalbedövning. Använd en 25 G-nål för att höja en subkutan blåsa av 2% lidokain sedan infiltrera djupare i den subkutana vävnaden med en 23 G nål. Sikta på att tränga in till åtminstone halv till en tum beroende på den subkutana innehållet vävnaden vid biopsi plats. Detta djup bör vara tillräcklig för att säkerställa de överliggande fascia sövs. Tillåt 2-5 minuter för bedövningen till handling. Bekräfta anestesi genom att sondera huden försiktigt med nålen eller skalpell blad spets.
3. Förbered ett sterilt område (Figur 2)
Tvätta händerna med tvål och upprätthålla rena händer tills en steril klänning bärs. Täck händerna med sterila handskar innan du skapar ett sterilt område om förfarandet vagnen.
Sterilisera biopsi plats med 2% klorhexidin / isopropylalkohol lösning eller en jod baserad hud desinfektionsmedel. Applicera en steril duk med ett bindemedel öppning att exponera biopsi platsen utan också upprätthålla ett sterilt område.
4. Utför proceduren (Figur 2)
Med en storlek 11 skalpell, gör ett 5-10 mm snitt på huden och ner och genom det överliggande fascia. För in stängda bitande spetsen av conchotome genom snittet i rät vinkel mot den långa axeln av lårbenet, till ett djup medelvärdes halv till en tum. Om så erfordras användningden fria handen för att hålla och stödja låret kring biopsi webbplats medan spetsen på conchotome öppnas och stängs i muskeln.
Rotera conchotome genom 90 - 180 ° för att skära muskeln. Dra ut conchotome och öppna spetsen på steril gasbinda dämpas av steril normal saltlösning. Upprepa proceduren på den inre såret, om nödvändigt, för att erhålla tillräcklig muskelvävnad. Överföra gasväv i en behållare placeras på is. Överför behållaren till ett preparat laboratorium för att bearbeta muskeln enligt den lokala institutionella protokollet.
5. Post ordningen (Figur 2)
Applicera direkt tryck på såret i upp till 5 min. Stäng såret med Steri-remsor genom att placera dem parallellt med såret i motsats till räta vinklar för att undvika potentiellt avlägsna ärrvävnad och återuppta såret om Steri-remsorna tas bort av misstag. Placera en steril absorberande förband på Steri-remsor och knyt en två-lagerbandage för komprimering och säkra med tejp.
Förklara sårförband metod för att deltagaren, eftersom de kommer att behöva utföra en förbandsbyte 3 - 4 dagar efter ingreppet. Se till att deltagaren bort kompressionsbandaget före sänggåendet senare samma kväll.
6. Post biopsi Råd
Informera deltagare att det är vanligt att uppleva några låret styvhet som kan lindras genom försiktig träning (eg., Promenader). Använd enkel smärtlindring såsom paracetamol. Varna deltagaren om övergående domningar runt biopsi webbplats som kan kvarstå i upp till två veckor samt möjlig komplikation av sårinfektion.
7. Instruktioner för ämnet efter proceduren
Be deltagaren att undvika kraftig aktivitet för 72 timmar (såsom klättring, löpning, tunga lyft). Be deltagaren att undvika nedsänkning i vatten för 48-72 timmar. Men instruera DELTAGAREt att linda plastfolie eller liknande runt biopsi plats när man har en dusch för att hålla förbandet torrt.
Be deltagaren att ändra förbandet efter 3 - 4 dagar och ta Steri-remsor efter en vecka.
OBS: Deltagaren bör ges skriftliga instruktioner för post biopsi vård, reservdelar förband och nödlarms detaljer om team som ansvarar för att utföra proceduren.
Subscription Required. Please recommend JoVE to your librarian.
Representative Results
Det ovan beskrivna förfarandet är säkert och acceptabelt i både kliniska och forskningsinställningar. När biopsi utförs som en del av den diagnostiska processen, bör muskeln väljas enligt patientens symtom och tecken på muskelsvaghet. Biopsi webbplats bör vara fri från tidigare skador, kontrakturer eller instrumentering 21,1. I forskning, kan standardiserade villkor, såsom fasta eller uteslutning av patienter med diabetes krävas 19. Antikoagulantia såsom warfarin behöva stoppas och koagulationstiden kontrolleras innan proceduren. Enkel acetylsalicylsyra i en dos av 75 mg kan fortsätta som vår erfarenhet tyder på att det inte avsevärt öka risken för över blödning 22. Dessutom bör hänsyn tas till deltagare som tar läkemedel som försämrar sårläkning. I huvudsak bör risken för att stoppa medicinering vägas mot fördelarna med förfarandet i varjefall. Under deltagare val, bör en detaljerad historik över potentiella allergier till lokalbedövning, jod / klorhexidin och sårförband erhållas och alternativ som krävs. Deltagarna bör varnas den sällsynta men eventuella förekomsten av allergiska reaktioner som kan manifestera ökad hudrodnad, lokal svullnad eller blåsor. Under dessa omständigheter avlägsnande av förbandet (ar) och behandling med antihistaminer / steroider kan bli nödvändiga.
Proceduren tar cirka 15-20 minuter. Det är viktigt att ägna stor uppmärksamhet åt asepsis för att minimera risken för sårinfektion. Under förfarandet deltagarna kan uppleva ett visst obehag. Förekomst av någon skarp smärta kan kräva ytterligare infiltration av lokalbedövning. Efter ingreppet, är låret styvhet vanligen erfarna och kan lindras genom försiktig träning (eg., Promenader). I Hertfordshire sarcopeniStudie (HSS), de smärtnivåer som uppmätts med smärtan visuell analog skala (VAS) (skala från 0 mm - "ingen smärta" till 100 mm - "smärta så illa som kan vara") var typiskt låg med en median på 7 mm under förfarandet och 4 mm en dag efter ingreppet tyder ämnena i denna studie fann förfarandet minimalt smärtsam 22 (Material tabell) .Det hastighet av lindade komplikationer rapporterats i litteraturen varierar från 1% till 3% och främst omfatta sår hematom bildning 13,9,14. En studie beskrev en allvarligt under fascia hematom och en efterföljande djup ventrombos 13. I HSS graden av sår komplikation (beskrivs som en hård knöl under ärret för 3 veckor) var 1% 22. Deltagarna kan uppleva domningar runt den lilla snittet webbplatsen ges behovet av att incisionsfilm genom huden och subkutan vävnad. I vår erfarenhet detta domningar har varit övergående och har helt löst inom en eller två wee ks.
När det gäller de representativa histologiska resultat, tidigare studerade vi sambandet mellan utvecklings influenser och muskel morfologi 19. I denna studie menar typ I myofibre område (SD) i 48 lägre födelsevikt (≤3.18 kg) män var 4903 pm 2 (1354 pm 2) och 4644 pm 2 (1022 pm 2) i 47 högre födelsevikt (≥3.63 kg) män, medan den genomsnittliga typ II myofibre område var 4046 pm 2 (1166 pm 2) och 3859 pm 2 (1127 pm 2) i lägre och högre födelsevikt män respektive.

Figur 1. Bild av Weil-Blakesley Conchotome. Den Weil-Blakesley conchotome med en 6 mm bita spets används i denna studie.5 / 53075fig1large.jpg "target =" _ blank "> Klicka här för att se en större version av denna siffra.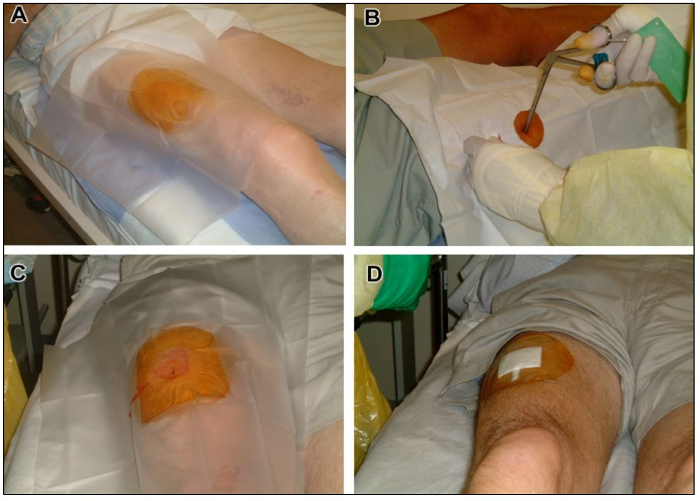 Figur 2. muskelbiopsi Technique Använda Weil-Blakesley Conchotome. (A) Benet utsattes från ljumsken veck. Biopsiområdet under de vastus lateralis rakades av hår, markerade, infiltrerade med lidokain och rengöras med antiseptisk. Biopsiområdet isolerades. Huden och överliggande fascia därefter punkteras med en storlek 11 skalpell. (B) Den conchotome insattes i spåret görs av skalpell och vridas 90 ° för att skära ut muskeln. CD. 5 -. 10 mm såret stängdes med Steri-remsor och klädd (Tidigare publicerad 22) Klicka här för att se en larGER version av denna siffra.

Figur 3. Steri-strip Application. De sterilisatorer remsorna appliceras parallellt med litet snitt. Denna metod är förknippad med en bra hastighet av läkning; vanligtvis inom en vecka. Klicka här för att se en större version av denna siffra.

Figur 4. muskelbiopsier av vastus lateralis. Klicka här för att se en större version av denna siffra.
Median (kvartilavståndet [IQR])
Under förfarandet
7 (1-34)
En dag efter proceduren
4 (0-16)
Sju dagar efter proceduren
1 (0-4)
Daglig aktiviteten återhämtat sig
N (%)
Efter en dag
60 (65%)
Efter två dagar
26 (28%)
Mer än två dagar
7 (7%)
Tabell 1. Smärta visuell analog skala (VAS) resultat och återupptagande av verksamheten i 93 försökspersoner efter Conchotome muskelbiopsi i Hertfordshire sarcopeni Study. Smärtskalan varierade från 0 mm - "ingen smärta" tillhögst 100 mm - "smärta så illa som kan vara". Majoriteten av deltagarna återupptog vanliga dagliga verksamhet en dag efter proceduren.
Subscription Required. Please recommend JoVE to your librarian.
Discussion
För att säkerställa deltagare säkerhet och utföra muskelbiopsi effektivt, är det viktigt att uppmärksamma kritiska steg inom protokollet.
Deltagarna måste väljas efter noggrant med tanke på uteslutningskriterierna för att undvika komplikationer såsom blödning och dålig sårläkning. Strikt aseptik hela förfarandet är viktigt. Tillämpningen av rätt teknik kommer att säkerställa deltagare komfort, minimera oönskade trauma deltagarens vävnader och tillåta en tillräcklig prov avkastning för analys. Ibland kan det vara svårt att få en muskelprov, speciellt om deltagaren har alltför subkutan fettvävnad. Överskott blödning kan inträffa även efter noggrant urval av deltagare i vilket fall ett beslut att gå vidare med förfarandet bör göras. Direkt tryck till sårstället under upp till 5 min kan vara nödvändigt att stimulera hemostas och minimera blåmärken. En annan metod för att minimera blödning är attanvänder lidokain med adrenalin som kommer att orsaka en lokal kärlsammandragning. Emellertid kan epinefrin störa efterföljande analyser och försiktighet måste användas. Det är författarens önskemål att inte använda adrenalin under denna procedur.
Flera analyser kan utföras i muskelvävnad med tanke på de framsteg inom mikroskopi, bildanalys, histokemisk och molekylära analysmetoder. Dessa inkluderar att bedöma muskel morfologi eg., Fibersammansättning, fibertvärsnittsarea, vaskularitet, enda fiber kontraktil aktivitet, analys av RNA, protein samt enzymaktivitet 23,24,25,19,26,27. Även används rutinmässigt används i kliniska diagnostiska processen för myopati är muskelbiopsi allt utförs i forskning. Till exempel har vi tidigare visat att utvecklings påverkan på muskel morfologi kan förklara sambandet mellan lägre födelsevikt och sarcopeni 19. Potentiella begränsningar av denna teknik, similar till andra halvöppna tekniker, bland annat begränsas till en plats där morfologi dvs typ muskelfibern inte kan vara representativt för hela muskelgrupp.
Muskelbiopsi med Weil Blakesley conchotome är en genomförbar och acceptabel procedur. Detta förfarande ger en alternativ metod till Bergström och andra nål biopsimetoder. Det är lätt att bemästra och ger en bra prov avkastning för analys. Den komplikationen är låg och obehag till ett minimum när förfarandet utförs med en standardiserad teknik som beskrivits ovan, strikt aseptiska förhållanden upprätthålls och samlad information om post biopsi vård ges.
Subscription Required. Please recommend JoVE to your librarian.
Materials
Name
Company
Catalog Number
Comments
Weil-Blakesley conchotome
Gebrüder Zepf Medizintechnik, Dürbheim, Germany
None
6 mm biting tip
5 ml 2% lidocaine
Generic use
None
One 5 ml vial should suffice for adequate anaesthesia
Alcohol swab
Generic use
None
5 ml syringe
Generic use
None
25 G and 23 G sterile needles
Generic use
None
Sterile scalpel size 11
Generic use
None
Sterile gauze squares
Generic use
None
Sodium chloride 0.9% 10 ml
Fannin
1122/002/001
Steri-Drape™ Small Drape with Adhesive Aperture
3M
1020
ChloraPrep 2% w/v /70% v/v cutaneous solution
CareFusion
270400
Two
Steri-Strip™ 1/4 inch x 3 inch Reinforced Adhesive Skin Closures
3M
R1541
PRIMAPORE sterile dressing 15 cm x 8 cm
Smith &
Nephew
66000318
Cotton crepe bandage Hospicrepe 233 7,5 cm x 4,5 m
Hartmann
915562
Flexible cohesive bandage Co-Plus LF
BSN medical
2904565
Disposable absorbent sheet
Generic use
None
Micropore or transpore tape
Generic use
None
Sterile gown with sterile paper towels
Generic use
None
Sterile gloves
Generic use
None
References
Dubowitz, V., Sewry, C. A., Oldfords, A. Muscle Biopsy: A Practical Approach. 4th ed, Saunders Elsevier. China. (2013).
Parent, A. Duchenne De Boulogne: a pioneer in neurology and medical photography. Can J Neurol Sci. 32, (3), 369-377 (2005).
Hayot, M., Michaud, A., Koechlin, C., Caron, M. A., Leblanc, P., Prefaut, C., Maltais, F. Skeletal muscle microbiopsy: a validation study of a minimally invasive technique. Eur Respir J. 25, (3), 431-440 (2005).
O'Rourke, K. S., Blaivas, M., Ike, R. W. Utility of needle muscle biopsy in a university rheumatology practice. J Rheumatol. 21, (3), 413-424 (1994).
O'Rourke, K. S., Ike, R. W. Muscle biopsy. Curr Opin Rheumatol. 7, (6), 462-468 (1995).
Bergstrom, J. Muscle electrolytes in man. Scand J Clin Lab Invest. 14, Suppl 68. (1962).
Edwards, R., Young, A., Wiles, M. Needle biopsy of skeletal muscle in the diagnosis of myopathy and the clinical study of muscle function and repair. N Engl J Med. 302, (5), 261-271 (1980).
Edwards, R. H. Percutaneous needle-biopsy of skeletal muscle in diagnosis and research. Lancet. 2, (7724), 593-595 (1971).
Edwards, R. H., Round, J. M., Jones, D. A. Needle biopsy of skeletal muscle: a review of 10 years experience. Muscle Nerve. 6, (9), 676-683 (1983).
Shanely, R. A., Zwetsloot, K. A., Triplett, N. T., Meaney, M. P., Farris, G. E., Nieman, D. C. Human skeletal muscle biopsy procedures using the modified Bergstrom technique. J Vis Exp. (91), e51812 (2014).
Coggan, A. R. Muscle biopsy as a tool in the study of aging. J Gerontol A Biol Sci Med Sci. 50, 30-34 (1995).
Henriksson, K. G. 'Semi-open' muscle biopsy technique. A simple outpatient procedure. Acta Neurol Scand. 59, (6), 317-323 (1979).
Dorph, C., Nennesmo, I., Lundberg, I. E. Percutaneous conchotome muscle biopsy. A useful diagnostic and assessment tool. J Rheumatol. 28, (7), 1591-1599 (2001).
Poulsen, M. B., Bojsen-Moller, M., Jakobsen, J., Andersen, H. Percutaneous conchotome biopsy of the deltoid and quadricep muscles in the diagnosis of neuromuscular disorders. J Clin Neuromuscul Dis. 7, (1), 36-41 (2005).
Dietrichson, P., Mellgren, S. I., Skre, H. Muscle biopsy with the percutaneous conchotome technique. J Oslo City Hosp. 30, (5), 73-79 (1980).
Dietrichson, P., Coakley, J., Smith, P. E., Griffiths, R. D., Helliwell, T. R., Edwards, R. H. Conchotome and needle percutaneous biopsy of skeletal muscle. J Neurol Neurosurg Psychiatry. 50, (11), 1461-1467 (1987).
Andonopoulos, A. P., Papadimitriou, C., Melachrinou, M., Meimaris, N., Vlahanastasi, C., Bounas, A., Georgiou, P. Asymptomatic gastrocnemius muscle biopsy: an extremely sensitive and specific test in the pathologic confirmation of sarcoidosis presenting with hilar adenopathy. Clin Exp Rheumatol. 19, (5), 569-572 (2001).
Helliwell, T. R., Coakley, J., Smith, P. E., Edwards, R. H. The morphology and morphometry of the normal human tibialis anterior muscle. Neuropathol Appl Neurobiol. 13, (4), 297-307 (1987).
Patel, H. P., Jameson, K. A., Syddall, H. E., Martin, H. J., Stewart, C. E., Cooper, C., Sayer, A. A. Developmental influences, muscle morphology, and sarcopenia in community-dwelling older men. J Gerontol A Biol Sci Med Sci. 67, (1), 82-87 (2012).
Patel, H. P., Syddall, H. E., Martin, H. J., Stewart, C. E., Cooper, C., Sayer, A. A. Hertfordshire Sarcopenia Study: design and methods. BMC Geriatrics. 10, (1), 43 (2010).
Anderson, J. R. Recommendations for the biopsy procedure and assessment of skeletal muscle biopsies. Virchows Arch. 431, (4), 227-233 (1997).
Patel, H. P., Syddall, H. E., Martin, H. J., Cooper, C., Stewart, C., Sayer, A. A. The Feasibility and Acceptability of Muscle Biopsy in Epidemiological Studies: Findings from the Hertfordshire Sarcopenia Study (HSS). J Nutr Health Aging. 15, (1), 10-15 (2011).
Charifi, N., Kadi, F., Feasson, L., Costes, F., Geyssant, A., Denis, C. Enhancement of microvessel tortuosity in the vastus lateralis muscle of old men in response to endurance training. J Physiol. 554, (Pt 2), 559-569 (2004).
Frontera, W. R., Suh, D., Krivickas, L. S., Hughes, V. A., Goldstein, R., Roubenoff, R. Skeletal muscle fiber quality in older men and women. Am J Physiol Cell Physiol. 279, (3), C611-C618 (2000).
He, J., Watkins, S., Kelley, D. E. Skeletal muscle lipid content and oxidative enzyme activity in relation to muscle fiber type in type 2 diabetes and obesity. Diabetes. 50, (4), 817-823 (2001).
Patel, H. P., Al-Shanti, N., Davies, L. C., Barton, S. J., Grounds, M. D., Tellam, R. L., Stewart, C. E., Cooper, C., Sayer, A. A. Lean mass, muscle strength and gene expression in community dwelling older men: findings from the Hertfordshire Sarcopenia Study (HSS). Calcif Tissue Int. 95, (4), 308-316 (2014).
Peterson, C. M., Johannsen, D. L., Ravussin, E. Skeletal muscle mitochondria and aging: a review. J Aging Res. 2012, 194821 (2012).