Cite this Article
Copy Citation | Download Citations

Baczynska, A. M., Shaw, S., Roberts, H. C., Cooper, C., Aihie Sayer, A., Patel, H. P. Human Vastus Lateralis Skeletal Muscle Biopsy Using the Weil-Blakesley Conchotome. J. Vis. Exp. (109), e53075, doi:10.3791/53075 (2016).
Abstract
Weil-Blakesley conchotome kullanarak Perkütan kas biyopsisi de hem klinik hem de araştırma uygulamada kurulmuştur. Bu, güvenli, etkili ve iyi tolere tekniktir. 6 mm genişliğinde oyuk - Weil-Blakesley conchotome 4 ile keskin bir ısırma uca sahiptir. Bu 5 arasına sokulur - 10 mm cilt insizyonu ve kontrollü doku penetrasyonu için manevra olabilir. ucu açılır ve doku içinde kapatıldı ve sonra kas kesmek için 90 -180 ° döndürülür. Elde edilen kas miktarı numune histolojisi ve moleküler çalışmalar hem de işlenebilir 290 mg 20 mg arasında değişebilir tekrar et. Yara aktivitesi normal düzeyleri prosedür takip hemen yeniden rağmen, kuru ve şiddetli bir fiziksel aktivite, yaklaşık 72 saat için en aza tutulması gerekir. yakın ilgi konular, tam asepsi ve sonrası prosedürü bakım seçimi ödenir Bu prosedür, güvenli ve etkilidir. Sağ ve sol v Hemastus lateralis katılımcı tercihine göre biyopsi için uygundur.
Introduction
Bir miyopati ve diğer nöromüsküler dejeneratif hastalıkların tanısı için iskelet kası elde edilmesi kabul edilebilir ve hastalar 1 ile incapacitating olmayan güvenli ve etkin yöntemlere dayanır. Tarihsel olarak, analiz için kas dokusu elde etme yöntemleri, genel anestezi altında veya otopsi gerçekleştirilen açık biyopsi alındı. Bu teknikler kas doğrudan görselleştirme izin ve kas daha büyük bir parça biyopsi için izin verdi. bu teknikler hastanede kalış ve iyileşme açısından hastaya sahip potansiyel dezavantajları göz önüne alındığında, perkütan 'yarı açık' kas biyopsi yöntemleri alternatif olarak tanıtıldı. Bu teknik ilk trokar ile kendinden inşa iğne kullanılan ve genel anestezi 2 olmadan yaşayan bir denekten kas örnek elde etmek mümkün oldu Duchenne (1806-1875) tarafından yapılmıştır. O zamandan beri, biyopsi iğne çeşitli biçimleri 3,4,5 kullanılmıştır. Bununla birlikte, biyopsi n1962 yılında Bergstrom tarafından geliştirilen eedle klinik pratikte en yaygın kullanılan olmuştur; Gerek çocuklarda gerekse yetişkinlerde de, yanı sıra araştırma 6,7,8,9,10 yılında. Bu keskin trokar, bir kesim kanül ve doku sonrası biyopsi çıkarmak için bir itme çubuğu sahiptir. Örnekleme 11,9 tekrarlanan sonra bu prosedür elde edilen kas verimleri 25 -293 mg arasında değiştiği rapor edilmiştir.
Henriksson (Şekil 1) 12 alternatif yarı açık kas biyopsisi yöntemi olarak 1979 yılında Weil-Blakesley conchotome tanıttı. enstrüman Bergstrom yapısının aksine tek yapıdır ve keskin bir ısırma uçlu bir forsepsi gibi tasarlanmıştır. uç boyutu 4 mm genişliğinde 6 mm arasında olabilir. ısırma ucunun iki kenarı karşı zaman, içi boş bir kas yakalama sağlar olacağı şekilde oluşturulmuştur. conchotome 5 arasına sokulur - 10 mm cilt insizyonu ve bir scalpe olarak kas ve örten fasya nüfuz bir trokar ihtiyacını ortadan kaldırırl kas aşağı bir parça yapmak için kullanılabilir.
Bu yöntem, manevra 13,14 yüksek derecede doku penetrasyonu kontrol sağlar. Bu yersiz basınç potansiyel örneğin nörovasküler veya altta yatan kemik yapısına zarar verebilir siteler için özellikle yararlıdır., Tibialis anterior 15,14 yerinde. conchotome kullanarak kas verim değişken olabilir ve pratikte 20 - kas 200 mg tekrar numune alındıktan sonra elde edilmiştir. Bergstrom iğne üzerinde conchotome potansiyel bir avantajı, sunduğu manevra kabiliyeti yüksek derecede ek olarak, ısırma ucu bilenmiş ya Bergstrom trokar 16 oluşturmak sıklıkta değiştirilmesi gerekmez olmasıdır.
Weil Blakesley conchotome kullanarak kas biyopsisi genel amacı, hem teşhis ve resear için histokimya ve moleküler analiz sağlamak için kas dokusunun yeterli miktarda elde etmektirch çalışma. Kolayca öğrenilebilir basit ve güvenli bir işlemdir. Bu teknik sayesinde, biyopsi için uygun kas pazı, triseps, deltoid, gastroknemius, tibialis anterior, soleus ve sacrospinals 17,15,7,18,14 içerir. O uyluk içinde ana nörovasküler yapıları önler olarak vastus lateralis en dış kısmı biyopsisi için kullanılan en yaygın sitedir. Anterior ve superior iliak omurga ve patellayı birleştiren hayali bir çizgi aşağı yaklaşık üçte ikisini tanımlanır. Kas morfoloji verileri, vastus türetilmiş örnek myofibre alanı, myofibre oranlarda, kılcal yoğunluğu için örnekleme çalışmaları 11,19 arasında karşılaştırma sağlayan literatürde yaygın olarak kullanılabilir lateralis.
Subscription Required. Please recommend JoVE to your librarian.
Protocol
Etik bildirimi: bizim kurumda izleyin kas biyopsisi işleminin bir açıklaması şimdi izler. kas biyopsisi Hertfordshire Araştırma Komitesi numarası 07 / Q0204 / 68 tarafından onaylandı Hertfordshire Sarkopeni Çalışmasında kullanılır. Tüm katılımcılar bilgilendirilmiş onam 20 yazılı verdi.
NOT: Tek bir operatör kaygıyı azaltmak ve onlar her zaman rahat olmasını sağlamak amacıyla konuşma katılımcıyı meşgul olabilir bir asistan yardımıyla prosedürü gerçekleştirebilir. Prosedür odada lavabo, yüksekliği ayarlanabilir kanepe, temiz yüzeyler ve bir prosedür arabası ile donatılmış olmalıdır.
1. Katılımcı hazırlayın (Şekil 2)
Bir kanepede yatar, rahat bırakmaya katılımcıdan. kasık kırışık tercih edilen uyluk Açığa. maruz uyluk altında atılabilir emici tabakanın yayıldı. bacak prosedürü boyunca düz ve rahat kalmasını sağlamak amauyluk vastus lateralis anahat an gerildi olduğunu.
Patellanın anterior superior iliyak hayali bir satır aşağı Mark prosedürü sitesi yaklaşık üçte ikisi.
2. Cilt hazırlayın (Şekil 2)
Steril bir tıraş bıçağı ile önerilen biyopsi bölgesini çevreleyen çapı yaklaşık 4 cm cilt Tıraş ve alkollü bir bezle cildi temizleyin.
NOT: Bu iyileşme sürecinde yara sonraki saç sıkışmasını önlemek içindir. Bu adım operatörün tercihine göre isteğe bağlıdır.
lokal anestezik ile deri ve örten fasya Infiltrate. Daha sonra 23 G iğne ile deri altı doku içine derin sızmak% 2 lidokain subkutan bleb 25 G iğne kullanın. Biyopsi yerinde deri altı doku içeriğine bağlı olarak bir inç en az yarısı nüfuz hedefliyoruz. Bu derinlik üzerinde uzanan Fas sağlamak için yeterli olmalıdırCIA anestezi. eylem anestezi için 5 dakika - 2 izin verin. İğne veya neşter bıçağı ucu ile cildi nazikçe sondalama ile anestezi onaylayın.
3. Steril Alan hazırlayın (Şekil 2)
sabunla ellerinizi yıkayın ve steril bir cüppe giyilir kadar temiz eller korumak. Prosedür arabası üzerinde steril bir alan oluşturmadan önce steril eldiven ile el örtün.
% 2 klorheksidin / izopropil alkol solüsyonu veya iyot bazlı cilt dezenfektan ile biyopsi sitesini sterilize edin. biyopsi sitesi açığa çıkarmak için bir yapıştırıcı açıklığı ile bir steril örtüyü uygulayın ama aynı zamanda steril bir alan sağlamak için.
4. Prosedürü uygulayın (Şekil 2)
ve aşağı ve örten fasya yoluyla deri üzerinde 10 mm kesi - bir boyut 11 neşter ile, bir 5 yapmak. bir inç bir derinlik ortalama yarıya, femur uzun eksenine dik açıyla kesikten conchotome kapandı ısırma ucu takın. Gerekli kullanım durumundaserbest el tutun ve conchotome ucu kası içinde açılan ve kapanan iken biyopsi bölgesini çevreleyen uyluk desteklemek.
kas kesmek için 180 ° - 90 ile conchotome döndürün. conchotome çekiniz ve steril normal salin ile nemlendirilmiş steril gazlı bez üzerine ucu açın. Gerekirse yeterli kas dokusu elde etmek, tek yara site içinde aynı işlemi tekrarlayın. buz üzerine yerleştirilir, bir kap içine gazlı bez aktarın. yerel kurumsal protokole göre kas işlemek için bir hazırlık laboratuara kabı aktarın.
5. Mesaj Prosedürü (Şekil 2)
En fazla 5 dakika süreyle yaraya doğrudan basınç uygulayın. potansiyel skar dokusunun çıkartılması ve steri-şeritler yanlışlıkla kaldırılır eğer yara açılmasının önlemek için dik açılarda aksine onları yaraya paralel koyarak steri-şeritler ile yarayı kapatmak. steri-şeritler üzerinde steril bir emici pansuman yerleştirin ve iki katman kravatsıkıştırma için bandaj ve bant ile sabitleyin.
İşlemden sonra 4 gün - onlar bir giyinme bir değişiklik 3 gerçekleştirmek zorunda kalacak gibi katılımcıya yara pansuman yöntemi açıklamak. katılımcı daha sonra o akşam yatmadan önce sıkıştırma bandaj kaldırır emin olun.
6. Mesaj Biyopsi Önerileri
O hafif egzersiz ile giderilebilir (örneğin., Yürüme) bazı uyluk sertlik yaşamaya yaygındır katılımcıyı bilgilendirin. asetaminofen gibi basit analjezi kullanın. iki haftaya kadar yanı sıra yara enfeksiyonu potansiyel komplikasyonu devam edebilir biyopsi site çevresinde geçici uyuşma ile ilgili katılımcıyı uyar.
Konu Gönder Usulü 7. Talimatları
(Örneğin, çalışan, ağır kaldırma tırmanma gibi) 72 saat boyunca şiddetli aktiviteyi engellemek için katılımcı isteyin. 72 saat - 48 su içinde daldırma önlemek için katılımcı isteyin. Bununla birlikte, ve katılımcı talimatsoyunma kuru tutmak için zaman duş sahip t sarılmak film veya biyopsi site çevresinde benzer sarmak için.
4 gün ve bir hafta sonra steri-şeritleri kaldırmak - 3 sonra soyunma değiştirmek için katılımcı isteyin.
NOT: katılımcı sonrası biyopsi bakımı, yedek sosları ve prosedürü uygulamadan sorumlu ekibin acil iletişim bilgileri için yazılı talimatlar verilmelidir.
Subscription Required. Please recommend JoVE to your librarian.
Representative Results
Yukarıda açıklanan prosedür hem klinik ve araştırma ortamlarında güvenli ve kabul edilebilir. biyopsi tanı sürecinin bir parçası olarak gerçekleştirildiğinde, kas hastanın semptomları ve kas zayıflığı işaretleri göre seçilmelidir. Biyopsi sitesi önceki yaralanmalar, kontraktür veya enstrümantasyon 21,1 arındırılmış olmalıdır. Araştırmada, diyabet hastalarının oruç veya dışlanma olarak standartlaştırılmış şartlar 19 gerekebilir. warfarin gibi antikoagülanlar durdu ve pıhtılaşma zamanı işlem öncesi kontrol edilmesi gerekir. Bizim deneyim önemli ölçüde aşırı kanama 22 riski artmaz anlaşılacağı gibi 75mg dozunda basit aspirin devam edilebilir. Ayrıca, göz yara iyileşmesini bozan ilaçları katılımcılara verilmelidir. Esasen, ilaç durdurma riskleri her prosedürün yararlara karşı tartılmalıdırdava. katılımcı seçimi sırasında, lokal anestezi, iyot / klorheksidin ve yara pansuman potansiyel alerji ayrıntılı öyküsü alınmalı ve gerektiği gibi alternatifler kullanılabilir. Katılımcılar cilt artan kızarıklık, lokal şişlik veya kabarma olarak tezahür edebilir alerjik reaksiyonlar nadir fakat potansiyel oluşumu hakkında uyarılmalıdır. Anti-histaminler ile sargı (ler) ve tedavi bu koşullar kaldırılması / steroid gerekebilir.
20 dakika - İşlem süresi yaklaşık 15 alır. Yara enfeksiyon riskini en aza indirmek için asepsi yakın ilgi için çok önemlidir. Prosedür sırasında katılımcılar bazı rahatsızlıklar yaşayabilir. herhangi bir keskin ağrı ortaya çıkması lokal anestezik daha sızmasını gerektirebilir. İşlemden sonra, uyluk sertlik genellikle deneyimli ve (yürüyüş, örneğin.) Hafif egzersiz ile giderilebilir. Hertfordshire sarcopenia içindeÇalışma (HSS), ağrı görsel analog skala (VAS) (0 mm çaplı - 100 mm 'ağrı yok' - 'olabilir kadar kötü ağrı ") ile ölçülen ağrı skorları 7 mm medyan genellikle düşük prosedür ve 4 mm sırasında bu araştırma çalışmasında konuları öne işlem sonrası bir gün 3% 1 ila% prosedürü minimal ağrılı 22 (Malzeme Tablo) literatürde bildirilen yara komplikasyon hayranlarıyla oran aralıkları bulundu ve özellikle yara hematom dahil oluşum 13,9,14. Bir çalışmada ciddi bir alt-fasiyal hematom ve bir sonraki derin ven trombozu 13 nitelendirdi. HSS (3 hafta boyunca yara altında sert bir yumru olarak tanımlanan) yara komplikasyon oranı% 1 22 idi. Katılımcılar deri ve deri altı doku yoluyla kesilirken ihtiyacını verilen küçük bir kesi site çevresinde uyuşma karşılaşabilirsiniz. Bizim tecrübelerimize göre bu hissizlik geçici olmuş ve tam bir ya da iki çiş içinde çözmüştür ks.
Temsilcisi histolojik sonuçlarına göre, daha önce gelişimsel etkiler ve kas morfolojisi 19 arasındaki ilişkiyi inceledi. Bu çalışmada 48 alt doğum ağırlığı (≤3.18 kg) erkekler 47 daha yüksek doğum ağırlığı (≥3.63 kg) erkeklerin 4903 mikron 2 (1354 mikron 2) ve 4644 mikron 2 (1022 mikron 2) idi de I myofibre alan (SD) Tip demek, ortalama tip II myofibre alanı iken 4046 mikron 2 (1.166 mikron 2), sırasıyla düşük ve yüksek doğum ağırlığı erkeklerde 3859 mikron 2 (1127 mikron 2).

Weil-Blakesley Conchotome Şekil 1. Görüntü. 6 mm ısırma ucu ile Weil-Blakesley conchotome bu çalışmada kullanılmıştır.5 / 53075fig1large.jpg "target =" _ blank "> bu rakamın daha büyük bir versiyonunu görmek için lütfen buraya tıklayınız.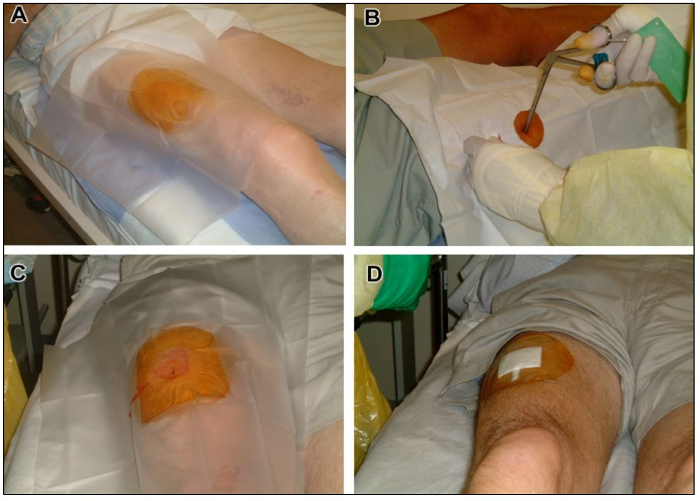 Weil-Blakesley Conchotome kullanarak Şekil 2. kas biyopsisi Tekniği. (A) bacak kasık kırışık ortaya çıkmıştır. Vastus lateralis üzerinde biyopsi alanı, saç traş lidokain ile infiltre ve antiseptik ile temizlenir, kutlandı. biyopsi alanı izole edilmiştir. Cilt ve örten fasya sonra bir boyut 11 neşterle delinmiş bulundu. (B) conchotome neşter ile yapılan ve kas çıkarılması için 90 ° döndürülür parça içine sokulmuştur. CD. 5 -. 10 mm yara steri-şeritler ile kapatılmış ve (Daha önce 22 yayınlanmıştır) giyinmiş bir LAR görmek için buraya tıklayınızBu rakamın ger sürümü.

Şekil 3. Steri-şerit uygulaması. Steri- şeritler küçük bir kesi paralel uygulanır. Bu yöntem, iyileşme iyi bir oran ile ilişkilidir; genellikle bir hafta içinde. Bu rakamın büyük halini görmek için lütfen buraya tıklayınız.

Vastus lateralis Şekil 4. Kas biyopsisi. Bu rakamın büyük halini görmek için lütfen buraya tıklayınız.
Medyan (interquartile range [IQR])
İşlem sırasında
7 (1-34)
Bir gün sonrası prosedürü
4 (0-16)
Yedi gün sonrası prosedürü
1 (0-4)
Günlük Aktivite Sürdürüldü
N (%)
Bir gün sonra
60 (% 65)
İki gün sonra
26 (% 28)
Iki günden fazla
7 (% 7)
Tablo 1. Ağrı Görsel Analog Skala (VAS) Puan ve Hertfordshire Sarkopeni Çalışmasında Conchotome kas biyopsisi sonrasında 93 Araştırma Katılımcılarının Faaliyete Sürmesine. 'Ağrı yok' için - ağrı skalası 0 mm arasında değişmektedir100 mm'lik maksimum - 'kadar kötü ağrı olabilir.' Katılımcıların çoğunluğu olağan günlük aktivite bir gün sonrası prosedürü devam etti.
Subscription Required. Please recommend JoVE to your librarian.
Discussion
katılımcı güvenliğini sağlamak ve verimli bir kas biyopsisi yapmak için, protokol dahilinde kritik adımlar dikkat etmek çok önemlidir.
Katılımcılar dikkatle kanama ve kötü yara iyileşmesi olarak komplikasyonları önlemek için dışlama kriterleri dikkate sonra seçilmelidir. prosedür boyunca sıkı asepsi esastır. Doğru tekniğin uygulama, katılımcı konfor sağlamak katılımcının dokularına istenmeyen travmayı en aza indirmek ve analiz için yeterli bir örnek verim sağlayacaktır. Bazen, katılımcı aşırı deri altı yağ dokusu vardır, özellikle bir kas örneği elde etmek zor olabilir. Aşırı kanama bile prosedüre devam etmek kararı yapılmalıdır ki bu durumda katılımcıların dikkatli seçimden sonra ortaya çıkabilir. En fazla 5 dakika süreyle yara sitesine doğrudan basınç hemostaz teşvik etmek ve morarma en aza indirmek için gerekli olabilir. kanamayı en aza indirmek için başka bir yöntem olduğunuYerel vazokonstrüksiyonu neden olacaktır epinefrin ile lidokain kullanın. Ancak, epinefrin kullanılması gerekir sonraki analizlerde ve dikkatli engel olabilir. Işlem sırasında epinefrin kullanmak için değil yazarın tercihtir.
Çoklu analiz mikroskopi, görüntü analizi, histokimyasal ve moleküler analitik yöntemlerde gelişmeler verilen kas dokusunda gerçekleştirilebilir. Bu kas morfolojisi, örneğin değerlendirilmesi bulunmaktadır. Fiber bileşimi, lif enine kesit alanı, damarlanma, tek lif kasılma aktivitesi, RNA analizi, protein, ve enzim etkinliği 23,24,25,19,26,27. rutin miyopati klinik diyagnostik işleminde kullanılan kullanılsa da, kas biyopsisi artan araştırmalarda gerçekleştirilir. Örneğin, daha önce kas morfolojisi gelişimsel etkileri düşük doğum ağırlığı ve sarcopenia 19 arasındaki ilişkileri açıklayabilir göstermiştir. Bu tekniğin, simi potansiyel sınırlamalarıDiğer yarı açık tekniklere lar, morfoloji, yani kas lifi tipi tüm kas grubunun temsilcisi olmayabilir tek bir sitede sınırlı olmak yer alıyor.
Weil Blakesley conchotome ile kas biyopsisi uygulanabilir ve kabul edilebilir bir yöntemdir. Bu prosedür, Bergstrom ve iğne biyopsisi yöntemlerine alternatif bir yöntem sağlar. Usta kolay ve analiz için iyi bir örnek verim verir. komplikasyon oranı düşüktür ve rahatsızlık yukarıda açıklanan sıkı aseptik koşullar muhafaza ve sonrası biyopsi bakımı kapsamlı danışmanlık verilir prosedür standart tekniği kullanılarak yapılır zaman minimumda tutulur.
Subscription Required. Please recommend JoVE to your librarian.
Materials
Name
Company
Catalog Number
Comments
Weil-Blakesley conchotome
Gebrüder Zepf Medizintechnik, Dürbheim, Germany
None
6 mm biting tip
5 ml 2% lidocaine
Generic use
None
One 5 ml vial should suffice for adequate anaesthesia
Alcohol swab
Generic use
None
5 ml syringe
Generic use
None
25 G and 23 G sterile needles
Generic use
None
Sterile scalpel size 11
Generic use
None
Sterile gauze squares
Generic use
None
Sodium chloride 0.9% 10 ml
Fannin
1122/002/001
Steri-Drape™ Small Drape with Adhesive Aperture
3M
1020
ChloraPrep 2% w/v /70% v/v cutaneous solution
CareFusion
270400
Two
Steri-Strip™ 1/4 inch x 3 inch Reinforced Adhesive Skin Closures
3M
R1541
PRIMAPORE sterile dressing 15 cm x 8 cm
Smith &
Nephew
66000318
Cotton crepe bandage Hospicrepe 233 7,5 cm x 4,5 m
Hartmann
915562
Flexible cohesive bandage Co-Plus LF
BSN medical
2904565
Disposable absorbent sheet
Generic use
None
Micropore or transpore tape
Generic use
None
Sterile gown with sterile paper towels
Generic use
None
Sterile gloves
Generic use
None
References
Dubowitz, V., Sewry, C. A., Oldfords, A. Muscle Biopsy: A Practical Approach. 4th ed, Saunders Elsevier. China. (2013).
Parent, A. Duchenne De Boulogne: a pioneer in neurology and medical photography. Can J Neurol Sci. 32, (3), 369-377 (2005).
Hayot, M., Michaud, A., Koechlin, C., Caron, M. A., Leblanc, P., Prefaut, C., Maltais, F. Skeletal muscle microbiopsy: a validation study of a minimally invasive technique. Eur Respir J. 25, (3), 431-440 (2005).
O'Rourke, K. S., Blaivas, M., Ike, R. W. Utility of needle muscle biopsy in a university rheumatology practice. J Rheumatol. 21, (3), 413-424 (1994).
O'Rourke, K. S., Ike, R. W. Muscle biopsy. Curr Opin Rheumatol. 7, (6), 462-468 (1995).
Bergstrom, J. Muscle electrolytes in man. Scand J Clin Lab Invest. 14, Suppl 68. (1962).
Edwards, R., Young, A., Wiles, M. Needle biopsy of skeletal muscle in the diagnosis of myopathy and the clinical study of muscle function and repair. N Engl J Med. 302, (5), 261-271 (1980).
Edwards, R. H. Percutaneous needle-biopsy of skeletal muscle in diagnosis and research. Lancet. 2, (7724), 593-595 (1971).
Edwards, R. H., Round, J. M., Jones, D. A. Needle biopsy of skeletal muscle: a review of 10 years experience. Muscle Nerve. 6, (9), 676-683 (1983).
Shanely, R. A., Zwetsloot, K. A., Triplett, N. T., Meaney, M. P., Farris, G. E., Nieman, D. C. Human skeletal muscle biopsy procedures using the modified Bergstrom technique. J Vis Exp. (91), e51812 (2014).
Coggan, A. R. Muscle biopsy as a tool in the study of aging. J Gerontol A Biol Sci Med Sci. 50, 30-34 (1995).
Henriksson, K. G. 'Semi-open' muscle biopsy technique. A simple outpatient procedure. Acta Neurol Scand. 59, (6), 317-323 (1979).
Dorph, C., Nennesmo, I., Lundberg, I. E. Percutaneous conchotome muscle biopsy. A useful diagnostic and assessment tool. J Rheumatol. 28, (7), 1591-1599 (2001).
Poulsen, M. B., Bojsen-Moller, M., Jakobsen, J., Andersen, H. Percutaneous conchotome biopsy of the deltoid and quadricep muscles in the diagnosis of neuromuscular disorders. J Clin Neuromuscul Dis. 7, (1), 36-41 (2005).
Dietrichson, P., Mellgren, S. I., Skre, H. Muscle biopsy with the percutaneous conchotome technique. J Oslo City Hosp. 30, (5), 73-79 (1980).
Dietrichson, P., Coakley, J., Smith, P. E., Griffiths, R. D., Helliwell, T. R., Edwards, R. H. Conchotome and needle percutaneous biopsy of skeletal muscle. J Neurol Neurosurg Psychiatry. 50, (11), 1461-1467 (1987).
Andonopoulos, A. P., Papadimitriou, C., Melachrinou, M., Meimaris, N., Vlahanastasi, C., Bounas, A., Georgiou, P. Asymptomatic gastrocnemius muscle biopsy: an extremely sensitive and specific test in the pathologic confirmation of sarcoidosis presenting with hilar adenopathy. Clin Exp Rheumatol. 19, (5), 569-572 (2001).
Helliwell, T. R., Coakley, J., Smith, P. E., Edwards, R. H. The morphology and morphometry of the normal human tibialis anterior muscle. Neuropathol Appl Neurobiol. 13, (4), 297-307 (1987).
Patel, H. P., Jameson, K. A., Syddall, H. E., Martin, H. J., Stewart, C. E., Cooper, C., Sayer, A. A. Developmental influences, muscle morphology, and sarcopenia in community-dwelling older men. J Gerontol A Biol Sci Med Sci. 67, (1), 82-87 (2012).
Patel, H. P., Syddall, H. E., Martin, H. J., Stewart, C. E., Cooper, C., Sayer, A. A. Hertfordshire Sarcopenia Study: design and methods. BMC Geriatrics. 10, (1), 43 (2010).
Anderson, J. R. Recommendations for the biopsy procedure and assessment of skeletal muscle biopsies. Virchows Arch. 431, (4), 227-233 (1997).
Patel, H. P., Syddall, H. E., Martin, H. J., Cooper, C., Stewart, C., Sayer, A. A. The Feasibility and Acceptability of Muscle Biopsy in Epidemiological Studies: Findings from the Hertfordshire Sarcopenia Study (HSS). J Nutr Health Aging. 15, (1), 10-15 (2011).
Charifi, N., Kadi, F., Feasson, L., Costes, F., Geyssant, A., Denis, C. Enhancement of microvessel tortuosity in the vastus lateralis muscle of old men in response to endurance training. J Physiol. 554, (Pt 2), 559-569 (2004).
Frontera, W. R., Suh, D., Krivickas, L. S., Hughes, V. A., Goldstein, R., Roubenoff, R. Skeletal muscle fiber quality in older men and women. Am J Physiol Cell Physiol. 279, (3), C611-C618 (2000).
He, J., Watkins, S., Kelley, D. E. Skeletal muscle lipid content and oxidative enzyme activity in relation to muscle fiber type in type 2 diabetes and obesity. Diabetes. 50, (4), 817-823 (2001).
Patel, H. P., Al-Shanti, N., Davies, L. C., Barton, S. J., Grounds, M. D., Tellam, R. L., Stewart, C. E., Cooper, C., Sayer, A. A. Lean mass, muscle strength and gene expression in community dwelling older men: findings from the Hertfordshire Sarcopenia Study (HSS). Calcif Tissue Int. 95, (4), 308-316 (2014).
Peterson, C. M., Johannsen, D. L., Ravussin, E. Skeletal muscle mitochondria and aging: a review. J Aging Res. 2012, 194821 (2012).