Cite this Article
Copy Citation | Download Citations

Rozovski, U., Hazan-Halevy, I., Calin, G., Harris, D., Li, P., Liu, Z., Keating, M. J., Estrov, Z. Describing a Transcription Factor Dependent Regulation of the MicroRNA Transcriptome. J. Vis. Exp. (112), e53300, doi:10.3791/53300 (2016).
Abstract
Mens transkriptionen regulering af proteinkodende gener grundigt undersøgt, vides der kun lidt om, hvordan transkriptionsfaktorer er involveret i transkription af ikke-kodende RNA'er, specielt af microRNA. Her foreslår vi en strategi for at studere den potentielle rolle af transskription faktor i reguleringen transskription af microRNA bruger offentligt tilgængelige data, it-ressourcer og høj data. Vi bruger H3K4me3 epigenetiske signatur til at identificere microRNA initiativtagere og kromatin immunofældning (chip) -sequencing data fra KODE projektet at identificere microRNA initiativtagere, der er beriget med transskription faktor bindingssteder. Ved transfektion af celler af interesse med shRNA rettet mod en transkriptionsfaktor af interesse og underkaste cellerne til microRNA array, studerer vi effekten af ​​denne transkriptionsfaktor på microRNA transkriptom. Som et illustrativt eksempel bruger vi vores undersøgelse af effekten af ​​STAT3 på microRNA transkriptomet af kronisk lymphocytic leukæmi (CLL) celler.
Introduction
MikroRNA'er er endogene små ikke kodende regulatoriske RNA'er, der typisk fungerer som negative regulatorer af mRNA-ekspression på posttranskriptionel niveau. Ca. 1.000 ikke-kodende 20 til 25 nukleotid lange microRNA'er findes i det humane genom 1,2. MikroRNA'er regulere genekspression gennem kanonisk baseparring mellem frøet sekvens af microRNA og dens komplementære frø match sekvens, som er almindeligt placeret i 3'-utranslaterede område (UTR) af mål-mRNA'er. Kollektivt, microRNA regulere mere end 30% af protein-kodende gener 3, men kun lidt er kendt om transkriptionen fra DNA af microRNA. Det er blevet foreslået, at reguleringen af microRNA transkription svarer til den af mRNA 4,5. Især ligner sin virksomhed i at fremme transskription af protein kodning gener, er transkriptionsfaktorer menes at aktivere transkription af microRNA 6. Transkriptionsfaktor-microRNA samspil er blevet rapporteret som en modulator faktor af genekspression 7, og kan også danne feedback og feed-forward sløjfer. F.eks Yamakuchi et al. Rapporterede en tilbagekoblingssløjfe, hvor p53 inducerer ekspressionen af microRNA34a, hvilket igen hæmmer translation af p53 repressor SIRT og derved øge p53 aktivitet 8.
Ud fra følgende betragtninger konkrete eksempler på transskription faktor afhængig udtryk for microRNA er blevet rapporteret, er en accepteret metode, som beskriver, hvordan en transkriptionsfaktor af interesse regulerer ekspressionen af ​​microRNA-transkriptomet mangler. Formålet med protokollen foreslået heri er at give en grundig beskrivelse af transskription faktor-afhængig regulering af microRNA-transkriptomet. Ved at kombinere offentligt tilgængelige data, bioinformatik værktøjer og hjælp microarray teknologi, ville forskere, der følger denne algoritme kunne fange på en genomisk skala hvordan enhvertranskriptionsfaktor i enhver celletype af interesse regulerer ekspressionen af ​​microRNA-transkriptom og at undersøge et formodet bidrag af transkriptionsfaktoren-mRNA i reguleringen microRNA ekspression.
Subscription Required. Please recommend JoVE to your librarian.
Protocol
1. Identificer transskriptionsfaktorbindende steder i arrangøren microRNA gener Brug af Data Mining Approach
Brug University of California Santa Cruz (UCSC) genom browser til at udtrække chromatin immunoprecipitation (chip) sekventering data genereret som en del af Encyclopedia of DNA element (KODE) projekt.

Åbn tabellen browser i UCSC genom browser.
Brug følgende specifikationer til at udtrække tabellen: clade: (Pattedyr), genom: (Human), Montering: (Feb2009 (GRch37 / hg18)), gruppe: (forordning), spor (TxnFactorChIP), tabel: (weEncoderesTFbsCo7steredv3), region : (Genome), output-format (alle gener fra valgte tabel).
Gem output fra 1.1.2 som en .txt-fil, og i et regneark.
Sorter og filter til transkriptionsfaktoren af interesse (f.eks STAT2).

Brug listen over microRNA initiativtagere baseret på H3K4me3 epigenetik signatur findes på Baeer et al. 9
At matche ifølge koordinater på det menneskelige genom, kort data fra 1.1 og 1.2 (f.eks STAT3 bindende for formodede microRNA initiativtagere) og bestemme medianen bindende affinitet ved hjælp af kode skrevet i C skarp som skitseret i supplerende kodning fil 1.
2. Brug shRNA at nedregulere ekspressionen af ​​en transkriptionsfaktor af interesse
Plade 1,5 x 10 6 celler fra 293 human embryonisk nyrecellelinie i 10 cm plade ved ca. 50% konfluens (DMEM med 10% FBS).
Transficere celler fra 293 human embryonisk nyrecellelinie med 5 ug af grøn fluorescensprotein (GFP) lentivirus indeholdende shRNA rettet mod transskriptionsfaktoren af ​​interesse og med 5 ug pakkevektorer hjælp transfektionsreagens for adhærente celler ifølge fabrikantens protokol.
Som en kontrol, transficere cellerne fra 293 humane embryoniske nyre-cellelinie medscrambled shRNA og emballage vektorer ifølge producentens protokol.
Hold transfektionsblanding på celler i 16 timer (ved 37 ° C, CO2-inkubator), derefter ændre medier til 10 ml frisk 10% DMEM medier med 10% FBS.
Vent 48 timer efter transfektion, centrifugeres cellekulturen (300 xg 5 min) og indsamle infektiøs supernatant. Filtreres supernatanten gennem et 0,45 um sprøjte filter (25-mm overfladeaktivt fri celluloseacetatmembran) for at fjerne eventuelle flydende celler.
Koncentrer supernatanten og indsamle lentivirus anvendelse af en ultracentrifugal filterindretning med tærskel på 100 kDa. Centrifugering ved 950 xg i 30 - 60 min, indtil volumenet er blevet koncentrat til mindre end 250 pi. Opbevar den koncentrerede virus ved -80 ° C.
Transficere cellerne med lentivirus. Fjern frosne lentivirus fra -80 ° C fryser og tø til stuetemperatur. Overfør 100 ul viral supernatant til et frisk 1,5 ml mikrofugerør.

Bring op for lyden i røret til 1 ml med reduceret serum medium. Tilføj hexadimethrinbromid til 1 ml virussuspension til endelig koncentration på 10 ng / ml, bland forsigtigt og lad blandingen stå i 5 min.

Centrifuger 5 x 10 6 celler for hvert transduktion og forsigtigt resuspender cellepelleten i 0,5 ml medier indeholdende virus. Lad cellerne bo i inkubatoren i 4 - 24 timer, hvorefter der tilsættes 0,5 ml medium med 20% FBS til en slutkoncentration på 10% FBS.
Vent 48 til 72 timer og plette cellerne med propidiumiodid (PI) og grøn fluorescerende protein (GFP) ifølge producentens instruktioner. Beskyt celler mod lys og bruge en FACS sorteringsanlæg til at måle satserne for GFP + / PI - celler. Da PI pletter kun døde celle, denne sats er et estimat af transfektionseffektiviteten i levende celler.
Sortere den positive cellepopulation til GFP-ekspression (GFP +) ved FACS sorteringsanlæg som tidligere beskrevet 10.
Brug Western immun blotting som tidligere beskrevet 10 for at bestemme niveauerne af en transkriptionsfaktor af interesse før og efter infektion af cellerne af interesse (f.eks CLL-celler) med udpegede shRNA.
3. Bestem Expression Niveau af MicroRNA Transkriptomet i celler transficeret med Transcription Factor-shRNA
Isoler RNA under anvendelse af et kommercielt kit ifølge producentens protokol.
Mærk RNA og hybridiserer den til microRNA microarray 11.
Bestem differentielt udtrykte microRNA i celler transficeret med transkriptionsfaktor-shRNA eller med tomme vektor kontrol 5.
Validere microarray resultater for de mest differentielt udtrykte microRNA ved hjælp af real-time PCR 5.
4. Bestem Overlap mellem Bioinformatik og shRNA Approach i Beskriver Transskription Factor Dependent Transkriptomet
til Dethermelin de forventede og observerede forhold mellem microRNA gener, der huser transkriptionsfaktorbindingssites i deres initiativtagere og blev nedreguleret i transskription faktor-shRNA transfekterede celler, skal du gøre følgende:

Få forholdet mellem gener, der huser transkriptionsfaktoren af ​​interesse i deres promotor / total microRNA fra listen genereres i 1.3. Denne liste er den forventede forhold (f.eks microRNA gener med STAT3 bindende websteder / samlede microRNA gener testet = 0,25).
Bestem antallet af gener, der blev nedreguleret i transskription faktor-shRNA transfekterede celler fra listen genereres i 3.3 og har transkriptionsfaktor seværdighed bindingssteder fra listen genereres i 1.3. Dette nummer / Samlet antal nedreguleret gener er det observerede forhold (f.eks microRNA gener med STAT3 bindingssteder / samlede antal nedreguleret microRNA = 0,6).

Brug χ2 statistikker til at sammenligne de observerede og forventede forhold, der blev genereret ovenfor, og bestemme, om listen af ​​gener, der blev nedreguleret i transkriptionsfaktor-shRNA transficerede celler beriget med transcriptionsfaktor bindingssites i deres promotor.
Subscription Required. Please recommend JoVE to your librarian.
Representative Results
STAT3 er en transkriptionsfaktor som typisk inducerer transkriptionen af gener, der har anti apoptotiske og proliferative virkninger 12. Hvorvidt STAT3 påvirker også den ikke-kodende RNA transkriptom er i øjeblikket ukendt. I alle CLL celler STAT3 er konstitutivt phosphoryleret på serin 707 rester 10,13. Phosphoserin STAT3 transport til kernen, binder til DNA, og aktiverer gener vides at blive aktiveret af tyrosin pSTAT3 i andre celletyper 10. Fordi CLL er kendetegnet ved global deregulering af microRNA netværk 14, fremsatte vi den hypotese, at tilstedeværelsen af serin pSTAT3 påvirker ekspressionen af microRNA i CLL-celler.
For at teste denne hypotese initiativtagere til microRNA som skjuler STAT3 bindingssteder måtte blive identificeret. Ved at krydse data genereret af Baer et al. 9 af regioner med H2K4me3 histon modifikation, der kendetegner promoter sites, med STAT3 bindingssteder identificeret ved chip-seq eksperiment 15 blev formodede STAT3 bindingssteder identificeret. Under anvendelse af denne fremgangsmåde blev påvist 160 formodede promotorer i næsten 25% af microRNA gener undersøgte (N = 200) med bindende scorer fra 100 (den laveste score) til 1.000 (den højeste score) (tabel 1).
Efterfølgende CLL-celler blev transficeret med STAT3-shRNA eller med en tom vektor og ved hjælp af microRNA array og identificerede 63 microRNAer der blev nedreguleret efter transfektion (figur 1), hvilket antyder, at STAT3 fremmer transkriptionen af disse microRNA. For 60% af de 63 nedreguleret microRNA gener (n = 38) på chip-seq data bekræftede STAT3 binding i en formodet promotor opstrøms for genet placering, betydeligt mere end forventet tilfældigt (p <0,0001). Ni microRNA der blev nedreguleret efter transfektionen,hvilket antyder, at STAT3 negativt regulerer dets niveauer af transkription.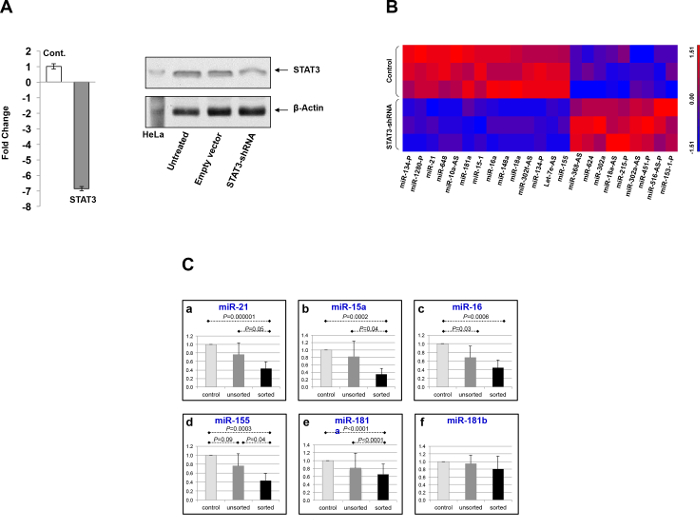 Figur 1. Transfektion af CLL-celler med STAT3-shRNA reducerer ekspressionsniveauerne for STAT3-protein og STAT3 mRNA. A:. Efter transfektion af CLL-celler med STAT3-shRNA niveauer af STAT3-mRNA (venstre panel, påvist ved kvantitativ RT-PCR) og niveauer af STAT3-protein (højre panel, detekteret ved Western immunblotting) faldt betydeligt B: microRNA array af CLL celler afbildet 23 microRNA hvis udtryk afveg betydeligt fra CLL-celler transficeret med STAT3-shRNA og CLL celler transficeret med en tom vektor. P-værdi på mindre end 0,01 blev betragtet som statistisk signifikant C:. Den gennemsnitlige ekspression kvantificeres ved RT-PCR af 7 microRNA der havde differentiel ekspression efter STAT3-shRNA behandling under anvendelse afmicroRNA array. Barer repræsenterer standardafvigelsen af middelværdien. Klik her for at se en større version af dette tal.
Supplerende Coding fil 1. Klik her for at downloade denne fil.
Micro RNA genet
kromosom
Promotor start- koordinater
Promotor ende koordinater
Median (interval) STAT3 binding score *
MIR-1205, MIR-1206, MIR-1207
8 q24.21
128961454
128962791
1000 (1000-1000)
MIR-1537
1 q42.3
236045425
236047415
1000 (1000-1000)
MIR-21
17 q23.1
57901872
57921277
1000 (112-1000)
MIR-3124
1 Q44
249115404
249123965
1000 (1000-1000)
MIR-451
17q11.2
27222251
27224114
1000 (1000-1000)
MIR-92b
1 q22
155162340
155168439
1000 (1000-1000)
MIR-3197
21 q22.2
42537544
42543023
943 (943-943)
MIR-646
20 q13.33
58712550
58715320
789 (789-789)
MIR-629
15 q23
70383751
70394586
773 (661-885)
miR-30e, miR-30C-1
1 p34.2
41173077
41177703
759 (759-759)
MIR-3125
2 p24.3
12855381
12862915
756 (756-756)
MIR-3145
6 q23.3
138776942
138779365
743 (487-1000)
miR-645
20 q13.13
49199911
49201187
743 (743-743)
MIR-1256
1 p36.12
21346830
21350211
725 (725-725)
MIR-619
12 q24.11
109248263
109253306
719 (719-719)
MIR-181a-2, MIR-181b-2
9 q33.3
127418928
127426139
710 (710-710)
MIR-29a, MIR-29b-1
7 q32.3
130583383
130597803
697 (482-1000)
MIR-202
10 q26.3
135069499
135077337
696 (393-1000)
miR-3142, miR-146a
5 q34
159890882
159899475
671 (671-671)
MIR-548c
12 q14.2
65000968
65011503
660 (660-660)
MIR-630
15 q24.1
72764289
72769197
627 (255-1000)
MIR-135b
1 q32.1
205416952
205452990
622 (245-1000)
MIR-29c, MIR-29b-2
1 q32.2
207991044
208002382
608 (608-608)
miR-1825
20 q11.21
30791020
30798310
604 (209-1000)
MIR-548h-1
14 q23.2
64578.834
64581657
587 (174-1000)
MIR-612
11 q13.1
65183633
65198528
581 (157-1000)
MIR-148b
12 q13.13
54717640
54721204
578 (578-578)
MIR-3174
15 q26.1
90543381
90549092
576 (152-1000)
let7a-3, let7b
22
46480680
46481826
573 (146-1000)
MIR-1255a
4 Q24
102263848
102272541
557 (557-557)
Tabel 1. Formodede microRNA initiativtagere med STAT3-bindingssteder. Protokollen giver en metode til at identificere transskription faktor bindende for formodede initiativtagere til microRNA ved hjælp af data mining af offentliggjorte data. Som et eksempel, præsenterer vi her en tabel, der viser binding af STAT3 til putative microRNA promotorer. Bindingen score er givet på et 0 til 1000 skala fra hele genom CHIP seq data offentliggjort som en del af KODE projekt 15. Initiativtagerne identificeres ved tilstedeværelsen af H3K4me3 epigenetisk signatur 9.
Subscription Required. Please recommend JoVE to your librarian.
Discussion
Mekanismen bag RNA-polymerasen II afhængig transskription af proteinkodende gener er blevet grundigt undersøgt. Selv om disse elementer udgør kun 1% - 2% af det humane genom, beviser fra KODE projektet antyder, at over 80% af det humane genom kan undergå transkription 17 og hvad regulerer transskriptionen af de ikke-kodende DNA-elementer forbliver stort set ukendt 6 .
Flere undersøgelser, der indikerede, at Pol II er også ansvarlig for transskription af nogle ikke-protein-kodende gener, herunder microRNA 6, førte os til at udvikle en strategi, der kombinerer data fra offentligt tilgængelige ressourcer, beregningsmæssige algoritmer og in vitro-undersøgelser til at dechifrere potentialet funktion af en transkriptionsfaktor af interesse i regulering af transkription af microRNA. Strategien foreslog heri omfatter 2 kritiske trin. Først bruger vi offentligt tilgængelige data til at identificere transskription faktor bBINDENDE i microRNA initiativtagere. Til det formål bruger vi Chip-seq data offentliggjort af KODE konsortium til at identificere transskriptionsfaktorbindende og epigenetiske signatur, der kendetegner promotor som en indirekte markør for microRNA-initiativtagere. Passage de genetiske koordinater fra disse datasæt giver en grov vurdering af, hvor ofte en transkriptionsfaktor af interesse bindes til microRNA-promotor. Sekund ved hjælp shRNA teknologi til tavshed ekspressionen af ​​en transkriptionsfaktor og underkaste cellerne til microRNA-array, er det muligt at undersøge den funktionelle betydning af en transkriptionsfaktor på microRNA-transkriptomet.
Variabiliteten i microRNA udtryk kun delvist forklares ved transskription faktor afhængig regulering. Støkiometrisk variabilitet og andre cellulære eller ekstracellulære faktorer spiller en vigtig rolle og er ikke simuleres i den foreslåede algoritme. Andre begrænsninger omfatter følgende: Promotor analyse baseret på H3K4me3signatur blev udført på 939 kommenterede microRNA. Siden da er blevet identificeret de genomiske placeringer af mange flere microRNA. Men til vores bedste overbevisning en mere omfattende liste, der er baseret på en opdateret database ikke er endnu offentliggjort. Af de 939 microRNA gener blev H3K4me3 der kendetegner promotorregionen identificeret i 781 microRNA gener (83%). Derfor, mens denne analyse klart baseret på en ufuldstændig datasæt den indfanger en betydelig brøkdel af microRNA-transkriptomet.
Desuden er epigenetik signatur delvist præget og delvis cellespecifik. Derfor kan generability af formodede promotorer, der blev defineret af epigenetik markører blive afhørt. Fordi H3K4me3 fortsætter uafhængig af transkription 18 det generelt betragtes som en markør for prægede promotorer. Den analytiske algoritme vi foreslår heri, kan derfor gå glip af celle-specifikke microRNA initiativtagere, hvis disse promotorer blev identificeret ved en anden celle-type. Endelig bør enhver konklusion testes og bekræftet empirisk. Mest bemærkelsesværdigt, sammenhængen mellem nedregulering af en transskription faktor (ved hjælp shRNA tilgang) og microRNA ekspression (identificeret af microRNA array) kan kun foreslå en direkte transkriptionel rolle, bør bekræftes ved acceptable assays, såsom kromatin immunofældning (chip) eller elektroforetisk mobilitet (EMSA). Ændringer af metoden foreslået heri omfatter forskellige måder at identificere microRNA promotor og forskellige måder at banke ned udtryk for en transskription faktor, for eksempel små interfererende RNA i stedet for shRNA. Den transskription regulering af microRNA kan være væsentligt anderledes for microRNA, der bor inden for protein-kodende gener (intrageniske microRNA), og dem, der ikke gør (intergeniske microRNA). Fordi intragensekvenserne microRNA er almindeligt transskriberet i forbindelse med deres værtsgener 19 promotoren er normalt findes straks upstream transkriptionsstartstedet. Men for mange intergeniske microRNA transkriptionsstartsitet er dårligt kommenterede, og forudsigelsesværktøjer, der almindeligvis anvendes til protein kodning gener klarer sig dårligt 20.
Subscription Required. Please recommend JoVE to your librarian.
Acknowledgments
Denne undersøgelse blev støttet af en bevilling fra CLL Global Research Foundation. The University of Texas MD Anderson Cancer Center understøttes delvist af National Institutes of Health gennem en Cancer Center Support Grant (P30CA16672).
Materials
| | | | |
| --- | --- | --- | --- |
| Name | Company | Catalog Number | Comments |
| Lipofectamin 2000 | Life Technologies | 11668027 | |
| 0.45 µm syringe filter | Thermo Scientific (Nalgene) | 190-2545 | |
| Amicon ultracentrifugal filter device with threshold of 100 kDa | Merck Millipore | | |
| Polybrene | Merck Millipore | TR-1003-G | |
| TRIzol reagent | Life Tachnologies (Invitrogen) | 15596-026 | |
| 293 Cell line human | Sigma-Aldrich | 85120602 | |