Protocol
Alle experimentele procedures werden goedgekeurd door de Universiteit van Virginia Institutional Animal Care en gebruik Comite.
Opmerking: Figuur 1 toont een schematisch overzicht van de experimentele procedures.
1. Bereiding van eicellen
Pre-prime X. laevis vrouwen met 150 U van drachtige merrie Serum Gonadotropin (PMSG) ongeveer een week van tevoren van eicel isolatie. Injecteer 1 ml 150 U / ml PMSG in dorsale lymfe zak met 1 cc steriele spuit met een 29 G naald.
Bereid oplossingen voor injectie en eicel eicel dieren cap assay.

Bereid Ca ++ / Mg ++ -vrij OR2 (OR2-): 82 mM NaCl, 2,5 mM KCI, 1,5 mM Na 2 HPO 4, 50 mM HEPES pH 7,2.
Bereid OR2: OR2- plus 1 mM CaCl2 en 1 mM MgCl2.
Bereid OCM: 60% Leibovitz L15, 0,4 mg / ml BSA, 100 ug / ml gentamycine, pH 7,8.
Prepare 1x MBS: 88 mM NaCl, 1 mM KCI, 0,7 mM CaCl2, 1 mM MgSO 4, 5 mM HEPES (pH 7,8), 2,5 mM NaHCO 3.
Bereid 3% Ficoll in 1x MBS.
Bereid 1x NAM: 110 mM NaCl, 2 mM KCl, 1 mM Ca (NO 3) 2, 1 mM MgSO4, 0,1 mM EDTA, 1 mM NaHCO 3, 2 mM Na 3 PO 4, pH 7,4.

Verdoven van de vrouw in een oplossing 0,03% van ethyl 3-aminobenzoaat methaansulfonaatzout (MS222) in 0,1x MBS (eerste ontbinden 0,3 g MS222 in 10 ml 95% ethanol en vervolgens verdund in 1 L 0,1x MBS) door het plaatsen van kikker in oplossing voor 10 - 15 minuten of tot reageert.

Controleer of de verdoving is voltooid door te draaien verdoofde kikker op zijn rug om ervoor te zorgen dat niet reageert (onvolledig verdoofde kikkers bewegen ledematen of draai lichaam over).

Chirurgisch isoleren ovariale fragmenten door een abdominale incisie door de huid en lichaamswand met scalpel, isoleren eierstokweefsel met een pinceten schaar. Plaats ovariële fragmenten in OR2-. Sluit de lichaamswand met een 3-0 zijden hechtdraad op een 24 mm gekromde naald en afzonderlijk sluit de huid met dezelfde hechtingen. Sta herstel van de vrouwelijke in 1 g / l aquarium zout water.
Met behulp van fijne tang, scheur eierstokweefsel in kleine (10-20 eicellen) stukken en transfer naar verse OR2-.
Defolliculate ovariële fragmenten in 2,0 mg / ml collagenase A in OR2- door roeren zachtjes op shaker gedurende 1 uur, het overbrengen van de frisse collagenase en roeren gedurende een extra uur.
Was eicellen 10 keer in OR2 [met Ca ++ / Mg ++], teruggooien kleinere eicellen.
Was eicellen in OCM twee keer en over te dragen aan verse OCM. Isoleer Fase VI oöcyten grootteklasse bij visuele inspectie en gooi onrijpe (kleiner) oöcyten: Fase VI oöcyten zijn groter dan onrijpe eicellen met nog pigmentatie in het dier halfrond en ongeveer 1,2-1,4 mm in diameter.
Behouden eicellen bij 18-20 ° C in OCM vóór injectie. Opmerking: Agarose-gecoate petrischalen kunnen worden gebruikt om het kleven van eicellen minimaliseren schotel.
2. Injectie van Bibliotheek Afschriften
Bereid een directionele cDNA-bibliotheek 15 gebruikt RNA geëxtraheerd in een geschikt stadium van ontwikkeling (bijvoorbeeld neurale plaat stap 14 10). Koop een cDNA bibliotheek of de bouw van een met behulp van een commerciële kit per het overzicht in de vier stappen hieronder.

Isoleer ongeveer 5 ug mRNA met behulp van een product te verrijken poly (A) + RNA (zie Tabel Materials) en volgens instructies van de fabrikant. Opmerking: De transcripten worden gebruikt om de cDNA-bibliotheek kan worden beperkt tot een inducerend weefsel te produceren (zoals de neurale plaat na microdissectie van het gewenste weefsel), of kunnen uit vol embryo's in een bepaalde fase.
Opbrengst cDNA met een commerciële kit volgens de aanwijzingen van de fabrikant.
Ligeren ongeveer 20 ng cDNA in een vector die bij de commerciële kit of een andere geschikte vector. Een geschikte plasmidevector sequenties voor stabiliteit van mRNA als 5 'β-globine en 3 poly (A) sequenties (pCS2 +, pTnT, pCS105).
Transformeren ligatie in competente bacteriële cellen met behulp van aanbevolen protocol leverancier voor heat shock transformatie.
Opmerking: Als alternatief kan een verzameling van open reading frame (ORFeoom) klonen is in de handel verkrijgbaar en kunnen worden gebruikt om transcripten voor injectie genereren.

Bereid 10 verzamelingen van plasmiden van 10 om 10 3 4 complexiteit (10 4 10 5 om de totale complexiteit). Dit vertegenwoordigt 10 platen met 1000 - 10.000 kolonies per.

Plaat bibliotheek cultuur op 10 15-cm LB-ampicilline platen, groeien 12-18 uur bij 37 ° C, en de kolonies van elkaar door zachte druk met een glas spreader verzamelen in 7 ml LB.
Bereid een glycerol voorraad van 0,5 ml (voeg toe aan 0,2 ml steriele glycerol en bewaar bij -20 &# 730, C), en gebruikt de resterende 6,5 ml DNA te bereiden met een in de handel verkrijgbare DNA miniprep kit volgens de aanwijzingen van de fabrikant.

Lineariseren samengevoegd plasmide DNA (1,0 - 2,0 ug) met geschikte restrictie-enzym digest 16 bij 37 ° C gedurende 1 - 1,5 uur. Isoleer het gelineariseerde DNA met fenol / chloroform extractie gevolgd door ethanol precipitatie en resuspensie in water volgens de specificaties van de RNA-polymerase kit gebruikt. Synthetiseren sense RNA met een commerciële kit RNA polymerase volgens de aanwijzingen van de fabrikant.
Bereid naalden voor micro-injectie (met een naald trekker met glazen capillaire buis) van ongeveer 20 urn diameter; meten naald tips op een samengestelde microscoop met een gekalibreerde oculaire micrometer. Opmerking: Naald puller instellingen moeten empirisch vastbesloten om een ​​naald te produceren met een fijne punt zodanig dat wanneer gebroken met fijne tang levert de gewenste tip grootte.
Bereid (push klei inuniforme laag op de bodem van de schaal) klei bekleed 35 x 10 mm petrischaaltjes met parallelle groeven om eicellen in plaats te houden tijdens de micro-injectie; produceren groeven met een winkelcentrum sonde of pasteurpipet gefuseerd aan het uiteinde in vlam. Als alternatief voor klei bereiden agarose schotels maken indrukkingen met een elastomeer matrijs 17. Transfer eicellen met een brede boring pipet tot 3% Ficoll in 1 x MBS (ongeveer 2 ml) in rijen in de klei beklede schotels.
Met behulp van microinjector, vul naald met 1 ng / nl RNA en pas evenwicht tot lichte positieve druk te produceren (om te voorkomen dat de opstelling van de eicel cytoplasma).
Injecteren eicellen met ongeveer 20 nl RNA in de equatoriale regio. Laat 1 uur voor geïnjecteerde oöcyten te blijven Ficoll-MBS, vervolgens over voorzichtig 1x MBS. Incubeer gedurende 8 - 24 uur bij 20 ° C vóór dier cap assay.
3. Animal Cap Assay
Bereid 3 / 4x NAM en het verkrijgen van fijne tang, haar loop, gebogen dekglaasje fragmenten, met klei bekleed dishes met komvormige inkepingen om eicellen te houden. Maak gebogen dekglaasje fragmenten door het breken van elkaar dekglaasjes in kleine fragmenten (ongeveer 1-2 mm x 2 - 4 mm) en passeren van de vlam tot randen polish en hangen, het produceren van een gebogen stuk.
Bevruchten X. laevis eieren 18 door middel van in vitro of natuurlijke bevruchting en cultuur podia gastrula (10 - 11 uur na de bevruchting bij RT) in 0,1x MBS voorafgaand aan het sorteren op het podium; verzamel mid-gastrulastadium (fase 11-11,5) 10 embryo's.
Transfer embryo's naar een petrischaaltje ongeveer de helft vol met 3 / 4x NAM. Met behulp van twee paar fijne tang, verwijder de bevruchting (vitelline) membraan van gastrulae.
Transfer eicellen tot 3 / 4x NAM (ongeveer 2 ml) in klei bekleed gerechten en immobiliseren in individuele indrukken in de klei, het produceren van indrukken individuele embryo geschikt als groeven hierboven zijn beschreven.
Transfer embryo's naar de klei beklede gerechten en snijd dier caps off gastrulae gebruik van twee paar fijne tang. Zorg ervoor dat dier dop ectoderm alleen en niet equatoriale weefsel 18 te isoleren.
Plaats een dier dop op het dier halfrond van elke oöcyt met het binnenvlak van het dier dop met de eicel. Houd recombinanten elkaar door toepassing gebogen glazen dekglaasje fragment en het aanbrengen neerwaartse druk op het glas, afvlakking van de ectoderm als dekglaasje contacten klei (dier caps kunnen openen met de binnenlaag blootgesteld aan het oppervlak van de eicel tot 6 blijven - 8 uur of langer ).
Opmerking: Als alternatief, plaats het dier dop in een klei inkeping met zijn binnenste oppervlak naar boven en zet een eicel op de dop; zet de recombinante met kleine uitbreidingen van klei.
Kweken bij 20 ° C totdat control embryo reach gewenst stadium voor de test.
Aparte recombinant door het verwijderen van dekglaasje / klei en isoleren ectoderm met een tang en een haar lus.
Fix ectodermale fragmenten gedurende 1 uur in MEMFA (3,8%formaldehyde in MEM [0,1 M MOPS pH 7,4, 2 mM EGTA en 1 mM MgSO 4]).
Transfer fragmenten (en controle embryo's) uit MEMFA in ethanol en bewaar bij -20 ° C.
4. Analyse van de respons in Ectoderm door in situ hybridisatie (ISH)
Bereid oplossingen voor het ISH.

Bereid 1x PBS: 0,01 M fosfaat gebufferde zoutoplossing, 0,138 M NaCl, pH 7,4
Bereid PBS-Tween (PTW): 1x PBS, 0,1% Tween-20
Bereid 100x Denhart's oplossing: 2% BSA, 2% polyvinylpyrrolidon, 2% Ficoll
Bereid Hybridization Buffer: 50% formamide, 5x SSC, 1 mg / ml Torula gist RNA, 1 ug / ml Heparine, 1 x Denhart's oplossing, 0,1% Tween-20, 0,1% CHAPS, 10 mM EDTA, DEPC-H2O
Bereid maleïnezuur buffer (MAB): 100 mM maleïnezuur, 150 mM NaCl, pH 7,5
Bereid MAB + blok: MAB, 2% blokkerende reagens (warmte tot 60 ° C op te lossen)
Bereid alkalisch fosfatase (AP) buffer: 100 mM TrispH 9,5, 50 mM MgCl2, 100 mM NaCl, 0,1% Tween, dH 2 O

Maak de RNA-Probe.

Met behulp van een commercieel RNA polymerase kit en graven-NTP mix, aan een 1,5 ml buis (50 pi reactie): 25,5 pi DEPC-H2O, 10 ui 5X Transcription Buffer, 2,5 gl 10x dig-NTP mix, 5 pl 100 mM DTT, 2 pl RNAsin, 2 pl gelineariseerd DNA matrijs (~ 1 ug / ul), 3 ui RNA polymerase en incubeer 37 ° C gedurende 90 min.
Voeg 2 pi RNA Polymerase en incubeer 37 C gedurende 60 min.
Controle 2 pl reactiemengsel op 1% agarose gel.
Voeg 1 ul RQ1 RNase-Free DNase en incubeer 37 ° C gedurende 20 minuten.
Precipiteren de probe door toevoegen 50 ui DEPC-H2O, 25 gl 10 M ammoniumacetaat en 313 pl ethanol. Bewaren bij -20 ° C gedurende de nacht (O / N), dan herstellen RNA door centrifugeren bij 13.800 xg gedurende 20 minuten. Wassen met 500 ul 75% ethanol, kort draaien, verwijderenethanol en laat de pellet aan de lucht drogen. Voeg 50 pi DEPC-H2O
Voeg Hybridization Buffer tot een uiteindelijke concentratie van ~ 0,5 ug / ul.

Bereid weefsel voor hybridisatie. Tenzij anders vermeld, vul ampullen boven met elke oplossing veranderingen beschreven (ongeveer 4 ml).

Verwijder ethanol uit flesjes en overdracht van embryo's in 75% ethanol / PTW, dan is 50% ethanol / PTW gedurende 10 minuten elk, horizontaal op de wip.
Was drie keer in PTW gedurende 5 minuten elk op rocker.
Transfer naar 10 ug / ul proteïnase K behandeling PTW; rots buizen verticaal 15 min.
Twee keer 10 minuten elk spoelen in 0,1 M Triethanolamine pH 7,8 - rock buizen verticaal.
Voeg 12,5 pi azijnzuuranhydride buizen en Rock verticaal 5 min. Herhaal extra 12,5 pi azijnzuuranhydride gedurende 5 min.
Wassen in PTW 5 min verticaal op rocker.
Refix in 4% paraformaldehyde 20 min op rocker. Heat Hybridization Buffertot 60 ˚C.
Was drie keer in PTW gedurende 5 minuten elk op rocker.
Verwijder alles behalve ~ 1 ml PTW van elke buis en voeg 250 ul Hyb Buffer; zachtjes wervelen buizen te mengen. Rock buizen verticaal 5 min.
Vervangen door 60 ˚C Hyb Buffer (0,5 ml) en schud zachtjes op 60 ° C 10 min. Vervang met verse Hyb Buffer en schud bij 60 ˚C twee tot 4 uur.
Warmtesonde (1 ml bij 0,5 ug / ul in Hyb buffer) tot 60 ° C (3 min). Verwijder Hyb Buffer toevoegen probe buizen. Schud zachtjes O / N op 60 ˚C.

Bereid weefsel voor antilichaam.

Warm Hyb buffer en 2 x SSC + 0,1% Tween-20 oplossing tot 60 ° C.
Vervang sonde oplossing Hyb Buffer (sparen sondes bij -20 ° C gedurende 2 - 3x hergebruik). Wassen bij 60 ° C gedurende 10 min.
Was drie keer met 60 ° C in 2 x SSC-Tween (20 min elk onder roeren).
Was drie keer met 60 ° C in 0,2 x SSC-Tween (20 min elk onder roeren).
Was tweemaal in MAB (RT) gedurende 15 minuten elk horizontaal op rocker.
Voeg 1 ml MAB + blok. Was 2 uur verticaal op rocker.
Transfer naar 1 ml MAB + blok met daarin een 1/2000 Anti-digoxygenine-AP. Rock verticaal op 4 CO / N.

Bereid weefsel voor Color reagens.

Vervang antilichaam oplossing met MAB; Was driemaal in MAB 5 minuten elk horizontaal op rocker.
Was driemaal MAB 1 uur elk horizontaal op rocker.
Was tweemaal in AP-buffer 10 min elk horizontaal op rocker.
Transfer weefsel om meerdere goed plastic bakje, verwijder AP buffer en voeg BM Purple reagens (~ 1 ml). Laat reactie te laten verlopen in het donker 5 min op O / N.
Wanneer geschikte kleuring wordt bereikt, transfer weefsel flacons van PTW. Was twee keer 10 minuten elk in PTW op rocker.
Fix in oplossing Bouin bij 4 CO / N op de rocker.
Spoel Bouin met drie 70% ethanol / 30% PTW wasbeurten bij RT. Overgaan to beeld vast te leggen met behulp van epi-verlichting en een microscoop gemonteerde camera, bleken indien nodig 18.
5. Sib Selectie en klonen
Selecteer zwembad met de hoogste activiteit (grootste respons in ectodermale weefsel).
Titreer (verdunnen met LB passende dichtheid) de glycerol voorraad voor het zwembad met de hoogste activiteit en de plaat uit tien nieuwe platen met ongeveer een tiende van de kolonies van de vorige stap (met behulp van deel 2 in protocol hierboven).
Verminder grootte van het zwembad totdat activiteit wordt herleid tot enkele kolonie.
Verkrijgen DNA-sequentie met standaard primers in de vector.
Subscription Required. Please recommend JoVE to your librarian.
Representative Results
In reactie op expressie van mRNA geïnjecteerd in oöcyten, reageert dierlijk cap weefsel werd onderzocht op expressie van otx2 door in situ hybridisatie (Figuur 2 en Tabel 1) otx2 wordt uitgedrukt in de vermoedelijke lens ectoderm (PLE) van neurale buis sluiting door lens placode verdikking 19. Aangezien otx2 zich ook in de voorste neurale ectoderm als niet-neurale head ectoderm buiten de PLE wordt geassocieerd met zowel neurale placodal reacties. Het gebruik van foxe3 de bibliotheek voor een genproduct staat is een lens-inductieve respons lens-competent dier dop ectoderm toegestaan ​​een specifieke aanpak om het doel van de expressie klonen screenen, aangezien foxe3 wordt uitgedrukt in de PLE van neurale plaat podia en in de hele lens blaasjes vorming 20, aanwezig in de aangrenzende regio's, maar placodal afwezig neuroectoder m. De expressieklonering en sib selectieprotocol hierboven en injecteren pools van de bibliotheek transcripten, een gen dat in staat is foxe3 expressie in dierlijke caps werd geïsoleerd (tabel 2). Na afsluiting van de kloon, werden 179 extra dier cap assays gebruikt oocyten geïnjecteerd met transcripten bibliotheek gescreend op expressie van foxe3; 50 waren positief (28%). 140 van dierlijke cap stukken geplaatst geïnjecteerde oöcyten, 0 positief waren (Figuur 3).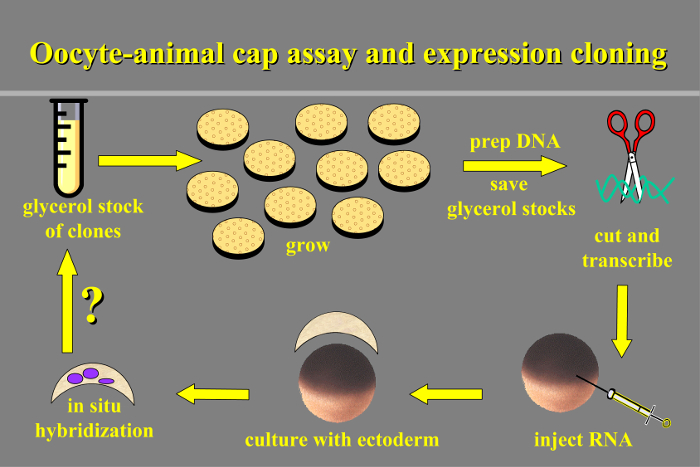 Figuur 1. Oocyte dieren Cap analyses en expressieklonering Schematisch overzicht van het protocol. Transcripten worden bereid uit de kloon bibliotheek en geïnjecteerd in oöcyten, dier dop ectoderm is gekweekt met oocyten en vervolgens geanalyseerd op genexpressie geïnduceerd door in situ hybridisatie. d / 53518 / 53518fig1large.jpg "target =" _ blank "> Klik hier om een ​​grotere versie van deze figuur te bekijken.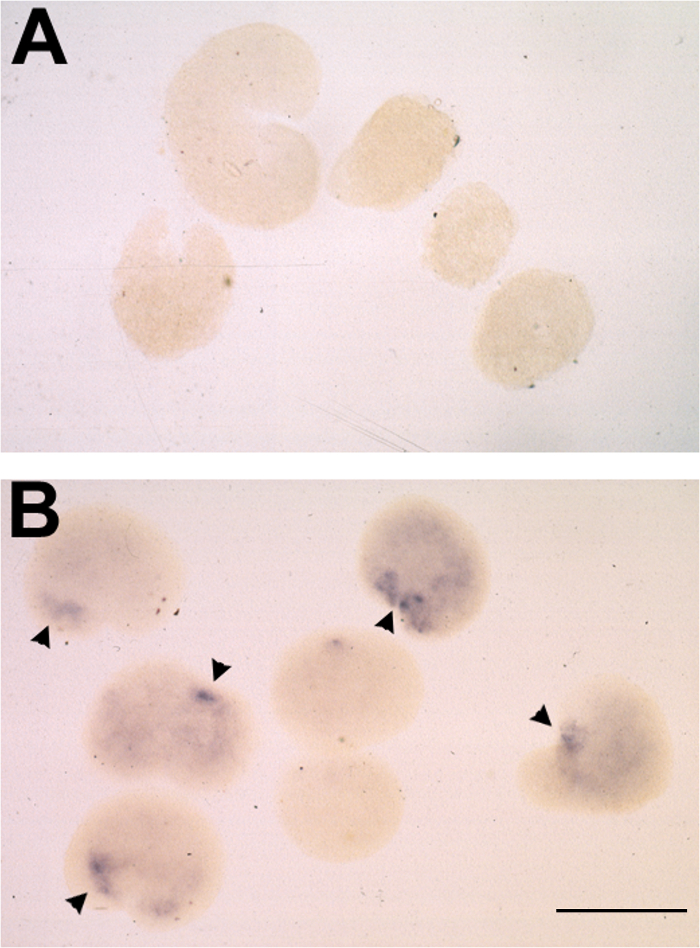 Figuur 2. Typische resultaten van Animal Cap Assay mRNA na injectie en in situ hybridisatie voor Otx2. (AB) Vertegenwoordiger gevolg van inductieve fase respons op 14 poly (A) + RNA dorsalized in dierlijke caps, getest op expressie door otx2 gehele mount in situ hybridisatie. (A) Animal caps geplaatst op niet-geïnjecteerde oöcyten in stadium 10.5 en gekweekt om het podium 25. (B) Stage 10.5 dier caps geplaatst op eicellen geïnjecteerd met 10 ng RNA en gekweekt om het podium 25. otx2 expressie waargenomen in 07/06 gevallen en aangegeven door pijlpunten. Bar = 500 urn. "Target =" _ blank "> Klik hier om een ​​grotere versie van deze figuur te bekijken.

Figuur 3. Typische resultaten van Animal Cap Assay volgende in situ hybridisatie voor Foxe3. (AC) Vertegenwoordiger dier caps van eicel-dier cap assays, getest op de expressie van foxe3 door in situ hybridisatie. (A) Stage 11-11,5 dier caps geplaatst op-ldb1 geïnjecteerde eicellen en gekweekt om het podium 23. foxe3 expressie wordt aangegeven met pijlpunten. (B) Stage 11-11,5 dier caps geplaatst op niet-geïnjecteerde oöcyten en gekweekt om het podium 23; geen foxe3 expressie gedetecteerd. (C) Sectie door middel foxe3 -positieve geïnduceerde dier dop van A toont expressie in binnenste en buitenste lagen van ectoderm. Bars = 500 urn.f = "https://www.jove.com/files/ftp_upload/53518/53518fig3large.jpg" target = "_ blank"> Klik hier om een ​​grotere versie van deze figuur te bekijken.
| | | | |
| --- | --- | --- | --- |
| Ingespoten RNA | Positieve gevallen | Gen | % |
| Stage 14 dorsalized mRNA, 10 ng | 12/24 | otx2 | 50 |
| Bibliotheekverzamelingen van 10 klonen 5, 20 ng | 3/9 | otx2 | 33 |
| Bibliotheekverzamelingen van 10 5 10 0 om clon es, 20 ng | 50/179 | foxe3 | 28 |
| Geen | 0/140 | foxe3 | 0 |
Tabel 1. Eicel-Animal Cap testresultaten Resultaten van dierlijke cap assay beoordeeld door in situ hybridisatie met otx2 en foxe3, met behulp van eicellen geïnjecteerd met mRNA of met transcripten gesynthetiseerd uit cDNA- bibliotheek zwembaden.; of niet-geïnjecteerde oöcyten.
Ingespoten RNA
Pool aanwijzing / selectie
Positieve foxe3 uitdrukking
acht: 24px; "> Bibliotheek pools van 10 5 klonen, 20 ng
EEN
2/4
B *
4/28
C
4/44
Bibliotheekverzamelingen van 10 klonen 4, 20 ng
1
0/11
2
0/10
3
3/14
4
0/12
5
0/15
6
1/20
7
3/23
8
0/16
9
0/16
10 *
5/20
Bibliotheek pools van 5000 klonen, 20 ng
1
0/7
2 *
5/16
3
1/7
4
0/7
5
0/7
ht: 21px; "> Bibliotheek pools van 400 klonen, 20 ng
1
0/10
2
0/10
3
0/10
4
0/10
5 *
8/26
6
0/11
7
0/10
8
0/10
9
0/10
10
0/8
Bibliotheekverzamelingen van 70-200 kolonies, 20 ng
1
0/8
2
0/10
3 *
1/10
4 *
1/10
5
0/10
6
0/9
7
0/10
8
0/10
Bibliotheekverzamelingen van 20 kolonies, 20 ng
1
0/10
2
0/10
3
0/10
4 *
7/21
5
0/10
6
0/10
7
0/10
8
0/10
9
0/10
10
0/10
height = "21" style = "height: 21px;"> Bibliotheek pools van 6-7 kolonies, 20 ng
K2-6, L1
0/10
L2-6, M7
0/10
M8-12, N7-8
0/10
K5-6, L1-4
1/10
L5-6, M7-10
0/10
M11-12, N7-8, K2-4
0/10
K2, K5, L2, L5, M8, M11
0/10
K3, K6, L3, L6, M9, M12
0/9
1px; ">
K4, L1, L4, M7, M10, N7, N8
1/9
Bibliotheek RNA's, 20 ng
K6
0/10
L1 *
3/10
L3
0/10
L4
0/10
Bibliotheek RNA, 20 ng
L1 (ldb1) bevestiging
50/179
* Geeft geselecteerde pool
Tabel 2. Sib Selectie- en Expression Cloning Resultaten. Het zwembad met de hoogste respons in elk dier cap assay (tussen 10% en 36% positief voor expressie foxe3) werd geselecteerd voor gebruik in het volgende experiment om een beperking van activiteit één kloon. Asterisk geeft geselecteerde zwembad.
Subscription Required. Please recommend JoVE to your librarian.
Discussion
De hier beschreven methode voor de functionele klonering van genen kan induceren reaktie bevoegde ectoderm kan worden gebruikt om een ​​breed scala van genproducten te identificeren. Deze methode breidt uit op het verleden door het combineren van werk-tissue-inducerende assays met expressie kloontechnieken. We maken gebruik van de metabole routes van de Xenopus oöcyt als bron van productie inducerende factoren, direct of indirect volgende RNA injectie. Dit, in combinatie met het gebruik van vastgestelde werkwijzen voor het kloneren van een gen van interesse 6,7 behulp expressie van transcripten gegenereerd uit een cDNA bibliotheek of andere verzameling klonen, een waardevolle benadering voor degene die genen van belang nieuwe betrokken bij embryonale identificeren inductie. De brede toepasbaarheid van deze methode om functionele identificatie van nieuwe genen is een nuttige aanvulling op spannende nieuwe reverse genetische benaderingen, en kan ook worden gebruikt om te testen transcripten geïdentificeerd met behulp van high-thr Functioneeloughput werkwijzen (bijvoorbeeld RNA-seq) 21.
Controles zijn van cruciaal belang bij het toezicht op de metabole functie van eicellen gebruikt in de dop test. Zowel voor de gezondheid van elke partij eicellen en de bruikbaarheid van dit systeem lage abundantie transcripten vast te waarborgen, variërende concentraties van mRNA van het mesoderm inductor INHBB getest; Dit gen staat los van de lens-inductie route en is een goed gedocumenteerde onafhankelijke controle 14. Muscle-inducerende activiteit, bepaald door de expressie van spier-specifieke antigenen in dierlijke dop ectoderm met 12/101-antilichaam, werd waargenomen met 2 - 200 pg INHBB mRNA, zelfs in de aanwezigheid van 500-voudige overmaat stage 14 poly (A) + RNA. Het systeem is dus bruikbaar over een zeer breed scala van geïnjecteerde RNA hoeveelheid en eicellen zijn in staat om stabiel te produceren eiwitten en blijven levensvatbaar volgende cytoplasmatische injectie van volumes van 50 nl en hoger.
Een overweging voor de use van een cDNA-bibliotheek in dit protocol is de noodzaak van volledige lengte of bijna volledige lengte klonen. Voor gebruik in het protocol, moet de bibliotheek door Northern analyse onderzocht om de grootte van bekende transcripten in de bibliotheek te bepalen en reduceren de kans dat dominant-negatieve effecten worden verkregen tegen mogelijk afgeknotte transcripten geïnjecteerd. Aangezien een full-length cDNA-groep is belangrijk, het gebruik van EST-klonen 22 en optimaal, het Xenopus ORFeoom 23 (met een volledige gevalideerde volledige lengte klonen levert) de voorkeur om een traditionele cDNA-bibliotheek tenzij een toneel- en weefsel- specifieke bron van cDNA worden gezocht en gebruikt voor de bouw van de bibliotheek. Een andere overweging is de aanwezigheid van β-globine en poly (A) sequenties in de bibliotheek vector ter mRNA stabiliteit vergroten in transcripten geïnjecteerd. Hoewel dit wenselijk de hoeveelheid eiwit geproduceerd synthetisch mRNA geïnjecteerd is te verhogen, het verhoogt ook possibilteit van het produceren van een dominant-negatief effect van mRNA die in stabiliteit en activiteit hoger dan in vivo. Een lage aantal kopieën mRNA kan niet dezelfde gevolgen als de endogene tegenhanger in de achtergrond van een grote pool van transcripties uit te oefenen; een die is gestabiliseerd in het klonen en transcriptie proces kan blijven om de detectie in de dop test mogelijk te maken. Een derde punt is het zwembad grootte; aanzienlijke vermindering van poolgrootte (10 klonen of minder) is aangetoond voordelig zijn laatste screening projecten embryo 24 gain-of-function en zal waarschijnlijk duidelijker uitslagen en eenvoudige identificatie van kandidaatgenen verschaffen. Een pool kleiner formaat dan het 10 3 - 10 4 aanbevolen dit protocol is haalbaar als de totale complexiteit van de verzameling klonen minder dan 10 4, zoals het geval is bij de ORFeoom 23; men kan screenen the ~ 9000 klonen beginnen met 10 pools van 900, hoewel het onbetaalbaar arbeidsintensief kan zijnverwerken meer dan 10 zwembaden in een experiment.
Bepaling van het type genproduct (door sequentieanalyse) door het gen die in het scherm bepaalt de aard van de proeven van zijn functie. Aangezien een nucleaire transcriptie cofactor geïdentificeerd uit onze screen 8, was het noodzakelijk om de rol van de kern in het inductieve proces veroorzaakt door het inbrengen van ldb1 bevestigen. Ontkernde oöcyten volledig functionerende eiwitsynthetische machines en levensvatbaar zijn en kunnen produceren uitgescheiden factoren uit transcripten geïnjecteerd. Echter, het ontbreken van de kern werking van transcriptiefactoren, cofactoren of andere indirect werkende genproducten schaffen. Daaropvolgende analyses van genen geïdentificeerd in het scherm onder bepaling van ontwikkelingsstoornissen expressiepatroon door in situ hybridisatie en winst-van-functie en verlies-van-functie testen. Overexpressie door injectie van RNA in zygoten of beperken injectie specifieke blastomeren zijn effecten op bepaalde delen van het embryo te beperken kan inzichten, alsmede knockdown van genfunctie bieden door middel van injectie van morfolino oligonucleotiden gericht tegen de in vivo transcript.
Directe visualisatie van een inductief effect op de reagerende dier dop ectoderm met een transgene lijn met een reportergen (bijvoorbeeld GFP) kan sterk versnellen van de screening en elimineren de noodzaak voor de analyse van RNA-expressie door in situ hybridisatie. Ook het gebruik van antilichamen als snellere middel van screening wenselijk indien een geschikt antilichaam (zoals 12/101 van spierreactie hierboven besproken) beschikbaar. Albino embryo's kunnen worden gebruikt voor het dier caps, die, hoewel het moeilijker om nauwkeurig stadium bij gastrula stadia stroomlijnen in situ hybridisatie proces door het elimineren van de behoefte aan bleken wildtype pigmentatie de kleurreactie prod beter visualiserenduct.
Tenslotte is het belangrijk te bedenken dat om verschillende redenen, moet een groot aantal proeven worden uitgevoerd om een ​​bepaald gen te identificeren. Ten eerste kan het aantal gevallen redelijkerwijs in een bepaalde proef wordt beperkt door de ontwikkeling (en uiteindelijk verlies van bekwaamheid) die optreedt in de tijd zelfs een grote partij embryo's en een reeks temperaturen waarbij cultuur hen, alsmede verlies dat kan optreden van kleine stukjes ectoderm in de verwerking. Anderzijds kan succespercentages van expressie van een gekozen marker in het ectoderm zeer laag en vereisen veel gevallen een statistisch significant effect te observeren.
Subscription Required. Please recommend JoVE to your librarian.
Materials
| | | | |
| --- | --- | --- | --- |
| Name | Company | Catalog Number | Comments |
| 12/101 Antibody | Developmental Studies Hybridoma Bank | 12/101 | Monoclonal antibody for detection of muscle tissue |
| 20x SSC Buffer | Sigma | S6639 | for ISH |
| Acetic anhydride | Sigma | A6404 | for ISH |
| Anti-Dig-AP | Roche | 11093274910 | for ISH |
| Aurum Plasmid Mini Kit | Bio-Rad | 732-6400 | Plasmid DNA purification |
| Blocking Reagent | Roche | 11096176001 | for ISH |
| BM Purple | Roche | 11442074001 | for ISH |
| Boekel Hybridization Oven | Fisher Scientific | 13-245-121 | for ISH |
| Bouin's Solution | Sigma | HT10132 | for ISH |
| BSA | Sigma | A9647 | for OCM |
| CHAPS | Sigma | C3023 | for ISH |
| Collagenase A | Roche | 10103578001 | Defolliculation of oocytes |
| Cysteine | Sigma | C121800 | Dejelly embryos |
| DEPC-H2O | Fisher Scientific | BP5611 | for ISH |
| Dig-RNA Labeling Mix | Roche | 11277073910 | for ISH probes |
| Dumont #5 forceps | World Precision Instruments | 500233 | for Vitelline envelope removal |
| Ethyl 3-aminobenzoate | Sigma | A5040 | MS222 anesthetic |
| Ficoll PM 400 | Sigma | F4375 | for Injection media |
| Formamide | Sigma | F9037 | for ISH |
| Gentamicin sulfate | Sigma | G1914 | for OCM |
| Glass capillaries | World Precision Instruments | 4878 | 3.5" long, I,D, 0.530 mm |
| Glass sample vials | Fisher Scientific | 06-408B | for ISH |
| Hair loop | | | Hair affixed in pasteur pipette for tissue manipulation |
| Heparin sodium salt | Sigma | H4784 | for ISH |
| Injector Nanoliter 2010 | World Precision Instruments | Nanoliter 2010 | Microprocessor-controlled microinjector |
| Instant Ocean | Carolina | 972433 | Aquarium Salt for frog recovery |
| IRBG XGC Xenopus verified full-length cam cDNA | Source Bioscience | 989_IRBG | cDNA library |
| LB Agar plates with 100 µg/ml Ampicillin | Teknova | L5004 | 150 mm pre-poured LB-Amp plates for sib selection |
| LB Luria Broth | Teknova | L8650 | LB for collecting colonies in sib selection from plates and dilution of cultures |
| Magnetic mRNA Isolation Kit | New England BioLabs | S1550S | for isolation of poly(A)-enriched RNA |
| Maleic Acid | Sigma | M0375 | for ISH |
| Manual Microfil Micromanipulator | World Precision Instruments | M3310R | Manual micromanipulator |
| Nutating Mixer | Fisher Scientific | 22-363-152 | Rocker for ISH |
| Permoplast | Nasco | SB33495M | Clay for injection and dissection dishes |
| Phosphate Buffered Saline | Sigma | P5368 | for ISH |
| PMSG | Sigma | G4877 | to stimulate oocyte development |
| Polyvinylpyrrolidone | Sigma | PVP40 | for ISH |
| Programmable Puller | World Precision Instruments | PUL-1000 | Micropipette needle puller |
| Proteinase K | Sigma | P6556 | for ISH |
| pTnT Vector | Promega | L5610 | cDNA library construction |
| Riboprobe Combination System | Promega | P1450 | in vitro transcription |
| Superscript Full Length cDNA Library Construction Kit | Life Technologies | 18248013 | kit for cDNA library construction |
| Sutures, 3-0 silk | Fisher Scientific | 19-037-516 | Suture thread and needle for post-oocyte removal |
| Torula RNA | Sigma | R3629 | for ISH |
| Triethanolamine | Sigma | T1502 | for ISH |
| Tween 20 | Sigma | P9416 | for ISH |
| Universal RiboClone cDNA Synthesis System | Promega | C4360 | alternative kit for cDNA library construction |
| Xenopus Full ORF Entry Clones - ORFeome Collaboration | Source Bioscience | 5055_XenORFeome | ORFeome Clones |
| XL2-Blue Ultracompetent Cells | Agilent Technologies | 200150 | cells for transformation of cDNA library |