Cite this Article
Copy Citation | Download Citations

Molina-Villa, T., Mendoza, V., López-Casillas, F. Affinity Labeling Detection of Endogenous Receptors from Zebrafish Embryos. J. Vis. Exp. (114), e54405, doi:10.3791/54405 (2016).
Protocol
Tutti gli esperimenti condotti negli animali sono stati approvati dal Comitato per la cura degli animali da laboratorio e l'uso della Università Nazionale Autonoma del Messico (UNAM), con il numero CICUAL-protocollo: FLC40-14. (CICUAL: "Comité Institucional para el Cuidado y Uso de los Animales de Laboratorio del Instituto de Fisiologia Celular, Universidad Nacional Autonoma de Mexico").
1. Preparazione di embrioni Protein Extract
Raccogliere 100 - 200 embrioni per ogni condizione di confrontare (morphants vs. wild type) allo stadio desiderato, ad esempio 72 ore dopo la fecondazione (HPF).
Luogo embrioni in piastre di Petri contenenti acqua di pesce (vedi tabella 1) e dechorionate manualmente embrioni utilizzando pinze punta fine. Evitare di utilizzare pronase durante questa fase (o qualsiasi altro proteasi durante il protocollo) come può digerire il recettore bersaglio.
Luogo embrioni in una provetta da 1,5 ml microcentrifuga e lavare gli embrioni twghiaccio con soluzione tampone 1x fosfato (PBS) (vedi Tabella 1).
Aggiungere 500 ml di tampone deyolk (vedi tabella 1).
Rilasciare la maggior parte di tuorlo pipettando gentilmente su e giù (circa 30 - 40 volte) gli embrioni nella soluzione. Per 72 HPF e 48 embrioni HPF utilizzare puntali per pipette blu e giallo, rispettivamente. Giallo suggerimenti possono avere bisogno di essere un po 'tagliata per evitare la distruzione di embrioni. Il rilascio tuorlo successo può essere controllato osservando gli embrioni sotto il microscopio.
Raccogliere gli embrioni per centrifugazione a 600 xg per 15 sec.
Gettare il surnatante con cura utilizzando una pipetta.
Embrioni lavare due volte con 500 microlitri tampone di lavaggio (vedi tabella 1) vortex delicatamente a velocità più bassa.
Raccogliere gli embrioni per centrifugazione a 600 xg per 15 sec.
A partire da qui, continuare la procedura a 4 ° C.
Gettare il surnatante con cura utilizzando una pipetta.
embrioni risospendere in 350 ml di tampone di lisi (vedere Tabella 1) ed omogeneizzare con un pestello in plastica.
Incubare gli embrioni lisati 30 minuti con agitazione su una sedia a dondolo provetta a 4 ° C.
Centrifugare lisato embrioni a 11.000 xg per 15 minuti per rimuovere i detriti insolubili.
Trasferimento cancellata surnatante con una pipetta in una nuova provetta.
Determinare proteine ​​totali da Metodo di Bradford 4, o altre procedure adatto. Se viene utilizzato saggio Bradford, eseguire la curva di taratura in presenza di concentrazioni equivalenti dei detergenti presenti nel tampone di lisi, in cui possono causare una sottostima della proteina normale 4.
2. Rilevamento di endogena proteina recettore
Affinità Etichettatura e Immunoprecipitazione (tutti questi passaggi a 4 ° C)

Collocare 400 - 500 mg di proteine ​​totali embrione in una provetta da 1,5 ml microcentrifuga e diluire a 1 mg / mL con tampone 1 (vedi Tabella 1).
Nota: Al fine di ottenere 500 mg di proteine ​​totali dell'embrione, circa 100-200 embrioni devono essere inizialmente trattati. 72 HPF embrioni di routine resa ~ 5 mg di proteine ​​totali dell'embrione, che è sufficiente per il rilevamento betaglycan.
Aggiungere un volume sufficiente di TGF-β2 etichettati stock di raggiungere una concentrazione finale di 150 PM e incubare con l'agitazione su una provetta rocker 2 ore a 4 ° C. TGF-β2 deve essere etichettato prima AFLIP viene avviato, con 125 I con il metodo T chloramine come descritto da Cheifetz et al. 5.
ATTENZIONE: l'utilizzo di schermatura per ridurre al minimo l'esposizione durante la manipolazione 125 ho etichettato ligando.
Aggiungere un volume sufficiente di anticorpo non diluito contro il recettore di interesse al fine di raggiungere una diluizione 1: 100 e continuare incubazione per altri 2 ore a 4 ° C (incubazione può essere O / N). Questa è la diluizione ottimale di antisiero # 31, utilizzato in questo studio e descritto altrove 3, ma a seconda della qualità del untibody, una diluizione maggiore o minore può essere ottimale.
Aggiungere 50 ml di perline vincolanti adatto immunoglobuline (ad esempio, proteina G-Sepharose, precedentemente equilibrata in TNTE e risospeso 1: 5 del suo volume originale in TNTE) e incubare per 50 min sotto agitazione su un bilanciere provetta a 4 ° C.
Recuperare le perle di microcentrifugation a 11.000 xg per 20 sec.
Gettare il surnatante in un contenitore di rifiuti radioattivi appropriata.
Lavare le IP-perle tre volte con 1 ml di tampone di lavaggio IP (vedi Tabella 1), con vortex e microcentrifugation a 11.000 xg per 20 secondi ogni volta.
Risospendere IP-perline in 250 ml di tampone di lavaggio IP.
Aggiungere 1,5 ml di disuccinimidyl suberato (DSS, sciolti in DMSO a 10 mg / ml). Preparare la soluzione DSS appena prima del suo uso in questa fase.
Incubare per 15 minuti a 4 ° C con agitazione.
Al fine di placare la reazione di reticolazione, aggiungere 500 microlitri otampone di lavaggio f IP, integrato con abbastanza Tris-Cl pH 7,4 magazzino per raggiungere 25 mM Tris-Cl. I gruppi amminici liberi in Tris catturano DSS che non ha reagito.
Centrifugare a 11.000 xg per 20 secondi per raccogliere IP-perline e scartare il surnatante.
Risospendere IP-perline in 30 ml di ridurre Laemmli buffer.
campioni bollire 5 min a 94 ° C.
Opzionalmente, analizzare i campioni in un contatore gamma utilizzando il protocollo del produttore.

Analisi dei campioni

campioni oggetto di denaturazione SDS-PAGE. Utilizzare poliacrilammide al percentuale appropriata per la massa del recettore ed eseguire gel secondo la procedura standard.
Immergere il gel in soluzione fissativo (vedi Tabella 1) per 30 minuti a RT.
Lavare il gel con acqua distillata per 15 min.
Mettere il gel in carta da filtro precedentemente idratata e coprire con pellicola involucro di saran.
gel secco a 80 ° C per 1 ora.
Esporre il gel su un phosphorimager scre biancoit a RT O / N.
Scansione schermo esposto utilizzando un phosphorimager utilizzando il protocollo del produttore.
Subscription Required. Please recommend JoVE to your librarian.
Representative Results
La figura 1 mostra un risultato rappresentativo ottenuto con AFLIP. Segnali in corsia 1 provengono dalla 125 I-ligando covalentemente legati sia alla zebrafish proteina betaglycan nucleo (core BG, al di sotto del marcatore 150 kDa), o il nucleo BG che è stato elaborato nella sua forma proteoglicani dall'attaccamento di glicosaminoglicani (GAG, striscio vanno da 170 kDa all'inizio del gel). Questo modello di migrazione, una proteina nucleo tagliente più un proteoglicano spalmato (causa eterogeneità nella lunghezza delle catene GAG), è caratteristica del TGFBR3 2. Poiché il DSS non covalentemente collegare ogni singolo complesso ligando-recettore formata, c'è la connessione 125 I-ligando che appare nella parte anteriore migrazione del gel (125 I-TGF-β2). Questo legante gratuito è stato legato al recettore, e rimase legato durante la immunoprecipitazione, ma dal momento che non è stato covalentemente attaccata, staccato durante la procedura di SDS-PAGE. Nonetheless, la forza del suo segnale correlato ancora a quella data dal recettore marcato. Questo può essere apprezzata confrontando corsie 2 e 3. Al 48 HPF embrioni zebrafish presentano minori quantità di BG di 72 embrioni HPF 3, che può essere visto dai segnali deboli al GAG e nucleo BG, corrispondenti alla intensità della segnali dati dal legante libero compare alla parte anteriore del gel (corsia 2). Dato che gli anticorpi contro ratto BG 6 non cross-reagisce con il ZF BG, gli anticorpi quando utilizzato in AFLIP dato alcun segnale, quindi, che serve come controllo negativo (Corsia 3). Risultati negativi simili sono stati ottenuti con il siero pre-immune dell'anticorpo anti-ZF BG 3.
La Figura 2 mostra come AFLIP può essere utilizzato per misurare i livelli di espressione di un dato recettore embrioni sottoposti a una manipolazione sperimentale, in questo caso, la diminuzione del betaglycan causa morfolino ininiezione 3. Corsia 1 mostra il livello di TGFBR3 in un hpf tipo selvaggio embrione 72, mentre Corsia 2 mostra l'effetto della somministrazione 7 ng di un morfolino diretto al confine exon2-intron2 del trascritto primario ZF BG. Si noti che il regolamento BG giù ottenuto con questo morfolino non viene riprodotto dal suo controllo mis-abbinato (Lane 3). Questi risultati hanno confermato che il fenotipo ottenuto con questo morfolino era specifico per il colpo del TGFBR3 come descritto in precedenza 3.

Figura 1. AFLIP Rilevamento di BG in embrioni di zebrafish. Estratto proteico totale da embrioni a 72 ore dopo la fecondazione (HPF) (corsie 1 e 3) e 48 HPF (corsia 2) sono stati sottoposti a etichettatura affinità 125 I-TGF-β2 seguita da IP con coniglio anti-zebrafish BG (corsie 1 e 2, ZBG) o di coniglio anti-topo BG (Lane 3, RBG) Come controllo. Nel autoradiografia BG può essere rilevato senza GAG (nucleo BG) o come BG glicosaminoglicani modificato (GAG). Clicca qui per vedere una versione più grande di questa figura.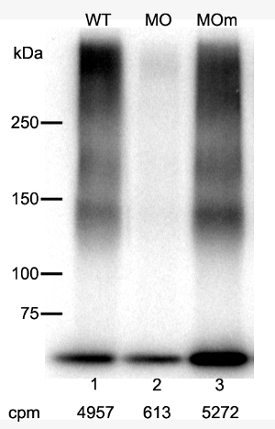 Figura 2. BG Morpholino Knockdown rilevato dal AFLIP. 125 I-TGF-β2 etichettatura affinità di BG da embrioni non trattati WT (lane1), microiniettati con particolare BG morfolino (corsia 2) o un controllo mancata corrispondenza (Lane 3). I conteggi per milione (CPM) recuperato dopo l'immunoprecipitazione e la fase di reticolazione sono indicati. Si prega di cliccare qui per vedere una versione più grande di questa figura.
| | |
| --- | --- |
| Buffer | Composizione |
| Buffer 1 | 50 mM Tris-HCl pH 7,5, 150 mM NaCl, 0,1% Triton X-100 |
| tampone Deyolk | 55 mM NaCl, KCl 1,8 mm, 1,25 mm NaHCO 3 |
| acqua Pesce | Vedi Tabella Materiali |
| soluzione fissativa | 50% CH 3 OH, il 12% CH3COOH, 0,185% HCHO |
| tampone di lavaggio IP | 10 mM Na 2 HPO 4, 2 mM KH 2 PO 4, 137 mM NaCl, 2,7 mM KCl, 0,1% Triton X-100, 0,02% SDS, pH 7,4 |
| tampone Laemmli | 2% SDS, 10% glicerolo, 100 mM DTT, 60 mM Tris (pH 6,8), 0,001% bromofenolo blu. |
| tampone di lisi | 50 mM Tris-HCl pH7.4, 150 mM NaCl, 1 mM EDTA, 1 mM PMSF, 0,5% Triton X-100, 0,1% SDS, 0,5% sodio DeoxychOlate |
| PBS | 137 mM NaCl, 2,7 mM KCl, 10 mM Na 2 HPO 4, 2 mM KH 2 PO 4, pH7.4 |
| TNTE | 50 mM Tris-HCl pH7.4, 150 mM NaCl, 1 mM EDTA, 0,1% Triton X-100 |
| tampone di lavaggio | 110 mm NaCl, KCl 3,5 mm, 2,7 mM CaCl 2, 10 mM Tris-HCl pH 8,5 |
Tabella 1: Composizioni Buffer
Subscription Required. Please recommend JoVE to your librarian.
Discussion
L'uso di Western blot con un anticorpo specifico contro una proteina di interesse è uno strumento prezioso per studiare la sua espressione 7 durante l'embriogenesi. Tuttavia, immunoblotting di proteine ​​altamente glicosilata, non ha avuto molto successo a causa del loro trasferimento inefficiente e debole legame di nitrocellulosa o PVDF membrane 8,9.
I proteoglicani sono un buon esempio di questa lacuna, a causa delle loro catene di glicosaminoglicani (GAG covalente allegate) che sono caricati negativamente e non si legano bene alle superfici sia di polistirolo o membrane idrofobiche assorbente. Inoltre, l'eterogeneità dimensioni delle catene GAG ​​"spread" la proteina su un settore del gel, riducendone suo importo per ogni area della macchia. Inoltre, se la proteina di interesse ha bassi livelli di espressione, la sua individuazione da western blot regolari è un compito difficile. Il fattore di crescita trasformante tipo III β del recettore (TGFBR3) o betaglycan(BG), un recettore di membrana con due siti di attacco di GAG nei mammiferi 1 e uno in zebrafish 3, ha tutte queste proprietà. Sebbene, protocolli per superare questi ostacoli sono stati concepiti, come il rilevamento da parte del sistema avidina-biotina complesso (ABC) 10,11 o immunobloting di proteoglicani sulle membrane cariche positivamente 12, non possono risolvere i problemi sia nella stessa protocollo. Sfruttando l'elevata affinità di BG per il suo naturale ligando TGFβ2 e della disponibilità di un anticorpo specifico, AFLIP, una tecnica che combina i vantaggi di etichettatura affinità e immunoprecipitazione, sopra discusso limiti di rilevamento western blot possono essere superati.
Etichettatura affinità dei recettori di membrana con i loro ligandi radioattivi è uno strumento ben utilizzato che è stato determinante per l'identificazione e la caratterizzazione di alcuni importanti fattori di crescita recettori in cellule in coltura 13-16.Mentre in affinità convenzionale etichettare un monostrato di cellule è sottoposto a covalenti etichettatura ligando sul piatto di coltura tissutale e quindi lisate, in AFLIP i complessi ligando-recettore vengono prima formati in lisati embrione, quindi purificati mediante immunoprecipitazione e, infine, in modo covalente cross-linked. A causa del suo uso di ligandi radioattivi, AFLIP è molto sensibile e in linea di principio può essere adattato ad altri fattori di crescita o recettori citochine per i quali sono disponibili un ligando marcato e una buona anticorpi. Questo potenziale di AFLIP aiuterebbe l'individuazione di queste basse abbondanti ma fisiologici molecole rilevanti.
A causa della variabilità intrinseca nella fase di reticolazione di etichettatura affinità, AFLIP non può essere utilizzato per determinare quantitativamente i livelli dei recettori misurati. Tuttavia, se eseguita con adeguati controlli paralleli, può fornire una misura abbastanza preciso dei livelli relativi di loro espressione. Come utilizzare AFLIP estratti totali di proteine, non è restriCTED ad uno specifico localizzazione cellulare del recettore, rivela la sua espressione in tutta la persona o organo, se applicata a esemplari adulti sezionati. Infine, se necessario AFLIP potrebbe essere collegato ad altri protocolli biochimici, come digestioni enzimatiche di carboidrati, per caratterizzare ulteriormente il recettore di interesse.
Simile a etichettatura affinità convenzionale, un ligando appena marcato 125 I è fortemente raccomandato. Data la breve emivita di 125 I, il ligando deve essere utilizzato entro le prime 2 settimane dopo la marcatura con isotopo fresca. Anche se la maggior parte degli avvertimenti del protocollo sono stati menzionati nelle fasi corrispondenti, una menzione speciale deve essere data al accurata rimozione del tuorlo, che deve essere il più completo e uniforme possibile. Lasciando quantità irregolari di tuorlo comporterebbe quantificazione errata di bona fide proteine ​​dell'embrione nei lisati.
Subscription Required. Please recommend JoVE to your librarian.
Materials
| | | | |
| --- | --- | --- | --- |
| Name | Company | Catalog Number | Comments |
| Disuccinimidyl suberate (DSS) | ThermoFisher Scientific | 21555 | |
| Protein G Sepharose 4 Fast Flow | GE Healthcare Life Sciences | 17-0618-01 | |
| Gel Dryer Model 583 | BIO-RAD | 1651745 | |
| Typhoon 9400 | GE Healthcare Life Sciences | 63-0055-78 | |
| Cobra II Auto gamma counter | Packard | | |
| Exposure Cassette | Molecular Dynamics | 63-0035-44 | |
| NaCl | J.T. Baker | 3624 | |
| KCl | J.T. Baker | 3040 | |
| Na2HPO4 | J.T. Baker | 3828 | |
| K2HPO4 | J.T. Baker | 3246 | |
| CH3OH | J.T. Baker | 9070 | |
| CH3COOH | J.T. Baker | 9508 | |
| HCHO | J.T. Baker | 2106 | |
| SDS | Sigma-Aldrich | L4509 | |
| EDTA | Sigma-Aldrich | ED | |
| Triton X-100 | Sigma-Aldrich | T9284 | |
| CaCl2 | Sigma-Aldrich | C3306 | |
| NaHCO3 | Fisher Scientific | S233 | |
| PMSF | Sigma-Aldrich | P7626 | |
| Crystal Sea Marine Mix | Marine Enterprises International | http://www.meisalt.com/Crystal-Sea-Marinemix | |