Cite this Article
Copy Citation | Download Citations

Molina-Villa, T., Mendoza, V., López-Casillas, F. Affinity Labeling Detection of Endogenous Receptors from Zebrafish Embryos. J. Vis. Exp. (114), e54405, doi:10.3791/54405 (2016).
Protocol
Alle Versuche an Tieren durchgeführt wurden vom Ausschuss für Laboratory Animal Care und Verwenden der Autonomen Nationalen Universität von Mexiko (UNAM) genehmigt, unter dem CICUAL-Protokollnummer: FLC40-14. (CICUAL: "Comité Institucional para el Cuidado y Uso de los Animales de Laboratorio del Instituto de fisiologia Celular, Universidad Nacional Autónoma de México").
1. Herstellung von Embryo Protein Extract
Sammeln Sie 100 bis 200 Embryonen für jede Bedingung zu vergleichen (morphants vs. Wildtyp) in der gewünschten Stufe, zum Beispiel 72 Stunden nach der Befruchtung (HPF).
Platz Embryonen in Petrischalen mit Fischwasser (siehe Tabelle 1) und manuell dechorionate Embryonen mit feinen bestückte Zange. Während dieses Schritts zu vermeiden (oder einer anderen Protease gesamten Protokoll) unter Verwendung von Pronase, da es die gezielte Rezeptor verdauen kann.
Ort Embryonen in einem 1,5 ml Mikrozentrifugenröhrchen und wasche Embryonen twEis mit 1x Phosphatpufferlösung (PBS) (siehe Tabelle 1).
In 500 ul deyolk Puffer (siehe Tabelle 1).
Lassen Sie die meisten Eigelb durch vorsichtiges Pipettieren nach oben und unten (ca. 30 - 40-mal) die Embryonen in der Lösung. Für 72 HPF und 48 HPF Embryonen verwenden, blaue und gelbe Pipettenspitzen sind. Gelb Spitzen müssen leicht geschnitten werden kann, Zerstörung von Embryonen zu vermeiden. Die erfolgreiche Dotter Freisetzung kann durch die Beobachtung Embryonen unter dem Mikroskop geprüft werden.
Sammeln Embryonen durch Zentrifugation bei 600 xg für 15 sec.
Überstand verwerfen sorgfältig durch eine Pipette.
Wash Embryonen zweimal mit 500 & mgr; l Waschpuffer (siehe Tabelle 1) durch bei niedrigster Geschwindigkeit sanft verwirbelt.
Sammeln Embryonen durch Zentrifugation bei 600 xg für 15 sec.
Ab hier geht das Verfahren bei 4 ° C.
Überstand verwerfen sorgfältig durch eine Pipette.
Resuspendieren Embryonen in 350 & mgr; l Lysepuffer (siehe Tabelle 1) und homogenisieren einen Plastik zerstoßen.
Inkubieren lysiert Embryonen 30 min unter Rühren auf einem Reagenzglas rocker bei 4 ° C.
Zentrifuge lysiert Embryonen bei 11.000 xg für 15 min, um unlösliche Rückstände zu entfernen.
Transfer geklärte Überstand einer Pipette in ein frisches Röhrchen verwenden.
Bestimmung der Gesamtprotein durch Bradford-Test 4 oder ein anderes geeignetes Verfahren. Wenn Bradford - Test verwendet wird, führen Sie die Kalibrierungskurve in Gegenwart von äquivalenten Konzentrationen der Waschmittel präsentiert im Lysepuffer, da sie eine Unterschätzung des Proteins Standard - 4 führen.
2. Nachweis von endogenen Rezeptor Protein
Affinitätsmarkierung und Immunpräzipitation (alle diese Schritte wurden bei 4 ° C)

Platzieren 400-500 ug Gesamt - Embryo - Protein in einem 1,5 ml Mikrozentrifugenröhrchen und mit Wasser auf 1 & mgr; g / & mgr; l mit Puffer 1 (siehe Tabelle 1).
Hinweis: Um 500 ug Gesamt-Embryo-Protein zu erhalten, etwa 100 bis 200 Embryonen müssen zunächst verarbeitet werden. 72 HPF Embryonen routinemäßig ergeben ~ 5 ug Gesamt-Embryo-Protein, das für Betaglycan Nachweis ausreichend ist.
Hinzufügen genügend Volumen an markiertem TGF-β2 Lager um eine Endkonzentration von 150 pM zu erreichen und inkubiere unter Schütteln auf einem Reagenzglas Wippe 2 h bei 4 ° C. TGF-β2 müssen gekennzeichnet werden , bevor AFLIP gestartet wird, mit 125 I nach dem Verfahren Chloramin T , wie durch Cheifetz et al. 5.
ACHTUNG: Verwenden Sie Abschirmung Exposition zu minimieren , während 125 Umgang mit der Bezeichnung I - Liganden.
Hinzufügen genügend Volumen an unverdünntem Antikörper gegen den Rezeptor von Interesse, um eine 1 zu erreichen: 100 Verdünnung und weiter Inkubation für weitere 2 h bei 4 ° C (Inkubation kann O / N sein). Dies ist die optimale Verdünnung des Antiserums # 31, die in dieser Studie verwendet und anderswo 3 beschrieben, jedoch in Abhängigkeit von der Qualität der eintibody, eine größere oder kleinere Verdünnung kann die optimal sein.
Zugabe von 50 & mgr; l geeignete Immunglobulin-Bindungsperlen (zB G-Protein-Sepharose, die zuvor in TNTE äquilibriert wurde und resuspendiert 1: 5 des ursprünglichen Volumens in TNTE) und Inkubation für 50 min unter Rühren auf einem Reagenzglas rocker bei 4 ° C.
Gewinnen Sie die Perlen durch Mikrozentrifugieren bei 11.000 × g für 20 Sekunden.
Überstand verwerfen in einem geeigneten radioaktiven Abfallbehälter.
Waschen Sie die IP-Perlen dreimal mit 1 ml IP - Waschpuffer (siehe Tabelle 1) durch Vortexen und Mikrozentrifugation bei 11.000 xg für 20 sec jedes Mal.
Resuspendieren IP-Perlen in 250 ul IP Waschpuffer.
Fügen 1,5 ul Disuccinimidylsuberat (DSS, gelöst in DMSO bei 10 mg / ml). Bereiten Sie die DSS-Lösung kurz vor der Verwendung in diesem Schritt.
Inkubieren für 15 min bei 4 ° C unter Rühren.
Um die Vernetzungsreaktion zu löschen, 500 & mgr; l of IP Waschpuffer, ergänzt mit genügend Tris-Cl pH 7,4 Lager 25 mM Tris-Cl zu erreichen. Die freien Aminogruppen in Tris erfassen nicht umgesetzten DSS.
Zentrifuge bei 11.000 g für 20 sec IP-Perlen zu sammeln und Überstand verwerfen.
Resuspendieren IP-Perlen in 30 ul Puffer Laemmli reduzieren.
Boil Proben 5 min bei 94 ° C.
Optional analysieren Proben in einem Gamma-Zähler des Protokolls Hersteller.

Probenanalyse

Gegenstand Proben einer SDS-PAGE denaturieren. Verwenden Sie Polyacrylamid auf der entsprechenden Prozentsatz für die Masse des Rezeptors und führen Gel unter Standardverfahren.
Tauchen Gel in Fixierlösung (siehe Tabelle 1) für 30 min bei RT.
Waschen Sie Gel mit destilliertem Wasser 15 min.
Setzen Sie Gel in vorher hydratisiert Filterpapier und Deckel mit Saran Wrap Folie.
Trockenen Gels bei 80 ° C für 1 Stunde.
Expose Gel auf einem weißen Phosporimager screen bei RT O / N.
Scan ausgesetzt Bildschirm mit einem Phosporimager mit Protokoll des Herstellers.
Subscription Required. Please recommend JoVE to your librarian.
Representative Results
Figur 1 zeigt ein repräsentatives Ergebnis mit AFLIP erhalten. Die Signale in Spur 1 kommen aus dem 125 I-Ligand kovalent an entweder der Zebrabärbling Betaglycan Core - Protein (BG Kern unterhalb der 150 kDa - Marker) verknüpft oder dem BG Kern, der zu seiner Proteoglykan Form verarbeitet wurde , durch Anbringung von Glykosaminoglykanen (GAG, Abstrich im Bereich von 170 kDa an die Spitze des Gels). Dieses Muster der Migration, ein scharfer Core - Protein plus eine verschmierte Proteoglykan (aufgrund der Heterogenität in der Länge der GAG - Ketten), ist charakteristisch für die TGFBR3 2. Da der DSS kovalent nicht jeder einzelne Ligand-Rezeptor - Komplex verbinden gebildet, gibt es freie 125 I-Ligand an der Migration vor dem Gel (125 I-TGF-β2) erscheinen. Dieser freie Ligand wurde an den Rezeptor gebunden und blieb während der Immunpräzipitation gebunden, aber da es nicht kovalent gebunden wurde, während der SDS-PAGE Verfahren abgelöst. Neinnetheless, die Stärke seines Signals korreliert noch zu dem einen von dem markierten Rezeptor gegeben. Dies kann durch Vergleichen Spuren 2 und 3. Bei 48 hpf der Zebrabärbling - Embryonen weisen geringere Mengen an BG als 72 hpf Embryonen 3 geschätzt werden , die durch die schwache Signale an der GAG und BG Kern zu sehen ist, die zu der Intensität des die entsprechen Signale, die von dem freien Liganden gegeben an der Vorderseite des Gels (Spur 2) erscheint. Da Antikörper gegen Ratten - BG 6 nicht kreuzreagieren mit dem ZF BG, die Antikörper , wenn in der AFLIP verwendet gab kein Signal, daher dient als negative Kontrolle (Spur 3). Ähnliche negative Ergebnisse wurden mit dem Präimmunserum des anti-ZF BG Antikörpers 3 erhalten.
Figur 2 zeigt , wie AFLIP verwendet werden können , um die Expressionsniveaus eines bestimmten Rezeptors in Embryonen einer experimentellen Manipulation unterworfen abzumessen, in diesem Fall die Abnahme der Betaglycan aufgrund morpholino inSpritz- 3. Spur 1 zeigt das Niveau von TGFBR3 in einem 72 HPF Wildtyp-Embryo, während Spur 2 die Wirkung der Verabreichung von 7 ng eines Morpholino zum exon2-intron2 Grenze des ZF BG primären Transkript gerichtet zeigt. Beachten Sie, dass die BG Abregulierung mit diesem morpholino erhalten nicht durch seine fehlangepassten Kontrolle (Spur 3) wiedergegeben wird. Diese Ergebnisse bestätigten , dass der Phänotyp mit diesem Morpholin erhalten wurde spezifisch für die Zuschlags des TGFBR3 wie vor 3 beschrieben.

Abbildung 1. AFLIP Nachweis von BG in Zebrabärbling Embryonen. Die Gesamtproteinextrakt aus Embryonen bei 72 Stunden nach der Befruchtung (hpf) (Bahnen 1 und 3) und 48 hpf (Spur 2) wurden einer 125 I-TGF-β2 Affinitätsmarkierung , gefolgt von IP mit Kaninchen-anti-Zebrabärbling BG (Spuren 1 und 2, ZBG) oder Kaninchen-anti-Ratte-BG (Spur 3, RBG) Als Kontrolle. In der Autoradiographie ohne GAG (BG Kern) oder als Glycosaminoglycan-modifizierten BG (GAG). Nachgewiesen werden , BG Bitte klicken hier , um eine größere Version dieser Figur.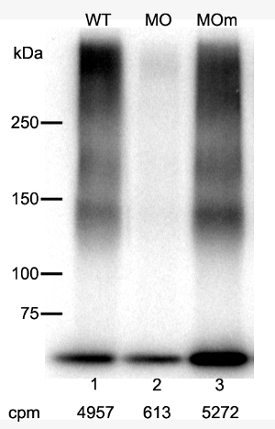 Abbildung 2. BG Morpholino Knockdown Erkannt von AFLIP. 125 I-TGF-β2 Affinitätsmarkierung von BG aus unbehandelten Embryonen WT (lane1) mikroinjiziert mit spezifischen BG morpholino (Spur 2) oder einer Fehlpaarungskontrolle (Spur 3). Die Zählungen pro Million (cpm) erholte sich nach der Immunpräzipitation und der Vernetzungsschritt angezeigt. Bitte hier klicken um eine größere Version dieser Figur zu sehen.
| | |
| --- | --- |
| Puffer | Zusammensetzung |
| Puffer 1 | 50 mM Tris-HCl pH 7,5, 150 mM NaCl, 0,1% Triton X-100 |
| Deyolk Puffer | 55 mM NaCl, 1,8 mM KCl, 1,25 mM NaHCO 3 |
| Fischwasser | Siehe Werkstoff-Tabelle |
| Fixierlösung | 50% CH 3 OH, 12% CH 3 COOH, 0,185% HCHO |
| IP-Waschpuffer | 10 mM Na 2 HPO 4, 2 mM KH 2 PO 4, 137 mM NaCl, 2,7 mM KCl, 0,1% Triton X-100, 0,02% SDS, pH 7,4 |
| Laemmli-Puffer | 2% SDS, 10% Glycerin, 100 mM DTT, 60 mM Tris (pH 6,8), 0,001% Bromphenolblau. |
| Lysepuffer | 50 mM Tris-HCl pH 7,4, 150 mM NaCl, 1 mM EDTA, 1 mM PMSF, 0,5% Triton X-100, 0,1% SDS, 0,5% Natrium Deoxycholate |
| PBS | 137 mM NaCl, 2,7 mM KCl, 10 mM Na 2 HPO 4, 2 mM KH 2 PO 4, pH 7,4 |
| TNTE | 50 mM Tris-HCl pH 7,4, 150 mM NaCl, 1 mM EDTA, 0,1% Triton X-100 |
| Waschpuffer | 110 mM NaCl, 3,5 mM KCl, 2,7 mM CaCl 2, 10 mM Tris-HCl pH 8,5 |
Tabelle 1: Pufferzusammensetzungen
Subscription Required. Please recommend JoVE to your librarian.
Discussion
Die Verwendung von Western - Blots mit einem spezifischen Antikörper gegen ein Protein von Interesse ist ein wertvolles Instrument zum Ausdruck 7 während der Embryonalentwicklung zu studieren. Jedoch Immunoblotting hoch glycosylierten Proteinen war nicht sehr erfolgreich gewesen aufgrund ihrer ineffizienten Übertragung und eine schwache Bindung an Nitrocellulose oder PVDF Membranen 8,9.
Proteoglykane sind ein gutes Beispiel für dieses Manko, die aufgrund ihrer kovalent Glykosaminoglykanketten (GAG) angebracht, die negativ geladen sind und binden nicht gut auf entweder Polystyrol-Oberflächen oder hydrophobe Blotting Membranen. Auch die Größenheterogenität des gag-chains "spreizt", die das Protein über einen Sektor des Gels effektiv seine Menge pro Fläche des Blots abnimmt. Darüber hinaus, wenn das Protein von Interesse niedrige Expressionsniveaus aufweist, ist seine Erfassung durch regelmäßige Western-Blots eine schwierige Aufgabe. Der Typ III transforming growth factor β-Rezeptor (TGFBR3) oder Betaglycan(BG), ein Membranrezeptor mit zwei Bindungsstellen des GAG in Säugetieren 1 und eine in Zebrabärbling 3, hat alle diese Eigenschaften. Obwohl, Protokolle , diese Hürden zu überwinden , entwickelt worden, wie die Detektion von Avidin-Biotin - Komplex (ABC) System 10,11 oder immunobloting von Proteoglykanen auf positiv geladenen Membranen 12, können sie beide Probleme in dem gleichen Protokoll nicht lösen. Unter Ausnutzung der hohen Affinität von BG für seine natürliche Ligand TGFβ2 und der Verfügbarkeit eines spezifischen Antikörpers, AFLIP, eine Technik, die die Vorteile der Affinitätsmarkierung und Immunpräzipitation kombiniert, diskutiert die oben genannten Einschränkungen der Western-Blot-Nachweis überwunden werden kann.
Affinity Kennzeichnung von membrangebundenen Rezeptoren mit ihren radiomarkierten Liganden ist ein gut verwendeten Werkzeug , das für die Identifizierung und Charakterisierung von mehreren wichtigen Wachstums beigetragen hat Faktoren - Rezeptoren in kultivierten Zellen 13-16.Während bei herkömmlichen Affinitäts eine Monoschicht von Zellen Markierung unterworfen wird, Liganden Etikettierungs auf der Gewebekulturschale auf kovalente und dann lysiert, in AFLIP die Ligand-Rezeptor-Komplexe werden zuerst in embryo Lysaten gebildet, dann durch Immunpräzipitation gereinigt und schließlich, kovalent vernetzt ist. Wegen seiner Verwendung von radiomarkiertem Liganden ist AFLIP sehr empfindlich und kann im Prinzip für andere Wachstumsfaktoren oder Cytokine, Rezeptoren, für die ein markierter Ligand und ein guter Antikörpers zur Verfügung angepasst werden. Dieses Potential AFLIP würde den Nachweis dieser geringen reichlich aber physiologisch relevanten Molekülen helfen.
Aufgrund der inhärenten Variabilität in dem Vernetzungsschritt der Affinitätsmarkierung, AFLIP nicht quantitativ verwendet werden, um die Pegel der gemessenen Rezeptoren bestimmen. Wenn jedoch bei ausreichender parallel Kontrollen, kann es eine sehr genaue Messung der relativen Pegel ihrer Expression bereitzustellen. Als AFLIP Gesamtproteinextrakte verwendet werden, ist es nicht restricted auf eine bestimmte zelluläre Lokalisation des Rezeptors, zeigt es seinen Ausdruck in der ganzen Person oder Orgel, zu seziert wachsene Exemplare angewendet, wenn. Schließlich könnten bei Bedarf AFLIP zu anderen biochemischen Protokollen verknüpft werden, wie Kohlenhydrat enzymatische Aufschlüsse, um weiter den Rezeptor von Interesse zu charakterisieren.
Ähnlich wie bei herkömmlichen Affinitätsmarkierung, ein frisch 125 I-markierten Liganden wird dringend empfohlen. In Anbetracht der kurzen Halbwertszeit von 125 I, muss der Ligand innerhalb der ersten 2 Wochen verwendet werden , nachdem er mit frischem Isotopenmarkierung. Obwohl die meisten der Einsprüche des Protokolls in den entsprechenden Schritten genannt wurden, eine besondere Erwähnung wird auf die sorgfältige Entfernung des Eigelbs gegeben werden, die so vollständig und einheitlich wie möglich sein müssen. ungleiche Mengen von Eigelb verlassen in falsche Quantifizierung von Bona-fide-Embryo-Protein in den Lysaten führen würde.
Subscription Required. Please recommend JoVE to your librarian.
Materials
| | | | |
| --- | --- | --- | --- |
| Name | Company | Catalog Number | Comments |
| Disuccinimidyl suberate (DSS) | ThermoFisher Scientific | 21555 | |
| Protein G Sepharose 4 Fast Flow | GE Healthcare Life Sciences | 17-0618-01 | |
| Gel Dryer Model 583 | BIO-RAD | 1651745 | |
| Typhoon 9400 | GE Healthcare Life Sciences | 63-0055-78 | |
| Cobra II Auto gamma counter | Packard | | |
| Exposure Cassette | Molecular Dynamics | 63-0035-44 | |
| NaCl | J.T. Baker | 3624 | |
| KCl | J.T. Baker | 3040 | |
| Na2HPO4 | J.T. Baker | 3828 | |
| K2HPO4 | J.T. Baker | 3246 | |
| CH3OH | J.T. Baker | 9070 | |
| CH3COOH | J.T. Baker | 9508 | |
| HCHO | J.T. Baker | 2106 | |
| SDS | Sigma-Aldrich | L4509 | |
| EDTA | Sigma-Aldrich | ED | |
| Triton X-100 | Sigma-Aldrich | T9284 | |
| CaCl2 | Sigma-Aldrich | C3306 | |
| NaHCO3 | Fisher Scientific | S233 | |
| PMSF | Sigma-Aldrich | P7626 | |
| Crystal Sea Marine Mix | Marine Enterprises International | http://www.meisalt.com/Crystal-Sea-Marinemix | |