Cite this Article
Copy Citation | Download Citations

Molina-Villa, T., Mendoza, V., López-Casillas, F. Affinity Labeling Detection of Endogenous Receptors from Zebrafish Embryos. J. Vis. Exp. (114), e54405, doi:10.3791/54405 (2016).
Protocol
Alle experimenten uitgevoerd bij dieren uitgevoerd werden goedgekeurd door het Comité voor Laboratory Animal Care en gebruik van de Autonome Nationale Universiteit van Mexico (UNAM), in het kader van de CICUAL-protocol nummer: FLC40-14. (CICUAL: "Comité Institucional para el Cuidado y Uso de los Animales de Laboratorio del Instituto de fisiologia Celular, Universidad Nacional Autònoma de México").
1. Bereiding van Embryo Protein Extract
Verzamel 100-200 embryo's voor elke voorwaarde om te vergelijken (morphants vs. wild-type) op de gewenste stadium, bijvoorbeeld 72 uur na de bevruchting (HPF).
Plaats embryo's in Petri gerechten met vis water (zie tabel 1) en handmatig dechorionate embryo's met behulp van fijne punt tang. Gebruik geen pronase tijdens deze stap (of een ander protease gehele protocol) omdat de beoogde receptor kunnen verteren.
Plaats embryo in een 1,5 ml microfugebuis en was embryo twijs met 1x fosfaatbufferoplossing (PBS) (zie tabel 1).
Voeg 500 pl deyolk buffer (zie tabel 1).
Vrijgeven meeste dooier door zachtjes en neer te pipetteren (ongeveer 30-40 keer) de embryo's in de oplossing. Voor 72 HPF en 48 HPF embryo's te gebruiken blauw en geel pipetpunten, respectievelijk. Gele tips kan nodig zijn om iets te snijden om te voorkomen dat het vernietigen van embryo's. De succesvolle dooier vrijlating kan worden gecontroleerd door het observeren van embryo's onder de microscoop.
Verzamel embryo door centrifugatie bij 600 g gedurende 15 sec.
Gooi supernatant voorzichtig met een pipet.
Wassen embryo tweemaal met 500 ui wasbuffer (zie tabel 1) door voorzichtig vortexen op de laagste snelheid.
Verzamel embryo door centrifugatie bij 600 g gedurende 15 sec.
Vanaf hier, blijven de procedure bij 4 ° C.
Gooi supernatant voorzichtig met een pipet.
Resuspendeer embryo's in 350 ul lysisbuffer (zie tabel 1) en homogeniseer met een plastic stamper.
Incubeer 30 min gelyseerd embryo onder schudden op een reageerbuis rocker bij 4 ° C.
Centrifugeer gelyseerd embryo bij 11.000 g gedurende 15 minuten om onoplosbare resten te verwijderen.
Overdracht heldere supernatant met een pipet naar een nieuwe buis.
Vaststellen van totaal eiwit door Bradford eiwittest 4 of een andere geschikte procedure. Als Bradford assay wordt gebruikt, voert de ijkcurve in aanwezigheid van equivalente concentraties van detergentia in de lysisbuffer mocht een onderschatting van de eiwitstandaard 4 veroorzaken.
2. Detectie van endogene Receptor Protein
Affiniteit Labeling en Immunoprecipitatie (al deze stappen bij 4 ° C)

Place 400-500 ug totaal eiwit embryo in een 1,5 ml microfugebuis en verdun tot 1 ug / ul met buffer 1 (zie tabel 1).
Let op: Met het oog op het verkrijgen van 500 ug totaal embryo eiwit, ongeveer 100-200 embryo's moeten in eerste instantie worden verwerkt. 72 HPF embryo routinematig op ~ 5 ug totaal eiwit embryo, wat voldoende is voor betaglycan detectie.
Voeg voldoende hoeveelheid gelabeld TGF-β2 voorraad tot een eindconcentratie van 150 pM bereiken en incubeer onder schudden op een reageerbuis rocker 2 uur bij 4 ° C. TGF-β2 moeten worden geëtiketteerd voordat AFLIP wordt gestart met 125 I de chlooramine T methode, beschreven Cheifetz et al. 5.
LET OP: Gebruik afscherming om blootstelling te minimaliseren tijdens het hanteren van 125 ik gemerkt ligand.
Voeg voldoende volume onverdunde antilichaam tegen de receptor van belang om ook in een 1: 100 verdunning en verder incubatie gedurende nog 2 uur bij 4 ° C (incubatie kan O / N). Dit is de optimale verdunning van antiserum # 31, die in deze studie en elders 3, maar afhankelijk van de kwaliteit van eentibody, een grotere of kleinere verdunning optimaal zijn.
Voeg 50 ul van geschikte immunoglobuline bindende kralen (bijvoorbeeld G-eiwit-Sepharose, die voorheen TNTE werd geëquilibreerd en opnieuw gesuspendeerd 1: 5 van het oorspronkelijke volume in TNTE) en incubeer gedurende 50 min onder roeren op een reageerbuis rocker bij 4 ° C.
Herstel de kralen door microcentrifugatie bij 11.000 xg gedurende 20 sec.
Gooi supernatant in een geschikt radioactief afval container.
Was de IP-parels driemaal met 1 ml van IP wasbuffer (zie Tabel 1), door wervelen en microcentrifugatie bij 11.000 xg gedurende 20 seconden per keer.
Resuspendeer IP-kralen in 250 ul IP wasbuffer.
Voeg 1,5 pl disuccinimidylsuberaat (DSS, opgelost in DMSO bij 10 mg / ml). Bereid de DSS oplossing vlak voor het gebruik ervan in deze stap.
Incubeer gedurende 15 minuten bij 4 ° C onder roeren.
Teneinde de verknopingsreactie te blussen, voeg 500 ul of IP wasbuffer, aangevuld met voldoende Tris-Cl pH 7,4 voorraad tot 25 mm Tris-Cl te bereiken. De vrije amino-groepen in Tris vangen ongereageerd DSS.
Centrifugeer bij 11.000 xg gedurende 20 seconden aan IP-kralen te verzamelen en gooi supernatant.
Resuspendeer IP-kralen in 30 ul reducerende Laemmli buffer.
Kook monsters 5 min bij 94 ° C.
Eventueel analyseren monsters in een gammateller behulp protocol van de fabrikant.

monsteranalyse

Onderworpen monsters denaturerende SDS-PAGE. Gebruik polyacrylamide op het juiste percentage van de massa van de receptor en werking gel onder standaardprocedure.
Dompel gel in fixatief (zie tabel 1) gedurende 30 minuten bij kamertemperatuur.
Was de gel met gedestilleerd water gedurende 15 min.
Plaats de gel in eerder gehydrateerd filter papier en dek af met saran wrap film.
Droge gel bij 80 ° C gedurende 1 uur.
Expose gel op een witte fosforimager screen bij RT O / N.
Scan blootgesteld scherm met behulp van een fosforimager met behulp van het protocol van de fabrikant.
Subscription Required. Please recommend JoVE to your librarian.
Representative Results
Figuur 1 toont een representatief resultaat verkregen met AFLIP. Signalen in baan 1 uit de 125I-ligand covalent gebonden aan ofwel de zebravis betaglycan kerneiwit (BG kern onder de 150 kDa marker) of BG kern die aan zijn proteoglycan vorm verwerkt door bevestiging van glycosaminoglycanen (GAG, uitstrijkje variërend van 170 kDa tot de bovenkant van de gel). Het migratiepatroon, een scherpe kerneiwit en een besmeurd proteoglycan (door heterogeniteit in de lengte van de GAG ketens), is kenmerkend voor de TGFBR3 2. Aangezien de DSS niet covalent elke ligand-receptorcomplex vormt, is vrij 125I-ligand verschijnen op de migratie voorzijde van de gel (125 I-TGF-β2). Deze ligand is gebonden aan de receptor, en bleef gebonden tijdens de immuunprecipitatie, maar aangezien het niet covalent gebonden, losgemaakt tijdens de SDS-PAGE procedure. Neenetheless, de sterkte van het signaal correleert nog degene die door de gemerkte receptor. Dit kan worden begrepen door vergelijking van lanen 2 en 3. 48 HPF de zebravis embryo's vertonen lagere hoeveelheden BG dan 72 HPF embryo 3, die kan worden gezien door de zwakke signalen aan de GAG en BG kern, die corresponderen met de intensiteit van het signalen van het vrije ligand verschijnen aan de voorzijde van de gel (baan 2). Aangezien antilichamen tegen rat BG 6 niet kruisreageren met de ZF BG de antilichamen bij gebruik in de AFLIP gaf geen signaal, dus dient als een negatieve controle (baan 3). Gelijkaardige negatieve resultaten werden verkregen met de pre-immuunserum of anti-ZF BG antilichaam 3.
Figuur 2 toont hoe AFLIP kan worden gebruikt om de niveaus van expressie van een bepaalde receptor te meten in embryo's die zijn experimentele manipulatie, in dit geval was de daling van betaglycan door morfolino inprojectie 3. Laan 1 toont het niveau van TGFBR3 in een 72 HPF wildtype embryo, terwijl laan 2 het effect van het toedienen van 7 ng een morfolino gericht op de exon2-intron2 grens van het primaire transcript ZF BG toont. Merk op dat de BG beneden regeling verkregen met deze morfolino niet wordt overgenomen door zijn mis-gematchte controlegroep (Baan 3). Deze resultaten bevestigden dat de verkregen met deze morfolino fenotype was specifiek voor de knockdown van de TGFBR3 zoals eerder beschreven 3.

Figuur 1. Detectie van AFLIP BG ​​in zebravis embryo's. De totale eiwitextract uit embryo op 72 uur na de bevruchting (HPF) (lanen 1 en 3) en 48 HPF (Baan 2) werden onderworpen aan 125I-TGF-β2 affiniteit labeling gevolgd IP met konijn anti-BG zebravis (lanen 1 en 2, ZBG) of konijn anti-rat BG (baan 3 RBG) Als controle. In de autoradiografie kan BG worden gedetecteerd zonder GAG (BG kern) of als een glycosaminoglycan-gemodificeerde BG (GAG). Klik hier om een grotere versie van deze figuur te bekijken.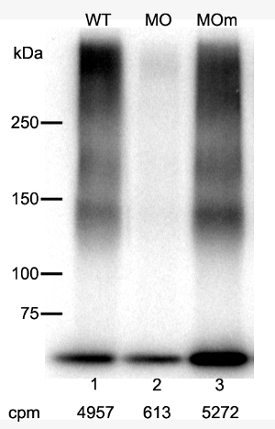 Figuur 2. BG morfolino knockdown gedetecteerd door AFLIP. 125I-TGF-β2 affiniteit labeling van BG van onbehandelde WT embryo (lane1), gemicroinjecteerd specifieke BG morfolino (Baan 2) of een mismatch control (Baan 3). De tellingen per miljoen (cpm) hersteld na de immunoprecipitatie en de cross-linking stap worden aangegeven. Klik hier om een grotere versie van deze figuur te bekijken.
| | |
| --- | --- |
| Buffer | Samenstelling |
| buffer 1 | 50 mM Tris-HCl pH 7,5, 150 mM NaCl, 0,1% Triton X-100 |
| Deyolk buffer | 55 mM NaCl, 1,8 mM KCI, 1,25 mM NaHCO3 |
| vis water | Zie Materialen Table |
| fixatief oplossing | 50% CH3OH, 12% CH3COOH, 0,185% HCHO |
| IP wasbuffer | 10 mM Na 2 HPO 4, 2 mM KH 2PO 4, 137 mM NaCl, 2,7 mM KCI, 0,1% Triton X-100, 0,02% SDS, pH 7,4 |
| Laemmli buffer | 2% SDS, 10% glycerol, 100 mM DTT, 60 mM Tris (pH 6,8), 0,001% broomfenolblauw. |
| lysisbuffer | 50 mM Tris-HCl pH 7,4, 150 mM NaCl, 1 mM EDTA, 1 mM PMSF, 0,5% Triton X-100, 0,1% SDS, 0,5% natrium DeoxychOlate |
| PBS | 137 mM NaCl, 2,7 mM KCI, 10 mM Na 2 HPO 4, 2 mM KH 2PO 4, pH 7,4 |
| TNTE | 50 mM Tris-HCl pH 7,4, 150 mM NaCl, 1 mM EDTA, 0,1% Triton X-100 |
| wasbuffer | 110 mM NaCl, 3,5 mM KCI, 2,7 mM CaCl2, 10 mM Tris-HCl pH 8,5 |
Tabel 1: Samenstellingen Buffer
Subscription Required. Please recommend JoVE to your librarian.
Discussion
Het gebruik van Western blots met een specifiek antilichaam tegen een eiwit van belang een waardevol instrument zijn expressie 7 bestuderen tijdens embryogenese. Echter, immunoblotting van sterk geglycosyleerde eiwitten niet erg succesvol geweest vanwege hun inefficiënte overdracht en zwakke binding aan nitrocellulose of PVDF-membranen 8,9.
Proteoglycanen zijn een goed voorbeeld van deze tekortkoming, vanwege hun covalent gehecht glycosaminoglycan ketens (GAG), die negatief geladen zijn en niet goed binden aan ofwel polystyreen oppervlakken of hydrofobe blotting membranen. Ook de grootte heterogeniteit van de GAG ​​ketens "spreads" het eiwit in een sector van de gel, effectief verlagen van de hoeveelheid per oppervlakte van de blot. Bovendien, wanneer het eiwit van belang heeft lage expressieniveaus, de detectie met regelmatige Western blots is een moeilijke taak. Het type III transformerende groeifactor β receptor (TGFBR3) of betaglycan(BG), een membraan receptor met twee GAG's attachment sites in zoogdieren 1 en één in de zebravis 3, heeft al deze eigenschappen. Hoewel protocollen om deze hindernissen te overwinnen zijn ontwikkeld, zoals de detectie door avidine-biotine complex (ABC) -systeem 10,11 of immunobloting proteoglycanen op positief geladen membranen 12, ze kunnen niet beide problemen hetzelfde protocol lossen. Gebruik te maken van de hoge affiniteit van BG om zijn natuurlijke ligand TGFB2 en de beschikbaarheid van een specifiek antilichaam, AFLIP, een techniek die de voordelen van affiniteit labeling en immunoprecipitatie combineert de hierboven besproken beperkingen van western blot detectie kan worden overwonnen.
Affiniteit labeling van membraan gebonden receptoren met hun liganden een radioactief gemerkte goed gebruikt instrument die bevorderlijk voor de identificatie en karakterisering van verschillende belangrijke groei is factoren receptoren in gekweekte cellen 13-16.Terwijl op gebruikelijke affiniteit benoemen van een monolaag van cellen onderworpen aan ligand labels op de weefselkweekplaat covalente en vervolgens gelyseerd in AFLIP de ligand-receptor complexen eerst gevormd in embryonale lysaten, vervolgens gezuiverd door immunoprecipitatie en tenslotte covalent verknoopt. Door het gebruik van radioactief gemerkte liganden, AFLIP is zeer gevoelig en in principe kan worden aangepast aan andere groeifactoren of cytokinen receptoren waarvoor een gemerkt ligand en een goede antilichaam beschikbaar. Dit potentieel van AFLIP zou helpen bij het opsporen van deze lage overvloedige maar fysiologisch relevante moleculen.
Vanwege de inherente variabiliteit in de verknopingstrap affiniteit labeling, kan AFLIP niet worden gebruikt om de niveaus van de gemeten receptoren kwantitatief. Echter, indien uitgevoerd met voldoende parallelle controles, kan een zeer nauwkeurige ijking van relatieve niveaus van hun expressie verschaffen. Zoals AFLIP gebruiken totaal eiwit-extracten, is het niet restricted een bepaalde cellulaire locatie van de receptor, onthult tot uitdrukking in de gehele persoon of orgaan, indien toegepast op ontleed volwassen exemplaren. Tenslotte, indien nodig AFLIP kunnen worden gekoppeld aan andere biochemische protocollen, zoals koolhydraten enzymatische digesties, verder te karakteriseren de receptor van belang.
Soortgelijke conventionele affiniteit labeling, wordt een vers 125I-gemerkt ligand sterk aanbevolen. Gezien de korte halfwaardetijd van 125I, moet het ligand worden gebruikt binnen de eerste 2 weken na labelen met verse isotoop. Hoewel de meeste van de restricties van het protocol zijn in de desbetreffende stappen genoemd, heeft één aandacht worden gegeven aan het zorgvuldig verwijderen van de dooier, zo volledig en uniform mogelijk moet zijn. Het verlaten van ongelijke hoeveelheden dooier zou leiden tot onjuiste kwantificering van bona fide embryo eiwit in de lysaten.
Subscription Required. Please recommend JoVE to your librarian.
Materials
| | | | |
| --- | --- | --- | --- |
| Name | Company | Catalog Number | Comments |
| Disuccinimidyl suberate (DSS) | ThermoFisher Scientific | 21555 | |
| Protein G Sepharose 4 Fast Flow | GE Healthcare Life Sciences | 17-0618-01 | |
| Gel Dryer Model 583 | BIO-RAD | 1651745 | |
| Typhoon 9400 | GE Healthcare Life Sciences | 63-0055-78 | |
| Cobra II Auto gamma counter | Packard | | |
| Exposure Cassette | Molecular Dynamics | 63-0035-44 | |
| NaCl | J.T. Baker | 3624 | |
| KCl | J.T. Baker | 3040 | |
| Na2HPO4 | J.T. Baker | 3828 | |
| K2HPO4 | J.T. Baker | 3246 | |
| CH3OH | J.T. Baker | 9070 | |
| CH3COOH | J.T. Baker | 9508 | |
| HCHO | J.T. Baker | 2106 | |
| SDS | Sigma-Aldrich | L4509 | |
| EDTA | Sigma-Aldrich | ED | |
| Triton X-100 | Sigma-Aldrich | T9284 | |
| CaCl2 | Sigma-Aldrich | C3306 | |
| NaHCO3 | Fisher Scientific | S233 | |
| PMSF | Sigma-Aldrich | P7626 | |
| Crystal Sea Marine Mix | Marine Enterprises International | http://www.meisalt.com/Crystal-Sea-Marinemix | |