Summary
Denne rapporten beskriver en metode for å indusere kronisk eksperimentelt autoimmuntørre øye i Lewis-rotter gjennom immunisering med en emulsjon av rottaklakkekstrakt, ovalbumin og fullstendig Freunds adjuvans, etterfulgt av injeksjon av lakrimalkjertrakt og ovalbumin i forniceal subkonjunktiva og lakrimalkjertler Seks uker senere.
Abstract
Tørr øyesykdom er en svært vanlig tilstand som forårsaker sykelighet og helsetjenester byrde og reduserer livskvaliteten. Det er behov for en egnet tørre øyedyrmodell for å teste nye terapeutiske midler for å behandle autoimmune tørre øyeforhold. Denne protokollen beskriver en kronisk autoimmun tørr øye rotte modell. Lewis-rotter ble immunisert med en emulsjon inneholdende lakrimalkjoldekstrakt, ovalbumin og fullstendig Freunds adjuvans. En annen immunisering med de samme antigenene i ufullstendig Freunds adjuvans ble administrert to uker senere. Disse immuniseringene ble administrert subkutant ved halebunnen. For å øke immunresponsen ved den okulære overflaten og lacrimalkjertlene ble lacrimal kjertekstrakt og ovalbumin injisert i forniceal subconjunctiva og lacrimal kjertler 6 uker etter den første immuniseringen. Rottene utviklet tørre øyefunksjoner, inkludert redusert tåreproduksjon, redusert tårestabilitet og økt hornhindebeskadigelse. ImmunproArkivering ved hjelp av flytcytometri viste en overvekt av CD3 + effektorminne-T-celler i øyeballet.
Introduction
Tørr øyesykdom (DED) er en multifaktorisk sykdom i tårene og den okulære overflaten som resulterer i ubehag, visuell forstyrrelse og ustabilitet i tårefilmen, noe som kan føre til skade på okularoverflaten. Det er ledsaget av økt osmolaritet av tårfilmen og ved betennelse i den okulære overflaten 1 . Symptomer forbundet med DED brenner, stikkende, grittiness, fremmedlegeme sensasjon, tåre, okular tretthet og tørrhet 2 , 3 . De to hovedårsakene til DED er redusert tåreproduksjon av tåresekretjonskjertelen og overdreven fordampning av tårfilmen 4 . Hos pasienter med autoimmune sykdommer, som Sjogren syndrom, systemisk lupus erythematosus og immunforstyrrelser i rheumatoid arthritis reduserer uttrykket av lipider som er essensielle for tårestabilitet. Dessuten reduserer immunskade på den okulære overflaten produktionenPå mucins viktig for overflate fuktighet. Sammen forårsaker disse prosessene kumulativt kronisk tørt øye 5 , 6 , 7 .
Tåreutskifting og antiinflammatorisk terapi er hovedstøtten til behandlingen. Men nåværende antiinflammatoriske terapier for DED ( dvs. kortikosteroider og cyklosporin) er stort sett immunosuppressive, noe som fører til alvorlige bivirkninger 8 , 9 , 10 . Det er behov for en egnet dyremodell for å teste nye immunmodulerende midler for å behandle autoimmun tørt øye.
Mus med spesifikke genetiske defekter 11 , 12 , 13 , mus som mangler spesifikke gener 14 , 15 og transgene mus som overuttrykker immunoregulatOrygener har blitt brukt som modeller for autoimmun tørt øye 16 , 17 . Antigeninducerte autoimmune dyremodeller har også blitt rapportert hos mus 18 , kaniner 19 og rotter 20 , 21 . Her beskriver vi en antigen-indusert modell av kronisk autoimmunt tørt øye. Denne modellen er en modifisering av to tidligere modeller; En brukte lacrimal kjertelekstrakter, og den andre brukte en autoantigen ( dvs. klk1b22) fra lacrimalkirtlene 20 , 21 .
Sykdommen ble indusert ved subkutan immunisering av 6 til 8 uker gamle kvinnelige Lewis-rotter med ovalbumin, komplett Freunds adjuvans og en emulsjon inneholdende lakrimalkjoldekstrakter fra Sprague-Dawley-rotter ( figur 1 ). En andre immunisering med det samme antigenet i ufullstendig Freunds adjuvans varAdministrert to uker senere. For å rekruttere antigenspesifikke immunceller til lacrimal kjertel og okular overflate ble injeksjon av lacrimal kjertelekstrakt og ovalbumin (1 mg / mL) injisert i forniceal subconjunctiva og lacrimalkjertene på 6. til 7. uke ( figur 1 ). Mer enn 85% av rotterne utviklet karakteristiske trekk ved tørt øye 70 dager etter den første immuniseringen. Disse funksjonene inkluderer redusert tåreproduksjon ( Figur 2 ), økt hornhindefluoresceinfarging ( Figur 3 ), og redusert tårestabilitet ( Figur 4 ). Immunprofilering av T-cellene i øynene av normale rotter ved hjelp av flytcytometri avslører en overvekt av CD3 + effektor-minne T-celler ( figur 5 og 6 ). Rotter med autoimmun DED viser en økning i CD3 + effektorminne-T-celler og en tilsvarende reduksjon i naive og sentrale minne T-celler ( figur 6
Protocol
Dyr ble håndtert i henhold til institusjonelle retningslinjer og ARVO-erklæringen for bruk av dyr i Ophthalmic and Vision Research. Studieprotokollen ble godkjent av Institutional Animal Care and Use Committee of SingHealth.
1. Fremstilling av Lacrimal Gland Extract
MERK: Rotter ble bedøvet med intraperitoneal injeksjon av ketamin (75 mg / kg) og xylazin (10 mg / kg). Riktig bedøvelse ble bekreftet ved tå klemme og hale klemme. Oftalmisk gel ble påført på rotteøyene for å forhindre tørrhet etter hver prosedyre. De bedøvede rotter ble plassert under langt infrarøde lys for å holde dyrene varme til de ble helt gjenopprettet. Under prosedyrene og gjenopprettingstiden ble dyrene nøye overvåket av forskere. Alle materialer og kirurgiske verktøy var sterile før bruk. På slutten av forsøket ble rotter euthanisert ved intraperitoneal injeksjon av pentobarbital (80 mg / kg).Fullstendig eutanasi ble verifisert ved mangel på hjertepuls og ingen blinkende refleks ved å berøre øyeeballet. Rotter ble plassert under standardbetingelser: romtemperatur, 21-23 ° C; Relativ fuktighet, 30-70%; Lys-mørk syklus, vekslende 12 timer (7 AM til 7 PM).
Plasser de euthaniserte kvinnelige Sprague-Dawley-rotter (aldersgruppe fra 8 uker til 16 uker) flatt, med ett øre mot bordet og den andre vendt oppover. Lag en 10 mm snitt overlegen-underleir under det synlige øre med et par vårsaks. Fjern lacrimal kjertelen ved å dissekere den fra det omkringliggende bindevevet og fra dreneringskanalen.

Oppbevar kjertlene ved -80 ° C til det er nødvendig. Tine kjertlene på isen. Hakkprøve så fint som mulig på is med saks. Tilsett 150 μl PBS med 1x proteaseinhibitor per lakrimalkjertel.

Sonikat prøvene på is i 5 minutter ved 20 kHz med sonikatoren satt på 10 s på, 10 s av ved 30% amplitude. Sentrifuger sønnenKonsentrerte prøver i 20 minutter ved 13.000 xg og 4 ° C.
Pipetter supernatanten og overfør den til et nytt rør. Aliquot supernatanten til 1,5 ml rør og lagre dem ved -80 ° C. Mål proteinkonsentrasjonen med en bicinchoninsyreanalyse 22 , i henhold til produsentens instruksjoner.
2. Fremstilling av emulsjon og pertussis-toksin
emulsjon

Tilsett 40 mg varmdrætt Mycobacterium tuberculosis H37Ra i 10 ml komplett Freunds adjuvans som inneholder 1 mg / ml Mycobacterium tuberculosis H37Ra og bland godt.
MERK: Den endelige komplette Freunds adjuvans inneholder 5 mg / ml Mycobacterium tuberculosis H37Ra.
Vekt ovalbuminet, oppløs det i PBS, og lag en antigenblanding som inneholder 2 mg / ml ovalbumin og 10 mg / ml lakrimalkjertrakt. Mål for et injeksjonsvolum på 200 μl for hvert dyr, lag en mesterblanding bAsed på dyr tallene.
Overfør ufullstendig Freunds adjuvans eller fullstendig Freunds adjuvans til et 50 ml rør, slik at volumet av adjuvans til antigenblandingen er i et 1: 1-forhold. Tilsett antigenblandingen drop-by-drop til adjuvansen mens vortexing med høyeste hastighet som ikke resulterer i utslipp. Fortsett vortexing i 5 minutter etter at alt antigenet er tilsatt.
Overfør emulsjonen til en 5 ml sprøyte og koble den med en annen 5 ml sprøyte gjennom en sprøytekontakt. Skyv emulsjonen fra en sprøyte til den andre for å blande den.
MERK: Emulsjonen er klar hvis en enkelt dråpe forblir som en kule når den plasseres i vann. Bare nyberedd emulsjon eller emulsjon lagret over natten ved 4 ° C bør brukes.

Pertussis-toksin

Rekonstituer 50 μg pertussis-toksin i 500 μl vann for å få en endelig konsentrasjon på 100 ng / μl. Votex beholderen i 30 s for å sikre at tOxin oppløses helt.
MERK: Steriliser ikke ved filtrering, da dette vil føre til tap av materiale. Ikke frys ned. Denne løsningen forblir aktiv i minst 6 måneder ved 4 ° C.
Fortynn 100 ng / μl pertussis toksin til 3 ng / μl ved bruk av PBS. Overfør 100 μL av det fortynnede pertussis-toksinet til en 1 ml luerlås injeksjonssprøyte med en 27 G nål.
3. Immunisering av Lewis-rotter
På dag 0 blandes emulsjonen noen ganger. Fordel 200 μl av emulsjonen, som inneholder 1 mg lacrimal kjertekstrakt og 200 μg ovalbumin i komplett Freunds adjuvans, i 1 ml Luer-lock sprøyter med 27 G nåler. Injiser emulsjonen subkutant ved bunnen av rottehaler uten bedøvelse.
MERK: Halen trenger ikke å forvarmes før injeksjonen. Hver rotte er immunisert med 1 mg lacrimal kjertekstrakt og 200 ug ovalbumin i komplett Freunds adjuvansvitH 500 μg Mycobacterium tuberculosis H37Ra.
På dag 14 injiserer 200 μl av emulsjonen, som inneholder 1 mg lakrimalkjertekstrakt og 200 μg ovalbumin i ufullstendig Freunds adjuvans, på samme måte som på dag 0. Injiser 300 ng pertussis-toksin i 100 μl PBS intraperitonealt Per rotte på samme dag.
4. Injeksjon av antigensblandingen i Forniceal Subconjunctiva og Lacrimal Kjertel for å rekruttere antigenspesifikke immunceller og forårsake lokal betennelse
Beregn mengden av ovalbumin og lacrimal kjertelekstrakt basert på antall rotter i forsøket. Veier den nødvendige mengden av ovalbumin og kombiner den med det avfrostede lacrimal kjertelekstraktet fremstilt i trinn 1, noe som gjør antigenoppløsning inneholdende 1 mg / ml ovalbumin og 1 mg / ml lakrimalkjertekstrakt.
Bedøv rotene med ketamin (75 mg / kg) og xylazin (10 mg / kg) ved intraperitoneal injeksjon. Klem tilEs av rotter for å sikre at riktig anestesi er oppnådd ( dvs. ingen responsiv bevegelse observeres etter klemmen). Injiser 5 μL antigen i øyets forniceal subkonjunktiva. Injiser 20 μl antigen i lakrimalkjertelen.
5. Vurdering av tørre øyeegenskaper
MERK: For trinn 5.1-5.3 skal de anestetiserte rotter holdes forsiktig med en hansket hånd i oppreist stilling på en flat overflate for å unngå bevegelse.
Mål tårevolumet med fenolrød tråd.

Bruk ett par tapper for å holde tråden og en annen for å trekke det nedre øyelokk av rotte. Plasser tråden i det proksimale hjørnet av den nedre fornixen i 1 minutt, og fjern deretter tråden.
MERK: Tårer gjør den fuktige delen av tråden rød i fargen.
Ta et bilde av lengden på den fuktede delen av tråden ved siden av en linjal med millimeter markeringer. Mål den fuktede lengden til den tiende oFa millimeter ved hjelp av et bildeprogram ( f.eks. ImageJ).

Mål hornhinnen / rivejevnheten.

Plasser rotte under et stereomikroskop utstyrt med en ringbelysning og et kamera. Påfør 5 μl saltvann til rotte hornhinnen. Passivt blinke ved å flytte øvre og nedre øyelokk med hanske fingre ~ 5 ganger for å spre saltvannet.
Fokuser ringbelysningen på midten av hornhinnen under 1,6x forstørrelse. Skaff fotografiske bilder etter 10 s.
MERK: Ringbelysningen projiserer to sirkulære rader med prikkbilder på dyrets hornhinner. Regelmessig avstand av de uforstyrrede prikkene antyder et glatt hornhinne / tårelag.

Mål kornealskader med fluoresceinfarging.

Tilsett 2 μL 0,2% fluorescein til rotte hornhinnen. Passivt åpne og lukk rotte øyelokk 3 ganger med en hansket finger for å spre fluorescein fargestoff på overflaten av øyet.
Oppnå bilder under koboltblått filter ( dvs. ~ 400 nm) av et mikroskop med okular med bakgrunnslysene slått av.
MERK: Bilder ble etterfølgende analysert ved hjelp av et gradersystem modifisert fra tidligere publikasjoner 23 . Bilder ble deretter analysert ved å undersøke antall, areal og intensitet av de grønne punktene fra 0 til 2, hvor 0 indikerer at de er fraværende, 1 indikerer punktering av mindre enn 50 punkter og 2 angir punktering av flekker på mer enn 50 punkter.

Eutanize rotter gjennom intraperitoneal injeksjon av pentobarbital (80 mg / kg). Fjern øvre og nedre øyelokk med saks. Fix og prolapse øyebollene ved å trykke ned på det periokulære vevet med tang. Frigjør kloden ved å kutte tHan ekstraokulære muskler, optisk nerve og forniceal conjunctiva.
Fest posisjonen til rotteøyebollet med tang og åpne den med et perifer snitt langs ekvator. Fjern linsen og glassplaten. Sett de dissekerte øyebollene i 1,5 ml rør på is.
Samle lakrimalkjertlene, som beskrevet i trinn 1.1. Overfør straks de dissekerte øyebollvævene og lacrimalkirtler til laboratoriet for å forberede seg på flowcytometrianalyse.
Isolert immunceller med kollagenase og dispase II fordøyelsesmetoder 24 , 25 . Fortsett å bruke flytcytometri for å profilere T-celle-subpopulasjonen i øyebollvevet 26 .
MERK: Antistoffpanelet er: anti-CD45APC-Cyanine7 (OX-1), anti-CD3 BV421 (1F4), anti-CD4 PE-Cyanine7 (OX-35), anti-CD45RC Alexa647 (OX-22) -CD62 PE (HRL1), anti-CD44 FITC (OX-50) og levedyktighetscellefargestoff 7-AAD. Blant CD45 + CD3 - populasjon, naiv (CD3 + CD45RC + ), effektorminne (T EM, CD3 + CD45RC - CD44 + CD62L-) og sentralt minne (T CM, CD3 + CD45RC - CD44 + CD62L + ) .
Representative Results
Figur 1 illustrerer eksperimentdesign. På begge dagene 48 og 70 dager, er kliniske egenskaper med tørr øye vurdert i de immuniserte rotter. Tearvolumet er representert ved lengden av den våte delen av fenolrødtråden. Figur 2 viser representative bilder av fenolrøde tråder fra kontroll- og DED-rotter. Lengden av fenolrøde tråder i DED-gruppen er kortere enn kontrollgruppen, hvilket indikerer mindre tårevolum.
Fluorescein binder seg til skadet hornhinnenepitel. Således måles hornhindebeskadigelse ved hjelp av hornhindefluoresceinfarging. Fluorescein flekker på hornhinnen overflate av DED rotter ble gradert fra 0 til 2 og sammenlignet med kontroll rotter. Rotter med DED har mer fluoresceinfarging enn kontrollrotter ( Figur 3 ), noe som tyder på hornhinnebeskadigelse.
Hornhinnen jevnhetI DED og kontrollrotter ble vurdert av ringbelysningen. Hvis hornhinnen overflaten er jevn, med høy tåre stabilitet, er bildet av belysningsringen på den okulære overflaten rund og perfekt. Forvrengning av bildet indikerer redusert korneal glathed og en ustabil tårefilm. Forvrengningsgraden av ringen ble gradert fra 0 til 2. Et høyere ringforvrengningsnivå ble notert i DED-gruppen ( Figur 4 ), hvilket indikerer mindre tårestabilitet.
Rotter er definert som å ha tørre øyne når minst to kliniske trekk ved tørt øye er unormale. Blant de 24 immuniserte rotter utviklet 21 rotter DED på dag 48. Resultatene var konsistente når de ble evaluert på dag 70.
Flowcytometrianalysen viser at den overveiende T-celle-subset i normale rotteøynevevvev er effektorminne-T-celler ( figur 5 ). I øynene av DED-rotter, ~ 70% av CD3+ T-celler er effektorminne-T-celler, mens det i kontrollrotter er dette tallet ~ 50%. Øyeboll av DED-rotter har signifikant høyere effektor-minne T-celler enn de av kontrollrotter ( Figur 6 ).

Figur 1: Skjematisk av eksperimentell design. LG: lakrimalkjertel; DED: tørr øyesykdom; CFA: fullfør Freunds adjuvans; IFA: Ufullstendig Freunds adjuvans. Vennligst klikk her for å se en større versjon av denne figuren.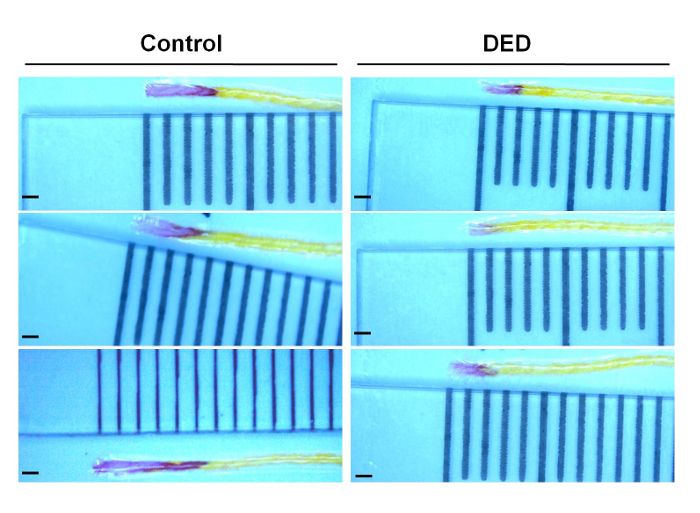 Figur 2: Phenol Red Thread Measures Tear Volume. Fenol rød tråd er plassert i det proksimale hjørnet av begge rotteøyene i 1 min og fjernes deretter. representativE bilder av fenol rød tråd, sammen med en linjal, fra både kontroll og DED grupper er vist. ImageJ ble brukt til å måle lengden på den våte delen av fenolrøde tråder. Skalbjelke = 1 mm. Vennligst klikk her for å se en større versjon av denne figuren.

Figur 3: Representative bilder av korneal epithelial skade målt ved fluorescein-farging. Hver rottehornhinne ble farget med 0,2% fluorescein i 1 min og spylt med minst 1 ml saltvann. Bilder ble tatt under et øyeimagingmikroskop med koboltblått lys. Den første kolonnen viser representative bilder av kontrollhormoner. Den andre kolonnen inneholder representative bilder av hornflekkfarging fra rotter med DED-funksjoner. De grønne fluorescerende flekkene indikerer hornhinnenepitel Jeg har skade. Alle bilder ble produsert på samme fargeskala. Kvantifiseringen av fluorescein-farging ble utført i henhold til området og densiteten av de grønne flekkene. Skalbjelke = 1 mm. Vennligst klikk her for å se en større versjon av denne figuren.

Figur 4: Representative Cornea-bilder Viser refleksjonen av ringbelysningen. Rottehorn / tårejevnhet ble målt ved en ringbelysning. Forvrengningsgraden av ringen i de oppfangede bildene er et mål for relativ rivestabilitet. Den venstre kolonnen viser de representative bildene i kontrolldyr, og den høyre kolonnen viser representative bilder etter induksjon av tørt øye. Skalbjelke = 1 mm.Ank "> Vennligst klikk her for å se en større versjon av denne figuren.

Figur 5: Dotplots avledet fra flytcytometrianalyse. T-celler isolert fra øyebollvev ble farget med et panel av antistoffer. I CD45 + CD3 + 7AAD - befolkningen ble CD3 + 7-AAD - T-celler gated. Blant CD3 + 7-AAD - T-cellene ble det naive, sentrale minnet og effektorminne T-cellepopulasjoner bestemt. Vennligst klikk her for å se en større versjon av denne figuren.

Figur 6: T-celle subpopulasjonsprofil i øynene. CD3 + CD45RC+ Naive T-celler, CD3 + CD45RC - CD44 + CD62L-effektorminne T (T EM ) celler og CD3 + CD45RC - CD44 + CD62L + sentralminne T (T CM ) celler presenteres som prosentandel av CD3 + T-celler. Resultatene er fra 3 kontrollrotter og 6 DED-rotter. Lignende resultater ble oppnådd fra analysen av T-celler fra isolerte lakrimalkirtler (data ikke vist). Den unpaired Student's t-test ble brukt til statistisk sammenligning. Feilbarene representerer SD. * P <0,05, ** p <0,01. Vennligst klikk her for å se en større versjon av denne figuren.
Discussion
Et kritisk trinn i denne protokollen er å sikre emulsjonens homogenitet. I godt preparerte emulsjoner er antigenene fullstendig belagt med olje, noe som sikrer langsom frigjøring av det injiserte antigenet og kontinuerlig immunstimulering. En annen viktig egenskap ved denne protokollen er bruk av Lewis-rotter. Lewis-rotter er mer følsomme for utviklingen av autoimmun sykdom enn andre stammer 27 .
Denne protokollen er blitt modifisert fra to tidligere publiserte protokoller, som enten kun brukte lakrimal kjertekstrakt eller rekombinant Klk1b22 20 , 21 . I den nåværende protokollen brukes ovalbumin pluss lacrimal kjertekstrakt som antigenet, og antigen-spesifikke immunceller tiltrekkes den okulære overflaten og lacrimalkirtlen, noe som induserer lokal vevskader. Tørr øye utvikler sakte og når ~ 85% etter dag 48 etter den første immuniseringen. Antigenisk utfordring tilØye og lacrimal kjertel på dag 48 forverrer tørt øye og sikrer kroniskhet opp til dag 70.
Sammenlignet med det rekombinante Klk1b22 i den Klk-induserte DED-modellen, er lakrimalkjertekstraktet og ovalbuminet brukt i den nåværende modellen billigere og enklere å oppnå. Lacrimal kjertelekstraktet inneholder også andre proteiner, bortsett fra Klk, som kan indusere autoimmunitet, så dette ekstraktet er teoretisk mer potent enn Klk-metoden ved å indusere DED. Vi har også prøvd å immunisere rotter med lakrimale kjertekstrakt bare; Selv om disse immuniserte rotter utviklet DED, var det ingen signifikant økning av effektorminne-T-celler i øyebollvev sammenlignet med kontroller.
Begrensningen av denne teknikken er at det tar 70 dager å oppnå modellen. Effektminne T-celler er de viktigste T-celle-delene i det normale rotteøyet. I denne modellen resulterer autoimmune DED i en økning i CD3 + effector-minne T-celler i øyeeballet. Narkotika som prefSubstantielt undertrykke effektorminne T-celler, som selektive inhibitorer av Kv1.3 kaliumkanalen, kan derfor ha en terapeutisk fordel på autoimmun DED 28 .
Disclosures
Forfatterne har ingen interessekonflikter. LT mottok forhåndsfinansiering og / eller gaver fra Alcon, Allergan, Santen, Bausch og Lomb, Eyelens og Eyedetec.
Acknowledgments
Forfatterne vil gjerne takke Ms. Tin Min Qi og Dr. Veluchamy Amutha Barathi og hennes team for deres hjelp med å håndtere dyrene. Dette arbeidet ble støttet av NHIC-I2D-1409007, SingHealth Foundation SHF / FG586P / 2014 og NMRC / CSA / 045/2012.
Materials
| | | | |
| --- | --- | --- | --- |
| Name | Company | Catalog Number | Comments |
| Reagents | | | |
| Protease inhibitor cocktail | Sigma-Aldrich | P2714-1BTL | |
| Pierce BCA Protein Assay Kit | Thermal Scientific | 23227 | |
| Mycobacterium tuberculosis H37Ra | Becton, Dickinson and company | 231141 | |
| complete Freund's adjuvant | Becton, Dickinson and company | 231131 | |
| ovalbumin | Sigma-Aldrich | A5503-10G | |
| incomplete Freund's adjuvant | Sigma-Aldrich | F5506-6X10ML | |
| pertussis toxin | Sigma-Aldrich | P7208-50UG | |
| fluorescein sodium solution | Bausch & Lomb U.K Limited | NA | |
| Name | Company | Catalog Number | Comments |
| Equipment | | | |
| Sonicator | Sonics | Vibra-Cell | |
| phenol red thread | Tianjin Jingming New Technological development Co. LTD. | NA | |
| Stereo microscope with ring light illuminator and camera | Carl Zeiss | NA | |
| Micro IV microscope | Phoenix Research Labs | NA | |