Summary
Denna artikel visar en murin modell för att studera utvecklingen av myointimal hyperplasi (MH) efter aorta ballong skada.
Cite this Article
Copy Citation | Download Citations | Reprints and Permissions

Tediashvili, G., Wang, D., Reichenspurner, H., Deuse, T., Schrepfer, S. Balloon-based Injury to Induce Myointimal Hyperplasia in the Mouse Abdominal Aorta. J. Vis. Exp. (132), e56477, doi:10.3791/56477 (2018).
Abstract
Användningen av djurmodeller är väsentliga för en bättre förståelse för MH, en viktig orsak för arteriell stenos. I den här artikeln visar vi en murin ballong denudation modell, som är jämförbar med etablerade fartyget skada modeller i stora djur. Aorta denudation modellen med ballong katetrar härmar kliniskt och leder till jämförbara pathobiological och fysiologiska förändringar. Kort, efter ett horisontellt snitt i den aorta abdominalis, en ballongkateter kommer vara infogas i fartyget, uppblåst och införde retrogradely. Inflationen av ballongen kommer att leda till intima skada och övertänjning av fartyget. Efter att ta bort katetern, kommer att aorta snittet vara stängd med enstaka stygn. Den modell som visas i den här artikeln är reproducerbara, lätt att utföra, och kan upprättas snabbt och tillförlitligt. Den är särskilt lämplig för att utvärdera dyra experimentella terapeutiska medel, som kan tillämpas på ett ekonomiskt sätt. Genom att använda olika knockoutmus stammar, kan effekterna av olika gener på MH utveckling bedömas.
Introduction
Arteriell stenos i koronara och perifera artärer har stor effekt på sjuklighet och dödlighet för patienter1. En underliggande patologiska mekanism är myointima hyperplasi (MH), som kännetecknas av ökad spridning, migration och syntesen av extracellulära matrix proteiner från vaskulär glatt muskulatur celler (SMC)2. SMC ligger i media lagret av fartyget och migrera vid stimulering till ytan av lumen. Stimulerande signaler inkluderar tillväxtfaktorer, cytokiner, cell-cell kontakt, lipider, extracellulär matrix komponenter och mekaniska skjuvning och stretch krafter3,4,5,6. Skador i kärlväggen, patologisk eller iatrogen, orsaka endotelceller och glatt muskulatur cellskador och stimulera inflammatoriska reaktioner, och därmed leda till MH7.
Olika modeller finns tillgängliga att studera arteriell skada och myointima hyperplasi. Stora djur som grisar eller hundar har fördelen av att dela en liknande artär och koronar anatomi med människor och är speciellt lämplig för studier som undersöker angioplastik tekniker, förfarande och enheter8. Gris-modeller har dock nackdelen att högre trombogeniciteten9,10, medan hundar bara har en lindrig reaktion på fartyget skada11. Dessutom, kräver alla stora djurmodeller speciell kåpa, utrustning och personal, som förbinds med höga kostnader och finns inte alltid på en institution. Små djur modeller inkluderar råttor och möss. Jämfört med råttor, har möss fördelarna med lägre kostnad och förekomsten av en mängd knock out-modeller. Den modell som beskrivs i denna video kan kombineras med ApoE-/-möss som utfodrats med en västerländsk kost att nära efterlikna den kliniska inställningen av angioplastik i aterosklerotiska kärl12. Tidigare modeller inducerad vaskulär skada via tråd skada13, flytande uttorkning14, VT15eller manschetten skada16. Eftersom arten av skadan kommer att kraftigt påverka utveckling och konstitutionen av MH, är med hjälp av en ballongkateter inducera fartyget skada det bästa sättet att efterlikna den kliniska inställningen.
I den här artikeln beskriver vi en ny metod för att framkalla MH med en ballongkateter i möss. Användning av en ballongkateter (1,2 mm x 6 mm) med en RX-Port (figur 1A) tillåter det skrapning av intimans lagret och, samtidigt, induktion av en övertänjning av fartyget. Båda dessa faktorer är viktiga triggers för utveckling av MH. Den observation tiden för denna modell är 28 dagar17.
Subscription Required. Please recommend JoVE to your librarian.
Protocol
Djuren fick Human vård i enlighet med guiden för principer av laboratoriedjur, beredd av institutet av laboratorium djur resurser och utgiven av National Institutes of Health. Alla djur protokoll godkändes av den lokala myndigheten ('' Amt für Gesundheit und Verbraucherschutz, Hansestadt (kontoret för hälsa och konsumentskydd) Hamburg'').
1. katetern förberedelse
Obs: Se Tabell av material för information om katetern.
Ta katetern från innehavaren av katetern.
Dra ledaren från lumen genom distala porten ut.
Sätta i en droppe av cyanoakrylatlim på den distala änden av katetern.
Försiktighet: Använd latex eller Nitril handskar.
Placera ledaren i RX hamnen av katetern och avancera det genom lumen till distala porten. Därefter dra ledaren tillbaka lite för att lämna ett utrymme på ~ 5 mm till slutet.
Vänta 5 min så att limmet torka.
Flytta ledaren, det bör fastställas. Om det är fortfarande mobila, upprepa steg 1,3-1,6.
Fyll en 3-mL spruta med 1,5 mL 0,9% saltlösning och Anslut den till ballongen inflationen porten.
Tryck sprutkolven att testa ballongen inflationen. Lämna 0,6 mL koksaltlösning i sprutan.
2. mus förberedelse
Få manliga möss vid en ålder av 14 veckor väger ca 30 g.
Obs: Vi använde djur framställda från Institutet för försöksdjur. Här använde vi C57BL/6J.
Använd en induktion kammare för att bedöva musen med 2,0-2,5% isofurane (500 mL/min syre flöde).
Placera musen på ryggen på en värmedyna och underhålla anestesi med en ansiktsmask som täcker mun och näsa av musen. Kontrollera om tillräckligt djup anestesi genom att nypa de bakfötter och svans att bekräfta en avsaknad av reflexer.
Ta bort buken håret med en hår trimmer.
Sprida bakbenen och fixa sin position med hjälp av tejp.
Desinficera buken med povidonjod, följt av 80% etanol. Upprepa detta två gånger.
Använd en kirurgiska draperi för att säkerställa operationsområdet inte få smittade. Öppna den hud och muskel lagren längs den linea alba med en sax (eller skalpell) att exponera bukorganen.
Låg tarmarna i en 0,9% saltlösning återfuktad handske och Linda för att hålla dem fuktiga.
Använd två fina pincett för att avlägsna fettvävnad ovan bukaorta.
Använda en insulinspruta (30G), injicera 250 µL av heparin lösning (50 U/mL) i den sämre Vena Cava (IVC) och vänta 3 min för dess systemisk distribution. Heparin kommer att undertrycka hemostas och förhindra oönskad koagulering under operation.
Använder två pincett, dissekera infrarenala aorta ned till dess bifurkation och dess utgående gren fartyg.
Ligera sida fartyg, som förväntas släppas i området spänns med en hög temperatur cauterizer.
Stoppa blodflödet genom fastspänning infrarenala aorta direkt under njurartärerna.
Placera en andra klämma en distala position strax ovanför aorta bifurkationen.
Utföra ett litet horisontellt snitt med sax vid mittpunkten mellan klämmorna längs fartyget.
Obs: Storleken på snittet bör motsvara 1/3 av omkretsen av fartyget.
Infoga en spruta med nål (30G) i snittet och spola aorta med 250 µL heparin lösning (50 U/mL).
Med 10-0 suturer, placera en enkel Knut på varje sida av snittet.
Vidgas aortan genom att infoga ett fartyg dilatator i snittet och sprida fartyget något. Upprepa dilatation 2 till 3 gånger.
Återfukta ballong-katetern med 0,9% koksaltlösning.
Infoga tillplattad ballong-katetern i aorta och avancera det mot proximala klämman på aorta.
När de når proximala klämman, försiktigt öppna den proximala klämman och blåsa upp ballongen för att förhindra läckage av blod, genom att injicera ~0.6 mL koksaltlösning.
Obs: Förhållandet mellan den uppblåsta ballongen att fartyget är 1.5:1.
Fram katetern retrograd för cirka 2 cm.
Dra utökade katetern tillbaka, medan deflatera ballongen något genom att släppa sprutan.
Återanslut den proximala klämman när katetern når snittet av aorta. Tömma ballongen helt och ta bort den.
Skölj aorta med 250 µL heparin lösning (50 U/mL) med en 30G spruta.
Nära aorta snittet med 10-0 suturer. Plats avbröt stygn på varje laterala sida, följt av en eller två maskor på ventrala sida.
Öppna den distala klämman. Vid blödning, Stäng klämman igen och placera ytterligare stygn.
Öppna den proximala klämman försiktigt.
Placera två kompresser på suturen att stödja den och stoppa eventuella blödningar.
Placera absorberbara Peanger på suturen att upprätthålla den.
Obs: En aorta puls ska synas distalt från snittet.
Placera tarmarna tillbaka in i buken.
Skölj bukhålan med steril 0,9% koksaltlösning som varit före värms till 37 ° C.
Stäng magmuskelstation lagret med 6-0 körs suturer.
Nära huden med 5-0 körs suturer.
Injicera 4-5 mg/kg karprofen subkutant innan musen för att vakna upp. Övervaka djuret tills det har fått medvetande, upprätthålla sternala koordinationsrubbning. Håll djuret ensam i en bur till fullständig återhämtning.
Lägga till metamizol dricksvattnet (50 mg/100 mL) som smärtstillande medicin i 3 dagar och övervaka djuret dagligen. Vanligtvis möss som söta smaken av metamizol och börja dricka omedelbart efter operationen. Om rekommenderad, sustained release injicerbara medel kan användas istället för metamizol.
Obs: Observationsperioden för denna modell är 28 dagar.
3. histopatologi
Skörda ballong-skadade aorta efter 28 dagar genom att förbereda möss som beskrivs i steg 2.2 till 2,9.
Använda sax för att ta bort ballongen-skadade aorta (mellan bifurkationen och 0,3 mm ovanför nedsatt fartyg) och avliva musen genom att skära ut sitt hjärta.
Spola lumen av fartyget med 0,9% NaCl.
Fixa skördade fartyget i 4% PARAFORMALDEHYD (PFA) över natten och torkar det i ökande koncentrationer av etanol, börjar med 70% etanol för 2 timmar, 80% etanol för 1 timme, 95% etanol för 2 timmar, och 100% etanol i 5 timmar. Sedan, inkubera proverna i xylen 2 timmar 3 gånger, innan infiltrera proverna med paraffin.
Obs: i stället för spolning skördade fartyget med 0,9% NaCl, det kan spolas med 4% PFA.
Försiktighet: PFA och xylen är giftiga och bör hanteras med särskild omsorg.
Bädda in provet i paraffin och skär i skivor med 5 µm tjocklek med en mikrotom.
Deparaffinize bilderna med xylen 3 gånger i 5 minuter.
Rehydrera vävnad diabilder med en fallande serie av etanol. Börja med 100% etanol 2 gånger för 5 min, följt av 3 minuter 95%, 80% och 70% etanol.
Fläcken bilderna med Massons trikrom färgning som beskrivs18.
Torkar ut färgade bilder i 100% etanol 2 gånger för varje 10 min. Klart med xylen 2 gånger för 10 min varje och montera i monteringsmedium.
Visa bilder med ljusa fält Mikroskop. Använda ett objektiv med 5 x förstoring och en numerisk bländare på 0,12 för en översikt eller en lins med 20 x förstoring med en numerisk bländare för 0.35 för detaljerad observation.
4. immunofluorescens mikroskopi
Rehydrera vävnad diabilder med en fallande serie av etanol. Börja med 100% etanol 2 gånger för 5 min, följt av 3 min 95%, 80% och 70% etanol.
Utföra antigen-hämtning genom att värma objektglasen i antigen-hämtning lösning i en ångbåt i 20 min.
Låt bilder svalna ner till rumstemperatur.
Efter tvättning bilderna för tre gånger med fosfatbuffrad saltlösning (PBS), applicera antigen blockerande lösning på sektioner i 30 min.
Tvätta objektglas tre gånger för 5 min med PBS.
Inkubera sektioner med primär antikropp utspätt i primär antikropp spädningsvätska.
Obs: Rätt koncentration och inkubation tid bör väljas separat för varje antikropp.
Tvätta objektglas tre gånger för 5 min med PBS att avlägsna obunden antikropp.
Inkubera sektioner med en pre konjugerade sekundär antikropp utspätt i sekundär antikropp spädningsvätska.
Obs: Rätt koncentration och inkubation tid bör väljas separat för varje antikropp.
Avlägsna obunden antikroppar genom att tvätta bilderna för 5 min tre gånger.
Counterstain cell atomkärnor med 4', 6-diamidin-2-fenylindol (DAPI) för 15 min; slutliga DAPI koncentration bör vara 350 nM.
Montera bilder i immunofluorescens kompatibel monteringslösning.
Obs: Med hjälp av fel montering lösning kan skymma fluorescens signalen.
Visa bilder med fluorescens Mikroskop. Använda en 40 x förstoring lins med en numerisk bländare på 1,3.
Subscription Required. Please recommend JoVE to your librarian.
Representative Results
Ballong denudation är en lämplig modell för att studera utvecklingen av MH i möss. Djur återhämta sig väl från operationen och visa en utmärkt kondition efter operation. Vi etablerade denna modell i 50 möss med mindre än 3% dödligheten på grund av det kirurgiska ingreppet. Siffror 1B -C visar de viktigaste kirurgiska stegen. Efter en hud snitt längs den linea alba, identifiera den aorta abdominalis. Placera mikrokirurgisk klämmor (figur 1B). Gör ett litet snitt i mitten av aorta, ange en ballongkateter in i fartyget och skjut det retrograd, mot riktningen av blodflödet (figur 1 c). Rörelse av uppblåsta ballongen leder till skrapning av intima och, samtidigt, övertänjning av fartyget. Aorta snittet kommer att vara stängd med enstaka stygn. En aorta puls ska synas distalt från snittet.
MH utvecklas successivt i transplantatet över tid. Histologiska färgning med Massons trikrom visar myointima bildas inuti den interna elastisk lamina (figur 2A). Myointimal lesioner bestod främst av cellulära komponenter positivt för SM22 och vissa extracellulär matrix komponenter (figur 2B). Myointimal celler utvärderas ytterligare av immunofluorescens färgning. Den stora befolkningen i myointima består av glatta muskelceller (smooth muscle aktin (SMA) positiv) och myofibroblaster (fibroblast aktiveringen protein (FAP) positiva) celler (figur 2B).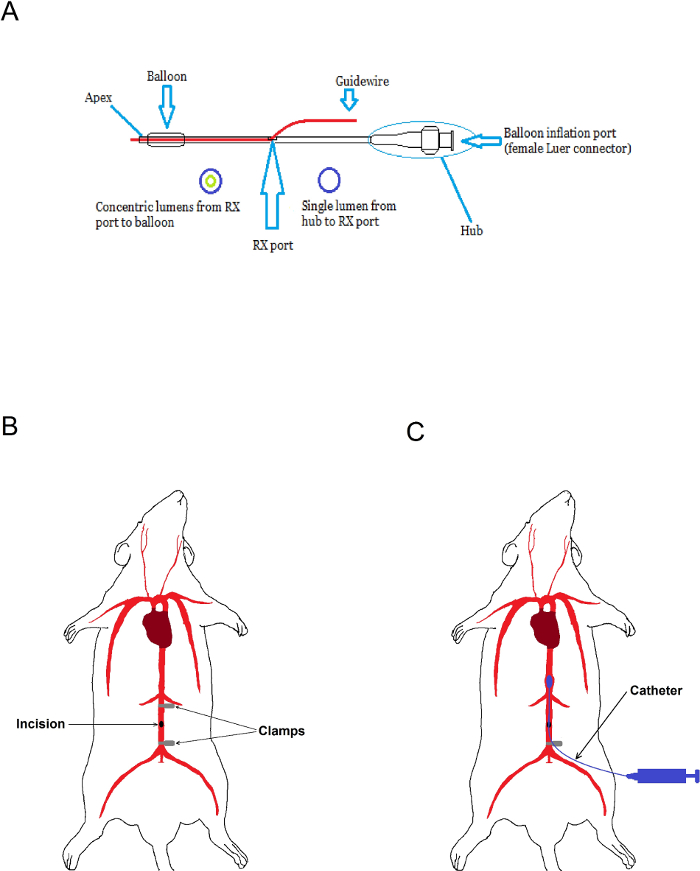 Figur 1. Scheman över katetern och dess implantation. (A) detaljerade Schematisk av katetern. Distala port, ballong, snabbt utbyte port (RX-port), ledaren, enda lumen till RX-port, dubbel lumen från RX-Port till ballong, navet, ballongen inflationen port. (B) Schematisk illustration av kirurgiska ingrepp. Blodflödet i den Aorta abdominalis är stoppad med två micro klämmor och ett litet snitt utförs. C. uppblåsta katetern inuti aorta abdominalis. Klicka här för att se en större version av denna siffra.

Figur 2. Myointima bildas inuti den interna elastisk lamina. (A) Denuded mus artärer skördas, paraffin inbäddat och ett representativt tvärsnitt visas i trikrom färgning. (B) dubbel immunofluorescens färgning av ballong-utblottad aortae visas. Den övre raden skildrar myointimal lesioner färgas för SM22 och kollagen III. I den nedersta raden färgas fartyg för SMA och FAP. Klicka här för att se en större version av denna siffra.
Subscription Required. Please recommend JoVE to your librarian.
Discussion
Denna artikel visar en murin modell för att studera utvecklingen av myointimal hyperplasi och låter utforskandet av de underliggande patologiska processerna och testning av nya läkemedel eller behandlingsmetoder.
Det mest kritiska steget i detta protokoll är denudation av aorta. Särskild omsorg bör ägnas under detta steg eftersom överdriven denudation leder till aneurysm bildandet och modell misslyckande. Däremot, om denudation utförs otillräckligt, att för lite myointima utvecklas. Intensiteten i steget denudation är därför avgörande för resultatet och framgången för denna djurmodell.
Beträffande det kirurgiska ingreppet är det kritiska två väggarna av fartyget inte är genomborrade genom att ange de stygn, vilket kan resultera i tidiga fel på det fartyget patency. Vi har tidigare beskrivit en musmodell där vi inducerad fartyget stenos i bukaorta möss18. Dock ger detta och de flesta andra modeller bara mycket små mängder av vävnad för analys. En fördel med denna metod är den jämförelsevis stora mängden vävnad som erhållits (~ 1 cm fartyget segment). Ett enda fartyg transplantat kan således vara uppdelad i flera delar och används för olika analyser, vilket effektivt minskar antalet försöksdjur krävs.
Dessutom kan lämplig knock-out djur användas för att studera utvecklingen av myointima hyperplasi i olika sjukdomstillstånd. De genetiska bakgrunderna kan också kombineras med denna djurmodell att förstå mekanismerna bakom myointimal hyperplasi i en mängd inställningar eller effekterna av vissa gener.
Sammanfattningsvis, den modell som beskrivs här är reproducerbara, lätt att utföra, och kan upprättas snabbt och tillförlitligt. Framgångsrikt testade behandling alternativ i denna modell kan bekräftas ytterligare i stort djur modellerar19.
Subscription Required. Please recommend JoVE to your librarian.
Disclosures
Författarna har något att avslöja.
Acknowledgments
Författarna vill tacka Christiane Pahrmann för hennes tekniskt bistånd.
D.W. stöddes av Max Kade Foundation. T.D. fick anslag från den annan Kröner Fondation (2012_EKES.04) och den Deutsche Forschungsgemeinschafts (DE2133/2-1_. S. S. fått forskningsanslag från den Deutsche Forschungsgemeinschafts (DFG; SCHR992/3-1, SCHR992/4-1).
Materials
| | | | |
| --- | --- | --- | --- |
| Name | Company | Catalog Number | Comments |
| 10-0 Ethilon suture | Ethicon | 2814G | |
| 3 mL Syringe | BD Medical | 309658 | |
| 37% HCl | Sigma-Aldrich | H1758 | |
| 5-0 prolene suture | Ethicon | EH7229H | |
| 6-0 prolene suture | Ethicon | 8706H | |
| Acid Fuchsin | Sigma-Aldrich | F8129-25G | Trichrome staining |
| Antigen retrieval solution | Dako | S1699 | |
| Azophloxin | Waldeck | 1B-103 | Trichrome staining |
| Bepanthen Eye and Nose ointment | Bayer | 1578675 | Eye ointment |
| Betadine Solution | Betadine Purdue Pharma | NDC:67618-152 | |
| C57BL/6J | Charles River | Stock number 000664 | |
| Clamp applicator | Fine Science Tools | 18056-14 | JAW DIMS: 4 x 0.75 mm LENGTH: 13 mm |
| Collagen 3 | abcam | ab7778 | Antibody |
| DAPI | Thermo Fischer | D1306 | |
| Donkey anti-Goat IgG AF555 | Invitrogen | A21432 | Secondary antibody |
| Donkey anti-Rabbit IgG AF488 | Invitrogen | A21206 | Secondary antibody |
| Donkey anti-Rabbit IgG AF488 | Invitrogen | A11055 | Secondary antibody |
| Donkey anti-Rabbit IgG AF555 | Invitrogen | A31572 | Secondary antibody |
| Ethanol 70% | Th. Geyer | 2270 | |
| Ethanol 96% | Th. Geyer | 2295 | |
| Ethanol absolute | Th. Geyer | 2246 | |
| FAP | abcam | ab28246 | Antibody |
| Forceps fine | Fine Science Tools | 11251-20 | |
| Forceps standard | Fine Science Tools | 11023-10 | |
| Glacial Acetic Acid | Sigma-Aldrich | 537020 | |
| Hair clipper | WAHL | 8786-451A ARCO SE | |
| Heparin | Rotexmedica | PZN 3862340 | 25.000 I.E./mL |
| High temperature cautery kit | Bovie | 18010-00 | |
| Image-iT FX Signal Enhancer | Invitrogen | I36933 | Blocking solution |
| Light Green SF | Waldeck | 1B-211 | Trichrome staining |
| Microsurgical clamp | Fine Science Tools | 18055-04 | Micro-Serrefine - 4mm |
| MINI TREK Coronary Dilatation Catheter 1.20 mm x 6 mm / Rapid-Exchange | Abbott | 1012268-06U | |
| Molybdatophosphoric acid hydrate | Merck | 1.00532.0100 | Trichrome staining |
| NaCl 0,9% | B.Braun | PZN 06063042 Art. Nr.: 3570160 | |
| Needle holder | Fine Science Tools | 12075-14 | |
| Novaminsulfon | Ratiopharm | PZN 03530402 | Metamizole |
| Orange G | Waldeck | 1B-221 | Trichrome staining |
| Paraffin | Leica biosystems | REF 39602004 | |
| PBS pH 7,4 | Gibco | 10010023 | |
| PFA 4% | Electron Microscopy Sciences | #157135S | |
| Ponceau S solution | Serva Electrophoresis | 33427 | Trichrome staining |
| Primary antibody diluent | Dako | S3022 | |
| Prolong Gold Mounting solution | Thermo Fischer | P36930 | Mounting solution for immunofluorescence stained slides |
| Replaceable Fine Tip | Bovie | H101 | |
| Resorcin-Fuchsin Weigert | Waldeck | 2E-30 | Trichrome staining |
| Rimadyl | Pfizer | 400684.00.00 | Carprofen |
| Scissors | Fine Science Tools | 14028-10 | |
| Scissors Vannas-style | Fine Science Tools | 15000-03 | |
| Secondary antibody diluent | Dako | S0809 | |
| Fast acting Adhesive MINIS 3x1g | UHU | 45370 | Cyanoacrylate |
| Slide Rack | Ted Pella | 21057 | |
| SM22 | abcam | ab10135 | Antibody |
| SMA | abcam | ab21027 | Antibody |
| Staining dish | Ted Pella | 21075 | |
| Surgical microscope | Leica | M651 | |
| Tabotamp fibrillar | Ethicon | 431962 | Absorbable hemostat |
| Transpore Surgical Tape | 3M | 1527-1 | |
| U-100 Insulin syringe | BD Medical | 324825 | |
| Vessel Dilator | Fine Science Tools | 18603-14 | |
| Vitro-Clud | Langenbrinck | 04-0001 | |
| Weigerts iron hematoxylin Kit | Merck | 1.15973.0002 | Trichrome staining |
| Xylene | Th. Geyer | 3410 | |