Summary
Denne artikkelen viser en murine modell for å studere utviklingen av myointimal hyperplasia (MH) etter aorta ballong skader.
Cite this Article
Copy Citation | Download Citations | Reprints and Permissions

Tediashvili, G., Wang, D., Reichenspurner, H., Deuse, T., Schrepfer, S. Balloon-based Injury to Induce Myointimal Hyperplasia in the Mouse Abdominal Aorta. J. Vis. Exp. (132), e56477, doi:10.3791/56477 (2018).
Abstract
Bruk av dyr modeller er viktig for en bedre forståelse av MH, én store årsaken til arterial stenose. I denne artikkelen viser vi en murine ballong denudation modell, som kan sammenlignes med etablerte fartøyet skade modeller i store dyr. Aorta denudation modellen med ballong katetre etterligner klinisk setting og fører til tilsvarende pathobiological og fysiologiske endringer. Kort, etter utfører en vannrett snitt i aorta abdominalis, en ballong kateter vil bli satt inn i fartøyet oppblåst og introdusert retrogradely. Inflasjonen av ballongen vil føre til intima skade og overdistension av fartøyet. Etter fjerner kateter, stengt den aorta snittet med enkelt masker. Modellen vist i denne artikkelen er reproduserbare, enkel å utføre, og kan etableres raskt og pålitelig. Det er spesielt egnet for å vurdere dyre eksperimentelle terapeutiske agenter, som kan brukes på en økonomisk måte. Ved å bruke ulike knockout-mouse stammer, kan effekten av ulike gener på MH utvikling vurderes.
Introduction
Arterial stenose i koronar og eksterne arterier har stor effekt på sykelighet og dødelighet av pasienter1. En underliggende patologisk mekanismen er myointima hyperplasia (MH), som er preget av økt spredning, overføring og syntese av ekstracellulær matrix proteiner fra vaskulær glatt muskel celler (SMC)2. SMC ligger i media laget av fartøyet og overføre ved stimulering av overflaten av lumen. Stimulerende signaler omfatter vekst faktorer cytokiner, celle-celle kontakt, lipider, ekstracellulær matrix komponenter og mekanisk skjær og strekke styrker3,4,5,6. Skader av fartøyet veggen, patologisk eller iatrogenic, forårsake endothelial celle og glatt muskel celle skade og stimulere inflammatoriske reaksjoner, og dermed føre til MH7.
Forskjellige dyr modeller er tilgjengelige arteriell skade og myointima hyperplasia. Store dyr som griser eller hunder har fordelen av deler en lignende arterien og koronar anatomi med mennesker og er spesielt egnet for studier undersøker angioplasty teknikker, prosedyre og enheter8. Gris modeller har imidlertid ulempen av høyere thrombogenicity9,10, mens hundene bare har en mild reaksjon fartøyet skade11. I tillegg krever alle store dyr modeller spesielt kabinett, utstyr og ansatte, som er forbundet med høye kostnader og er ikke alltid tilgjengelig på institusjon. Små dyr modeller inkluderer rotter og mus. Sammenlignet med rotter, har mus fordelene av lavere kostnader og eksistensen av en rekke slå ut modeller. Modellen beskrev i denne videoen kan kombineres med ApoE-/-mus med en vestlig kosthold å tett etterligne klinisk setting av angioplasty aterosklerotisk fartøy12. Tidligere modeller indusert vaskulære skader via wire skade13, flytende uttørking14, våren15eller mansjett skade16. Siden natur skaden vil sterkt påvirke utviklingen og Grunnloven av MH, er ved hjelp av en ballong kateter for å indusere fartøyet skade den beste måten å etterligne klinisk setting.
I denne artikkelen beskriver vi en ny metode for å indusere MH med en ballong kateter i mus. Bruk av en ballong kateter (1,2 mm x 6 mm) med en RX-Port (figur 1A) kan skrape av intimal laget, og på samme tid, induksjon av en overdistension av fartøyet. Begge disse faktorene er viktig utløser for utvikling av MH. Observasjon for denne modellen er 28 dager17.
Subscription Required. Please recommend JoVE to your librarian.
Protocol
Dyr mottatt Human omsorg i samsvar med veiledningen for prinsipper i forsøksdyr, utarbeidet av Institute of laboratorium dyr Resources og publisert av National Institutes of Health. Alle dyr protokoller ble godkjent av ansvarlige lokale myndigheter ('' Amt für Gesundheit und Verbraucherschutz, Hansestadt (Office for helse og forbrukervern) Hamburg'').
1. kateter forberedelse
Merk: Se Tabell for materiale for informasjon om kateter.
Ta kateter fra kateter abonnenten.
Tre guidewire fra lumen distale porten ut.
Sett i en dråpe cyanoakrylatlim på distale kateter.
Forsiktig: Bruk latex eller nitril hansker.
Plasser guidewire RX-porten kateter og gå videre gjennom lumen til den distale porten. Etterpå, skyv guidewire litt for å forlate et mellomrom ~ 5 mm til slutten.
Vent 5 min slik at limet til tørk.
Flytte til guidewire, bør det være fikset. Hvis det er fremdeles bevegelig, gjentar du trinn 1.3-1.6.
Fyll en 3-mL sprøyte med 1,5 mL 0,9% saltvann og til ballong inflasjon port.
Skyv sprøytestempelet teste ballong inflasjon. La 0,6 mL saltvann i sprøyten.
2. musen forberedelse
Få mannlige mus i en alder av 14 uker veier ca 30 g.
Merk: Vi brukte dyr innhentet fra Institute i forsøksdyr. Vi brukte C57BL/6J her.
Bruk en induksjon kammer til anaesthetize musen med 2.0-2,5% isofurane (500 mL/min oksygen flow rate).
Plasser musen på ryggen på en varmeputen og opprettholde anestesi en ansiktsmaske dekker munn og nese av musen. Sjekk for tilstrekkelig dybde av anestesi ved pinching bakben føtter og hale å bekrefte et fravær av reflekser.
Fjerne abdominal håret med hår trimmer.
Spre bakbena og fastsette deres posisjon med tape.
Desinfiser mageområdet bruke povidon-jod, etterfulgt av 80% etanol. Gjenta dette trinnet to ganger.
Bruk en kirurgisk drapere for å sikre kirurgiske området ikke bli forurense. Åpne hud og muskel lagene langs den linea alba med saks (eller skalpell) å avsløre abdominal organer.
Lå tarmen i en 0,9% saltvann fuktet hanske og Pakk for å holde dem fuktige.
Bruk to fine tang for å fjerne fettvev over abdominal aorta.
Bruker en insulinsprøyte (30G), injisere 250 µL av heparin-oppløsningen (50 U/mL) i den underlegne Vena Cava (IVCEN) og vente 3 min for systemisk distribusjon. Heparin vil undertrykke hemostasen og hindre uønskede clotting under operasjonen.
Bruker to tang, dissekere infrarenal aorta sin bifurkasjonen og sin utgående gren fartøy.
Ligate siden fartøyene, som forventes å bli plassert i området festet med en høy temperatur cauterizer.
Stoppe blodstrøm clamping infrarenal aorta rett under den nyre arteries.
Plassere en andre klemme på en distale posisjon rett over aorta bifurkasjonen.
Utføre en liten horisontal snitt med saks midt mellom klemmer langs fartøyet.
Merk: Størrelsen på snittet skal tilsvarer 1/3 av omkretsen av fartøyet.
Sette inn en sprøyte med en (30G) nål i snittet og flush aorta med 250 µL heparin-oppløsningen (50 U/mL).
Bruker 10-0 suturer, plassere en enkelt knute på hver side av innsnitt.
Dilate aorta ved å sette inn et fartøy dilator i snittet og spre fartøyet litt. Gjenta dilation 2 til 3 ganger.
Fukte ballong-kateter med 0,9% saltløsning.
Setter inn det sammenslåtte ballong-kateter aorta og fremme det mot proksimale klemmen på aorta.
Når nå den proksimale klemmen, nøye åpne proksimale klemmen og økning av ballongen for å hindre blodet lekkasje, ved å injisere ~0.6 mL saltoppløsning.
Merk: Forholdet mellom den oppblåst ballongen til fartøyet er 1.5:1.
Forhånd kateter retrograd i ca 2 cm.
Dra den utvidede kateter tilbake, mens deflating ballongen litt ved å slippe sprøyten.
Koble den proksimale klemmen når kateter når innsnitt av aorta. Tømming ballongen helt og fjerne den.
Skyll aorta med 250 µL heparin-oppløsningen (50 U/mL) bruker en 30G sprøyte.
Lukk den aorta snittet med 10-0 suturer. Sted avbrutt maskene på hver lateralt etterfulgt av én eller to masker på ventral side.
Åpne distale klemmen. Ved blødning, lukke klemmen igjen og plassere flere masker.
Åpne proksimale klemmen nøye.
Plass to vattpinner på suture støtter og stoppe blødninger.
Plass absorberbare hemostats på suture å opprettholde den.
Merk: En aorta puls skal vises distally fra innsnitt.
Plass tarmen tilbake i magen.
Skyll bukhulen med sterilt 0,9% saltvann, som har vært forvarmes til 37 ° C.
Lukk bukmuskel laget med 6-0 kjører suturer.
Lukk huden med 5-0 kjører suturer.
Injisere 4-5 mg/kg Carprofen subcutaneously før musen å våkne. Overvåke dyret inntil den har fått bevissthet, opprettholde sternal recumbency. Holde dyr alene i et bur til fullstendig gjenoppretting.
Legg Metamizole til drikkevann (50 mg/100 mL) som smertestillende medikamenter for 3 dager og overvåke dyret daglig. Vanligvis mus som søte smaken av metamizole og begynne å drikke umiddelbart etter operasjonen. Hvis foretrukket, vedvarende-release injiserbare agenter kan brukes i stedet for metamizole.
Merk: Observasjon perioden for denne modellen er 28 dager.
3. histopatologi
Høste ballong-skadde aorta etter 28 dager ved å forberede musene som beskrevet i trinnene 2.2 til 2,9.
Bruk saks å fjerne ballong-skadde aorta (mellom bifurkasjonen og 0,3 mm over nyre fartøyene) og euthanize musen ved å kutte ut sitt hjerte.
Tømme lumen fartøy med 0,9% NaCl.
Fastsette høstet fartøyet i 4% paraformaldehyde (PFA) over natten og tørke det i økende konsentrasjoner av etanol, starter med 70% etanol for 2 timer, 80% etanol i 1 time, 95% etanol for 2 timer, og 100% etanol i 5 timer. Deretter ruge eksemplene i xylen i 2 timer 3 ganger, før infiltrere prøvene med parafin.
Merk: i stedet for rødme høstet fartøyet med 0,9% NaCl, det kan skylles med 4% PFA.
Forsiktig: PFA og xylen er giftig og bør håndteres med forsiktighet.
Bygge inn prøven i parafin og skjær i skiver av 5 µm tykkelse ved hjelp av en mikrotom.
Deparaffinize lysbilder med xylen 3 ganger i 5 minutter.
Rehydrate vev lysbilder ved hjelp av en synkende serie av etanol. Start med 100% etanol 2 ganger i 5 min, etterfulgt av 3 minutter med 95%, 80% og 70% etanol.
Stain lysbildene med Masson's trichrome flekker som beskrevet18.
Tørke farget lysbilder i 100% etanol 2 ganger for 10 min. Fjerne med xylen 2 ganger for 10 min og montere i montering medium.
Vis lysbildene med lyse feltet mikroskop. Bruke en linse med 5 x forstørrelse og en numerisk blenderåpning 0,12 for en oversikt bilde eller en linse med 20 x forstørrelse med en numerisk blenderåpning på 0,35 for detaljert observasjon.
4. immunofluorescence mikroskopi
Rehydrate vev lysbilder ved hjelp av en synkende serie av etanol. Start med 100% etanol 2 ganger i 5 min, etterfulgt av 3 min av 95%, 80% og 70% etanol.
Utføre antigen-henting ved oppvarming lysbildene i antigen-henting løsning i en dampbåt for 20 min.
La lysbilder avkjøles til romtemperatur.
Etter vask bruk lysbilder for tre ganger med fosfat bufret saltvann (PBS), antigen blokkerer løsning seksjoner for 30 min.
Vask lysbilder tre ganger i 5 min med PBS.
Inkuber deler med primære antistoff fortynnet i primære antistoff fortynner.
Merk: Rett konsentrasjon og inkubasjon tid skal velges separat for hver antistoff.
Vask lysbilder tre ganger i 5 min med PBS fjerne ubundet antistoff.
Inkuber deler med et pre konjugert sekundære antistoff fortynnet i sekundære antistoff fortynner.
Merk: Rett konsentrasjon og inkubasjon tid skal velges separat for hver antistoff.
Fjerne ubundet antistoffer ved å vaske lysbilder for 5 min tre ganger.
Counterstain celle kjerner bruker 4', 6-diamidino-2-phenylindole (DAPI) i 15 min; siste DAPI konsentrasjonen bør være 350 nM.
Montere lysbilder i immunofluorescence kompatibel montering løsning.
Merk: Bruker feil montering løsningen kan skjule fluorescens signalet.
Vise lysbilder med fluorescens mikroskop. Bruk en 40 x forstørrelse linsen med en numerisk blenderåpningen på 1.3.
Subscription Required. Please recommend JoVE to your librarian.
Representative Results
Ballong denudation er en passende modell å studere utviklingen av MH i mus. Dyr komme seg frisk fra kirurgi og viser en utmerket fysisk tilstand etter operasjon. Vi etablerte denne modellen i 50 mus med mindre enn 3% dødsrate på grunn av den kirurgiske prosedyren. Tallene 1B -C Vis de viktigste kirurgiske trinnene. Etter en huden snitt langs den linea alba, identifisere aorta abdominalis. Plass Mikrokirurgiske klemmer (figur 1B). Lag et lite innsnitt i aorta, sette en ballong kateter fartøyet og skyv det retrograde, mot retning av blodstrøm (figur 1 c). Bevegelse av oppblåst ballong fører til skraping av intima, og på samme tid, overdistension av fartøyet. Den aorta snittet stengt med enkelt masker. En aorta puls skal vises distally fra innsnitt.
MH utvikler gradvis i graftet over tid. Histologiske farging med Masson's trichrome demonstrerer myointima dannes inne det interne elastisk lamina (figur 2A). Myointimal lesjoner besto hovedsakelig av cellulære komponenter positiv for SM22 og noen ekstracellulær matrix komponenter (figur 2B). Myointimal-celler evalueres videre av immunofluorescence flekker. Den største befolkningen i myointima består av glatt muskel (glatt muskel utgangen (SMA) positive) cellene og myofibroblasts (fibroblast aktivisering protein (FAP) positive) (figur 2B).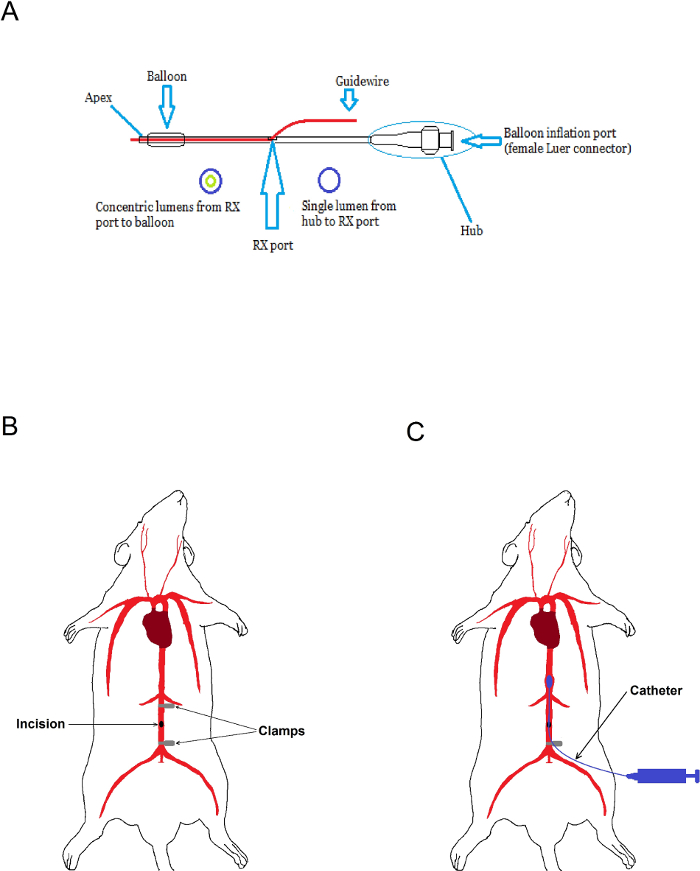 Figur 1. Skjematisk av kateter og dens implantasjon. (A) detaljert skjematisk av kateter. Distale port, ballong, rask utveksling havnen RX-, guidewire, enkelt lumen til RX-port, dobbel lumen fra RX-Port ballong, hub, ballong inflasjon port. (B) skjematisk illustrasjon av kirurgiske prosedyren. Blodstrømmen av Aorta abdominalis stoppes med to mikro klemmer og en liten snitt er utført. C. oppblåst kateter inne aorta abdominalis. Klikk her for å se en større versjon av dette tallet.

Figur 2. Myointima dannes inne det interne elastisk lamina. (A) Denuded mus aortas høstes, parafin innebygd, og en representant tverrsnitt vises i trichrome flekker. (B) dobbel immunofluorescence farging av ballong-blottet aortae vises. Den øverste raden viser myointimal lesjoner farget for SM22 og kollagen III. I den nederste raden er fartøy farget for SMA og FAP. Klikk her for å se en større versjon av dette tallet.
Subscription Required. Please recommend JoVE to your librarian.
Discussion
Denne artikkelen viser en murine modell for å studere utviklingen av myointimal hyperplasia og tillater utforskningen av det underliggende patologiske prosessen og testing av nye medisiner eller behandlingsalternativer.
Det viktigste trinnet i denne protokollen er denudation av aorta. Forsiktighet bør betales i dette trinnet som overdreven denudation vil føre til aneurisme dannelse og modell feil. På den annen side, hvis denudation er utført tilstrekkelig, vil for lite myointima utvikle. Intensiteten av denudation trinnet er derfor avgjørende for utfallet og suksess av denne dyr modellen.
Med hensyn til den kirurgiske prosedyren er det avgjørende på to vegger av fartøyet ikke er gjennomboret ved å angi masker, som kan føre til tidlig svikt av fartøyet patency. Vi har tidligere beskrevet en musemodell der vi indusert fartøyet stenose i abdominal aorta mus18. Men gi dette og de fleste andre modellene bare svært små mengder vev for analyse. En fordel med denne metoden er relativt store mengden vev innhentes (~ 1 cm fartøyet segment). En enkelt fartøyet pode kan dermed delt inn i flere deler og brukes for ulike analyser, effektivt reduserer forsøksdyr kreves.
Videre kan egnet knock-out dyr brukes å studere utviklingen av myointima hyperplasia i forskjellige sykdom forhold. Genetisk bakgrunn kan også kombineres med denne dyr modell for å forstå mekanismene av myointimal hyperplasia i en rekke innstillinger eller virkningen av visse gener.
Oppsummert modellen beskrevet her er reproduserbare, enkel å utføre, og kan etableres raskt og pålitelig. Testet med suksess behandling alternativer i denne modellen kan bekreftes i store dyr modeller19.
Subscription Required. Please recommend JoVE to your librarian.
Disclosures
Forfatterne ikke avsløre.
Acknowledgments
Forfatterne takker Christiane Pahrmann for hennes teknisk assistanse.
DW ble støttet av Max Kade Foundation. T.D. fått tilskudd fra annet Kröner Fondation (2012_EKES.04) og Deutsche Forschungsgemeinschaft (DE2133/2-1_. S. S. mottatt forskningsmidler fra Deutsche Forschungsgemeinschaft (DFG; SCHR992/3-1, SCHR992/4-1).
Materials
| | | | |
| --- | --- | --- | --- |
| Name | Company | Catalog Number | Comments |
| 10-0 Ethilon suture | Ethicon | 2814G | |
| 3 mL Syringe | BD Medical | 309658 | |
| 37% HCl | Sigma-Aldrich | H1758 | |
| 5-0 prolene suture | Ethicon | EH7229H | |
| 6-0 prolene suture | Ethicon | 8706H | |
| Acid Fuchsin | Sigma-Aldrich | F8129-25G | Trichrome staining |
| Antigen retrieval solution | Dako | S1699 | |
| Azophloxin | Waldeck | 1B-103 | Trichrome staining |
| Bepanthen Eye and Nose ointment | Bayer | 1578675 | Eye ointment |
| Betadine Solution | Betadine Purdue Pharma | NDC:67618-152 | |
| C57BL/6J | Charles River | Stock number 000664 | |
| Clamp applicator | Fine Science Tools | 18056-14 | JAW DIMS: 4 x 0.75 mm LENGTH: 13 mm |
| Collagen 3 | abcam | ab7778 | Antibody |
| DAPI | Thermo Fischer | D1306 | |
| Donkey anti-Goat IgG AF555 | Invitrogen | A21432 | Secondary antibody |
| Donkey anti-Rabbit IgG AF488 | Invitrogen | A21206 | Secondary antibody |
| Donkey anti-Rabbit IgG AF488 | Invitrogen | A11055 | Secondary antibody |
| Donkey anti-Rabbit IgG AF555 | Invitrogen | A31572 | Secondary antibody |
| Ethanol 70% | Th. Geyer | 2270 | |
| Ethanol 96% | Th. Geyer | 2295 | |
| Ethanol absolute | Th. Geyer | 2246 | |
| FAP | abcam | ab28246 | Antibody |
| Forceps fine | Fine Science Tools | 11251-20 | |
| Forceps standard | Fine Science Tools | 11023-10 | |
| Glacial Acetic Acid | Sigma-Aldrich | 537020 | |
| Hair clipper | WAHL | 8786-451A ARCO SE | |
| Heparin | Rotexmedica | PZN 3862340 | 25.000 I.E./mL |
| High temperature cautery kit | Bovie | 18010-00 | |
| Image-iT FX Signal Enhancer | Invitrogen | I36933 | Blocking solution |
| Light Green SF | Waldeck | 1B-211 | Trichrome staining |
| Microsurgical clamp | Fine Science Tools | 18055-04 | Micro-Serrefine - 4mm |
| MINI TREK Coronary Dilatation Catheter 1.20 mm x 6 mm / Rapid-Exchange | Abbott | 1012268-06U | |
| Molybdatophosphoric acid hydrate | Merck | 1.00532.0100 | Trichrome staining |
| NaCl 0,9% | B.Braun | PZN 06063042 Art. Nr.: 3570160 | |
| Needle holder | Fine Science Tools | 12075-14 | |
| Novaminsulfon | Ratiopharm | PZN 03530402 | Metamizole |
| Orange G | Waldeck | 1B-221 | Trichrome staining |
| Paraffin | Leica biosystems | REF 39602004 | |
| PBS pH 7,4 | Gibco | 10010023 | |
| PFA 4% | Electron Microscopy Sciences | #157135S | |
| Ponceau S solution | Serva Electrophoresis | 33427 | Trichrome staining |
| Primary antibody diluent | Dako | S3022 | |
| Prolong Gold Mounting solution | Thermo Fischer | P36930 | Mounting solution for immunofluorescence stained slides |
| Replaceable Fine Tip | Bovie | H101 | |
| Resorcin-Fuchsin Weigert | Waldeck | 2E-30 | Trichrome staining |
| Rimadyl | Pfizer | 400684.00.00 | Carprofen |
| Scissors | Fine Science Tools | 14028-10 | |
| Scissors Vannas-style | Fine Science Tools | 15000-03 | |
| Secondary antibody diluent | Dako | S0809 | |
| Fast acting Adhesive MINIS 3x1g | UHU | 45370 | Cyanoacrylate |
| Slide Rack | Ted Pella | 21057 | |
| SM22 | abcam | ab10135 | Antibody |
| SMA | abcam | ab21027 | Antibody |
| Staining dish | Ted Pella | 21075 | |
| Surgical microscope | Leica | M651 | |
| Tabotamp fibrillar | Ethicon | 431962 | Absorbable hemostat |
| Transpore Surgical Tape | 3M | 1527-1 | |
| U-100 Insulin syringe | BD Medical | 324825 | |
| Vessel Dilator | Fine Science Tools | 18603-14 | |
| Vitro-Clud | Langenbrinck | 04-0001 | |
| Weigerts iron hematoxylin Kit | Merck | 1.15973.0002 | Trichrome staining |
| Xylene | Th. Geyer | 3410 | |