Summary
Vi tilbyr en enkel og effektiv metode for å transplantere 2 '-deoxyguanosine behandlet E 18.5 thymus i nyre kapselen til en naken mus. Denne metoden bør aide i studiet av både tymusatrofi epitelceller funksjon og T-celler modning.
Cite this Article
Copy Citation | Download Citations | Reprints and Permissions

Wang, J., Chen, G., Cui, Q., Song, E., Tao, W., Chen, W., Wang, C., Jia, S. Renal Subcapsular Transplantation of 2'-Deoxyguanosine-Treated Murine Embryonic Thymus in Nude Mice. J. Vis. Exp. (149), e59657, doi:10.3791/59657 (2019).
Abstract
Den thymus er en viktig sentral immun organ, som spiller en viktig rolle i utviklingen og differensiering av T-celler. Thymus transplantasjon er en viktig metode for å undersøke tymusatrofi epitel celle funksjon og T-celler modning in vivo. Her vil vi beskrive de eksperimentelle metodene som brukes i vårt laboratorium for å transplantere 2 '-deoxyguanosine (å tømme donor ' s lymfocytter) behandlet embryonale thymus i nyre kapsel av en athymic naken mus. Denne metoden er både enkel og effektiv og krever ikke spesielle ferdigheter eller enheter. Resultatene oppnås via denne enkle metoden viste at transplanterte thymus kan effektivt støtte mottakerens T-celler produksjon. I tillegg vil flere viktige punkter med hensyn til protokollen bli ytterligere belyst.
Introduction
Thymus er den sentrale immun organ, innenfor thymus thymocytes gjennomgår positive og negative valg, og blir modne T celler1,2. Unormal positiv eller negativ markering resulterer i immunsvikt eller autoimmune sykdommer henholdsvis3,4. Derfor er thymus organ transplantasjon en viktig tilnærming for å studere prosessen med T celler utvalg i donor ' s thymus. Denne metoden er spesielt viktig når analysere tymusatrofi epitel funksjon formidlet av genet mutasjoner som forårsaker embryonale dødelige fenotype når mutert5.
For å studere modning av en mottakers T-celler i den transplanterte thymus, forringelse av donor ' s lymfocytter i thymus er nødvendig. For dette formålet, embryonale 14-, 15-eller 16-dagers (E14, E15, E16) thymus er vanligvis valgt6,7. Thymus fra mer modne stadier kan også være vellykket utarmet av donor ' s lymfocytter ved å behandle med 2 '-deoxyguanosine. Men en detaljert protokoll for tappe lymfocytter og bruk av eldre thymus kultur har ikke tidligere blitt beskrevet8,9. Mens transplantasjon protokoller har blitt innført av flere studier10,11, ytterligere modifisering og forbedring av disse protokollene er nødvendig.
Vår protokoll er delt inn i to deler: (i) nedbryting av T-lymfocytter fra slutten av utviklingsfasen E 18.5 thymus av kulturen i 2 '-deoxyguanosine-inneholder medier. (II) transplantasjon av den kultivert thymus i mottakerne. I denne prosedyren, utviklet vi en enkel måte å levere det store vevet (E 18.5 thymus) i nyre kapselen med redusert sjanse for nyreskader. Mens fokus på senere stadium thymus, kan vår protokoll også brukes direkte eller med modifikasjoner for transplantasjon av thymus på ulike utviklingsmessige stadier eller andre lignende størrelse vev.
Subscription Required. Please recommend JoVE to your librarian.
Protocol
Den presenterte protokollen overholder retningslinjene for etikk komité Jinan University om dyr omsorg.
Merk: materialene som brukes, er oppført i materialfortegnelsen.
1. isolering av embryonale thymus
Autoklav alle kirurgiske instrumenter før eksperimentet, og sterilisere benken/hette med 70% etanol.
Ved hjelp av karbondioksid, bedøve og euthanize den gravide kvinnelige musen (18,5 dager etter vellykket mating). Tørk deretter mageregionen med 70% etanol.
Merk: her har vi paret Insm1+/lacZ hunner og Insm1+/lacZ hanner. Intraplacental injeksjon av pentobarbital ble utført før isolering av embryo fra livmoren og halshogging ble utført for hvert embryo.
Bruke saks, lage en "V" formet kutt på magen starter fra blæren og kjører til hver horn i livmoren.
Ved hjelp av saksen, kutt mesometrium og cervix/vagina, og samle livmoren. Plasser livmoren i en Petri parabolen inneholder kaldt fosfat-bufret saltvann (PBS) på isen. Deretter utsettes embryo som er i innhyllet Vertsplanter, ved å kutte fremre livmor veggen fra en livmor horn til den andre. Ved hjelp av fin pinsett, skrelle tilbake innhyllet Vertsplanter vev og kutt navlestrengen å løslate embryo. Plasser alle embryo i en ny Petri parabolen på isen til isolasjon av thymus.
Tørk et embryo med 70% alkohol, og legg det i en ny Petri-rett. Fra dette trinnet må du sørge for at sterile forhold opprettholdes.
Ved å kutte nær den nedre kjeve med saks, fjerne hodet på fosteret og drenere blodet med et papir håndkle. Deretter fikse embryo på samme Petri parabolen i liggende posisjon.
Merk: vi skar et stykke av halen til hvert embryo for Insm1 og lacZ genotyperingteknologi.
Ved hjelp av saks, kutt lateral brystet veggen horisontalt langs aksillær foran, og deretter kutte membranen for å åpne brystet. Thymus skal nå være synlig som to hvite fliker som ligger foran luftrøret og ved siden av hjertet.
Plasser bøyd-spissen tang bak thymus og deretter trekke av thymus forsiktig. Pass på å sjekke integriteten til thymus å bekrefte at den inneholder to leddet fliker.
Vask thymus med 1x PBS og trim av bindevev og blodkar under en stereomikroskopet.
2. kultur av isolerte embryonale thymus
Tilsett 500 μL av kultur medium (RPMI1640 + 15% Foster storfe serum (FBS) + 100 U/mL penicillin og 100 μg/mL Streptomycin) til hver brønn av en 24-brønn plate. Overfør den rene thymi inn i brønnene med en thymus per brønn. Figur 1 viser isolert thymus i kultur Media.
Til hver thymus inneholder godt legge 2 '-deoxygranosine til en endelig konsentrasjon av 1,25 mM.
Kultur den isolerte thymus i åtte dager, forfriskende både kultur Media og 2 '-deoxygranosine annenhver dag.
3. Etabler subcapsular plass i nyre kapselen
For å forberede nålen og klippet infusjon Tube (figur 2), kutt hodebunnen vene nålen på røret delen ved en 45 ° vinkel ved hjelp av saks.
Veie den nakne musen og deretter bedøve den med en pentobarbital (1,5%) injeksjon (75 μg/g kroppsvekt).
Når ingen refleks etter toe klype er observert, plasserer du musen på operasjonsbordet i en høyre sideposisjon.
Med en 0,5% povidon jod-pinne, desinfisere huden to ganger i operasjonsområdet fra innsiden til utsiden av kroppen.
Ved hjelp av saks, lage en 5-9 mm huden snitt parallelt med ryggraden i venstre nyre området (mellom den siste ribben og iliaca Crest). Deretter åpner bukhulen ved å skjære gjennom under Huds vevet og muskler og avdekke nyrene.
Med nyrene eksponert, bruk et par pinsett i den ene hånden for å løfte muskler og fettvev av ryggraden-side snitt kanten. Med den andre hånden, forsiktig klem nyrene ut (alternativt kan nyrene bli presset ut ved hjelp av fingrene på begge hender).
For å sikre at nyre kapselen er fuktig under operasjonen, fukte overflaten av nyrene med saltvann (0,9% NaCl).
Lag et Nick i nyre kapselen, og forsiktig ripe nyre kapselen på nedre høyre side ved hjelp av nålen spissen utarbeidet i trinn 3,1. Størrelsen på nicket skal være 1/2 – 2/3 bredder av nyrene; ikke klø på nyrene.
Skyv infusjonsslangen som er klargjort i trinn 3,1, inn i nicket på nyre kapselen. Forsiktig distansere nyre kapselen med nyrene langs den lange siden av nyrene til de når 3 – 4mm inne i nyre kapselen. Trekk tilbake infusjonsslangen; nyre subcapsular plass er etablert.
4. Transplant den embryonale murine thymus
Vask thymus kultivert i trinn 2,3 to ganger i saltvann for å tømme kultur Media.
Koble klippet infusjon rør fremstilt i trinn 3,1 til en sprøyte ved sin sprøyte-tilkobling grensesnitt. Aspirer den forberedte thymus i infusjons røret langsomt.
Sett forsiktig inn klippet infusjonsslangen i nyre kapselen og nå den overlegne stangen. Levere thymus i nyre kapselen; Skyv røret langsomt inn samtidig som du skyver stempelet på sprøyten forsiktig.
Ved hjelp av en alkohol lampe, litt varme nålen forberedt i trinn 3,1. Etter at hele thymus er inne i subcapsular plass, bruk oppvarmet nål å cauterize nicket.
Etter cauterization, gjenopprette nyrene i bukhulen. Sutur peritoneum og muskel.
Ved hjelp av en modifisert avbrutt vertikal mattress Sutur, lukke huden snitt (tie minst tre knop og skjære bort eventuelle overflødig tråden).
Ved hjelp av en povidon jod pinne, desinfisere snittet. For å lindre smerte ble subkutan injeksjon av flunixin (2 μg/g kroppsvekt) utført under operasjonen og deretter i 3 dager etter operasjonen.
Inntil helt utvinnes fra anestesi, holde musen varm under den infrarøde lampen.
Hold thymus i mottakerens nyre kapsel for 8 uker før dissekere den transplanterte thymus og gjennomføre fenotypiske analyse som tidligere beskrevet5,8,9.
Subscription Required. Please recommend JoVE to your librarian.
Representative Results
Her viser vi den isolerte E 18.5 thymus som inneholder to komplette fliker (figur 1). I tillegg viser vi hodebunnen vene nålen som ble avkuttet å danne en skråkant på infusjonsslangen (figur 2). Deretter viser vi også en representativ bilde av plasseringen av thymus som ble transplantert i nyre kapselen (figur 3a) og thymus etter 8 uker med vekst i mottaker mus (figur 3b). For å finne ut om T-cellene ble produsert i nakne mus transplantert med en thymus, både i den transplanterte thymus og perifert blod, oppdaget vi cellen populasjoner ved hjelp av CD4 og CD8 antistoff farging og Flow flowcytometri analyse. Det perifere blod ble samlet inn fra retro-orbital sinus som tidligere beskrevet12. Vi fant T-cellene ble produsert i både den transplanterte thymus og perifert blod av nakne mus transplantert med en thymus. Men ingen T-celler ble påvist i perifert blod av ikke-transplanterte nakne mus (Figur 4). For å finne kilden til T-celler, sjekket vi Insm1 og lacZ gener i perifere hvite blodlegemer ved hjelp av genotyperingteknologi metoder rutinemessig brukt i laboratoriet vårt og beskrevet tidligere13,14. Siden donor embryo Insm1 genet ble erstattet av lacZ Gene i ett eller begge alleler, når T Cells var co-transplantert med thymus fra donor, kunne vi oppdage LacZ Gene i Genova av T-cellene samlet inn fra perifere blod av mottaker, som indikerer at de ble produsert av donor thymus. I tillegg, som ingen lacZ Gene var til stede, lacZ ville ikke bli oppdaget når T-cellene ble generert fra mottakerens blodkreft celler. Vi oppdaget ikke lacZ Gene i perifere t-celler som indikerer at t-cellene ble generert fra mottaker (figur 5).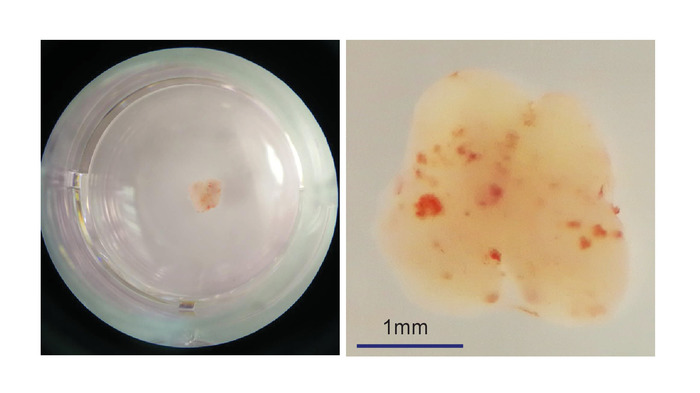 Figur 1: thymus isolert fra e 18.5 embryo. Vennligst klikk her for å se en større versjon av dette tallet.

Figur 2: thymus levere verktøy laget av hodebunnen vene nål. Hodebunnen vene nålen ble kuttet på infusjonsslangen delen nær nålen i en vinkel på 45 ° for å skape en skråkant. Både nålen og infusjonsslangen ble brukt i prosedyren. Vennligst klikk her for å se en større versjon av dette tallet.

Figur 3: thymus transplantert inn i nyre kapselen. (A) fersk transplantert e 18.5 thymus i nyre kapselen. (B) thymus i nyre kapselen etter 8-ukers vekst i mottaker. Vennligst klikk her for å se en større versjon av dette tallet.

Figur 4: Flow flowcytometri analyse av T-cellene isolert fra den transplanterte thymus, blod thymus-transplantert og ikke-transplantert nakne mus. CD4 og CD8α antistoffer ble brukt for T celler farging. CD4+CD8+ Double positive celler, CD4+ singel positive, CD8+ singel positive og CD4-CD8- dobbel negative celler er vist i hver av kvadranter som indikert. Vennligst klikk her for å se en større versjon av dette tallet.

Figur 5: identifisere kilden til perifert blod T-celler i thymus transplantert nakne mus. Genotyperingteknologi av lacZ Gene og Insm1 genet i perifere blod hvite celler er vist. Ladder: DNA-markør, +: positiv kontroll DNA,-: negativ kontroll DNA, Anim1: DNA fra perifere hvite blodlegemer av Nude mus transplantert med Insm1lacZ/lacZ THYMUS, Anim2: DNA fra perifere hvite blodlegemer av Nude mus transplantert med Insm1+/lacZ thymus. Vennligst klikk her for å se en større versjon av dette tallet.
Subscription Required. Please recommend JoVE to your librarian.
Discussion
Nyre subcapsular transplantasjon av embryonale thymus er en viktig metode for å studere tymusatrofi epitelceller funksjon og prosessen med T celler modning in vivo. Selv om det er flere eksperimentelle studier på embryonale thymus orgel kultur og transplantasjon6,7, vår protokoll gir en enkel alternativ prosedyre på murine embryonale thymus kultur og renal subcapsular transplantasjon for eldre thymus vev.
Vår protokoll forbedrer på tidligere protokoller ved å innlemme flere ulike modifikasjoner 6,7,10,11. Først, i stedet for E14-E16 thymus, benyttet vi thymus isolert fra E 18.5 for transplantasjon. Fordelen er at thymus på dette senere utviklingstrinn inneholder relativt modne tymusatrofi strukturer og epitel celle populasjoner. Selv om nyfødte eller voksne mus er en alternativ kilde til modne thymus, hvis Perinatal dødelige fenotype oppstår som følge av gen manipulasjon, som mutasjoner i Jmjd6 eller Insm1 gener5,13, denne metoden gir et levedyktig alternativ for studiet av modne thymus. En annen modifikasjon er forvarsel av en kultur metode av E18 thymus før transplantasjon. I tillegg skjer en tredje endring i transplantasjon prosedyren, der vi brukte nålen spissen for å lage et nick på nyre kapselen i stedet for å plukke og kutte nyre kapselen med pinsett og saks. Denne endringen reduserte både nyreskader og skade på nyrene. En siste modifikasjon er i Sutur trinn. Modifisert avbrutt vertikal mattress Sutur eliminerer utsiden Sutur linje på huden og dermed hindrer åpningen av snittet på grunn av bitende.
Mens denne protokollen brukes for E 18.5 thymus transplantasjon i nyre kapselen, det kan endres for transplantasjon av thymus på andre utviklingsmessige stadier eller for andre vev med lignende størrelser. I tillegg materialene som brukes kan endres tilsvarende av ulike brukere fra ulike områder, spesielt med hensyn til anestesi reagenser som kan være begrenset av lokale lover. Doseringen av pentobarbital som brukes i vår protokoll, er 75 μg/g kroppsvekt. Imidlertid bør maksimal dosering ikke være mer enn 100 μg/g kroppsvekt for å hindre død av anesthetized dyr. Selv om transplantasjon av thymus i nyre kapselen er en effektiv metode for funksjonell studie av thymus in vivo, noen begrensninger finnes i metoden presentert ovenfor. Disse begrensningene inkluderer risiko for thymus slippe ut av nyre kapselen i løpet av 8 uker in vivo vekst periode (1 av 12). Dernest en annen begrensning er død av mus etter operasjonen (6 i 30). Imidlertid er denne død hovedsakelig forårsaket av overdose av pentobarbital. Som sådan, kan andre tillatte metoder for anestesi være ansatt.
Oppsummert gir vi en enkel og effektiv protokoll for å isolere og kultur E 18.5 thymus og deretter senere transplantere thymus i nyre kapselen. Dette gir da for analyse av tymusatrofi epitelceller funksjon og prosessen med T celler modning.
Subscription Required. Please recommend JoVE to your librarian.
Disclosures
Ingen konflikter av interesse erklært.
Acknowledgments
Dette arbeidet ble støttet av Start Package av Jinan University til S.J. og ved Science and Technology program of Guangzhou Kina (Grant no. 201704020209 til S.J.). Vi takker Amy Botta (Department of Biology, York University, Toronto, ON M3J 1P3, Canada) for korrekturlesing og redigering av manuskriptet.
Materials
| | | | |
| --- | --- | --- | --- |
| Name | Company | Catalog Number | Comments |
| 0.5% Povidone iodine | Shanghai Likang Distinfectant Hi-Tech Co.Ltd | 20171113 | |
| 0.9% Sodium Chloride Injection | Shandong Qilu Pharmaceuyical Co.Ltd | 2C17112101 | |
| 1 mL Sterile syringe | Solarbio | YA1090 | |
| 2'-Deoxyguanosine | MEC | HY-17563 | 1M in DMSO, 1:800 using (final 1.25mM) |
| 24 Well Plate | Corning Incorporated | Costar 3524 | |
| 4-0 Surgical suture needles with thread | NingBo Cheng-He Microsurgical Instruments Factory China | YY0166-2002 | |
| 60mm Cell Culture Dish | Corning Incorporated | 430166 | |
| 70% ETOH | LIRCON | 20181221 | |
| APC anti-mouse CD8a antibodies | Biolegend | 100711 | 1:100 |
| Bent-tip fine forceps, JZ 10 cm | Shanghai Medical Devices Group Co.,Ltd. | JD1060 | To sterilize before use |
| Cefmetazole Sodium for Injection | Sichuan Hexin Pharmaceutical co,Ltd | 17062111 079 | 6mg in 0.5ml 0.9% NaCl solution, 7.5ul/g body weight |
| Dissecting scissors, JZ 10 cm | Shanghai Medical Devices Group Co.,Ltd. | JC2303 | To sterilize before use |
| Fetal bovine serum (FBS? | GIBCO | 10270-106 | |
| Fine forceps, JZ 10 cm | Shanghai Medical Devices Group Co.,Ltd. | JD1050 | To sterilize before use |
| Flow cytometry | BD | FACSCanto II | |
| Flunixin meglumine | MACLIN | F810147 | 1mg in 1ml 0.9% NaCl solution,2ul/g body weight |
| Forceps, Dumont#5 | World Precision Instruments | 14098 | To sterilize before use |
| Infrared lamp | OTLAN | MT-810 | |
| Needle holder, JZ 14 cm | Shanghai Medical Devices Group Co.,Ltd. | J32010 | To sterilize before use |
| PE anti-mouse CD4 | Biolegend | 100511 | 1:100 |
| Penicillin-Streptomycin mixture | GIBCO | 15140122 | 1:100 |
| Pentobarbital sodium salt | Sigma | P3761 | 1.5% solution in PBS, 75ug/g body weight |
| RPMI1640 Medium | GIBCO | C14-11875-093 | |
| Scalp vein needle | Shanghai Kindly Medical Instruments Co., Ltd | XC001 | |
| Spring scissors | VANNAS | S11014-12 | To sterilize before use |
| stereomicroscope | OLYMPUS | SZ61 | |
| Sterile 15cm cotton swab | Guangzhou Haozheng | 20150014 | |
| Sterile gauze 5 cm x 7 cm-8P | Guangzhou Haozheng | 20172640868 | |
| Sterile PBS (1x) | GENOM | GNM20012 | |
| Tissue forceps, JZ 12.5 cm | Shanghai Medical Devices Group Co.,Ltd. | J41010 | To sterilize before use |