Summary
Vi leverer en enkel og effektiv metode til transplantation 2 '-deoxyguanosine behandlet E 18.5 thymus i nyrerne kapsel af en nøgen mus. Denne metode bør aide i studiet af både thymisk epiteliale celler funktion og T celler modning.
Cite this Article
Copy Citation | Download Citations | Reprints and Permissions

Wang, J., Chen, G., Cui, Q., Song, E., Tao, W., Chen, W., Wang, C., Jia, S. Renal Subcapsular Transplantation of 2'-Deoxyguanosine-Treated Murine Embryonic Thymus in Nude Mice. J. Vis. Exp. (149), e59657, doi:10.3791/59657 (2019).
Abstract
Thymus er et vigtigt centralt immun organ, som spiller en væsentlig rolle i udviklingen og differentieringen af T-celler. Thymus transplantation er en vigtig metode til undersøgelse af thymisk epitelial celle funktion og T-celler modning in vivo. Her vil vi beskrive de eksperimentelle metoder, der anvendes i vores laboratorium til transplantation 2 '-deoxyguanosine (at nedbryder donor lymfocytter) behandlet embryonale thymus i nyrerne kapsel af en athymic nøgen mus. Denne metode er både enkel og effektiv og kræver ikke særlige færdigheder eller enheder. Resultaterne opnået via denne enkle metode viste, at transplanterede thymus effektivt kan støtte modtagerens T-celler produktion. Desuden vil flere vigtige punkter med hensyn til protokollen blive yderligere belyst.
Introduction
Thymus er det centrale immun organ, inden for thymus thymocytter gennemgår positive og negative udvælgelse, og bliver modne T celler1,2. Unormalt positivt eller negativt valg resulterer i henholdsvis immundefekt eller autoimmune patologier3,4. Derfor er thymus organtransplantation en vigtig tilgang til at studere processen med T-celler udvælgelse i donorens thymus. Denne metode er især afgørende, når du analyserer thymisk epitel funktion medieret af genmutationer, som forårsager embryonisk dødelig fænotype, når muteret5.
For at studere modning af en modtagers T-celler i den transplanterede thymus er udtømning af donorens lymfocytter i thymus nødvendig. Til dette formål er embryonale 14-, 15-eller 16-dages (E14, E15, E16) thymus normalt valgt6,7. Thymus fra mere modne stadier kan også med held udtømmes af donorens lymfocytter ved behandling med 2 '-deoxyguanosin. Men en detaljeret protokol for nedbrydende lymfocytter og brug af ældre thymus kultur har ikke tidligere været beskrevet8,9. Selv om der er blevet indført transplantations protokoller af flere undersøgelser10,11, er det nødvendigt med yderligere ændringer og forbedringer af disse protokoller.
Vores protokol er opdelt i to dele: (i) udtømning af T-lymfocytter fra sent udviklingsmæssige fase E 18.5 thymus af kultur i 2 '-deoxyguanosin-holdige medier. II) transplantation af den dyrkede thymus til modtagerne. I denne procedure udviklede vi en enkel måde at levere det store væv (E 18.5 thymus) ind i den renale kapsel med nedsat risiko for nyreskade. Mens fokus på senere tidspunkt thymus, vores protokol kan også bruges direkte eller med ændringer til transplantation af thymus på forskellige udviklingsmæssige stadier eller andre lignende størrelse væv.
Subscription Required. Please recommend JoVE to your librarian.
Protocol
Den præsenterede protokol overholder retningslinjerne fra den etiske komité i Jinan University vedrørende dyrepasning.
Bemærk: de anvendte materialer er anført i tabellen over materialer.
1. isolering af embryonale thymus
Autoklave alle kirurgiske instrumenter før eksperimentet, og sterilisere bænken/hætte med 70% ethanol.
Ved hjælp af kuldioxid, anæstetize og aflive den gravide kvindelige mus (18,5 dage efter vellykket parring). Derefter tørre maveregionen med 70% ethanol.
Bemærk: her har vi parret Insm1+/LacZ hunner og Insm1+/LacZ mænd. Intraplacental injektion af pentobarbital blev udført før isolering af embryoner fra livmoderen og hugning blev udført for hvert embryo.
Ved hjælp af en saks, lave en "V" formet snit på maven startende fra blæren og kører indtil hvert horn af livmoderen.
Ved hjælp af saks, skære mesometrium og livmoderhalsen/vagina, og indsamle livmoderen. Placer livmoderen i en Petri skål, der indeholder kold fosfat-bufferet saltvand (PBS) på is. Dernæst eksponere de embryoner, der er i den kappeklædte decidua, ved at skære den forreste uterin væg fra en livmoder horn til den anden. Ved hjælp af fine pincetter, skræl tilbage indhyllede lærk væv og skær navlestrengen for at frigive embryonerne. Placer alle embryonerne i en ny Petri skål på is, indtil thymus isoleres.
Aftør et embryon med 70% alkohol, og Anbring det i en ny Petri skål. Fra dette trin på, sikre, at sterile betingelser opretholdes.
Ved at skære tæt på underkæben med en saks, fjerne hovedet af embryonet og dræne blodet med et papirhåndklæde. Dernæst fastsætte embryonet på samme Petri skål i liggende stilling.
Bemærk: vi skærer et stykke af halen af hvert embryo for Insm1 og LacZ genotyping.
Ved hjælp af en saks skæres den laterale bryst mur vandret langs akillær fronten, og derefter skæres membranen for at åbne brystet. Thymus bør nu være synlig som to hvide lapper placeret foran luftrøret og støder op til hjertet.
Placer Bent-tip pincet bag thymus og træk forsigtigt thymus af. Sørg for at kontrollere integriteten af thymus for at bekræfte, at den indeholder to sammenføjede lobes.
Thymus vaskes med 1x PBS og trim bindevæv og blodkar under et stereomicroskop.
2. kulturen i den isolerede embryonale thymus
Tilsæt 500 μL kulturmedium (RPMI1640 + 15% føtal bovint serum (FBS) + 100 U/mL penicillin og 100 μg/mL streptomycin) til hver brønd af en 24-brønd plade. Overfør den rene af til brøndene med en thymus pr. brønd. Figur 1 viser den isolerede thymus i kultur medier.
Til hver thymus-holdige brønd tilsættes 2 '-deoxygranosin til en endelig koncentration på 1,25 mM.
Kultur den isolerede thymus i otte dage, forfriskende både kultur medierne og 2 '-deoxygranosine hver anden dag.
3. Opret subkapsularrummet i den renale kapsel
For at forberede nålen og det klippede infusionsslange (figur 2), skæres hovedbunden vene nål på røret del i en 45 ° vinkel ved hjælp af en saks.
Veje nøgen mus og derefter bedøve det med en pentobarbital (1,5%) injektion (75 μg/g legemsvægt).
Når der ikke observeres refleks efter tåkniv, placeres musen på operationsbordet i en højre lateral position.
Med en 0,5% povidon jod vatpind, Desinficer huden to gange i operationsområdet fra indersiden til yderside af kroppen.
Ved hjælp af en saks, lav en 5 – 9 mm hudincision parallelt med rygsøjlen i det venstre renale område (mellem den sidste ribben og bækkenbens Crest). Dernæst åbne bughulen ved at skære gennem det subkutane væv og muskler og udsætte nyrerne.
Med nyrerne eksponeret, bruge et par pincet i den ene hånd til at løfte muskler og fedtvæv fra rygsøjlen-side indsnit kant. Med den anden hånd, forsigtigt klemme nyrerne ud (Alternativt, kan nyrerne presses ud ved hjælp af fingre af begge hænder).
For at sikre, at den renale kapsel er fugtig under operationen, våd overfladen af nyrerne med saltvand (0,9% NaCl).
Opret et nick i nyrerne kapsel, og forsigtigt ridse den renale kapsel på nederste højre side ved hjælp af nålens spids fremstillet i trin 3,1. Størrelsen af Nick bør være 1/2-2/3 bredder af nyrerne; må ikke ridse på nyrerne.
Skub infusions røret, som er fremstillet i trin 3,1, ind i Nick på den renale kapsel. Dissociér forsigtigt den renale kapsel med nyrerne langs nyrens lange side, indtil den når 3 – 4mm inde i nyre kapslen. Træk infusions røret tilbage; nyre subkapsular rummet er etableret.
4. transplantation af embryonale murine thymus
Vask thymus kultiveret i trin 2,3 to gange i saltvand for at nedbryder kultur medierne.
Tilslut det klippede infusionsslange, der er fremstillet i trin 3,1, til en sprøjte ved dens sprøjte forbindelsesgrænse flade. Den forberedte thymus aspirerer langsomt ind i infusions røret.
Indsæt forsigtigt det klippede infusionsslange i den renale kapsel, og nå frem til den overlegne pol. Giv thymus til den renale kapsel; Træk røret langsomt tilbage, mens sprøjtens stempel skubbes forsigtigt ud.
Ved hjælp af en alkohol lampe, lidt varme nålen forberedt i trin 3,1. Efter at have sikret, at hele thymus er inde i subkapsular rummet, bruge den opvarmede nål til at ætse Nick.
Efter kauterisation, genoprette nyrerne i bughulen. Sutur bughinden og muskel.
Ved hjælp af en modificeret afbrudt lodret madras sutur, lukke huden indsnit (binde mindst tre knob og skære væk overskydende tråd).
Ved hjælp af en povidon jod vatpind, desinficere incision. Til lindring af smerter blev subkutan injektion af Flunixin (2 μg/g legemsvægt) udført under operationen og derefter i 3 dage efter operationen.
Indtil fuldt genvundet fra anæstesi, holde musen varm under den infrarøde lampe.
Opbevar thymus i modtagerens nyre kapsel i 8 uger før dissekere den transplanterede thymus og gennemføre fænotypiske analyse som tidligere beskrevet5,8,9.
Subscription Required. Please recommend JoVE to your librarian.
Representative Results
Her viser vi den isolerede E 18.5 thymus, der indeholder to komplette lapper (figur 1). Derudover viser vi hovedbunden vene nål, der blev klippet for at danne en facet på infusions røret (figur 2). Dernæst viser vi også et repræsentativt billede af den thymus, der blev transplanteret i den renale kapsel (figur 3a) og thymus efter 8 ugers vækst i modtager musene (figur 3b). For at afgøre, om T-cellerne blev produceret i nøgne mus, der blev transplanteret med en thymus, i både den transplanterede thymus og det perifere blod, opdagede vi celle populationerne ved hjælp af CD4-og CD8-antistof farvning og flow cytometri-analyse. Det perifere blod blev indsamlet fra retroorbital sinus som tidligere beskrevet12. Vi fandt T-cellerne blev produceret i både den transplanterede thymus og det perifere blod af nøgne mus, der blev transplanteret med en thymus. Der blev imidlertid ikke påvist nogen T-celler i perifert blod af ikke-transplanterede nøgne mus (figur 4). For at bestemme kilden til T-celler, vi kontrollerede Insm1 og LacZ gener i de perifere hvide blodlegemer ved hjælp af genotype metoder rutinemæssigt anvendes i vores laboratorium og beskrevet tidligere13,14. Da donor embryo Insm1 -genet blev erstattet af LacZ -genet i et eller begge alleler, da t-cellerne blev co-transplanteret med thymus fra donor, kunne vi påvise LacZ -genet i genomet af t-cellerne indsamlet fra perifere blod fra recipient, hvilket indikerer, at de blev produceret af donor thymus. Da der ikke fandtes noget LacZ -gen, ville LacZ ikke blive opdaget, når T-cellerne blev genereret fra modtagerens hæmatopoietiske celler. Vi har ikke detektere LacZ -genet i de perifere t-celler, der indikerer, at t-cellerne blev genereret fra recipient (figur 5).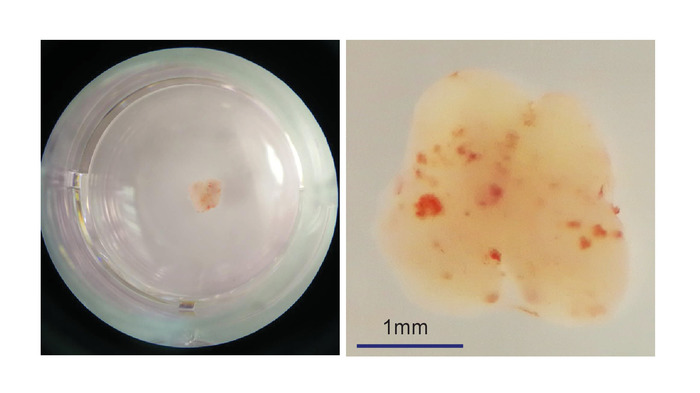 Figur 1: thymus isoleret fra e 18.5 embryoner. Venligst klik her for at se en større version af dette tal.

Figur 2: thymus leverer værktøjer fremstillet af hovedbunden vene nål. Hovedbunden vene nål blev skåret ved infusions røret del tæt på nålen i en vinkel på 45 ° for at skabe en facet. Både nålen og infusions røret blev anvendt i proceduren. Venligst klik her for at se en større version af dette tal.

Figur 3: thymus, som er transplanteret ind i den renale kapsel. A) nyplanteret e 18.5 thymus i den renale kapsel. (B) thymus i den renale kapsel efter 8-ugers vækst i recipient. Venligst klik her for at se en større version af dette tal.

Figur 4: flow cytometri analyse af T-cellerne isoleret fra den transplanterede thymus, blod fra thymus-transplanterede og ikke-transplanterede nøgne mus. CD4-og CD8α-antistoffer blev anvendt til farvning af T-celler. CD4+CD8+ dobbelte positive celler, CD4+ enkelt positive, CD8+ enkelt positive og CD4-CD8- dobbelte negative celler er vist i hver af kvadranterne som angivet. Venligst klik her for at se en større version af dette tal.

Figur 5: identifikation af kilden til de perifere blod-T-celler i thymus transplanterede Nude mus. Genotypebestemmelse af LacZ -genet og Insm1 -genet i perifert blod hvide celler vises. Stige: DNA markør, +: positiv kontrol DNA,-: negativ kontrol DNA, Anim1: DNA fra perifere hvide blodlegemer af nøgen mus transplanteret med Insm1LacZ/LacZ thymus, Anim2: DNA fra perifere hvide blodlegemer af nøgen mus transplanterede med Insm1+/LacZ thymus. Venligst klik her for at se en større version af dette tal.
Subscription Required. Please recommend JoVE to your librarian.
Discussion
Renal subkapsular transplantation af embryonale thymus er en vigtig metode til at studere den thymiske epiteliale celler funktion og processen med T-celler modning in vivo. Selv om der er flere eksperimentelle undersøgelser af embryonale thymus organ kultur og transplantation6,7, vores protokol giver en simpel alternativ procedure på murine embryonale thymus kultur og renal subkapsulær katarakt transplantation for ældre thymus væv.
Vores protokol forbedrer tidligere protokoller ved at indarbejde flere forskellige modifikationer 6,7,10,11. Først, i stedet for E14-E16 thymus, vi udnyttede thymus isoleret fra E 18.5 til transplantation. Fordelen er, at thymus på dette senere udviklingsmæssige stadie indeholder relativt modne thymiske strukturer og epiteliale cellepopulationer. Selv om nyfødte eller voksne mus er en alternativ kilde til moden thymus, hvis perinatal dødelig fænotype opstår som følge af genmanipulation, såsom mutationer i Jmjd6 eller Insm1 gener5,13, denne metode giver et levedygtigt alternativ til studiet af moden thymus. En anden ændring er den tidligere fremgangsmåde med en dyrkningsmetode for E18 thymus før transplantation. Derudover sker der en tredje ændring i transplantations proceduren, hvor vi brugte nåle spidsen til at skabe et nick på nyre kapslen i stedet for at plukke og skære den renale kapsel med pincet og saks. Denne ændring reducerede både nyre kapsel skader og skade på nyrerne. En sidste ændring er i sutur trin. Den modificerede afbrudte lodrette madras sutur eliminerer den udvendige sutur linje på huden og forhindrer derfor åbningen af snittet på grund af bidende.
Mens denne protokol anvendes til E 18.5 thymus transplantation i nyre kapsel, det kan ændres til transplantation af thymus i andre udviklingsmæssige stadier eller for andre væv med lignende størrelser. Desuden kan de anvendte materialer ændres i overensstemmelse hermed af forskellige brugere fra forskellige områder, især med hensyn til anæstesi reagenser, som kan være begrænset af lokale love. Doseringen af pentobarbital anvendes i vores protokol er 75 μg/g legemsvægt. Men, den maksimale dosis bør ikke være mere end 100 μg/g kropsvægt for at forhindre døden af bedøvet dyr. Selv om transplantationen af thymus i nyre kapslen er en effektiv metode til den funktionelle undersøgelse af thymus in vivo, findes der visse begrænsninger i den ovenfor nævnte metode. Disse begrænsninger omfatter risiko for, at thymus falder ud af nyre kapslen i løbet af de 8 uger in vivo vækstperiode (1 ud af 12). For det andet en anden begrænsning er døden af mus efter operationen (6 i 30). Men, denne død er primært forårsaget af overdosering af pentobarbital. Som sådan, andre tilladte metoder til anæstesi kan anvendes.
Kort sagt, vi leverer en enkel og effektiv protokol til at isolere og kultur E 18.5 thymus og derefter efterfølgende transplantation thymus ind i den renale kapsel. Dette giver mulighed for analyse af den thymiske epiteliale celler funktion og processen med T-celler modning.
Subscription Required. Please recommend JoVE to your librarian.
Disclosures
Ingen interessekonflikter anmeldt.
Acknowledgments
Dette arbejde blev støttet af start pakken af Jinan University til S.J. og af videnskab og teknologi program af Guangzhou Kina (Grant No. 201704020209 til S.J.). Vi takker Amy Botta (Department of Biology, York University, Toronto, på M3J 1P3, Canada) til korrekturlæsning og redigering af manuskriptet.
Materials
| | | | |
| --- | --- | --- | --- |
| Name | Company | Catalog Number | Comments |
| 0.5% Povidone iodine | Shanghai Likang Distinfectant Hi-Tech Co.Ltd | 20171113 | |
| 0.9% Sodium Chloride Injection | Shandong Qilu Pharmaceuyical Co.Ltd | 2C17112101 | |
| 1 mL Sterile syringe | Solarbio | YA1090 | |
| 2'-Deoxyguanosine | MEC | HY-17563 | 1M in DMSO, 1:800 using (final 1.25mM) |
| 24 Well Plate | Corning Incorporated | Costar 3524 | |
| 4-0 Surgical suture needles with thread | NingBo Cheng-He Microsurgical Instruments Factory China | YY0166-2002 | |
| 60mm Cell Culture Dish | Corning Incorporated | 430166 | |
| 70% ETOH | LIRCON | 20181221 | |
| APC anti-mouse CD8a antibodies | Biolegend | 100711 | 1:100 |
| Bent-tip fine forceps, JZ 10 cm | Shanghai Medical Devices Group Co.,Ltd. | JD1060 | To sterilize before use |
| Cefmetazole Sodium for Injection | Sichuan Hexin Pharmaceutical co,Ltd | 17062111 079 | 6mg in 0.5ml 0.9% NaCl solution, 7.5ul/g body weight |
| Dissecting scissors, JZ 10 cm | Shanghai Medical Devices Group Co.,Ltd. | JC2303 | To sterilize before use |
| Fetal bovine serum (FBS? | GIBCO | 10270-106 | |
| Fine forceps, JZ 10 cm | Shanghai Medical Devices Group Co.,Ltd. | JD1050 | To sterilize before use |
| Flow cytometry | BD | FACSCanto II | |
| Flunixin meglumine | MACLIN | F810147 | 1mg in 1ml 0.9% NaCl solution,2ul/g body weight |
| Forceps, Dumont#5 | World Precision Instruments | 14098 | To sterilize before use |
| Infrared lamp | OTLAN | MT-810 | |
| Needle holder, JZ 14 cm | Shanghai Medical Devices Group Co.,Ltd. | J32010 | To sterilize before use |
| PE anti-mouse CD4 | Biolegend | 100511 | 1:100 |
| Penicillin-Streptomycin mixture | GIBCO | 15140122 | 1:100 |
| Pentobarbital sodium salt | Sigma | P3761 | 1.5% solution in PBS, 75ug/g body weight |
| RPMI1640 Medium | GIBCO | C14-11875-093 | |
| Scalp vein needle | Shanghai Kindly Medical Instruments Co., Ltd | XC001 | |
| Spring scissors | VANNAS | S11014-12 | To sterilize before use |
| stereomicroscope | OLYMPUS | SZ61 | |
| Sterile 15cm cotton swab | Guangzhou Haozheng | 20150014 | |
| Sterile gauze 5 cm x 7 cm-8P | Guangzhou Haozheng | 20172640868 | |
| Sterile PBS (1x) | GENOM | GNM20012 | |
| Tissue forceps, JZ 12.5 cm | Shanghai Medical Devices Group Co.,Ltd. | J41010 | To sterilize before use |