Summary
Vi erbjuder en enkel och effektiv metod för att transplantera 2 '-deoxyguanosine behandlade e 18,5 tymus i njur kapseln av en naken mus. Denna metod bör medhjälpare i studien av både thymic epitelceller funktion och T-celler mognad.
Cite this Article
Copy Citation | Download Citations | Reprints and Permissions

Wang, J., Chen, G., Cui, Q., Song, E., Tao, W., Chen, W., Wang, C., Jia, S. Renal Subcapsular Transplantation of 2'-Deoxyguanosine-Treated Murine Embryonic Thymus in Nude Mice. J. Vis. Exp. (149), e59657, doi:10.3791/59657 (2019).
Abstract
Brässen är en viktig central immun organ, som spelar en viktig roll i utvecklingen och differentieringen av T-celler. Thymus transplantation är en viktig metod för att undersöka thymic epitelcells funktion och T-cells mognad in vivo. Här kommer vi att beskriva de experimentella metoder som används inom vårt laboratorium för att transplantera 2 '-deoxyguanosin (att tömma givarens lymfocyter) behandlade embryonala tymus i njur kapseln av en atymiska naken mus. Denna metod är både enkel och effektiv och kräver inte särskilda kunskaper eller enheter. De resultat som erhållits via denna enkla metod visade att transplanterade bräss effektivt kan stödja mottagarens T cells produktion. Dessutom kommer flera viktiga punkter när det gäller protokollet att ytterligare klarläggas.
Introduction
Brässen är det centrala immun organet, inom brässen tymocyter genomgå positiva och negativa val, och bli mogna T-celler1,2. Onormalt positivt eller negativt val resulterar i immunbrist eller autoimmuna sjukdomar respektive3,4. Därför är tymus organtransplantation en viktig metod för att studera processen med T-celler val i givarens bräss. Denna metod är särskilt viktigt när man analyserar thymic epitelfunktion medierad av genmutationer som orsakar embryonala dödliga fenotyp när muterade5.
För att studera mogningen av en mottagares T-celler i det transplanterade tymus är utarmning av givarens lymfocyter inom brässen nödvändig. För detta ändamål, embryonala 14-, 15-eller 16-dagars (E14, E15, E16) tymus är oftast utvalda6,7. Bräss från mer mogna stadier kan också vara framgångsrikt utarmat givarens lymfocyter genom att behandla med 2 '-deoxyguanosine. Ett detaljerat protokoll för att tömma lymfocyter och använda äldre tymus-kulturer har dock inte tidigare beskrivits8,9. Även om transplantation protokoll har införts genom flera studier10,11, ytterligare modifiering och förbättring av dessa protokoll är nödvändigt.
Vårt protokoll är uppdelat i två delar: (i) utarmning av T-lymfocyter från sent utvecklingsstadium e 18.5 tymus av kultur i 2 '-deoxyguanosininnehållande media. II transplantation av odlade bräss till mottagare. I detta förfarande utvecklade vi ett enkelt sätt att leverera den stora vävnaden (E 18.5 Thymus) till njur kapseln med minskad risk för njurskada. Med fokus på senare skede tymus, kan vårt protokoll också användas direkt eller med modifieringar för transplantation av bräss vid olika utvecklingsstadier eller andra liknande stora vävnader.
Subscription Required. Please recommend JoVE to your librarian.
Protocol
Den presenterade protokollet följer riktlinjerna i etikkommittén för Jinan University om djuromsorg.
Anm.: material som används listas i material tabellen.
1. isolering av embryonala tymus
Autoklav alla kirurgiska instrument före experimentet, och sterilisera bänk/huva med 70% etanol.
Använda koldioxid, söva och euthanize den gravida kvinnliga musen (18,5 dagar efter lyckad parning). Torka sedan buken regionen med 70% etanol.
Obs: här har vi parat Insm1+/lacz honor och Insm1+/lacz hanar. Intraplacenta injektion av pentobarbital utfördes före isolering av embryon från livmodern och halshuggning utfördes för varje embryo.
Använda sax, göra en "V" formad skära på buken från urinblåsan och kör tills varje horn i livmodern.
Använda saxen, klippa mesometrium och livmoderhalsen/vagina, och samla livmodern. Placera livmodern i en petriskål som innehåller kallfosfatbuffrad saltlösning (PBS) på is. Därefter exponera de embryon som finns i den höljeförsedda decidua, genom att skära den främre livmoderväggen från en livmoder horn till den andra. Använd fina pincetter, dra tillbaka de höljeförsedda decidua-vävnaderna och skär navelsträngen för att frigöra embryona. Placera alla embryon i en ny petriskål på is tills isoleringen av brässen.
Torka ett embryo med 70% alkohol och placera den i en ny petriskål. Från detta steg på, se till att sterila förhållanden bibehålls.
Genom att skära nära den nedre käken med sax, ta bort huvudet av embryot och dränera blodet med en pappershandduk. Nästa, fixa embryot på samma petriskål i liggande läge.
Anmärkning: vi skär en bit av svansen på varje embryo för Insm1 och lacz genotypning.
Med hjälp av sax, klippa den laterala bröstväggen horisontellt längs axillär fronten, och sedan klippa membranet för att öppna bröstet. Brässen bör nu vara synlig som två vita lober ligger framför luftstrupen och intill hjärtat.
Placera böjda spetstång bakom brässen och dra sedan av brässen försiktigt. Var noga med att kontrollera integriteten hos brässen för att bekräfta att den innehåller två ledade lober.
Tvätta brässen med 1x PBS och trimma av bindväv och blodkärl under ett stereomikroskop.
2. kulturen i det isolerade embryonala tymus
Tillsätt 500 μL odlingssubstrat (RPMI1640 + 15% fetalt bovint serum (FBS) + 100 U/mL penicillin och 100 μg/mL streptomycin) till varje brunn på en 24-brunn tallrik. Överför den rena thymien till brunnarna med en tymus per brunn. Figur 1 visar den isolerade tymus i odlingsmedier.
Till varje Thymus-innehållande brunn Tillsätt 2 '-deoxygranosine till en slutkoncentration av 1,25 mM.
Odla den isolerade tymus i åtta dagar, uppfriskande både kulturen media och 2 '-deoxygranosine varannan dag.
3. upprätta det subkapsulära utrymmet i njur kapseln
För att förbereda nålen och det klippta infusionröret (figur 2), skär hårbotten vennålen på röret delen vid en 45 ° vinkel med hjälp av sax.
Väg den nakna musen och sedan söva den med en pentobarbital (1,5%) injektion (75 μg/g kroppsvikt).
När ingen reflex efter tå nypa observeras, Placera musen på operationsbordet i en höger lateral position.
Med en 0,5% povidon Jod Svabb, desinficera huden två gånger i det kirurgiska området från insidan till utsidan av kroppen.
Med sax, gör en 5-9 mm hud snitt parallellt med ryggraden i den vänstra njur området (mellan den sista revbenet och höftbenskammen). Nästa, öppna bukhålan genom att skära genom subkutan vävnad och muskler och exponera njuren.
Med njurarna exponeras, använda ett par pincett i ena handen för att lyfta muskler och fettvävnad från ryggraden sida snitt kanten. Med den andra handen, försiktigt pressa njurarna ut (Alternativt kan njuren pressas ut med fingrarna av båda händerna).
För att säkerställa att njur kapseln är fuktig under operationen, blöt ytan av njuren med saltlösning (0,9% NaCl).
Skapa en nick i njure kapseln, och skrapa försiktigt njur kapseln på den nedre högra sidan med hjälp av nålspetsen beredd i steg 3,1. Storleken på Nick bör vara 1/2 – 2/3 bredder av njuren; repa inte på njuren.
Skjut in infusionröret som bereds i steg 3,1 till Nick på njur kapseln. Separera försiktigt njur kapseln med njuren längs njurens långsida tills den når 3 – 4mm inuti njur kapseln. Dra tillbaka infusionröret; njure subkapsulär rymden är etablerad.
4. transplantera den embryonala murina brässen
Tvätta brässen odlade i steg 2,3 två gånger i saltlösning för att tömma kulturen media.
Anslut det klippta infusionröret som förberetts i steg 3,1 till en spruta vid dess anslutningsgränssnitt. Aspirera den beredda brässen i infusionröret långsamt.
Sätt försiktigt in det klippta infusionröret i njur kapseln och nå den överlägsna stolpen. Leverera brässen till njur kapseln; Dra långsamt tillbaka röret samtidigt som du trycker försiktigt på sprutkolven.
Med en alkohol lampa, värm lätt nålen beredd i steg 3,1. Efter att se till att hela brässen är inne i subkapsulär utrymme, Använd den uppvärmda nålen för att bränna Nick.
Efter cauterization, återställa njuren i bukhålan. Sutur bukhinnan och muskler.
Med hjälp av en modifierad avbruten vertikal madrass suturen, Stäng huden snitt (binda minst tre knop och skär bort eventuell överflödig tråd).
Med hjälp av en povidon Jod Svabb, desinficera snittet. För att lindra smärta, subkutan injektion av flunixin (2 μg/g kroppsvikt) utfördes under operationen och sedan i 3 dagar efter operationen.
Tills helt återhämtat sig från anestesi, hålla musen varm under infraröd lampa.
Förvara brässen i mottagarens njurkapsel i 8 veckor innan du dissekera det transplanterade tymus och utför fenotypisk analys som tidigare beskrivits5,8,9.
Subscription Required. Please recommend JoVE to your librarian.
Representative Results
Här visar vi den isolerade e 18.5 tymus som innehåller två kompletta lober (figur 1). Dessutom visar vi hårbotten ven nål som klipptes för att bilda en avfasning på infusionröret (figur 2). Därefter visar vi också en representativ bild av placeringen av brässen som transplanterades i njur kapseln (figur 3a) och brässen efter 8 veckors tillväxt inom mottagar möss (figur 3b). För att avgöra om T-celler producerades i nakna möss transplanterade med ett bräss, i både den transplanterade brässen och perifert blod, vi upptäckte cellpopulationer med hjälp av CD4 och CD8 antikropp färgning och flödescytometri analys. Det perifera blodet samlades in från retro-orbital sinus som tidigare beskrivits12. Vi fann att T-celler producerades i både den transplanterade brässen och det perifera blodet av nakna möss som transplanterades med ett bräss. Inga T-celler upptäcktes dock i perifert blod av icke-transplanterade nakna möss (figur 4). För att bestämma källan till T-celler, kontrollerade vi Insm1 och lacz gener i perifera vita blodkroppar med hjälp av genotypning metoder rutinmässigt används i vårt laboratorium och beskrivs tidigare13,14. Eftersom donatorembryot Insm1 -genen ersattes av lacz -genen i en eller båda alleler, när T-cellerna samtransplanterades med tymus från donator, kunde vi detektera lacz -genen i genomet hos de T-celler som samlats in från perifera blod från mottagaren, vilket indikerar att de producerades av donator Thymus. Dessutom, eftersom ingen Lacz -genen var närvarande, lacz inte skulle upptäckas när T-celler genererades från mottagarens hematopoietiska celler. Vi detekterar inte Lacz -genen i perifera t-celler som indikerar att t-cellerna genererades från mottagaren (figur 5).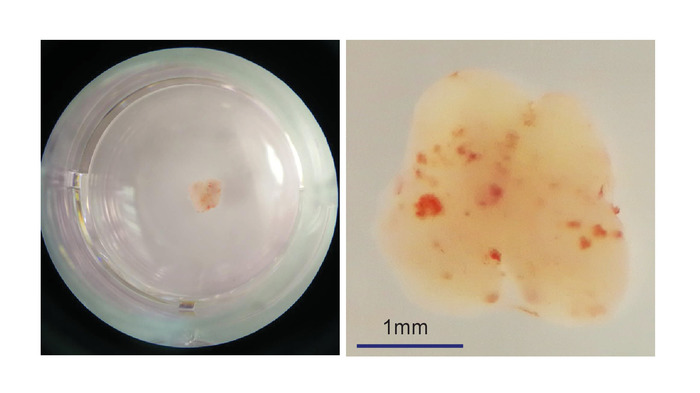 Figur 1: Thymus isolerat från e 18,5 embryon. Vänligen klicka här för att se en större version av denna siffra.

Figur 2: bräss som levererar verktyg gjorda av hårbotten ven nål. Hårbotten ven nål klipptes vid infusionröret del nära nålen i en vinkel på 45 ° för att skapa en avfasning. Både nålen och infusionröret användes i proceduren. Vänligen klicka här för att se en större version av denna siffra.

Figur 3: bräss som transplanterats in i njur kapseln. A) nyligen transplanterade e 18,5 tymus i njur kapseln. (B) Thymus i njur kapseln efter 8 veckors tillväxt hos mottagaren. Vänligen klicka här för att se en större version av denna siffra.

Figur 4: flödescytometri analys av T-celler isolerade från den transplanterade tymus, blod av tymus-transplanterade och icke-transplanterade naken möss. CD4 och CD8α antikroppar användes för T-celler färgning. CD4+ CD8+ dubbla positiva celler, CD4+ enda positiva, CD8+ enda positiva och CD4-CD8- dubbla negativa celler visas i varje kvadranter som anges. Vänligen klicka här för att se en större version av denna siffra.

Figur 5: identifiera källan till de perifera blod T-cellerna i tymus transplanterade nakna möss. Genotypning av Lacz -genen och Insm1 -genen i perifera blod vita celler visas. Stege: DNA-markör, +: positiv kontroll DNA,-: negativ kontroll DNA, Anim1: DNA från perifera vita blodkroppar av naken mus transplanterade med Insm1lacz/lacz THYMUS, Anim2: DNA från perifera vita blodkroppar av naken mus transplanterade med Insm1+/Lacz Thymus. Vänligen klicka här för att se en större version av denna siffra.
Subscription Required. Please recommend JoVE to your librarian.
Discussion
Renal subkapsulär transplantation av embryonala tymus är en viktig metod för att studera thymic epitelceller funktion och processen för T-celler mognad in vivo. Även om det finns flera experimentella studier på embryonal tymus orgel kultur och transplantation6,7, vårt protokoll ger ett enkelt alternativ förfarande på murina embryonal tymus kultur och renal subkapsulär transplantation för äldre tymus vävnad.
Vårt protokoll förbättrar på tidigare protokoll genom att införliva flera olika modifieringar 6,7,10,11. Först i stället för E14-E16 tymus, utnyttjade vi tymus isolerade från e 18,5 för transplantation. Fördelen är att tymus vid denna senare utvecklingsstadiet innehåller relativt mogna thymic strukturer och epitelceller populationer. Även om de nyfödda eller vuxna möss är en alternativ källa till mogna Thymus, om perinatal dödlig fenotyp uppstår som ett resultat av genmanipulation, såsom mutationer i Jmjd6 eller Insm1 gener5,13, denna metod ger ett lönsamt alternativ för studiet av mogna Thymus. En andra ändring är previsionen av en odlingsmetod av E18 tymus före transplantation. Dessutom, en tredje modifiering sker i transplantations proceduren, där vi använde nålspetsen för att skapa en nick på njur kapseln istället för att plocka och skära av njur kapseln med pincett och sax. Denna modifiering minskade både njur kapsel skador och skador på njuren. En final ändring är i suturen kliver. Den modifierade avbrytas vertikal madrass suturen eliminerar utsidan suturlinjen på huden och därför förhindrar öppnandet av snittet på grund av bita.
Även om detta protokoll används för e 18.5 tymus transplantation till njure kapseln, det kan ändras för transplantation av brässen vid andra utvecklingsstadier eller för andra vävnader med liknande storlekar. Dessutom kan de använda materialen modifieras av olika användare från olika områden, särskilt med avseende på anestesi reagenser som kan begränsas av lokala lagar. Doseringen av pentobarbital som används i vårt protokoll är 75 μg/g kroppsvikt. Maximal dosering bör dock inte vara mer än 100 μg/g kroppsvikt för att förhindra att de sövda djuren dör. Även om transplantation av brässen i njur kapseln är en effektiv metod för funktionell studie av brässen in vivo, finns det vissa begränsningar i den metod som presenteras ovan. Dessa begränsningar inkluderar risk för bräss släppa ut av njure kapseln under den 8 veckor in vivo tillväxtperiod (1 i 12). För det andra en annan begränsning är döden av möss efter operationen (6 i 30). Emellertid, denna död orsakas främst av överdosering av pentobarbital. Som sådan, andra tillåtna metoder för anestesi kan användas.
Sammanfattnings, ger vi ett enkelt och effektivt protokoll för att isolera och odla e 18.5 tymus och därefter transplantera brässen i njur kapseln. Detta gör det möjligt för analys av thymic epitelceller funktion och processen för T-celler mognad.
Subscription Required. Please recommend JoVE to your librarian.
Disclosures
Inga intressekonflikter har deklarerats.
Acknowledgments
Detta arbete stöddes av start paketet av Jinan University till S.J. och av vetenskap och teknik program i Guangzhou Kina (Grant nr 201704020209 till S.J.). Vi tackar Amy Botta (Institutionen för biologi, York University, Toronto, på M3J 1P3, Kanada) för korrekturläsning och redigering av manuskriptet.
Materials
| | | | |
| --- | --- | --- | --- |
| Name | Company | Catalog Number | Comments |
| 0.5% Povidone iodine | Shanghai Likang Distinfectant Hi-Tech Co.Ltd | 20171113 | |
| 0.9% Sodium Chloride Injection | Shandong Qilu Pharmaceuyical Co.Ltd | 2C17112101 | |
| 1 mL Sterile syringe | Solarbio | YA1090 | |
| 2'-Deoxyguanosine | MEC | HY-17563 | 1M in DMSO, 1:800 using (final 1.25mM) |
| 24 Well Plate | Corning Incorporated | Costar 3524 | |
| 4-0 Surgical suture needles with thread | NingBo Cheng-He Microsurgical Instruments Factory China | YY0166-2002 | |
| 60mm Cell Culture Dish | Corning Incorporated | 430166 | |
| 70% ETOH | LIRCON | 20181221 | |
| APC anti-mouse CD8a antibodies | Biolegend | 100711 | 1:100 |
| Bent-tip fine forceps, JZ 10 cm | Shanghai Medical Devices Group Co.,Ltd. | JD1060 | To sterilize before use |
| Cefmetazole Sodium for Injection | Sichuan Hexin Pharmaceutical co,Ltd | 17062111 079 | 6mg in 0.5ml 0.9% NaCl solution, 7.5ul/g body weight |
| Dissecting scissors, JZ 10 cm | Shanghai Medical Devices Group Co.,Ltd. | JC2303 | To sterilize before use |
| Fetal bovine serum (FBS? | GIBCO | 10270-106 | |
| Fine forceps, JZ 10 cm | Shanghai Medical Devices Group Co.,Ltd. | JD1050 | To sterilize before use |
| Flow cytometry | BD | FACSCanto II | |
| Flunixin meglumine | MACLIN | F810147 | 1mg in 1ml 0.9% NaCl solution,2ul/g body weight |
| Forceps, Dumont#5 | World Precision Instruments | 14098 | To sterilize before use |
| Infrared lamp | OTLAN | MT-810 | |
| Needle holder, JZ 14 cm | Shanghai Medical Devices Group Co.,Ltd. | J32010 | To sterilize before use |
| PE anti-mouse CD4 | Biolegend | 100511 | 1:100 |
| Penicillin-Streptomycin mixture | GIBCO | 15140122 | 1:100 |
| Pentobarbital sodium salt | Sigma | P3761 | 1.5% solution in PBS, 75ug/g body weight |
| RPMI1640 Medium | GIBCO | C14-11875-093 | |
| Scalp vein needle | Shanghai Kindly Medical Instruments Co., Ltd | XC001 | |
| Spring scissors | VANNAS | S11014-12 | To sterilize before use |
| stereomicroscope | OLYMPUS | SZ61 | |
| Sterile 15cm cotton swab | Guangzhou Haozheng | 20150014 | |
| Sterile gauze 5 cm x 7 cm-8P | Guangzhou Haozheng | 20172640868 | |
| Sterile PBS (1x) | GENOM | GNM20012 | |
| Tissue forceps, JZ 12.5 cm | Shanghai Medical Devices Group Co.,Ltd. | J41010 | To sterilize before use |