Summary
We presenteren een protocol om de installatie van een naaldvrije connector met positieve verplaatsing op een centrale veneuze katheter te laten zien.
Cite this Article
Copy Citation | Download Citations | Reprints and Permissions

Clavier, T., Franchina, S., Lefevre-Scelles, A., Gouin, P., Besnier, E., Veber, B. A Protocol to Set Up Needle-Free Connector with Positive Displacement on Central Venous Catheter in Intensive Care Unit. J. Vis. Exp. (149), e59801, doi:10.3791/59801 (2019).
Abstract
Naaldvrije connectoren werden in eerste instantie ontworpen en bevorderd om bloed blootstelling voor gezondheidswerkers te voorkomen. Sommige recente gegevens suggereren dat de nieuwste generatie van connectoren (met positieve verplaatsing) van belang kan zijn voor het verminderen van centrale veneuze lijn infecties. We gebruiken al enkele jaren naaldvrije connectoren in onze Intensive Care Unit en hier presenteren we een protocol voor het installeren van deze connectors op centrale veneuze katheters. Na het inbrengen van de katheter en de controle van de permeabiliteit van de lijnen, moeten de connectors worden opgeschoond met 0,9% NaCl voordat ze worden aangesloten. De connectors vervangen alle wegwerp doppen die worden gebruikt op infusie stopkranen en spruitstukken. Alle connectors worden elke 7 dagen gewijzigd, zoals aanbevolen door de fabrikant (behalve wanneer er macroscopische besmetting is, wat een onmiddellijke verandering van de connector vereist). Vóór elke injectie moet de connector gedurende ten minste 3 seconden worden gedesinfecteerd met 70% isopropylalcohol. De connectoren mogen niet worden losgekoppeld (tenzij gewijzigd), omdat de injectie via het apparaat wordt uitgevoerd. Het instellen van de connectors verhoogt enigszins de totale tijd die nodig is om de katheter te plaatsen en er is geen formeel bewijs dat deze connectors de incidentie van infectieuze of trombotische complicaties verminderen. Echter, deze apparaten vereenvoudigen het beheer van de centrale veneuze lijnen en voorkomen dat de katheter circuit van "opening" zodra het is gesterely geïnstalleerd.
Introduction
Centraal veneuze katheter-gerelateerde infecties (CRI) zijn een ernstige complicatie van centraal veneuze katheters in Intensive Care Unit (ICU). De afname in CRI blijft een steeds aanwezig doel, met als einddoel "Zero catheter gerelateerde infectie"1. Naaldvrije connectoren werden in eerste instantie ontworpen en bevorderd om bloed blootstelling voor gezondheidswerkers te voorkomen. Er zijn twee belangrijke ontwerpen van Connectors: Split septum (geen interne bewegende delen) en gesloten ventiel systemen (interne bewegende componenten) maar beide ontwerpen kunnen worden gecombineerd in één connector2. Naaldvrije connectoren worden gecategoriseerd volgens het type vloeistofverplaatsing dat optreedt na ontkoppeling van een mannelijke Luer klep: negatief (bloed terugvloeiing in de katheter), neutraal en positief (met een duw van het bloed uit de katheter lumen)2 , 3.
Sommige connectors zijn beschreven als een oorzaak van katheter-gerelateerde infecties, in het bijzonder in de Intensive Care Unit (ICU)4,5,6. Een nieuwe generatie naaldvrije connectors met minimale interne complexiteit, een reductie of eliminatie van interstitiële of dode ruimte, een zichtbaar vloeistofpad om de juiste Spoeltechniek te beoordelen, en een vlak toegangs oppervlak, enz., is ontworpen om het risico te verlagen van infectie. In vitro, deze connectors hebben aangetoond lage bacteriële kolonisatie7. Er zijn globale aanbevelingen van het laboratorium Manufacturing deze connectors; Er is echter geen praktische beschrijving van hoe ze te installeren op katheters8. Daarom is het mogelijk dat elk team ze anders gebruikt. Daarom stellen we een geformaliseerd protocol voor de installatie van deze connectors op centraal veneuze lijnen in de ICU.
We presenteren de installatie van een positieve druk nodeloos connector (PPNC) met een interne siliconen zuiger in onze ICU, maar dit protocol is toepasbaar met elke positieve verdringings klep. Deze klep is een mechanische naaldvrije connector met positieve verplaatsing.
Subscription Required. Please recommend JoVE to your librarian.
Protocol
1. bereiding van connectoren en infusielijnen
Haal de connectors sterilely op.
Op de 3-weg extensie kraantje, schroef 1 connector in elke socket van de kraantje en 1 connector in het einde van de Verleng lijn. Neem 0,9% NaCl met een spuit van 50 mL om de verlenging en de lijnen te zuiveren. Verwijder elke 3-weg verlenging met 0,9% NaCl door de 2 connectoren van de stopcock.
Neem het infuus spruitstuk. Schroef elke dop voor eenmalig gebruik los. Schroef 1 connector in elke socket van de variëteit om de doppen te vervangen. Spoel de infuuslijn door elke connector door elke kraantje opeenvolgend te draaien.
Opmerking: aan het einde van deze stap zijn er 3 verlengingen met 3-weg kraantje met opgeschoond connectors en een infusie spruitstuk met opgeschoond connectors.
2. plaatsing van de katheter
Plaats de centrale veneuze katheter gesterg volgens de gebruikelijke praktijk in het apparaat of een eerder beschreven protocol9.
Controleer de permeabiliteit van elke lijn door aspiratie van bloed en vervolgens herjectie van 0,9% NaCl serum. Klem de lijnen.
3. installatie van de connectoren
Schroef de Verleng connector van elke 3-weg extensie kraantje in elke katheter lijn. Deze connectors, direct verbonden met de lijnen van de katheter, zijn de "proximale connectors". Ontklem de lijnen.
Sluit de infusie spruitstuk lijn aan op een van de connectors van de 3-weg kraantje van de distale lijn.
Opmerking: er is geen noodzaak om een ader Guard op de variëteit of uitbreidingen te plaatsen.
4. gebruik van connectoren en infusielijnen
Desinfecteer vóór elke infusie het uiteinde van de connector voor 3 sec. met een steriel kompres gedrenkt in 70% isopropylalcohol. Sluit de spuit of slang rechtstreeks aan op de connector door ze te schroeven en te injecteren. Draai het apparaat na injectie of infusie los. Verwijder de connector niet.
Indien nodig, spoel een ongebruikte lijn met 3 mL zoutoplossing. Er is geen noodzaak om een ongebruikte lijn met een ader Guard te klemmen of te insmelten. Laat de proximale klep op zijn plaats, zelfs als de lijn niet perfused is.
5. vervanging en onderhoud van connectoren en infusielijnen
Verander altijd de connectors elke 7 dagen, behalve de proximale connectoren. Zo bereidt de verpleegkundige wekelijks de verlengingen met 3-weg kraantje en het infuus spruitstuk in steriele omstandigheden (zie stap 1).
Schroef de gebruikte verlengingen bij de proximale klep los en schroef de nieuwe steriele en opgeschoond uitbreidingen op de katheter op de proximale connector (zie stap 3).
Verander alleen een proximale connector als deze vervuild is (om de katheter in een "gesloten" systeem te houden).
In geval van macroscopische verontreiniging, spoel de connector af met 10 mL 0,9% NaCl. Als er nog verontreiniging is, vervangt u de connector. In het geval van transfusie, infusie van lipide oplossing (bv. Propofol) of parenterale voeding, verander de slang en de connectors van de lijn betrokken elke 24 uur.
Andere infuuslijnen en slangen wijzigen volgens de praktijken en protocollen van elke eenheid.
Subscription Required. Please recommend JoVE to your librarian.
Representative Results
Zodra alle elementen op zijn plaats, de katheter heeft aansluitingen op bijna alle knooppunten tussen twee infusielijnen (Figuur 1). Zo heeft het proximale connectors op elke lijn en twee connectors op de sockets van de 3-weg uitbreidingen (Figuur 2). Elke infuuslijn heeft aansluitingen op alle vrouwelijke contactdozen (Figuur 3). Zodra de assemblage is uitgevoerd, moet elke injectie of infusie (continu of discontinu) worden gemaakt, na desinfectie, via een van de connectoren van de infuuslijnen of verlengingen (Figuur 4).
Door de aansluitingen op zijn plaats te houden, blijft het infuussysteem dicht en steriel gemonteerd en minimaliseert het het risico op bacteriële besmetting. Een van onze eerdere werken, de eerste studie die deze apparaten prospectief analyseerde gedurende meerdere jaren, toonde een significante afname in CRI incidentie tijdens de periode van zes jaar framing de invoering van de connectors (Figuur 5)10. In dit werk was de incidentie van CRI vóór het gebruik van connectors 6,2 CRI/1000 katheter-dag vs. 2,7 CRI/1000 katheter-dagen na het gebruik van connectors10. Bovendien vonden we geen toename van CRI na het begin van het gebruik van de connector (Figuur 5) en er was geen significant verschil met betrekking tot de soort bacteriesoorten die betrokken zijn bij cri10. We hebben geen specifieke complicaties geïdentificeerd die verband houdt met het gebruik van deze connectors tijdens deze jaren van gebruik.

Figuur 1: globale weergave van de katheter zodra de connectoren zijn geplaatst. Klik hier om een grotere versie van dit cijfer te bekijken.

Figuur 2: proximale deel van de katheter met proximale connectoren (A) en connectors op de 3-weg extensie kraantje (B). Klik hier om een grotere versie van dit cijfer te bekijken.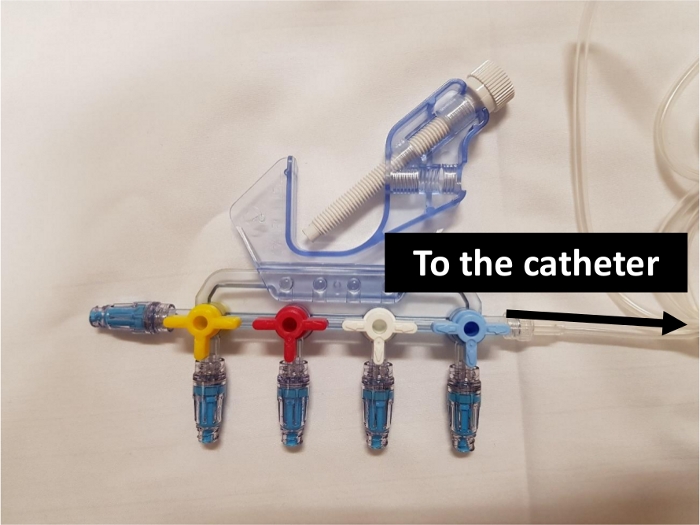 Afbeelding 3:4-poort spruitstuk met connectoren. Klik hier om een grotere versie van dit cijfer te bekijken.

Figuur 4: stappen van de injectie via een connector. A) Desinfecteer het oppervlak van de connector gedurende 3 seconden met 70% isopropylalcohol. Wacht tot de stekker droog is. B) Steek de punt van de spuit of de ei in de connector. (C) Injecteer of infusie de medicatie. D) Verwijder de spuit of de infuser. Klik hier om een grotere versie van dit cijfer te bekijken.

Figuur 5: evolutie van de katheter-gerelateerde infectie incidentie vóór en na het gebruik van connectoren. Figuur genomen uit Clavier et al.10Klik hier om een grotere versie van dit cijfer te bekijken.
Subscription Required. Please recommend JoVE to your librarian.
Discussion
Het instellen van de connectors verhoogt enigszins de totale tijd die nodig is om de katheter te plaatsen. Echter, het gebruik ervan heeft verschillende voordelen: geen noodzaak om een continue zout perfusie voor niet-geïnfundeerde lijnen, snelle stoppen van de infusie van de lijnen indien nodig (in het geval van dringende transport van de patiënt bijvoorbeeld), geen noodzaak om gebruik caps enkele keer per dag om de infuuslijnen te sluiten. Het gebruik van connectors vereenvoudigt het dagelijks gebruik van de infusielijnen van de katheter zonder bijzondere complicaties. Opgemerkt moet worden dat tijdens onze vier jaar ervaring van deze PPNC connectors zijn er geen complicaties met Rapid Fluid Administration, terwijl dit is beschreven met andere soorten connectors11. Het is essentieel om volledige asepsis te handhaven bij het installeren van de connectoren om het infuussysteem te laten sluiten. Bovendien is regelmatig onderzoek van de aansluitingen voor verontreiniging essentieel om te kunnen spoelen of de betrokken connectors te veranderen en bacteriegroei te voorkomen. Een recent werk meldt de in vitro werkzaamheid van een pulatieve Spoeltechniek om bacteriële kolonisatie van vasculaire toegangs apparaten te voorkomen, maar deze techniek is niet direct geëvalueerd op naailoze connectoren12. Vanwege het technische aspect van dit soort connector, moeten verpleegkundigen worden getraind voordat ze deze connectors in de dagelijkse praktijk gebruiken. In deze context is het gebruik van aseptische non-touch techniek, een veilige methode voor het beheer van intravasculaire apparaten, zeer relevant13. Dus zelfs nadat de connectoren zijn ingesteld, moet direct contact met de connectoren zoveel mogelijk worden geminimaliseerd om het risico op verontreiniging te minimaliseren. In deze context kan het gebruik van een desinfecterende dop op naailoze connectors helpen om het contact met connectors te beperken en is effectief in het verminderen van de centrale lijn geassocieerde bloedstroominfecties14.
De opname van Verleng slangen, stopkranen en spruitstukken vergroot de complexiteit van het systeem en bloot het aan een risico van besmetting van stopkranen en spruitstukken15. Onze keuze aan verlengingen en infuuslijnen is het resultaat van een reflectie over de balans tussen patiëntveiligheid en besmettelijke risico. In de ICU is continue ononderbroken infusie van bepaalde geneesmiddelen essentieel (bijv. Catecholamine, sedatie). In ons protocol maakt het gebruik van een 3-weg Verleng kraantje het mogelijk om medicatie Relais gemakkelijk te maken zonder de infusie ooit te onderbreken, wat een garantie is voor de veiligheid van de patiënt. Het gebruik van een unieke 4-poorts variëteit met een perfusie lijn maakt gelijktijdige infusie van verschillende geneesmiddelen mogelijk (bijv. antibiotica, analgetica, insuline), maar het aantal van deze variëteiten dient beperkt te worden om het risico op infectie te voorkomen.
Sommige studies hebben interesse getoond in een gesloten systeem om kolonisatie en katheter infecties te voorkomen16,17. Bovendien, verschillende studies hebben gemeld een afname van de katheter infectie na het gebruik van ppncs10,18,19. Het is ook mogelijk dat deze connectors trombotische katheter occlusies kunnen verlagen, maar er is onvoldoende bewijs om een direct causaal verband te sluiten tussen naailoze connectors en katheter-occlusies20,21. Bovendien ondersteunen gegevens in de literatuur het veilig en langdurig gebruik van deze apparaten10,16,19. Verschillende afdelingen kunnen echter soms verschillende methoden gebruiken om connectors op infusielijnen te monteren en de meeste studies beschrijven niet de methode die wordt gebruikt om connectors op catheters te installeren. Het kan interessant lijken dat studies op connectors hun installatie Protocol rapporteren om mogelijke verschillen in praktijk tussen teams beter te beoordelen.
Subscription Required. Please recommend JoVE to your librarian.
Disclosures
TC, PG en BV voerden eerder een studie uit over PPNC kleppen. BD voorzag de connectors voor dit vorige werk, maar had geen rol in de proef initiatie, studie ontwerp, gegevensverzameling, gegevensanalyse, interpretatie van gegevens, schrijven van het rapport of de beslissing om in te dienen. De andere auteurs hebben niets te onthullen. Het opstellen van dit protocol werd geformaliseerd in 2013 met validatie door Carefusion consultants.
Acknowledgments
De auteurs zijn Nikki SABOURIN-Gibbs, het universitair ziekenhuis van Rouen, dankbaar voor haar hulp bij het bewerken van het manuscript. De auteurs willen graag de communicatieafdeling van het universitair ziekenhuis van Rouen en de teams van het Medical Training Center bedanken voor hun deelname aan de video shoot.
Materials
| | | | |
| --- | --- | --- | --- |
| Name | Company | Catalog Number | Comments |
| BD MaxZero™ needle-free connector | Becton Dickinson | MZ1000-07 | we present the installation of the connector with MaxZero but this protocol is applicable with any positive displacement valve. |
| 4-port mannifold with PE/PVC extension | Cair-LGL | RPB4310A | |
| PE/PVC extension line with 3-way stopcock | Cair-LGL | PE3302M | |
| NaCl 0.9% 250 ml | Baxter | 2B1322 | |
| BD Plastipak™ 50mL Luer-Lock Syringe | BECTON DICKINSON MEDICAL | 613-3925 | |