Summary
Vi præsenterer en protokol for at vise installationen af et nåle frit stik med positiv forskydning på et centralt venekateter.
Cite this Article
Copy Citation | Download Citations | Reprints and Permissions

Clavier, T., Franchina, S., Lefevre-Scelles, A., Gouin, P., Besnier, E., Veber, B. A Protocol to Set Up Needle-Free Connector with Positive Displacement on Central Venous Catheter in Intensive Care Unit. J. Vis. Exp. (149), e59801, doi:10.3791/59801 (2019).
Abstract
Nåle frie stik blev oprindeligt designet og fremmet for at undgå blodeksponering for sundhedspersonale. Nogle nylige data tyder på, at den seneste generation af stik (med positiv forskydning) kan være af interesse for at reducere centrale venøse linje infektioner. Vi har brugt nåle frie stik i flere år i vores intensiv afdeling, og her præsenterer vi en protokol til installation af disse stik på centrale venøse katetre. Efter indsættelse af kateteret og kontrol af permeabilitet af linjerne, skal stikkene renses med 0,9% NaCl, før de tilsluttes. Stikkene erstatter alle engangs hætter, der anvendes ved infusion Stophaner og manifolder. Alle stik skiftes hver 7 dag som anbefalet af producenten (undtagen når der er makroskopisk kontaminering, hvilket kræver en umiddelbar ændring af stikket). Før hver injektion skal konnektoren desinficeres i mindst 3 sekunder med 70% isopropylalkohol. Stikkene må ikke frakobles (medmindre de ændres), da injektionen sker gennem enheden. Opsætning af stikkene øger den samlede tid, der er nødvendig for at placere katetret, og det er ikke formelt dokumenteret, at disse stik reducerer forekomsten af infektiøse eller trombotiske komplikationer. Men disse enheder forenkler forvaltningen af centrale vene linjer og forhindre kateter kredsløb fra "åbning", når det er blevet sterilely installeret.
Introduction
Centrale venøse kateter relaterede infektioner (CRI) er en alvorlig komplikation af centrale vene katetre i intensiv afdeling (ICU). Nedgangen i CRI er fortsat et stadigt eksisterende mål, med et endeligt mål om "nul kateterrelateret infektion"1. Nåle frie stik blev oprindeligt designet og fremmet for at undgå blodeksponering for sundhedspersonale. Der er to hoved konstruktioner af konnektorer: Split septum (ingen indvendige bevægelige dele) og lukkede ventilsystemer (indvendige bevægende komponenter), men begge designs kan kombineres i en stik2. Nåle frie stik kategoriseres efter den type væske forskydning, der opstår efter frakobling af en mandlig luer-ventil: negativ (blodrefluks i kateteret), neutral og positiv (med et blodtryk ud af kateter lumen)2 , 3.
Nogle konnektorer er blevet beskrevet som en årsag til kateter relaterede infektioner, især i intensivafdelingen (ICU)4,5,6. En ny generation af nåle frie stik med minimal intern kompleksitet, reduktion eller eliminering af interstitiel eller dødt rum, en synlig væskebane, der kan hjælpe med at vurdere den korrekte skylle teknik, og en flad adgangs flade osv., er blevet designet til at sænke risikoen af infektion. In vitro, disse stik har vist lav bakteriel kolonisering7. Der er globale anbefalinger fra laboratoriet fremstiller disse stik; der er dog ingen praktisk beskrivelse af, hvordan man installerer dem på katetre8. Derfor er det muligt, at hvert hold bruger dem forskelligt. Derfor foreslår vi en formaliseret protokol til installation af disse stik på centrale vene linjer i ICU.
Vi præsenterer installationen af et positivt tryk Nålefri stik (ppnc) med en intern silikone stempel i vores ICU, men denne protokol gælder med enhver positiv fortrængnings ventil. Denne ventil er et mekanisk nåle frit stik med positiv forskydning.
Subscription Required. Please recommend JoVE to your librarian.
Protocol
1. klargøring af konnektorer og infusions ledninger
Sterilely hente stikkene.
På 3-vejs forlænger stophanen, skru 1 stik ind i hver sokkel af stophanen og 1 stik i slutningen af forlængelseslinjen. Tag 0,9% NaCl med en 50 mL sprøjte for at rense forlængelsen og linjerne. Fjern hver 3-vejs udvidelse med 0,9% NaCl gennem stoppiens 2 stik.
Tag infusions manifolden. Skru hver enkeltbrugs hætte af. Skru 1 stik ind i hver sokkel af manifolden for at erstatte caps. Fjern infusions ledningen gennem hvert stik ved at dreje hver stophane sekventielt.
Bemærk: i slutningen af dette trin er der 3 udvidelser med 3-vejs stophane med udrenset konnektorer og en infusions manifold med udrenset stik.
2. placering af kateteret
Placer det centrale venøse kateter sterilely i henhold til sædvanlig praksis i enheden eller en tidligere beskrevet protokol9.
Kontroller permeabiliteten af hver linje ved aspiration af blod og derefter reinjektion af 0,9% NaCl serum. Klemme linjerne.
3. montering af stik
Skru forlænger stikket på hver 3-vejs forlænger prop i hver kateter linje. Disse stik, der er direkte forbundet med katetrets linjer, er de "proksimale stik". Unclamp linjerne.
Tilslut infusions manifold linjen til en af stikkene på 3-vejs stophanen i den distale linje.
Bemærk: der er ingen grund til at placere en vene vagt på Manifold eller extensions.
4. brug af konnektorer og infusions ledninger
Før hver infusion desinficeres enden af stikket i 3 s med en steril komprimering gennemblødt i 70% isopropylalkohol. sprøjten eller slangen direkte til stikket ved at skrue og injicere. Efter injektion eller infusion skrues enheden af. Fjern ikke stikket.
Hvis det er nødvendigt, skylles en ubrugt linje med 3 mL saltvand. Der er ingen grund til at klemme eller indgyde en ubrugt linje med en vene Guard. Lad den proksimale ventil være på plads, selvom den ikke er perfekt.
5. udskiftning og vedligeholdelse af konnektorer og infusions ledninger
Skift altid stikkene hver 7. Således forbereder sygeplejersken hver uge forlængelser med 3-vejs stophane og infusions manifolden under sterile forhold (Se trin 1).
Skru de brugte forlængelser på den proksimale ventil og Skru de nye sterile og fjernede forlængelser på kateteret på det proximale stik (Se trin 3).
Du skal kun ændre et proksimalt stik, hvis det er snavset (for at vedligeholde kateteret i et "lukket" system).
I tilfælde af makroskopisk kontaminering skylles stikket med 10 mL 0,9% NaCl. Udskift stikket, hvis der stadig er kontaminering. I tilfælde af transfusion, infusion af lipid opløsning (f. eks propofol) eller parenteral ernæring, ændre slangen og konnektorer af den pågældende linje hver 24 timer.
Skift andre infusions ledninger og slanger i henhold til hver enkelt enheds praksis og protokoller.
Subscription Required. Please recommend JoVE to your librarian.
Representative Results
Når alle elementerne er på plads, har kateteret stik på næsten alle knudepunkter mellem to infusions linjer (figur 1). Således, det har proksimale stik på hver linje og to stik på stikkene af 3-vejs extensions (figur 2). Hver infusions ledning har stik på alle sine hunstik (figur 3). Når samlingen er på plads, skal enhver injektion eller infusion (kontinuerlig eller diskontinuerlig) foretages efter desinfektion gennem en af stikkene på infusions linjerne eller forlængelser (figur 4).
Vedligeholdelse af stikkene på pladsholder infusionssystemet lukket såvel som sterile monteret og minimerer risikoen for bakteriel kontaminering. En af vores tidligere værker, den første undersøgelse, der prospektivt analyserede disse enheder over flere år, viste et signifikant fald i CRI forekomsten i den seksårige periode indramning af indførelsen af konnektorer (figur 5)10. I dette arbejde var forekomsten af CRI før brug af konnektorer 6,2 CRI/1000 kateter-dag vs. 2,7 CRI/1000 kateter-dage efter brug af stik10. Desuden fandt vi ikke nogen stigning i CRI efter begyndelsen af konnektoren brug (figur 5) og der var ingen signifikant forskel med hensyn til arten af bakteriearter involveret i CRI10. Vi har ikke identificeret nogen specifikke komplikationer forbundet med brugen af disse stik i disse års brug.

Figur 1: den globale visning af kateteret, når stikkene er placeret. Venligst klik her for at se en større version af dette tal.

Figur 2: proksimal del af kateteret med proksimale stik (A) og konnektorer på 3-vejs forlænger stophanen (B). Venligst klik her for at se en større version af dette tal.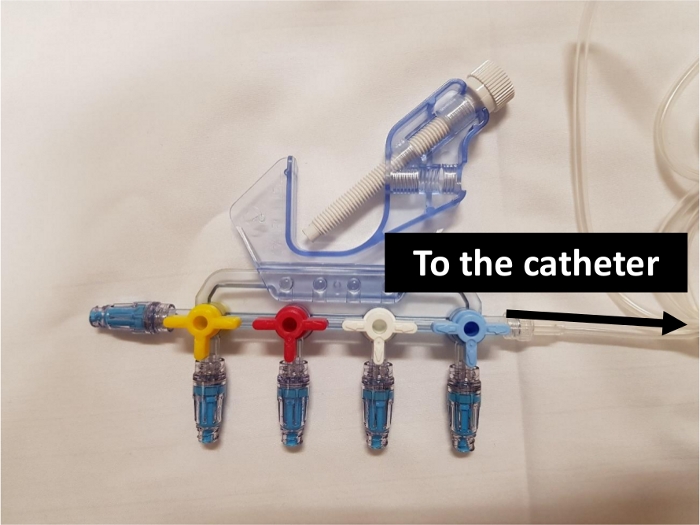 Figur 3:4-portmanifold med stik. Venligst klik her for at se en større version af dette tal.

Figur 4: Indsprøjtnings trin gennem et stik. A) Desinficer forbindelsens overflade i 3 sekunder med 70% isopropylalkohol. Vent, indtil stikket er tørt. B) sæt spidsen af sprøjten eller infuseren i stikket. C) injicere eller indgyde medicinen. (D) Fjern sprøjten eller infuseren. Venligst klik her for at se en større version af dette tal.

Figur 5: udviklingen i forekomsten af kateterrelateret infektion før og efter brug af konnektorer. Tal taget fra Clavier et al.10venligst klik her for at se en større version af dette tal.
Subscription Required. Please recommend JoVE to your librarian.
Discussion
Opsætning af stikkene øger den samlede tid, der kræves for at placere kateteret lidt. Men, deres anvendelse har flere fordele: ingen grund til at opretholde en kontinuerlig saltvand perfusion for ikke-inliner linjer, hurtig standsning af infusion af linjerne, hvis det er nødvendigt (i tilfælde af akut transport af patienten for eksempel), ingen grund til at bruge engangsbrug caps flere gange om dagen for at lukke infusions ledningerne. Brugen af konnektorer forenkler den daglige brug af kateter infusions linjer uden særlige komplikationer. Det skal bemærkes, at i løbet af vores fire års erfaring med disse PPNC-stik har der ikke været nogen komplikationer med hurtig væske administration, mens dette er blevet beskrevet med andre typer af stik11. Det er vigtigt at opretholde fuldstændig aseptik ved montering af konnektorerne for at holde infusionssystemet lukket. Desuden er regelmæssig undersøgelse af konnektorerne for kontaminering afgørende for at kunne skylle eller ændre de implicerede stik og undgå bakterievækst. Et nyligt arbejde rapporterer in vitro-effekten af en pulsativ skylle teknik for at forhindre bakteriel kolonisering af vaskulære adgangsanordninger, men denne teknik er ikke blevet evalueret direkte på Nålefri stik12. På grund af den tekniske aspekt af denne form for stik, skal sygeplejerskerne uddannes, før du bruger disse stik i daglig praksis. I denne sammenhæng er brugen af aseptisk non touch-teknik, som er en sikker metode til håndtering af intravaskulær udstyr, meget relevant13. Således, selv efter at stikkene er sat op, bør direkte kontakt med konnektorerne minimeres så meget som muligt for at minimere risikoen for kontaminering. I denne sammenhæng kan brugen af en desinficerings hætte på Nålefri konnektorer medvirke til at begrænse kontakten med konnektorer og er effektiv til at reducere Central Line-associerede blodstream infektioner14.
Optagelsen af forlænger slanger, Stophaner og mangfoldigheder øger kompleksiteten af systemet og udsætter det for en risiko for kontaminering af Stophaner og manifolder15. Vores valg af forlængelser og infusions linjer er resultatet af en refleksion over balancen mellem patientsikkerhed og infektionsrisiko. I ICU er kontinuerlig uafbrudt infusion af visse lægemidler afgørende (f. eks. catecholamin, sedation). I vores protokol tillader brugen af en 3-vejs forlænger stophane, at medicinerings relæer nemt kan laves uden nogensinde at afbryde infusionen, hvilket er en garanti for patientens sikkerhed. Brugen af en unik 4-port manifold med en perfusion linje tillader infusion af flere stoffer samtidigt (f. eks antibiotika, analgetika, insulin), men antallet af disse manifolder bør begrænses for at forebygge risikoen for infektion.
Nogle undersøgelser har vist interesse i et lukket system for at forhindre kolonisering og kateter infektioner16,17. Desuden, flere undersøgelser har rapporteret et fald i kateter infektion efter brug af ppncs10,18,19. Det er også muligt, at disse stik kan nedsætte trombotiske kateter okklusioner, men der er utilstrækkelige beviser til at indgå en direkte årsagssammenhæng mellem Nålefri konnektorer og kateter okklusioner20,21. Desuden understøtter data i litteraturen sikker og langvarig brug af disse enheder10,16,19. Dog kan forskellige afdelinger nogle gange bruge forskellige metoder til at montere konnektorer på infusions ledninger, og de fleste undersøgelser beskriver ikke den metode, der anvendes til at installere konnektorer på katetre. Det kunne synes interessant, at undersøgelser af konnektorer rapporterer deres installations protokol til bedre at vurdere potentielle forskelle i praksis mellem teams.
Subscription Required. Please recommend JoVE to your librarian.
Disclosures
TC, PG og BV har tidligere gennemført en undersøgelse af PPNC-ventiler. BD leverede konnektorer til dette tidligere arbejde, men havde ingen rolle i forsøget indledning, studere design, dataindsamling, dataanalyse, data fortolkning, skrivning af rapporten, eller beslutningen om at indsende. De andre forfattere har intet at afsløre. Udarbejdelsen af denne protokol blev formaliseret i 2013 med validering af Carefusion konsulenter.
Acknowledgments
Forfatterne er taknemmelige for Nikki Sabourin-Gibbs, Rouen Universitets Hospital, for hendes hjælp til at redigere manuskriptet. Forfatterne vil gerne takke kommunikationsafdelingen i Rouen Universitets Hospital og holdene i Medical Training Center for deres deltagelse i video shoot.
Materials
| | | | |
| --- | --- | --- | --- |
| Name | Company | Catalog Number | Comments |
| BD MaxZero™ needle-free connector | Becton Dickinson | MZ1000-07 | we present the installation of the connector with MaxZero but this protocol is applicable with any positive displacement valve. |
| 4-port mannifold with PE/PVC extension | Cair-LGL | RPB4310A | |
| PE/PVC extension line with 3-way stopcock | Cair-LGL | PE3302M | |
| NaCl 0.9% 250 ml | Baxter | 2B1322 | |
| BD Plastipak™ 50mL Luer-Lock Syringe | BECTON DICKINSON MEDICAL | 613-3925 | |