Summary
Vi presenterer en protokoll for å vise installasjon av en nål-fri kontakt med positiv forskyvning på et sentralt venekateter.
Cite this Article
Copy Citation | Download Citations | Reprints and Permissions

Clavier, T., Franchina, S., Lefevre-Scelles, A., Gouin, P., Besnier, E., Veber, B. A Protocol to Set Up Needle-Free Connector with Positive Displacement on Central Venous Catheter in Intensive Care Unit. J. Vis. Exp. (149), e59801, doi:10.3791/59801 (2019).
Abstract
Nåle frie kontakter ble opprinnelig utformet og fremmet for å unngå blodeksponering for helsepersonell. Noen nyere data tyder på at den siste generasjonen av kontakter (med positiv forskyvning) kan være av interesse for å redusere sentrale venøs line infeksjoner. Vi har brukt nål-fri kontakter i flere år i vår intensivavdeling og her presenterer vi en protokoll for å installere disse kontaktene på sentrale venøs katetre. Etter innsetting av kateteret og kontroll av permeabilitet av linjene, må kontaktene tømmes med 0,9% NaCl før de kobles til. Kontaktene erstatter alle en gangs caps som brukes på infusjons manifoldventiler og manifolder. Alle kontaktene skiftes hver 7 dager som anbefalt av produsenten (unntatt når det er makroskopisk forurensning, som krever en umiddelbar endring av kontakten). Før hver injeksjon må kontakten desinfiseres i minst 3 sekunder med 70% isopropylalkohol alkohol. Kontaktene må ikke frakobles (med mindre de er endret), siden injeksjonen utføres gjennom enheten. Sette opp kontaktene litt øker den totale tiden som kreves for å plassere kateteret og det er ingen formelle bevis for at disse kontaktene redusere forekomsten av smittsomme eller trombotiske komplikasjoner. Men disse enhetene forenkle forvaltningen av sentrale vene linjer og hindre at kateteret krets fra "åpning" når den er sterilely installert.
Introduction
Sentrale venøs kateterrelaterte infeksjoner (CRI) er en alvorlig komplikasjon av sentral venøs katetre i intensivavdeling (ICU). Nedgangen i CRI forblir et stadig tilstede objektiv, med et endelig mål om "null kateter relatert infeksjon"1. Nåle frie kontakter ble opprinnelig utformet og fremmet for å unngå blodeksponering for helsepersonell. Det er to viktigste design av kontakter: Split septum (ingen innvendige bevegelige deler) og lukket ventil systemer (interne bevegelige komponenter), men begge design kan kombineres i en kontakt2. Needle-fri kontakter er kategorisert i henhold til type væske forskyvning som oppstår etter frakobling av en mannlig luer ventil: negative (blod reflux i kateteret), nøytral, og positiv (med et push av blod ut av kateteret lumen)2 , 3i denne.
Noen kontakter har blitt beskrevet som en årsak til kateterrelaterte infeksjoner, spesielt i intensivavdelingen (ICU)4,5,6. En ny generasjon nål-fri kontakter med minimal intern kompleksitet, en reduksjon eller eliminering av interstitiell eller død plass, en synlig væske banen for å vurdere riktig Flushing teknikk, og en flat tilgang overflate, etc. har blitt designet for å redusere risikoen av infeksjon. In vitro, disse kontaktene har vist lav bakteriell kolonisering7. Det er globale anbefalinger fra laboratoriet produksjon disse kontaktene; Det er imidlertid ingen praktisk beskrivelse av hvordan du installerer dem på katetre8. Derfor er det mulig at hvert lag bruker dem annerledes. Derfor foreslår vi en formalisert protokoll for installasjon av disse kontaktene på sentrale vene linjer i ICU.
Vi presenterer installasjonen av et positivt trykk nålløs kontakt (PPNC) med en intern silikon stempel i vår ICU men denne protokollen er anvendelig med enhver positiv forskyvning ventil. Denne ventilen er en mekanisk nål-fri kontakt med positiv forskyvning.
Subscription Required. Please recommend JoVE to your librarian.
Protocol
1. utarbeidelse av kontakter og infusjons linjer
Sterilely hente kontaktene.
På 3-veis forlengelses stopcock, skru 1-kontakten inn i hver kontakt på stopcock og 1 kontakt i enden av forlengelseslinjen. Ta 0,9% NaCl med en 50 mL sprøyte for å rense forlengelses-og linjene. PURGE hver 3-veis forlengelse med 0,9% NaCl gjennom de 2 kontaktene på stopcock.
Ta infusjonen manifold. Skru av hver enkelt-bruk cap. Skrue 1 kontakt i hver kontakt av manifold å erstatte caps. Tøm infusjons linjen gjennom hver kontakt ved å dreie hver stopcock sekvensielt.
Merk: på slutten av dette trinnet er det 3 utvidelser med 3-veis stopcock med tømte kontakter og en infusjon manifold med tømte kontakter.
2. plassering av kateteret
Plasser det sentrale vene kateteret sterilely i henhold til vanlig praksis i enheten eller en tidligere beskrevet protokoll9.
Sjekk permeabilitet av hver linje ved aspirasjon av blod og deretter reinjeksjon av 0,9% NaCl serum. Klem linjene.
3. montering av kontaktene
Skru forlengelses pluggen på hver 3-veis forlengelses stopcock inn i hver kateter linje. Disse kontaktene, direkte koblet til linjene av kateteret, er "proksimale kontakter". Løsne linjene.
Koble infusjons manifold ledning til en av kontaktene på 3-veis stopcock på den
Merk: det er ikke nødvendig å plassere en vene vakt på manifold eller extensions.
4. Bruk av kontakter og infusjons ledninger
Før hver infusjon, desinfisere enden av kontakten for 3 s med en steril komprimere dynket i 70% isopropylalkohol alkohol. Koble sprøyten eller slangen direkte til kontakten ved å skru og injisere. Etter injeksjon eller infusjon, skru av enheten. Ikke Fjern kontakten.
Skyll om nødvendig en ubrukt linje med 3 mL saltvann. Det er ikke nødvendig å klemme eller sette mot en ubrukt linje med en vene vakt. La proksimale ventilen på plass selv om linjen ikke er perfusert.
5. utskifting og vedlikehold av kontakter og infusjons linjer
Alltid endre kontaktene enhver 7 dager bortsett fra for det proksimale kontaktene. Således, hver uke, forbereder sykepleieren tilleggene med 3-veis stopcock og infusjon manifold i sterile forhold (se trinn 1).
Skru ut de brukte utvidelsene på proksimale ventilen og skru de nye sterile og tømte utvidelsene til kateteret på proksimale kontakten (se trinn 3).
Bare endre en proksimale kontakt hvis den er skitten (for å opprettholde kateteret i et "lukket" system).
Ved makroskopisk kontaminering, skyll kontakten med 10 mL 0,9% NaCl. Hvis det fortsatt er forurensning, Skift ut kontakten. I tilfelle av blodoverføring, infusjon av lipid oppløsning (f. eks propofol) eller parenteral ernæring, endre slangen og kontaktene på linjen opptatt hver 24 timer.
Endre andre infusjons linjer og slanger i henhold til praksis og protokoller for hver enhet.
Subscription Required. Please recommend JoVE to your librarian.
Representative Results
Når alle elementene er på plass, har kateteret kontakter på nesten alle veikryss mellom to infusjons linjer (figur 1). Dermed har det proksimale kontakter på hver linje og to kontakter på kontaktene på 3-veis utvidelser (figur 2). Hver infusjonslinje har kontakter i alle sine kvinnelige kontakter (Figur 3). Når monteringen er på plass, må enhver injeksjon eller infusjon (kontinuerlig eller usammenhengende) gjøres, etter desinfeksjon, gjennom en av kontaktene på infusjons linjene eller utvidelsene (Figur 4).
Vedlikehold av kontaktene på plass holder infusjonssystemet lukket så vel som steril montert og minimerer risikoen for bakteriell forurensning. En av våre tidligere verker, den første studien som prospektivt analysert disse enhetene over flere år, viste en betydelig nedgang i CRI forekomst i løpet av seks års perioden innramming innføringen av kontaktene (figur 5)10. I dette arbeidet var forekomsten av CRI før du bruker kontakter 6,2 CRI/1000 kateter-dag kontra 2,7 CRI/1000 kateter-dager etter bruk av kontakter10. Videre har vi ikke finner noen økning av CRI etter begynnelsen av kontakten bruk (figur 5) og det var ingen signifikant forskjell om hva slags bakteriearter involvert i cri10. Vi har ikke identifisert noen spesifikke komplikasjoner knyttet til bruk av disse kontaktene i løpet av disse års bruk.

Figur 1: Global visning av kateteret når kontaktene er plassert. Vennligst klikk her for å se en større versjon av dette tallet.

Figur 2: proksimale del av kateteret med proksimale kontakter (A) og kontakter på 3-veis forlengelses stopcock (B). Vennligst klikk her for å se en større versjon av dette tallet.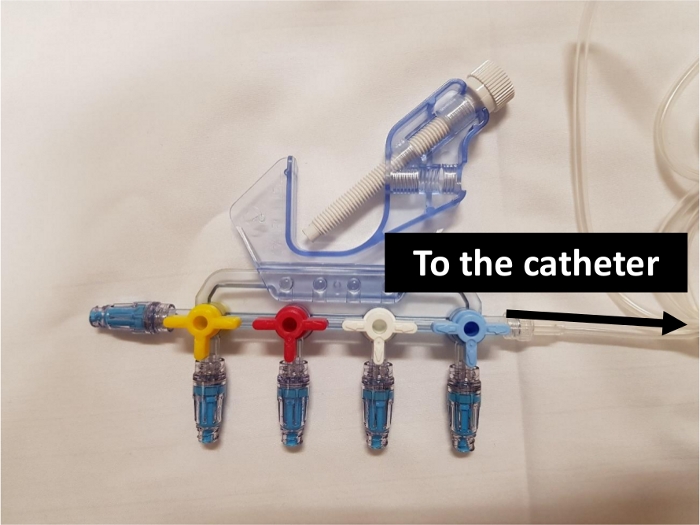 Figur 3:4-port manifold med kontakter. Vennligst klikk her for å se en større versjon av dette tallet.

Figur 4: trinn for injeksjon gjennom en kontakt. (A) desinfisere overflaten på kontakten i 3 sekunder med 70% isopropylalkohol alkohol. Vent til kontakten er tørr. (B) sett tuppen av sprøyten eller infuser inn i kontakten. (C) injisere eller sette mot medisinen. (D) Fjern sprøyten eller infuser. Vennligst klikk her for å se en større versjon av dette tallet.

Figur 5: utviklingen av kateterrelaterte infeksjons forekomst før og etter bruk av kontakter. Figur Hentet fra Clavier et al.10Vennligst klikk her for å se en større versjon av dette tallet.
Subscription Required. Please recommend JoVE to your librarian.
Discussion
Sette opp kontaktene litt øker den totale tiden som kreves for å plassere kateteret. Imidlertid har bruken flere fordeler: ikke nødvendig å opprettholde en kontinuerlig saltvann for ikke-tilført linjer, rask stopping av infusjon av linjene om nødvendig (i tilfelle av presserende transport av pasienten for eksempel), trenger ikke å bruke en gangs caps flere ganger om dagen for å lukke infusjons linjene. Bruk av kontakter forenkler daglig bruk av kateter infusjons linjer uten noen spesielle komplikasjoner. Det bør bemerkes at i løpet av våre fire års erfaring med disse PPNC kontaktene har det ikke vært noen komplikasjoner med rask væske administrasjon mens dette har blitt beskrevet med andre typer kontakter11. Det er viktig å opprettholde fullstendig aseptikk når du monterer kontaktene for å holde infusjonssystemet lukket. I tillegg er regelmessig undersøkelse av kontaktene for forurensning viktig å kunne skylle eller endre innblandet kontakter og unngå bakteriell vekst. En fersk arbeid rapporterer in vitro effekten av en pulsative Flushing teknikk for å hindre bakteriell kolonisering av vaskulære tilgangs enheter, men denne teknikken har ikke blitt evaluert direkte på nålløs kontakter12. På grunn av den tekniske delen av denne type kontakt, må sykepleiere trenes før du bruker disse kontaktene i hverdagen praksis. I denne sammenhengen er bruken av aseptisk ikke touch Technique, som er en sikker metode for styring av intravaskulær enheter, svært relevant13. Således, selv etter at kontaktene er satt opp, direkte kontakt med kontaktene bør minimeres så mye som mulig for å minimere risikoen for forurensning. I denne sammenhengen, bruk av en desinfiserende hette på nålløs kontakter kan bidra til å begrense kontakten med kontakter og er effektiv i å redusere sentrale linje-assosiert blodbanen infeksjoner14.
Inkluderingen av forlengelsesslange, manifoldventiler og manifolder øker kompleksiteten i systemet og utsetter det for en risiko for kontaminering av manifoldventiler og manifolder15. Vårt valg av forlengelser og infusjons linjer er resultatet av en refleksjon av balansen mellom pasientsikkerhet og infeksjonsrisiko. På INTENSIVAVDELINGEN er kontinuerlig uavbrutt infusjon av visse legemidler avgjørende (f.eks. katekolaminer, sedasjon). I vår protokoll, bruk av en 3-veis forlengelse stopcock tillater medisiner reléer skal enkelt gjøres uten å avbryte infusjon, som er en garanti for sikkerhet for pasienten. Bruken av en unik 4-port manifold med en linje som gjør at infusjon av flere legemidler samtidig (f. eks, antibiotika, smertestillende, insulin), men antallet av disse manifolder bør begrenses for å forebygge risikoen for infeksjon.
Noen studier har vist interesse for et lukket system for å hindre kolonisering og kateter infeksjoner16,17. I tillegg har flere studier rapportert en reduksjon i kateter infeksjon etter bruk av PPNCs10,18,19. Det er også mulig at disse kontaktene kan redusere trombotiske kateter occlusions, men det er utilstrekkelig bevis for å konkludere med en direkte årsakssammenheng mellom nålløs kontakter og kateter occlusions20,21. Videre, data i litteraturen støtter sikker og langvarig bruk av disse enhetene10,16,19. Imidlertid kan annen avdeling noen ganger bruke ulike metoder for å montere kontakter på infusjons linjer og de fleste studier beskriver ikke metoden som brukes til å installere kontakter på katetre. Det kan virke interessant at studier på kontakter rapporterer sin installasjons protokoll for å bedre vurdere potensielle forskjeller i praksis mellom lag.
Subscription Required. Please recommend JoVE to your librarian.
Disclosures
TC, PG og BV har tidligere gjennomført en studie på PPNC ventiler. BD gitt kontaktene for dette tidligere arbeidet, men hadde ingen rolle i rettssaken innvielsen, studere design, datainnsamling, dataanalyse, data tolkning, skriving av rapporten, eller beslutningen om å sende inn. De andre forfatterne har ingenting å avsløre. Utformingen av denne protokollen ble formalisert i 2013 med validering av Carefusion konsulenter.
Acknowledgments
Forfatterne er takknemlige for Nikki Sabourin-Gibbs, Rouen University Hospital, for hennes hjelp til å redigere manuskriptet. Forfatterne vil gjerne takke Kommunikasjonsavdelingen i Rouen universitetssykehus og lagene i Medical Training Center for deres deltakelse i videoopptak.
Materials
| | | | |
| --- | --- | --- | --- |
| Name | Company | Catalog Number | Comments |
| BD MaxZero™ needle-free connector | Becton Dickinson | MZ1000-07 | we present the installation of the connector with MaxZero but this protocol is applicable with any positive displacement valve. |
| 4-port mannifold with PE/PVC extension | Cair-LGL | RPB4310A | |
| PE/PVC extension line with 3-way stopcock | Cair-LGL | PE3302M | |
| NaCl 0.9% 250 ml | Baxter | 2B1322 | |
| BD Plastipak™ 50mL Luer-Lock Syringe | BECTON DICKINSON MEDICAL | 613-3925 | |