Summary
Neurônios Aplysia californica desenvolver cones grande crescimento na cultura que são excelentes para imagens de alta resolução da motilidade cone de crescimento e orientação. Aqui, apresentamos um protocolo para a dissecção e chapeamento de neurônios células Aplysia saco, bem como para a criação de uma câmara para imagens de células vivas.
Cite this Article
Copy Citation | Download Citations

Lee, A. C., Decourt, B., Suter, D. M. Neuronal Cell Cultures from Aplysia for High-Resolution Imaging of Growth Cones. J. Vis. Exp. (12), e662, doi:10.3791/662 (2008).
Abstract
Cones de crescimento neuronal são as estruturas altamente móveis na ponta dos axônios que podem detectar sinais de orientação no meio ambiente e transdução esta informação em movimento direcional para a célula de destino. Para entender completamente como a informação é transmitida a orientação da superfície da célula para a dinâmica subjacente redes do citoesqueleto, um precisa de um sistema modelo adequado para imagens de células vivas da dinâmica de proteínas na resolução temporal e espacial de alta. Típicos cones de crescimento vertebrados são pequenos demais para analisar quantitativamente F-actina e dinâmica de microtúbulos. Neurônios da lebre do mar Aplysia californica são 5-10 vezes maior do que os neurônios dos vertebrados, podem ser facilmente mantidos em temperatura ambiente e são células muito robusta para micromanipulação e medidas biofísicas. Cones seu crescimento tem muito definido regiões do citoplasma e um sistema bem-descrito do citoesqueleto. Os corpos celulares neuronais podem ser microinjeção com uma variedade de sondas para estudar a motilidade cone de crescimento e orientação. No presente protocolo que demonstrar um procedimento para a dissecção do gânglio abdominal, a cultura de neurônios de células saco e criação de uma câmara de imagem para imagens de células vivas de cones de crescimento.
Protocol
Soluções
L15-ASW meio de cultura celular (1l)

1 saco de pó L15
adicionar 800 ml de H 2 O ultrapura
NaCl 400 mM
MgSO 4 27 mM
MgCl 2 28 mM
L-Glutamina 4mM
Gentamicina 50 mg / ml
HEPES 5 mM
Ajustar o pH 7,9
Adicione gota a gota, CaCl 2 9,3 mM (parar se precipita)
Adicionar H 2 O ultrapura a 1 l
Verifique osmolaridade (950-1000 mmol / kg) com osmômetro (pressão de vapor Wescor, # 5520)
Filtro de 0,22 mM usando uma unidade de filtragem de pressão positiva (Filtros: SVGV010RS Millipore)
Armazenar a 4 ° C por até 1 mês

Poli-L-lisina (70-150 kD) 200 mg / ml de solução estéril em H 2 O ultrapura mantida a -20 º C
0,5 M MgCl 2 solução
Dia 1: Dissecção da Aplysia gânglio abdominal
Preparação da solução de dissociação enzimática
Pesar 90-10 mg de Dispase enzima (Worthington, Cat: LS02111) em um tubo Eppendorf
Adicionar 900 mL de L15-ASW meio de cultura, e 100 l de H 2 O estéril ultrapura
Misture e coloque em temperatura ambiente (RT)
Dissecção do gânglio abdominal
Encha uma seringa de 50 ml com 0,5 M MgCl 2 solução.
Tome um animal do tanque, lidar com cuidado para evitar resposta animal de defesa de tinta.
Coloque o Aplysia do seu lado em uma placa de dissecção (isopor board), lado rostral para o lado, certo caudal para a esquerda.
Inserir a agulha no animal logo atrás da cabeça e injectar toda a solução MgCl 2 na cavidade do corpo.
Suavemente esfregue o animal para dispersar a solução de MgCl 2 em toda cavidade do corpo, aguarde alguns minutos para que o animal ser completamente anestesiado.
Pin a cabeça ea cauda do animal para o conselho de dissecação com duas agulhas.
Use uma pinça para tirar a pele, corte através da pele e da camada muscular com tesoura grande para a cabeça ea cauda para fazer uma grande abertura na lateral.
Encontrar o gânglio abdominal, sob o ovário escova-like. Use uma pinça para segurar os nervos conectando cerca de 1 cm à frente do gânglio abdominal, cortar os nervos com tesouras de dissecação em frente à posição de fórceps segurando e atrás do gânglio abdominal.
Gânglio lugar na solução Dispase e incubar por 15-16 horas a 22 ° C em banho-maria com temperatura controlada.
Dia 2: Chapeamento de células saco Aplysia
Preparando poli-lisina revestido lamínulas
Em um banco de fluxo, preparar três pratos de petri 35 milímetros como trabalhar pratos para dissecção do gânglio, enchendo-os com 4 ml de meio L15-ASW cada. Transferir o gânglio abdominal a partir da solução dispase a um dos pratos úteis após 15,5 horas de digestão.
Utilizando uma pinça tomar ácido-limpos # 1.5 lamínulas (22x22 mm) armazenados em etanol, remover o álcool e esterilizar lamínulas por flaming-los brevemente em bico de Bunsen. Deixe-os esfriar antes de colocar brevemente as lamelas na placas de cultura.
Prepare uma ponta plating curvas, dobrando uma ponta amarela sobre o bico de Bunsen (chama apenas brevemente para evitar derretimento do plástico!).
Preparar a quantidade adequada de 20 mg / solução de poli-lisina ml, diluindo 200 mg / ml de solução estéril com H 2 O ultrapura.
Cobrir cada lamela com 500 mL de 20 mg / ml poli-lisina e incubar por 20 minutos em temperatura ambiente.
Lave cada lamela 3-5 vezes com 500 mL estéreis H 2 O ultrapura cada.
Retirar a água de lamínulas; preencher cada prato com 4 ml de L15-ASW meio de cultura.
Dissociação de células saco
Sob um microscópio de dissecação, corte o gânglio abdominal em meia tesoura e pinça de dissecção utilizando previamente limpas com etanol a 95% (linha 1 Figura 1).
Em uma metade do gânglio, corte entre clusters saco célula e as células hemiganglion (linha 1 Figura 2), e cortar extensões nervosas remanescentes do outro lado do saco células (linha 1 Figura 3). Trabalhe em uma metade do gânglio de cada vez, deixe a outra metade no prato, enquanto as células do primeiro cluster estão sendo folheado.
Utilizando duas pinças (ou uma pinça e tesouras de dissecção), a liberação aglomerado de células saco, empurrando de lado a bainha de tecido conjuntivo ao redor do aglomerado de células saco. Cortar tecido conjuntivo com tesouras de dissecação, se necessário. Cuidado para não apertar e tocar o cluster de células saco muito durante este processo.
Quando a maioria do tecido conjuntivo é removido, a transferência do bag aglomerado de células em um prato novo a trabalhar com a ponta curvada amarelo preparado anteriormente. Tenha cuidado para não deixar que o cluster de células saco de ficar preso dentro da ponta amarela ou preso na interface ar / médio.
Triturar o cluster com ponta amarela para remover as células saco individual. Faça isso por pipetagem do cluster dentro e fora da ponta. Comece com baixa forças de cisalhamento e aumentar a força quando necessário. Sempre usar a menor força necessária para remover neurônios sem matar células demais.
Coletar 3-5 células saco saudável e transferi-los para um prato com uma lamela poli-lisina-revestido. Evitar a captação de células mortas (eles são preto / transparente no centro) e restos de tecido conjuntivo.
Repita a etapa 6. e coloque cerca de 15-25 neurônios vivem no centro de cada lamela. Se as células mortas ou detritos são transferidos, bem como, retirar o material indesejado por pegá-la ou assoar-lo longe das células saudáveis. Este processo leva cerca de 2-3 horas em ambos os clusters.
Uma vez terminado manter os pratos da cultura no banco de fluxo para pelo menos 2 horas em temperatura ambiente para permitir que as células attach (manter banco de fluxo blower off para evitar vibrações indesejadas).
Coloque os pratos em uma incubadora a 14 ° C durante a noite, ou até à sua utilização. Cones de crescimento pode se desenvolver em 10/04 horas.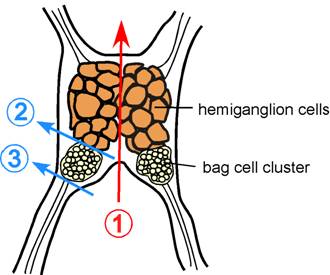 Figura 1. Esquemática de Aplysia californica gânglio abdominal. Linhas de cor indicam onde cortar para obter grupos de células do saco.
Dia 3: Configurando câmara para imagens ao vivo de células saco Aplysia
Montagem de imagens da câmara
Antes de utilizar células saco para experimentos com imagens de células vivas, inspecionar as células em um microscópio de baixa potência. Se as células não se desenvolveram cones crescimento saudável, fonte de meio fresco e deixe em temperatura ambiente por 1-2 horas.
Para fornecer placas com o meio-L15 ASW fresco, remover metade (~ 2ml) de meio de idade, com uma linha de vácuo, e adicionar 2 ml de novos L15-ASW média por placa de Petri. É importante não remover completamente todos os suportes do prato de uma só vez, pois isso irá remover as células da lamela.
Para imagens de células saco, montamos duas lamínulas e dois espaçadores de plástico em uma câmara de imagem sanduíche-like. A lamela superior no sanduíche é cortar mais curto para permitir a troca fácil de médio e reagentes. Durante a montagem, lamínulas com células saco anexado deve ser submerso em L15-ASW médio em todos os momentos para impedir as células de desalojar.
Para preparar a câmara, cortado ~ 2 milímetros do lado direito de um milímetro lamínulas # 1 22x22 com diamante caneta (cortador de vidro) e régua.
Usando uma seringa de 1 ml, aplique graxa de alto vácuo para os dois lados da lamela mais curta, e anexar espaçadores de plástico para cada lado. Aplique graxa de vácuo para a parte superior de ambos os espaçadores.
Inverter a lamela e montagem espaçador, e coloque em placa de Petri contendo células saco em uma lamela. Alinhar e pressione suavemente para baixo para furar lamela cima para baixo com lamínula na extremidade oposta de dois Q-dicas.
Utilizando uma pinça, levantar delicadamente montagem sanduíche fora da placa de Petri sem o meio vazando. Alinhe as duas lamelas, se necessário, e retire o excesso com uma média Kimwipe. Coloque o sanduíche para a parte inferior do titular lâmina de microscópio e coloque a tampa com cuidado usando clipes.
Limpar o centro da parte superior do sanduíche com Q-dicas dabbed no limpador de vidros (Sparkle é usado como um limpador de vidro). Rapidamente secar o limpador de vidros com um segundo, seca Q-dica para evitar filas raia. Faça o mesmo para a lamela inferior. Lamínulas limpa livre de linhas de raia são importantes para geração de imagens de alta qualidade.
Células bolsa no microscópio
Uma vez que as culturas de células neuronais saco Aplysia estão em baixa densidade, é melhor se a sua configuração microscópio tem funções estágio posicionamento para facilitar a mudança entre as células. Células saco pode ser facilmente mantidos em temperatura ambiente por várias horas no palco durante as experiências de imagem. Troca do meio periodicamente para evitar a evaporação.
Subscription Required. Please recommend JoVE to your librarian.
Discussion
Neurônios de células Aplysia fornecer um saco de soro livre de sistema de cultura de células neuronais, com muito poucas células não-neuronais. Estes neurônios formam cones de crescimento muito grande, adequado para tratar uma série de questões importantes células biológicas. Neurônios de células saco pode ser facilmente manipulado e fotografada em temperatura ambiente durante várias horas. Usando Microscopia fluorescente Speckle (FSM) pode-se analisar quantitativamente os vários parâmetros de F-actina e polimerização dos microtúbulos ea dinâmica de translocação. Estas ferramentas de imagem, juntamente com o recentemente lançado informações sobre o genoma Aplysia, bem como técnicas de expressão melhor fazer esses neurônios de um sistema poderoso modelo para estudar os mecanismos moleculares e celulares da motilidade crescimento neuronal cone e orientação.
Subscription Required. Please recommend JoVE to your librarian.
Acknowledgements
Gostaríamos de agradecer Ryan Maneri (Oystercatcher Productions, LLC) para filmar o nosso procedimento e Rodney McPhail (Departamento de Ciências Biológicas, Purdue University) para a assistência com a edição do vídeo de dissecação. Pesquisa no laboratório Suter é suportado por concessões do NIH (NS049233 R01) e do Centro de Biociências Bindley da Universidade Purdue, a DMS
Materials
| | | | | |
| --- | --- | --- | --- | --- |
| Name | Type | Company | Catalog Number | Comments |
| #1 glass coverslips 22x22 mm | Tool | VWR international | 48366067 | |
| #1.5 glass coverslips 22x22 mm | Tool | Corning | 2870-22 | |
| 35 mm Petri dishes | Tool | Falcon BD | 353001 | |
| Filters for medium filtration | Tool | EMD Millipore | SVGV010RS | |
| High vacuum grease | Tool | Dow Corning | 1597418 | |
| Osmometer | Tool | Wescor | 5520 | |
| Plastic shims | Tool | Small Parts, Inc. | SHSP-200 | |
| Calcium chloride | Reagent | Fisher Scientific | C79-500 | |
| Gentamicin | Reagent | Invitrogen | 15750-060 | |
| HEPES | Reagent | Sigma-Aldrich | H4030 | |
| L15 medium | Reagent | Invitrogen | 41300-039 | |
| L-glutamine | Reagent | Sigma-Aldrich | G8540 | |
| Magnesium chloride | Reagent | Mallinckrodt Baker Inc. | 5958-04 | |
| Magnesium sulfate | Reagent | Mallinckrodt Baker Inc. | 6070-12 | |
| Poly-L-lysine (70-150 kD) | Reagent | Sigma-Aldrich | P6282 | |
| Sodium chloride | Reagent | Mallinckrodt Baker Inc. | 7581 | |
| Neutral Protease (Dispase) | Reagent | Worthington Biochemical | LS02111 | |