Summary
Aplysia californica neuronen ontwikkelen van grote groei van kegels in de cultuur die zijn uitstekend geschikt voor hoge-resolutie beeldvorming van groeikegel motiliteit en begeleiding. Hier presenteren we een protocol voor dissectie en plating van Aplysia zak cel neuronen, alsook voor het opzetten van een kamer voor live cell imaging.
Abstract
Neuronale groei kegels zijn de zeer beweeglijke structuren op het puntje van axonen die leiding signalen kan detecteren in de omgeving en transduceren deze informatie in directionele beweging in de richting van de juiste doelcel. Om volledig te begrijpen hoe begeleiding informatie wordt doorgestuurd vanaf de cel oppervlak naar de onderliggende dynamische cytoskelet-netwerken, moet men een model dat geschikt is voor live-cell imaging van eiwitten dynamiek bij hoge temporele en ruimtelijke resolutie. Typische gewervelde groei kegels zijn te klein om kwantitatief te analyseren F-actine en microtubuli dynamiek. Neuronen van de zee haas Aplysia californica zijn 5-10 keer groter dan gewervelde neuronen, kan gemakkelijk worden bewaard bij kamertemperatuur en zijn zeer robuust cellen voor micromanipulatie en biofysische metingen. Hun groei kegels zijn zeer gedefinieerd cytoplasmatische regio's en een goed beschreven cytoskelet systeem. De neuronale cellichamen kan worden gemicroinjecteerd met een verscheidenheid van sondes voor het bestuderen van de groei kegel beweeglijkheid en begeleiding. In het huidige protocol waarin we aantonen dat er een procedure voor dissectie van de abdominale ganglion, de cultuur van de tas cel neuronen en het opzetten van een imaging kamer voor live-cell imaging van de groei kegels.
Protocol
Oplossingen
L15-ASW celcultuurmedium (1l)

1 zakje poeder L15
Voeg 800 ml H 2 O ultrapuur
NaCl 400 mM
MgSO 4 27 mM
MgCl 2 28 mM
L-Glutamine 4 mM
Gentamicine 50 ug / ml
HEPES 5 mM
Aan te passen aan de pH 7,9
Voeg druppelsgewijs CaCl2 9,3 mM (stoppen als precipitaten)
Voeg H 2 O ultrapuur tot 1 l
Controleer osmolariteit (950-1000 mmol / kg) met osmometer (dampspanning, Wescor # 5520)
Filter 0,22 urn met behulp van een positieve druk filtratie-eenheid (Filters: Millipore SVGV010RS)
Bewaren bij 4 ° C gedurende maximaal 1 maand

Poly-L-lysine (70-150 kD) 200 ug / ml stockoplossing in een steriele H 2 O ultrapuur bewaard bij -20 o C
0,5 M MgCl 2-oplossing
Dag 1: Dissectie van Aplysia buik ganglion
Voorbereiding van de enzymatische dissociatie oplossing
Weeg 9-10 mg Dispase enzym (Worthington, Cat: LS02111) in een Eppendorf buis
Voeg 900 ul van L15-ASW cultuur medium, en 100 ul van steriele H 2 O ultrapuur
Meng en plaats bij kamertemperatuur (RT)
Dissectie van de abdominale ganglion
Vul een 50 ml spuit met 0,5 M MgCl 2-oplossing.
Neem een ​​dier van de tank, zacht handvat dier inktgeving verdediging reactie te vermijden.
Plaats de Aplysia op zijn kant op een dissectie board (piepschuim bord), rostraal kant aan de rechterkant, caudale zijde aan de linkerkant.
Steek de naald in dier net achter het hoofd en injecteer alle MgCl 2-oplossing in het lichaam holte.
Wrijf het dier naar de MgCl 2-oplossing te verspreiden door het lichaam holte, wacht een paar minuten voor het dier volledig verdoofd.
Pin de kop en de staart van het dier aan de dissectie bord met twee naalden.
Gebruik een tang om de huid lift, door de huid en de spierlaag met grote schaar naar het hoofd en staart geknipt om een ​​grote opening aan de zijkant maken.
Vind de buik ganglion onder de borstel-achtige eierstok. Een tang om de verbindende zenuwen ongeveer 1 cm in de voorkant van de buik ganglion te houden, knip de zenuwen met dissectie schaar in de voorkant van de tang houden positie en achter de buik ganglion.
Plaats ganglion in de Dispase oplossing en incubeer 15-16 uur bij 22 ° C met behulp van een temperatuur-gecontroleerde waterbad.
Dag 2: Plating van Aplysia zak cellen
Voorbereiden van poly-lysine-gecoate dekglaasjes
In een flow bank, voor te bereiden drie 35mm petrischaaltjes als werkende gerechten voor dissectie van het ganglion, ze te vullen met 4 ml L15-medium ASW elk. Breng de buik ganglion van de dispase oplossing voor een van de werkende gerechten na 15,5 uur van de spijsvertering.
Met behulp van een tang te nemen zuur gereinigd # 1.5 dekglaasjes (22x22 mm) zijn opgeslagen in ethanol, verwijder alcohol en steriliseer dekglaasjes door vlammende ze kort boven bunsenbrander. Laat ze even afkoelen voordat u de dekglaasjes in de cultuur gerechten.
Bereid een gebogen plating tip door het buigen van een gele punt boven de bunsenbrander (vlam slechts kort aan het smelten van plastic te vermijden!).
Bereid juiste hoeveelheid van 20 ug / ml poly-lysine oplossing door verdunnen van 200 ug / ml stockoplossing met een steriele H 2 O ultrapuur.
Bedek elk dekglaasje met 500 ul van 20 ug / ml poly-lysine en incubeer gedurende 20 minuten bij KT.
Was elke dekglaasje 3-5 keer met 500 ul steriel H 2 O ultrapuur elk.
Verwijder het water uit dekglaasjes, vul elk gerecht met 4 ml van L15-ASW kweekmedium.
Dissociatie van de tas cellen
Onder een microscoop dissectie, snijd de buik ganglion in de helft met behulp van schaar en pincet dissectie vooraf gereinigd met 95% ethanol (zie figuur 1 lijn 1).
Op de ene helft van het ganglion, snijd tussen tas cel cluster en de hemiganglion cellen (figuur 1 lijn 2), en weggesneden resterende zenuwen extensies aan de andere kant van de tas cellen (Figuur 1 lijn 3). Werk aan de ene helft van ganglion op een moment, laat de andere helft in de schaal, terwijl cellen van eerste cluster worden verzilverd.
Met behulp van twee pincet (of een pincet en een schaar dissectie), laat zak cel cluster door op vernietiging van de bindweefsel omhulsel rond de tas cel cluster. Weggesneden bindweefsel met dissectie schaar indien nodig. Pas op niet te knijpen en de tas cel cluster raken te veel tijdens dit proces.
Wanneer de meeste van het bindweefsel wordt verwijderd, de overdracht van de bag cel cluster in een nieuwe manier van werken schotel met de gebogen gele punt bereid eerder. Wees voorzichtig niet te laten de zak cel cluster worden gevangen in de gele tip of steken op de lucht / medium-interface.
Vermaal het cluster met gele tip om afzonderlijke zak cellen te verwijderen. Doe dit door pipetteren de cluster in en uit de tip. Begin met een lage schuifkrachten en verhoging van kracht als nodig is. Gebruik altijd de laagste kracht die nodig is om neuronen te verwijderen zonder het doden van al te veel cellen.
Verzamel 3-5 gezonde zak cellen en overbrengen naar een schotel met een poly-lysine-gecoate dekglaasje aan. Vermijd het oppakken van dode cellen (ze zijn zwart / transparant in het midden) en het bindweefsel puin.
Herhaal stap 6. en plaats ongeveer 15-25 wonen neuronen in het midden van elke dekglaasje aan. Als dode cellen of vuil worden overgebracht en, verwijdert u het ongewenst materiaal door picking it up of waait het weg van de gezonde cellen. Dit proces duurt ongeveer 2-3 uur voor beide clusters.
Eenmaal klaar houden de cultuur gerechten op de flow bank voor minimaal 2 uur bij kamertemperatuur, zodat cellen te hechten (blijven stromen bench ventilator af om ongewenste trillingen te voorkomen).
Plaats de vaat in een incubator bij 14 ° C gedurende de nacht, of tot verder gebruik. Groei kegels kunnen ontwikkelen in 4-10 uur.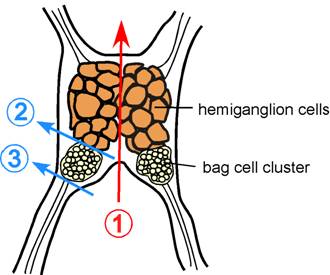 Figuur 1. Schematische voorstelling van Aplysia californica buik ganglion. Gekleurde lijnen geven aan waar te snijden om zak cel clusters te verkrijgen.
Dag 3: Het opzetten van kamer voor live beeldvorming van Aplysia zak cellen
Montage van imaging kamer
Voordat u tas cellen voor live-cell imaging experimenten, inspecteren cellen op een laag vermogen microscoop. Als cellen niet hebben ontwikkeld gezonde groei kegels, levering vers medium en laat bij kamertemperatuur gedurende 1-2 uur.
Te leveren platen met verse L15-ASW medium, verwijder dan de helft (~ 2 ml) van het oude medium met een vacuüm lijn, en voeg 2 ml van de nieuwe L15-ASW medium per petrischaal. Het is belangrijk om niet alle medium volledig te verwijderen van de schotel in een keer, want dit zal verwijderen cellen van het dekglaasje.
Voor de tas cell imaging, we monteren twee dekglaasjes en twee plastic afstandhouders in een sandwich-achtige beeldvorming kamer. De top dekglaasje in de sandwich is korter geknipt om eenvoudige uitwisseling van de middelgrote en reagentia mogelijk te maken. Bij de montage moet dekglaasjes met aangebouwde zak cellen worden ondergedompeld in L15-ASW medium te allen tijde om cellen van verdrijven te voorkomen.
Ter voorbereiding op de kamer, afgesneden ~ 2 mm van de rechterkant van een # 1 coverslips 22x22 mm met diamant pen (glassnijder) en de liniaal.
Met behulp van een 1 ml injectiespuit van toepassing hoog vacuüm vet aan twee kanten van de kortere dekglaasje, en bevestig kunststof afstandhouders aan elke kant. Van toepassing zijn vacuüm vet aan op de top van beide afstandhouders.
Keer de dekglaasje en spacer vergadering, en te plaatsen in petrischaaltje met tas cellen op een dekglaasje. Uitlijnen en zachtjes druk naar boven dekglaasje houden aan onderkant dekglaasje met het omgekeerde einde van de twee Q-tips.
Met behulp van een tang, Til sandwich montage uit de petrischaal zonder het medium lekken. Lijn de twee dekglaasjes, indien nodig, en veeg overtollige medium met een Kimwipe. Leg de sandwich op het onderste deel van de microscoop diahouder en bevestig het deksel met zorg met behulp van clips.
Reinig het midden van de bovenkant van de sandwich met Q-tips gedept in glasreiniger (Sparkle wordt gebruikt als glasreiniger). Drogen snel uit het glas reiniger met een tweede, droge Q-tip om streak lijnen te voorkomen. Doe hetzelfde voor de onderkant dekglaasje aan. Schoon coverslips vrij van streak lijnen zijn belangrijk voor een hoge beeldkwaliteit.
Tas cellen op de microscoop
Sinds Aplysia zak cel neuronale culturen zijn bij een lage dichtheid, is het het beste als uw microscoop setup heeft podium positionering functies te faciliteren schakelen tussen cellen. Tas cellen kunnen gemakkelijk worden bewaard bij RT gedurende enkele uren op het podium tijdens imaging experimenten. Periodiek Exchange op de middellange tot verdamping te voorkomen.
Subscription Required. Please recommend JoVE to your librarian.
Discussion
Aplysia zak cel neuronen zorgen voor een serumvrij neuronale celkweek systeem met zeer weinig niet-neuronale cellen. Deze neuronen vormen zeer grote toename kegels geschikt is om een ​​aantal belangrijke celbiologische vragen te beantwoorden. Tas cel neuronen kunnen gemakkelijk worden gemanipuleerd en afgebeeld op kamertemperatuur gedurende enkele uren. Het gebruik van TL-Speckle Microscopy (FSM) kan men kwantitatief de verschillende parameters van F-actine en microtubuli polymerisatie en translocatie dynamiek te analyseren. Deze imaging-tools samen met de recent uitgebrachte Aplysia genoom van informatie, alsmede verbeterde expressie technieken maken deze neuronen een krachtig modelsysteem voor het bestuderen van moleculaire en cellulaire mechanismen van neuronale groei kegel beweeglijkheid en begeleiding.
Subscription Required. Please recommend JoVE to your librarian.
Acknowledgments
We willen graag Ryan Maneri (Scholekster Productions, LLC) bedanken voor het filmen onze procedure en Rodney McPhail (Department of Biological Sciences, Purdue University) voor hulp bij het bewerken van de dissectie video. Onderzoek in het lab Suter wordt ondersteund door subsidies van de NIH (R01 NS049233) en de Bindley bio-Center aan de Purdue University naar DMS
Materials
| | | | | |
| --- | --- | --- | --- | --- |
| Name | Type | Company | Catalog Number | Comments |
| #1 glass coverslips 22x22 mm | Tool | VWR international | 48366067 | |
| #1.5 glass coverslips 22x22 mm | Tool | Corning | 2870-22 | |
| 35 mm Petri dishes | Tool | Falcon BD | 353001 | |
| Filters for medium filtration | Tool | EMD Millipore | SVGV010RS | |
| High vacuum grease | Tool | Dow Corning | 1597418 | |
| Osmometer | Tool | Wescor | 5520 | |
| Plastic shims | Tool | Small Parts, Inc. | SHSP-200 | |
| Calcium chloride | Reagent | Fisher Scientific | C79-500 | |
| Gentamicin | Reagent | Invitrogen | 15750-060 | |
| HEPES | Reagent | Sigma-Aldrich | H4030 | |
| L15 medium | Reagent | Invitrogen | 41300-039 | |
| L-glutamine | Reagent | Sigma-Aldrich | G8540 | |
| Magnesium chloride | Reagent | Mallinckrodt Baker Inc. | 5958-04 | |
| Magnesium sulfate | Reagent | Mallinckrodt Baker Inc. | 6070-12 | |
| Poly-L-lysine (70-150 kD) | Reagent | Sigma-Aldrich | P6282 | |
| Sodium chloride | Reagent | Mallinckrodt Baker Inc. | 7581 | |
| Neutral Protease (Dispase) | Reagent | Worthington Biochemical | LS02111 | |