Electrospinning Growth Factor Releasing Microspheres into Fibrous Scaffolds
Published: 08-16-2014
ABSTRACT
This procedure describes a method to fabricate a multifaceted substrate to direct nerve cell growth. This system incorporates mechanical, topographical, adhesive and chemical signals. Mechanical properties are controlled by the type of material used to fabricate the electrospun fibers. In this protocol we use 30% methacrylated Hyaluronic Acid (HA), which has a tensile modulus of ~500 Pa, to produce a soft fibrous scaffold. Electrospinning on to a rotating mandrel produces aligned fibers to create a topographical cue. Adhesion is achieved by coating the scaffold with fibronectin. The primary challenge addressed herein is providing a chemical signal throughout the depth of the scaffold for extended periods. This procedure describes fabricating poly(lactic-co-glycolic acid) (PLGA) microspheres that contain Nerve Growth Factor (NGF) and directly impregnating the scaffold with these microspheres during the electrospinning process. Due to the harsh production environment, including high sheer forces and electrical charges, protein viability is measured after production. The system provides protein release for over 60 days and has been shown to promote primary nerve cell growth.
22 Related JoVE Articles!
Corneal Confocal Microscopy: A Novel Non-invasive Technique to Quantify Small Fibre Pathology in Peripheral Neuropathies
Institutions: University of Manchester.

The accurate quantification of peripheral neuropathy is important to define at risk patients, anticipate deterioration, and assess new therapies. Conventional methods assess neurological deficits and electrophysiology and quantitative sensory testing quantifies functional alterations to detect neuropathy. However, the earliest damage appears to be to the small fibres and yet these tests primarily assess large fibre dysfunction and have a limited ability to demonstrate regeneration and repair. The only techniques which allow a direct examination of unmyelinated nerve fibre damage and repair are sural nerve biopsy with electron microscopy and skin-punch biopsy. However, both are invasive procedures and require lengthy laboratory procedures and considerable expertise. Corneal Confocal microscopy is a non-invasive clinical technique which provides
in-vivo
imaging of corneal nerve fibres. We have demonstrated early nerve damage, which precedes loss of intraepidermal nerve fibres in skin biopsies together with stratification of neuropathic severity and repair following pancreas transplantation in diabetic patients. We have also demonstrated nerve damage in idiopathic small fibre neuropathy and Fabry's disease.
Medicine, Issue 47, Corneal Confocal Microscopy, Corneal nerves, Peripheral Neuropathy, Diabetic Neuropathy
2194
The Spared Nerve Injury (SNI) Model of Induced Mechanical Allodynia in Mice
Institutions: Aarhus University, University of Copenhagen.

Peripheral neuropathic pain is a severe chronic pain condition which may result from trauma to sensory nerves in the peripheral nervous system. The spared nerve injury (SNI) model induces symptoms of neuropathic pain such as mechanical allodynia i.e. pain due to tactile stimuli that do not normally provoke a painful response [1]. The SNI mouse model involves ligation of two of the three branches of the sciatic nerve (the tibial nerve and the common peroneal nerve), while the sural nerve is left intact [2]. The lesion results in marked hypersensitivity in the lateral area of the paw, which is innervated by the spared sural nerve. The non-operated side of the mouse can be used as a control. The advantages of the SNI model are the robustness of the response and that it doesn't require expert microsurgical skills. The threshold for mechanical pain response is determined by testing with von Frey filaments of increasing bending force, which are repetitively pressed against the lateral area of the paw [3], [4]. A positive pain reaction is defined as sudden paw withdrawal, flinching and/or paw licking induced by the filament. A positive response in three out of five repetitive stimuli is defined as the pain threshold. As demonstrated in the video protocol, C57BL/6 mice experience profound allodynia as early as the day following surgery and maintain this for several weeks.
Neuroscience, Issue 54, Sciatic, Injury, PNS, Mechanical allodynia, Neuropathic pain, von Frey
3092
Homarus Americanus Stomatogastric Nervous System Dissection
Institutions: Brandeis.

With the goal of understanding how nervous systems produce activity and respond to the environment, neuroscientists turn to model systems that exhibit the activity of interest and are accessible and amenable to experimental methods. The stomatogastric nervous system (STNS) of the American lobster (
Homarus americanus
; also know was the Atlantic or Maine lobster) has been established as a model system for studying rhythm generating networks and neuromodulation of networks. The STNS consists of 3 anterior ganglia (2 commissural ganglia and an oesophageal ganglion), containing modulatory neurons that project centrally to the stomatogastric ganglion (STG). The STG contains approximately 30 neurons that comprise two central pattern generating networks, the pyloric and gastric networks that underlie feeding behaviors in crustaceans
1,2
. While it is possible to study this system
in vivo
3
, the STNS continues to produce its rhythmic activity when isolated
in vitro
. Physical isolation of the STNS in a dish allows for easy access to the somata in the ganglia for intracellular electrophysiological recordings and to the nerves of the STNS for extracellular recordings. Isolating the STNS is a two-part process. The first part, dissecting the stomach from the animal, is described in an accompanying video article
4
. In this video article, fine dissection techniques are used to isolate the STNS from the stomach. This procedure results in a nervous system preparation that is available for electrophysiological recordings.
Neuroscience, Issue 27, lobster, stomach, neural network, dissection, central pattern generator
1171
Cancer Borealis Stomatogastric Nervous System Dissection
Institutions: Brandeis.

The stomatogastric ganglion (STG) is an excellent model for studying cellular and network interactions because it contains a relatively small number of cells (approximately 25 in
C. borealis
) which are well characterized. The cells in the STG exhibit a broad range of outputs and are responsible for the motor actions of the stomach. The stomach contains the gastric mill which breaks down food with three internal teeth, and the pylorus which filters the food before it reaches the midgut. The STG produces two rhythmic outputs to control the gastric mill and pylorus known as central pattern generators (CPGs). Each cell in the STG can participate in one or both of these rhythms. These CPGs allow for the study of neuromodulation, homeostasis, cellular and network variability, network development, and network recovery. The dissection of the stomatogastric nervous system (STNS) from the Jonah crab (
Cancer borealis
) is done in two parts; the gross and fine dissection. In the gross dissection the entire stomach is dissected from the crab. During the fine dissection the STNS is extracted from the stomach using a dissection microscope and micro-dissection tools (see figure 1). The STNS includes the STG, the oesophageal ganglion (OG), and the commissural ganglia (CoG) as well as the nerves that innervate the stomach muscles. Here, we show how to perform a complete dissection of the STNS in preparation for an electrophysiology experiment where the cells in the STG would be recorded from intracellularly and the peripheral nerves would be used for extracellular recordings. The proper technique for finding the desired nerves is shown as well as our technique of desheathing the ganglion to reveal the somata and neuropil.
neuroscience, Issue 25, STG, crab, STNS, neural network, central pattern generator, CPG
1207
Fabrication and Application of Rose Bengal-chitosan Films in Laser Tissue Repair
Institutions: University of Western Sydney, NSW Australia, Macquarie University, NSW Australia, University of Siena, Italy.

Photochemical tissue bonding (PTB) is a sutureless technique for tissue repair, which is achieved by applying a solution of rose bengal (RB) between two tissue edges
1,2
. These are then irradiated by a laser that is selectively absorbed by the RB. The resulting photochemical reactions supposedly crosslink the collagen fibers in the tissue with minimal heat production
3
. In this report, RB has been incorporated in thin chitosan films to fabricate a novel tissue adhesive that is laser-activated. Adhesive films, based on chitosan and containing ~0.1 wt% RB, are fabricated and bonded to calf intestine and rat tibial nerves by a solid state laser (λ=532 nm, Fluence~110 J/cm
2
, spot size~0.5 cm). A single-column tensiometer, interfaced with a personal computer, is used to test the bonding strength. The RB-chitosan adhesive bonds firmly to the intestine with a strength of 15 ± 6 kPa, (n=30). The adhesion strength drops to 2 ± 2 kPa (n=30) when the laser is not applied to the adhesive. The anastomosis of tibial nerves can be also completed without the use of sutures. A novel chitosan adhesive has been fabricated that bonds photochemically to tissue and does not require sutures.
Bioengineering, Issue 68, Photochemical tissue bonding, tissue repair, nerve anastomosis, sutureless technique, chitosan, surgical adhesive
4158
The Use of the Ex Vivo Chandler Loop Apparatus to Assess the Biocompatibility of Modified Polymeric Blood Conduits
Institutions: The Children's Hospital of Philadelphia, University of Pennsylvania Perelman School of Medicine.
The foreign body reaction occurs when a synthetic surface is introduced to the body. It is characterized by adsorption of blood proteins and the subsequent attachment and activation of platelets, monocyte/macrophage adhesion, and inflammatory cell signaling events, leading to post-procedural complications. The Chandler Loop Apparatus is an experimental system that allows researchers to study the molecular and cellular interactions that occur when large volumes of blood are perfused over polymeric conduits. To that end, this apparatus has been used as an
ex vivo
model allowing the assessment of the anti-inflammatory properties of various polymer surface modifications. Our laboratory has shown that blood conduits, covalently modified via photoactivation chemistry with recombinant CD47, can confer biocompatibility to polymeric surfaces. Appending CD47 to polymeric surfaces could be an effective means to promote the efficacy of polymeric blood conduits. Herein is the methodology detailing the photoactivation chemistry used to append recombinant CD47 to clinically relevant polymeric blood conduits and the use of the Chandler Loop as an
ex vivo
experimental model to examine blood interactions with the CD47 modified and control conduits.
Bioengineering, Issue 90, Chandler loop apparatus, blood perfusion, biocompatibility, CD47, foreign body reaction, polymeric blood conduits
51871
Combining Peripheral Nerve Grafting and Matrix Modulation to Repair the Injured Rat Spinal Cord
Institutions: Drexel University College of Medicine.

Traumatic injury to the spinal cord (SCI) causes death of neurons, disruption of motor and sensory nerve fiber (axon) pathways and disruption of communication with the brain. One of the goals of our research is to promote axon regeneration to restore connectivity across the lesion site. To accomplish this we developed a peripheral nerve (PN) grafting technique where segments of sciatic nerve are either placed directly between the damaged ends of the spinal cord or are used to form a bridge across the lesion. There are several advantages to this approach compared to transplantation of other neural tissues; regenerating axons can be directed towards a specific target area, the number and source of regenerating axons is easily determined by tracing techniques, the graft can be used for electrophysiological experiments to measure functional recovery associated with axons in the graft, and it is possible to use an autologous nerve to reduce the possibility of graft rejection. In our lab we have performed both autologous (donor and recipient are the same animal) and heterologous (donor and recipient are different animals) grafts with comparable results. This approach has been used successfully in both acute and chronic injury situations. Regenerated axons that reach the distal end of the PN graft often fail to extend back into the spinal cord, so we use microinjections of chondroitinase to degrade inhibitory molecules associated with the scar tissue surrounding the area of SCI. At the same time we have found that providing exogenous growth and trophic molecules encourages longer distance axonal regrowth into the spinal cord. Several months after transplantation we perform a variety of anatomical, behavioral and electrophysiological tests to evaluate the recovery of function in our spinal cord injured animals. This experimental approach has been used successfully in several spinal cord injury models, at different levels of injury and in different species (mouse, rat and cat). Importantly, the peripheral nerve grafting approach is effective in promoting regeneration by acute and chronically injured neurons.
Neurobiology, Issue 33, transplantation, SCI, regeneration, tract tracing, electrophysiology
1324
Motor Nerve Transection and Time-lapse Imaging of Glial Cell Behaviors in Live Zebrafish
Institutions: University of Virginia .

The nervous system is often described as a hard-wired component of the body even though it is a considerably fluid organ system that reacts to external stimuli in a consistent, stereotyped manner, while maintaining incredible flexibility and plasticity. Unlike the central nervous system (CNS), the peripheral nervous system (PNS) is capable of significant repair, but we have only just begun to understand the cellular and molecular mechanisms that govern this phenomenon. Using zebrafish as a model system, we have the unprecedented opportunity to couple regenerative studies with
in vivo
imaging and genetic manipulation. Peripheral nerves are composed of axons surrounded by layers of glia and connective tissue. Axons are ensheathed by myelinating or non-myelinating Schwann cells, which are in turn wrapped into a fascicle by a cellular sheath called the perineurium. Following an injury, adult peripheral nerves have the remarkable capacity to remove damaged axonal debris and re-innervate targets. To investigate the roles of all peripheral glia in PNS regeneration, we describe here an axon transection assay that uses a commercially available nitrogen-pumped dye laser to axotomize motor nerves in live transgenic zebrafish. We further describe the methods to couple these experiments to time-lapse imaging of injured and control nerves. This experimental paradigm can be used to not only assess the role that glia play in nerve regeneration, but can also be the platform for elucidating the molecular mechanisms that govern nervous system repair.
Neuroscience, Issue 76, Neurobiology, Cellular Biology, Molecular Biology, Genetics, Developmental Biology, Neuroglia, Zebrafish, Danio rerio, Nerve Regeneration, laser transection, nerve injury, glia, glial cell, in vivo imaging, imaging, nerves, embryos, CNS, PNS, confocal microscopy, microdissection, animal model
50621
Transplantation of Olfactory Ensheathing Cells to Evaluate Functional Recovery after Peripheral Nerve Injury
Institutions: University of Rouen, Karolinska Institutet, Rouen University Hospital, Amiens University Hospital.
Olfactory ensheathing cells (OECs) are neural crest cells which allow growth and regrowth of the primary olfactory neurons. Indeed, the primary olfactory system is characterized by its ability to give rise to new neurons even in adult animals. This particular ability is partly due to the presence of OECs which create a favorable microenvironment for neurogenesis. This property of OECs has been used for cellular transplantation such as in spinal cord injury models. Although the peripheral nervous system has a greater capacity to regenerate after nerve injury than the central nervous system, complete sections induce misrouting during axonal regrowth in particular after facial of laryngeal nerve transection. Specifically, full sectioning of the recurrent laryngeal nerve (RLN) induces aberrant axonal regrowth resulting in synkinesis of the vocal cords. In this specific model, we showed that OECs transplantation efficiently increases axonal regrowth. OECs are constituted of several subpopulations present in both the olfactory mucosa (OM-OECs) and the olfactory bulbs (OB-OECs). We present here a model of cellular transplantation based on the use of these different subpopulations of OECs in a RLN injury model. Using this paradigm, primary cultures of OB-OECs and OM-OECs were transplanted in Matrigel after section and anastomosis of the RLN. Two months after surgery, we evaluated transplanted animals by complementary analyses based on videolaryngoscopy, electromyography (EMG), and histological studies. First, videolaryngoscopy allowed us to evaluate laryngeal functions, in particular muscular cocontractions phenomena. Then, EMG analyses demonstrated richness and synchronization of muscular activities. Finally, histological studies based on toluidine blue staining allowed the quantification of the number and profile of myelinated fibers. All together, we describe here how to isolate, culture, identify and transplant OECs from OM and OB after RLN section-anastomosis and how to evaluate and analyze the efficiency of these transplanted cells on axonal regrowth and laryngeal functions.
Neuroscience, Issue 84, olfactory ensheathing cells, spinal cord injury, transplantation, larynx, recurrent laryngeal nerve, peripheral nerve injury, vocal cords
50590
Using Microfluidics Chips for Live Imaging and Study of Injury Responses in Drosophila Larvae
Institutions: University of Michigan, University of Michigan, University of Michigan, University of Michigan, University of Michigan.

Live imaging is an important technique for studying cell biological processes, however this can be challenging in live animals. The translucent cuticle of the
Drosophila
larva makes it an attractive model organism for live imaging studies. However, an important challenge for live imaging techniques is to noninvasively immobilize and position an animal on the microscope. This protocol presents a simple and easy to use method for immobilizing and imaging
Drosophila
larvae on a polydimethylsiloxane (PDMS) microfluidic device, which we call the 'larva chip'. The larva chip is comprised of a snug-fitting PDMS microchamber that is attached to a thin glass coverslip, which, upon application of a vacuum via a syringe, immobilizes the animal and brings ventral structures such as the nerve cord, segmental nerves, and body wall muscles, within close proximity to the coverslip. This allows for high-resolution imaging, and importantly, avoids the use of anesthetics and chemicals, which facilitates the study of a broad range of physiological processes. Since larvae recover easily from the immobilization, they can be readily subjected to multiple imaging sessions. This allows for longitudinal studies over time courses ranging from hours to days. This protocol describes step-by-step how to prepare the chip and how to utilize the chip for live imaging of neuronal events in 3
rd
instar larvae. These events include the rapid transport of organelles in axons, calcium responses to injury, and time-lapse studies of the trafficking of photo-convertible proteins over long distances and time scales. Another application of the chip is to study regenerative and degenerative responses to axonal injury, so the second part of this protocol describes a new and simple procedure for injuring axons within peripheral nerves by a segmental nerve crush.
Bioengineering, Issue 84, Drosophila melanogaster, Live Imaging, Microfluidics, axonal injury, axonal degeneration, calcium imaging, photoconversion, laser microsurgery
50998
An Injury Paradigm to Investigate Central Nervous System Repair in Drosophila
Institutions: University of Birmingham .

An experimental method has been developed to investigate the cellular responses to central nervous system (CNS) injury using the fruit-fly
Drosophila
. Understanding repair and regeneration in animals is a key question in biology. The damaged human CNS does not regenerate, and understanding how to promote the regeneration is one of main goals of medical neuroscience. The powerful genetic toolkit of
Drosophila
can be used to tackle the problem of CNS regeneration. A lesion to the CNS ventral nerve cord (VNC, equivalent to the vertebrate spinal cord) is applied manually with a tungsten needle. The VNC can subsequently be filmed in time-lapse using laser scanning confocal microscopy for up to 24 hr to follow the development of the lesion over time. Alternatively, it can be cultured, then fixed and stained using immunofluorescence to visualize neuron and glial cells with confocal microscopy. Using appropriate markers, changes in cell morphology and cell state as a result of injury can be visualized. With ImageJ and purposely developed plug-ins, quantitative and statistical analyses can be carried out to measure changes in wound size over time and the effects of injury in cell proliferation and cell death. These methods allow the analysis of large sample sizes. They can be combined with the powerful genetics of
Drosophila
to investigate the molecular mechanisms underlying CNS regeneration and repair.
Neurobiology, Issue 73, Developmental Biology, Neuroscience, Molecular Biology, Cellular Biology, Anatomy, Physiology, Bioengineering, Central Nervous System, Neuroglia, Drosophila, fruit fly, animal models, Wounds and Injuries, Cell Physiological Phenomena, Genetic Phenomena, injury, repair, regeneration, central nervous system, ventral nerve cord, larva, live imaging, cell counting, Repo, GS2, glia, neurons, nerves, CNS, animal model
50306
Modeling Biological Membranes with Circuit Boards and Measuring Electrical Signals in Axons: Student Laboratory Exercises
Institutions: University of Kentucky, University of Toronto.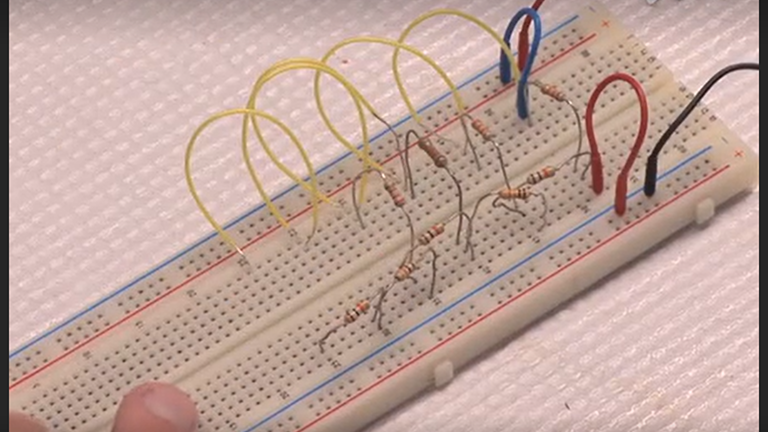 This is a demonstration of how electrical models can be used to characterize biological membranes. This exercise also introduces biophysical terminology used in electrophysiology. The same equipment is used in the membrane model as on live preparations. Some properties of an isolated nerve cord are investigated: nerve action potentials, recruitment of neurons, and responsiveness of the nerve cord to environmental factors.
Basic Protocols, Issue 47, Invertebrate, Crayfish, Modeling, Student laboratory, Nerve cord
2325
An In Vitro Preparation for Eliciting and Recording Feeding Motor Programs with Physiological Movements in Aplysia californica
Institutions: Case Western Reserve University , Case Western Reserve University , Case Western Reserve University .

Multifunctionality, the ability of one peripheral structure to generate multiple, distinct behaviors
1
, allows animals to rapidly adapt their behaviors to changing environments. The marine mollusk
Aplysia californica
provides a tractable system for the study of multifunctionality. During feeding,
Aplysia
generates several distinct types of behaviors using the same feeding apparatus, the buccal mass. The ganglia that control these behaviors contain a number of large, identified neurons that are accessible to electrophysiological study. The activity of these neurons has been described in motor programs that can be divided into two types, ingestive and egestive programs, based on the timing of neural activity that closes the food grasper relative to the neural activity that protracts or retracts the grasper
2
. However, in isolated ganglia, the muscle movements that would produce these behaviors are absent, making it harder to be certain whether the motor programs observed are correlates of real behaviors.
In vivo
, nerve and muscle recordings have been obtained corresponding to feeding programs
2,3,4
, but it is very difficult to directly record from individual neurons
5
. Additionally,
in vivo
, ingestive programs can be further divided into bites and swallows
1,2
, a distinction that is difficult to make in most previously described
in vitro
preparations. The suspended buccal mass preparation (
Figure 1
) bridges the gap between isolated ganglia and intact animals. In this preparation, ingestive behaviors - including both biting and swallowing - and egestive behaviors (rejection) can be elicited, at the same time as individual neurons can be recorded from and stimulated using extracellular electrodes
6
. The feeding movements associated with these different behaviors can be recorded, quantified, and related directly to the motor programs. The motor programs in the suspended buccal mass preparation appear to be more similar to those observed
in vivo
than are motor programs elicited in isolated ganglia. Thus, the motor programs in this preparation can be more directly related to
in vivo
behavior; at the same time, individual neurons are more accessible to recording and stimulation than in intact animals. Additionally, as an intermediate step between isolated ganglia and intact animals, findings from the suspended buccal mass can aid in interpretation of data obtained in both more reduced and more intact settings. The suspended buccal mass preparation is a useful tool for characterizing the neural control of multifunctionality in
Aplysia
.
Neuroscience, Issue 70, Physiology, Biomedical Engineering, Anatomy, Marine Biology, Aplysia, Aplysia californica, California sea slug, invertebrate, feeding, neurobiology, buccal mass, semi-intact preparation, extracellular electrodes, extracellular recording, neurons, animal model
4320
Extracellularly Identifying Motor Neurons for a Muscle Motor Pool in Aplysia californica
Institutions: Case Western Reserve University , Case Western Reserve University , Case Western Reserve University .

In animals with large identified neurons (
e.g.
mollusks), analysis of motor pools is done using intracellular techniques
1,2,3,4
. Recently, we developed a technique to extracellularly stimulate and record individual neurons in
Aplysia californica
5
. We now describe a protocol for using this technique to uniquely identify and characterize motor neurons within a motor pool. This extracellular technique has advantages. First, extracellular electrodes can stimulate and record neurons through the sheath
5
, so it does not need to be removed. Thus, neurons will be healthier in extracellular experiments than in intracellular ones. Second, if ganglia are rotated by appropriate pinning of the sheath, extracellular electrodes can access neurons on both sides of the ganglion, which makes it easier and more efficient to identify multiple neurons in the same preparation. Third, extracellular electrodes do not need to penetrate cells, and thus can be easily moved back and forth among neurons, causing less damage to them. This is especially useful when one tries to record multiple neurons during repeating motor patterns that may only persist for minutes. Fourth, extracellular electrodes are more flexible than intracellular ones during muscle movements. Intracellular electrodes may pull out and damage neurons during muscle contractions. In contrast, since extracellular electrodes are gently pressed onto the sheath above neurons, they usually stay above the same neuron during muscle contractions, and thus can be used in more intact preparations. To uniquely identify motor neurons for a motor pool (in particular, the I1/I3 muscle in
Aplysia
) using extracellular electrodes, one can use features that do not require intracellular measurements as criteria: soma size and location, axonal projection, and muscle innervation
4,6,7
. For the particular motor pool used to illustrate the technique, we recorded from buccal nerves 2 and 3 to measure axonal projections, and measured the contraction forces of the I1/I3 muscle to determine the pattern of muscle innervation for the individual motor neurons. We demonstrate the complete process of first identifying motor neurons using muscle innervation, then characterizing their timing during motor patterns, creating a simplified diagnostic method for rapid identification. The simplified and more rapid diagnostic method is superior for more intact preparations,
e.g.
in the suspended buccal mass preparation
8
or
in vivo
9
. This process can also be applied in other motor pools
10,11,12
in
Aplysia
or in other animal systems
2,3,13,14
.
Neuroscience, Issue 73, Physiology, Biomedical Engineering, Anatomy, Behavior, Neurobiology, Animal, Neurosciences, Neurophysiology, Electrophysiology, Aplysia, Aplysia californica, California sea slug, invertebrate, feeding, buccal mass, ganglia, motor neurons, neurons, extracellular stimulation and recordings, extracellular electrodes, animal model
50189
The Swimmeret System of Crayfish: A Practical Guide for the Dissection of the Nerve Cord and Extracellular Recordings of the Motor Pattern
Institutions: University of Cologne.

Here we demonstrate the dissection of the crayfish abdominal nerve cord. The preparation comprises the last two thoracic ganglia (T4, T5) and the chain of abdominal ganglia (A1 to A6). This chain of ganglia includes the part of the central nervous system (CNS) that drives coordinated locomotion of the pleopods (swimmerets): the swimmeret system. It is known for over five decades that in crayfish each swimmeret is driven by its own independent pattern generating kernel that generates rhythmic alternating activity
1-3
. The motor neurons innervating the musculature of each swimmeret comprise two anatomically and functionally distinct populations
4
. One is responsible for the retraction (power stroke, PS) of the swimmeret. The other drives the protraction (return stroke, RS) of the swimmeret. Motor neurons of the swimmeret system are able to produce spontaneously a fictive motor pattern, which is identical to the pattern recorded
in vivo
1
. The aim of this report is to introduce an interesting and convenient model system for studying rhythm generating networks and coordination of independent microcircuits for students' practical laboratory courses. The protocol provided includes step-by-step instructions for the dissection of the crayfish's abdominal nerve cord, pinning of the isolated chain of ganglia, desheathing the ganglia and recording the swimmerets fictive motor pattern extracellularly from the isolated nervous system. Additionally, we can monitor the activity of swimmeret neurons recorded intracellularly from dendrites. Here we also describe briefly these techniques and provide some examples. Furthermore, the morphology of swimmeret neurons can be assessed using various staining techniques. Here we provide examples of intracellular (by iontophoresis) dye filled neurons and backfills of pools of swimmeret motor neurons. In our lab we use this preparation to study basic functions of fictive locomotion, the effect of sensory feedback on the activity of the CNS, and coordination between microcircuits on a cellular level.
Neurobiology, Issue 93, crustacean, dissection, extracellular recording, fictive locomotion, motor neurons, locomotion
52109
Proprioception and Tension Receptors in Crab Limbs: Student Laboratory Exercises
Institutions: University of Kentucky, University of Kentucky, University of Oregon.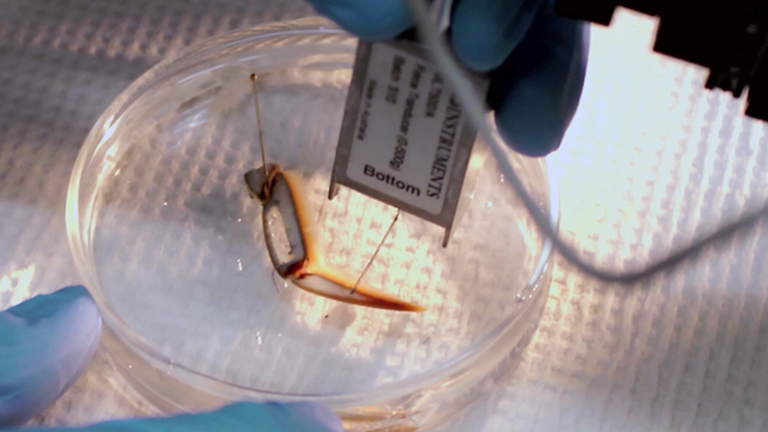 The primary purpose of these procedures is to demonstrate for teaching and research purposes how to record the activity of living primary sensory neurons responsible for proprioception as they are detecting joint position and movement, and muscle tension. Electrical activity from crustacean proprioceptors and tension receptors is recorded by basic neurophysiological instrumentation, and a transducer is used to simultaneously measure force that is generated by stimulating a motor nerve. In addition, we demonstrate how to stain the neurons for a quick assessment of their anatomical arrangement or for permanent fixation. Staining reveals anatomical organization that is representative of chordotonal organs in most crustaceans. Comparing the tension nerve responses to the proprioceptive responses is an effective teaching tool in determining how these sensory neurons are defined functionally and how the anatomy is correlated to the function. Three staining techniques are presented allowing researchers and instructors to choose a method that is ideal for their laboratory.
Neuroscience, Issue 80, Crustacean, joint, Muscle, sensory, teaching, educational, neuroscience
51050
Membrane Potentials, Synaptic Responses, Neuronal Circuitry, Neuromodulation and Muscle Histology Using the Crayfish: Student Laboratory Exercises
Institutions: University of Kentucky, University of Toronto.

The purpose of this report is to help develop an understanding of the effects caused by ion gradients across a biological membrane. Two aspects that influence a cell's membrane potential and which we address in these experiments are: (1) Ion concentration of K
+
on the outside of the membrane, and (2) the permeability of the membrane to specific ions. The crayfish abdominal extensor muscles are in groupings with some being tonic (slow) and others phasic (fast) in their biochemical and physiological phenotypes, as well as in their structure; the motor neurons that innervate these muscles are correspondingly different in functional characteristics. We use these muscles as well as the superficial, tonic abdominal flexor muscle to demonstrate properties in synaptic transmission. In addition, we introduce a sensory-CNS-motor neuron-muscle circuit to demonstrate the effect of cuticular sensory stimulation as well as the influence of neuromodulators on certain aspects of the circuit. With the techniques obtained in this exercise, one can begin to answer many questions remaining in other experimental preparations as well as in physiological applications related to medicine and health. We have demonstrated the usefulness of model invertebrate preparations to address fundamental questions pertinent to all animals.
Neuroscience, Issue 47, Invertebrate, Crayfish, neurophysiology, muscle, anatomy, electrophysiology
2322
Using High Resolution Computed Tomography to Visualize the Three Dimensional Structure and Function of Plant Vasculature
Institutions: U.S. Department of Agriculture, University of California - Davis, University of Western Sydney, Lawrence Berkeley National Lab, University of Florida .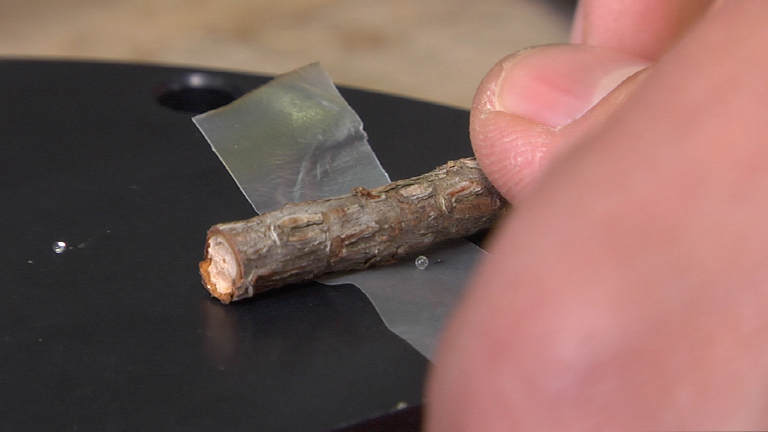 High resolution x-ray computed tomography (HRCT) is a non-destructive diagnostic imaging technique with sub-micron resolution capability that is now being used to evaluate the structure and function of plant xylem network in three dimensions (3D) (
e.g.
Brodersen
et al.
2010; 2011; 2012a,b). HRCT imaging is based on the same principles as medical CT systems, but a high intensity synchrotron x-ray source results in higher spatial resolution and decreased image acquisition time. Here, we demonstrate in detail how synchrotron-based HRCT (performed at the Advanced Light Source-LBNL Berkeley, CA, USA) in combination with Avizo software (VSG Inc., Burlington, MA, USA) is being used to explore plant xylem in excised tissue and living plants. This new imaging tool allows users to move beyond traditional static, 2D light or electron micrographs and study samples using virtual serial sections in any plane. An infinite number of slices in any orientation can be made on the same sample, a feature that is physically impossible using traditional microscopy methods. Results demonstrate that HRCT can be applied to both herbaceous and woody plant species, and a range of plant organs (
i.e.
leaves, petioles, stems, trunks, roots). Figures presented here help demonstrate both a range of representative plant vascular anatomy and the type of detail extracted from HRCT datasets, including scans for coast redwood (
Sequoia sempervirens
), walnut (
Juglans
spp.), oak (
Quercus
spp
.
), and maple (
Acer
spp.) tree saplings to sunflowers (
Helianthus annuus
), grapevines (
Vitis
spp.), and ferns (
Pteridium aquilinum
and
Woodwardia fimbriata
). Excised and dried samples from woody species are easiest to scan and typically yield the best images. However, recent improvements (
i.e.
more rapid scans and sample stabilization) have made it possible to use this visualization technique on green tissues (
e.g.
petioles) and in living plants. On occasion some shrinkage of hydrated green plant tissues will cause images to blur and methods to avoid these issues are described. These recent advances with HRCT provide promising new insights into plant vascular function.
Plant Biology, Issue 74, Cellular Biology, Molecular Biology, Biophysics, Structural Biology, Physics, Environmental Sciences, Agriculture, botany, environmental effects (biological, animal and plant), plants, radiation effects (biological, animal and plant), CT scans, advanced visualization techniques, xylem networks, plant vascular function, synchrotron, x-ray micro-tomography, ALS 8.3.2, xylem, phloem, tomography, imaging
50162
Electrode Fabrication and Implantation in Aplysia californica for Multi-channel Neural and Muscular Recordings in Intact, Freely Behaving Animals
Institutions: Case Western Reserve University, Case Western Reserve University, Case Western Reserve University.

Recording from key nerves and muscles of
Aplysia
during feeding behavior allows us to study the patterns of neural control in an intact animal. Simultaneously recording from multiple nerves and muscles gives us precise information about the timing of neural activity. Previous recording methods have worked for two electrodes, but the study of additional nerves or muscles required combining and averaging the recordings of multiple animals, which made it difficult to determine fine details of timing and phasing, because of variability from response to response, and from animal to animal. Implanting four individual electrodes has a very low success rate due to the formation of adhesions that prevent animals from performing normal feeding movements. We developed a new method of electrode fabrication that reduces the bulk of the electrodes inside the animal allowing for normal feeding movements. Using a combination of glues to attach the electrodes results in a more reliable insulation of the electrode which lasts longer, making it possible to record for periods as long as a week. The fabrication technique that we describe could be extended to incorporate several additional electrodes, and would be applicable to vertebrate animals.
Neuroscience, Issue 40, in vivo electrodes, Aplysia, neurobiology, chronic recording, extracellular recording
1791
Axoplasm Isolation from Rat Sciatic Nerve
Institutions: Weizmann Institute of Science.

Isolation of pure axonal cytoplasm (axoplasm) from peripheral nerve is crucial for biochemical studies of many biological processes. In this article, we demonstrate and describe a protocol for axoplasm isolation from adult rat sciatic nerve based on the following steps: (1) dissection of nerve fascicles and separation of connective tissue; (2) incubation of short segments of nerve fascicles in hypotonic medium to release myelin and lyse non-axonal structures; and (3) extraction of the remaining axon-enriched material. Proteomic and biochemical characterization of this preparation has confirmed a high degree of enrichment for axonal components.
Neuroscience, Issue 43, Axoplasm, nerve, isolation, method, rat
2087
In vivo Visualization of Synaptic Vesicles Within Drosophila Larval Segmental Axons
Institutions: SUNY-University at Buffalo.

Elucidating the mechanisms of axonal transport has shown to be very important in determining how defects in long distance transport affect different neurological diseases. Defects in this essential process can have detrimental effects on neuronal functioning and development. We have developed a dissection protocol that is designed to expose the
Drosophila
larval segmental nerves to view axonal transport in real time. We have adapted this protocol for live imaging from the one published by Hurd and Saxton (1996) used for immunolocalizatin of larval segmental nerves. Careful dissection and proper buffer conditions are critical for maximizing the lifespan of the dissected larvae. When properly done, dissected larvae have shown robust vesicle transport for 2-3 hours under physiological conditions. We use the UAS-GAL4 method
1
to express GFP-tagged APP or synaptotagmin vesicles within a single axon or many axons in larval segmental nerves by using different neuronal GAL4 drivers. Other fluorescently tagged markers, for example mitochrondria (MitoTracker) or lysosomes (LysoTracker), can be also applied to the larvae before viewing. GFP-vesicle movement and particle movement can be viewed simultaneously using separate wavelengths.
Neuroscience, Issue 44, Live imaging, Axonal transport, GFP-tagged vesicles
2151
Loading Drosophila Nerve Terminals with Calcium Indicators
Institutions: University of Texas Health Science Center at San Antonio (UTHSCSA).

Calcium plays many roles in the nervous system but none more impressive than as the trigger for neurotransmitter release, and none more profound than as the messenger essential for the synaptic plasticity that supports learning and memory. To further elucidate the molecular underpinnings of Ca
2+
-dependent synaptic mechanisms, a model system is required that is both genetically malleable and physiologically accessible. Drosophila melanogaster provides such a model. In this system, genetically-encoded fluorescent indicators are available to detect Ca
2+
changes in nerve terminals. However, these indicators have limited sensitivity to Ca
2+
and often show a non-linear response. Synthetic fluorescent indicators are better suited for measuring the rapid Ca
2+
changes associated with nerve activity. Here we demonstrate a technique for loading dextran-conjugated synthetic Ca
2+
indicators into live nerve terminals in Drosophila larvae. Particular emphasis is placed on those aspects of the protocol most critical to the technique's success, such as how to avoid static electricity discharges along the isolated nerves, maintaining the health of the preparation during extended loading periods, and ensuring axon survival by providing Ca
2+
to promote sealing of severed axon endings. Low affinity dextran-conjugated Ca
2+
-indicators, such as fluo-4 and rhod, are available which show a high signal-to-noise ratio while minimally disrupting presynaptic Ca
2+
dynamics. Dextran-conjugation helps prevent Ca
2+
indicators being sequestered into organelles such as mitochondria. The loading technique can be applied equally to larvae, embryos and adults.
Neuroscience, Issue 6, Drosophila, neuron, imaging
250