ABSTRACT
Body movements are mainly provided by mechanical function of skeletal muscle. Skeletal muscle is composed of numerous bundles of myofibers that are sheathed by intramuscular connective tissues. Each myofiber contains many myofibrils that run longitudinally along the length of the myofiber. Myofibrils are the contractile apparatus of muscle and they are composed of repeated contractile units known as sarcomeres. A sarcomere unit contains actin and myosin filaments that are spaced by the Z discs and titin protein. Mechanical function of skeletal muscle is defined by the contractile and passive properties of muscle. The contractile properties are used to characterize the amount of force generated during muscle contraction, time of force generation and time of muscle relaxation. Any factor that affects muscle contraction (such as interaction between actin and myosin filaments, homeostasis of calcium, ATP/ADP ratio, etc.) influences the contractile properties. The passive properties refer to the elastic and viscous properties (stiffness and viscosity) of the muscle in the absence of contraction. These properties are determined by the extracellular and the intracellular structural components (such as titin) and connective tissues (mainly collagen) 1-2. The contractile and passive properties are two inseparable aspects of muscle function. For example, elbow flexion is accomplished by contraction of muscles in the anterior compartment of the upper arm and passive stretch of muscles in the posterior compartment of the upper arm. To truly understand muscle function, both contractile and passive properties should be studied. The contractile and/or passive mechanical properties of muscle are often compromised in muscle diseases. A good example is Duchenne muscular dystrophy (DMD), a severe muscle wasting disease caused by dystrophin deficiency 3. Dystrophin is a cytoskeletal protein that stabilizes the muscle cell membrane (sarcolemma) during muscle contraction 4. In the absence of dystrophin, the sarcolemma is damaged by the shearing force generated during force transmission. This membrane tearing initiates a chain reaction which leads to muscle cell death and loss of contractile machinery. As a consequence, muscle force is reduced and dead myofibers are replaced by fibrotic tissues 5. This later change increases muscle stiffness 6. Accurate measurement of these changes provides important guide to evaluate disease progression and to determine therapeutic efficacy of novel gene/cell/pharmacological interventions. Here, we present two methods to evaluate both contractile and passive mechanical properties of the extensor digitorum longus (EDL) muscle and the contractile properties of the tibialis anterior (TA) muscle.
24 Related JoVE Articles!
Mechanical Testing of Mouse Carotid Arteries: from Newborn to Adult
Institutions: Saint Louis University.

The large conducting arteries in vertebrates are composed of a specialized extracellular matrix designed to provide pulse dampening and reduce the work performed by the heart. The mix of matrix proteins determines the passive mechanical properties of the arterial wall
1
. When the matrix proteins are altered in development, aging, disease or injury, the arterial wall remodels, changing the mechanical properties and leading to subsequent cardiac adaptation
2
. In normal development, the remodeling leads to a functional cardiac and cardiovascular system optimized for the needs of the adult organism. In disease, the remodeling often leads to a negative feedback cycle that can cause cardiac failure and death. By quantifying passive arterial mechanical properties in development and disease, we can begin to understand the normal remodeling process to recreate it in tissue engineering and the pathological remodeling process to test disease treatments. Mice are useful models for studying passive arterial mechanics in development and disease. They have a relatively short lifespan (mature adults by 3 months and aged adults by 2 years), so developmental
3
and aging studies
4
can be carried out over a limited time course. The advances in mouse genetics provide numerous genotypes and phenotypes to study changes in arterial mechanics with disease progression
5
and disease treatment
6
. Mice can also be manipulated experimentally to study the effects of changes in hemodynamic parameters on the arterial remodeling process
7
. One drawback of the mouse model, especially for examining young ages, is the size of the arteries. We describe a method for passive mechanical testing of carotid arteries from mice aged 3 days to adult (approximately 90 days). We adapt a commercial myograph system to mount the arteries and perform multiple pressure or axial stretch protocols on each specimen. We discuss suitable protocols for each age, the necessary measurements and provide example data. We also include data analysis strategies for rigorous mechanical characterization of the arteries.
Bioengineering, Issue 60, blood vessel, artery, mechanics, pressure, diameter, postnatal development
3733
An in vivo Rodent Model of Contraction-induced Injury and Non-invasive Monitoring of Recovery
Institutions: University of Maryland School of Medicine, University of Maryland School of Medicine, University of Maryland School of Medicine.

Muscle strains are one of the most common complaints treated by physicians. A muscle injury is typically diagnosed from the patient history and physical exam alone, however the clinical presentation can vary greatly depending on the extent of injury, the patient's pain tolerance, etc. In patients with muscle injury or muscle disease, assessment of muscle damage is typically limited to clinical signs, such as tenderness, strength, range of motion, and more recently, imaging studies. Biological markers, such as serum creatine kinase levels, are typically elevated with muscle injury, but their levels do not always correlate with the loss of force production. This is even true of histological findings from animals, which provide a "direct measure" of damage, but do not account for all the loss of function. Some have argued that the most comprehensive measure of the overall health of the muscle in contractile force. Because muscle injury is a random event that occurs under a variety of biomechanical conditions, it is difficult to study. Here, we describe an
in vivo
animal model to measure torque and to produce a reliable muscle injury. We also describe our model for measurement of force from an isolated muscle
in situ
. Furthermore, we describe our small animal MRI procedure.
Medicine, Issue 51, Skeletal muscle, lengthening contraction, injury, regeneration, contractile function, torque
2782
High Speed Droplet-based Delivery System for Passive Pumping in Microfluidic Devices
Institutions: University of Wisconsin-Madison, University of Wisconsin-Madison.

A novel microfluidic system has been developed that uses the phenomenon of passive pumping along with a user controlled droplet based fluid delivery system. Passive pumping is the phenomenon by which surface tension induced pressure differences drive fluid movement in closed channels. The automated fluid delivery system consists of a set of voltage controlled valves with micro-nozzles connected to a fluid reservoir and a control system. These voltage controlled valves offer a volumetrically precise way to deliver fluid droplets to the inlet of a microfluidic device in a high frequency manner. Based on the dimensions demonstrated in the current study example, the system is capable of flowing 4 milliliters per minute (through a 2.2mm by 260um cross-sectional channel). Based on these same channel dimensions, fluid exchange of a point inside the channel can be achieved in as little as eight milliseconds. It is observed that there is interplay between momentum of the system (imparted by a combination of the droplets created by the valves and the fluid velocity in the channel), and the surface tension of the liquid. Where momentum provides velocity to the fluid flow (or vice-versa), equilibration of surface tension at the inlet provides a sudden stop to any flow. This sudden stop allows the user to control the flow characteristics of the channel and opens the door for a variety of biological applications, ranging anywhere from reagent delivery to drug-cell studies. It is also observed that when nozzles are aimed at the inlet at shallow angles, the droplet momentum can cause additional interesting fluid phenomena, such as mixing of multiple droplets in the inlet.
Biomedical Engineering, Issue 31, automated, passive pumping, microfluidic device, high speed, high flow rate
1329
Isometric and Eccentric Force Generation Assessment of Skeletal Muscles Isolated from Murine Models of Muscular Dystrophies
Institutions: School of Dental Medicine, University of Pennsylvania, Perelman School of Medicine, University of Pennsylvania, School of Dental Medicine, University of Pennsylvania.

Critical to the evaluation of potential therapeutics for muscular disease are sensitive and reproducible physiological assessments of muscle function. Because many pre-clinical trials rely on mouse models for these diseases, isolated muscle function has become one of the standards for Go/NoGo decisions in moving drug candidates forward into patients. We will demonstrate the preparation of the extensor digitorum longus (EDL) and diaphragm muscles for functional testing, which are the predominant muscles utilized for these studies. The EDL muscle geometry is ideal for isolated muscle preparations, with two easily accessible tendons, and a small size that can be supported by superfusion in a bath. The diaphragm exhibits profound progressive pathology in dystrophic animals, and can serve as a platform for evaluating many potential therapies countering fibrosis, and promoting myofiber stability. Protocols for routine testing, including isometric and eccentric contractions, will be shown. Isometric force provides assessment of strength, and eccentric contractions help to evaluate sarcolemma stability, which is disrupted in many types of muscular dystrophies. Comparisons of the expected results between muscles from wildtype and dystrophic muscles will also be provided. These measures can complement morphological and biochemical measurements of tissue homeostasis, as well as whole animal assessments of muscle function.
Anatomy, Issue 71, Physiology, Cellular Biology, Biophysics, Medicine, Biomedical Engineering, Surgery, Muscles, Muscular Diseases, Animal Experimentation, Chemicals and Drugs, muscular dystrophy, muscle function, muscle damage, muscular dystrophies, mouse, animal model
50036
Video-oculography in Mice
Institutions: Erasmus MC, Rotterdam, The Netherlands, Royal Dutch Academy of Arts & Sciences (KNAW).

Eye movements are very important in order to track an object or to stabilize an image on the retina during movement. Animals without a fovea, such as the mouse, have a limited capacity to lock their eyes onto a target. In contrast to these target directed eye movements, compensatory ocular eye movements are easily elicited in afoveate animals
1,2,3,4
. Compensatory ocular movements are generated by processing vestibular and optokinetic information into a command signal that will drive the eye muscles. The processing of the vestibular and optokinetic information can be investigated separately and together, allowing the specification of a deficit in the oculomotor system. The oculomotor system can be tested by evoking an optokinetic reflex (OKR), vestibulo-ocular reflex (VOR) or a visually-enhanced vestibulo-ocular reflex (VVOR). The OKR is a reflex movement that compensates for "full-field" image movements on the retina, whereas the VOR is a reflex eye movement that compensates head movements. The VVOR is a reflex eye movement that uses both vestibular as well as optokinetic information to make the appropriate compensation. The cerebellum monitors and is able to adjust these compensatory eye movements. Therefore, oculography is a very powerful tool to investigate brain-behavior relationship under normal as well as under pathological conditions (f.e. of vestibular, ocular and/or cerebellar origin). Testing the oculomotor system, as a behavioral paradigm, is interesting for several reasons. First, the oculomotor system is a well understood neural system
5
. Second, the oculomotor system is relative simple
6
; the amount of possible eye movement is limited by its ball-in-socket architecture ("single joint") and the three pairs of extra-ocular muscles
7
. Third, the behavioral output and sensory input can easily be measured, which makes this a highly accessible system for quantitative analysis
8
. Many behavioral tests lack this high level of quantitative power. And finally, both performance as well as plasticity of the oculomotor system can be tested, allowing research on learning and memory processes
9
. Genetically modified mice are nowadays widely available and they form an important source for the exploration of brain functions at various levels
10
. In addition, they can be used as models to mimic human diseases. Applying oculography on normal, pharmacologically-treated or genetically modified mice is a powerful research tool to explore the underlying physiology of motor behaviors under normal and pathological conditions. Here, we describe how to measure video-oculography in mice
8
.
Neuroscience, Issue 65, Physiology, Medicine, mouse mutants, pupil tracking, motor learning, motor performance, cerebellum, olivocerebellar system, vestibulo-ocular reflex, optokinetic reflex, ophthalmology, oculography
3971
Experimental Measurement of Settling Velocity of Spherical Particles in Unconfined and Confined Surfactant-based Shear Thinning Viscoelastic Fluids
Institutions: The University of Texas at Austin.
An experimental study is performed to measure the terminal settling velocities of spherical particles in surfactant based shear thinning viscoelastic (VES) fluids. The measurements are made for particles settling in unbounded fluids and fluids between parallel walls. VES fluids over a wide range of rheological properties are prepared and rheologically characterized. The rheological characterization involves steady shear-viscosity and dynamic oscillatory-shear measurements to quantify the viscous and elastic properties respectively. The settling velocities under unbounded conditions are measured in beakers having diameters at least 25x the diameter of particles. For measuring settling velocities between parallel walls, two experimental cells with different wall spacing are constructed. Spherical particles of varying sizes are gently dropped in the fluids and allowed to settle. The process is recorded with a high resolution video camera and the trajectory of the particle is recorded using image analysis software. Terminal settling velocities are calculated from the data. The impact of elasticity on settling velocity in unbounded fluids is quantified by comparing the experimental settling velocity to the settling velocity calculated by the inelastic drag predictions of Renaud
et al.
1
 Results show that elasticity of fluids can increase or decrease the settling velocity. The magnitude of reduction/increase is a function of the rheological properties of the fluids and properties of particles. Confining walls are observed to cause a retardation effect on settling and the retardation is measured in terms of wall factors.
Physics, Issue 83, chemical engineering, settling velocity, Reynolds number, shear thinning, wall retardation
50749
Remote Magnetic Actuation of Micrometric Probes for in situ 3D Mapping of Bacterial Biofilm Physical Properties
Institutions: Sorbonne Universités, UPMC, Institut Pasteur, Sorbonne Universités, UPMC.

Bacterial adhesion and growth on interfaces lead to the formation of three-dimensional heterogeneous structures so-called biofilms. The cells dwelling in these structures are held together by physical interactions mediated by a network of extracellular polymeric substances. Bacterial biofilms impact many human activities and the understanding of their properties is crucial for a better control of their development — maintenance or eradication — depending on their adverse or beneficial outcome. This paper describes a novel methodology aiming to measure
in situ
the local physical properties of the biofilm that had been, until now, examined only from a macroscopic and homogeneous material perspective. The experiment described here involves introducing magnetic particles into a growing biofilm to seed local probes that can be remotely actuated without disturbing the structural properties of the biofilm. Dedicated magnetic tweezers were developed to exert a defined force on each particle embedded in the biofilm. The setup is mounted on the stage of a microscope to enable the recording of time-lapse images of the particle-pulling period. The particle trajectories are then extracted from the pulling sequence and the local viscoelastic parameters are derived from each particle displacement curve, thereby providing the 3D-spatial distribution of the parameters. Gaining insights into the biofilm mechanical profile is essential from an engineer's point of view for biofilm control purposes but also from a fundamental perspective to clarify the relationship between the architectural properties and the specific biology of these structures.
Bioengineering, Issue 87, Bacterial biofilm, magnetic tweezers, visco-elastic parameters, spatial distribution, flow cell, extracellular matrix
50857
Oscillation and Reaction Board Techniques for Estimating Inertial Properties of a Below-knee Prosthesis
Institutions: University of Northern Colorado, Arizona State University, Iowa State University.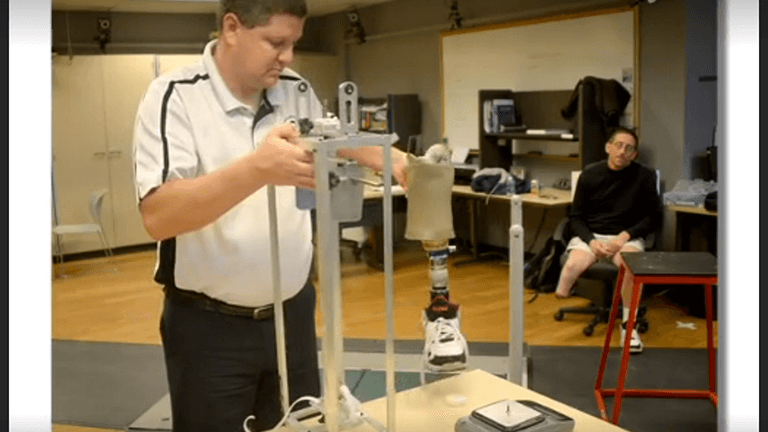 The purpose of this study was two-fold: 1) demonstrate a technique that can be used to directly estimate the inertial properties of a below-knee prosthesis, and 2) contrast the effects of the proposed technique and that of using intact limb inertial properties on joint kinetic estimates during walking in unilateral, transtibial amputees. An oscillation and reaction board system was validated and shown to be reliable when measuring inertial properties of known geometrical solids. When direct measurements of inertial properties of the prosthesis were used in inverse dynamics modeling of the lower extremity compared with inertial estimates based on an intact shank and foot, joint kinetics at the hip and knee were significantly lower during the swing phase of walking. Differences in joint kinetics during stance, however, were smaller than those observed during swing. Therefore, researchers focusing on the swing phase of walking should consider the impact of prosthesis inertia property estimates on study outcomes. For stance, either one of the two inertial models investigated in our study would likely lead to similar outcomes with an inverse dynamics assessment.
Bioengineering, Issue 87, prosthesis inertia, amputee locomotion, below-knee prosthesis, transtibial amputee
50977
Longitudinal Measurement of Extracellular Matrix Rigidity in 3D Tumor Models Using Particle-tracking Microrheology
Institutions: University of Massachusetts Boston.

The mechanical microenvironment has been shown to act as a crucial regulator of tumor growth behavior and signaling, which is itself remodeled and modified as part of a set of complex, two-way mechanosensitive interactions. While the development of biologically-relevant 3D tumor models have facilitated mechanistic studies on the impact of matrix rheology on tumor growth, the inverse problem of mapping changes in the mechanical environment induced by tumors remains challenging. Here, we describe the implementation of particle-tracking microrheology (PTM) in conjunction with 3D models of pancreatic cancer as part of a robust and viable approach for longitudinally monitoring physical changes in the tumor microenvironment,
in situ
. The methodology described here integrates a system of preparing
in vitro
3D models embedded in a model extracellular matrix (ECM) scaffold of Type I collagen with fluorescently labeled probes uniformly distributed for position- and time-dependent microrheology measurements throughout the specimen.
In vitro
tumors are plated and probed in parallel conditions using multiwell imaging plates. Drawing on established methods, videos of tracer probe movements are transformed via the Generalized Stokes Einstein Relation (GSER) to report the complex frequency-dependent viscoelastic shear modulus,
G*(ω)
. Because this approach is imaging-based, mechanical characterization is also mapped onto large transmitted-light spatial fields to simultaneously report qualitative changes in 3D tumor size and phenotype. Representative results showing contrasting mechanical response in sub-regions associated with localized invasion-induced matrix degradation as well as system calibration, validation data are presented. Undesirable outcomes from common experimental errors and troubleshooting of these issues are also presented. The 96-well 3D culture plating format implemented in this protocol is conducive to correlation of microrheology measurements with therapeutic screening assays or molecular imaging to gain new insights into impact of treatments or biochemical stimuli on the mechanical microenvironment.
Bioengineering, Issue 88, viscoelasticity, mechanobiology, extracellular matrix (ECM), matrix remodeling, 3D tumor models, tumor microenvironment, stroma, matrix metalloprotease (MMP), epithelial-mesenchymal transition (EMT)
51302
Micropipette Aspiration of Substrate-attached Cells to Estimate Cell Stiffness
Institutions: University of Illinois, University of Pennsylvania .

Growing number of studies show that biomechanical properties of individual cells play major roles in multiple cellular functions, including cell proliferation, differentiation, migration and cell-cell interactions. The two key parameters of cellular biomechanics are cellular deformability or stiffness and the ability of the cells to contract and generate force. Here we describe a quick and simple method to estimate cell stiffness by measuring the degree of membrane deformation in response to negative pressure applied by a glass micropipette to the cell surface, a technique that is called Micropipette Aspiration or Microaspiration. Microaspiration is performed by pulling a glass capillary to create a micropipette with a very small tip (2-50 μm diameter depending on the size of a cell or a tissue sample), which is then connected to a pneumatic pressure transducer and brought to a close vicinity of a cell under a microscope. When the tip of the pipette touches a cell, a step of negative pressure is applied to the pipette by the pneumatic pressure transducer generating well-defined pressure on the cell membrane. In response to pressure, the membrane is aspirated into the pipette and progressive membrane deformation or "membrane projection" into the pipette is measured as a function of time. The basic principle of this experimental approach is that the degree of membrane deformation in response to a defined mechanical force is a function of membrane stiffness. The stiffer the membrane is, the slower the rate of membrane deformation and the shorter the steady-state aspiration length.The technique can be performed on isolated cells, both in suspension and substrate-attached, large organelles, and liposomes. Analysis is performed by comparing maximal membrane deformations achieved under a given pressure for different cell populations or experimental conditions. A "stiffness coefficient" is estimated by plotting the aspirated length of membrane deformation as a function of the applied pressure. Furthermore, the data can be further analyzed to estimate the Young's modulus of the cells (E), the most common parameter to characterize stiffness of materials. It is important to note that plasma membranes of eukaryotic cells can be viewed as a bi-component system where membrane lipid bilayer is underlied by the sub-membrane cytoskeleton and that it is the cytoskeleton that constitutes the mechanical scaffold of the membrane and dominates the deformability of the cellular envelope. This approach, therefore, allows probing the biomechanical properties of the sub-membrane cytoskeleton.
Bioengineering, Issue 67, Biophysics, Biomedical Engineering, Medicine, Cellular Biology, Cell stiffness, biomechanics, microaspiration, cell membrane, cytoskeleton
3886
Myo-mechanical Analysis of Isolated Skeletal Muscle
Institutions: University of California San Francisco, University of California San Francisco, San Francisco State University, University of California San Francisco , University of California San Francisco.

To assess the
in vivo
effects of therapeutic interventions for the treatment of muscle disease
1,2,3
, quantitative methods are needed that measure force generation and fatigability in treated muscle. We describe a detailed approach to evaluating myo-mechanical properties in freshly explanted hindlimb muscle from the mouse. We describe the atraumatic harvest of mouse
extensor digitorum longus
muscle, mounting the muscle in a muscle strip myograph (Model 820MS; Danish Myo Technology), and the measurement of maximal twitch and tetanic tension, contraction time, and half-relaxation time, using a square pulse stimulator (Model S48; Grass Technologies). Using these measurements, we demonstrate the calculation of specific twitch and tetanic tension normalized to muscle cross-sectional area, the twitch-to-tetanic tension ratio, the force-frequency relationship curve and the low frequency fatigue curve
4
. This analysis provides a method for quantitative comparison between therapeutic interventions in mouse models of muscle disease
1,2,3,5
, as well as comparison of the effects of genetic modification on muscle function
6,7,8,9
.
Medicine, Issue 48, muscle, twitch, tetanus, force-frequency, fatigue
2582
Procedures for Rat in situ Skeletal Muscle Contractile Properties
Institutions: University of Calgary .

There are many circumstances where it is desirable to obtain the contractile response of skeletal muscle under physiological circumstances: normal circulation, intact whole muscle, at body temperature. This includes the study of contractile responses like posttetanic potentiation, staircase and fatigue. Furthermore, the consequences of disease, disuse, injury, training and drug treatment can be of interest. This video demonstrates appropriate procedures to set up and use this valuable muscle preparation. To set up this preparation, the animal must be anesthetized, and the medial gastrocnemius muscle is surgically isolated, with the origin intact. Care must be taken to maintain the blood and nerve supplies. A long section of the sciatic nerve is cleared of connective tissue, and severed proximally. All branches of the distal stump that do not innervate the medial gastrocnemius muscle are severed. The distal nerve stump is inserted into a cuff lined with stainless steel stimulating wires. The calcaneus is severed, leaving a small piece of bone still attached to the Achilles tendon. Sonometric crystals and/or electrodes for electromyography can be inserted. Immobilization by metal probes in the femur and tibia prevents movement of the muscle origin. The Achilles tendon is attached to the force transducer and the loosened skin is pulled up at the sides to form a container that is filled with warmed paraffin oil. The oil distributes heat evenly and minimizes evaporative heat loss. A heat lamp is directed on the muscle, and the muscle and rat are allowed to warm up to 37°C. While it is warming, maximal voltage and optimal length can be determined. These are important initial conditions for any experiment on intact whole muscle. The experiment may include determination of standard contractile properties, like the force-frequency relationship, force-length relationship, and force-velocity relationship. With care in surgical isolation, immobilization of the origin of the muscle and alignment of the muscle-tendon unit with the force transducer, and proper data analysis, high quality measurements can be obtained with this muscle preparation.
Physiology, Issue 56, physiological preparation, contractile properties, force-frequency relationship, force-length relationship
3167
Proprioception and Tension Receptors in Crab Limbs: Student Laboratory Exercises
Institutions: University of Kentucky, University of Kentucky, University of Oregon.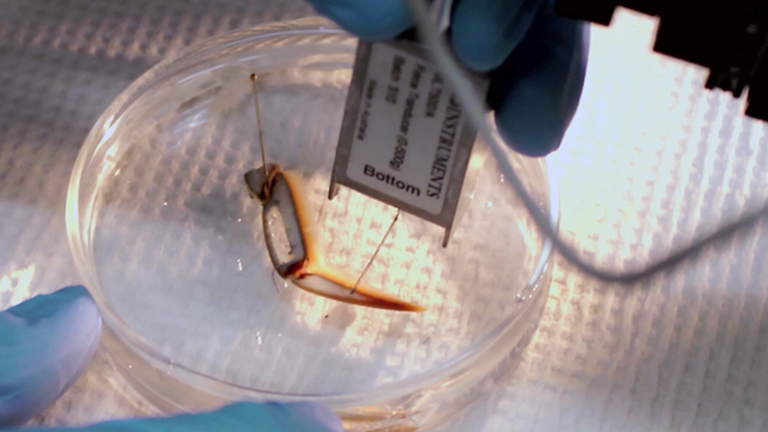 The primary purpose of these procedures is to demonstrate for teaching and research purposes how to record the activity of living primary sensory neurons responsible for proprioception as they are detecting joint position and movement, and muscle tension. Electrical activity from crustacean proprioceptors and tension receptors is recorded by basic neurophysiological instrumentation, and a transducer is used to simultaneously measure force that is generated by stimulating a motor nerve. In addition, we demonstrate how to stain the neurons for a quick assessment of their anatomical arrangement or for permanent fixation. Staining reveals anatomical organization that is representative of chordotonal organs in most crustaceans. Comparing the tension nerve responses to the proprioceptive responses is an effective teaching tool in determining how these sensory neurons are defined functionally and how the anatomy is correlated to the function. Three staining techniques are presented allowing researchers and instructors to choose a method that is ideal for their laboratory.
Neuroscience, Issue 80, Crustacean, joint, Muscle, sensory, teaching, educational, neuroscience
51050
Bladder Smooth Muscle Strip Contractility as a Method to Evaluate Lower Urinary Tract Pharmacology
Institutions: University of Pittsburgh School of Medicine, University of Pittsburgh School of Medicine.

We describe an
in vitro
method to measure bladder smooth muscle contractility, and its use for investigating physiological and pharmacological properties of the smooth muscle as well as changes induced by pathology. This method provides critical information for understanding bladder function while overcoming major methodological difficulties encountered in
in vivo
experiments, such as surgical and pharmacological manipulations that affect stability and survival of the preparations, the use of human tissue, and/or the use of expensive chemicals. It also provides a way to investigate the properties of each bladder component (
i.e.
smooth muscle, mucosa, nerves) in healthy and pathological conditions. The urinary bladder is removed from an anesthetized animal, placed in Krebs solution and cut into strips. Strips are placed into a chamber filled with warm Krebs solution. One end is attached to an isometric tension transducer to measure contraction force, the other end is attached to a fixed rod. Tissue is stimulated by directly adding compounds to the bath or by electric field stimulation electrodes that activate nerves, similar to triggering bladder contractions
in vivo
. We demonstrate the use of this method to evaluate spontaneous smooth muscle contractility during development and after an experimental spinal cord injury, the nature of neurotransmission (transmitters and receptors involved), factors involved in modulation of smooth muscle activity, the role of individual bladder components, and species and organ differences in response to pharmacological agents. Additionally, it could be used for investigating intracellular pathways involved in contraction and/or relaxation of the smooth muscle, drug structure-activity relationships and evaluation of transmitter release. The
in vitro
smooth muscle contractility method has been used extensively for over 50 years, and has provided data that significantly contributed to our understanding of bladder function as well as to pharmaceutical development of compounds currently used clinically for bladder management.
Medicine, Issue 90, Krebs, species differences, in vitro, smooth muscle contractility, neural stimulation
51807
Membrane Potentials, Synaptic Responses, Neuronal Circuitry, Neuromodulation and Muscle Histology Using the Crayfish: Student Laboratory Exercises
Institutions: University of Kentucky, University of Toronto.

The purpose of this report is to help develop an understanding of the effects caused by ion gradients across a biological membrane. Two aspects that influence a cell's membrane potential and which we address in these experiments are: (1) Ion concentration of K
+
on the outside of the membrane, and (2) the permeability of the membrane to specific ions. The crayfish abdominal extensor muscles are in groupings with some being tonic (slow) and others phasic (fast) in their biochemical and physiological phenotypes, as well as in their structure; the motor neurons that innervate these muscles are correspondingly different in functional characteristics. We use these muscles as well as the superficial, tonic abdominal flexor muscle to demonstrate properties in synaptic transmission. In addition, we introduce a sensory-CNS-motor neuron-muscle circuit to demonstrate the effect of cuticular sensory stimulation as well as the influence of neuromodulators on certain aspects of the circuit. With the techniques obtained in this exercise, one can begin to answer many questions remaining in other experimental preparations as well as in physiological applications related to medicine and health. We have demonstrated the usefulness of model invertebrate preparations to address fundamental questions pertinent to all animals.
Neuroscience, Issue 47, Invertebrate, Crayfish, neurophysiology, muscle, anatomy, electrophysiology
2322
Utilizing Transcranial Magnetic Stimulation to Study the Human Neuromuscular System
Institutions: Ohio University.

Transcranial magnetic stimulation (TMS) has been in use for more than 20 years
1
, and has grown exponentially in popularity over the past decade. While the use of TMS has expanded to the study of many systems and processes during this time, the original application and perhaps one of the most common uses of TMS involves studying the physiology, plasticity and function of the human neuromuscular system. Single pulse TMS applied to the motor cortex excites pyramidal neurons transsynaptically
2
(Figure 1) and results in a measurable electromyographic response that can be used to study and evaluate the integrity and excitability of the corticospinal tract in humans
3
. Additionally, recent advances in magnetic stimulation now allows for partitioning of cortical versus spinal excitability
4,5
. For example, paired-pulse TMS can be used to assess intracortical facilitatory and inhibitory properties by combining a conditioning stimulus and a test stimulus at different interstimulus intervals
3,4,6-8
. In this video article we will demonstrate the methodological and technical aspects of these techniques. Specifically, we will demonstrate single-pulse and paired-pulse TMS techniques as applied to the flexor carpi radialis (FCR) muscle as well as the erector spinae (ES) musculature. Our laboratory studies the FCR muscle as it is of interest to our research on the effects of wrist-hand cast immobilization on reduced muscle performance
6,9
, and we study the ES muscles due to these muscles clinical relevance as it relates to low back pain
8
. With this stated, we should note that TMS has been used to study many muscles of the hand, arm and legs, and should iterate that our demonstrations in the FCR and ES muscle groups are only selected examples of TMS being used to study the human neuromuscular system.
Medicine, Issue 59, neuroscience, muscle, electromyography, physiology, TMS, strength, motor control. sarcopenia, dynapenia, lumbar
3387
Nanomanipulation of Single RNA Molecules by Optical Tweezers
Institutions: University at Albany, State University of New York, University at Albany, State University of New York, University at Albany, State University of New York, University at Albany, State University of New York, University at Albany, State University of New York.

A large portion of the human genome is transcribed but not translated. In this post genomic era, regulatory functions of RNA have been shown to be increasingly important. As RNA function often depends on its ability to adopt alternative structures, it is difficult to predict RNA three-dimensional structures directly from sequence. Single-molecule approaches show potentials to solve the problem of RNA structural polymorphism by monitoring molecular structures one molecule at a time. This work presents a method to precisely manipulate the folding and structure of single RNA molecules using optical tweezers. First, methods to synthesize molecules suitable for single-molecule mechanical work are described. Next, various calibration procedures to ensure the proper operations of the optical tweezers are discussed. Next, various experiments are explained. To demonstrate the utility of the technique, results of mechanically unfolding RNA hairpins and a single RNA kissing complex are used as evidence. In these examples, the nanomanipulation technique was used to study folding of each structural domain, including secondary and tertiary, independently. Lastly, the limitations and future applications of the method are discussed.
Bioengineering, Issue 90, RNA folding, single-molecule, optical tweezers, nanomanipulation, RNA secondary structure, RNA tertiary structure
51542
Ex Vivo Assessment of Contractility, Fatigability and Alternans in Isolated Skeletal Muscles
Institutions: UMDNJ-Robert Wood Johnson Medical School, University of Missouri-Kansas City, Ohio State University .

Described here is a method to measure contractility of isolated skeletal muscles. Parameters such as muscle force, muscle power, contractile kinetics, fatigability, and recovery after fatigue can be obtained to assess specific aspects of the excitation-contraction coupling (ECC) process such as excitability, contractile machinery and Ca
2+
handling ability. This method removes the nerve and blood supply and focuses on the isolated skeletal muscle itself. We routinely use this method to identify genetic components that alter the contractile property of skeletal muscle though modulating Ca
2+
signaling pathways. Here, we describe a newly identified skeletal muscle phenotype,
i.e.
, mechanic alternans, as an example of the various and rich information that can be obtained using the
in vitro
muscle contractility assay. Combination of this assay with single cell assays, genetic approaches and biochemistry assays can provide important insights into the mechanisms of ECC in skeletal muscle.
Physiology, Issue 69, extensor digitorum longus, soleus, in vitro contractility, calcium signaling, muscle-tendon complex, mechanic alternans
4198
Modeling Biological Membranes with Circuit Boards and Measuring Electrical Signals in Axons: Student Laboratory Exercises
Institutions: University of Kentucky, University of Toronto.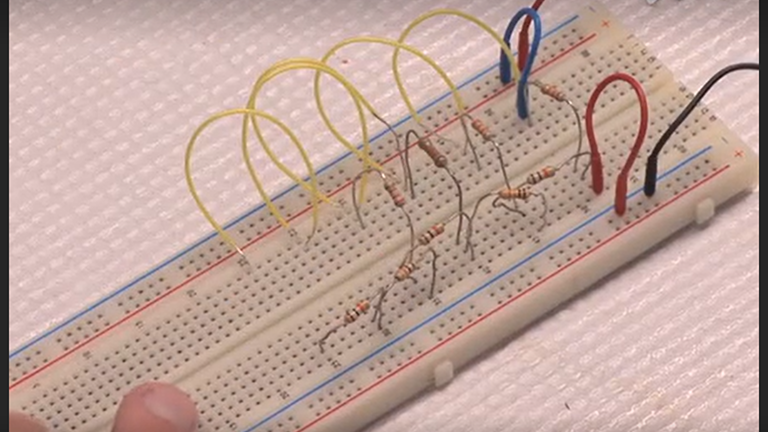 This is a demonstration of how electrical models can be used to characterize biological membranes. This exercise also introduces biophysical terminology used in electrophysiology. The same equipment is used in the membrane model as on live preparations. Some properties of an isolated nerve cord are investigated: nerve action potentials, recruitment of neurons, and responsiveness of the nerve cord to environmental factors.
Basic Protocols, Issue 47, Invertebrate, Crayfish, Modeling, Student laboratory, Nerve cord
2325
Using Eye Movements to Evaluate the Cognitive Processes Involved in Text Comprehension
Institutions: University of Illinois at Chicago.

The present article describes how to use eye tracking methodologies to study the cognitive processes involved in text comprehension. Measuring eye movements during reading is one of the most precise methods for measuring moment-by-moment (online) processing demands during text comprehension. Cognitive processing demands are reflected by several aspects of eye movement behavior, such as fixation duration, number of fixations, and number of regressions (returning to prior parts of a text). Important properties of eye tracking equipment that researchers need to consider are described, including how frequently the eye position is measured (sampling rate), accuracy of determining eye position, how much head movement is allowed, and ease of use. Also described are properties of stimuli that influence eye movements that need to be controlled in studies of text comprehension, such as the position, frequency, and length of target words. Procedural recommendations related to preparing the participant, setting up and calibrating the equipment, and running a study are given. Representative results are presented to illustrate how data can be evaluated. Although the methodology is described in terms of reading comprehension, much of the information presented can be applied to any study in which participants read verbal stimuli.
Behavior, Issue 83, Eye movements, Eye tracking, Text comprehension, Reading, Cognition
50780
Characterization of Complex Systems Using the Design of Experiments Approach: Transient Protein Expression in Tobacco as a Case Study
Institutions: RWTH Aachen University, Fraunhofer Gesellschaft.

Plants provide multiple benefits for the production of biopharmaceuticals including low costs, scalability, and safety. Transient expression offers the additional advantage of short development and production times, but expression levels can vary significantly between batches thus giving rise to regulatory concerns in the context of good manufacturing practice. We used a design of experiments (DoE) approach to determine the impact of major factors such as regulatory elements in the expression construct, plant growth and development parameters, and the incubation conditions during expression, on the variability of expression between batches. We tested plants expressing a model anti-HIV monoclonal antibody (2G12) and a fluorescent marker protein (DsRed). We discuss the rationale for selecting certain properties of the model and identify its potential limitations. The general approach can easily be transferred to other problems because the principles of the model are broadly applicable: knowledge-based parameter selection, complexity reduction by splitting the initial problem into smaller modules, software-guided setup of optimal experiment combinations and step-wise design augmentation. Therefore, the methodology is not only useful for characterizing protein expression in plants but also for the investigation of other complex systems lacking a mechanistic description. The predictive equations describing the interconnectivity between parameters can be used to establish mechanistic models for other complex systems.
Bioengineering, Issue 83, design of experiments (DoE), transient protein expression, plant-derived biopharmaceuticals, promoter, 5'UTR, fluorescent reporter protein, model building, incubation conditions, monoclonal antibody
51216
Preparation of DNA-crosslinked Polyacrylamide Hydrogels
Institutions: JFK Medical Center, Rutgers University, Rutgers University.

Mechanobiology is an emerging scientific area that addresses the critical role of physical cues in directing cell morphology and function. For example, the effect of tissue elasticity on cell function is a major area of mechanobiology research because tissue stiffness modulates with disease, development, and injury. Static tissue-mimicking materials, or materials that cannot alter stiffness once cells are plated, are predominately used to investigate the effects of tissue stiffness on cell functions. While information gathered from static studies is valuable, these studies are not indicative of the dynamic nature of the cellular microenvironment
in vivo
. To better address the effects of dynamic stiffness on cell function, we developed a DNA-crosslinked polyacrylamide hydrogel system (DNA gels). Unlike other dynamic substrates, DNA gels have the ability to decrease or increase in stiffness after fabrication without stimuli. DNA gels consist of DNA crosslinks that are polymerized into a polyacrylamide backbone. Adding and removing crosslinks via delivery of single-stranded DNA allows temporal, spatial, and reversible control of gel elasticity. We have shown in previous reports that dynamic modulation of DNA gel elasticity influences fibroblast and neuron behavior. In this report and video, we provide a schematic that describes the DNA gel crosslinking mechanisms and step-by-step instructions on the preparation DNA gels.
Bioengineering, Issue 90, bioengineering (general), Elastic, viscoelastic, bis-acrylamide, substrate, stiffness, dynamic, static, neuron, fibroblast, compliance, ECM, mechanobiology, tunable
51323
Single-unit In vivo Recordings from the Optic Chiasm of Rat
Institutions: Boston University.

Information about the visual world is transmitted to the brain in sequences of action potentials in retinal ganglion cell axons that make up the optic nerve.
In vivo
recordings of ganglion cell spike trains in several animal models have revealed much of what is known about how the early visual system processes and encodes visual information. However, such recordings have been rare in one of the most common animal models, the rat, possibly owing to difficulty in detecting spikes fired by small diameter axons. The many retinal disease models involving rats motivate a need for characterizing the functional properties of ganglion cells without disturbing the eye, as with intraocular or
in vitro
recordings. Here, we demonstrate a method for recording ganglion cell spike trains from the optic chiasm of the anesthetized rat. We first show how to fabricate tungsten-in-glass electrodes that can pick up electrical activity from single ganglion cell axons in rat. The electrodes outperform all commercial ones that we have tried. We then illustrate our custom-designed stereotaxic system for
in vivo
visual neurophysiology experiments and our procedures for animal preparation and reliable and stable electrode placement in the optic chiasm.
JoVE Neuroscience, Issue 38, retina, optic chiasm, tungsten electrodes, spike trains
1887
A Novel RFP Reporter to Aid in the Visualization of the Eye Imaginal Disc in Drosophila
Institutions: King's College London.

The
Drosophila
eye is a powerful model system for studying areas such as neurogenesis, signal transduction and neurodegeneration. Many of the discoveries made using this system have taken advantage of the spatiotemporal nature of photoreceptor differentiation in the developing eye imaginal disc. To use this system it is first necessary for the researcher to learn to identify and dissect the eye disc. We describe a novel RFP reporter to aid in the identification of the eye disc and the visualization of specific cell types in the developing eye. We detail a methodology for dissection of the eye imaginal disc from third instar larvae and describe how the eye-RFP reporter can aid in this dissection. This eye-RFP reporter is only expressed in the eye and can be visualized using fluorescence microscopy either in live tissue or after fixation without the need for signal amplification. We also show how this reporter can be used to identify specific cells types within the eye disc. This protocol and the use of the eye-RFP reporter will aid researchers using the
Drosophila
eye to address fundamentally important biological questions.
Cellular Biology, Issue 34, fluorescence microscopy, Drosophila, eye, RFP, dissection, imaginal disc
1617