Lensless Fluorescent Microscopy on a Chip
Published: 08-17-2011
ABSTRACT
On-chip lensless imaging in general aims to replace bulky lens-based optical microscopes with simpler and more compact designs, especially for high-throughput screening applications. This emerging technology platform has the potential to eliminate the need for bulky and/or costly optical components through the help of novel theories and digital reconstruction algorithms. Along the same lines, here we demonstrate an on-chip fluorescent microscopy modality that can achieve e.g., <4μm spatial resolution over an ultra-wide field-of-view (FOV) of >0.6-8 cm2 without the use of any lenses, mechanical-scanning or thin-film based interference filters. In this technique, fluorescent excitation is achieved through a prism or hemispherical-glass interface illuminated by an incoherent source. After interacting with the entire object volume, this excitation light is rejected by total-internal-reflection (TIR) process that is occurring at the bottom of the sample micro-fluidic chip. The fluorescent emission from the excited objects is then collected by a fiber-optic faceplate or a taper and is delivered to an optoelectronic sensor array such as a charge-coupled-device (CCD). By using a compressive-sampling based decoding algorithm, the acquired lensfree raw fluorescent images of the sample can be rapidly processed to yield e.g., <4μm resolution over an FOV of >0.6-8 cm2. Moreover, vertically stacked micro-channels that are separated by e.g., 50-100 μm can also be successfully imaged using the same lensfree on-chip microscopy platform, which further increases the overall throughput of this modality. This compact on-chip fluorescent imaging platform, with a rapid compressive decoder behind it, could be rather valuable for high-throughput cytometry, rare-cell research and microarray-analysis.
24 Related JoVE Articles!
Design, Fabrication, and Experimental Characterization of Plasmonic Photoconductive Terahertz Emitters
Institutions: University of Michigan .

In this video article we present a detailed demonstration of a highly efficient method for generating terahertz waves. Our technique is based on photoconduction, which has been one of the most commonly used techniques for terahertz generation
1-8
. Terahertz generation in a photoconductive emitter is achieved by pumping an ultrafast photoconductor with a pulsed or heterodyned laser illumination. The induced photocurrent, which follows the envelope of the pump laser, is routed to a terahertz radiating antenna connected to the photoconductor contact electrodes to generate terahertz radiation. Although the quantum efficiency of a photoconductive emitter can theoretically reach 100%, the relatively long transport path lengths of photo-generated carriers to the contact electrodes of conventional photoconductors have severely limited their quantum efficiency. Additionally, the carrier screening effect and thermal breakdown strictly limit the maximum output power of conventional photoconductive terahertz sources. To address the quantum efficiency limitations of conventional photoconductive terahertz emitters, we have developed a new photoconductive emitter concept which incorporates a plasmonic contact electrode configuration to offer high quantum-efficiency and ultrafast operation simultaneously. By using nano-scale plasmonic contact electrodes, we significantly reduce the average photo-generated carrier transport path to photoconductor contact electrodes compared to conventional photoconductors
9
. Our method also allows increasing photoconductor active area without a considerable increase in the capacitive loading to the antenna, boosting the maximum terahertz radiation power by preventing the carrier screening effect and thermal breakdown at high optical pump powers. By incorporating plasmonic contact electrodes, we demonstrate enhancing the optical-to-terahertz power conversion efficiency of a conventional photoconductive terahertz emitter by a factor of 50
10
.
Physics, Issue 77, Electrical Engineering, Computer Science, Materials Science, Electronics and Electrical Engineering, Instrumentation and Photography, Lasers and Masers, Optics, Solid-State Physics, Terahertz, Plasmonic, Time-Domain Spectroscopy, Photoconductive Emitter, electronics
50517
Gold Nanostar Synthesis with a Silver Seed Mediated Growth Method
Institutions: The University of Texas at San Antonio, Centro de Investigaciones en Optica A. C., The University of Texas at San Antonio.
The physical, chemical and optical properties of nano-scale colloids depend on their material composition, size and shape
1-5
. There is a great interest in using nano-colloids for photo-thermal ablation, drug delivery and many other biomedical applications
6
. Gold is particularly used because of its low toxicity
7-9
. A property of metal nano-colloids is that they can have a strong surface plasmon resonance
10
. The peak of the surface plasmon resonance mode depends on the structure and composition of the metal nano-colloids. Since the surface plasmon resonance mode is stimulated with light there is a need to have the peak absorbance in the near infrared where biological tissue transmissivity is maximal
11, 12
. We present a method to synthesize star shaped colloidal gold, also known as star shaped nanoparticles
13-15
or nanostars
16
. This method is based on a solution containing silver seeds that are used as the nucleating agent for anisotropic growth of gold colloids
17-22
. Scanning electron microscopy (SEM) analysis of the resulting gold colloid showed that 70 % of the nanostructures were nanostars. The other 30 % of the particles were amorphous clusters of decahedra and rhomboids. The absorbance peak of the nanostars was detected to be in the near infrared (840 nm). Thus, our method produces gold nanostars suitable for biomedical applications, particularly for photo-thermal ablation.
Bioengineering, Issue 59, thermal ablation, surface plasmon resonance, nanoparticle, nanotechnology, silver seeds
3570
Harvesting Solar Energy by Means of Charge-Separating Nanocrystals and Their Solids
Institutions: Bowling Green State University, Bowling Green State University, Bowling Green State University.

Conjoining different semiconductor materials in a single nano-composite provides synthetic means for the development of novel optoelectronic materials offering a superior control over the spatial distribution of charge carriers across material interfaces. As this study demonstrates, a combination of donor-acceptor nanocrystal (NC) domains in a single nanoparticle can lead to the realization of efficient photocatalytic
1-5
materials, while a layered assembly of donor- and acceptor-like nanocrystals films gives rise to photovoltaic materials. Initially the paper focuses on the synthesis of composite inorganic nanocrystals, comprising linearly stacked ZnSe, CdS, and Pt domains, which jointly promote photoinduced charge separation. These structures are used in aqueous solutions for the photocatalysis of water under solar radiation, resulting in the production of H
2
gas. To enhance the photoinduced separation of charges, a nanorod morphology with a linear gradient originating from an intrinsic electric field is used
5
. The inter-domain energetics are then optimized to drive photogenerated electrons toward the Pt catalytic site while expelling the holes to the surface of ZnSe domains for sacrificial regeneration (via methanol). Here we show that the only efficient way to produce hydrogen is to use electron-donating ligands to passivate the surface states by tuning the energy level alignment at the semiconductor-ligand interface. Stable and efficient reduction of water is allowed by these ligands due to the fact that they fill vacancies in the valence band of the semiconductor domain, preventing energetic holes from degrading it. Specifically, we show that the energy of the hole is transferred to the ligand moiety, leaving the semiconductor domain functional. This enables us to return the entire nanocrystal-ligand system to a functional state, when the ligands are degraded, by simply adding fresh ligands to the system
4
. To promote a photovoltaic charge separation, we use a composite two-layer solid of PbS and TiO
2
films. In this configuration, photoinduced electrons are injected into TiO
2
and are subsequently picked up by an FTO electrode, while holes are channeled to a Au electrode via PbS layer
6
. To develop the latter we introduce a
Semiconductor Matrix Encapsulated Nanocrystal Arrays
(SMENA) strategy, which allows bonding PbS NCs into the surrounding matrix of CdS semiconductor. As a result, fabricated solids exhibit excellent thermal stability, attributed to the heteroepitaxial structure of nanocrystal-matrix interfaces, and show compelling light-harvesting performance in prototype solar cells
7
.
Physics, Issue 66, Materials Science, Chemical Engineering, Chemistry, Electrical Engineering, Photovoltaics, nanorods, dye-sensitized, solids, titanium dioxide, photocatalysis, quantum dots
4296
Electricity-Free, Sequential Nucleic Acid and Protein Isolation
Institutions: CUBRC, Inc., State University of New York at Buffalo, School of Medicine and Biomedical Sciences.

Traditional and emerging pathogens such as Enterohemorrhagic
Escherichia coli
(EHEC),
Yersinia pestis,
or prion-based diseases are of significant concern for governments, industries and medical professionals worldwide. For example, EHECs, combined with
Shigella
, are responsible for the deaths of approximately 325,000 children each year and are particularly prevalent in the developing world where laboratory-based identification, common in the United States, is unavailable
1
. The development and distribution of low cost, field-based, point-of-care tools to aid in the rapid identification and/or diagnosis of pathogens or disease markers could dramatically alter disease progression and patient prognosis. We have developed a tool to isolate nucleic acids and proteins from a sample by solid-phase extraction (SPE) without electricity or associated laboratory equipment
2
. The isolated macromolecules can be used for diagnosis either in a forward lab or using field-based point-of-care platforms. Importantly, this method provides for the direct comparison of nucleic acid and protein data from an un-split sample, offering a confidence through corroboration of genomic and proteomic analysis. Our isolation tool utilizes the industry standard for solid-phase nucleic acid isolation, the BOOM technology, which isolates nucleic acids from a chaotropic salt solution, usually guanidine isothiocyanate, through binding to silica-based particles or filters
3
. CUBRC's proprietary solid-phase extraction chemistry is used to purify protein from chaotropic salt solutions, in this case, from the waste or flow-thru following nucleic acid isolation
4
. By packaging well-characterized chemistries into a small, inexpensive and simple platform, we have generated a portable system for nucleic acid and protein extraction that can be performed under a variety of conditions. The isolated nucleic acids are stable and can be transported to a position where power is available for PCR amplification while the protein content can immediately be analyzed by hand held or other immunological-based assays. The rapid identification of disease markers in the field could significantly alter the patient's outcome by directing the proper course of treatment at an earlier stage of disease progression. The tool and method described are suitable for use with virtually any infectious agent and offer the user the redundancy of multi-macromolecule type analyses while simultaneously reducing their logistical burden.
Chemistry, Issue 63, Solid phase extraction, nucleic acid, protein, isolation, silica, Guanidine thiocyanate, isopropanol, remote, DTRA
4202
Real-time Monitoring of Ligand-receptor Interactions with Fluorescence Resonance Energy Transfer
Institutions: Southern Illinois University.

FRET is a process whereby energy is non-radiatively transferred from an excited donor molecule to a ground-state acceptor molecule through long-range dipole-dipole interactions
1
. In the present sensing assay, we utilize an interesting property of PDA: blue-shift in the UV-Vis electronic absorption spectrum of PDA (
Figure 1
) after an analyte interacts with receptors attached to PDA
2,3,4,7
. This shift in the PDA absorption spectrum provides changes in the spectral overlap (
J
) between PDA (acceptor) and rhodamine (donor) that leads to changes in the FRET efficiency. Thus, the interactions between analyte (ligand) and receptors are detected through FRET between donor fluorophores and PDA. In particular, we show the sensing of a model protein molecule streptavidin. We also demonstrate the covalent-binding of bovine serum albumin (BSA) to the liposome surface with FRET mechanism. These interactions between the bilayer liposomes and protein molecules can be sensed in real-time. The proposed method is a general method for sensing small chemical and large biochemical molecules. Since fluorescence is intrinsically more sensitive than colorimetry, the detection limit of the assay can be in sub-nanomolar range or lower
8
. Further, PDA can act as a universal acceptor in FRET, which means that multiple sensors can be developed with PDA (acceptor) functionalized with donors and different receptors attached on the surface of PDA liposomes.
Biochemistry, Issue 66, Molecular Biology, Chemistry, Physics, Fluorescence Resonance Energy Transfer (FRET), Polydiacetylene (PDA), Biosensor, Liposome, Sensing
3805
Hyperpolarized Xenon for NMR and MRI Applications
Institutions: Leibniz-Institut für Molekulare Pharmakologie.

Nuclear magnetic resonance (NMR) spectroscopy and imaging (MRI) suffer from intrinsic low sensitivity because even strong external magnetic fields of ~10 T generate only a small detectable net-magnetization of the sample at room temperature
1
. Hence, most NMR and MRI applications rely on the detection of molecules at relative high concentration (
e.g.
, water for imaging of biological tissue) or require excessive acquisition times. This limits our ability to exploit the very useful molecular specificity of NMR signals for many biochemical and medical applications. However, novel approaches have emerged in the past few years: Manipulation of the detected spin species prior to detection inside the NMR/MRI magnet can dramatically increase the magnetization and therefore allows detection of molecules at much lower concentration
2
. Here, we present a method for polarization of a xenon gas mixture (2-5% Xe, 10% N
2
, He balance) in a compact setup with a ca. 16000-fold signal enhancement. Modern line-narrowed diode lasers allow efficient polarization
7
and immediate use of gas mixture even if the noble gas is not separated from the other components. The SEOP apparatus is explained and determination of the achieved spin polarization is demonstrated for performance control of the method. The hyperpolarized gas can be used for void space imaging, including gas flow imaging or diffusion studies at the interfaces with other materials
8,9
. Moreover, the Xe NMR signal is extremely sensitive to its molecular environment
6
. This enables the option to use it as an NMR/MRI contrast agent when dissolved in aqueous solution with functionalized molecular hosts that temporarily trap the gas
10,11
. Direct detection and high-sensitivity indirect detection of such constructs is demonstrated in both spectroscopic and imaging mode.
Physics, Issue 67, NMR, MRI, hyperpolarization, optical pumping, SEOP, xenon, molecular imaging, biosensor
4268
Construction and Characterization of External Cavity Diode Lasers for Atomic Physics
Institutions: The Australian National University.

Since their development in the late 1980s, cheap, reliable external cavity diode lasers (ECDLs) have replaced complex and expensive traditional dye and Titanium Sapphire lasers as the workhorse laser of atomic physics labs
1,2
. Their versatility and prolific use throughout atomic physics in applications such as absorption spectroscopy and laser cooling
1,2
makes it imperative for incoming students to gain a firm practical understanding of these lasers. This publication builds upon the seminal work by Wieman
3
, updating components, and providing a video tutorial. The setup, frequency locking and performance characterization of an ECDL will be described. Discussion of component selection and proper mounting of both diodes and gratings, the factors affecting mode selection within the cavity, proper alignment for optimal external feedback, optics setup for coarse and fine frequency sensitive measurements, a brief overview of laser locking techniques, and laser linewidth measurements are included.
Physics, Issue 86, External Cavity Diode Laser, atomic spectroscopy, laser cooling, Bose-Einstein condensation, Zeeman modulation
51184
Quasi-light Storage for Optical Data Packets
Institutions: Hochschule für Telekommunikation, Leipzig.

Today's telecommunication is based on optical packets which transmit the information in optical fiber networks around the world. Currently, the processing of the signals is done in the electrical domain. Direct storage in the optical domain would avoid the transfer of the packets to the electrical and back to the optical domain in every network node and, therefore, increase the speed and possibly reduce the energy consumption of telecommunications. However, light consists of photons which propagate with the speed of light in vacuum. Thus, the storage of light is a big challenge. There exist some methods to slow down the speed of the light, or to store it in excitations of a medium. However, these methods cannot be used for the storage of optical data packets used in telecommunications networks. Here we show how the time-frequency-coherence, which holds for every signal and therefore for optical packets as well, can be exploited to build an optical memory. We will review the background and show in detail and through examples, how a frequency comb can be used for the copying of an optical packet which enters the memory. One of these time domain copies is then extracted from the memory by a time domain switch. We will show this method for intensity as well as for phase modulated signals.
Physics, Issue 84, optical communications, Optical Light Storage, stimulated Brillouin scattering, Optical Signal Processing, optical data packets, telecommunications
50468
Gradient Echo Quantum Memory in Warm Atomic Vapor
Institutions: The Australian National University.

Gradient echo memory (GEM) is a protocol for storing optical quantum states of light in atomic ensembles. The primary motivation for such a technology is that quantum key distribution (QKD), which uses Heisenberg uncertainty to guarantee security of cryptographic keys, is limited in transmission distance. The development of a quantum repeater is a possible path to extend QKD range, but a repeater will need a quantum memory. In our experiments we use a gas of rubidium 87 vapor that is contained in a warm gas cell. This makes the scheme particularly simple. It is also a highly versatile scheme that enables in-memory refinement of the stored state, such as frequency shifting and bandwidth manipulation. The basis of the GEM protocol is to absorb the light into an ensemble of atoms that has been prepared in a magnetic field gradient. The reversal of this gradient leads to rephasing of the atomic polarization and thus recall of the stored optical state. We will outline how we prepare the atoms and this gradient and also describe some of the pitfalls that need to be avoided, in particular four-wave mixing, which can give rise to optical gain.
Physics, Issue 81, quantum memory, photon echo, rubidium vapor, gas cell, optical memory, gradient echo memory (GEM)
50552
Seeded Synthesis of CdSe/CdS Rod and Tetrapod Nanocrystals
Institutions: UC Berkeley, UC Berkeley, UC Berkeley, Lawrence Berkeley National Laboratory, University of Chicago, Argonne National Laboratory.

We demonstrate a method for the synthesis of multicomponent nanostructures consisting of CdS and CdSe with rod and tetrapod morphologies. A seeded synthesis strategy is used in which spherical seeds of CdSe are prepared first using a hot-injection technique. By controlling the crystal structure of the seed to be either wurtzite or zinc-blende, the subsequent hot-injection growth of CdS off of the seed results in either a rod-shaped or tetrapod-shaped nanocrystal, respectively. The phase and morphology of the synthesized nanocrystals are confirmed using X-ray diffraction and transmission electron microscopy, demonstrating that the nanocrystals are phase-pure and have a consistent morphology. The extinction coefficient and quantum yield of the synthesized nanocrystals are calculated using UV-Vis absorption spectroscopy and photoluminescence spectroscopy. The rods and tetrapods exhibit extinction coefficients and quantum yields that are higher than that of the bare seeds. This synthesis demonstrates the precise arrangement of materials that can be achieved at the nanoscale by using a seeded synthetic approach.
Chemistry, Issue 82, nanostructures, synthesis, nanocrystals, seeded rods, tetrapods, nanoheterostructures
50731
Absolute Quantum Yield Measurement of Powder Samples
Institutions: Hitachi High Technologies America.

Measurement of fluorescence quantum yield has become an important tool in the search for new solutions in the development, evaluation, quality control and research of illumination, AV equipment, organic EL material, films, filters and fluorescent probes for bio-industry. Quantum yield is calculated as the ratio of the number of photons absorbed, to the number of photons emitted by a material. The higher the quantum yield, the better the efficiency of the fluorescent material. For the measurements featured in this video, we will use the Hitachi F-7000 fluorescence spectrophotometer equipped with the Quantum Yield measuring accessory and Report Generator program. All the information provided applies to this system. Measurement of quantum yield in powder samples is performed following these steps: Generation of instrument correction factors for the excitation and emission monochromators. This is an important requirement for the correct measurement of quantum yield. It has been performed in advance for the full measurement range of the instrument and will not be shown in this video due to time limitations. Measurement of integrating sphere correction factors. The purpose of this step is to take into consideration reflectivity characteristics of the integrating sphere used for the measurements. Reference and Sample measurement using direct excitation and indirect excitation. Quantum Yield calculation using Direct and Indirect excitation. Direct excitation is when the sample is facing directly the excitation beam, which would be the normal measurement setup. However, because we use an integrating sphere, a portion of the emitted photons resulting from the sample fluorescence are reflected by the integrating sphere and will re-excite the sample, so we need to take into consideration indirect excitation. This is accomplished by measuring the sample placed in the port facing the emission monochromator, calculating indirect quantum yield and correcting the direct quantum yield calculation. Corrected quantum yield calculation. Chromaticity coordinates calculation using Report Generator program. The Hitachi F-7000 Quantum Yield Measurement System offer advantages for this application, as follows: High sensitivity (S/N ratio 800 or better RMS). Signal is the Raman band of water measured under the following conditions: Ex wavelength 350 nm, band pass Ex and Em 5 nm, response 2 sec), noise is measured at the maximum of the Raman peak. High sensitivity allows measurement of samples even with low quantum yield. Using this system we have measured quantum yields as low as 0.1 for a sample of salicylic acid and as high as 0.8 for a sample of magnesium tungstate. Highly accurate measurement with a dynamic range of 6 orders of magnitude allows for measurements of both sharp scattering peaks with high intensity, as well as broad fluorescence peaks of low intensity under the same conditions. High measuring throughput and reduced light exposure to the sample, due to a high scanning speed of up to 60,000 nm/minute and automatic shutter function. Measurement of quantum yield over a wide wavelength range from 240 to 800 nm. Accurate quantum yield measurements are the result of collecting instrument spectral response and integrating sphere correction factors before measuring the sample. Large selection of calculated parameters provided by dedicated and easy to use software. During this video we will measure sodium salicylate in powder form which is known to have a quantum yield value of 0.4 to 0.5.
Molecular Biology, Issue 63, Powders, Quantum, Yield, F-7000, Quantum Yield, phosphor, chromaticity, Photo-luminescence
3066
Utilization of Plasmonic and Photonic Crystal Nanostructures for Enhanced Micro- and Nanoparticle Manipulation
Institutions: University of Washington, Fred Hutchinson Cancer Research Center , University of Washington, Fred Hutchinson Cancer Research Center , Fred Hutchinson Cancer Research Center .

A method to manipulate the position and orientation of submicron particles nondestructively would be an incredibly useful tool for basic biological research. Perhaps the most widely used physical force to achieve noninvasive manipulation of small particles has been dielectrophoresis(DEP).
1
However, DEP on its own lacks the versatility and precision that are desired when manipulating cells since it is traditionally done with stationary electrodes. Optical tweezers, which utilize a three dimensional electromagnetic field gradient to exert forces on small particles, achieve this desired versatility and precision.
2
However, a major drawback of this approach is the high radiation intensity required to achieve the necessary force to trap a particle which can damage biological samples.
3
A solution that allows trapping and sorting with lower optical intensities are optoelectronic tweezers (OET) but OET's have limitations with fine manipulation of small particles; being DEP-based technology also puts constraint on the property of the solution.
4,5
This video article will describe two methods that decrease the intensity of the radiation needed for optical manipulation of living cells and also describe a method for orientation control. The first method is plasmonic tweezers which use a random gold nanoparticle (AuNP) array as a substrate for the sample as shown in Figure 1. The AuNP array converts the incident photons into localized surface plasmons (LSP) which consist of resonant dipole moments that radiate and generate a patterned radiation field with a large gradient in the cell solution. Initial work on surface plasmon enhanced trapping by Righini et al and our own modeling have shown the fields generated by the plasmonic substrate reduce the initial intensity required by enhancing the gradient field that traps the particle.
6,7,8
The plasmonic approach allows for fine orientation control of ellipsoidal particles and cells with low optical intensities because of more efficient optical energy conversion into mechanical energy and a dipole-dependent radiation field. These fields are shown in figure 2 and the low trapping intensities are detailed in figures 4 and 5. The main problems with plasmonic tweezers are that the LSP's generate a considerable amount of heat and the trapping is only two dimensional. This heat generates convective flows and thermophoresis which can be powerful enough to expel submicron particles from the trap.
9,10
The second approach that we will describe is utilizing periodic dielectric nanostructures to scatter incident light very efficiently into diffraction modes, as shown in figure 6.
11
Ideally, one would make this structure out of a dielectric material to avoid the same heating problems experienced with the plasmonic tweezers but in our approach an aluminum-coated diffraction grating is used as a one-dimensional periodic dielectric nanostructure. Although it is not a semiconductor, it did not experience significant heating and effectively trapped small particles with low trapping intensities, as shown in figure 7. Alignment of particles with the grating substrate conceptually validates the proposition that a 2-D photonic crystal could allow precise rotation of non-spherical micron sized particles.
10
The efficiencies of these optical traps are increased due to the enhanced fields produced by the nanostructures described in this paper.
Bioengineering, Issue 55, Surface plasmon, optical trapping, optical tweezers, plasmonic trapping, cell manipulation, optical manipulation
3390
Integrating a Triplet-triplet Annihilation Up-conversion System to Enhance Dye-sensitized Solar Cell Response to Sub-bandgap Light
Institutions: The University of Wollongong, The University of Sydney, The University of New South Wales.

The poor response of dye-sensitized solar cells (DSCs) to red and infrared light is a significant impediment to the realization of higher photocurrents and hence higher efficiencies. Photon up-conversion by way of triplet-triplet annihilation (TTA-UC) is an attractive technique for using these otherwise wasted low energy photons to produce photocurrent, while not interfering with the photoanodic performance in a deleterious manner. Further to this, TTA-UC has a number of features, distinct from other reported photon up-conversion technologies, which renders it particularly suitable for coupling with DSC technology. In this work, a proven high performance TTA-UC system, comprising a palladium porphyrin sensitizer and rubrene emitter, is combined with a high performance DSC (utilizing the organic dye D149) in an integrated device. The device shows an enhanced response to sub-bandgap light over the absorption range of the TTA-UC sub-unit resulting in the highest figure of merit for up-conversion assisted DSC performance to date.
Physics, Issue 91, Third generation photovoltaics; upconversion; organic electronics; device architecture; porphyrins; photovoltaic testing
52028
Fabrication And Characterization Of Photonic Crystal Slow Light Waveguides And Cavities
Institutions: University of St Andrews.

Slow light has been one of the hot topics in the photonics community in the past decade, generating great interest both from a fundamental point of view and for its considerable potential for practical applications. Slow light photonic crystal waveguides, in particular, have played a major part and have been successfully employed for delaying optical signals
1-4
and the enhancement of both linear
5-7
and nonlinear devices.
8-11
Photonic crystal cavities achieve similar effects to that of slow light waveguides, but over a reduced band-width. These cavities offer high Q-factor/volume ratio, for the realization of optically
12
and electrically
13
pumped ultra-low threshold lasers and the enhancement of nonlinear effects.
14-16
Furthermore, passive filters
17
and modulators
18-19
have been demonstrated, exhibiting ultra-narrow line-width, high free-spectral range and record values of low energy consumption. To attain these exciting results, a robust repeatable fabrication protocol must be developed. In this paper we take an in-depth look at our fabrication protocol which employs electron-beam lithography for the definition of photonic crystal patterns and uses wet and dry etching techniques. Our optimised fabrication recipe results in photonic crystals that do not suffer from vertical asymmetry and exhibit very good edge-wall roughness. We discuss the results of varying the etching parameters and the detrimental effects that they can have on a device, leading to a diagnostic route that can be taken to identify and eliminate similar issues. The key to evaluating slow light waveguides is the passive characterization of transmission and group index spectra. Various methods have been reported, most notably resolving the Fabry-Perot fringes of the transmission spectrum
20-21
and interferometric techniques.
22-25
Here, we describe a direct, broadband measurement technique combining spectral interferometry with Fourier transform analysis.
26
Our method stands out for its simplicity and power, as we can characterise a bare photonic crystal with access waveguides, without need for on-chip interference components, and the setup only consists of a Mach-Zehnder interferometer, with no need for moving parts and delay scans. When characterising photonic crystal cavities, techniques involving internal sources
21
or external waveguides directly coupled to the cavity
27
impact on the performance of the cavity itself, thereby distorting the measurement. Here, we describe a novel and non-intrusive technique that makes use of a cross-polarised probe beam and is known as resonant scattering (RS), where the probe is coupled out-of plane into the cavity through an objective. The technique was first demonstrated by McCutcheon
et al.28
and further developed by Galli
et al.
29
Physics, Issue 69, Optics and Photonics, Astronomy, light scattering, light transmission, optical waveguides, photonics, photonic crystals, Slow-light, Cavities, Waveguides, Silicon, SOI, Fabrication, Characterization
50216
Preparation and Use of Photocatalytically Active Segmented Ag|ZnO and Coaxial TiO2-Ag Nanowires Made by Templated Electrodeposition
Institutions: University of Twente.

Photocatalytically active nanostructures require a large specific surface area with the presence of many catalytically active sites for the oxidation and reduction half reactions, and fast electron (hole) diffusion and charge separation. Nanowires present suitable architectures to meet these requirements. Axially segmented Ag|ZnO and radially segmented (coaxial) TiO
2
-Ag nanowires with a diameter of 200 nm and a length of 6-20 µm were made by templated electrodeposition within the pores of polycarbonate track-etched (PCTE) or anodized aluminum oxide (AAO) membranes, respectively. In the photocatalytic experiments, the ZnO and TiO
2
phases acted as photoanodes, and Ag as cathode. No external circuit is needed to connect both electrodes, which is a key advantage over conventional photo-electrochemical cells. For making segmented Ag|ZnO nanowires, the Ag salt electrolyte was replaced after formation of the Ag segment to form a ZnO segment attached to the Ag segment. For making coaxial TiO
2
-Ag nanowires, a TiO
2
gel was first formed by the electrochemically induced sol-gel method. Drying and thermal annealing of the as-formed TiO
2
gel resulted in the formation of crystalline TiO
2
nanotubes. A subsequent Ag electrodeposition step inside the TiO
2
nanotubes resulted in formation of coaxial TiO
2
-Ag nanowires. Due to the combination of an
n
-type semiconductor (ZnO or TiO
2
) and a metal (Ag) within the same nanowire, a Schottky barrier was created at the interface between the phases. To demonstrate the photocatalytic activity of these nanowires, the Ag|ZnO nanowires were used in a photocatalytic experiment in which H
2
gas was detected upon UV illumination of the nanowires dispersed in a methanol/water mixture. After 17 min of illumination, approximately 0.2 vol% H
2
gas was detected from a suspension of ~0.1 g of Ag|ZnO nanowires in a 50 ml 80 vol% aqueous methanol solution.
Physics, Issue 87, Multicomponent nanowires, electrochemistry, sol-gel processes, photocatalysis, photochemistry, H2 evolution
51547
Polycrystalline Silicon Thin-film Solar cells with Plasmonic-enhanced Light-trapping
Institutions: University of New South Wales .

One of major approaches to cheaper solar cells is reducing the amount of semiconductor material used for their fabrication and making cells thinner. To compensate for lower light absorption such physically thin devices have to incorporate light-trapping which increases their optical thickness. Light scattering by textured surfaces is a common technique but it cannot be universally applied to all solar cell technologies. Some cells, for example those made of evaporated silicon, are planar as produced and they require an alternative light-trapping means suitable for planar devices. Metal nanoparticles formed on planar silicon cell surface and capable of light scattering due to surface plasmon resonance is an effective approach. The paper presents a fabrication procedure of evaporated polycrystalline silicon solar cells with plasmonic light-trapping and demonstrates how the cell quantum efficiency improves due to presence of metal nanoparticles. To fabricate the cells a film consisting of alternative boron and phosphorous doped silicon layers is deposited on glass substrate by electron beam evaporation. An Initially amorphous film is crystallised and electronic defects are mitigated by annealing and hydrogen passivation. Metal grid contacts are applied to the layers of opposite polarity to extract electricity generated by the cell. Typically, such a ~2 μm thick cell has a short-circuit current density (
Jsc
) of 14-16 mA/cm
2
, which can be increased up to 17-18 mA/cm
2
(~25% higher) after application of a simple diffuse back reflector made of a white paint. To implement plasmonic light-trapping a silver nanoparticle array is formed on the metallised cell silicon surface. A precursor silver film is deposited on the cell by thermal evaporation and annealed at 23°C to form silver nanoparticles. Nanoparticle size and coverage, which affect plasmonic light-scattering, can be tuned for enhanced cell performance by varying the precursor film thickness and its annealing conditions. An optimised nanoparticle array alone results in cell
Jsc
enhancement of about 28%, similar to the effect of the diffuse reflector. The photocurrent can be further increased by coating the nanoparticles by a low refractive index dielectric, like MgF
2
, and applying the diffused reflector. The complete plasmonic cell structure comprises the polycrystalline silicon film, a silver nanoparticle array, a layer of MgF
2
, and a diffuse reflector. The
Jsc
for such cell is 21-23 mA/cm
2
, up to 45% higher than
Jsc
of the original cell without light-trapping or ~25% higher than
Jsc
for the cell with the diffuse reflector only. Introduction Light-trapping in silicon solar cells is commonly achieved via light scattering at textured interfaces. Scattered light travels through a cell at oblique angles for a longer distance and when such angles exceed the critical angle at the cell interfaces the light is permanently trapped in the cell by total internal reflection
(Animation 1: Light-trapping)
. Although this scheme works well for most solar cells, there are developing technologies where ultra-thin Si layers are produced planar (e.g. layer-transfer technologies and epitaxial c-Si layers)
1
and or when such layers are not compatible with textures substrates (e.g. evaporated silicon)
2
. For such originally planar Si layer alternative light trapping approaches, such as diffuse white paint reflector
3
, silicon plasma texturing
4
or high refractive index nanoparticle reflector
5
have been suggested. Metal nanoparticles can effectively scatter incident light into a higher refractive index material, like silicon, due to the surface plasmon resonance effect
6
. They also can be easily formed on the planar silicon cell surface thus offering a light-trapping approach alternative to texturing. For a nanoparticle located at the air-silicon interface the scattered light fraction coupled into silicon exceeds 95% and a large faction of that light is scattered at angles above critical providing nearly ideal light-trapping condition
(Animation 2: Plasmons on NP)
. The resonance can be tuned to the wavelength region, which is most important for a particular cell material and design, by varying the nanoparticle average size, surface coverage and local dielectric environment
6,7
. Theoretical design principles of plasmonic nanoparticle solar cells have been suggested
8
. In practice, Ag nanoparticle array is an ideal light-trapping partner for poly-Si thin-film solar cells because most of these design principle are naturally met. The simplest way of forming nanoparticles by thermal annealing of a thin precursor Ag film results in a random array with a relatively wide size and shape distribution, which is particularly suitable for light-trapping because such an array has a wide resonance peak, covering the wavelength range of 700-900 nm, important for poly-Si solar cell performance. The nanoparticle array can only be located on the rear poly-Si cell surface thus avoiding destructive interference between incident and scattered light which occurs for front-located nanoparticles
9
. Moreover, poly-Si thin-film cells do not requires a passivating layer and the flat base-shaped nanoparticles (that naturally result from thermal annealing of a metal film) can be directly placed on silicon further increases plasmonic scattering efficiency due to surface plasmon-polariton resonance
10
. The cell with the plasmonic nanoparticle array as described above can have a photocurrent about 28% higher than the original cell. However, the array still transmits a significant amount of light which escapes through the rear of the cell and does not contribute into the current. This loss can be mitigated by adding a rear reflector to allow catching transmitted light and re-directing it back to the cell. Providing sufficient distance between the reflector and the nanoparticles (a few hundred nanometers) the reflected light will then experience one more plasmonic scattering event while passing through the nanoparticle array on re-entering the cell and the reflector itself can be made diffuse - both effects further facilitating light scattering and hence light-trapping. Importantly, the Ag nanoparticles have to be encapsulated with an inert and low refractive index dielectric, like MgF
2
or SiO
2
, from the rear reflector to avoid mechanical and chemical damage
7
. Low refractive index for this cladding layer is required to maintain a high coupling fraction into silicon and larger scattering angles, which are ensured by the high optical contrast between the media on both sides of the nanoparticle, silicon and dielectric
6
. The photocurrent of the plasmonic cell with the diffuse rear reflector can be up to 45% higher than the current of the original cell or up to 25% higher than the current of an equivalent cell with the diffuse reflector only.
Physics, Issue 65, Materials Science, Photovoltaics, Silicon thin-film solar cells, light-trapping, metal nanoparticles, surface plasmons
4092
Simultaneous Multicolor Imaging of Biological Structures with Fluorescence Photoactivation Localization Microscopy
Institutions: University of Maine.

Localization-based super resolution microscopy can be applied to obtain a spatial map (image) of the distribution of individual fluorescently labeled single molecules within a sample with a spatial resolution of tens of nanometers. Using either photoactivatable (PAFP) or photoswitchable (PSFP) fluorescent proteins fused to proteins of interest, or organic dyes conjugated to antibodies or other molecules of interest, fluorescence photoactivation localization microscopy (FPALM) can simultaneously image multiple species of molecules within single cells. By using the following approach, populations of large numbers (thousands to hundreds of thousands) of individual molecules are imaged in single cells and localized with a precision of ~10-30 nm. Data obtained can be applied to understanding the nanoscale spatial distributions of multiple protein types within a cell. One primary advantage of this technique is the dramatic increase in spatial resolution: while diffraction limits resolution to ~200-250 nm in conventional light microscopy, FPALM can image length scales more than an order of magnitude smaller. As many biological hypotheses concern the spatial relationships among different biomolecules, the improved resolution of FPALM can provide insight into questions of cellular organization which have previously been inaccessible to conventional fluorescence microscopy. In addition to detailing the methods for sample preparation and data acquisition, we here describe the optical setup for FPALM. One additional consideration for researchers wishing to do super-resolution microscopy is cost: in-house setups are significantly cheaper than most commercially available imaging machines. Limitations of this technique include the need for optimizing the labeling of molecules of interest within cell samples, and the need for post-processing software to visualize results. We here describe the use of PAFP and PSFP expression to image two protein species in fixed cells. Extension of the technique to living cells is also described.
Basic Protocol, Issue 82, Microscopy, Super-resolution imaging, Multicolor, single molecule, FPALM, Localization microscopy, fluorescent proteins
50680
Modeling Neural Immune Signaling of Episodic and Chronic Migraine Using Spreading Depression In Vitro
Institutions: The University of Chicago Medical Center, The University of Chicago Medical Center.

Migraine and its transformation to chronic migraine are healthcare burdens in need of improved treatment options. We seek to define how neural immune signaling modulates the susceptibility to migraine, modeled
in vitro
using spreading depression (SD), as a means to develop novel therapeutic targets for episodic and chronic migraine. SD is the likely cause of migraine aura and migraine pain. It is a paroxysmal loss of neuronal function triggered by initially increased neuronal activity, which slowly propagates within susceptible brain regions. Normal brain function is exquisitely sensitive to, and relies on, coincident low-level immune signaling. Thus, neural immune signaling likely affects electrical activity of SD, and therefore migraine. Pain perception studies of SD in whole animals are fraught with difficulties, but whole animals are well suited to examine systems biology aspects of migraine since SD activates trigeminal nociceptive pathways. However, whole animal studies alone cannot be used to decipher the cellular and neural circuit mechanisms of SD. Instead,
in vitro
preparations where environmental conditions can be controlled are necessary. Here, it is important to recognize limitations of acute slices and distinct advantages of hippocampal slice cultures. Acute brain slices cannot reveal subtle changes in immune signaling since preparing the slices alone triggers: pro-inflammatory changes that last days, epileptiform behavior due to high levels of oxygen tension needed to vitalize the slices, and irreversible cell injury at anoxic slice centers. In contrast, we examine immune signaling in mature hippocampal slice cultures since the cultures closely parallel their
in vivo
counterpart with mature trisynaptic function; show quiescent astrocytes, microglia, and cytokine levels; and SD is easily induced in an unanesthetized preparation. Furthermore, the slices are long-lived and SD can be induced on consecutive days without injury, making this preparation the sole means to-date capable of modeling the neuroimmune consequences of chronic SD, and thus perhaps chronic migraine. We use electrophysiological techniques and non-invasive imaging to
measure
neuronal cell and circuit functions coincident with SD. Neural immune gene expression variables are measured with qPCR screening, qPCR arrays, and, importantly, use of cDNA preamplification for detection of ultra-low level targets such as interferon-gamma using whole, regional, or specific cell enhanced (via laser dissection microscopy) sampling. Cytokine cascade signaling is further assessed with multiplexed phosphoprotein related targets with gene expression and phosphoprotein changes confirmed via cell-specific immunostaining. Pharmacological and siRNA strategies are used to
mimic
and
modulate
SD immune signaling.
Neuroscience, Issue 52, innate immunity, hormesis, microglia, T-cells, hippocampus, slice culture, gene expression, laser dissection microscopy, real-time qPCR, interferon-gamma
2910
From Voxels to Knowledge: A Practical Guide to the Segmentation of Complex Electron Microscopy 3D-Data
Institutions: Lawrence Berkeley National Laboratory, Lawrence Berkeley National Laboratory, Lawrence Berkeley National Laboratory.

Modern 3D electron microscopy approaches have recently allowed unprecedented insight into the 3D ultrastructural organization of cells and tissues, enabling the visualization of large macromolecular machines, such as adhesion complexes, as well as higher-order structures, such as the cytoskeleton and cellular organelles in their respective cell and tissue context. Given the inherent complexity of cellular volumes, it is essential to first extract the features of interest in order to allow visualization, quantification, and therefore comprehension of their 3D organization. Each data set is defined by distinct characteristics,
e.g.
, signal-to-noise ratio, crispness (sharpness) of the data, heterogeneity of its features, crowdedness of features, presence or absence of characteristic shapes that allow for easy identification, and the percentage of the entire volume that a specific region of interest occupies. All these characteristics need to be considered when deciding on which approach to take for segmentation. The six different 3D ultrastructural data sets presented were obtained by three different imaging approaches: resin embedded stained electron tomography, focused ion beam- and serial block face- scanning electron microscopy (FIB-SEM, SBF-SEM) of mildly stained and heavily stained samples, respectively. For these data sets, four different segmentation approaches have been applied: (1) fully manual model building followed solely by visualization of the model, (2) manual tracing segmentation of the data followed by surface rendering, (3) semi-automated approaches followed by surface rendering, or (4) automated custom-designed segmentation algorithms followed by surface rendering and quantitative analysis. Depending on the combination of data set characteristics, it was found that typically one of these four categorical approaches outperforms the others, but depending on the exact sequence of criteria, more than one approach may be successful. Based on these data, we propose a triage scheme that categorizes both objective data set characteristics and subjective personal criteria for the analysis of the different data sets.
Bioengineering, Issue 90, 3D electron microscopy, feature extraction, segmentation, image analysis, reconstruction, manual tracing, thresholding
51673
The Generation of Higher-order Laguerre-Gauss Optical Beams for High-precision Interferometry
Institutions: University of Birmingham.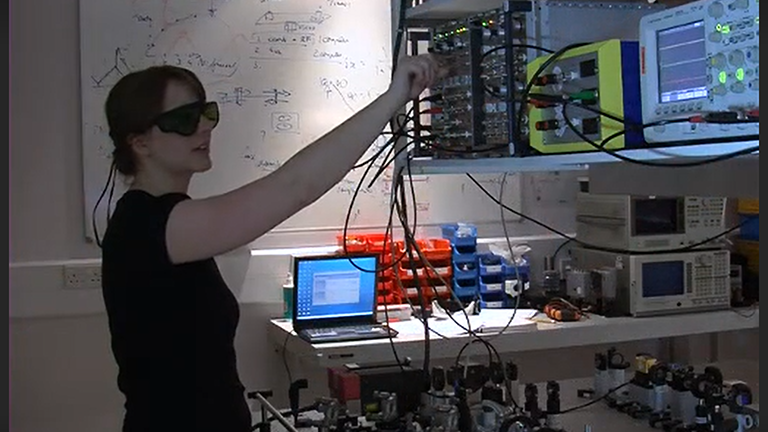 Thermal noise in high-reflectivity mirrors is a major impediment for several types of high-precision interferometric experiments that aim to reach the standard quantum limit or to cool mechanical systems to their quantum ground state. This is for example the case of future gravitational wave observatories, whose sensitivity to gravitational wave signals is expected to be limited in the most sensitive frequency band, by atomic vibration of their mirror masses. One promising approach being pursued to overcome this limitation is to employ higher-order Laguerre-Gauss (LG) optical beams in place of the conventionally used fundamental mode. Owing to their more homogeneous light intensity distribution these beams average more effectively over the thermally driven fluctuations of the mirror surface, which in turn reduces the uncertainty in the mirror position sensed by the laser light. We demonstrate a promising method to generate higher-order LG beams by shaping a fundamental Gaussian beam with the help of diffractive optical elements. We show that with conventional sensing and control techniques that are known for stabilizing fundamental laser beams, higher-order LG modes can be purified and stabilized just as well at a comparably high level. A set of diagnostic tools allows us to control and tailor the properties of generated LG beams. This enabled us to produce an LG beam with the highest purity reported to date. The demonstrated compatibility of higher-order LG modes with standard interferometry techniques and with the use of standard spherical optics makes them an ideal candidate for application in a future generation of high-precision interferometry.
Physics, Issue 78, Optics, Astronomy, Astrophysics, Gravitational waves, Laser interferometry, Metrology, Thermal noise, Laguerre-Gauss modes, interferometry
50564
Analysis of Tubular Membrane Networks in Cardiac Myocytes from Atria and Ventricles
Institutions: Heart Research Center Goettingen, University Medical Center Goettingen, German Center for Cardiovascular Research (DZHK) partner site Goettingen, University of Maryland School of Medicine.

In cardiac myocytes a complex network of membrane tubules - the transverse-axial tubule system (TATS) - controls deep intracellular signaling functions. While the outer surface membrane and associated TATS membrane components appear to be continuous, there are substantial differences in lipid and protein content. In ventricular myocytes (VMs), certain TATS components are highly abundant contributing to rectilinear tubule networks and regular branching 3D architectures. It is thought that peripheral TATS components propagate action potentials from the cell surface to thousands of remote intracellular sarcoendoplasmic reticulum (SER) membrane contact domains, thereby activating intracellular Ca
2+
release units (CRUs). In contrast to VMs, the organization and functional role of TATS membranes in atrial myocytes (AMs) is significantly different and much less understood. Taken together, quantitative structural characterization of TATS membrane networks in healthy and diseased myocytes is an essential prerequisite towards better understanding of functional plasticity and pathophysiological reorganization. Here, we present a strategic combination of protocols for direct quantitative analysis of TATS membrane networks in living VMs and AMs. For this, we accompany primary cell isolations of mouse VMs and/or AMs with critical quality control steps and direct membrane staining protocols for fluorescence imaging of TATS membranes. Using an optimized workflow for confocal or superresolution TATS image processing, binarized and skeletonized data are generated for quantitative analysis of the TATS network and its components. Unlike previously published indirect regional aggregate image analysis strategies, our protocols enable direct characterization of specific components and derive complex physiological properties of TATS membrane networks in living myocytes with high throughput and open access software tools. In summary, the combined protocol strategy can be readily applied for quantitative TATS network studies during physiological myocyte adaptation or disease changes, comparison of different cardiac or skeletal muscle cell types, phenotyping of transgenic models, and pharmacological or therapeutic interventions.
Bioengineering, Issue 92, cardiac myocyte, atria, ventricle, heart, primary cell isolation, fluorescence microscopy, membrane tubule, transverse-axial tubule system, image analysis, image processing, T-tubule, collagenase
51823
Evaluating Plasmonic Transport in Current-carrying Silver Nanowires
Institutions: Université de Bourgogne, University of Science and Technology of China, CEMES, CNRS-UPR 8011.

Plasmonics is an emerging technology capable of simultaneously transporting a plasmonic signal and an electronic signal on the same information support
1,2,3
. In this context, metal nanowires are especially desirable for realizing dense routing networks
4
. A prerequisite to operate such shared nanowire-based platform relies on our ability to electrically contact individual metal nanowires and efficiently excite surface plasmon polaritons
5
in this information support. In this article, we describe a protocol to bring electrical terminals to chemically-synthesized silver nanowires
6
randomly distributed on a glass substrate
7
. The positions of the nanowire ends with respect to predefined landmarks are precisely located using standard optical transmission microscopy before encapsulation in an electron-sensitive resist. Trenches representing the electrode layout are subsequently designed by electron-beam lithography. Metal electrodes are then fabricated by thermally evaporating a Cr/Au layer followed by a chemical lift-off. The contacted silver nanowires are finally transferred to a leakage radiation microscope for surface plasmon excitation and characterization
8,9
. Surface plasmons are launched in the nanowires by focusing a near infrared laser beam on a diffraction-limited spot overlapping one nanowire extremity
5,9
. For sufficiently large nanowires, the surface plasmon mode leaks into the glass substrate
9,10
. This leakage radiation is readily detected, imaged, and analyzed in the different conjugate planes in leakage radiation microscopy
9,11
. The electrical terminals do not affect the plasmon propagation. However, a current-induced morphological deterioration of the nanowire drastically degrades the flow of surface plasmons. The combination of surface plasmon leakage radiation microscopy with a simultaneous analysis of the nanowire electrical transport characteristics reveals the intrinsic limitations of such plasmonic circuitry.
Physics, Issue 82, light transmission, optical waveguides, photonics, plasma oscillations, plasma waves, electron motion in conductors, nanofabrication, Information Transport, plasmonics, Silver Nanowires, Leakage radiation microscopy, Electromigration
51048
Optimize Flue Gas Settings to Promote Microalgae Growth in Photobioreactors via Computer Simulations
Institutions: Washington University in St. Louis, St. Louis, Wuhan University of China, Washington University in St. Louis.
Flue gas from power plants can promote algal cultivation and reduce greenhouse gas emissions
1
. Microalgae not only capture solar energy more efficiently than plants
3
, but also synthesize advanced biofuels
2-4
. Generally, atmospheric CO
2
is not a sufficient source for supporting maximal algal growth
5
. On the other hand, the high concentrations of CO
2
in industrial exhaust gases have adverse effects on algal physiology. Consequently, both cultivation conditions (such as nutrients and light) and the control of the flue gas flow into the photo-bioreactors are important to develop an efficient "flue gas to algae" system. Researchers have proposed different photobioreactor configurations
4,6
and cultivation strategies
7,8
with flue gas. Here, we present a protocol that demonstrates how to use models to predict the microalgal growth in response to flue gas settings. We perform both experimental illustration and model simulations to determine the favorable conditions for algal growth with flue gas. We develop a Monod-based model coupled with mass transfer and light intensity equations to simulate the microalgal growth in a homogenous photo-bioreactor. The model simulation compares algal growth and flue gas consumptions under different flue-gas settings. The model illustrates: 1) how algal growth is influenced by different volumetric mass transfer coefficients of CO
2
; 2) how we can find optimal CO
2
concentration for algal growth via the dynamic optimization approach (DOA); 3) how we can design a rectangular on-off flue gas pulse to promote algal biomass growth and to reduce the usage of flue gas. On the experimental side, we present a protocol for growing
Chlorella
under the flue gas (generated by natural gas combustion). The experimental results qualitatively validate the model predictions that the high frequency flue gas pulses can significantly improve algal cultivation.
Environmental Sciences, Issue 80, Microbiology, Cellular Biology, Marine Biology, Primary Cell Culture, Chlorella, CO2, mass transfer, Monod model, On-off pulse, Simulink
50718
Protocols for Oral Infection of Lepidopteran Larvae with Baculovirus
Institutions: Iowa State University.

Baculoviruses are widely used both as protein expression vectors and as insect pest control agents. This video shows how lepidopteran larvae can be infected with polyhedra by droplet feeding and diet plug-based bioassays. This accompanying Springer Protocols section provides an overview of the baculovirus lifecycle and use of baculoviruses as insecticidal agents, including discussion of the pros and cons for use of baculoviruses as insecticides, and progress made in genetic enhancement of baculoviruses for improved insecticidal efficacy.
Plant Biology, Issue 19, Springer Protocols, Baculovirus insecticides, recombinant baculovirus, insect pest management
888