The Preparation of Electrohydrodynamic Bridges from Polar Dielectric Liquids
Published: 09-30-2014
ABSTRACT
Horizontal and vertical liquid bridges are simple and powerful tools for exploring the interaction of high intensity electric fields (8-20 kV/cm) and polar dielectric liquids. These bridges are unique from capillary bridges in that they exhibit extensibility beyond a few millimeters, have complex bi-directional mass transfer patterns, and emit non-Planck infrared radiation. A number of common solvents can form such bridges as well as low conductivity solutions and colloidal suspensions. The macroscopic behavior is governed by electrohydrodynamics and provides a means of studying fluid flow phenomena without the presence of rigid walls. Prior to the onset of a liquid bridge several important phenomena can be observed including advancing meniscus height (electrowetting), bulk fluid circulation (the Sumoto effect), and the ejection of charged droplets (electrospray). The interaction between surface, polarization, and displacement forces can be directly examined by varying applied voltage and bridge length. The electric field, assisted by gravity, stabilizes the liquid bridge against Rayleigh-Plateau instabilities. Construction of basic apparatus for both vertical and horizontal orientation along with operational examples, including thermographic images, for three liquids (e.g., water, DMSO, and glycerol) is presented.
24 Related JoVE Articles!
High Speed Droplet-based Delivery System for Passive Pumping in Microfluidic Devices
Institutions: University of Wisconsin-Madison, University of Wisconsin-Madison.

A novel microfluidic system has been developed that uses the phenomenon of passive pumping along with a user controlled droplet based fluid delivery system. Passive pumping is the phenomenon by which surface tension induced pressure differences drive fluid movement in closed channels. The automated fluid delivery system consists of a set of voltage controlled valves with micro-nozzles connected to a fluid reservoir and a control system. These voltage controlled valves offer a volumetrically precise way to deliver fluid droplets to the inlet of a microfluidic device in a high frequency manner. Based on the dimensions demonstrated in the current study example, the system is capable of flowing 4 milliliters per minute (through a 2.2mm by 260um cross-sectional channel). Based on these same channel dimensions, fluid exchange of a point inside the channel can be achieved in as little as eight milliseconds. It is observed that there is interplay between momentum of the system (imparted by a combination of the droplets created by the valves and the fluid velocity in the channel), and the surface tension of the liquid. Where momentum provides velocity to the fluid flow (or vice-versa), equilibration of surface tension at the inlet provides a sudden stop to any flow. This sudden stop allows the user to control the flow characteristics of the channel and opens the door for a variety of biological applications, ranging anywhere from reagent delivery to drug-cell studies. It is also observed that when nozzles are aimed at the inlet at shallow angles, the droplet momentum can cause additional interesting fluid phenomena, such as mixing of multiple droplets in the inlet.
Biomedical Engineering, Issue 31, automated, passive pumping, microfluidic device, high speed, high flow rate
1329
Microvolume Protein Concentration Determination using the NanoDrop 2000c Spectrophotometer
Institutions: Thermo Scientific NanoDrop Products.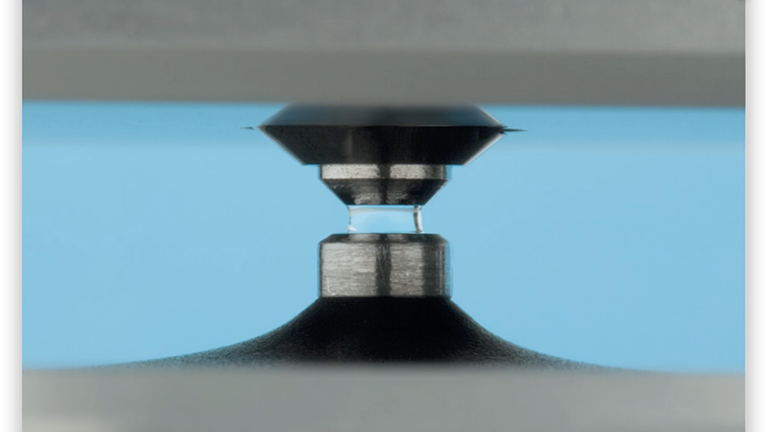 Traditional spectrophotometry requires placing samples into cuvettes or capillaries. This is often impractical due to the limited sample volumes often used for protein analysis. The Thermo Scientific NanoDrop 2000c Spectrophotometer solves this issue with an innovative sample retention system that holds microvolume samples between two measurement surfaces using the surface tension properties of liquids, enabling the quantification of samples in volumes as low as 0.5-2 μL. The elimination of cuvettes or capillaries allows real time changes in path length, which reduces the measurement time while greatly increasing the dynamic range of protein concentrations that can be measured. The need for dilutions is also eliminated, and preparations for sample quantification are relatively easy as the measurement surfaces can be simply wiped with laboratory wipe. This video article presents modifications to traditional protein concentration determination methods for quantification of microvolume amounts of protein using A280 absorbance readings or the BCA colorimetric assay.
Basic Protocols, Issue 33, NanoDrop, protein measurement, protein concentration, spectrophotometer, A280, UV/Vis, BCA, microvolume, microsample, proteomics
1610
Measurement of Aggregate Cohesion by Tissue Surface Tensiometry
Institutions: UMDNJ-Robert Wood Johnson Medical School.

Rigorous measurement of intercellular binding energy can only be made using methods grounded in thermodynamic principles in systems at equilibrium. We have developed tissue surface tensiometry (TST) specifically to measure the surface free energy of interaction between cells. The biophysical concepts underlying TST have been previously described in detail
1,2
. The method is based on the observation that mutually cohesive cells, if maintained in shaking culture, will spontaneously assemble into clusters. Over time, these clusters will round up to form spheres. This rounding-up behavior mimics the behavior characteristic of liquid systems. Intercellular binding energy is measured by compressing spherical aggregates between parallel plates in a custom-designed tissue surface tensiometer. The same mathematical equation used to measure the surface tension of a liquid droplet is used to measure surface tension of 3D tissue-like spherical aggregates. The cellular equivalent of liquid surface tension is intercellular binding energy, or more generally, tissue cohesivity. Previous studies from our laboratory have shown that tissue surface tension (1) predicts how two groups of embryonic cells will interact with one another
1-5
, (2) can strongly influence the ability of tissues to interact with biomaterials
6
, (3) can be altered not only through direct manipulation of cadherin-based intercellular cohesion
7
, but also by manipulation of key ECM molecules such as FN
8-11
and 4) correlates with invasive potential of lung cancer
12
, fibrosarcoma
13
, brain tumor
14
and prostate tumor cell lines
15
. In this article we will describe the apparatus, detail the steps required to generate spheroids, to load the spheroids into the tensiometer chamber, to initiate aggregate compression, and to analyze and validate the tissue surface tension measurements generated.
Bioengineering, Issue 50, 3D, aggregate cohesion, tissue surface tension, parallel plate compression
2739
Preparation of Hydrophobic Metal-Organic Frameworks via Plasma Enhanced Chemical Vapor Deposition of Perfluoroalkanes for the Removal of Ammonia
Institutions: Science Applications International Corporation (SAIC), Research Development Engineering Command.
Plasma enhanced chemical vapor deposition (PECVD) of perfluoroalkanes has long been studied for tuning the wetting properties of surfaces. For high surface area microporous materials, such as metal-organic frameworks (MOFs), unique challenges present themselves for PECVD treatments. Herein the protocol for development of a MOF that was previously unstable to humid conditions is presented. The protocol describes the synthesis of Cu-BTC (also known as HKUST-1), the treatment of Cu-BTC with PECVD of perfluoroalkanes, the aging of materials under humid conditions, and the subsequent ammonia microbreakthrough experiments on milligram quantities of microporous materials. Cu-BTC has an extremely high surface area (~1,800 m
2
/g) when compared to most materials or surfaces that have been previously treated by PECVD methods. Parameters such as chamber pressure and treatment time are extremely important to ensure the perfluoroalkane plasma penetrates to and reacts with the inner MOF surfaces. Furthermore, the protocol for ammonia microbreakthrough experiments set forth here can be utilized for a variety of test gases and microporous materials.
Chemistry, Issue 80, materials (general), gas absorption, low pressure chemistry, organometallic materials, Chemistry and Materials (General), Inorganic, Organic and Physical Chemistry, plasma enhanced chemical vapor deposition, fluorine chemistry, microporosity, metal-organic frameworks, hydrophobic, stability, breakthrough, ammonia, adsorption
51175
Monolayer Contact Doping of Silicon Surfaces and Nanowires Using Organophosphorus Compounds
Institutions: The Hebrew University of Jerusalem, The Hebrew University of Jerusalem.

Monolayer Contact Doping (MLCD) is a simple method for doping of surfaces and nanostructures
1
. MLCD results in the formation of highly controlled, ultra shallow and sharp doping profiles at the nanometer scale. In MLCD process the dopant source is a monolayer containing dopant atoms. In this article a detailed procedure for surface doping of silicon substrate as well as silicon nanowires is demonstrated. Phosphorus dopant source was formed using tetraethyl methylenediphosphonate monolayer on a silicon substrate. This monolayer containing substrate was brought to contact with a pristine intrinsic silicon target substrate and annealed while in contact. Sheet resistance of the target substrate was measured using 4 point probe. Intrinsic silicon nanowires were synthesized by chemical vapor deposition (CVD) process using a vapor-liquid-solid (VLS) mechanism; gold nanoparticles were used as catalyst for nanowire growth. The nanowires were suspended in ethanol by mild sonication. This suspension was used to dropcast the nanowires on silicon substrate with a silicon nitride dielectric top layer. These nanowires were doped with phosphorus in similar manner as used for the intrinsic silicon wafer. Standard photolithography process was used to fabricate metal electrodes for the formation of nanowire based field effect transistor (NW-FET). The electrical properties of a representative nanowire device were measured by a semiconductor device analyzer and a probe station.
Basic Protocol, Issue 82, nanotechnology, chemistry, monolayer contact doping (MLCD), nanowire, silicon substrate, chemical vapor deposition (CVD),
50770
Revealing Dynamic Processes of Materials in Liquids Using Liquid Cell Transmission Electron Microscopy
Institutions: Lawrence Berkeley National Laboratory.

The recent development for in situ transmission electron microscopy, which allows imaging through liquids with high spatial resolution, has attracted significant interests across the research fields of materials science, physics, chemistry and biology. The key enabling technology is a liquid cell. We fabricate liquid cells with thin viewing windows through a sequential microfabrication process, including silicon nitride membrane deposition, photolithographic patterning, wafer etching, cell bonding, etc. A liquid cell with the dimensions of a regular TEM grid can fit in any standard TEM sample holder. About 100 nanoliters reaction solution is loaded into the reservoirs and about 30 picoliters liquid is drawn into the viewing windows by capillary force. Subsequently, the cell is sealed and loaded into a microscope for in situ imaging. Inside the TEM, the electron beam goes through the thin liquid layer sandwiched between two silicon nitride membranes. Dynamic processes of nanoparticles in liquids, such as nucleation and growth of nanocrystals, diffusion and assembly of nanoparticles, etc., have been imaged in real time with sub-nanometer resolution. We have also applied this method to other research areas,
e.g.
, imaging proteins in water. Liquid cell TEM is poised to play a major role in revealing dynamic processes of materials in their working environments. It may also bring high impact in the study of biological processes in their native environment.
Materials Science, Issue 70, Chemical Engineering, Chemistry, Physics, Engineering, Life sciences, Liquid cell, Transmission Electron Microscopy, TEM, In situ TEM, Single nanoparticle trajectory, dynamic imaging, nanocrystals
50122
High-pressure Sapphire Cell for Phase Equilibria Measurements of CO2/Organic/Water Systems
Institutions: Georgia Institute of Technology, Georgia Institute of Technology.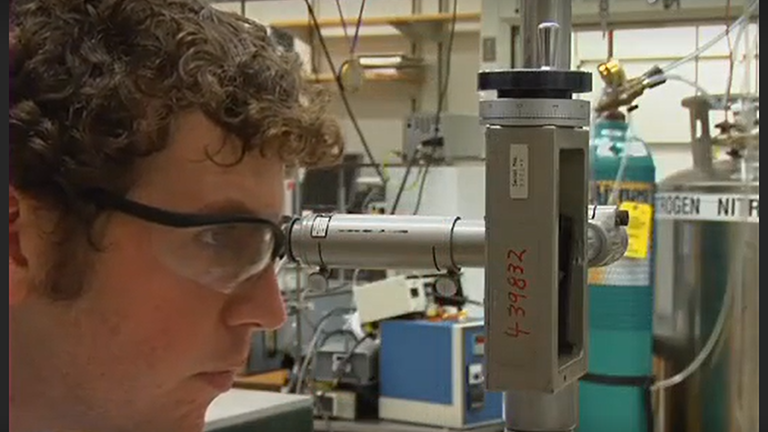 The high pressure sapphire cell apparatus was constructed to visually determine the composition of multiphase systems without physical sampling. Specifically, the sapphire cell enables visual data collection from multiple loadings to solve a set of material balances to precisely determine phase composition. Ternary phase diagrams can then be established to determine the proportion of each component in each phase at a given condition. In principle, any ternary system can be studied although ternary systems (gas-liquid-liquid) are the specific examples discussed herein. For instance, the ternary THF-Water-CO
2
system was studied at 25 and 40 °C and is described herein. Of key importance, this technique does not require sampling. Circumventing the possible disturbance of the system equilibrium upon sampling, inherent measurement errors, and technical difficulties of physically sampling under pressure is a significant benefit of this technique. Perhaps as important, the sapphire cell also enables the direct visual observation of the phase behavior. In fact, as the CO
2
pressure is increased, the homogeneous THF-Water solution phase splits at about 2 MPa. With this technique, it was possible to easily and clearly observe the cloud point and determine the composition of the newly formed phases as a function of pressure. The data acquired with the sapphire cell technique can be used for many applications. In our case, we measured swelling and composition for tunable solvents, like gas-expanded liquids, gas-expanded ionic liquids and Organic Aqueous Tunable Systems (OATS)
1-4
. For the latest system, OATS, the high-pressure sapphire cell enabled the study of (1) phase behavior as a function of pressure and temperature, (2) composition of each phase (gas-liquid-liquid) as a function of pressure and temperature and (3) catalyst partitioning in the two liquid phases as a function of pressure and composition. Finally, the sapphire cell is an especially effective tool to gather accurate and reproducible measurements in a timely fashion.
Chemistry, Issue 83, Phase equilibria, High-pressure, green chemistry, Green Engineering, Sapphire cell, cathetometer, ternary phase diagrams
51378
Cell Co-culture Patterning Using Aqueous Two-phase Systems
Institutions: University of Michigan , University of Michigan .
Cell patterning technologies that are fast, easy to use and affordable will be required for the future development of high throughput cell assays, platforms for studying cell-cell interactions and tissue engineered systems. This detailed protocol describes a method for generating co-cultures of cells using biocompatible solutions of dextran (DEX) and polyethylene glycol (PEG) that phase-separate when combined above threshold concentrations. Cells can be patterned in a variety of configurations using this method. Cell exclusion patterning can be performed by printing droplets of DEX on a substrate and covering them with a solution of PEG containing cells. The interfacial tension formed between the two polymer solutions causes cells to fall around the outside of the DEX droplet and form a circular clearing that can be used for migration assays. Cell islands can be patterned by dispensing a cell-rich DEX phase into a PEG solution or by covering the DEX droplet with a solution of PEG. Co-cultures can be formed directly by combining cell exclusion with DEX island patterning. These methods are compatible with a variety of liquid handling approaches, including manual micropipetting, and can be used with virtually any adherent cell type.
Bioengineering, Issue 73, Biomedical Engineering, Microbiology, Molecular Biology, Cellular Biology, Biochemistry, Biotechnology, Cell Migration Assays, Culture Techniques, bioengineering (general), Patterning, Aqueous Two-Phase System, Co-Culture, cell, Dextran, Polyethylene glycol, media, PEG, DEX, colonies, cell culture
50304
Preparing Silica Aerogel Monoliths via a Rapid Supercritical Extraction Method
Institutions: Union College, Union College.

A procedure for the fabrication of monolithic silica aerogels in eight hours or less via a rapid supercritical extraction process is described. The procedure requires 15-20 min of preparation time, during which a liquid precursor mixture is prepared and poured into wells of a metal mold that is placed between the platens of a hydraulic hot press, followed by several hours of processing within the hot press. The precursor solution consists of a 1.0:12.0:3.6:3.5 x 10
-3
molar ratio of tetramethylorthosilicate (TMOS):methanol:water:ammonia. In each well of the mold, a porous silica sol-gel matrix forms. As the temperature of the mold and its contents is increased, the pressure within the mold rises. After the temperature/pressure conditions surpass the supercritical point for the solvent within the pores of the matrix (in this case, a methanol/water mixture), the supercritical fluid is released, and monolithic aerogel remains within the wells of the mold. With the mold used in this procedure, cylindrical monoliths of 2.2 cm diameter and 1.9 cm height are produced. Aerogels formed by this rapid method have comparable properties (low bulk and skeletal density, high surface area, mesoporous morphology) to those prepared by other methods that involve either additional reaction steps or solvent extractions (lengthier processes that generate more chemical waste).The rapid supercritical extraction method can also be applied to the fabrication of aerogels based on other precursor recipes.
Chemistry, Issue 84, Aerogel fabrication, Silica aerogels, Aerogel monoliths, Rapid supercritical extraction, Hot press, Tetramethylorthosilicate (TMOS)
51421
Construction of Vapor Chambers Used to Expose Mice to Alcohol During the Equivalent of all Three Trimesters of Human Development
Institutions: University of New Mexico Health Sciences Center.

Exposure to alcohol during development can result in a constellation of morphological and behavioral abnormalities that are collectively known as Fetal Alcohol Spectrum Disorders (FASDs). At the most severe end of the spectrum is Fetal Alcohol Syndrome (FAS), characterized by growth retardation, craniofacial dysmorphology, and neurobehavioral deficits. Studies with animal models, including rodents, have elucidated many molecular and cellular mechanisms involved in the pathophysiology of FASDs. Ethanol administration to pregnant rodents has been used to model human exposure during the first and second trimesters of pregnancy. Third trimester ethanol consumption in humans has been modeled using neonatal rodents. However, few rodent studies have characterized the effect of ethanol exposure during the equivalent to all three trimesters of human pregnancy, a pattern of exposure that is common in pregnant women. Here, we show how to build vapor chambers from readily obtainable materials that can each accommodate up to six standard mouse cages. We describe a vapor chamber paradigm that can be used to model exposure to ethanol, with minimal handling, during all three trimesters. Our studies demonstrate that pregnant dams developed significant metabolic tolerance to ethanol. However, neonatal mice did not develop metabolic tolerance and the number of fetuses, fetus weight, placenta weight, number of pups/litter, number of dead pups/litter, and pup weight were not significantly affected by ethanol exposure. An important advantage of this paradigm is its applicability to studies with genetically-modified mice. Additionally, this paradigm minimizes handling of animals, a major confound in fetal alcohol research.
Medicine, Issue 89, fetal, ethanol, exposure, paradigm, vapor, development, alcoholism, teratogenic, animal, mouse, model
51839
Construction and Characterization of External Cavity Diode Lasers for Atomic Physics
Institutions: The Australian National University.

Since their development in the late 1980s, cheap, reliable external cavity diode lasers (ECDLs) have replaced complex and expensive traditional dye and Titanium Sapphire lasers as the workhorse laser of atomic physics labs
1,2
. Their versatility and prolific use throughout atomic physics in applications such as absorption spectroscopy and laser cooling
1,2
makes it imperative for incoming students to gain a firm practical understanding of these lasers. This publication builds upon the seminal work by Wieman
3
, updating components, and providing a video tutorial. The setup, frequency locking and performance characterization of an ECDL will be described. Discussion of component selection and proper mounting of both diodes and gratings, the factors affecting mode selection within the cavity, proper alignment for optimal external feedback, optics setup for coarse and fine frequency sensitive measurements, a brief overview of laser locking techniques, and laser linewidth measurements are included.
Physics, Issue 86, External Cavity Diode Laser, atomic spectroscopy, laser cooling, Bose-Einstein condensation, Zeeman modulation
51184
Activating Molecules, Ions, and Solid Particles with Acoustic Cavitation
Institutions: UMR 5257 CEA-CNRS-UM2-ENSCM.

The chemical and physical effects of ultrasound arise not from a direct interaction of molecules with sound waves, but rather from the acoustic cavitation: the nucleation, growth, and implosive collapse of microbubbles in liquids submitted to power ultrasound. The violent implosion of bubbles leads to the formation of chemically reactive species and to the emission of light, named sonoluminescence. In this manuscript, we describe the techniques allowing study of extreme intrabubble conditions and chemical reactivity of acoustic cavitation in solutions. The analysis of sonoluminescence spectra of water sparged with noble gases provides evidence for nonequilibrium plasma formation. The photons and the "hot" particles generated by cavitation bubbles enable to excite the non-volatile species in solutions increasing their chemical reactivity. For example the mechanism of ultrabright sonoluminescence of uranyl ions in acidic solutions varies with uranium concentration: sonophotoluminescence dominates in diluted solutions, and collisional excitation contributes at higher uranium concentration. Secondary sonochemical products may arise from chemically active species that are formed inside the bubble, but then diffuse into the liquid phase and react with solution precursors to form a variety of products. For instance, the sonochemical reduction of Pt(IV) in pure water provides an innovative synthetic route for monodispersed nanoparticles of metallic platinum without any templates or capping agents. Many studies reveal the advantages of ultrasound to activate the divided solids. In general, the mechanical effects of ultrasound strongly contribute in heterogeneous systems in addition to chemical effects. In particular, the sonolysis of PuO
2
powder in pure water yields stable colloids of plutonium due to both effects.
Chemistry, Issue 86, Sonochemistry, sonoluminescence, ultrasound, cavitation, nanoparticles, actinides, colloids, nanocolloids
51237
A Technique to Functionalize and Self-assemble Macroscopic Nanoparticle-ligand Monolayer Films onto Template-free Substrates
Institutions: Naval Research Laboratory.
This protocol describes a self-assembly technique to create macroscopic monolayer films composed of ligand-coated nanoparticles
1
,
2
. The simple, robust and scalable technique efficiently functionalizes metallic nanoparticles with thiol-ligands in a miscible water/organic solvent mixture allowing for rapid grafting of thiol groups onto the gold nanoparticle surface. The hydrophobic ligands on the nanoparticles then quickly phase separate the nanoparticles from the aqueous based suspension and confine them to the air-fluid interface. This drives the ligand-capped nanoparticles to form monolayer domains at the air-fluid interface.  The use of water-miscible organic solvents is important as it enables the transport of the nanoparticles from the interface onto template-free substrates.  The flow is mediated by a surface tension gradient
3
,
4
and creates macroscopic, high-density, monolayer nanoparticle-ligand films.  This self-assembly technique may be generalized to include the use of particles of different compositions, size, and shape and may lead to an efficient assembly method to produce low-cost, macroscopic, high-density, monolayer nanoparticle films for wide-spread applications.
Chemistry, Issue 87, phase transfer, nanoparticle, self-assembly, bottom-up, fabrication, low-cost, monolayer, thin film, nanostructure, array, metamaterial
51282
In Situ SIMS and IR Spectroscopy of Well-defined Surfaces Prepared by Soft Landing of Mass-selected Ions
Institutions: Pacific Northwest National Laboratory.

Soft landing of mass-selected ions onto surfaces is a powerful approach for the highly-controlled preparation of materials that are inaccessible using conventional synthesis techniques. Coupling soft landing with
in situ
characterization using secondary ion mass spectrometry (SIMS) and infrared reflection absorption spectroscopy (IRRAS) enables analysis of well-defined surfaces under clean vacuum conditions. The capabilities of three soft-landing instruments constructed in our laboratory are illustrated for the representative system of surface-bound organometallics prepared by soft landing of mass-selected ruthenium tris(bipyridine) dications, [Ru(bpy)
3
]
2+
(bpy = bipyridine), onto carboxylic acid terminated self-assembled monolayer surfaces on gold (COOH-SAMs).
In situ
time-of-flight (TOF)-SIMS provides insight into the reactivity of the soft-landed ions. In addition, the kinetics of charge reduction, neutralization and desorption occurring on the COOH-SAM both during and after ion soft landing are studied using
in situ
Fourier transform ion cyclotron resonance (FT-ICR)-SIMS measurements.
In situ
IRRAS experiments provide insight into how the structure of organic ligands surrounding metal centers is perturbed through immobilization of organometallic ions on COOH-SAM surfaces by soft landing. Collectively, the three instruments provide complementary information about the chemical composition, reactivity and structure of well-defined species supported on surfaces.
Chemistry, Issue 88, soft landing, mass selected ions, electrospray, secondary ion mass spectrometry, infrared spectroscopy, organometallic, catalysis
51344
An Inverse Analysis Approach to the Characterization of Chemical Transport in Paints
Institutions: U.S. Army Edgewood Chemical Biological Center, OptiMetrics, Inc., a DCS Company.

The ability to directly characterize chemical transport and interactions that occur within a material (
i.e.
, subsurface dynamics) is a vital component in understanding contaminant mass transport and the ability to decontaminate materials. If a material is contaminated, over time, the transport of highly toxic chemicals (such as chemical warfare agent species) out of the material can result in vapor exposure or transfer to the skin, which can result in percutaneous exposure to personnel who interact with the material. Due to the high toxicity of chemical warfare agents, the release of trace chemical quantities is of significant concern. Mapping subsurface concentration distribution and transport characteristics of absorbed agents enables exposure hazards to be assessed in untested conditions. Furthermore, these tools can be used to characterize subsurface reaction dynamics to ultimately design improved decontaminants or decontamination procedures. To achieve this goal, an inverse analysis mass transport modeling approach was developed that utilizes time-resolved mass spectroscopy measurements of vapor emission from contaminated paint coatings as the input parameter for calculation of subsurface concentration profiles. Details are provided on sample preparation, including contaminant and material handling, the application of mass spectrometry for the measurement of emitted contaminant vapor, and the implementation of inverse analysis using a physics-based diffusion model to determine transport properties of live chemical warfare agents including distilled mustard (HD) and the nerve agent VX.
Chemistry, Issue 90, Vacuum, vapor emission, chemical warfare agent, contamination, mass transport, inverse analysis, volatile organic compound, paint, coating
51825
Quantitative Detection of Trace Explosive Vapors by Programmed Temperature Desorption Gas Chromatography-Electron Capture Detector
Institutions: U.S. Naval Research Laboratory, NOVA Research, Inc., U.S. Naval Research Laboratory, U.S. Naval Research Laboratory.
The direct liquid deposition of solution standards onto sorbent-filled thermal desorption tubes is used for the quantitative analysis of trace explosive vapor samples. The direct liquid deposition method yields a higher fidelity between the analysis of vapor samples and the analysis of solution standards than using separate injection methods for vapors and solutions,
i.e.
, samples collected on vapor collection tubes and standards prepared in solution vials. Additionally, the method can account for instrumentation losses, which makes it ideal for minimizing variability and quantitative trace chemical detection. Gas chromatography with an electron capture detector is an instrumentation configuration sensitive to nitro-energetics, such as TNT and RDX, due to their relatively high electron affinity. However, vapor quantitation of these compounds is difficult without viable vapor standards. Thus, we eliminate the requirement for vapor standards by combining the sensitivity of the instrumentation with a direct liquid deposition protocol to analyze trace explosive vapor samples.
Chemistry, Issue 89, Gas Chromatography (GC), Electron Capture Detector, Explosives, Quantitation, Thermal Desorption, TNT, RDX
51938
Preparation of Segmented Microtubules to Study Motions Driven by the Disassembling Microtubule Ends
Institutions: Russian Academy of Sciences, Federal Research Center of Pediatric Hematology, Oncology and Immunology, Moscow, Russia, University of Pennsylvania.

Microtubule depolymerization can provide force to transport different protein complexes and protein-coated beads
in vitro
. The underlying mechanisms are thought to play a vital role in the microtubule-dependent chromosome motions during cell division, but the relevant proteins and their exact roles are ill-defined. Thus, there is a growing need to develop assays with which to study such motility
in vitro
using purified components and defined biochemical milieu. Microtubules, however, are inherently unstable polymers; their switching between growth and shortening is stochastic and difficult to control. The protocols we describe here take advantage of the segmented microtubules that are made with the photoablatable stabilizing caps. Depolymerization of such segmented microtubules can be triggered with high temporal and spatial resolution, thereby assisting studies of motility at the disassembling microtubule ends. This technique can be used to carry out a quantitative analysis of the number of molecules in the fluorescently-labeled protein complexes, which move processively with dynamic microtubule ends. To optimize a signal-to-noise ratio in this and other quantitative fluorescent assays, coverslips should be treated to reduce nonspecific absorption of soluble fluorescently-labeled proteins. Detailed protocols are provided to take into account the unevenness of fluorescent illumination, and determine the intensity of a single fluorophore using equidistant Gaussian fit. Finally, we describe the use of segmented microtubules to study microtubule-dependent motions of the protein-coated microbeads, providing insights into the ability of different motor and nonmotor proteins to couple microtubule depolymerization to processive cargo motion.
Basic Protocol, Issue 85, microscopy flow chamber, single-molecule fluorescence, laser trap, microtubule-binding protein, microtubule-dependent motor, microtubule tip-tracking
51150
Designing Silk-silk Protein Alloy Materials for Biomedical Applications
Institutions: Rowan University, Rowan University, Cooper Medical School of Rowan University, Rowan University.

Fibrous proteins display different sequences and structures that have been used for various applications in biomedical fields such as biosensors, nanomedicine, tissue regeneration, and drug delivery. Designing materials based on the molecular-scale interactions between these proteins will help generate new multifunctional protein alloy biomaterials with tunable properties. Such alloy material systems also provide advantages in comparison to traditional synthetic polymers due to the materials biodegradability, biocompatibility, and tenability in the body. This article used the protein blends of wild tussah silk (
Antheraea pernyi
) and domestic mulberry silk (
Bombyx mori
) as an example to provide useful protocols regarding these topics, including how to predict protein-protein interactions by computational methods, how to produce protein alloy solutions, how to verify alloy systems by thermal analysis, and how to fabricate variable alloy materials including optical materials with diffraction gratings, electric materials with circuits coatings, and pharmaceutical materials for drug release and delivery. These methods can provide important information for designing the next generation multifunctional biomaterials based on different protein alloys.
Bioengineering, Issue 90, protein alloys, biomaterials, biomedical, silk blends, computational simulation, implantable electronic devices
50891
Analysis of Nephron Composition and Function in the Adult Zebrafish Kidney
Institutions: University of Notre Dame.

The zebrafish model has emerged as a relevant system to study kidney development, regeneration and disease. Both the embryonic and adult zebrafish kidneys are composed of functional units known as nephrons, which are highly conserved with other vertebrates, including mammals. Research in zebrafish has recently demonstrated that two distinctive phenomena transpire after adult nephrons incur damage: first, there is robust regeneration within existing nephrons that replaces the destroyed tubule epithelial cells; second, entirely new nephrons are produced from renal progenitors in a process known as neonephrogenesis. In contrast, humans and other mammals seem to have only a limited ability for nephron epithelial regeneration. To date, the mechanisms responsible for these kidney regeneration phenomena remain poorly understood. Since adult zebrafish kidneys undergo both nephron epithelial regeneration and neonephrogenesis, they provide an outstanding experimental paradigm to study these events. Further, there is a wide range of genetic and pharmacological tools available in the zebrafish model that can be used to delineate the cellular and molecular mechanisms that regulate renal regeneration. One essential aspect of such research is the evaluation of nephron structure and function. This protocol describes a set of labeling techniques that can be used to gauge renal composition and test nephron functionality in the adult zebrafish kidney. Thus, these methods are widely applicable to the future phenotypic characterization of adult zebrafish kidney injury paradigms, which include but are not limited to, nephrotoxicant exposure regimes or genetic methods of targeted cell death such as the nitroreductase mediated cell ablation technique. Further, these methods could be used to study genetic perturbations in adult kidney formation and could also be applied to assess renal status during chronic disease modeling.
Cellular Biology, Issue 90, zebrafish; kidney; nephron; nephrology; renal; regeneration; proximal tubule; distal tubule; segment; mesonephros; physiology; acute kidney injury (AKI)
51644
Aseptic Laboratory Techniques: Plating Methods
Institutions: University of California, Los Angeles .

Microorganisms are present on all inanimate surfaces creating ubiquitous sources of possible contamination in the laboratory. Experimental success relies on the ability of a scientist to sterilize work surfaces and equipment as well as prevent contact of sterile instruments and solutions with non-sterile surfaces. Here we present the steps for several plating methods routinely used in the laboratory to isolate, propagate, or enumerate microorganisms such as bacteria and phage. All five methods incorporate aseptic technique, or procedures that maintain the sterility of experimental materials. Procedures described include (1) streak-plating bacterial cultures to isolate single colonies, (2) pour-plating and (3) spread-plating to enumerate viable bacterial colonies, (4) soft agar overlays to isolate phage and enumerate plaques, and (5) replica-plating to transfer cells from one plate to another in an identical spatial pattern. These procedures can be performed at the laboratory bench, provided they involve non-pathogenic strains of microorganisms (Biosafety Level 1, BSL-1). If working with BSL-2 organisms, then these manipulations must take place in a biosafety cabinet. Consult the most current edition of the
Biosafety in Microbiological and Biomedical Laboratories
(BMBL) as well as
Material Safety Data Sheets
(MSDS) for Infectious Substances to determine the biohazard classification as well as the safety precautions and containment facilities required for the microorganism in question. Bacterial strains and phage stocks can be obtained from research investigators, companies, and collections maintained by particular organizations such as the
American Type Culture Collection
(ATCC). It is recommended that non-pathogenic strains be used when learning the various plating methods. By following the procedures described in this protocol, students should be able to: Perform plating procedures without contaminating media. Isolate single bacterial colonies by the streak-plating method. Use pour-plating and spread-plating methods to determine the concentration of bacteria. Perform soft agar overlays when working with phage. Transfer bacterial cells from one plate to another using the replica-plating procedure. Given an experimental task, select the appropriate plating method.
Basic Protocols, Issue 63, Streak plates, pour plates, soft agar overlays, spread plates, replica plates, bacteria, colonies, phage, plaques, dilutions
3064
Conducting Miller-Urey Experiments
Institutions: Georgia Institute of Technology, Tokyo Institute of Technology, Institute for Advanced Study, NASA Johnson Space Center, NASA Goddard Space Flight Center, University of California at San Diego.

In 1953, Stanley Miller reported the production of biomolecules from simple gaseous starting materials, using an apparatus constructed to simulate the primordial Earth's atmosphere-ocean system. Miller introduced 200 ml of water, 100 mmHg of H
2
, 200 mmHg of CH
4
, and 200 mmHg of NH
3
into the apparatus, then subjected this mixture, under reflux, to an electric discharge for a week, while the water was simultaneously heated. The purpose of this manuscript is to provide the reader with a general experimental protocol that can be used to conduct a Miller-Urey type spark discharge experiment, using a simplified 3 L reaction flask. Since the experiment involves exposing inflammable gases to a high voltage electric discharge, it is worth highlighting important steps that reduce the risk of explosion. The general procedures described in this work can be extrapolated to design and conduct a wide variety of electric discharge experiments simulating primitive planetary environments.
Chemistry, Issue 83, Geosciences (General), Exobiology, Miller-Urey, Prebiotic chemistry, amino acids, spark discharge
51039
Monitoring Plant Hormones During Stress Responses
Institutions: University of Texas.
Plant hormones and related signaling compounds play an important role in the regulation of plant responses to various environmental stimuli and stresses. Among the most severe stresses are insect herbivory, pathogen infection, and drought stress. For each of these stresses a specific set of hormones and/or combinations thereof are known to fine-tune the responses, thereby ensuring the plant's survival. The major hormones involved in the regulation of these responses are jasmonic acid (JA), salicylic acid (SA), and abscisic acid (ABA). To better understand the role of individual hormones as well as their potential interaction during these responses it is necessary to monitor changes in their abundance in a temporal as well as in a spatial fashion. For the easy, sensitive, and reproducible quantification of these and other signaling compounds we developed a method based on vapor phase extraction and gas chromatography/mass spectrometry (GC/MS) analysis (1, 2, 3, 4). After extracting these compounds from the plant tissue by acidic aqueous 1-propanol mixed with dichloromethane the carboxylic acid-containing compounds are methylated, volatilized under heat, and collected on a polymeric absorbent. After elution into a sample vial the analytes are separated by gas chromatography and detected by chemical ionization mass spectrometry. The use of appropriate internal standards then allows for the simple quantification by relating the peak areas of analyte and internal standard.
Plant Biology, Issue 28, Jasmonic acid, salicylic acid, abscisic acid, plant hormones, GC/MS, vapor phase extraction
1127
Air Filter Devices Including Nonwoven Meshes of Electrospun Recombinant Spider Silk Proteins
Institutions: University of Bayreuth.
Based on the natural sequence of
Araneus diadematus
Fibroin 4 (ADF4), the recombinant spider silk protein eADF4(C16) has been engineered. This highly repetitive protein has a molecular weight of 48kDa and is soluble in different solvents (hexafluoroisopropanol (HFIP), formic acid and aqueous buffers). eADF4(C16) provides a high potential for various technical applications when processed into morphologies such as films, capsules, particles, hydrogels, coatings, fibers and nonwoven meshes. Due to their chemical stability and controlled morphology, the latter can be used to improve filter materials. In this protocol, we present a procedure to enhance the efficiency of different air filter devices, by deposition of nonwoven meshes of electrospun recombinant spider silk proteins. Electrospinning of eADF4(C16) dissolved in HFIP results in smooth fibers. Variation of the protein concentration (5-25% w/v) results in different fiber diameters (80-1,100 nm) and thus pore sizes of the nonwoven mesh. Post-treatment of eADF4(C16) electrospun from HFIP is necessary since the protein displays a predominantly α-helical secondary structure in freshly spun fibers, and therefore the fibers are water soluble. Subsequent treatment with ethanol vapor induces formation of water resistant, stable β-sheet structures, preserving the morphology of the silk fibers and meshes. Secondary structure analysis was performed using Fourier transform infrared spectroscopy (FTIR) and subsequent Fourier self-deconvolution (FSD). The primary goal was to improve the filter efficiency of existing filter substrates by adding silk nonwoven layers on top. To evaluate the influence of electrospinning duration and thus nonwoven layer thickness on the filter efficiency, we performed air permeability tests in combination with particle deposition measurements. The experiments were carried out according to standard protocols.
Bioengineering, Issue 75, Biochemistry, Chemistry, Materials Science, Molecular Biology, Cellular Biology, Proteins, Nanotechnology, materials (general), materials handling, nanodevices (mechanical), structural analysis, spider silk, electrospinning, microfibers, nonwoven, filter, mesh, biomaterials
50492
Freezing Human ES Cells
Institutions: Harvard.

Here we demonstrate how our lab freezes HuES human embryonic stem cell lines. A healthy, exponentially expanding culture is washed with PBS to remove residual media that could otherwise quench the Trypsin reaction. Warmed 0.05% Trypsin-EDTA is then added to cover the cells, and the plate allowed to incubate for up to 5 mins at room temperature. During this time cells can be observed rounding, and colonies lifting off the plate surface. Gentle repeated pipetting will remove cells and colonies from the plate surface. Trypsinized cells are placed in a standard conical tube containing pre-warmed hES cell media to quench remaining trypsin, and then spun. Cells are resuspended growth media at a concentration of approximately one million cells in one mL of media, a concentration such that one frozen aliquot is sufficient to resurrect a culture on a 10cm plate. After cells are adequately resuspended, ice cold freezing media is added at equal volume. Cell suspensions are mixed thoroughly, aliquoted into freezing vials, and allowed to slowly freeze to -80C over 24 hours. Frozen cells can then moved to the vapor phase of liquid nitrogen for long term storage, or remain at -80 for approximately six months.
Cellular Biology, Issue 1, Embryonic Stem Cells, ES, Tissue Culture, Freezing
50