Quantitative and Temporal Control of Oxygen Microenvironment at the Single Islet Level
Published: 11-17-2013
ABSTRACT
Simultaneous oxygenation and monitoring of glucose stimulus-secretion coupling factors in a single technique is critical for modeling pathophysiological states of islet hypoxia, especially in transplant environments. Standard hypoxic chamber techniques cannot modulate both stimulations at the same time nor provide real-time monitoring of glucose stimulus-secretion coupling factors. To address these difficulties, we applied a multilayered microfluidic technique to integrate both aqueous and gas phase modulations via a diffusion membrane. This creates a stimulation sandwich around the microscaled islets within the transparent polydimethylsiloxane (PDMS) device, enabling monitoring of the aforementioned coupling factors via fluorescence microscopy. Additionally, the gas input is controlled by a pair of microdispensers, providing quantitative, sub-minute modulations of oxygen between 0-21%. This intermittent hypoxia is applied to investigate a new phenomenon of islet preconditioning. Moreover, armed with multimodal microscopy, we were able to look at detailed calcium and KATP channel dynamics during these hypoxic events. We envision microfluidic hypoxia, especially this simultaneous dual phase technique, as a valuable tool in studying islets as well as many ex vivo tissues.
19 Related JoVE Articles!
Mouse Islet of Langerhans Isolation using a Combination of Purified Collagenase and Neutral Protease
Institutions: Indiana University School of Medicine, VITACYTE, LLC, Indiana University School of Medicine, Indiana University School of Medicine.

The interrogation of beta cell gene expression and function
in vitro
has squarely shifted over the years from the study of rodent tumorigenic cell lines to the study of isolated rodent islets. Primary islets offer the distinct advantage that they more faithfully reflect the biology of intracellular signaling pathways and secretory responses. Whereas the method of islet isolation using tissue dissociating enzyme (TDE) preparations has been well established in many laboratories
1-4
, variations in the consistency of islet yield and quality from any given rodent strain limit the extent and feasibility of primary islet studies. These variations often occur as a result of the crude partially purified TDEs used in the islet isolation procedure; TDEs frequently exhibit lot-to-lot variations in activity and often require adjustments to the dose of enzyme used. A small number of reports have used purified TDEs for rodent cell isolations
5, 6
, but the practice is not widespread despite the routine use and advantages of purified TDEs for human islet isolations. In collaboration with VitaCyte, LLC (Indianapolis, IN), we developed a modified mouse islet isolation protocol based on that described by Gotoh
7, 8
, in which the TDEs are perfused directly into the pancreatic duct of mice, followed by crude tissue fractionation through a Histopaque gradient
9
, and isolation of purified islets. A significant difference in our protocol is the use of purified collagenase (CI
zyme
MA) and neutral protease (CI
zyme
BP) combination. The collagenase was characterized by the use of a
6
fluorescence collagen degrading activity (CDA) assay that utilized fluorescently labeled soluble calf skin fibrils as substrate
6
. This substrate is more predictive of the kinetics of collagen degradation in the tissue matrix because it relies on native collagen as the substrate. The protease was characterized with a sensitive fluorescent kinetic assay
10
. Utilizing these improved assays along with more traditional biochemical analysis enable the TDE to be manufactured more consistently, leading to improved performance consistency between lots. The protocol described in here was optimized for maximal islet yield and optimal islet morphology using C57BL/6 mice. During the development of this protocol, several combinations of collagenase and neutral proteases were evaluated at different concentrations, and the final ratio of collagenase:neutral protease of 35:10 represents enzyme performance comparable to Sigma Type XI. Because significant variability in average islet yields from different strains of rats and mice have been reported, additional modifications of the TDE composition should be made to improve the yield and quality of islets recovered from different species and strains.
Cellular Biology, Issue 67, Islet, collagenase, mouse, insulin, fluorescence
4137
Near Infrared Optical Projection Tomography for Assessments of β-cell Mass Distribution in Diabetes Research
Institutions: Umeå University, University of Miami,, Catalan Institute of Research and Advanced Studies, Umeå University.
By adapting OPT to include the capability of imaging in the near infrared (NIR) spectrum, we here illustrate the possibility to image larger bodies of pancreatic tissue, such as the rat pancreas, and to increase the number of channels (cell types) that may be studied in a single specimen. We further describe the implementation of a number of computational tools that provide: 1/ accurate positioning of a specimen's (in our case the pancreas) centre of mass (COM) at the axis of rotation (AR)
2
; 2/ improved algorithms for post-alignment tuning which prevents geometric distortions during the tomographic reconstruction
2
and 3/ a protocol for intensity equalization to increase signal to noise ratios in OPT-based BCM determinations
3
. In addition, we describe a sample holder that minimizes the risk for unintentional movements of the specimen during image acquisition. Together, these protocols enable assessments of BCM distribution and other features, to be performed throughout the volume of intact pancreata or other organs (
e.g.
in studies of islet transplantation), with a resolution down to the level of individual islets of Langerhans.
Medicine, Issue 71, Biomedical Engineering, Cellular Biology, Molecular Biology, Biophysics, Pancreas, Islets of Langerhans, Diabetes Mellitus, Imaging, Three-Dimensional, Optical Projection Tomography, Beta-cell Mass, Near Infrared, Computational Processing
50238
Human Pancreatic Islet Isolation: Part II: Purification and Culture of Human Islets
Institutions: University of Illinois, Chicago.

Management of Type 1 diabetes is burdensome, both to the individual and society, costing over 100 billion dollars annually. Despite the widespread use of glucose monitoring and new insulin formulations, many individuals still develop devastating secondary complications. Pancreatic islet transplantation can restore near normal glucose control in diabetic patients
1
, without the risk of serious hypoglycemic episodes that are associated with intensive insulin therapy. Providing sufficient islet mass is important for successful islet transplantation. However, donor characteristics, organ procurement and preservation affect the isolation outcome
2
. At University of Illinois at Chicago (UIC) we developed a successful isolation protocol with an improved purification gradient
3
. The program started in January 2004 and more than 300 isolations were performed up to November 2008. The pancreata were sent in cold preservation solutions (UW, University of Wisconsin or HTK, Histidine-Tryptophan Ketoglutarate)
4-7
to the Cell Isolation Laboratory at UIC for islet isolation. Pancreatic islets were isolated using the UIC method, which is a modified version of the method originally described by Ricordi
et al
8
. As described in Part I: Digestion and Collection of Pancreatic Tissue, human pancreas was trimmed, cannulated, perfused, and digested. After collection and at least 30 minutes of incubation in UW solution, the tissue was loaded in the cell separator (COBE 2991, Cobe, Lakewood, CO) for purification
3
. Following purification, islet yield (expressed as islet equivalents, IEQ), tissue volume, and purity was determined according to standard methods
9
. Isolated islets were cultured in CMRL-1066 media (Mediatech, Herndon, VA), supplemented with 1.5% human albumin, 0.1% insulin-transferrin-selenium (ITS), 1 ml of Ciprofloxacin, 5 ml o f 1M HEPES, and 14.5 ml of 7.5% Sodium Bicarbonate in T175 flasks at 37°C overnight culture before islets were transplanted or used for research.
Medicine, Issue 27, Human islets, Type 1 diabetes, human islet purification, human islet transplantation
1343
In situ Quantification of Pancreatic Beta-cell Mass in Mice
Institutions: University of Chicago.

Tracing changes of specific cell populations in health and disease is an important goal of biomedical research. The process of monitoring pancreatic beta-cell proliferation and islet growth is particularly challenging. We have developed a method to capture the distribution of beta-cells in the intact pancreas of transgenic mice with fluorescence-tagged beta-cells with a macro written for ImageJ (rsb.info.nih.gov/ij/). Following pancreatic dissection and tissue clearing, the entire pancreas is captured as a virtual slice, after which the GFP-tagged beta-cells are examined. The analysis includes the quantification of total beta-cell area, islet number and size distribution with reference to specific parameters and locations for each islet and for small clusters of beta-cells. The entire distribution of islets can be plotted in three dimensions, and the information from the distribution on the size and shape of each islet allows a quantitative and qualitative comparison of changes in overall beta-cell area at a glance.
Cellular Biology, Issue 40, beta-cells, islets, mouse, pancreas
1970
Determination of DNA Methylation of Imprinted Genes in Arabidopsis Endosperm
Institutions: Saint Louis University.

Arabidopsis thaliana
is an excellent model organism for studying epigenetic mechanisms. One of the reasons is the loss-of-function null mutant of DNA methyltransferases is viable, thus providing a system to study how loss of DNA methylation in a genome affects growth and development. Imprinting refers to differential expression of maternal and paternal alleles and plays an important role in reproduction development in both mammal and plants. DNA methylation is critical for determining whether the maternal or paternal alleles of an imprinted gene is expressed or silenced. In flowering plants, there is a double fertilization event in reproduction: one sperm cell fertilizes the egg cell to form embryo and a second sperm fuses with the central cell to give rise to endosperm. Endosperm is the tissue where imprinting occurs in plants.
MEDEA
, a SET domain Polycomb group gene, and
FWA
, a transcription factor regulating flowering, are the first two genes shown to be imprinted in endosperm and their expression is controlled by DNA methylation and demethylation in plants. In order to determine imprinting status of a gene and methylation pattern in endosperm, we need to be able to isolate endosperm first. Since seed is tiny in
Arabidopsis
, it remains challenging to isolate
Arabidopsis
endosperm and examine its methylation. In this video protocol, we report how to conduct a genetic cross, to isolate endosperm tissue from seeds, and to determine the methylation status by bisulfite sequencing.
Plant Biology, Issue 47, DNA methylation, imprinting, bisulfite sequencing, endosperm, Arabidopsis
2327
Transplantation of Pancreatic Islets Into the Kidney Capsule of Diabetic Mice
Institutions: University of California, San Francisco - UCSF.

Our protocol was developed to cleanly and easily deliver islets or cells under the kidney capsule of diabetic or normal mice. We found that it was easier to concentrate the islets or cells into pellets in the final delivery tubing (PE50) used to transplant the cells under the kidney capsule. This technique provides both speed and ease while reducing any undue stress to the cells or to the mouse. Loading: Settled, hand picked, islets or pelleted cells are carefully aspirated off the bottom of a 1.5 mL microcentrifuge tube using a p200 pipetteman and a straight, thin-wall pipette tip. A length of PE50 tubing is attached to the pipette tip using a small silicone adapter tubing. Cells are allowed to settle, in the tip, and then are transferred to the PE50 tubing by slowly dialing the pipetteman. Once the cells are near the end of the PE50 tubing, a kink is made and the silicone adaptor tubing is placed over the kink. The PE50 tubing is transferred to a 15 mL conical containing a cut 5 mL pipet, and the PE50 tubing is taped over the side of the 5 mL pipet to prevent curling during centrifuging. Cells are allowed to reach 1,000 rpm and stopped. Transplantation: Recipient mice are anesthetized, shaved, and cleaned. A small incision is made on the left flank of the mouse and the kidney is exposed. The kidney, fat, and tissue are kept moist with normal saline swab. The distal end of the PE50 is attached to a Hamilton screw drive syringe, containing a pipette tip, using the silicone adaptor tubing. A small nick is made on the right flank side of the kidney, not too large nor too deep. The beveled end of the PE50 tubing, nearest the cells, is carefully placed under the capsule, the tubing is moved around gently to make space while swabbing normal saline; a dry capsule can tear easily. A small air bubble is delivered under the capsule by slowly dialing the syringe screw drive. Islets are then slowly delivered behind the air bubble. Once the islets have been delivered kidney homeostasis is maintained and the knick is cauterized with low heat. The kidney is placed back into the cavity and the peritoneum and skin are sutured and stapled. Mice are immediately treated with Flunixin and Buprenorphine s.q. and placed in a cage on a heating pad.
Immunology, Issue 9, Mouse, Pancreas, Kidney, Diabetes, Transplantation, Islets, Translational Research
404
Human Pancreatic Islet Isolation: Part I: Digestion and Collection of Pancreatic Tissue
Institutions: University of Illinois, Chicago.

Management of Type 1 diabetes is burdensome, both to the individual and society, costing over 100 billion dollars annually. Despite the widespread use of glucose monitoring and new insulin formulations, many individuals still develop devastating secondary complications. Pancreatic islet transplantation can restore near normal glucose control in diabetic patients
1
, without the risk of serious hypoglycemic episodes that are associated with intensive insulin therapy. Providing sufficient islet mass is important for successful islet transplantation. However, donor characteristic, organ procurement and preservation affect the isolation outcome
2
. At University of Illinois at Chicago (UIC) we have developed a successful isolation protocol with an improved purification gradient
3
. The program started in January 2004, and more than 300 isolations were performed up to November 2008. The pancreata were sent in cold preservation solutions (UW, University of Wisconsin or HTK, Histidine-Tryptophan Ketoglutarate)
4-7
to the Cell Isolation Laboratory at UIC for islet isolation. Pancreatic islets were isolated using the UIC method, which is a modified version of the method originally described by Ricordi
et al
8
. Briefly, after cleaning the pancreas from the surrounding tissue, it was perfused with enzyme solution (Serva Collagenase + Neutral Protease or Sigma V enzyme). The distended pancreas was then transferred to the Ricordi digestion chamber, connected to a modified, closed circulation tubing system, and warmed up to 37°C. During the digestion, the chamber was shaken gently. Samples were taken continuously to monitor the digestion progress. Once free islets were detected under the microscope, the digestion was stopped by flushing cold (4°C) RPMI dilution solution (Mediatech, Herndon, VA) into the circulation system to dilute the enzyme. After being collected and washed in M199 media supplemented with human albumin, the tissue was sampled for pre-purification count and incubated with UW solution before purification. Purification process will be described in Part II: Purification and Culture of Human Islets.
Medicine, Issue 27, Human islets, Type 1 diabetes, pancreatic tissue, digestion, human islet transplantation
1125
Isolation, Culture, and Imaging of Human Fetal Pancreatic Cell Clusters
Institutions: University of California, San Diego.

For almost 30 years, scientists have demonstrated that human fetal ICCs transplanted under the kidney capsule of nude mice matured into functioning endocrine cells, as evidenced by a significant increase in circulating human C-peptide following glucose stimulation
1-9
. However
in vitro,
genesis of insulin producing cells from human fetal ICCs is low
10
; results reminiscent of recent experiments performed with human embryonic stem cells (hESC), a renewable source of cells that hold great promise as a potential therapeutic treatment for type 1 diabetes. Like ICCs, transplantation of partially differentiated hESC generate glucose responsive, insulin producing cells, but
in vitro
genesis of insulin producing cells from hESC is much less robust
11-17
. A complete understanding of the factors that influence the growth and differentiation of endocrine precursor cells will likely require data generated from both ICCs and hESC. While a number of protocols exist to generate insulin producing cells from hESC
in vitro
11-22
, far fewer exist for ICCs
10,23,24
. Part of that discrepancy likely comes from the difficulty of working with human fetal pancreas. Towards that end, we have continued to build upon existing methods to isolate fetal islets from human pancreases with gestational ages ranging from 12 to 23 weeks, grow the cells as a monolayer or in suspension, and image for cell proliferation, pancreatic markers and human hormones including glucagon and C-peptide. ICCs generated by the protocol described below result in C-peptide release after transplantation under the kidney capsule of nude mice that are similar to C-peptide levels obtained by transplantation of fresh tissue
6
. Although the examples presented here focus upon the pancreatic endoderm proliferation and β cell genesis, the protocol can be employed to study other aspects of pancreatic development, including exocrine, ductal, and other hormone producing cells.
Medicine, Issue 87, human fetal pancreas, islet cell cluster (ICC), transplantation, immunofluorescence, endocrine cell proliferation, differentiation, C-peptide
50796
Oscillation and Reaction Board Techniques for Estimating Inertial Properties of a Below-knee Prosthesis
Institutions: University of Northern Colorado, Arizona State University, Iowa State University.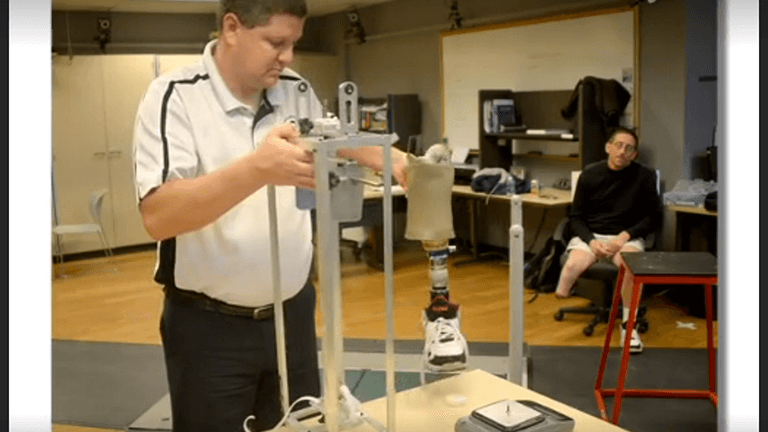 The purpose of this study was two-fold: 1) demonstrate a technique that can be used to directly estimate the inertial properties of a below-knee prosthesis, and 2) contrast the effects of the proposed technique and that of using intact limb inertial properties on joint kinetic estimates during walking in unilateral, transtibial amputees. An oscillation and reaction board system was validated and shown to be reliable when measuring inertial properties of known geometrical solids. When direct measurements of inertial properties of the prosthesis were used in inverse dynamics modeling of the lower extremity compared with inertial estimates based on an intact shank and foot, joint kinetics at the hip and knee were significantly lower during the swing phase of walking. Differences in joint kinetics during stance, however, were smaller than those observed during swing. Therefore, researchers focusing on the swing phase of walking should consider the impact of prosthesis inertia property estimates on study outcomes. For stance, either one of the two inertial models investigated in our study would likely lead to similar outcomes with an inverse dynamics assessment.
Bioengineering, Issue 87, prosthesis inertia, amputee locomotion, below-knee prosthesis, transtibial amputee
50977
Micropunching Lithography for Generating Micro- and Submicron-patterns on Polymer Substrates
Institutions: University of Texas at Arlington .

Conducting polymers have attracted great attention since the discovery of high conductivity in doped polyacetylene in 1977
1
. They offer the advantages of low weight, easy tailoring of properties and a wide spectrum of applications
2,3
. Due to sensitivity of conducting polymers to environmental conditions (e.g., air, oxygen, moisture, high temperature and chemical solutions), lithographic techniques present significant technical challenges when working with these materials
4
. For example, current photolithographic methods, such as ultra-violet (UV), are unsuitable for patterning the conducting polymers due to the involvement of wet and/or dry etching processes in these methods. In addition, current micro/nanosystems mainly have a planar form
5,6
. One layer of structures is built on the top surfaces of another layer of fabricated features. Multiple layers of these structures are stacked together to form numerous devices on a common substrate. The sidewall surfaces of the microstructures have not been used in constructing devices. On the other hand, sidewall patterns could be used, for example, to build 3-D circuits, modify fluidic channels and direct horizontal growth of nanowires and nanotubes. A macropunching method has been applied in the manufacturing industry to create macropatterns in a sheet metal for over a hundred years. Motivated by this approach, we have developed a micropunching lithography method (MPL) to overcome the obstacles of patterning conducting polymers and generating sidewall patterns. Like the macropunching method, the MPL also includes two operations (
Fig. 1
): (i) cutting; and (ii) drawing. The "cutting" operation was applied to pattern three conducting polymers
4
, polypyrrole (PPy), Poly(3,4-ethylenedioxythiophen)-poly(4-styrenesulphonate) (PEDOT) and polyaniline (PANI). It was also employed to create Al microstructures
7
. The fabricated microstructures of conducting polymers have been used as humidity
8
, chemical
8
, and glucose sensors
9
. Combined microstructures of Al and conducting polymers have been employed to fabricate capacitors and various heterojunctions
9,10,11
. The "cutting" operation was also applied to generate submicron-patterns, such as 100- and 500-nm-wide PPy lines as well as 100-nm-wide Au wires. The "drawing" operation was employed for two applications: (i) produce Au sidewall patterns on high density polyethylene (HDPE) channels which could be used for building 3D microsystems
12,13,14
, and (ii) fabricate polydimethylsiloxane (PDMS) micropillars on HDPE substrates to increase the contact angle of the channel
15
.
Mechanical Engineering, Issue 65, Physics, micropunching lithography, conducting polymers, nanowires, sidewall patterns, microlines
3725
A Method for Mouse Pancreatic Islet Isolation and Intracellular cAMP Determination
Institutions: University of Wisconsin-Madison, University of Wisconsin-Madison, University of Waterloo.

Uncontrolled glycemia is a hallmark of diabetes mellitus and promotes morbidities like neuropathy, nephropathy, and retinopathy. With the increasing prevalence of diabetes, both immune-mediated type 1 and obesity-linked type 2, studies aimed at delineating diabetes pathophysiology and therapeutic mechanisms are of critical importance. The β-cells of the pancreatic islets of Langerhans are responsible for appropriately secreting insulin in response to elevated blood glucose concentrations. In addition to glucose and other nutrients, the β-cells are also stimulated by specific hormones, termed incretins, which are secreted from the gut in response to a meal and act on β-cell receptors that increase the production of intracellular cyclic adenosine monophosphate (cAMP). Decreased β-cell function, mass, and incretin responsiveness are well-understood to contribute to the pathophysiology of type 2 diabetes, and are also being increasingly linked with type 1 diabetes. The present mouse islet isolation and cAMP determination protocol can be a tool to help delineate mechanisms promoting disease progression and therapeutic interventions, particularly those that are mediated by the incretin receptors or related receptors that act through modulation of intracellular cAMP production. While only cAMP measurements will be described, the described islet isolation protocol creates a clean preparation that also allows for many other downstream applications, including glucose stimulated insulin secretion, [3
H
]-thymidine incorporation, protein abundance, and mRNA expression.
Physiology, Issue 88, islet, isolation, insulin secretion, β-cell, diabetes, cAMP production, mouse
50374
A Method for Murine Islet Isolation and Subcapsular Kidney Transplantation
Institutions: The Ohio State University, The Ohio State University, The Ohio State University.

Since the early pioneering work of Ballinger and Reckard demonstrating that transplantation of islets of Langerhans into diabetic rodents could normalize their blood glucose levels, islet transplantation has been proposed to be a potential treatment for type 1 diabetes
1,2
. More recently, advances in human islet transplantation have further strengthened this view
1,3
. However, two major limitations prevent islet transplantation from being a widespread clinical reality: (a) the requirement for large numbers of islets per patient, which severely reduces the number of potential recipients, and (b) the need for heavy immunosuppression, which significantly affects the pediatric population of patients due to their vulnerability to long-term immunosuppression. Strategies that can overcome these limitations have the potential to enhance the therapeutic utility of islet transplantation. Islet transplantation under the mouse kidney capsule is a widely accepted model to investigate various strategies to improve islet transplantation. This experiment requires the isolation of high quality islets and implantation of islets to the diabetic recipients. Both procedures require surgical steps that can be better demonstrated by video than by text. Here, we document the detailed steps for these procedures by both video and written protocol. We also briefly discuss different transplantation models: syngeneic, allogeneic, syngeneic autoimmune, and allogeneic autoimmune.
Medicine, Issue 50, islet isolation, islet transplantation, diabetes, murine, pancreas
2096
Coculture Analysis of Extracellular Protein Interactions Affecting Insulin Secretion by Pancreatic Beta Cells
Institutions: University of California, San Diego, Janssen Research & Development, University of California, San Diego.

Interactions between cell-surface proteins help coordinate the function of neighboring cells. Pancreatic beta cells are clustered together within pancreatic islets and act in a coordinated fashion to maintain glucose homeostasis. It is becoming increasingly clear that interactions between transmembrane proteins on the surfaces of adjacent beta cells are important determinants of beta-cell function. Elucidation of the roles of particular transcellular interactions by knockdown, knockout or overexpression studies in cultured beta cells or
in vivo
necessitates direct perturbation of mRNA and protein expression, potentially affecting beta-cell health and/or function in ways that could confound analyses of the effects of specific interactions. These approaches also alter levels of the intracellular domains of the targeted proteins and may prevent effects due to interactions between proteins within the same cell membrane to be distinguished from the effects of transcellular interactions. Here a method for determining the effect of specific transcellular interactions on the insulin secreting capacity and responsiveness of beta cells is presented. This method is applicable to beta-cell lines, such as INS-1 cells, and to dissociated primary beta cells. It is based on coculture models developed by neurobiologists, who found that exposure of cultured neurons to specific neuronal proteins expressed on HEK293 (or COS) cell layers identified proteins important for driving synapse formation. Given the parallels between the secretory machinery of neuronal synapses and of beta cells, we reasoned that beta-cell functional maturation might be driven by similar transcellular interactions. We developed a system where beta cells are cultured on a layer of HEK293 cells expressing a protein of interest. In this model, the beta-cell cytoplasm is untouched while extracellular protein-protein interactions are manipulated. Although we focus here primarily on studies of glucose-stimulated insulin secretion, other processes can be analyzed; for example, changes in gene expression as determined by immunoblotting or qPCR.
Medicine, Issue 76, Cellular Biology, Molecular Biology, Biomedical Engineering, Immunology, Hepatology, Islets of Langerhans, islet, Insulin, Coculture, pancreatic beta cells, INS-1 cells, extracellular contact, transmembrane protein, transcellular interactions, insulin secretion, diabetes, cell culture
50365
Neo-Islet Formation in Liver of Diabetic Mice by Helper-dependent Adenoviral Vector-Mediated Gene Transfer
Institutions: Baylor College of Medicine , Baylor College of Medicine , Baylor College of Medicine .

Type 1 diabetes is caused by T cell-mediated autoimmune destruction of insulin-producing cells in the pancreas. Until now insulin replacement is still the major therapy, because islet transplantation has been limited by donor availability and by the need for long-term immunosuppression. Induced islet neogenesis by gene transfer of Neuogenin3 (Ngn3), the islet lineage-defining specific transcription factor and Betacellulin (Btc), an islet growth factor has the potential to cure type 1 diabetes. Adenoviral vectors (Ads) are highly efficient gene transfer vector; however, early generation Ads have several disadvantages for
in vivo
use. Helper-dependent Ads (HDAds) are the most advanced Ads that were developed to improve the safety profile of early generation of Ads and to prolong transgene expression
1
. They lack chronic toxicity because they lack viral coding sequences
2-5
and retain only Ad
cis
elements necessary for vector replication and packaging. This allows cloning of up to 36 kb genes. In this protocol, we describe the method to generate HDAd-Ngn3 and HDAd-Btc and to deliver these vectors into STZ-induced diabetic mice. Our results show that co-injection of HDAd-Ngn3 and HDAd-Btc induces 'neo islets' in the liver and reverses hyperglycemia in diabetic mice.
Medicine, Issue 68, Genetics, Physiology, Gene therapy, Neurogenin3, Betacellulin, helper-dependent adenoviral vectors, Type 1 diabetes, islet neogenesis
4321
Assessing Replication and Beta Cell Function in Adenovirally-transduced Isolated Rodent Islets
Institutions: Indiana University School of Medicine, Indiana University School of Medicine.

Glucose homeostasis is primarily controlled by the endocrine hormones insulin and glucagon, secreted from the pancreatic beta and alpha cells, respectively. Functional beta cell mass is determined by the anatomical beta cell mass as well as the ability of the beta cells to respond to a nutrient load. A loss of functional beta cell mass is central to both major forms of diabetes
1-3
. Whereas the declining functional beta cell mass results from an autoimmune attack in type 1 diabetes, in type 2 diabetes, this decrement develops from both an inability of beta cells to secrete insulin appropriately and the destruction of beta cells from a cadre of mechanisms. Thus, efforts to restore functional beta cell mass are paramount to the better treatment of and potential cures for diabetes. Efforts are underway to identify molecular pathways that can be exploited to stimulate the replication and enhance the function of beta cells. Ideally, therapeutic targets would improve both beta cell growth and function. Perhaps more important though is to identify whether a strategy that stimulates beta cell growth comes at the cost of impairing beta cell function (such as with some oncogenes) and vice versa. By systematically suppressing or overexpressing the expression of target genes in isolated rat islets, one can identify potential therapeutic targets for increasing functional beta cell mass
4-6
. Adenoviral vectors can be employed to efficiently overexpress or knockdown proteins in isolated rat islets
4,7-15
. Here, we present a method to manipulate gene expression utilizing adenoviral transduction and assess islet replication and beta cell function in isolated rat islets (
Figure 1
). This method has been used previously to identify novel targets that modulate beta cell replication or function
5,6,8,9,16,17
.
Medicine, Issue 64, Physiology, beta cell, gene expression, islet, diabetes, insulin secretion, proliferation, adenovirus, rat
4080
Computer-assisted Large-scale Visualization and Quantification of Pancreatic Islet Mass, Size Distribution and Architecture
Institutions: University of Chicago, National Institutes of Health, University of Chicago, University of Massachusetts.

The pancreatic islet is a unique micro-organ composed of several hormone secreting endocrine cells such as beta-cells (insulin), alpha-cells (glucagon), and delta-cells (somatostatin) that are embedded in the exocrine tissues and comprise 1-2% of the entire pancreas. There is a close correlation between body and pancreas weight. Total beta-cell mass also increases proportionately to compensate for the demand for insulin in the body. What escapes this proportionate expansion is the size distribution of islets. Large animals such as humans share similar islet size distributions with mice, suggesting that this micro-organ has a certain size limit to be functional. The inability of large animal pancreata to generate proportionately larger islets is compensated for by an increase in the number of islets and by an increase in the proportion of larger islets in their overall islet size distribution. Furthermore, islets exhibit a striking plasticity in cellular composition and architecture among different species and also within the same species under various pathophysiological conditions. In the present study, we describe novel approaches for the analysis of biological image data in order to facilitate the automation of analytic processes, which allow for the analysis of large and heterogeneous data collections in the study of such dynamic biological processes and complex structures. Such studies have been hampered due to technical difficulties of unbiased sampling and generating large-scale data sets to precisely capture the complexity of biological processes of islet biology. Here we show methods to collect unbiased "representative" data within the limited availability of samples (or to minimize the sample collection) and the standard experimental settings, and to precisely analyze the complex three-dimensional structure of the islet. Computer-assisted automation allows for the collection and analysis of large-scale data sets and also assures unbiased interpretation of the data. Furthermore, the precise quantification of islet size distribution and spatial coordinates (i.e. X, Y, Z-positions) not only leads to an accurate visualization of pancreatic islet structure and composition, but also allows us to identify patterns during development and adaptation to altering conditions through mathematical modeling. The methods developed in this study are applicable to studies of many other systems and organisms as well.
Cellular Biology, Issue 49, beta-cells, islets, large-scale analysis, pancreas
2471
Inducing Plasticity of Astrocytic Receptors by Manipulation of Neuronal Firing Rates
Institutions: University of California Riverside, University of California Riverside, University of California Riverside.

Close to two decades of research has established that astrocytes
in situ
and
in vivo
express numerous G protein-coupled receptors (GPCRs) that can be stimulated by neuronally-released transmitter. However, the ability of astrocytic receptors to exhibit plasticity in response to changes in neuronal activity has received little attention. Here we describe a model system that can be used to globally scale up or down astrocytic group I metabotropic glutamate receptors (mGluRs) in acute brain slices. Included are methods on how to prepare parasagittal hippocampal slices, construct chambers suitable for long-term slice incubation, bidirectionally manipulate neuronal action potential frequency, load astrocytes and astrocyte processes with fluorescent Ca
2+
indicator, and measure changes in astrocytic Gq GPCR activity by recording spontaneous and evoked astrocyte Ca
2+
events using confocal microscopy. In essence, a "calcium roadmap" is provided for how to measure plasticity of astrocytic Gq GPCRs. Applications of the technique for study of astrocytes are discussed. Having an understanding of how astrocytic receptor signaling is affected by changes in neuronal activity has important implications for both normal synaptic function as well as processes underlying neurological disorders and neurodegenerative disease.
Neuroscience, Issue 85, astrocyte, plasticity, mGluRs, neuronal Firing, electrophysiology, Gq GPCRs, Bolus-loading, calcium, microdomains, acute slices, Hippocampus, mouse
51458
Isolation of Human Islets from Partially Pancreatectomized Patients
Institutions: University Hospital Carl Gustav Carus, University of Technology Dresden, Paul Langerhans Institute Dresden, University Hospital Carl Gustav Carus, University of Technology Dresden.

Investigations into the pathogenesis of type 2 diabetes and islets of Langerhans malfunction
1
have been hampered by the limited availability of type 2 diabetic islets from organ donors
2
. Here we share our protocol for isolating islets from human pancreatic tissue obtained from type 2 diabetic and non-diabetic patients who have undergone partial pancreatectomy due to different pancreatic diseases (benign or malignant pancreatic tumors, chronic pancreatitis, and common bile duct or duodenal tumors). All patients involved gave their consent to this study, which had also been approved by the local ethics committee. The surgical specimens were immediately delivered to the pathologist who selected soft and healthy appearing pancreatic tissue for islet isolation, retaining the damaged tissue for diagnostic purposes. We found that to isolate more than 1,000 islets, we had to begin with at least 2 g of pancreatic tissue. Also essential to our protocol was to visibly distend the tissue when injecting the enzyme-containing media and subsequently mince it to aid digestion by increasing the surface area. To extend the applicability of our protocol to include the occasional case in which a large amount (>15g) of human pancreatic tissue is available , we used a Ricordi chamber (50 ml) to digest the tissue. During digestion, we manually shook the Ricordi chamber
3
at an intensity that varied by specimen according to its level of tissue fibrosis. A discontinous Ficoll gradient was then used to separate the islets from acinar tissue. We noted that the tissue pellet should be small enough to be homogenously resuspended in Ficoll medium with a density of 1.125 g/ml. After isolation, we cultured the islets under stress free conditions (no shaking or rotation) with 5% CO
2
at 37 °C for at least 48 h in order to facilitate their functional recovery. Widespread application of our protocol and its future improvement could enable the timely harvesting of large quantities of human islets from diabetic and clinically matched non-diabetic subjects, greatly advancing type 2 diabetes research.
Medicine, Issue 53, human islets, Diabetes mellitus, partial pancreatectomy, human islet isolation
2962
A Multi-Parametric Islet Perifusion System within a Microfluidic Perifusion Device
Institutions: University of Illinois, Chicago, University of Illinois, Chicago.

A microfluidic islet perifusion device was developed for the assessment of dynamic insulin secretion of multiple islets and simultaneous fluorescence imaging of calcium influx and mitochondrial potential changes. The device consists of three layers: first layer contains an array of microscale wells (500 μm diameter and 150 μm depth) that help to immobilize the islets while exposed to flow and maximize the exposed surface area of the islets; the second layer contains a circular perifusion chamber (3 mm deep, 7 mm diameter); and the third layer contains an inlet-mixing channel that fans out before injection into the perifusion chamber (2 mm in width, 19 mm in length, and 500 μm in height) for optimizing the mixing efficiency prior to entering the perifusion chamber. The creation of various glucose gradients including a linear, bell shape, and square shapes also can be created in the microfluidic perifusion network and is demonstrated.
Cellular Biology, Issue 35, Microfluidics, Islet perifusion, glucose ramp, imaging, perifusion, beta cells, insulin secretion
1649