ABSTRACT
It is crucial to identify cytomegalovirus (CMV) infection in the gastrointestinal (GI) tract of immunosuppressed patients, given their greater risk for developing severe infection. Many laboratory methods for the detection of CMV infection have been developed, including serology, viral culture, and molecular methods. Often, these methods reflect systemic involvement with CMV and do not specifically identify local tissue involvement. Therefore, detection of CMV infection in the GI tract is frequently done by traditional histology of biopsy tissue. Hematoxylin and eosin (H&E) staining in conjunction with immunohistochemistry (IHC) have remained the mainstays of examining these biopsies. H&E and IHC sometimes result in atypical (equivocal) staining patterns, making interpretation difficult. It was shown that quantitative polymerase chain reaction (qPCR) for CMV can successfully be performed on formalin-fixed, paraffin-embedded (FFPE) biopsy tissue for very high sensitivity and specificity. The goal of this protocol is to demonstrate how to perform qPCR testing for the detection of CMV in FFPE biopsy tissue in a clinical laboratory setting. This method is likely to be of great benefit for patients in cases of equivocal staining for CMV in GI biopsies.
25 Related JoVE Articles!
Electricity-Free, Sequential Nucleic Acid and Protein Isolation
Institutions: CUBRC, Inc., State University of New York at Buffalo, School of Medicine and Biomedical Sciences.

Traditional and emerging pathogens such as Enterohemorrhagic
Escherichia coli
(EHEC),
Yersinia pestis,
or prion-based diseases are of significant concern for governments, industries and medical professionals worldwide. For example, EHECs, combined with
Shigella
, are responsible for the deaths of approximately 325,000 children each year and are particularly prevalent in the developing world where laboratory-based identification, common in the United States, is unavailable
1
. The development and distribution of low cost, field-based, point-of-care tools to aid in the rapid identification and/or diagnosis of pathogens or disease markers could dramatically alter disease progression and patient prognosis. We have developed a tool to isolate nucleic acids and proteins from a sample by solid-phase extraction (SPE) without electricity or associated laboratory equipment
2
. The isolated macromolecules can be used for diagnosis either in a forward lab or using field-based point-of-care platforms. Importantly, this method provides for the direct comparison of nucleic acid and protein data from an un-split sample, offering a confidence through corroboration of genomic and proteomic analysis. Our isolation tool utilizes the industry standard for solid-phase nucleic acid isolation, the BOOM technology, which isolates nucleic acids from a chaotropic salt solution, usually guanidine isothiocyanate, through binding to silica-based particles or filters
3
. CUBRC's proprietary solid-phase extraction chemistry is used to purify protein from chaotropic salt solutions, in this case, from the waste or flow-thru following nucleic acid isolation
4
. By packaging well-characterized chemistries into a small, inexpensive and simple platform, we have generated a portable system for nucleic acid and protein extraction that can be performed under a variety of conditions. The isolated nucleic acids are stable and can be transported to a position where power is available for PCR amplification while the protein content can immediately be analyzed by hand held or other immunological-based assays. The rapid identification of disease markers in the field could significantly alter the patient's outcome by directing the proper course of treatment at an earlier stage of disease progression. The tool and method described are suitable for use with virtually any infectious agent and offer the user the redundancy of multi-macromolecule type analyses while simultaneously reducing their logistical burden.
Chemistry, Issue 63, Solid phase extraction, nucleic acid, protein, isolation, silica, Guanidine thiocyanate, isopropanol, remote, DTRA
4202
RNA Isolation of Pseudomonas aeruginosa Colonizing the Murine Gastrointestinal Tract
Institutions: University of Texas Southwestern Medical Center , Harvard Medical School, University of Texas Southwestern Medical Center .

Pseudomonas aeruginosa
(PA) infections result in significant morbidity and mortality in hosts with compromised immune systems, such as patients with leukemia, severe burn wounds, or organ transplants
1
. In patients at high-risk for developing PA bloodstream infections, the gastrointestinal (GI) tract is the main reservoir for colonization
2
, but the mechanisms by which PA transitions from an asymptomatic colonizing microbe to an invasive, and often deadly, pathogen are unclear. Previously, we performed
in vivo
transcription profiling experiments by recovering PA mRNA from bacterial cells residing in the cecums of colonized mice
3
in order to identify changes in bacterial gene expression during alterations to the host's immune status. As with any transcription profiling experiment, the rate-limiting step is in the isolation of sufficient amounts of high quality mRNA. Given the abundance of enzymes, debris, food residues, and particulate matter in the GI tract, the challenge of RNA isolation is daunting. Here, we present a method for reliable and reproducible isolation of bacterial RNA recovered from the murine GI tract. This method utilizes a well-established murine model of PA GI colonization and neutropenia-induced dissemination
4
. Once GI colonization with PA is confirmed, mice are euthanized and cecal contents are recovered and flash frozen. RNA is then extracted using a combination of mechanical disruption, boiling, phenol/chloroform extractions, DNase treatment, and affinity chromatography. Quantity and purity are confirmed by spectrophotometry (Nanodrop Technologies) and bioanalyzer (Agilent Technologies) (Fig 1). This method of GI microbial RNA isolation can easily be adapted to other bacteria and fungi as well.
Immunology, Issue 55, Pseudomonas, RNA, murine, cecum, transcriptome, qPCR, RT-PCR, PCR
3293
NanoDrop Microvolume Quantitation of Nucleic Acids
Institutions: Wilmington, Delaware.

Biomolecular assays are continually being developed that use progressively smaller amounts of material, often precluding the use of conventional cuvette-based instruments for nucleic acid quantitation for those that can perform microvolume quantitation. The NanoDrop microvolume sample retention system (Thermo Scientific NanoDrop Products) functions by combining fiber optic technology and natural surface tension properties to capture and retain minute amounts of sample independent of traditional containment apparatus such as cuvettes or capillaries. Furthermore, the system employs shorter path lengths, which result in a broad range of nucleic acid concentration measurements, essentially eliminating the need to perform dilutions. Reducing the volume of sample required for spectroscopic analysis also facilitates the inclusion of additional quality control steps throughout many molecular workflows, increasing efficiency and ultimately leading to greater confidence in downstream results. The need for high-sensitivity fluorescent analysis of limited mass has also emerged with recent experimental advances. Using the same microvolume sample retention technology, fluorescent measurements may be performed with 2 μL of material, allowing fluorescent assays volume requirements to be significantly reduced. Such microreactions of 10 μL or less are now possible using a dedicated microvolume fluorospectrometer. Two microvolume nucleic acid quantitation protocols will be demonstrated that use integrated sample retention systems as practical alternatives to traditional cuvette-based protocols. First, a direct A260 absorbance method using a microvolume spectrophotometer is described. This is followed by a demonstration of a fluorescence-based method that enables reduced-volume fluorescence reactions with a microvolume fluorospectrometer. These novel techniques enable the assessment of nucleic acid concentrations ranging from 1 pg/ μL to 15,000 ng/ μL with minimal consumption of sample.
Basic Protocols, Issue 45, NanoDrop, Microvolume Quantitation, DNA Quantitation, Nucleic Acid Quantitation, DNA Quantification, RNA Quantification, Microvolume Spectrophotometer, Microvolume Fluorometer, DNA A260, Fluorescence PicoGreen
2565
A Novel Microdissection Approach to Recovering Mycobacterium tuberculosis Specific Transcripts from Formalin Fixed Paraffin Embedded Lung Granulomas
Institutions: Tulane National Primate Research Center, Tulane National Primate Research Center.

Microdissection has been used for the examination of tissues at DNA, RNA, and protein levels for over a decade. Laser capture microscopy (LCM) is the most common microdissection technique used today. In this technique, a laser is used to focally melt a thermoplastic membrane that overlies a dehydrated tissue section
1
. The tissue section composite is then lifted and separated from the membrane. Although this technique can be used successfully for tissue examination, it is time consuming and expensive. Furthermore, the successful completion of procedures using this technique requires the use of a laser, thus limiting its use. A new more affordable and practical microdissection approach called mesodissection is a possible solution to the pitfalls of LCM. This technique employs the MESO-1/MeSectr system to mill the desired tissue from a slide mounted tissue sample while concurrently dispensing and aspirating fluid to recover the desired tissue sample into a consumable mill bit. Before the dissection process begins, the user aligns the formalin fixed paraffin embedded (FFPE) slide with a hematoxylin and eosin stained (H&E) reference slide. Thereafter, the operator annotates the desired dissection area and proceeds to dissect the appropriate segment. The program generates an archived image of the dissection. The main advantage of mesodissection is the short duration needed to dissect a slide, taking an average of ten minutes from set up to sample generation in this experiment. Additionally, the system is significantly more cost effective and user friendly. A slight disadvantage is that it is not as precise as laser capture microscopy. In this article we demonstrate how mesodissection can be used to extract RNA from slides from FFPE granulomas caused by
Mycobacterium tuberculosis (Mtb)
.
Immunology, Issue 88, Microdissection, mesodissection, formalin fixed paraffin embedded, Mtb, LCM, TB, Mycobacterium tuberculosis
51693
DNA Methylation: Bisulphite Modification and Analysis
Institutions: Garvan Institute of Medical Research, University of NSW.

Epigenetics describes the heritable changes in gene function that occur independently to the DNA sequence. The molecular basis of epigenetic gene regulation is complex, but essentially involves modifications to the DNA itself or the proteins with which DNA associates. The predominant epigenetic modification of DNA in mammalian genomes is methylation of cytosine nucleotides (5-MeC). DNA methylation provides instruction to gene expression machinery as to where and when the gene should be expressed. The primary target sequence for DNA methylation in mammals is 5'-CpG-3' dinucleotides (Figure 1). CpG dinucleotides are not uniformly distributed throughout the genome, but are concentrated in regions of repetitive genomic sequences and CpG "islands" commonly associated with gene promoters (Figure 1). DNA methylation patterns are established early in development, modulated during tissue specific differentiation and disrupted in many disease states including cancer. To understand the biological role of DNA methylation and its role in human disease, precise, efficient and reproducible methods are required to detect and quantify individual 5-MeCs. This protocol for bisulphite conversion is the "gold standard" for DNA methylation analysis and facilitates identification and quantification of DNA methylation at single nucleotide resolution. The chemistry of cytosine deamination by sodium bisulphite involves three steps (Figure 2). (1) Sulphonation: The addition of bisulphite to the 5-6 double bond of cytosine (2) Hydrolic Deamination: hydrolytic deamination of the resulting cytosine-bisulphite derivative to give a uracil-bisulphite derivative (3) Alkali Desulphonation: Removal of the sulphonate group by an alkali treatment, to give uracil. Bisulphite preferentially deaminates cytosine to uracil in single stranded DNA, whereas 5-MeC, is refractory to bisulphite-mediated deamination. Upon PCR amplification, uracil is amplified as thymine while 5-MeC residues remain as cytosines, allowing methylated CpGs to be distinguished from unmethylated CpGs by presence of a cytosine "C" versus thymine "T" residue during sequencing. DNA modification by bisulphite conversion is a well-established protocol that can be exploited for many methods of DNA methylation analysis. Since the detection of 5-MeC by bisulphite conversion was first demonstrated by Frommer
et al.
1
and Clark
et al.
2
, methods based around bisulphite conversion of genomic DNA account for the majority of new data on DNA methylation. Different methods of post PCR analysis may be utilized, depending on the degree of specificity and resolution of methylation required. Cloning and sequencing is still the most readily available method that can give single nucleotide resolution for methylation across the DNA molecule.
Genetics, Issue 56, epigenetics, DNA methylation, Bisulphite, 5-methylcytosine (5-MeC), PCR
3170
Using Unfixed, Frozen Tissues to Study Natural Mucin Distribution
Institutions: University of California, San Diego , Los Alamos National Laboratory.

Mucins are complex and heavily glycosylated
O
-linked glycoproteins, which contain more than 70% carbohydrate by weight
1-3
. Secreted mucins, produced by goblet cells and the gastric mucosa, provide the scaffold for a micrometers-thick mucus layer that lines the epithelia of the gut and respiratory tract
3,4
. In addition to mucins, mucus layers also contain antimicrobial peptides, cytokines, and immunoglobulins
5-9
. The mucus layer is an important part of host innate immunity, and forms the first line of defense against invading microorganisms
8,10-12
. As such, the mucus is subject to numerous interactions with microbes, both pathogens and symbionts, and secreted mucins form an important interface for these interactions. The study of such biological interactions usually involves histological methods for tissue collection and staining. The two most commonly used histological methods for tissue collection and preservation in the clinic and in research laboratories are: formalin fixation followed by paraffin embedding, and tissue freezing, followed by embedding in cryo-protectant media. Paraffin-embedded tissue samples produce sections with optimal qualities for histological visualization including clarity and well-defined morphology. However, during the paraffin embedding process a number of epitopes become altered and in order to study these epitopes, tissue sections have to be further processed with one of many epitope retrieval methods
13
. Secreted mucins and lipids are extracted from the tissue during the paraffin-embedding clearing step, which requires prolong incubation with organic solvents (xylene or Citrisolv). Therefore this approach is sub-optimal for studies focusing on the nature and distribution of mucins and mucus
in vivo
. In contrast, freezing tissues in Optimal Cutting Temperature (OCT) embedding medium avoids dehydration and clearing of the sample, and maintains the sample hydration. This allows for better preservation of the hydrated mucus layer, and thus permits the study of the numerous roles of mucins in epithelial biology. As this method requires minimal processing of the tissue, the tissue is preserved in a more natural state. Therefore frozen tissues sections do not require any additional processing prior to staining and can be readily analyzed using immunohistochemistry methods. We demonstrate the preservation of micrometers-thick secreted mucus layer in frozen colon samples. This layer is drastically reduced when the same tissues are embedded in paraffin. We also demonstrate immunofluorescence staining of glycan epitopes presented on mucins using plant lectins. The advantage of this approach is that it does not require the use of special fixatives and allows utilizing frozen tissues that may already be preserved in the laboratory.
Medicine, Issue 67, Cellular Biology, Molecular Biology, Immunology, Biomedical Engineering, mucus, lectins, OCT, imaging, sialic acids, glycosylation
3928
Optimization of High Grade Glioma Cell Culture from Surgical Specimens for Use in Clinically Relevant Animal Models and 3D Immunochemistry
Institutions: Henry Ford Hospital.

Glioblastomas, the most common and aggressive form of astrocytoma, are refractory to therapy, and molecularly heterogeneous. The ability to establish cell cultures that preserve the genomic profile of the parental tumors, for use in patient specific
in vitro
and
in vivo
models, has the potential to revolutionize the preclinical development of new treatments for glioblastoma tailored to the molecular characteristics of each tumor. Starting with fresh high grade astrocytoma tumors dissociated into single cells, we use the neurosphere assay as an enrichment method for cells presenting cancer stem cell phenotype, including expression of neural stem cell markers, long term self-renewal
in vitro
, and the ability to form orthotopic xenograft tumors. This method has been previously proposed, and is now in use by several investigators. Based on our experience of dissociating and culturing 125 glioblastoma specimens, we arrived at the detailed protocol we present here, suitable for routine neurosphere culturing of high grade astrocytomas and large scale expansion of tumorigenic cells for preclinical studies. We report on the efficiency of successful long term cultures using this protocol and suggest affordable alternatives for culturing dissociated glioblastoma cells that fail to grow as neurospheres. We also describe in detail a protocol for preserving the neurospheres 3D architecture for immunohistochemistry. Cell cultures enriched in CSCs, capable of generating orthotopic xenograft models that preserve the molecular signatures and heterogeneity of GBMs, are becoming increasingly popular for the study of the biology of GBMs and for the improved design of preclinical testing of potential therapies.
Medicine, Issue 83, Primary Cell Culture, animal models, Nervous System Diseases, Neoplasms, glioblastoma, neurosphere, surgical specimens, long-term self-renewal
51088
Production of Tissue Microarrays, Immunohistochemistry Staining and Digitalization Within the Human Protein Atlas
Institutions: Uppsala University .

The tissue microarray (TMA) technology provides the means for high-throughput analysis of multiple tissues and cells. The technique is used within the Human Protein Atlas project for global analysis of protein expression patterns in normal human tissues, cancer and cell lines. Here we present the assembly of 1 mm cores, retrieved from microscopically selected representative tissues, into a single recipient TMA block. The number and size of cores in a TMA block can be varied from approximately forty 2 mm cores to hundreds of 0.6 mm cores. The advantage of using TMA technology is that large amount of data can rapidly be obtained using a single immunostaining protocol to avoid experimental variability. Importantly, only limited amount of scarce tissue is needed, which allows for the analysis of large patient cohorts
1 2
. Approximately 250 consecutive sections (4 μm thick) can be cut from a TMA block and used for immunohistochemical staining to determine specific protein expression patterns for 250 different antibodies. In the Human Protein Atlas project, antibodies are generated towards all human proteins and used to acquire corresponding protein profiles in both normal human tissues from 144 individuals and cancer tissues from 216 different patients, representing the 20 most common forms of human cancer. Immunohistochemically stained TMA sections on glass slides are scanned to create high-resolution images from which pathologists can interpret and annotate the outcome of immunohistochemistry. Images together with corresponding pathology-based annotation data are made publically available for the research community through the Human Protein Atlas portal (www.proteinatlas.org) (
Figure 1
)
3 4
. The Human Protein Atlas provides a map showing the distribution and relative abundance of proteins in the human body. The current version contains over 11 million images with protein expression data for 12.238 unique proteins, corresponding to more than 61% of all proteins encoded by the human genome.
Genetics, Issue 63, Immunology, Molecular Biology, tissue microarray, immunohistochemistry, slide scanning, the Human Protein Atlas, protein profiles
3620
MicroRNA In situ Hybridization for Formalin Fixed Kidney Tissues
Institutions: Medical College of Wisconsin.

In this article we describe a method for colorimetric detection of miRNA in the kidney through
in situ
hybridization with digoxigenin tagged microRNA probes. This protocol, originally developed by Kloosterman and colleagues for broad use with Exiqon miRNA probes
1
, has been modified to overcome challenges inherent in miRNA analysis in kidney tissues. These include issues such as structure identification and hard to remove residual probe and antibody. Use of relatively thin, 5 mm thick, tissue sections allowed for clear visualization of kidney structures, while a strong probe signal was retained in cells. Additionally, probe concentration and incubation conditions were optimized to facilitate visualization of microRNA expression with low background and nonspecific signal. Here, the optimized protocol is described, covering the initial tissue collection and preparation through the mounting of slides at the end of the procedure. The basic components of this protocol can be altered for application to other tissues and cell culture models.
Basic Protocol, Issue 81, microRNA, in situ hybridization, kidney, renal tubules, microRNA probe
50785
Quantitative Analysis and Characterization of Atherosclerotic Lesions in the Murine Aortic Sinus
Institutions: McMaster University, McMaster University.

Atherosclerosis is a disease of the large arteries and a major underlying cause of myocardial infarction and stroke. Several different mouse models have been developed to facilitate the study of the molecular and cellular pathophysiology of this disease. In this manuscript we describe specific techniques for the quantification and characterization of atherosclerotic lesions in the murine aortic sinus and ascending aorta. The advantage of this procedure is that it provides an accurate measurement of the cross-sectional area and total volume of the lesion, which can be used to compare atherosclerotic progression across different treatment groups. This is possible through the use of the valve leaflets as an anatomical landmark, together with careful adjustment of the sectioning angle. We also describe basic staining methods that can be used to begin to characterize atherosclerotic progression. These can be further modified to investigate antigens of specific interest to the researcher. The described techniques are generally applicable to a wide variety of existing and newly created dietary and genetically-induced models of atherogenesis.
Medicine, Issue 82, atherosclerosis, atherosclerotic lesion, Mouse Model, aortic sinus, tissue preparation and sectioning, Immunohistochemistry
50933
Extracting DNA from the Gut Microbes of the Termite (Zootermopsis Angusticollis) and Visualizing Gut Microbes
Institutions: California Institute of Technology - Caltech.

Termites are among the few animals known to have the capacity to subsist solely by consuming wood. The termite gut tract contains a dense and species-rich microbial population that assists in the degradation of lignocellulose predominantly into acetate, the key nutrient fueling termite metabolism (Odelson & Breznak, 1983). Within these microbial populations are bacteria, methanogenic archaea and, in some ("lower") termites, eukaryotic protozoa. Thus, termites are excellent research subjects for studying the interactions among microbial species and the numerous biochemical functions they perform to the benefit of their host. The species composition of microbial populations in termite guts as well as key genes involved in various biochemical processes has been explored using molecular techniques (Kudo et al., 1998; Schmit-Wagner et al., 2003; Salmassi & Leadbetter, 2003). These techniques depend on the extraction and purification of high-quality nucleic acids from the termite gut environment. The extraction technique described in this video is a modified compilation of protocols developed for extraction and purification of nucleic acids from environmental samples (Mor et al., 1994; Berthelet et al., 1996; Purdy et al., 1996; Salmassi & Leadbetter, 2003; Ottesen et al. 2006) and it produces DNA from termite hindgut material suitable for use as template for polymerase chain reaction (PCR).
Microbiology, issue 4, microbial community, DNA, extraction, gut, termite
195
Enhanced Northern Blot Detection of Small RNA Species in Drosophila Melanogaster
Institutions: Institut de Génétique et de Biologie Moléculaire et Cellulaire, Istituto Italiano di Tecnologia.

The last decades have witnessed the explosion of scientific interest around gene expression control mechanisms at the RNA level. This branch of molecular biology has been greatly fueled by the discovery of noncoding RNAs as major players in post-transcriptional regulation. Such a revolutionary perspective has been accompanied and triggered by the development of powerful technologies for profiling short RNAs expression, both at the high-throughput level (genome-wide identification) or as single-candidate analysis (steady state accumulation of specific species). Although several state-of-art strategies are currently available for dosing or visualizing such fleeing molecules, Northern Blot assay remains the eligible approach in molecular biology for immediate and accurate evaluation of RNA expression. It represents a first step toward the application of more sophisticated, costly technologies and, in many cases, remains a preferential method to easily gain insights into RNA biology. Here we overview an efficient protocol (Enhanced Northern Blot) for detecting weakly expressed microRNAs (or other small regulatory RNA species) from
Drosophila melanogaster
whole embryos, manually dissected larval/adult tissues or
in vitro
cultured cells. A very limited amount of RNA is required and the use of material from flow cytometry-isolated cells can be also envisaged.
Molecular Biology, Issue 90, Northern blotting, Noncoding RNAs, microRNAs, rasiRNA, Gene expression, Gcm/Glide, Drosophila melanogaster
51814
High-throughput, Automated Extraction of DNA and RNA from Clinical Samples using TruTip Technology on Common Liquid Handling Robots
Institutions: Akonni Biosystems, Inc., Akonni Biosystems, Inc., Akonni Biosystems, Inc., Akonni Biosystems, Inc..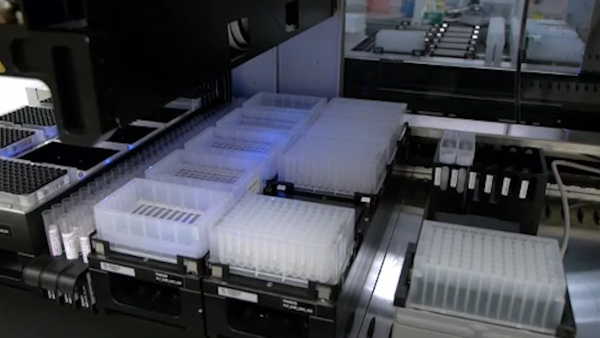 TruTip is a simple nucleic acid extraction technology whereby a porous, monolithic binding matrix is inserted into a pipette tip. The geometry of the monolith can be adapted for specific pipette tips ranging in volume from 1.0 to 5.0 ml. The large porosity of the monolith enables viscous or complex samples to readily pass through it with minimal fluidic backpressure. Bi-directional flow maximizes residence time between the monolith and sample, and enables large sample volumes to be processed within a single TruTip. The fundamental steps, irrespective of sample volume or TruTip geometry, include cell lysis, nucleic acid binding to the inner pores of the TruTip monolith, washing away unbound sample components and lysis buffers, and eluting purified and concentrated nucleic acids into an appropriate buffer. The attributes and adaptability of TruTip are demonstrated in three automated clinical sample processing protocols using an Eppendorf epMotion 5070, Hamilton STAR and STARplus liquid handling robots, including RNA isolation from nasopharyngeal aspirate, genomic DNA isolation from whole blood, and fetal DNA extraction and enrichment from large volumes of maternal plasma (respectively).
Genetics, Issue 76, Bioengineering, Biomedical Engineering, Molecular Biology, Automation, Laboratory, Clinical Laboratory Techniques, Molecular Diagnostic Techniques, Analytic Sample Preparation Methods, Clinical Laboratory Techniques, Molecular Diagnostic Techniques, Genetic Techniques, Molecular Diagnostic Techniques, Automation, Laboratory, Chemistry, Clinical, DNA/RNA extraction, automation, nucleic acid isolation, sample preparation, nasopharyngeal aspirate, blood, plasma, high-throughput, sequencing
50356
DNA Extraction from Paraffin Embedded Material for Genetic and Epigenetic Analyses
Institutions: BC Cancer Research Centre, University of British Columbia - UBC, BC Cancer Agency, University of British Columbia - UBC.

Disease development and progression are characterized by frequent genetic and epigenetic aberrations including chromosomal rearrangements, copy number gains and losses and DNA methylation. Advances in high-throughput, genome-wide profiling technologies, such as microarrays, have significantly improved our ability to identify and detect these specific alterations. However as technology continues to improve, a limiting factor remains sample quality and availability. Furthermore, follow-up clinical information and disease outcome are often collected years after the initial specimen collection. Specimens, typically formalin-fixed and paraffin embedded (FFPE), are stored in hospital archives for years to decades. DNA can be efficiently and effectively recovered from paraffin-embedded specimens if the appropriate method of extraction is applied. High quality DNA extracted from properly preserved and stored specimens can support quantitative assays for comparisons of normal and diseased tissues and generation of genetic and epigenetic signatures
1
. To extract DNA from paraffin-embedded samples, tissue cores or microdissected tissue are subjected to xylene treatment, which dissolves the paraffin from the tissue, and then rehydrated using a series of ethanol washes. Proteins and harmful enzymes such as nucleases are subsequently digested by proteinase K. The addition of lysis buffer, which contains denaturing agents such as sodium dodecyl sulfate (SDS), facilitates digestion
2
. Nucleic acids are purified from the tissue lysate using buffer-saturated phenol and high speed centrifugation which generates a biphasic solution. DNA and RNA remain in the upper aqueous phase, while proteins, lipids and polysaccharides are sequestered in the inter- and organic-phases respectively. Retention of the aqueous phase and repeated phenol extractions generates a clean sample. Following phenol extractions, RNase A is added to eliminate contaminating RNA. Additional phenol extractions following incubation with RNase A are used to remove any remaining enzyme. The addition of sodium acetate and isopropanol precipitates DNA, and high speed centrifugation is used to pellet the DNA and facilitate isopropanol removal. Excess salts carried over from precipitation can interfere with subsequent enzymatic assays, but can be removed from the DNA by washing with 70% ethanol, followed by centrifugation to re-pellet the DNA
3
. DNA is re-suspended in distilled water or the buffer of choice, quantified and stored at -20°C. Purified DNA can subsequently be used in downstream applications which include, but are not limited to, PCR, array comparative genomic hybridization
4
(array CGH), methylated DNA Immunoprecipitation (MeDIP) and sequencing, allowing for an integrative analysis of tissue/tumor samples.
Genetics, Issue 49, DNA extraction, paraffin embedded tissue, phenol:chloroform extraction, genetic analysis, epigenetic analysis
2763
Proteomic Sample Preparation from Formalin Fixed and Paraffin Embedded Tissue
Institutions: Max Planck Institute of Biochemistry.

Preserved clinical material is a unique source for proteomic investigation of human disorders. Here we describe an optimized protocol allowing large scale quantitative analysis of formalin fixed and paraffin embedded (FFPE) tissue. The procedure comprises four distinct steps. The first one is the preparation of sections from the FFPE material and microdissection of cells of interest. In the second step the isolated cells are lysed and processed using 'filter aided sample preparation' (FASP) technique. In this step, proteins are depleted from reagents used for the sample lysis and are digested in two-steps using endoproteinase LysC and trypsin. After each digestion, the peptides are collected in separate fractions and their content is determined using a highly sensitive fluorescence measurement. Finally, the peptides are fractionated on 'pipette-tip' microcolumns. The LysC-peptides are separated into 4 fractions whereas the tryptic peptides are separated into 2 fractions. In this way prepared samples allow analysis of proteomes from minute amounts of material to a depth of 10,000 proteins. Thus, the described workflow is a powerful technique for studying diseases in a system-wide-fashion as well as for identification of potential biomarkers and drug targets.
Chemistry, Issue 79, Clinical Chemistry Tests, Proteomics, Proteomics, Proteomics, analytical chemistry, Formalin fixed and paraffin embedded (FFPE), sample preparation, proteomics, filter aided sample preparation (FASP), clinical proteomics; microdissection, SAX-fractionation
50589
Polymerase Chain Reaction: Basic Protocol Plus Troubleshooting and Optimization Strategies
Institutions: University of California, Los Angeles .

In the biological sciences there have been technological advances that catapult the discipline into golden ages of discovery. For example, the field of microbiology was transformed with the advent of Anton van Leeuwenhoek's microscope, which allowed scientists to visualize prokaryotes for the first time. The development of the polymerase chain reaction (PCR) is one of those innovations that changed the course of molecular science with its impact spanning countless subdisciplines in biology. The theoretical process was outlined by Keppe and coworkers in 1971; however, it was another 14 years until the complete PCR procedure was described and experimentally applied by Kary Mullis while at Cetus Corporation in 1985. Automation and refinement of this technique progressed with the introduction of a thermal stable DNA polymerase from the bacterium
Thermus aquaticus
, consequently the name
Taq
DNA polymerase. PCR is a powerful amplification technique that can generate an ample supply of a specific segment of DNA (i.e., an amplicon) from only a small amount of starting material (i.e., DNA template or target sequence). While straightforward and generally trouble-free, there are pitfalls that complicate the reaction producing spurious results. When PCR fails it can lead to many non-specific DNA products of varying sizes that appear as a ladder or smear of bands on agarose gels. Sometimes no products form at all. Another potential problem occurs when mutations are unintentionally introduced in the amplicons, resulting in a heterogeneous population of PCR products. PCR failures can become frustrating unless patience and careful troubleshooting are employed to sort out and solve the problem(s). This protocol outlines the basic principles of PCR, provides a methodology that will result in amplification of most target sequences, and presents strategies for optimizing a reaction. By following this PCR guide, students should be able to: Set up reactions and thermal cycling conditions for a conventional PCR experiment Understand the function of various reaction components and their overall effect on a PCR experiment Design and optimize a PCR experiment for any DNA template Troubleshoot failed PCR experiments
Basic Protocols, Issue 63, PCR, optimization, primer design, melting temperature, Tm, troubleshooting, additives, enhancers, template DNA quantification, thermal cycler, molecular biology, genetics
3998
Metabolic Labeling of Newly Transcribed RNA for High Resolution Gene Expression Profiling of RNA Synthesis, Processing and Decay in Cell Culture
Institutions: Max von Pettenkofer Institute, University of Cambridge, Ludwig-Maximilians-University Munich.

The development of whole-transcriptome microarrays and next-generation sequencing has revolutionized our understanding of the complexity of cellular gene expression. Along with a better understanding of the involved molecular mechanisms, precise measurements of the underlying kinetics have become increasingly important. Here, these powerful methodologies face major limitations due to intrinsic properties of the template samples they study,
i.e.
total cellular RNA. In many cases changes in total cellular RNA occur either too slowly or too quickly to represent the underlying molecular events and their kinetics with sufficient resolution. In addition, the contribution of alterations in RNA synthesis, processing, and decay are not readily differentiated. We recently developed high-resolution gene expression profiling to overcome these limitations. Our approach is based on metabolic labeling of newly transcribed RNA with 4-thiouridine (thus also referred to as 4sU-tagging) followed by rigorous purification of newly transcribed RNA using thiol-specific biotinylation and streptavidin-coated magnetic beads. It is applicable to a broad range of organisms including vertebrates,
Drosophila
, and yeast. We successfully applied 4sU-tagging to study real-time kinetics of transcription factor activities, provide precise measurements of RNA half-lives, and obtain novel insights into the kinetics of RNA processing. Finally, computational modeling can be employed to generate an integrated, comprehensive analysis of the underlying molecular mechanisms.
Genetics, Issue 78, Cellular Biology, Molecular Biology, Microbiology, Biochemistry, Eukaryota, Investigative Techniques, Biological Phenomena, Gene expression profiling, RNA synthesis, RNA processing, RNA decay, 4-thiouridine, 4sU-tagging, microarray analysis, RNA-seq, RNA, DNA, PCR, sequencing
50195
Detecting Somatic Genetic Alterations in Tumor Specimens by Exon Capture and Massively Parallel Sequencing
Institutions: Memorial Sloan-Kettering Cancer Center, Memorial Sloan-Kettering Cancer Center.

Efforts to detect and investigate key oncogenic mutations have proven valuable to facilitate the appropriate treatment for cancer patients. The establishment of high-throughput, massively parallel "next-generation" sequencing has aided the discovery of many such mutations. To enhance the clinical and translational utility of this technology, platforms must be high-throughput, cost-effective, and compatible with formalin-fixed paraffin embedded (FFPE) tissue samples that may yield small amounts of degraded or damaged DNA. Here, we describe the preparation of barcoded and multiplexed DNA libraries followed by hybridization-based capture of targeted exons for the detection of cancer-associated mutations in fresh frozen and FFPE tumors by massively parallel sequencing. This method enables the identification of sequence mutations, copy number alterations, and select structural rearrangements involving all targeted genes. Targeted exon sequencing offers the benefits of high throughput, low cost, and deep sequence coverage, thus conferring high sensitivity for detecting low frequency mutations.
Molecular Biology, Issue 80, Molecular Diagnostic Techniques, High-Throughput Nucleotide Sequencing, Genetics, Neoplasms, Diagnosis, Massively parallel sequencing, targeted exon sequencing, hybridization capture, cancer, FFPE, DNA mutations
50710
Profiling of Estrogen-regulated MicroRNAs in Breast Cancer Cells
Institutions: University of Houston.

Estrogen plays vital roles in mammary gland development and breast cancer progression. It mediates its function by binding to and activating the estrogen receptors (ERs), ERα, and ERβ. ERα is frequently upregulated in breast cancer and drives the proliferation of breast cancer cells. The ERs function as transcription factors and regulate gene expression. Whereas ERα's regulation of protein-coding genes is well established, its regulation of noncoding microRNA (miRNA) is less explored. miRNAs play a major role in the post-transcriptional regulation of genes, inhibiting their translation or degrading their mRNA. miRNAs can function as oncogenes or tumor suppressors and are also promising biomarkers. Among the miRNA assays available, microarray and quantitative real-time polymerase chain reaction (qPCR) have been extensively used to detect and quantify miRNA levels. To identify miRNAs regulated by estrogen signaling in breast cancer, their expression in ERα-positive breast cancer cell lines were compared before and after estrogen-activation using both the µParaflo-microfluidic microarrays and Dual Labeled Probes-low density arrays. Results were validated using specific qPCR assays, applying both Cyanine dye-based and Dual Labeled Probes-based chemistry. Furthermore, a time-point assay was used to identify regulations over time. Advantages of the miRNA assay approach used in this study is that it enables a fast screening of mature miRNA regulations in numerous samples, even with limited sample amounts. The layout, including the specific conditions for cell culture and estrogen treatment, biological and technical replicates, and large-scale screening followed by in-depth confirmations using separate techniques, ensures a robust detection of miRNA regulations, and eliminates false positives and other artifacts. However, mutated or unknown miRNAs, or regulations at the primary and precursor transcript level, will not be detected. The method presented here represents a thorough investigation of estrogen-mediated miRNA regulation.
Medicine, Issue 84, breast cancer, microRNA, estrogen, estrogen receptor, microarray, qPCR
51285
Unraveling the Unseen Players in the Ocean - A Field Guide to Water Chemistry and Marine Microbiology
Institutions: San Diego State University, University of California San Diego.

Here we introduce a series of thoroughly tested and well standardized research protocols adapted for use in remote marine environments. The sampling protocols include the assessment of resources available to the microbial community (dissolved organic carbon, particulate organic matter, inorganic nutrients), and a comprehensive description of the viral and bacterial communities (via direct viral and microbial counts, enumeration of autofluorescent microbes, and construction of viral and microbial metagenomes). We use a combination of methods, which represent a dispersed field of scientific disciplines comprising already established protocols and some of the most recent techniques developed. Especially metagenomic sequencing techniques used for viral and bacterial community characterization, have been established only in recent years, and are thus still subjected to constant improvement. This has led to a variety of sampling and sample processing procedures currently in use. The set of methods presented here provides an up to date approach to collect and process environmental samples. Parameters addressed with these protocols yield the minimum on information essential to characterize and understand the underlying mechanisms of viral and microbial community dynamics. It gives easy to follow guidelines to conduct comprehensive surveys and discusses critical steps and potential caveats pertinent to each technique.
Environmental Sciences, Issue 93, dissolved organic carbon, particulate organic matter, nutrients, DAPI, SYBR, microbial metagenomics, viral metagenomics, marine environment
52131
Development of Cell-type specific anti-HIV gp120 aptamers for siRNA delivery
Institutions: Beckman Research Institute of City of Hope, Beckman Research Institute of City of Hope, Beckman Research Institute of City of Hope.

The global epidemic of infection by HIV has created an urgent need for new classes of antiretroviral agents. The potent ability of small interfering (si)RNAs to inhibit the expression of complementary RNA transcripts is being exploited as a new class of therapeutics for a variety of diseases including HIV. Many previous reports have shown that novel RNAi-based anti-HIV/AIDS therapeutic strategies have considerable promise; however, a key obstacle to the successful therapeutic application and clinical translation of siRNAs is efficient delivery. Particularly, considering the safety and efficacy of RNAi-based therapeutics, it is highly desirable to develop a targeted intracellular siRNA delivery approach to specific cell populations or tissues. The HIV-1 gp120 protein, a glycoprotein envelope on the surface of HIV-1, plays an important role in viral entry into CD4 cells. The interaction of gp120 and CD4 that triggers HIV-1 entry and initiates cell fusion has been validated as a clinically relevant anti-viral strategy for drug discovery. Herein, we firstly discuss the selection and identification of 2'-F modified anti-HIV gp120 RNA aptamers. Using a conventional nitrocellulose filter SELEX method, several new aptamers with nanomolar affinity were isolated from a 50 random nt RNA library. In order to successfully obtain bound species with higher affinity, the selection stringency is carefully controlled by adjusting the conditions. The selected aptamers can specifically bind and be rapidly internalized into cells expressing the HIV-1 envelope protein. Additionally, the aptamers alone can neutralize HIV-1 infectivity. Based upon the best aptamer A-1, we also create a novel dual inhibitory function anti-gp120 aptamer-siRNA chimera in which both the aptamer and the siRNA portions have potent anti-HIV activities. Further, we utilize the gp120 aptamer-siRNA chimeras for cell-type specific delivery of the siRNA into HIV-1 infected cells. This dual function chimera shows considerable potential for combining various nucleic acid therapeutic agents (aptamer and siRNA) in suppressing HIV-1 infection, making the aptamer-siRNA chimeras attractive therapeutic candidates for patients failing highly active antiretroviral therapy (HAART).
Immunology, Issue 52, SELEX (Systematic Evolution of Ligands by EXponential enrichment), RNA aptamer, HIV-1 gp120, RNAi (RNA interference), siRNA (small interfering RNA), cell-type specific delivery
2954
A Restriction Enzyme Based Cloning Method to Assess the In vitro Replication Capacity of HIV-1 Subtype C Gag-MJ4 Chimeric Viruses
Institutions: Emory University, Emory University.

The protective effect of many HLA class I alleles on HIV-1 pathogenesis and disease progression is, in part, attributed to their ability to target conserved portions of the HIV-1 genome that escape with difficulty. Sequence changes attributed to cellular immune pressure arise across the genome during infection, and if found within conserved regions of the genome such as Gag, can affect the ability of the virus to replicate
in vitro
. Transmission of HLA-linked polymorphisms in Gag to HLA-mismatched recipients has been associated with reduced set point viral loads. We hypothesized this may be due to a reduced replication capacity of the virus. Here we present a novel method for assessing the
in vitro
replication of HIV-1 as influenced by the
gag
gene isolated from acute time points from subtype C infected Zambians. This method uses restriction enzyme based cloning to insert the
gag
gene into a common subtype C HIV-1 proviral backbone, MJ4. This makes it more appropriate to the study of subtype C sequences than previous recombination based methods that have assessed the
in vitro
replication of chronically derived
gag-pro
sequences. Nevertheless, the protocol could be readily modified for studies of viruses from other subtypes. Moreover, this protocol details a robust and reproducible method for assessing the replication capacity of the Gag-MJ4 chimeric viruses on a CEM-based T cell line. This method was utilized for the study of Gag-MJ4 chimeric viruses derived from 149 subtype C acutely infected Zambians, and has allowed for the identification of residues in Gag that affect replication. More importantly, the implementation of this technique has facilitated a deeper understanding of how viral replication defines parameters of early HIV-1 pathogenesis such as set point viral load and longitudinal CD4+ T cell decline.
Infectious Diseases, Issue 90, HIV-1, Gag, viral replication, replication capacity, viral fitness, MJ4, CEM, GXR25
51506
Heterotypic Three-dimensional In Vitro Modeling of Stromal-Epithelial Interactions During Ovarian Cancer Initiation and Progression
Institutions: University of Southern California, University College London.

Epithelial ovarian cancers (EOCs) are the leading cause of death from gynecological malignancy in Western societies. Despite advances in surgical treatments and improved platinum-based chemotherapies, there has been little improvement in EOC survival rates for more than four decades
1,2
. Whilst stage I tumors have 5-year survival rates >85%, survival rates for stage III/IV disease are <40%. Thus, the high rates of mortality for EOC could be significantly decreased if tumors were detected at earlier, more treatable, stages
3-5
. At present, the molecular genetic and biological basis of early stage disease development is poorly understood. More specifically, little is known about the role of the microenvironment during tumor initiation; but known risk factors for EOCs (
e.g.
age and parity) suggest that the microenvironment plays a key role in the early genesis of EOCs. We therefore developed three-dimensional heterotypic models of both the normal ovary and of early stage ovarian cancers. For the normal ovary, we co-cultured normal ovarian surface epithelial (IOSE) and normal stromal fibroblast (INOF) cells, immortalized by retrovrial transduction of the catalytic subunit of human telomerase holoenzyme (
hTERT
) to extend the lifespan of these cells in culture. To model the earliest stages of ovarian epithelial cell transformation, overexpression of the
CMYC
oncogene in IOSE cells, again co-cultured with INOF cells. These heterotypic models were used to investigate the effects of aging and senescence on the transformation and invasion of epithelial cells. Here we describe the methodological steps in development of these three-dimensional model; these methodologies aren't specific to the development of normal ovary and ovarian cancer tissues, and could be used to study other tissue types where stromal and epithelial cell interactions are a fundamental aspect of the tissue maintenance and disease development.
Cancer Biology, Issue 66, Medicine, Tissue Engineering, three-dimensional cultures, stromal-epithelial interactions, epithelial ovarian cancer, ovarian surface epithelium, ovarian fibroblasts, tumor initiation
4206
Laser Capture Microdissection of Mammalian Tissue
Institutions: University of California, Irvine (UCI).

Laser capture microscopy, also known as laser microdissection (LMD), enables the user to isolate small numbers of cells or tissues from frozen or formalin-fixed, paraffin-embedded tissue sections. LMD techniques rely on a thermo labile membrane placed either on top of, or underneath, the tissue section. In one method, focused laser energy is used to melt the membrane onto the underlying cells, which can then be lifted out of the tissue section. In the other, the laser energy vaporizes the foil along a path "drawn" on the tissue, allowing the selected cells to fall into a collection device. Each technique allows the selection of cells with a minimum resolution of several microns. DNA, RNA, protein, and lipid samples may be isolated and analyzed from micro-dissected samples. In this video, we demonstrate the use of the Leica AS-LMD laser microdissection instrument in seven segments, including an introduction to the principles of LMD, initializing the instrument for use, general considerations for sample preparation, mounting the specimen and setting up capture tubes, aligning the microscope, adjusting the capture controls, and capturing tissue specimens. Laser-capture micro-dissection enables the investigator to isolate samples of pure cell populations as small as a few cell-equivalents. This allows the analysis of cells of interest that are free of neighboring contaminants, which may confound experimental results.
Issue 8, Basic Protocols, Laser Capture Microdissection, Microdissection Techniques, Leica
309
Rapid Genotyping of Mouse Tissue Using Sigma's Extract-N-Amp Tissue PCR Kit
Institutions: University of California, Irvine (UCI).

Genomic detection of DNA via PCR amplification and detection on an electrophoretic gel is a standard way that the genotype of a tissue sample is determined. Conventional preparation of tissues for PCR-ready DNA often take several hours to days, depending on the tissue sample. The genotype of the sample may thus be delayed for several days, which is not an option for many different types of experiments. Here we demonstrate the complete genotyping of a mouse tail sample, including tissue digestion and PCR readout, in one and a half hours using Sigma's SYBR Green Extract-N-Amp Tissue PCR Kit. First, we demonstrate the fifteen-minute extraction of DNA from the tissue sample. Then, we demonstrate the real time read-out of the PCR amplification of the sample, which allows for the identification of a positive sample as it is being amplified. Together, the rapid extraction and real-time readout allow for a prompt identification of genotype of a variety different types of tissues through the reliable method of PCR.
Basic Protocols, Issue 11, genotyping, PCR, DNA extraction, Mice
636