ABSTRACT
Angiogenesis is an essential feature of cancer growth and metastasis formation. In bone metastasis, angiogenic factors are pivotal for tumor cell proliferation in the bone marrow cavity as well as for interaction of tumor and bone cells resulting in local bone destruction. Our aim was to develop a model of experimental bone metastasis that allows in vivo assessment of angiogenesis in skeletal lesions using non-invasive imaging techniques. For this purpose, we injected 105 MDA-MB-231 human breast cancer cells into the superficial epigastric artery, which precludes the growth of metastases in body areas other than the respective hind leg1. Following 25-30 days after tumor cell inoculation, site-specific bone metastases develop, restricted to the distal femur, proximal tibia and proximal fibula1. Morphological and functional aspects of angiogenesis can be investigated longitudinally in bone metastases using magnetic resonance imaging (MRI), volumetric computed tomography (VCT) and ultrasound (US). MRI displays morphologic information on the soft tissue part of bone metastases that is initially confined to the bone marrow cavity and subsequently exceeds cortical bone while progressing. Using dynamic contrast-enhanced MRI (DCE-MRI) functional data including regional blood volume, perfusion and vessel permeability can be obtained and quantified2-4. Bone destruction is captured in high resolution using morphological VCT imaging. Complementary to MRI findings, osteolytic lesions can be located adjacent to sites of intramedullary tumor growth. After contrast agent application, VCT angiography reveals the macrovessel architecture in bone metastases in high resolution, and DCE-VCT enables insight in the microcirculation of these lesions5,6. US is applicable to assess morphological and functional features from skeletal lesions due to local osteolysis of cortical bone. Using B-mode and Doppler techniques, structure and perfusion of the soft tissue metastases can be evaluated, respectively. DCE-US allows for real-time imaging of vascularization in bone metastases after injection of microbubbles7. In conclusion, in a model of site-specific breast cancer bone metastases multi-modal imaging techniques including MRI, VCT and US offer complementary information on morphology and functional parameters of angiogenesis in these skeletal lesions.
25 Related JoVE Articles!
A Mouse Model of the Cornea Pocket Assay for Angiogenesis Study
Institutions: National Eye Institute.

A normal cornea is clear of vascular tissues. However, blood vessels can be induced to grow and survive in the cornea when potent angiogenic factors are administered
1
. This uniqueness has made the cornea pocket assay one of the most used models for angiogenesis studies. The cornea composes multiple layers of cells. It is therefore possible to embed a pellet containing the angiogenic factor of interest in the cornea to investigate its angiogenic effect
2,3
. Here, we provide a step by step demonstration of how to (I) produce the angiogenic factor-containing pellet (II) embed the pellet into the cornea (III) analyze the angiogenesis induced by the angiogenic factor of interest. Since the basic fibroblast growth factor (bFGF) is known as one of the most potent angiogenic factors
4
, it is used here to induce angiogenesis in the cornea.
Medicine, Issue 54, mouse cornea pocket assay, angiogenesis
3077
Isolation and Culture of Pulmonary Endothelial Cells from Neonatal Mice
Institutions: BloodCenter of Wisconsin.

Endothelial cells provide a useful research model in many areas of vascular biology. Since its first isolation
1
, human umbilical vein endothelial cells (HUVECs) have shown to be convenient, easy to obtain and culture, and thus are the most widely studied endothelial cells. However, for research focused on processes like angiogenesis, permeability or many others, microvascular endothelial cells (ECs) are a much more physiologically relevant model to study
2
. Furthermore, ECs isolated from knockout mice provide a useful tool for analysis of protein function
ex vivo
. Several approaches to isolate and culture microvascular ECs of different origin have been reported to date
3-7
, but consistent isolation and culture of pure ECs is still a major technical problem in many laboratories. Here, we provide a step-by-step protocol on a reliable and relatively simple method of isolating and culturing mouse lung endothelial cells (MLECs). In this approach, lung tissue obtained from 6- to 8-day old pups is first cut into pieces, digested with collagenase/dispase (C/D) solution and dispersed mechanically into single-cell suspension. MLECS are purified from cell suspension using positive selection with anti-PECAM-1 antibody conjugated to Dynabeads using a Magnetic Particle Concentrator (MPC). Such purified cells are cultured on gelatin-coated tissue culture (TC) dishes until they become confluent. At that point, cells are further purified using Dynabeads coupled to anti-ICAM-2 antibody. MLECs obtained with this protocol exhibit a cobblestone phenotype, as visualized by phase-contrast light microscopy, and their endothelial phenotype has been confirmed using FACS analysis with anti-VE-cadherin
8
and anti-VEGFR2
9
antibodies and immunofluorescent staining of VE-cadherin. In our hands, this two-step isolation procedure consistently and reliably yields a pure population of MLECs, which can be further cultured. This method will enable researchers to take advantage of the growing number of knockout and transgenic mice to directly correlate
in vivo
studies with results of
in vitro
experiments performed on isolated MLECs and thus help to reveal molecular mechanisms of vascular phenotypes observed
in vivo
.
Cellular Biology, Issue 46, Endothelium, lung, microvascular cells, mouse, isolation, angiogenesis, vascular permeability, adherens junctions
2316
Imaging Glioma Initiation In Vivo Through a Polished and Reinforced Thin-skull Cranial Window
Institutions: The Jackson Laboratory.

Glioma is the one of the most lethal forms of human cancer. The most effective glioma therapy to date-surgery followed by radiation treatment-offers patients only modest benefits, as most patients do not survive more than five years following diagnosis due to glioma relapse
1,2
. The discovery of cancer stem cells in human brain tumors holds promise for having an enormous impact on the development of novel therapeutic strategies for glioma
3
. Cancer stem cells are defined by their ability both to self-renew and to differentiate, and are thought to be the only cells in a tumor that have the capacity to initiate new tumors
4
. Glioma relapse following radiation therapy is thought to arise from resistance of glioma stem cells (GSCs) to therapy
5-10
.
In vivo
, GSCs are shown to reside in a perivascular niche that is important for maintaining their stem cell-like characteristics
11-14
. Central to the organization of the GSC niche are vascular endothelial cells
12
. Existing evidence suggests that GSCs and their interaction with the vascular endothelial cells are important for tumor development, and identify GSCs and their interaction with endothelial cells as important therapeutic targets for glioma. The presence of GSCs is determined experimentally by their capability to initiate new tumors upon orthotopic transplantation
15
. This is typically achieved by injecting a specific number of GBM cells isolated from human tumors into the brains of severely immuno-deficient mice, or of mouse GBM cells into the brains of congenic host mice. Assays for tumor growth are then performed following sufficient time to allow GSCs among the injected GBM cells to give rise to new tumors-typically several weeks or months. Hence, existing assays do not allow examination of the important pathological process of tumor initiation from single GSCs
in vivo
. Consequently, essential insights into the specific roles of GSCs and their interaction with the vascular endothelial cells in the early stages of tumor initiation are lacking. Such insights are critical for developing novel therapeutic strategies for glioma, and will have great implications for preventing glioma relapse in patients. Here we have adapted the PoRTS cranial window procedure
16
and
in vivo
two-photon microscopy to allow visualization of tumor initiation from injected GBM cells in the brain of a live mouse. Our technique will pave the way for future efforts to elucidate the key signaling mechanisms between GSCs and vascular endothelial cells during glioma initiation.
Medicine, Issue 69, Neuroscience, Cancer Biology, Stem Cell Biology, Bioengineering, Biomedical Engineering, polished and reinforced thin-skull cranial window, two-photon microscopy, glioma stem cell, vasculature, PoRTS
4201
In vivo Imaging of Tumor Angiogenesis using Fluorescence Confocal Videomicroscopy
Institutions: Université Paris Descartes Sorbonne Paris Cité, INSERM UMR-S970, Hôpital Européen Georges Pompidou, Service de Radiologie.

Fibered confocal fluorescence
in vivo
imaging with a fiber optic bundle uses the same principle as fluorescent confocal microscopy. It can excite fluorescent
in situ
elements through the optical fibers, and then record some of the emitted photons,
via
the same optical fibers. The light source is a laser that sends the exciting light through an element within the fiber bundle and as it scans over the sample, recreates an image pixel by pixel. As this scan is very fast, by combining it with dedicated image processing software, images in real time with a frequency of 12 frames/sec can be obtained. We developed a technique to quantitatively characterize capillary morphology and function, using a confocal fluorescence videomicroscopy device. The first step in our experiment was to record 5 sec movies in the four quadrants of the tumor to visualize the capillary network. All movies were processed using software (ImageCell, Mauna Kea Technology, Paris France) that performs an automated segmentation of vessels around a chosen diameter (10 μm in our case). Thus, we could quantify the 'functional capillary density', which is the ratio between the total vessel area and the total area of the image. This parameter was a surrogate marker for microvascular density, usually measured using pathology tools. The second step was to record movies of the tumor over 20 min to quantify leakage of the macromolecular contrast agent through the capillary wall into the interstitium. By measuring the ratio of signal intensity in the interstitium over that in the vessels, an 'index leakage' was obtained, acting as a surrogate marker for capillary permeability.
Medicine, Issue 79, Cancer, Biological, Microcirculation, optical imaging devices (design and techniques), Confocal videomicroscopy, microcirculation, capillary leakage, FITC-Dextran, angiogenesis
50347
The Corneal Micropocket Assay: A Model of Angiogenesis in the Mouse Eye
Institutions: Boston Children's Hospital, The Hebrew University of Jerusalem, Harvard Medical School.

The mouse corneal micropocket assay is a robust and quantitative
in vivo
assay for evaluating angiogenesis. By using standardized slow-release pellets containing specific growth factors that trigger blood vessel growth throughout the naturally avascular cornea, angiogenesis can be measured and quantified. In this assay the angiogenic response is generated over the course of several days, depending on the type and dose of growth factor used. The induction of neovascularization is commonly triggered by either basic fibroblast growth factor (bFGF) or vascular endothelial growth factor (VEGF). By combining these growth factors with sucralfate and hydron (poly-HEMA (poly(2-hydroxyethyl methacrylate))) and casting the mixture into pellets, they can be surgically implanted in the mouse eye. These uniform pellets slowly-release the growth factors over five or six days (bFGF or VEGF respectively) enabling sufficient angiogenic response required for vessel area quantification using a slit lamp. This assay can be used for different applications, including the evaluation of angiogenic modulator drugs or treatments as well as comparison between different genetic backgrounds affecting angiogenesis. A skilled investigator after practicing this assay can implant a pellet in less than 5 min per eye.
Neuroscience, Issue 90, Angiogensis, neovasculatization, in vivo assay, model, fibroblast growth factor, vascular endothelial growth factor
51375
Rat Mesentery Exteriorization: A Model for Investigating the Cellular Dynamics Involved in Angiogenesis
Institutions: Tulane University, University of Virginia , Tulane University.

Microvacular network growth and remodeling are critical aspects of wound healing, inflammation, diabetic retinopathy, tumor growth and other disease conditions
1, 2
. Network growth is commonly attributed to angiogenesis, defined as the growth of new vessels from pre-existing vessels. The angiogenic process is also directly linked to arteriogenesis, defined as the capillary acquisition of a perivascular cell coating and vessel enlargement. Needless to say, angiogenesis is complex and involves multiple players at the cellular and molecular level
3
. Understanding how a microvascular network grows requires identifying the spatial and temporal dynamics along the hierarchy of a network over the time course of angiogenesis. This information is critical for the development of therapies aimed at manipulating vessel growth. The exteriorization model described in this article represents a simple, reproducible model for stimulating angiogenesis in the rat mesentery. It was adapted from wound-healing models in the rat mesentery
4-7
, and is an alternative to stimulate angiogenesis in the mesentery via i.p. injections of pro-angiogenic agents
8, 9
. The exteriorization model is attractive because it requires minimal surgical intervention and produces dramatic, reproducible increases in capillary sprouts, vascular area and vascular density over a relatively short time course in a tissue that allows for the two-dimensional visualization of entire microvascular networks down to single cell level. The stimulated growth reflects natural angiogenic responses in a physiological environment without interference of foreign angiogenic molecules. Using immunohistochemical labeling methods, this model has been proven extremely useful in identifying novel cellular events involved in angiogenesis. Investigators can readily correlate the angiogenic metrics during the time course of remodeling with time specific dynamics, such as cellular phenotypic changes or cellular interactions
4, 5, 7, 10, 11
.
Cellular Biology, Issue 63, mesentery, rat, angiogenesis, microcirculation, microvascular, remodeling
3954
Monitoring Functionality and Morphology of Vasculature Recruited by Factors Secreted by Fast-growing Tumor-generating Cells
Institutions: Tel Aviv University.

The subcutaneous matrigel plug assay in mice is a method of choice for the
in vivo
evaluation of pro- and anti-angiogenic factors. In this method, desired factors are introduced into cold-liquid ECM-mimic gel which, after subcutaneous injection, solidifies to form an environment mimicking the cancer milieu. This matrix permits the penetration of host cells, such as endothelial cells, and therefore, the formation of vasculature. Herein we propose a new modified matrigel plug assay, which can be exploited to illustrate the angiogenic potential of a pool of factors secreted by cancer cells, as opposed to a specific factor (
e.g.,
bFGF and VEGF) or agent. The plug containing ECM-mimic gel is utilized to introduce the host (
i.e.,
mouse) with a pool of factors secreted to the C.M. of fast-growing tumor-generating glioblastoma cells. We have previously described an extensive comparison of the angiogenic potential of U-87 MG human glioblastoma and its dormant-derived clone, in this system model, showing induced angiogenesis in the U-87 MG parental cells. The C.M. is prepared by filtering collected media from confluent tissue culture plates of either cell line following 48 hr incubation. Hence, it contains only factors secreted by the cells, without the cells themselves. Described here is the combination of two imaging modalities, microbubbles contrast-enhanced ultrasound imaging and intravital fibered-confocal endomicroscopy, for an accurate, real-time characterization of the extent, morphology and functionality of newly-formed blood vessels within the plugs.
Cancer Biology, Issue 93, Matrigel plug, angiogenesis, microbubbles, ultrasound, fibered-confocal endomicroscopy, conditioned media.
51525
Whole Mount Immunofluorescent Staining of the Neonatal Mouse Retina to Investigate Angiogenesis In vivo
Institutions: Newcastle University , University College, London.
Angiogenesis is the complex process of new blood vessel formation defined by the sprouting of new blood vessels from a pre-existing vessel network. Angiogenesis plays a key role not only in normal development of organs and tissues, but also in many diseases in which blood vessel formation is dysregulated, such as cancer, blindness and ischemic diseases. In adult life, blood vessels are generally quiescent so angiogenesis is an important target for novel drug development to try and regulate new vessel formation specifically in disease. In order to better understand angiogenesis and to develop appropriate strategies to regulate it, models are required that accurately reflect the different biological steps that are involved. The mouse neonatal retina provides an excellent model of angiogenesis because arteries, veins and capillaries develop to form a vascular plexus during the first week after birth. This model also has the advantage of having a two-dimensional (2D) structure making analysis straightforward compared with the complex 3D anatomy of other vascular networks. By analyzing the retinal vascular plexus at different times after birth, it is possible to observe the various stages of angiogenesis under the microscope. This article demonstrates a straightforward procedure for analyzing the vasculature of a mouse retina using fluorescent staining with isolectin and vascular specific antibodies.
Developmental Biology, Issue 77, Neurobiology, Neuroscience, Biomedical Engineering, Cellular Biology, Molecular Biology, Medicine, Anatomy, Physiology, Ophthalmology, Angiogenesis Modulating Agents, Growth and Development, Lymphangiogenesis, Angiogenesis, Mouse Neonatal Retina, Immunofluorescent-Staining, confocal microscopy, imaging, animal model
50546
Assessment of Vascular Regeneration in the CNS Using the Mouse Retina
Institutions: McGill University, University of Montréal, University of Montréal.

The rodent retina is perhaps the most accessible mammalian system in which to investigate neurovascular interplay within the central nervous system (CNS). It is increasingly being recognized that several neurodegenerative diseases such as Alzheimer's, multiple sclerosis, and amyotrophic lateral sclerosis present elements of vascular compromise. In addition, the most prominent causes of blindness in pediatric and working age populations (retinopathy of prematurity and diabetic retinopathy, respectively) are characterized by vascular degeneration and failure of physiological vascular regrowth. The aim of this technical paper is to provide a detailed protocol to study CNS vascular regeneration in the retina. The method can be employed to elucidate molecular mechanisms that lead to failure of vascular growth after ischemic injury. In addition, potential therapeutic modalities to accelerate and restore healthy vascular plexuses can be explored. Findings obtained using the described approach may provide therapeutic avenues for ischemic retinopathies such as that of diabetes or prematurity and possibly benefit other vascular disorders of the CNS.
Neuroscience, Issue 88, vascular regeneration, angiogenesis, vessels, retina, neurons, oxygen-induced retinopathy, neovascularization, CNS
51351
An Alkali-burn Injury Model of Corneal Neovascularization in the Mouse
Institutions: Tulane University, Tulane University.

Under normal conditions, the cornea is avascular, and this transparency is essential for maintaining good visual acuity. Neovascularization (NV) of the cornea, which can be caused by trauma, keratoplasty or infectious disease, breaks down the so called 'angiogenic privilege' of the cornea and forms the basis of multiple visual pathologies that may even lead to blindness. Although there are several treatment options available, the fundamental medical need presented by corneal neovascular pathologies remains unmet. In order to develop safe, effective, and targeted therapies, a reliable model of corneal NV and pharmacological intervention is required. Here, we describe an alkali-burn injury corneal neovascularization model in the mouse. This protocol provides a method for the application of a controlled alkali-burn injury to the cornea, administration of a pharmacological compound of interest, and visualization of the result. This method could prove instrumental for studying the mechanisms and opportunities for intervention in corneal NV and other neovascular disorders.
Medicine, Issue 86, Alkali-burn Injury, Corneal Neovascularization (NV), Corneal Blindness, Angiogenesis, Inflammation, Hemangiogenesis, Lymphangiogenesis
51159
Combination Radiotherapy in an Orthotopic Mouse Brain Tumor Model
Institutions: National Cancer Institute.

Glioblastoma multiforme (GBM) are the most common and aggressive adult primary brain tumors
1
. In recent years there has been substantial progress in the understanding of the mechanics of tumor invasion, and direct intracerebral inoculation of tumor provides the opportunity of observing the invasive process in a physiologically appropriate environment
2
. As far as human brain tumors are concerned, the orthotopic models currently available are established either by stereotaxic injection of cell suspensions or implantation of a solid piece of tumor through a complicated craniotomy procedure
3
. In our technique we harvest cells from tissue culture to create a cell suspension used to implant directly into the brain. The duration of the surgery is approximately 30 minutes, and as the mouse needs to be in a constant surgical plane, an injectable anesthetic is used. The mouse is placed in a stereotaxic jig made by Stoetling (figure 1). After the surgical area is cleaned and prepared, an incision is made; and the bregma is located to determine the location of the craniotomy. The location of the craniotomy is 2 mm to the right and 1 mm rostral to the bregma. The depth is 3 mm from the surface of the skull, and cells are injected at a rate of 2 μl every 2 minutes. The skin is sutured with 5-0 PDS, and the mouse is allowed to wake up on a heating pad. From our experience, depending on the cell line, treatment can take place from 7-10 days after surgery. Drug delivery is dependent on the drug composition. For radiation treatment the mice are anesthetized, and put into a custom made jig. Lead covers the mouse's body and exposes only the brain of the mouse. The study of tumorigenesis and the evaluation of new therapies for GBM require accurate and reproducible brain tumor animal models. Thus we use this orthotopic brain model to study the interaction of the microenvironment of the brain and the tumor, to test the effectiveness of different therapeutic agents with and without radiation.
Medicine, Issue 61, Neuroscience, mouse, intracranial, orthotopic, radiation, glioblastoma
3397
Method for Novel Anti-Cancer Drug Development using Tumor Explants of Surgical Specimens
Institutions: The Ohio State University Medical Center, The Ohio State University Medical Center.

The current therapies for malignant glioma have only palliative effect. For therapeutic development, one hurdle is the discrepancy of efficacy determined by current drug efficacy tests and the efficacy on patients. Thus, novel and reliable methods for evaluating drug efficacy are warranted in pre-clinical phase.
In vitro
culture of tumor tissues, including cell lines, has substantial phenotypic, genetic, and epigenetic alterations of cancer cells caused by artificial environment of cell culture, which may not reflect the biology of original tumors in situ. Xenograft models with the immunodeficient mice also have limitations, i.e., the lack of immune system and interspecies genetic and epigenetic discrepancies in microenvironment. Here, we demonstrate a novel method using the surgical specimens of malignant glioma as undissociated tumor blocks to evaluate treatment effects. To validate this method, data with the current first-line chemotherapeutic agent, temozolomide (TMZ), are described. We used the freshly-removed surgical specimen of malignant glioma for our experiments. We performed intratumoral injection of TMZ or other drug candidates, followed by incubation and analysis on surgical specimens. Here, we sought to establish a tumor tissue explant method as a platform to determine the efficacy of novel anti-cancer therapies so that we may be able to overcome, at least, some of the current limitations and fill the existing gap between the current experimental data and the efficacy on an actual patient's tumor. This method may have the potential to accelerate identifying novel chemotherapeutic agents for solid cancer treatment.
Medicine, Issue 53, Glioblastoma multiforme, glioma, temozolomide, therapeutics, drug design
2846
A Matrigel-Based Tube Formation Assay to Assess the Vasculogenic Activity of Tumor Cells
Institutions: University of Massachusetts, University of Massachusetts, University of Massachusetts.

Over the past several decades, a tube formation assay using growth factor-reduced Matrigel has been typically employed to demonstrate the angiogenic activity of vascular endothelial cells
in vitro
1-5
. However, recently growing evidence has shown that this assay is not limited to test vascular behavior for endothelial cells. Instead, it also has been used to test the ability of a number of tumor cells to develop a vascular phenotype
6-8
. This capability was consistent with their vasculogenic behavior identified in xenotransplanted animals, a process known as vasculogenic mimicry (VM)
9
. There is a multitude of evidence demonstrating that tumor cell-mediated VM plays a vital role in the tumor development, independent of endothelial cell angiogenesis
6, 10-13
. For example, tumor cells were found to participate in the blood perfused, vascular channel formation in tissue samples from melanoma and glioblastoma patients
8, 10, 11
. Here, we described this tubular network assay as a useful tool in evaluation of vasculogenic activity of tumor cells. We found that some tumor cell lines such as melanoma B16F1 cells, glioblastoma U87 cells, and breast cancer MDA-MB-435 cells are able to form vascular tubules; but some do not such as colon cancer HCT116 cells. Furthermore, this vascular phenotype is dependent on cell numbers plated on the Matrigel. Therefore, this assay may serve as powerful utility to screen the vascular potential of a variety of cell types including vascular cells, tumor cells as well as other cells.
Cancer Biology, Issue 55, tumor, vascular, endothelial, tube formation, Matrigel, in vitro
3040
Setting-up an In Vitro Model of Rat Blood-brain Barrier (BBB): A Focus on BBB Impermeability and Receptor-mediated Transport
Institutions: VECT-HORUS SAS, CNRS, NICN UMR 7259.

The blood brain barrier (BBB) specifically regulates molecular and cellular flux between the blood and the nervous tissue. Our aim was to develop and characterize a highly reproducible rat syngeneic
in vitro
model of the BBB using co-cultures of primary rat brain endothelial cells (RBEC) and astrocytes to study receptors involved in transcytosis across the endothelial cell monolayer. Astrocytes were isolated by mechanical dissection following trypsin digestion and were frozen for later co-culture. RBEC were isolated from 5-week-old rat cortices. The brains were cleaned of meninges and white matter, and mechanically dissociated following enzymatic digestion. Thereafter, the tissue homogenate was centrifuged in bovine serum albumin to separate vessel fragments from nervous tissue. The vessel fragments underwent a second enzymatic digestion to free endothelial cells from their extracellular matrix. The remaining contaminating cells such as pericytes were further eliminated by plating the microvessel fragments in puromycin-containing medium. They were then passaged onto filters for co-culture with astrocytes grown on the bottom of the wells. RBEC expressed high levels of tight junction (TJ) proteins such as occludin, claudin-5 and ZO-1 with a typical localization at the cell borders. The transendothelial electrical resistance (TEER) of brain endothelial monolayers, indicating the tightness of TJs reached 300 ohm·cm
2
on average. The endothelial permeability coefficients (Pe) for lucifer yellow (LY) was highly reproducible with an average of 0.26 ± 0.11 x 10
-3
cm/min. Brain endothelial cells organized in monolayers expressed the efflux transporter P-glycoprotein (P-gp), showed a polarized transport of rhodamine 123, a ligand for P-gp, and showed specific transport of transferrin-Cy3 and DiILDL across the endothelial cell monolayer. In conclusion, we provide a protocol for setting up an
in vitro
BBB model that is highly reproducible due to the quality assurance methods, and that is suitable for research on BBB transporters and receptors.
Medicine, Issue 88, rat brain endothelial cells (RBEC), mouse, spinal cord, tight junction (TJ), receptor-mediated transport (RMT), low density lipoprotein (LDL), LDLR, transferrin, TfR, P-glycoprotein (P-gp), transendothelial electrical resistance (TEER),
51278
Tumor Treating Field Therapy in Combination with Bevacizumab for the Treatment of Recurrent Glioblastoma
Institutions: Southern Illinois University School of Medicine.

A novel device that employs TTF therapy has recently been developed and is currently in use for the treatment of recurrent glioblastoma (rGBM). It was FDA approved in April 2011 for the treatment of patients 22 years or older with rGBM. The device delivers alternating electric fields and is programmed to ensure maximal tumor cell kill
1
. Glioblastoma is the most common type of glioma and has an estimated incidence of approximately 10,000 new cases per year in the United States alone
2
. This tumor is particularly resistant to treatment and is uniformly fatal especially in the recurrent setting
3-5
. Prior to the approval of the TTF System, the only FDA approved treatment for rGBM was bevacizumab
6
. Bevacizumab is a humanized monoclonal antibody targeted against the vascular endothelial growth factor (VEGF) protein that drives tumor angiogenesis
7
. By blocking the VEGF pathway, bevacizumab can result in a significant radiographic response (pseudoresponse), improve progression free survival and reduce corticosteroid requirements in rGBM patients
8,9
. Bevacizumab however failed to prolong overall survival in a recent phase III trial
26
. A pivotal phase III trial (EF-11) demonstrated comparable overall survival between physicians' choice chemotherapy and TTF Therapy but better quality of life were observed in the TTF arm
10
. There is currently an unmet need to develop novel approaches designed to prolong overall survival and/or improve quality of life in this unfortunate patient population. One appealing approach would be to combine the two currently approved treatment modalities namely bevacizumab and TTF Therapy. These two treatments are currently approved as monotherapy
11,12
, but their combination has never been evaluated in a clinical trial. We have developed an approach for combining those two treatment modalities and treated 2 rGBM patients. Here we describe a detailed methodology outlining this novel treatment protocol and present representative data from one of the treated patients.
Medicine, Issue 92, Tumor Treating Fields, TTF System, TTF Therapy, Recurrent Glioblastoma, Bevacizumab, Brain Tumor
51638
Modeling Astrocytoma Pathogenesis In Vitro and In Vivo Using Cortical Astrocytes or Neural Stem Cells from Conditional, Genetically Engineered Mice
Institutions: University of North Carolina School of Medicine, University of North Carolina School of Medicine, University of North Carolina School of Medicine, University of North Carolina School of Medicine, University of North Carolina School of Medicine, Emory University School of Medicine, University of North Carolina School of Medicine.

Current astrocytoma models are limited in their ability to define the roles of oncogenic mutations in specific brain cell types during disease pathogenesis and their utility for preclinical drug development. In order to design a better model system for these applications, phenotypically wild-type cortical astrocytes and neural stem cells (NSC) from conditional, genetically engineered mice (GEM) that harbor various combinations of floxed oncogenic alleles were harvested and grown in culture. Genetic recombination was induced
in vitro
using adenoviral Cre-mediated recombination, resulting in expression of mutated oncogenes and deletion of tumor suppressor genes. The phenotypic consequences of these mutations were defined by measuring proliferation, transformation, and drug response
in vitro
. Orthotopic allograft models, whereby transformed cells are stereotactically injected into the brains of immune-competent, syngeneic littermates, were developed to define the role of oncogenic mutations and cell type on tumorigenesis
in vivo
. Unlike most established human glioblastoma cell line xenografts, injection of transformed GEM-derived cortical astrocytes into the brains of immune-competent littermates produced astrocytomas, including the most aggressive subtype, glioblastoma, that recapitulated the histopathological hallmarks of human astrocytomas, including diffuse invasion of normal brain parenchyma. Bioluminescence imaging of orthotopic allografts from transformed astrocytes engineered to express luciferase was utilized to monitor
in vivo
tumor growth over time. Thus, astrocytoma models using astrocytes and NSC harvested from GEM with conditional oncogenic alleles provide an integrated system to study the genetics and cell biology of astrocytoma pathogenesis
in vitro
and
in vivo
and may be useful in preclinical drug development for these devastating diseases.
Neuroscience, Issue 90, astrocytoma, cortical astrocytes, genetically engineered mice, glioblastoma, neural stem cells, orthotopic allograft
51763
A Novel High-resolution In vivo Imaging Technique to Study the Dynamic Response of Intracranial Structures to Tumor Growth and Therapeutics
Institutions: Hospital for Sick Children, Toronto Medical Discovery Tower, Princess Margaret Hospital, Toronto Western Hospital.

We have successfully integrated previously established Intracranial window (ICW) technology
1-4
with intravital 2-photon confocal microscopy to develop a novel platform that allows for direct long-term visualization of tissue structure changes intracranially. Imaging at a single cell resolution in a real-time fashion provides supplementary dynamic information beyond that provided by standard end-point histological analysis, which looks solely at 'snap-shot' cross sections of tissue. Establishing this intravital imaging technique in fluorescent chimeric mice, we are able to image four fluorescent channels simultaneously. By incorporating fluorescently labeled cells, such as GFP+ bone marrow, it is possible to track the fate of these cells studying their long-term migration, integration and differentiation within tissue. Further integration of a secondary reporter cell, such as an mCherry glioma tumor line, allows for characterization of cell:cell interactions. Structural changes in the tissue microenvironment can be highlighted through the addition of intra-vital dyes and antibodies, for example CD31 tagged antibodies and Dextran molecules. Moreover, we describe the combination of our ICW imaging model with a small animal micro-irradiator that provides stereotactic irradiation, creating a platform through which the dynamic tissue changes that occur following the administration of ionizing irradiation can be assessed. Current limitations of our model include penetrance of the microscope, which is limited to a depth of up to 900 μm from the sub cortical surface, limiting imaging to the dorsal axis of the brain. The presence of the skull bone makes the ICW a more challenging technical procedure, compared to the more established and utilized chamber models currently used to study mammary tissue and fat pads
5-7
. In addition, the ICW provides many challenges when optimizing the imaging.
Cancer Biology, Issue 76, Medicine, Biomedical Engineering, Cellular Biology, Molecular Biology, Genetics, Neuroscience, Neurobiology, Biophysics, Anatomy, Physiology, Surgery, Intracranial Window, In vivo imaging, Stereotactic radiation, Bone Marrow Derived Cells, confocal microscopy, two-photon microscopy, drug-cell interactions, drug kinetics, brain, imaging, tumors, animal model
50363
Pre-clinical Evaluation of Tyrosine Kinase Inhibitors for Treatment of Acute Leukemia
Institutions: University of Colorado Anschutz Medical Campus, University Hospital of Essen.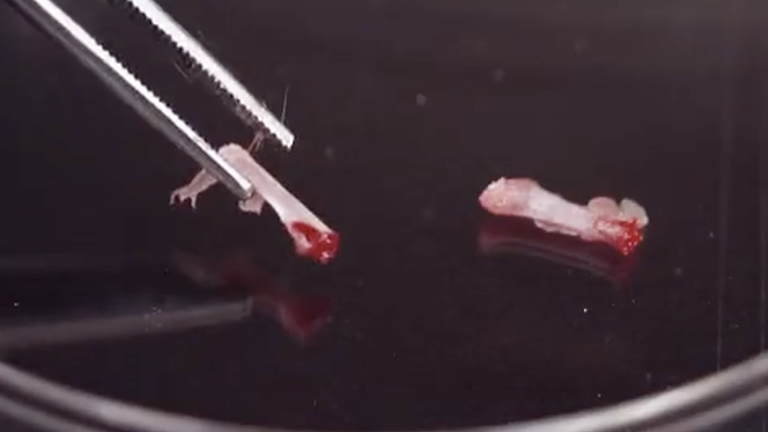 Receptor tyrosine kinases have been implicated in the development and progression of many cancers, including both leukemia and solid tumors, and are attractive druggable therapeutic targets. Here we describe an efficient four-step strategy for pre-clinical evaluation of tyrosine kinase inhibitors (TKIs) in the treatment of acute leukemia. Initially, western blot analysis is used to confirm target inhibition in cultured leukemia cells. Functional activity is then evaluated using clonogenic assays in methylcellulose or soft agar cultures. Experimental compounds that demonstrate activity in cell culture assays are evaluated
in vivo
using NOD-SCID-gamma (NSG) mice transplanted orthotopically with human leukemia cell lines. Initial
in vivo
pharmacodynamic studies evaluate target inhibition in leukemic blasts isolated from the bone marrow. This approach is used to determine the dose and schedule of administration required for effective target inhibition. Subsequent studies evaluate the efficacy of the TKIs
in vivo
using luciferase expressing leukemia cells, thereby allowing for non-invasive bioluminescent monitoring of leukemia burden and assessment of therapeutic response using an
in vivo
bioluminescence imaging system. This strategy has been effective for evaluation of TKIs
in vitro
and
in vivo
and can be applied for identification of molecularly-targeted agents with therapeutic potential or for direct comparison and prioritization of multiple compounds.
Medicine, Issue 79, Leukemia, Receptor Protein-Tyrosine Kinases, Molecular Targeted Therapy, Therapeutics, novel small molecule inhibitor, receptor tyrosine kinase, leukemia
50720
Diffusion Tensor Magnetic Resonance Imaging in the Analysis of Neurodegenerative Diseases
Institutions: University of Ulm.

Diffusion tensor imaging (DTI) techniques provide information on the microstructural processes of the cerebral white matter (WM)
in vivo
. The present applications are designed to investigate differences of WM involvement patterns in different brain diseases, especially neurodegenerative disorders, by use of different DTI analyses in comparison with matched controls. DTI data analysis is performed in a variate fashion,
i.e.
voxelwise comparison of regional diffusion direction-based metrics such as fractional anisotropy (FA), together with fiber tracking (FT) accompanied by tractwise fractional anisotropy statistics (TFAS) at the group level in order to identify differences in FA along WM structures, aiming at the definition of regional patterns of WM alterations at the group level. Transformation into a stereotaxic standard space is a prerequisite for group studies and requires thorough data processing to preserve directional inter-dependencies. The present applications show optimized technical approaches for this preservation of quantitative and directional information during spatial normalization in data analyses at the group level. On this basis, FT techniques can be applied to group averaged data in order to quantify metrics information as defined by FT. Additionally, application of DTI methods,
i.e.
differences in FA-maps after stereotaxic alignment, in a longitudinal analysis at an individual subject basis reveal information about the progression of neurological disorders. Further quality improvement of DTI based results can be obtained during preprocessing by application of a controlled elimination of gradient directions with high noise levels. In summary, DTI is used to define a distinct WM pathoanatomy of different brain diseases by the combination of whole brain-based and tract-based DTI analysis.
Medicine, Issue 77, Neuroscience, Neurobiology, Molecular Biology, Biomedical Engineering, Anatomy, Physiology, Neurodegenerative Diseases, nuclear magnetic resonance, NMR, MR, MRI, diffusion tensor imaging, fiber tracking, group level comparison, neurodegenerative diseases, brain, imaging, clinical techniques
50427
Live Imaging of Drug Responses in the Tumor Microenvironment in Mouse Models of Breast Cancer
Institutions: Watson School of Biological Sciences, Cold Spring Harbor Laboratory, University of Oslo and Oslo University Hospital.

The tumor microenvironment plays a pivotal role in tumor initiation, progression, metastasis, and the response to anti-cancer therapies. Three-dimensional co-culture systems are frequently used to explicate tumor-stroma interactions, including their role in drug responses. However, many of the interactions that occur
in vivo
in the intact microenvironment cannot be completely replicated in these
in vitro
settings. Thus, direct visualization of these processes in real-time has become an important tool in understanding tumor responses to therapies and identifying the interactions between cancer cells and the stroma that can influence these responses. Here we provide a method for using spinning disk confocal microscopy of live, anesthetized mice to directly observe drug distribution, cancer cell responses and changes in tumor-stroma interactions following administration of systemic therapy in breast cancer models. We describe procedures for labeling different tumor components, treatment of animals for observing therapeutic responses, and the surgical procedure for exposing tumor tissues for imaging up to 40 hours. The results obtained from this protocol are time-lapse movies, in which such processes as drug infiltration, cancer cell death and stromal cell migration can be evaluated using image analysis software.
Cancer Biology, Issue 73, Medicine, Molecular Biology, Cellular Biology, Biomedical Engineering, Genetics, Oncology, Pharmacology, Surgery, Tumor Microenvironment, Intravital imaging, chemotherapy, Breast cancer, time-lapse, mouse models, cancer cell death, stromal cell migration, cancer, imaging, transgenic, animal model
50088
Adaptation of Semiautomated Circulating Tumor Cell (CTC) Assays for Clinical and Preclinical Research Applications
Institutions: London Health Sciences Centre, Western University, London Health Sciences Centre, Lawson Health Research Institute, Western University.

The majority of cancer-related deaths occur subsequent to the development of metastatic disease. This highly lethal disease stage is associated with the presence of circulating tumor cells (CTCs). These rare cells have been demonstrated to be of clinical significance in metastatic breast, prostate, and colorectal cancers. The current gold standard in clinical CTC detection and enumeration is the FDA-cleared CellSearch system (CSS). This manuscript outlines the standard protocol utilized by this platform as well as two additional adapted protocols that describe the detailed process of user-defined marker optimization for protein characterization of patient CTCs and a comparable protocol for CTC capture in very low volumes of blood, using standard CSS reagents, for studying
in vivo
preclinical mouse models of metastasis. In addition, differences in CTC quality between healthy donor blood spiked with cells from tissue culture versus patient blood samples are highlighted. Finally, several commonly discrepant items that can lead to CTC misclassification errors are outlined. Taken together, these protocols will provide a useful resource for users of this platform interested in preclinical and clinical research pertaining to metastasis and CTCs.
Medicine, Issue 84, Metastasis, circulating tumor cells (CTCs), CellSearch system, user defined marker characterization, in vivo, preclinical mouse model, clinical research
51248
Primary Orthotopic Glioma Xenografts Recapitulate Infiltrative Growth and Isocitrate Dehydrogenase I Mutation
Institutions: Vanderbilt University Medical Center, Vanderbilt University Medical Center, Veteran Affairs TVHS.

Malignant gliomas constitute a heterogeneous group of highly infiltrative glial neoplasms with distinct clinical and molecular features. Primary orthotopic xenografts recapitulate the histopathological and molecular features of malignant glioma subtypes in preclinical animal models. To model WHO grades III and IV malignant gliomas in transplantation assays, human tumor cells are xenografted into an orthotopic site, the brain, of immunocompromised mice. In contrast to secondary xenografts that utilize cultured tumor cells, human glioma cells are dissociated from resected specimens and transplanted without prior passage in tissue culture to generate primary xenografts. The procedure in this report details tumor sample preparation, intracranial transplantation into immunocompromised mice, monitoring for tumor engraftment and tumor harvesting for subsequent passage into recipient animals or analysis. Tumor cell preparation requires 2 hr and surgical procedure requires 20 min/animal.
Medicine, Issue 83, Glioma, Malignant glioma, primary orthotopic xenograft, isocitrate dehydrogenase
50865
An in vivo Assay to Test Blood Vessel Permeability
Institutions: Fox Chase Cancer Center .

This method is based on the intravenous injection of Evans Blue in mice as the test animal model. Evans blue is a dye that binds albumin. Under physiologic conditions the endothelium is impermeable to albumin, so Evans blue bound albumin remains restricted within blood vessels. In pathologic conditions that promote increased vascular permeability endothelial cells partially lose their close contacts and the endothelium becomes permeable to small proteins such as albumin. This condition allows for extravasation of Evans Blue in tissues. A healthy endothelium prevents extravasation of the dye in the neighboring vascularized tissues. Organs with increased permeability will show significantly increased blue coloration compared to organs with intact endothelium. The level of vascular permeability can be assessed by simple visualization or by quantitative measurement of the dye incorporated per milligram of tissue of control versus experimental animal/tissue. Two powerful aspects of this assay are its simplicity and quantitative characteristics. Evans Blue dye can be extracted from tissues by incubating a specific amount of tissue in formamide. Evans Blue absorbance maximum is at 620 nm and absorbance minimum is at 740 nm. By using a standard curve for Evans Blue, optical density measurements can be converted into milligram dye captured per milligram of tissue. Statistical analysis should be used to assess significant differences in vascular permeability.
Medicine, Issue 73, Immunology, Physiology, Anatomy, Surgery, Hematology, Blood Vessels, Endothelium, Vascular, Vascular Cell Adhesion Molecule-1, permeability, in vivo, Evans Blue, Miles assay, assay, intravenous injection, mouse, animal model
50062
Endothelial Cell Tube Formation Assay for the In Vitro Study of Angiogenesis
Institutions: American University, National Cancer Institute, NIH.
Angiogenesis is a vital process for normal tissue development and wound healing, but is also associated with a variety of pathological conditions. Using this protocol, angiogenesis may be measured
in vitro
in a fast, quantifiable manner. Primary or immortalized endothelial cells are mixed with conditioned media and plated on basement membrane matrix. The endothelial cells form capillary like structures in response to angiogenic signals found in conditioned media. The tube formation occurs quickly with endothelial cells beginning to align themselves within 1 hr and lumen-containing tubules beginning to appear within 2 hr. Tubes can be visualized using a phase contrast inverted microscope, or the cells can be treated with calcein AM prior to the assay and tubes visualized through fluorescence or confocal microscopy. The number of branch sites/nodes, loops/meshes, or number or length of tubes formed can be easily quantified as a measure of
in vitro
angiogenesis. In summary, this assay can be used to identify genes and pathways that are involved in the promotion or inhibition of angiogenesis in a rapid, reproducible, and quantitative manner.
Cancer Biology, Issue 91, Angiogenesis, tube formation, fibroblast, endothelial cell, matrix, 3B-11, basement membrane extract, tubulogenesis
51312
In vivo Bioluminescent Imaging of Mammary Tumors Using IVIS Spectrum
Institutions: Caliper Life Sciences.

4T1 mouse mammary tumor cells can be implanted sub-cutaneously in nu/nu mice to form palpable tumors in 15 to 20 days. This xenograft tumor model system is valuable for the pre-clinical
in vivo
evaluation of putative antitumor compounds. The 4T1 cell line has been engineered to constitutively express the firefly luciferase gene (luc2). When mice carrying 4T1-luc2 tumors are injected with Luciferin the tumors emit a visual light signal that can be monitored using a sensitive optical imaging system like the IVIS Spectrum. The photon flux from the tumor is proportional to the number of light emitting cells and the signal can be measured to monitor tumor growth and development. IVIS is calibrated to enable absolute quantitation of the bioluminescent signal and longitudinal studies can be performed over many months and over several orders of signal magnitude without compromising the quantitative result. Tumor growth can be monitored for several days by bioluminescence before the tumor size becomes palpable or measurable by traditional physical means. This rapid monitoring can provide insight into early events in tumor development or lead to shorter experimental procedures. Tumor cell death and necrosis due to hypoxia or drug treatment is indicated early by a reduction in the bioluminescent signal. This cell death might not be accompanied by a reduction in tumor size as measured by physical means. The ability to see early events in tumor necrosis has significant impact on the selection and development of therapeutic agents. Quantitative imaging of tumor growth using IVIS provides precise quantitation and accelerates the experimental process to generate results.
Cellular Biology, Issue 26, tumor, mammary, mouse, bioluminescence, in vivo, imaging, IVIS, luciferase, luciferin
1210