Coherent anti-Stokes Raman Scattering (CARS) Microscopy Visualizes Pharmaceutical Tablets During Dissolution
Published: 07-04-2014
ABSTRACT
Traditional pharmaceutical dissolution tests determine the amount of drug dissolved over time by measuring drug content in the dissolution medium. This method provides little direct information about what is happening on the surface of the dissolving tablet. As the tablet surface composition and structure can change during dissolution, it is essential to monitor it during dissolution testing. In this work coherent anti-Stokes Raman scattering microscopy is used to image the surface of tablets during dissolution while UV absorption spectroscopy is simultaneously providing inline analysis of dissolved drug concentration for tablets containing a 50% mixture of theophylline anhydrate and ethyl cellulose. The measurements showed that in situ CARS microscopy is capable of imaging selectively theophylline in the presence of ethyl cellulose. Additionally, the theophylline anhydrate converted to theophylline monohydrate during dissolution, with needle-shaped crystals growing on the tablet surface during dissolution. The conversion of theophylline anhydrate to monohydrate, combined with reduced exposure of the drug to the flowing dissolution medium resulted in decreased dissolution rates. Our results show that in situ CARS microscopy combined with inline UV absorption spectroscopy is capable of monitoring pharmaceutical tablet dissolution and correlating surface changes with changes in dissolution rate.
15 Related JoVE Articles!
Probing and Mapping Electrode Surfaces in Solid Oxide Fuel Cells
Institutions: Georgia Institute of Technology , Georgia Institute of Technology .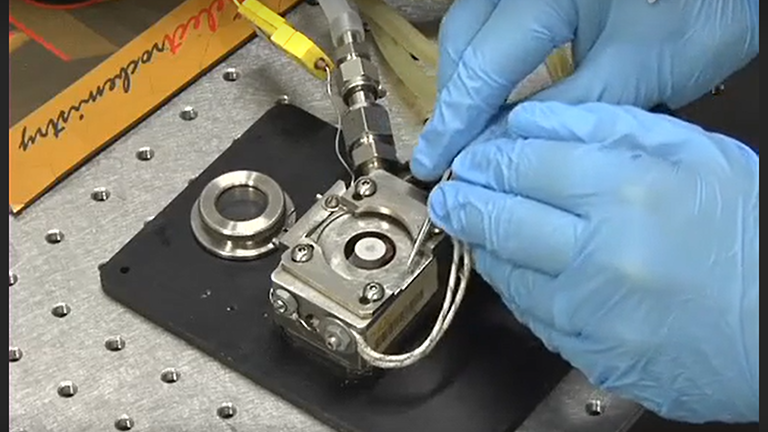 Solid oxide fuel cells (SOFCs) are potentially the most efficient and cost-effective solution to utilization of a wide variety of fuels beyond hydrogen
1-7
. The performance of SOFCs and the rates of many chemical and energy transformation processes in energy storage and conversion devices in general are limited primarily by charge and mass transfer along electrode surfaces and across interfaces. Unfortunately, the mechanistic understanding of these processes is still lacking, due largely to the difficulty of characterizing these processes under
in situ
conditions. This knowledge gap is a chief obstacle to SOFC commercialization. The development of tools for probing and mapping surface chemistries relevant to electrode reactions is vital to unraveling the mechanisms of surface processes and to achieving rational design of new electrode materials for more efficient energy storage and conversion
2
. Among the relatively few
in situ
surface analysis methods, Raman spectroscopy can be performed even with high temperatures and harsh atmospheres, making it ideal for characterizing chemical processes relevant to SOFC anode performance and degradation
8-12
. It can also be used alongside electrochemical measurements, potentially allowing direct correlation of electrochemistry to surface chemistry in an operating cell. Proper
in situ
Raman mapping measurements would be useful for pin-pointing important anode reaction mechanisms because of its sensitivity to the relevant species, including anode performance degradation through carbon deposition
8, 10, 13, 14
("coking") and sulfur poisoning
11, 15
and the manner in which surface modifications stave off this degradation
16
. The current work demonstrates significant progress towards this capability. In addition, the family of scanning probe microscopy (SPM) techniques provides a special approach to interrogate the electrode surface with nanoscale resolution. Besides the surface topography that is routinely collected by AFM and STM, other properties such as local electronic states, ion diffusion coefficient and surface potential can also be investigated
17-22
. In this work, electrochemical measurements, Raman spectroscopy, and SPM were used in conjunction with a novel test electrode platform that consists of a Ni mesh electrode embedded in an yttria-stabilized zirconia (YSZ) electrolyte. Cell performance testing and impedance spectroscopy under fuel containing H
2
S was characterized, and Raman mapping was used to further elucidate the nature of sulfur poisoning.
In situ
Raman monitoring was used to investigate coking behavior. Finally, atomic force microscopy (AFM) and electrostatic force microscopy (EFM) were used to further visualize carbon deposition on the nanoscale. From this research, we desire to produce a more complete picture of the SOFC anode.
Materials Science, Issue 67, Chemistry, Electrical Engineering, Physics, electrochemistry, catalysts (chemical), spectroscopic chemical analysis (application), microscopes, Fuel cell, Raman, AFM, SOFC, Surface, Electrode
50161
Tangential Flow Ultrafiltration: A "Green" Method for the Size Selection and Concentration of Colloidal Silver Nanoparticles
Institutions: Wright State University, Wright State University.

Nowadays, AgNPs are extensively used in the manufacture of consumer products,
1
water disinfectants,
2
therapeutics,
1, 3
and biomedical devices
4
due to their powerful antimicrobial properties.
3-6
These nanoparticle applications are strongly influenced by the AgNP size and aggregation state. Many challenges exist in the controlled fabrication
7
and size-based isolation
4,8
of unfunctionalized, homogenous AgNPs that are free from chemically aggressive capping/stabilizing agents or organic solvents.
7-13
Limitations emerge from the toxicity of reagents, high costs or reduced efficiency of the AgNP synthesis or isolation methods (
e.g.
, centrifugation, size-dependent solubility, size-exclusion chromatography, etc.).
10,14-18
To overcome this, we recently showed that TFU permits greater control over the size, concentration and aggregation state of Creighton AgNPs (300 ml of 15.3 μg ml
-1
down to 10 ml of 198.7 μg ml
-1
) than conventional methods of isolation such as ultracentrifugation.
19
TFU is a recirculation method commonly used for the weight-based isolation of proteins, viruses and cells.
20,21
Briefly, the liquid sample is passed through a series of hollow fiber membranes with pore size ranging from 1,000 kD to 10 kD. Smaller suspended or dissolved constituents in the sample will pass through the porous barrier together with the solvent (filtrate), while the larger constituents are retained (retentate). TFU may be considered a "green" method as it neither damages the sample nor requires additional solvent to eliminate toxic excess reagents and byproducts. Furthermore, TFU may be applied to a large variety of nanoparticles as both hydrophobic and hydrophilic filters are available. The two main objectives of this study were: 1) to illustrate the experimental aspects of the TFU approach through an invited video experience and 2) to demonstrate the feasibility of the TFU method for larger volumes of colloidal nanoparticles and smaller volumes of retentate. First, unfuctionalized AgNPs (4 L, 15.2 μg ml
-1
) were synthesized using the well-established Creighton method
22,23
by the reduction of AgNO
3
with NaBH
4
. AgNP polydispersity was then minimized via a 3-step TFU using a 50-nm filter (460 cm
2
) to remove AgNPs and AgNP-aggregates larger than 50 nm, followed by two 100-kD (200 cm
2
and 20 cm
2
) filters to concentrate the AgNPs. Representative samples were characterized using transmission electron microscopy, UV-Vis absorption spectrophotometry, Raman spectroscopy, and inductively coupled plasma optical emission spectroscopy. The final retentate consisted of highly concentrated (4 ml, 8,539.9 μg ml
-1
) yet lowly aggregated and homogeneous AgNPs of 1-20 nm in diameter. This corresponds to a silver concentration yield of about 62%.
Chemistry, Issue 68, Biomedical Engineering, Chemical Engineering, Nanotechnology, silver nanoparticles, size selection, concentration, tangential flow ultrafiltration
4167
Non-contact, Label-free Monitoring of Cells and Extracellular Matrix using Raman Spectroscopy
Institutions: Eberhard Karls University, Tübingen, Fraunhofer Institute of Interfacial Engineering and Biotechnology (IGB) Stuttgart, Germany, University of Stuttgart, Germany, Julius-Maximillians University, Würzburg, Germany.

Non-destructive, non-contact and label-free technologies to monitor cell and tissue cultures are needed in the field of biomedical research.
1-5
However, currently available routine methods require processing steps and alter sample integrity. Raman spectroscopy is a fast method that enables the measurement of biological samples without the need for further processing steps. This laser-based technology detects the inelastic scattering of monochromatic light.
6
As every chemical vibration is assigned to a specific Raman band (wavenumber in cm
-1
), each biological sample features a typical spectral pattern due to their inherent biochemical composition.
7-9
Within Raman spectra, the peak intensities correlate with the amount of the present molecular bonds.
1
Similarities and differences of the spectral data sets can be detected by employing a multivariate analysis (e.g. principal component analysis (PCA)).
10
Here, we perform Raman spectroscopy of living cells and native tissues. Cells are either seeded on glass bottom dishes or kept in suspension under normal cell culture conditions (37 °C, 5% CO
2
) before measurement. Native tissues are dissected and stored in phosphate buffered saline (PBS) at 4 °C prior measurements. Depending on our experimental set up, we then either focused on the cell nucleus or extracellular matrix (ECM) proteins such as elastin and collagen. For all studies, a minimum of 30 cells or 30 random points of interest within the ECM are measured. Data processing steps included background subtraction and normalization.
Bioengineering, Issue 63, Raman spectroscopy, label-free analysis, living cells, extracellular matrix, tissue engineering
3977
Polymer Microarrays for High Throughput Discovery of Biomaterials
Institutions: University of Nottingham , University of Nottingham , Massachusetts Institute of Technology.
The discovery of novel biomaterials that are optimized for a specific biological application is readily achieved using polymer microarrays, which allows a combinatorial library of materials to be screened in a parallel, high throughput format
1
. Herein is described the formation and characterization of a polymer microarray using an on-chip photopolymerization technique
2
. This involves mixing monomers at varied ratios to produce a library of monomer solutions, transferring the solution to a glass slide format using a robotic printing device and curing with UV irradiation. This format is readily amenable to many biological assays, including stem cell attachment and proliferation, cell sorting and low bacterial adhesion, allowing the ready identification of 'hit' materials that fulfill a specific biological criterion
3-5
. Furthermore, the use of high throughput surface characterization (HTSC) allows the biological performance to be correlated with physio-chemical properties, hence elucidating the biological-material interaction
6
. HTSC makes use of water contact angle (WCA) measurements, atomic force microscopy (AFM), X-ray photoelectron spectroscopy (XPS) and time-of-flight secondary ion mass spectrometry (ToF-SIMS). In particular, ToF-SIMS provides a chemically rich analysis of the sample that can be used to correlate the cell response with a molecular moiety. In some cases, the biological performance can be predicted from the ToF-SIMS spectra, demonstrating the chemical dependence of a biological-material interaction, and informing the development of hit materials
5,3
.
Bioengineering, Issue 59, Materials discovery, Surface characterization, Polymer library, High throughput, Cell attachment
3636
Rejection of Fluorescence Background in Resonance and Spontaneous Raman Microspectroscopy
Institutions: University of California, Davis, University of California, Davis.

Raman spectroscopy is often plagued by a strong fluorescent background, particularly for biological samples. If a sample is excited with a train of ultrafast pulses, a system that can temporally separate spectrally overlapping signals on a picosecond timescale can isolate promptly arriving Raman scattered light from late-arriving fluorescence light. Here we discuss the construction and operation of a complex nonlinear optical system that uses all-optical switching in the form of a low-power optical Kerr gate to isolate Raman and fluorescence signals. A single 808 nm laser with 2.4 W of average power and 80 MHz repetition rate is split, with approximately 200 mW of 808 nm light being converted to < 5 mW of 404 nm light sent to the sample to excite Raman scattering. The remaining unconverted 808 nm light is then sent to a nonlinear medium where it acts as the pump for the all-optical shutter. The shutter opens and closes in 800 fs with a peak efficiency of approximately 5%. Using this system we are able to successfully separate Raman and fluorescence signals at an 80 MHz repetition rate using pulse energies and average powers that remain biologically safe. Because the system has no spare capacity in terms of optical power, we detail several design and alignment considerations that aid in maximizing the throughput of the system. We also discuss our protocol for obtaining the spatial and temporal overlap of the signal and pump beams within the Kerr medium, as well as a detailed protocol for spectral acquisition. Finally, we report a few representative results of Raman spectra obtained in the presence of strong fluorescence using our time-gating system.
Microbiology, Issue 51, Raman scattering, all-optical gating, nonlinear optics, fluorescence, timeresolved spectroscopy.
2592
Simultaneous Synthesis of Single-walled Carbon Nanotubes and Graphene in a Magnetically-enhanced Arc Plasma
Institutions: The George Washington University.

Carbon nanostructures such as single-walled carbon nanotubes (SWCNT) and graphene attract a deluge of interest of scholars nowadays due to their very promising application for molecular sensors, field effect transistor and super thin and flexible electronic devices
1-4
. Anodic arc discharge supported by the erosion of the anode material is one of the most practical and efficient methods, which can provide specific non-equilibrium processes and a high influx of carbon material to the developing structures at relatively higher temperature, and consequently the as-synthesized products have few structural defects and better crystallinity. To further improve the controllability and flexibility of the synthesis of carbon nanostructures in arc discharge, magnetic fields can be applied during the synthesis process according to the strong magnetic responses of arc plasmas. It was demonstrated that the magnetically-enhanced arc discharge can increase the average length of SWCNT
5
, narrow the diameter distribution of metallic catalyst particles and carbon nanotubes
6
, and change the ratio of metallic and semiconducting carbon nanotubes
7
, as well as lead to graphene synthesis
8
. Furthermore, it is worthwhile to remark that when we introduce a non-uniform magnetic field with the component normal to the current in arc, the Lorentz force along the J×B direction can generate the plasmas jet and make effective delivery of carbon ion particles and heat flux to samples. As a result, large-scale graphene flakes and high-purity single-walled carbon nanotubes were simultaneously generated by such new magnetically-enhanced anodic arc method. Arc imaging, scanning electron microscope (SEM), transmission electron microscope (TEM) and Raman spectroscopy were employed to analyze the characterization of carbon nanostructures. These findings indicate a wide spectrum of opportunities to manipulate with the properties of nanostructures produced in plasmas by means of controlling the arc conditions.
Bioengineering, Issue 60, Arc discharge, magnetic control, single-walled carbon nanotubes, graphene
3455
Proton Transfer and Protein Conformation Dynamics in Photosensitive Proteins by Time-resolved Step-scan Fourier-transform Infrared Spectroscopy
Institutions: Freie Universität Berlin.

Monitoring the dynamics of protonation and protein backbone conformation changes during the function of a protein is an essential step towards understanding its mechanism. Protonation and conformational changes affect the vibration pattern of amino acid side chains and of the peptide bond, respectively, both of which can be probed by infrared (IR) difference spectroscopy. For proteins whose function can be repetitively and reproducibly triggered by light, it is possible to obtain infrared difference spectra with (sub)microsecond resolution over a broad spectral range using the step-scan Fourier transform infrared technique. With ~10
2
-10
3
repetitions of the photoreaction, the minimum number to complete a scan at reasonable spectral resolution and bandwidth, the noise level in the absorption difference spectra can be as low as ~10
-
4
, sufficient to follow the kinetics of protonation changes from a single amino acid. Lower noise levels can be accomplished by more data averaging and/or mathematical processing. The amount of protein required for optimal results is between 5-100 µg, depending on the sampling technique used. Regarding additional requirements, the protein needs to be first concentrated in a low ionic strength buffer and then dried to form a film. The protein film is hydrated prior to the experiment, either with little droplets of water or under controlled atmospheric humidity. The attained hydration level (g of water / g of protein) is gauged from an IR absorption spectrum. To showcase the technique, we studied the photocycle of the light-driven proton-pump bacteriorhodopsin in its native purple membrane environment, and of the light-gated ion channel channelrhodopsin-2 solubilized in detergent.
Biophysics, Issue 88, bacteriorhodopsin, channelrhodopsin, attenuated total reflection, proton transfer, protein dynamics, infrared spectroscopy, time-resolved spectroscopy, step-scan, membrane proteins, singular value decomposition
51622
Nanomanipulation of Single RNA Molecules by Optical Tweezers
Institutions: University at Albany, State University of New York, University at Albany, State University of New York, University at Albany, State University of New York, University at Albany, State University of New York, University at Albany, State University of New York.

A large portion of the human genome is transcribed but not translated. In this post genomic era, regulatory functions of RNA have been shown to be increasingly important. As RNA function often depends on its ability to adopt alternative structures, it is difficult to predict RNA three-dimensional structures directly from sequence. Single-molecule approaches show potentials to solve the problem of RNA structural polymorphism by monitoring molecular structures one molecule at a time. This work presents a method to precisely manipulate the folding and structure of single RNA molecules using optical tweezers. First, methods to synthesize molecules suitable for single-molecule mechanical work are described. Next, various calibration procedures to ensure the proper operations of the optical tweezers are discussed. Next, various experiments are explained. To demonstrate the utility of the technique, results of mechanically unfolding RNA hairpins and a single RNA kissing complex are used as evidence. In these examples, the nanomanipulation technique was used to study folding of each structural domain, including secondary and tertiary, independently. Lastly, the limitations and future applications of the method are discussed.
Bioengineering, Issue 90, RNA folding, single-molecule, optical tweezers, nanomanipulation, RNA secondary structure, RNA tertiary structure
51542
Magnetic Tweezers for the Measurement of Twist and Torque
Institutions: Delft University of Technology.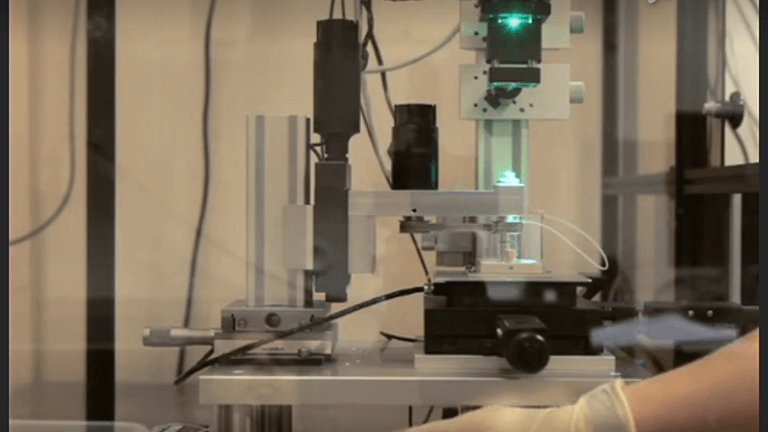 Single-molecule techniques make it possible to investigate the behavior of individual biological molecules in solution in real time. These techniques include so-called force spectroscopy approaches such as atomic force microscopy, optical tweezers, flow stretching, and magnetic tweezers. Amongst these approaches, magnetic tweezers have distinguished themselves by their ability to apply torque while maintaining a constant stretching force. Here, it is illustrated how such a "conventional" magnetic tweezers experimental configuration can, through a straightforward modification of its field configuration to minimize the magnitude of the transverse field, be adapted to measure the degree of twist in a biological molecule. The resulting configuration is termed the freely-orbiting magnetic tweezers. Additionally, it is shown how further modification of the field configuration can yield a transverse field with a magnitude intermediate between that of the "conventional" magnetic tweezers and the freely-orbiting magnetic tweezers, which makes it possible to directly measure the torque stored in a biological molecule. This configuration is termed the magnetic torque tweezers. The accompanying video explains in detail how the conversion of conventional magnetic tweezers into freely-orbiting magnetic tweezers and magnetic torque tweezers can be accomplished, and demonstrates the use of these techniques. These adaptations maintain all the strengths of conventional magnetic tweezers while greatly expanding the versatility of this powerful instrument.
Bioengineering, Issue 87, magnetic tweezers, magnetic torque tweezers, freely-orbiting magnetic tweezers, twist, torque, DNA, single-molecule techniques
51503
In Situ SIMS and IR Spectroscopy of Well-defined Surfaces Prepared by Soft Landing of Mass-selected Ions
Institutions: Pacific Northwest National Laboratory.

Soft landing of mass-selected ions onto surfaces is a powerful approach for the highly-controlled preparation of materials that are inaccessible using conventional synthesis techniques. Coupling soft landing with
in situ
characterization using secondary ion mass spectrometry (SIMS) and infrared reflection absorption spectroscopy (IRRAS) enables analysis of well-defined surfaces under clean vacuum conditions. The capabilities of three soft-landing instruments constructed in our laboratory are illustrated for the representative system of surface-bound organometallics prepared by soft landing of mass-selected ruthenium tris(bipyridine) dications, [Ru(bpy)
3
]
2+
(bpy = bipyridine), onto carboxylic acid terminated self-assembled monolayer surfaces on gold (COOH-SAMs).
In situ
time-of-flight (TOF)-SIMS provides insight into the reactivity of the soft-landed ions. In addition, the kinetics of charge reduction, neutralization and desorption occurring on the COOH-SAM both during and after ion soft landing are studied using
in situ
Fourier transform ion cyclotron resonance (FT-ICR)-SIMS measurements.
In situ
IRRAS experiments provide insight into how the structure of organic ligands surrounding metal centers is perturbed through immobilization of organometallic ions on COOH-SAM surfaces by soft landing. Collectively, the three instruments provide complementary information about the chemical composition, reactivity and structure of well-defined species supported on surfaces.
Chemistry, Issue 88, soft landing, mass selected ions, electrospray, secondary ion mass spectrometry, infrared spectroscopy, organometallic, catalysis
51344
Simultaneous Multicolor Imaging of Biological Structures with Fluorescence Photoactivation Localization Microscopy
Institutions: University of Maine.

Localization-based super resolution microscopy can be applied to obtain a spatial map (image) of the distribution of individual fluorescently labeled single molecules within a sample with a spatial resolution of tens of nanometers. Using either photoactivatable (PAFP) or photoswitchable (PSFP) fluorescent proteins fused to proteins of interest, or organic dyes conjugated to antibodies or other molecules of interest, fluorescence photoactivation localization microscopy (FPALM) can simultaneously image multiple species of molecules within single cells. By using the following approach, populations of large numbers (thousands to hundreds of thousands) of individual molecules are imaged in single cells and localized with a precision of ~10-30 nm. Data obtained can be applied to understanding the nanoscale spatial distributions of multiple protein types within a cell. One primary advantage of this technique is the dramatic increase in spatial resolution: while diffraction limits resolution to ~200-250 nm in conventional light microscopy, FPALM can image length scales more than an order of magnitude smaller. As many biological hypotheses concern the spatial relationships among different biomolecules, the improved resolution of FPALM can provide insight into questions of cellular organization which have previously been inaccessible to conventional fluorescence microscopy. In addition to detailing the methods for sample preparation and data acquisition, we here describe the optical setup for FPALM. One additional consideration for researchers wishing to do super-resolution microscopy is cost: in-house setups are significantly cheaper than most commercially available imaging machines. Limitations of this technique include the need for optimizing the labeling of molecules of interest within cell samples, and the need for post-processing software to visualize results. We here describe the use of PAFP and PSFP expression to image two protein species in fixed cells. Extension of the technique to living cells is also described.
Basic Protocol, Issue 82, Microscopy, Super-resolution imaging, Multicolor, single molecule, FPALM, Localization microscopy, fluorescent proteins
50680
Graphene Coatings for Biomedical Implants
Institutions: Clemson University, East Carolina University, Clemson University, Clemson University.

Atomically smooth graphene as a surface coating has potential to improve implant properties. This demonstrates a method for coating nitinol alloys with nanometer thick layers of graphene for applications as a stent material. Graphene was grown on copper substrates
via
chemical vapor deposition and then transferred onto nitinol substrates. In order to understand how the graphene coating could change biological response, cell viability of rat aortic endothelial cells and rat aortic smooth muscle cells was investigated. Moreover, the effect of graphene-coatings on cell adhesion and morphology was examined with fluorescent confocal microscopy. Cells were stained for actin and nuclei, and there were noticeable differences between pristine nitinol samples compared to graphene-coated samples. Total actin expression from rat aortic smooth muscle cells was found using western blot. Protein adsorption characteristics, an indicator for potential thrombogenicity, were determined for serum albumin and fibrinogen with gel electrophoresis. Moreover, the transfer of charge from fibrinogen to substrate was deduced using Raman spectroscopy. It was found that graphene coating on nitinol substrates met the functional requirements for a stent material and improved the biological response compared to uncoated nitinol. Thus, graphene-coated nitinol is a viable candidate for a stent material.
Biomedical Engineering, Issue 73, Bioengineering, Medicine, Biophysics, Materials Science, Physics, Pharmacology, Toxicology, Surgery, Chemistry and Materials (General), graphene, biomedical implants, surface modification, chemical vapor deposition, protein expression, confocal microscopy, implants, stents, clinical
50276
Differential Imaging of Biological Structures with Doubly-resonant Coherent Anti-stokes Raman Scattering (CARS)
Institutions: University of California, Davis, University of California, Davis.

Coherent Raman imaging techniques have seen a dramatic increase in activity over the past decade due to their promise to enable label-free optical imaging with high molecular specificity
1
. The sensitivity of these techniques, however, is many orders of magnitude weaker than fluorescence, requiring milli-molar molecular concentrations
1,2
. Here, we describe a technique that can enable the detection of weak or low concentrations of Raman-active molecules by amplifying their signal with that obtained from strong or abundant Raman scatterers. The interaction of short pulsed lasers in a biological sample generates a variety of coherent Raman scattering signals, each of which carry unique chemical information about the sample. Typically, only one of these signals, e.g. Coherent Anti-stokes Raman scattering (CARS), is used to generate an image while the others are discarded. However, when these other signals, including 3-color CARS and four-wave mixing (FWM), are collected and compared to the CARS signal, otherwise difficult to detect information can be extracted
3
. For example, doubly-resonant CARS (DR-CARS) is the result of the constructive interference between two resonant signals
4
. We demonstrate how tuning of the three lasers required to produce DR-CARS signals to the 2845 cm
-1
CH stretch vibration in lipids and the 2120 cm
-1
CD stretching vibration of a deuterated molecule (e.g. deuterated sugars, fatty acids, etc.) can be utilized to probe both Raman resonances simultaneously. Under these conditions, in addition to CARS signals from each resonance, a combined DR-CARS signal probing both is also generated. We demonstrate how detecting the difference between the DR-CARS signal and the amplifying signal from an abundant molecule's vibration can be used to enhance the sensitivity for the weaker signal. We further demonstrate that this approach even extends to applications where both signals are generated from different molecules, such that e.g. using the strong Raman signal of a solvent can enhance the weak Raman signal of a dilute solute.
Cellular Biology, Issue 44, Raman scattering, Four-wave mixing, Coherent anti-Stokes Raman scattering, Microscopy, Coherent Raman Scattering
2085
Absolute Quantum Yield Measurement of Powder Samples
Institutions: Hitachi High Technologies America.

Measurement of fluorescence quantum yield has become an important tool in the search for new solutions in the development, evaluation, quality control and research of illumination, AV equipment, organic EL material, films, filters and fluorescent probes for bio-industry. Quantum yield is calculated as the ratio of the number of photons absorbed, to the number of photons emitted by a material. The higher the quantum yield, the better the efficiency of the fluorescent material. For the measurements featured in this video, we will use the Hitachi F-7000 fluorescence spectrophotometer equipped with the Quantum Yield measuring accessory and Report Generator program. All the information provided applies to this system. Measurement of quantum yield in powder samples is performed following these steps: Generation of instrument correction factors for the excitation and emission monochromators. This is an important requirement for the correct measurement of quantum yield. It has been performed in advance for the full measurement range of the instrument and will not be shown in this video due to time limitations. Measurement of integrating sphere correction factors. The purpose of this step is to take into consideration reflectivity characteristics of the integrating sphere used for the measurements. Reference and Sample measurement using direct excitation and indirect excitation. Quantum Yield calculation using Direct and Indirect excitation. Direct excitation is when the sample is facing directly the excitation beam, which would be the normal measurement setup. However, because we use an integrating sphere, a portion of the emitted photons resulting from the sample fluorescence are reflected by the integrating sphere and will re-excite the sample, so we need to take into consideration indirect excitation. This is accomplished by measuring the sample placed in the port facing the emission monochromator, calculating indirect quantum yield and correcting the direct quantum yield calculation. Corrected quantum yield calculation. Chromaticity coordinates calculation using Report Generator program. The Hitachi F-7000 Quantum Yield Measurement System offer advantages for this application, as follows: High sensitivity (S/N ratio 800 or better RMS). Signal is the Raman band of water measured under the following conditions: Ex wavelength 350 nm, band pass Ex and Em 5 nm, response 2 sec), noise is measured at the maximum of the Raman peak. High sensitivity allows measurement of samples even with low quantum yield. Using this system we have measured quantum yields as low as 0.1 for a sample of salicylic acid and as high as 0.8 for a sample of magnesium tungstate. Highly accurate measurement with a dynamic range of 6 orders of magnitude allows for measurements of both sharp scattering peaks with high intensity, as well as broad fluorescence peaks of low intensity under the same conditions. High measuring throughput and reduced light exposure to the sample, due to a high scanning speed of up to 60,000 nm/minute and automatic shutter function. Measurement of quantum yield over a wide wavelength range from 240 to 800 nm. Accurate quantum yield measurements are the result of collecting instrument spectral response and integrating sphere correction factors before measuring the sample. Large selection of calculated parameters provided by dedicated and easy to use software. During this video we will measure sodium salicylate in powder form which is known to have a quantum yield value of 0.4 to 0.5.
Molecular Biology, Issue 63, Powders, Quantum, Yield, F-7000, Quantum Yield, phosphor, chromaticity, Photo-luminescence
3066
Label-free in situ Imaging of Lignification in Plant Cell Walls
Institutions: University of California, Berkeley, Lawrence Berkeley National Laboratory, Lawrence Berkeley National Laboratory.

Meeting growing energy demands safely and efficiently is a pressing global challenge. Therefore, research into biofuels production that seeks to find cost-effective and sustainable solutions has become a topical and critical task. Lignocellulosic biomass is poised to become the primary source of biomass for the conversion to liquid biofuels
1-6
. However, the recalcitrance of these plant cell wall materials to cost-effective and efficient degradation presents a major impediment for their use in the production of biofuels and chemicals
4
. In particular, lignin, a complex and irregular poly-phenylpropanoid heteropolymer, becomes problematic to the postharvest deconstruction of lignocellulosic biomass. For example in biomass conversion for biofuels, it inhibits saccharification in processes aimed at producing simple sugars for fermentation
7
. The effective use of plant biomass for industrial purposes is in fact largely dependent on the extent to which the plant cell wall is lignified. The removal of lignin is a costly and limiting factor
8
and lignin has therefore become a key plant breeding and genetic engineering target in order to improve cell wall conversion. Analytical tools that permit the accurate rapid characterization of lignification of plant cell walls become increasingly important for evaluating a large number of breeding populations. Extractive procedures for the isolation of native components such as lignin are inevitably destructive, bringing about significant chemical and structural modifications
9-11
. Analytical chemical
in situ
methods are thus invaluable tools for the compositional and structural characterization of lignocellulosic materials. Raman microscopy is a technique that relies on inelastic or Raman scattering of monochromatic light, like that from a laser, where the shift in energy of the laser photons is related to molecular vibrations and presents an intrinsic label-free molecular "fingerprint" of the sample. Raman microscopy can afford non-destructive and comparatively inexpensive measurements with minimal sample preparation, giving insights into chemical composition and molecular structure in a close to native state. Chemical imaging by confocal Raman microscopy has been previously used for the visualization of the spatial distribution of cellulose and lignin in wood cell walls
12-14
. Based on these earlier results, we have recently adopted this method to compare lignification in wild type and lignin-deficient transgenic
Populus trichocarpa
(black cottonwood) stem wood
15
. Analyzing the lignin Raman bands
16,17
in the spectral region between 1,600 and 1,700 cm
-1
, lignin signal intensity and localization were mapped
in situ
. Our approach visualized differences in lignin content, localization, and chemical composition. Most recently, we demonstrated Raman imaging of cell wall polymers in
Arabidopsis thaliana
with lateral resolution that is sub-μm
18
. Here, this method is presented affording visualization of lignin in plant cell walls and comparison of lignification in different tissues, samples or species without staining or labeling of the tissues.
Plant Biology, Issue 45, Raman microscopy, lignin, poplar wood, Arabidopsis thaliana
2064