A Lightweight, Headphones-based System for Manipulating Auditory Feedback in Songbirds
Published: 11-26-2012
ABSTRACT
Experimental manipulations of sensory feedback during complex behavior have provided valuable insights into the computations underlying motor control and sensorimotor plasticity1. Consistent sensory perturbations result in compensatory changes in motor output, reflecting changes in feedforward motor control that reduce the experienced feedback error. By quantifying how different sensory feedback errors affect human behavior, prior studies have explored how visual signals are used to recalibrate arm movements2,3 and auditory feedback is used to modify speech production4-7. The strength of this approach rests on the ability to mimic naturalistic errors in behavior, allowing the experimenter to observe how experienced errors in production are used to recalibrate motor output. Songbirds provide an excellent animal model for investigating the neural basis of sensorimotor control and plasticity8,9. The songbird brain provides a well-defined circuit in which the areas necessary for song learning are spatially separated from those required for song production, and neural recording and lesion studies have made significant advances in understanding how different brain areas contribute to vocal behavior9-12. However, the lack of a naturalistic error-correction paradigm - in which a known acoustic parameter is perturbed by the experimenter and then corrected by the songbird - has made it difficult to understand the computations underlying vocal learning or how different elements of the neural circuit contribute to the correction of vocal errors13. The technique described here gives the experimenter precise control over auditory feedback errors in singing birds, allowing the introduction of arbitrary sensory errors that can be used to drive vocal learning. Online sound-processing equipment is used to introduce a known perturbation to the acoustics of song, and a miniaturized headphones apparatus is used to replace a songbird's natural auditory feedback with the perturbed signal in real time. We have used this paradigm to perturb the fundamental frequency (pitch) of auditory feedback in adult songbirds, providing the first demonstration that adult birds maintain vocal performance using error correction14. The present protocol can be used to implement a wide range of sensory feedback perturbations (including but not limited to pitch shifts) to investigate the computational and neurophysiological basis of vocal learning.
26 Related JoVE Articles!
Electrophysiological Recordings from the Giant Fiber Pathway of D. melanogaster
Institutions: University College London - UCL, University of Kent.

When startled adult
D. melanogaster
react by jumping into the air and flying away. In many invertebrate species, including
D. melanogaster
, the "escape" (or "startle") response during the adult stage is mediated by the multi-component neuronal circuit called the Giant Fiber System (GFS). The comparative large size of the neurons, their distinctive morphology and simple connectivity make the GFS an attractive model system for studying neuronal circuitry. The GFS pathway is composed of two bilaterally symmetrical Giant Fiber (GF) interneurons whose axons descend from the brain along the midline into the thoracic ganglion via the cervical connective. In the mesothoracic neuromere (T2) of the ventral ganglia the GFs form electro-chemical synapses with 1) the large medial dendrite of the ipsilateral motorneuron (TTMn) which drives the tergotrochanteral muscle (TTM), the main extensor for the mesothoracic femur/leg, and 2) the contralateral peripherally synapsing interneuron (PSI) which in turn forms chemical (cholinergic) synapses with the motorneurons (DLMns) of the dorsal longitudinal muscles (DLMs), the wing depressors. The neuronal pathway(s) to the dorsovental muscles (DVMs), the wing elevators, has not yet been worked out (the DLMs and DVMs are known jointly as indirect flight muscles - they are not attached directly to the wings, but rather move the wings indirectly by distorting the nearby thoracic cuticle) (King and Wyman, 1980; Allen
et al.
, 2006). The di-synaptic activation of the DLMs (via PSI) causes a small but important delay in the timing of the contraction of these muscles relative to the monosynaptic activation of TTM (~0.5 ms) allowing the TTMs to first extend the femur and propel the fly off the ground. The TTMs simultaneously stretch-activate the DLMs which in turn mutually stretch-activate the DVMs for the duration of the flight. The GF pathway can be activated either indirectly by applying a sensory (e.g."air-puff" or "lights-off") stimulus, or directly by a supra-threshold electrical stimulus to the brain (described here). In both cases, an action potential reaches the TTMs and DLMs solely via the GFs, PSIs, and TTM/DLM motoneurons, although the TTMns and DLMns do have other, as yet unidentified, sensory inputs. Measuring "latency response" (the time between the stimulation and muscle depolarization) and the "following to high frequency stimulation" (the number of successful responses to a certain number of high frequency stimuli) provides a way to reproducibly and quantitatively assess the functional status of the GFS components, including both central synapses (GF-TTMn, GF-PSI, PSI-DLMn) and the chemical (glutamatergic) neuromuscular junctions (TTMn-TTM and DLMn-DLM). It has been used to identify genes involved in central synapse formation and to assess CNS function.
Neuroscience, Issue 47, Drosophila melanogaster, electrophysiology, Giant Fiber System, flight muscles, nervous system
2412
Using an EEG-Based Brain-Computer Interface for Virtual Cursor Movement with BCI2000
Institutions: University of Wisconsin-Madison, New York State Dept. of Health.

A brain-computer interface (BCI) functions by translating a neural signal, such as the electroencephalogram (EEG), into a signal that can be used to control a computer or other device. The amplitude of the EEG signals in selected frequency bins are measured and translated into a device command, in this case the horizontal and vertical velocity of a computer cursor. First, the EEG electrodes are applied to the user s scalp using a cap to record brain activity. Next, a calibration procedure is used to find the EEG electrodes and features that the user will learn to voluntarily modulate to use the BCI. In humans, the power in the mu (8-12 Hz) and beta (18-28 Hz) frequency bands decrease in amplitude during a real or imagined movement. These changes can be detected in the EEG in real-time, and used to control a BCI ([1],[2]). Therefore, during a screening test, the user is asked to make several different imagined movements with their hands and feet to determine the unique EEG features that change with the imagined movements. The results from this calibration will show the best channels to use, which are configured so that amplitude changes in the mu and beta frequency bands move the cursor either horizontally or vertically. In this experiment, the general purpose BCI system BCI2000 is used to control signal acquisition, signal processing, and feedback to the user [3].
Neuroscience, Issue 29, BCI, EEG, brain-computer interface, BCI2000
1319
Implementing Dynamic Clamp with Synaptic and Artificial Conductances in Mouse Retinal Ganglion Cells
Institutions: University of Sydney , University of Western Sydney, University of Sydney .

Ganglion cells are the output neurons of the retina and their activity reflects the integration of multiple synaptic inputs arising from specific neural circuits. Patch clamp techniques, in voltage clamp and current clamp configurations, are commonly used to study the physiological properties of neurons and to characterize their synaptic inputs. Although the application of these techniques is highly informative, they pose various limitations. For example, it is difficult to quantify how the precise interactions of excitatory and inhibitory inputs determine response output. To address this issue, we used a modified current clamp technique, dynamic clamp, also called conductance clamp
1, 2, 3
and examined the impact of excitatory and inhibitory synaptic inputs on neuronal excitability. This technique requires the injection of current into the cell and is dependent on the real-time feedback of its membrane potential at that time. The injected current is calculated from predetermined excitatory and inhibitory synaptic conductances, their reversal potentials and the cell's instantaneous membrane potential. Details on the experimental procedures, patch clamping cells to achieve a whole-cell configuration and employment of the dynamic clamp technique are illustrated in this video article. Here, we show the responses of mouse retinal ganglion cells to various conductance waveforms obtained from physiological experiments in control conditions or in the presence of drugs. Furthermore, we show the use of artificial excitatory and inhibitory conductances generated using alpha functions to investigate the responses of the cells.
Neuroscience, Issue 75, Neurobiology, Biomedical Engineering, Anatomy, Physiology, Molecular Biology, Cellular Biology, Neurons, Retinal Neurons, Retinal Ganglion Cells, Eye, Retina, Neurosciences, retina, ganglion cells, synaptic conductance, artificial conductance, tetrodotoxin (TTX), patch clamp, dynamic clamp, conductance clamp, electrophysiology, mouse, animal model
50400
Recording Human Electrocorticographic (ECoG) Signals for Neuroscientific Research and Real-time Functional Cortical Mapping
Institutions: New York State Department of Health, Albany Medical College, Albany Medical College, Washington University, Rensselaer Polytechnic Institute, State University of New York at Albany, University of Texas at El Paso .

Neuroimaging studies of human cognitive, sensory, and motor processes are usually based on noninvasive techniques such as electroencephalography (EEG), magnetoencephalography or functional magnetic-resonance imaging. These techniques have either inherently low temporal or low spatial resolution, and suffer from low signal-to-noise ratio and/or poor high-frequency sensitivity. Thus, they are suboptimal for exploring the short-lived spatio-temporal dynamics of many of the underlying brain processes. In contrast, the invasive technique of electrocorticography (ECoG) provides brain signals that have an exceptionally high signal-to-noise ratio, less susceptibility to artifacts than EEG, and a high spatial and temporal resolution (i.e., <1 cm/<1 millisecond, respectively). ECoG involves measurement of electrical brain signals using electrodes that are implanted subdurally on the surface of the brain. Recent studies have shown that ECoG amplitudes in certain frequency bands carry substantial information about task-related activity, such as motor execution and planning
1
, auditory processing
2
and visual-spatial attention
3
. Most of this information is captured in the high gamma range (around 70-110 Hz). Thus, gamma activity has been proposed as a robust and general indicator of local cortical function
1-5
. ECoG can also reveal functional connectivity and resolve finer task-related spatial-temporal dynamics, thereby advancing our understanding of large-scale cortical processes. It has especially proven useful for advancing brain-computer interfacing (BCI) technology for decoding a user's intentions to enhance or improve communication
6
and control
7
. Nevertheless, human ECoG data are often hard to obtain because of the risks and limitations of the invasive procedures involved, and the need to record within the constraints of clinical settings. Still, clinical monitoring to localize epileptic foci offers a unique and valuable opportunity to collect human ECoG data. We describe our methods for collecting recording ECoG, and demonstrate how to use these signals for important real-time applications such as clinical mapping and brain-computer interfacing. Our example uses the BCI2000 software platform
8,9
and the SIGFRIED
10
method, an application for real-time mapping of brain functions. This procedure yields information that clinicians can subsequently use to guide the complex and laborious process of functional mapping by electrical stimulation. Prerequisites and Planning: Patients with drug-resistant partial epilepsy may be candidates for resective surgery of an epileptic focus to minimize the frequency of seizures. Prior to resection, the patients undergo monitoring using subdural electrodes for two purposes: first, to localize the epileptic focus, and second, to identify nearby critical brain areas (i.e., eloquent cortex) where resection could result in long-term functional deficits. To implant electrodes, a craniotomy is performed to open the skull. Then, electrode grids and/or strips are placed on the cortex, usually beneath the dura. A typical grid has a set of 8 x 8 platinum-iridium electrodes of 4 mm diameter (2.3 mm exposed surface) embedded in silicon with an inter-electrode distance of 1cm. A strip typically contains 4 or 6 such electrodes in a single line. The locations for these grids/strips are planned by a team of neurologists and neurosurgeons, and are based on previous EEG monitoring, on a structural MRI of the patient's brain, and on relevant factors of the patient's history. Continuous recording over a period of 5-12 days serves to localize epileptic foci, and electrical stimulation via the implanted electrodes allows clinicians to map eloquent cortex. At the end of the monitoring period, explantation of the electrodes and therapeutic resection are performed together in one procedure. In addition to its primary clinical purpose, invasive monitoring also provides a unique opportunity to acquire human ECoG data for neuroscientific research. The decision to include a prospective patient in the research is based on the planned location of their electrodes, on the patient's performance scores on neuropsychological assessments, and on their informed consent, which is predicated on their understanding that participation in research is optional and is not related to their treatment. As with all research involving human subjects, the research protocol must be approved by the hospital's institutional review board. The decision to perform individual experimental tasks is made day-by-day, and is contingent on the patient's endurance and willingness to participate. Some or all of the experiments may be prevented by problems with the clinical state of the patient, such as post-operative facial swelling, temporary aphasia, frequent seizures, post-ictal fatigue and confusion, and more general pain or discomfort. At the Epilepsy Monitoring Unit at Albany Medical Center in Albany, New York, clinical monitoring is implemented around the clock using a 192-channel Nihon-Kohden Neurofax monitoring system. Research recordings are made in collaboration with the Wadsworth Center of the New York State Department of Health in Albany. Signals from the ECoG electrodes are fed simultaneously to the research and the clinical systems via splitter connectors. To ensure that the clinical and research systems do not interfere with each other, the two systems typically use separate grounds. In fact, an epidural strip of electrodes is sometimes implanted to provide a ground for the clinical system. Whether research or clinical recording system, the grounding electrode is chosen to be distant from the predicted epileptic focus and from cortical areas of interest for the research. Our research system consists of eight synchronized 16-channel g.USBamp amplifier/digitizer units (g.tec, Graz, Austria). These were chosen because they are safety-rated and FDA-approved for invasive recordings, they have a very low noise-floor in the high-frequency range in which the signals of interest are found, and they come with an SDK that allows them to be integrated with custom-written research software. In order to capture the high-gamma signal accurately, we acquire signals at 1200Hz sampling rate-considerably higher than that of the typical EEG experiment or that of many clinical monitoring systems. A built-in low-pass filter automatically prevents aliasing of signals higher than the digitizer can capture. The patient's eye gaze is tracked using a monitor with a built-in Tobii T-60 eye-tracking system (Tobii Tech., Stockholm, Sweden). Additional accessories such as joystick, bluetooth Wiimote (Nintendo Co.), data-glove (5
th
Dimension Technologies), keyboard, microphone, headphones, or video camera are connected depending on the requirements of the particular experiment. Data collection, stimulus presentation, synchronization with the different input/output accessories, and real-time analysis and visualization are accomplished using our BCI2000 software
8,9
. BCI2000 is a freely available general-purpose software system for real-time biosignal data acquisition, processing and feedback. It includes an array of pre-built modules that can be flexibly configured for many different purposes, and that can be extended by researchers' own code in C++, MATLAB or Python. BCI2000 consists of four modules that communicate with each other via a network-capable protocol: a Source module that handles the acquisition of brain signals from one of 19 different hardware systems from different manufacturers; a Signal Processing module that extracts relevant ECoG features and translates them into output signals; an Application module that delivers stimuli and feedback to the subject; and the Operator module that provides a graphical interface to the investigator. A number of different experiments may be conducted with any given patient. The priority of experiments will be determined by the location of the particular patient's electrodes. However, we usually begin our experimentation using the SIGFRIED (SIGnal modeling For Realtime Identification and Event Detection) mapping method, which detects and displays significant task-related activity in real time. The resulting functional map allows us to further tailor subsequent experimental protocols and may also prove as a useful starting point for traditional mapping by electrocortical stimulation (ECS). Although ECS mapping remains the gold standard for predicting the clinical outcome of resection, the process of ECS mapping is time consuming and also has other problems, such as after-discharges or seizures. Thus, a passive functional mapping technique may prove valuable in providing an initial estimate of the locus of eloquent cortex, which may then be confirmed and refined by ECS. The results from our passive SIGFRIED mapping technique have been shown to exhibit substantial concurrence with the results derived using ECS mapping
10
. The protocol described in this paper establishes a general methodology for gathering human ECoG data, before proceeding to illustrate how experiments can be initiated using the BCI2000 software platform. Finally, as a specific example, we describe how to perform passive functional mapping using the BCI2000-based SIGFRIED system.
Neuroscience, Issue 64, electrocorticography, brain-computer interfacing, functional brain mapping, SIGFRIED, BCI2000, epilepsy monitoring, magnetic resonance imaging, MRI
3993
Extracellular Wire Tetrode Recording in Brain of Freely Walking Insects
Institutions: Case Western Reserve University.

Increasing interest in the role of brain activity in insect motor control requires that we be able to monitor neural activity while insects perform natural behavior. We previously developed a technique for implanting tetrode wires into the central complex of cockroach brains that allowed us to record activity from multiple neurons simultaneously while a tethered cockroach turned or altered walking speed. While a major advance, tethered preparations provide access to limited behaviors and often lack feedback processes that occur in freely moving animals. We now present a modified version of that technique that allows us to record from the central complex of freely moving cockroaches as they walk in an arena and deal with barriers by turning, climbing or tunneling. Coupled with high speed video and cluster cutting, we can now relate brain activity to various parameters of the movement of freely behaving insects.
Neuroscience, Issue 86, Central complex, Free walking, Climbing, Brain recording, Tetrode, Fan-shaped body
51337
The Generation of Higher-order Laguerre-Gauss Optical Beams for High-precision Interferometry
Institutions: University of Birmingham.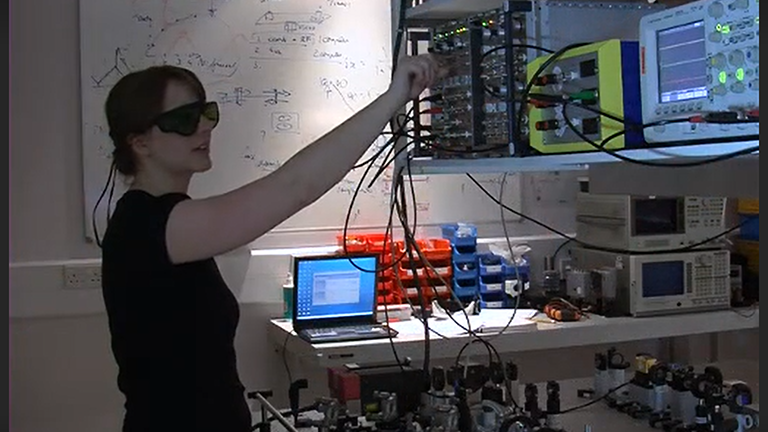 Thermal noise in high-reflectivity mirrors is a major impediment for several types of high-precision interferometric experiments that aim to reach the standard quantum limit or to cool mechanical systems to their quantum ground state. This is for example the case of future gravitational wave observatories, whose sensitivity to gravitational wave signals is expected to be limited in the most sensitive frequency band, by atomic vibration of their mirror masses. One promising approach being pursued to overcome this limitation is to employ higher-order Laguerre-Gauss (LG) optical beams in place of the conventionally used fundamental mode. Owing to their more homogeneous light intensity distribution these beams average more effectively over the thermally driven fluctuations of the mirror surface, which in turn reduces the uncertainty in the mirror position sensed by the laser light. We demonstrate a promising method to generate higher-order LG beams by shaping a fundamental Gaussian beam with the help of diffractive optical elements. We show that with conventional sensing and control techniques that are known for stabilizing fundamental laser beams, higher-order LG modes can be purified and stabilized just as well at a comparably high level. A set of diagnostic tools allows us to control and tailor the properties of generated LG beams. This enabled us to produce an LG beam with the highest purity reported to date. The demonstrated compatibility of higher-order LG modes with standard interferometry techniques and with the use of standard spherical optics makes them an ideal candidate for application in a future generation of high-precision interferometry.
Physics, Issue 78, Optics, Astronomy, Astrophysics, Gravitational waves, Laser interferometry, Metrology, Thermal noise, Laguerre-Gauss modes, interferometry
50564
Construction and Characterization of External Cavity Diode Lasers for Atomic Physics
Institutions: The Australian National University.

Since their development in the late 1980s, cheap, reliable external cavity diode lasers (ECDLs) have replaced complex and expensive traditional dye and Titanium Sapphire lasers as the workhorse laser of atomic physics labs
1,2
. Their versatility and prolific use throughout atomic physics in applications such as absorption spectroscopy and laser cooling
1,2
makes it imperative for incoming students to gain a firm practical understanding of these lasers. This publication builds upon the seminal work by Wieman
3
, updating components, and providing a video tutorial. The setup, frequency locking and performance characterization of an ECDL will be described. Discussion of component selection and proper mounting of both diodes and gratings, the factors affecting mode selection within the cavity, proper alignment for optimal external feedback, optics setup for coarse and fine frequency sensitive measurements, a brief overview of laser locking techniques, and laser linewidth measurements are included.
Physics, Issue 86, External Cavity Diode Laser, atomic spectroscopy, laser cooling, Bose-Einstein condensation, Zeeman modulation
51184
Scanning-probe Single-electron Capacitance Spectroscopy
Institutions: Michigan State University, Mercyhurst University, Saint Louis University, Massachusetts Institute of Technology.
The integration of low-temperature scanning-probe techniques and single-electron capacitance spectroscopy represents a powerful tool to study the electronic quantum structure of small systems - including individual atomic dopants in semiconductors. Here we present a capacitance-based method, known as Subsurface Charge Accumulation (SCA) imaging, which is capable of resolving single-electron charging while achieving sufficient spatial resolution to image individual atomic dopants. The use of a capacitance technique enables observation of subsurface features, such as dopants buried many nanometers beneath the surface of a semiconductor material
1,2,3
. In principle, this technique can be applied to any system to resolve electron motion below an insulating surface. As in other electric-field-sensitive scanned-probe techniques
4
, the lateral spatial resolution of the measurement depends in part on the radius of curvature of the probe tip. Using tips with a small radius of curvature can enable spatial resolution of a few tens of nanometers. This fine spatial resolution allows investigations of small numbers (down to one) of subsurface dopants
1,2
. The charge resolution depends greatly on the sensitivity of the charge detection circuitry; using high electron mobility transistors (HEMT) in such circuits at cryogenic temperatures enables a sensitivity of approximately 0.01 electrons/Hz
½
at 0.3 K
5
.
Physics, Issue 77, Biophysics, Molecular Biology, Cellular Biology, Microscopy, Scanning Probe, Nanotechnology, Physics, Electronics, acceptors (solid state), donors (solid state), Solid-State Physics, tunneling microscopy, scanning capacitance microscopy, subsurface charge accumulation imaging, capacitance spectroscopy, scanning probe microscopy, single-electron spectroscopy, imaging
50676
From Voxels to Knowledge: A Practical Guide to the Segmentation of Complex Electron Microscopy 3D-Data
Institutions: Lawrence Berkeley National Laboratory, Lawrence Berkeley National Laboratory, Lawrence Berkeley National Laboratory.

Modern 3D electron microscopy approaches have recently allowed unprecedented insight into the 3D ultrastructural organization of cells and tissues, enabling the visualization of large macromolecular machines, such as adhesion complexes, as well as higher-order structures, such as the cytoskeleton and cellular organelles in their respective cell and tissue context. Given the inherent complexity of cellular volumes, it is essential to first extract the features of interest in order to allow visualization, quantification, and therefore comprehension of their 3D organization. Each data set is defined by distinct characteristics,
e.g.
, signal-to-noise ratio, crispness (sharpness) of the data, heterogeneity of its features, crowdedness of features, presence or absence of characteristic shapes that allow for easy identification, and the percentage of the entire volume that a specific region of interest occupies. All these characteristics need to be considered when deciding on which approach to take for segmentation. The six different 3D ultrastructural data sets presented were obtained by three different imaging approaches: resin embedded stained electron tomography, focused ion beam- and serial block face- scanning electron microscopy (FIB-SEM, SBF-SEM) of mildly stained and heavily stained samples, respectively. For these data sets, four different segmentation approaches have been applied: (1) fully manual model building followed solely by visualization of the model, (2) manual tracing segmentation of the data followed by surface rendering, (3) semi-automated approaches followed by surface rendering, or (4) automated custom-designed segmentation algorithms followed by surface rendering and quantitative analysis. Depending on the combination of data set characteristics, it was found that typically one of these four categorical approaches outperforms the others, but depending on the exact sequence of criteria, more than one approach may be successful. Based on these data, we propose a triage scheme that categorizes both objective data set characteristics and subjective personal criteria for the analysis of the different data sets.
Bioengineering, Issue 90, 3D electron microscopy, feature extraction, segmentation, image analysis, reconstruction, manual tracing, thresholding
51673
Lesion Explorer: A Video-guided, Standardized Protocol for Accurate and Reliable MRI-derived Volumetrics in Alzheimer's Disease and Normal Elderly
Institutions: Sunnybrook Health Sciences Centre, University of Toronto.

Obtaining
in vivo
human brain tissue volumetrics from MRI is often complicated by various technical and biological issues. These challenges are exacerbated when significant brain atrophy and age-related white matter changes (
e.g.
Leukoaraiosis) are present. Lesion Explorer (LE) is an accurate and reliable neuroimaging pipeline specifically developed to address such issues commonly observed on MRI of Alzheimer's disease and normal elderly. The pipeline is a complex set of semi-automatic procedures which has been previously validated in a series of internal and external reliability tests
1,2
. However, LE's accuracy and reliability is highly dependent on properly trained manual operators to execute commands, identify distinct anatomical landmarks, and manually edit/verify various computer-generated segmentation outputs. LE can be divided into 3 main components, each requiring a set of commands and manual operations: 1) Brain-Sizer, 2) SABRE, and 3) Lesion-Seg. Brain-Sizer's manual operations involve editing of the automatic skull-stripped total intracranial vault (TIV) extraction mask, designation of ventricular cerebrospinal fluid (vCSF), and removal of subtentorial structures. The SABRE component requires checking of image alignment along the anterior and posterior commissure (ACPC) plane, and identification of several anatomical landmarks required for regional parcellation. Finally, the Lesion-Seg component involves manual checking of the automatic lesion segmentation of subcortical hyperintensities (SH) for false positive errors. While on-site training of the LE pipeline is preferable, readily available visual teaching tools with interactive training images are a viable alternative. Developed to ensure a high degree of accuracy and reliability, the following is a step-by-step, video-guided, standardized protocol for LE's manual procedures.
Medicine, Issue 86, Brain, Vascular Diseases, Magnetic Resonance Imaging (MRI), Neuroimaging, Alzheimer Disease, Aging, Neuroanatomy, brain extraction, ventricles, white matter hyperintensities, cerebrovascular disease, Alzheimer disease
50887
Engineering Platform and Experimental Protocol for Design and Evaluation of a Neurally-controlled Powered Transfemoral Prosthesis
Institutions: North Carolina State University & University of North Carolina at Chapel Hill, University of North Carolina School of Medicine, Atlantic Prosthetics & Orthotics, LLC.

To enable intuitive operation of powered artificial legs, an interface between user and prosthesis that can recognize the user's movement intent is desired. A novel neural-machine interface (NMI) based on neuromuscular-mechanical fusion developed in our previous study has demonstrated a great potential to accurately identify the intended movement of transfemoral amputees. However, this interface has not yet been integrated with a powered prosthetic leg for true neural control. This study aimed to report (1) a flexible platform to implement and optimize neural control of powered lower limb prosthesis and (2) an experimental setup and protocol to evaluate neural prosthesis control on patients with lower limb amputations. First a platform based on a PC and a visual programming environment were developed to implement the prosthesis control algorithms, including NMI training algorithm, NMI online testing algorithm, and intrinsic control algorithm. To demonstrate the function of this platform, in this study the NMI based on neuromuscular-mechanical fusion was hierarchically integrated with intrinsic control of a prototypical transfemoral prosthesis. One patient with a unilateral transfemoral amputation was recruited to evaluate our implemented neural controller when performing activities, such as standing, level-ground walking, ramp ascent, and ramp descent continuously in the laboratory. A novel experimental setup and protocol were developed in order to test the new prosthesis control safely and efficiently. The presented proof-of-concept platform and experimental setup and protocol could aid the future development and application of neurally-controlled powered artificial legs.
Biomedical Engineering, Issue 89, neural control, powered transfemoral prosthesis, electromyography (EMG), neural-machine interface, experimental setup and protocol
51059
Micro-drive Array for Chronic in vivo Recording: Tetrode Assembly
Institutions: MIT - Massachusetts Institute of Technology, MIT - Massachusetts Institute of Technology.
The tetrode, a bundle of four electrodes, has proven to be a valuable tool for the simultaneous recording of multiple neurons in-vivo. The differential amplitude of action potential signatures over the channels of a tetrode allows for the isolation of single-unit activity from multi-unit signals. The ability to precisely control the stereotaxic location and depth of the tetrode is critical for studying coordinated neural activity across brain regions. In combination with a micro-drive array, it is possible to achieve precise placement and stable control of many tetrodes over the course of days to weeks. In this protocol, we demonstrate how to fabricate and condition tetrodes using basic tools and materials, install the tetrodes into a multi-drive tetrode array for chronic in-vivo recording in the rat, make ground wire connections to the micro-drive array, and attach a protective cone onto the micro-drive array in order to protect the tetrodes from physical contact with the environment.
Neuroscience, Issue 26, fabrication, micro-drive array, tetrode, electrophysiology, multiple neuronal recordings, in vivo recording, systems neuroscience, hippocampus, coordinated neural activity, cortex, rat brain
1098
Applications of EEG Neuroimaging Data: Event-related Potentials, Spectral Power, and Multiscale Entropy
Institutions: Baycrest.

When considering human neuroimaging data, an appreciation of signal variability represents a fundamental innovation in the way we think about brain signal. Typically, researchers represent the brain's response as the mean across repeated experimental trials and disregard signal fluctuations over time as "noise". However, it is becoming clear that brain signal variability conveys meaningful functional information about neural network dynamics. This article describes the novel method of multiscale entropy (MSE) for quantifying brain signal variability. MSE may be particularly informative of neural network dynamics because it shows timescale dependence and sensitivity to linear and nonlinear dynamics in the data.
Neuroscience, Issue 76, Neurobiology, Anatomy, Physiology, Medicine, Biomedical Engineering, Electroencephalography, EEG, electroencephalogram, Multiscale entropy, sample entropy, MEG, neuroimaging, variability, noise, timescale, non-linear, brain signal, information theory, brain, imaging
50131
Mapping Inhibitory Neuronal Circuits by Laser Scanning Photostimulation
Institutions: University of California, Irvine, University of California, Irvine.

Inhibitory neurons are crucial to cortical function. They comprise about 20% of the entire cortical neuronal population and can be further subdivided into diverse subtypes based on their immunochemical, morphological, and physiological properties
1-4
. Although previous research has revealed much about intrinsic properties of individual types of inhibitory neurons, knowledge about their local circuit connections is still relatively limited
3,5,6
. Given that each individual neuron's function is shaped by its excitatory and inhibitory synaptic input within cortical circuits, we have been using laser scanning photostimulation (LSPS) to map local circuit connections to specific inhibitory cell types. Compared to conventional electrical stimulation or glutamate puff stimulation, LSPS has unique advantages allowing for extensive mapping and quantitative analysis of local functional inputs to individually recorded neurons
3,7-9
. Laser photostimulation via glutamate uncaging selectively activates neurons perisomatically, without activating axons of passage or distal dendrites, which ensures a sub-laminar mapping resolution. The sensitivity and efficiency of LSPS for mapping inputs from many stimulation sites over a large region are well suited for cortical circuit analysis. Here we introduce the technique of LSPS combined with whole-cell patch clamping for local inhibitory circuit mapping. Targeted recordings of specific inhibitory cell types are facilitated by use of transgenic mice expressing green fluorescent proteins (GFP) in limited inhibitory neuron populations in the cortex
3,10
, which enables consistent sampling of the targeted cell types and unambiguous identification of the cell types recorded. As for LSPS mapping, we outline the system instrumentation, describe the experimental procedure and data acquisition, and present examples of circuit mapping in mouse primary somatosensory cortex. As illustrated in our experiments, caged glutamate is activated in a spatially restricted region of the brain slice by UV laser photolysis; simultaneous voltage-clamp recordings allow detection of photostimulation-evoked synaptic responses. Maps of either excitatory or inhibitory synaptic input to the targeted neuron are generated by scanning the laser beam to stimulate hundreds of potential presynaptic sites. Thus, LSPS enables the construction of detailed maps of synaptic inputs impinging onto specific types of inhibitory neurons through repeated experiments. Taken together, the photostimulation-based technique offers neuroscientists a powerful tool for determining the functional organization of local cortical circuits.
Neuroscience, Issue 56, glutamate uncaging, whole cell recording, GFP, transgenic, interneurons
3109
Inducing Plasticity of Astrocytic Receptors by Manipulation of Neuronal Firing Rates
Institutions: University of California Riverside, University of California Riverside, University of California Riverside.

Close to two decades of research has established that astrocytes
in situ
and
in vivo
express numerous G protein-coupled receptors (GPCRs) that can be stimulated by neuronally-released transmitter. However, the ability of astrocytic receptors to exhibit plasticity in response to changes in neuronal activity has received little attention. Here we describe a model system that can be used to globally scale up or down astrocytic group I metabotropic glutamate receptors (mGluRs) in acute brain slices. Included are methods on how to prepare parasagittal hippocampal slices, construct chambers suitable for long-term slice incubation, bidirectionally manipulate neuronal action potential frequency, load astrocytes and astrocyte processes with fluorescent Ca
2+
indicator, and measure changes in astrocytic Gq GPCR activity by recording spontaneous and evoked astrocyte Ca
2+
events using confocal microscopy. In essence, a "calcium roadmap" is provided for how to measure plasticity of astrocytic Gq GPCRs. Applications of the technique for study of astrocytes are discussed. Having an understanding of how astrocytic receptor signaling is affected by changes in neuronal activity has important implications for both normal synaptic function as well as processes underlying neurological disorders and neurodegenerative disease.
Neuroscience, Issue 85, astrocyte, plasticity, mGluRs, neuronal Firing, electrophysiology, Gq GPCRs, Bolus-loading, calcium, microdomains, acute slices, Hippocampus, mouse
51458
Membrane Potentials, Synaptic Responses, Neuronal Circuitry, Neuromodulation and Muscle Histology Using the Crayfish: Student Laboratory Exercises
Institutions: University of Kentucky, University of Toronto.

The purpose of this report is to help develop an understanding of the effects caused by ion gradients across a biological membrane. Two aspects that influence a cell's membrane potential and which we address in these experiments are: (1) Ion concentration of K
+
on the outside of the membrane, and (2) the permeability of the membrane to specific ions. The crayfish abdominal extensor muscles are in groupings with some being tonic (slow) and others phasic (fast) in their biochemical and physiological phenotypes, as well as in their structure; the motor neurons that innervate these muscles are correspondingly different in functional characteristics. We use these muscles as well as the superficial, tonic abdominal flexor muscle to demonstrate properties in synaptic transmission. In addition, we introduce a sensory-CNS-motor neuron-muscle circuit to demonstrate the effect of cuticular sensory stimulation as well as the influence of neuromodulators on certain aspects of the circuit. With the techniques obtained in this exercise, one can begin to answer many questions remaining in other experimental preparations as well as in physiological applications related to medicine and health. We have demonstrated the usefulness of model invertebrate preparations to address fundamental questions pertinent to all animals.
Neuroscience, Issue 47, Invertebrate, Crayfish, neurophysiology, muscle, anatomy, electrophysiology
2322
Experimental Protocol for Manipulating Plant-induced Soil Heterogeneity
Institutions: Case Western Reserve University.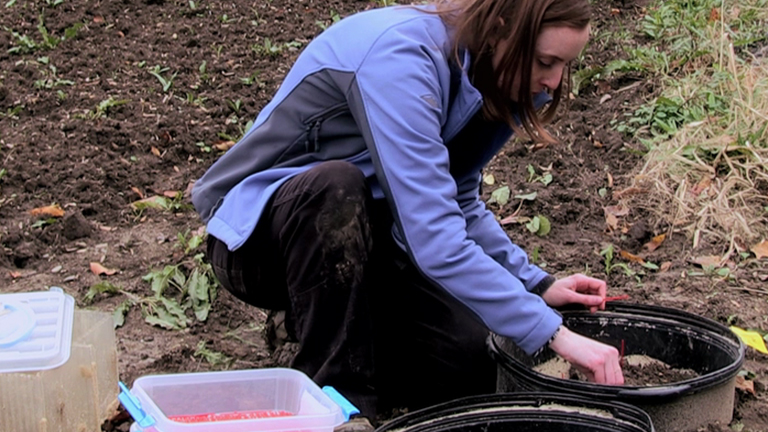 Coexistence theory has often treated environmental heterogeneity as being independent of the community composition; however biotic feedbacks such as plant-soil feedbacks (PSF) have large effects on plant performance, and create environmental heterogeneity that depends on the community composition. Understanding the importance of PSF for plant community assembly necessitates understanding of the role of heterogeneity in PSF, in addition to mean PSF effects. Here, we describe a protocol for manipulating plant-induced soil heterogeneity. Two example experiments are presented: (1) a field experiment with a 6-patch grid of soils to measure plant population responses and (2) a greenhouse experiment with 2-patch soils to measure individual plant responses. Soils can be collected from the zone of root influence (soils from the rhizosphere and directly adjacent to the rhizosphere) of plants in the field from conspecific and heterospecific plant species. Replicate collections are used to avoid pseudoreplicating soil samples. These soils are then placed into separate patches for heterogeneous treatments or mixed for a homogenized treatment. Care should be taken to ensure that heterogeneous and homogenized treatments experience the same degree of soil disturbance. Plants can then be placed in these soil treatments to determine the effect of plant-induced soil heterogeneity on plant performance. We demonstrate that plant-induced heterogeneity results in different outcomes than predicted by traditional coexistence models, perhaps because of the dynamic nature of these feedbacks. Theory that incorporates environmental heterogeneity influenced by the assembling community and additional empirical work is needed to determine when heterogeneity intrinsic to the assembling community will result in different assembly outcomes compared with heterogeneity extrinsic to the community composition.
Environmental Sciences, Issue 85, Coexistence, community assembly, environmental drivers, plant-soil feedback, soil heterogeneity, soil microbial communities, soil patch
51580
Extracellularly Identifying Motor Neurons for a Muscle Motor Pool in Aplysia californica
Institutions: Case Western Reserve University , Case Western Reserve University , Case Western Reserve University .

In animals with large identified neurons (
e.g.
mollusks), analysis of motor pools is done using intracellular techniques
1,2,3,4
. Recently, we developed a technique to extracellularly stimulate and record individual neurons in
Aplysia californica
5
. We now describe a protocol for using this technique to uniquely identify and characterize motor neurons within a motor pool. This extracellular technique has advantages. First, extracellular electrodes can stimulate and record neurons through the sheath
5
, so it does not need to be removed. Thus, neurons will be healthier in extracellular experiments than in intracellular ones. Second, if ganglia are rotated by appropriate pinning of the sheath, extracellular electrodes can access neurons on both sides of the ganglion, which makes it easier and more efficient to identify multiple neurons in the same preparation. Third, extracellular electrodes do not need to penetrate cells, and thus can be easily moved back and forth among neurons, causing less damage to them. This is especially useful when one tries to record multiple neurons during repeating motor patterns that may only persist for minutes. Fourth, extracellular electrodes are more flexible than intracellular ones during muscle movements. Intracellular electrodes may pull out and damage neurons during muscle contractions. In contrast, since extracellular electrodes are gently pressed onto the sheath above neurons, they usually stay above the same neuron during muscle contractions, and thus can be used in more intact preparations. To uniquely identify motor neurons for a motor pool (in particular, the I1/I3 muscle in
Aplysia
) using extracellular electrodes, one can use features that do not require intracellular measurements as criteria: soma size and location, axonal projection, and muscle innervation
4,6,7
. For the particular motor pool used to illustrate the technique, we recorded from buccal nerves 2 and 3 to measure axonal projections, and measured the contraction forces of the I1/I3 muscle to determine the pattern of muscle innervation for the individual motor neurons. We demonstrate the complete process of first identifying motor neurons using muscle innervation, then characterizing their timing during motor patterns, creating a simplified diagnostic method for rapid identification. The simplified and more rapid diagnostic method is superior for more intact preparations,
e.g.
in the suspended buccal mass preparation
8
or
in vivo
9
. This process can also be applied in other motor pools
10,11,12
in
Aplysia
or in other animal systems
2,3,13,14
.
Neuroscience, Issue 73, Physiology, Biomedical Engineering, Anatomy, Behavior, Neurobiology, Animal, Neurosciences, Neurophysiology, Electrophysiology, Aplysia, Aplysia californica, California sea slug, invertebrate, feeding, buccal mass, ganglia, motor neurons, neurons, extracellular stimulation and recordings, extracellular electrodes, animal model
50189
How to Culture, Record and Stimulate Neuronal Networks on Micro-electrode Arrays (MEAs)
Institutions: Emory University School of Medicine, University School of Medicine, Emory University School of Medicine.

For the last century, many neuroscientists around the world have dedicated their lives to understanding how neuronal networks work and why they stop working in various diseases. Studies have included neuropathological observation, fluorescent microscopy with genetic labeling, and intracellular recording in both dissociated neurons and slice preparations. This protocol discusses another technology, which involves growing dissociated neuronal cultures on micro-electrode arrays (also called multi-electrode arrays, MEAs). There are multiple advantages to using this system over other technologies. Dissociated neuronal cultures on MEAs provide a simplified model in which network activity can be manipulated with electrical stimulation sequences through the array's multiple electrodes. Because the network is small, the impact of stimulation is limited to observable areas, which is not the case in intact preparations. The cells grow in a monolayer making changes in morphology easy to monitor with various imaging techniques. Finally, cultures on MEAs can survive for over a year in vitro which removes any clear time limitations inherent with other culturing techniques.
1
Our lab and others around the globe are utilizing this technology to ask important questions about neuronal networks. The purpose of this protocol is to provide the necessary information for setting up, caring for, recording from and electrically stimulating cultures on MEAs.
In vitro
networks provide a means for asking physiologically relevant questions at the network and cellular levels leading to a better understanding of brain function and dysfunction.
Neuroscience, Issue 39, micro-electrode, multi-electrode, neural, MEA, network, plasticity, spike, stimulation, recording, rat
2056
Proprioception and Tension Receptors in Crab Limbs: Student Laboratory Exercises
Institutions: University of Kentucky, University of Kentucky, University of Oregon.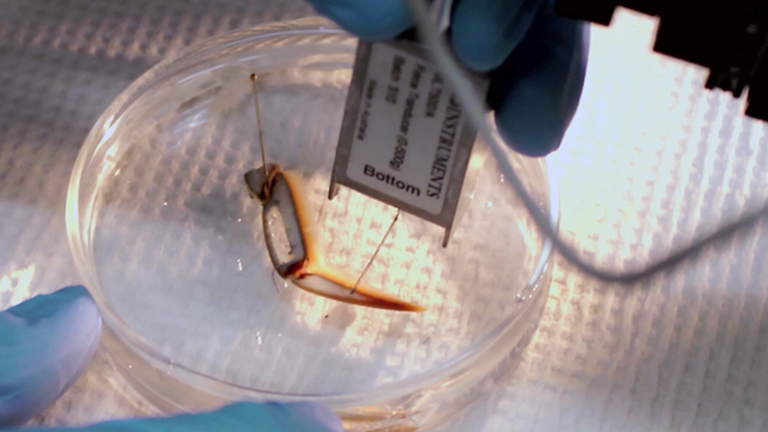 The primary purpose of these procedures is to demonstrate for teaching and research purposes how to record the activity of living primary sensory neurons responsible for proprioception as they are detecting joint position and movement, and muscle tension. Electrical activity from crustacean proprioceptors and tension receptors is recorded by basic neurophysiological instrumentation, and a transducer is used to simultaneously measure force that is generated by stimulating a motor nerve. In addition, we demonstrate how to stain the neurons for a quick assessment of their anatomical arrangement or for permanent fixation. Staining reveals anatomical organization that is representative of chordotonal organs in most crustaceans. Comparing the tension nerve responses to the proprioceptive responses is an effective teaching tool in determining how these sensory neurons are defined functionally and how the anatomy is correlated to the function. Three staining techniques are presented allowing researchers and instructors to choose a method that is ideal for their laboratory.
Neuroscience, Issue 80, Crustacean, joint, Muscle, sensory, teaching, educational, neuroscience
51050
Training Synesthetic Letter-color Associations by Reading in Color
Institutions: University of Amsterdam.

Synesthesia is a rare condition in which a stimulus from one modality automatically and consistently triggers unusual sensations in the same and/or other modalities. A relatively common and well-studied type is grapheme-color synesthesia, defined as the consistent experience of color when viewing, hearing and thinking about letters, words and numbers. We describe our method for investigating to what extent synesthetic associations between letters and colors can be learned by reading in color in nonsynesthetes. Reading in color is a special method for training associations in the sense that the associations are learned implicitly while the reader reads text as he or she normally would and it does not require explicit computer-directed training methods. In this protocol, participants are given specially prepared books to read in which four high-frequency letters are paired with four high-frequency colors. Participants receive unique sets of letter-color pairs based on their pre-existing preferences for colored letters. A modified Stroop task is administered before and after reading in order to test for learned letter-color associations and changes in brain activation. In addition to objective testing, a reading experience questionnaire is administered that is designed to probe for differences in subjective experience. A subset of questions may predict how well an individual learned the associations from reading in color. Importantly, we are not claiming that this method will cause each individual to develop grapheme-color synesthesia, only that it is possible for certain individuals to form letter-color associations by reading in color and these associations are similar in some aspects to those seen in developmental grapheme-color synesthetes. The method is quite flexible and can be used to investigate different aspects and outcomes of training synesthetic associations, including learning-induced changes in brain function and structure.
Behavior, Issue 84, synesthesia, training, learning, reading, vision, memory, cognition
50893
The Swimmeret System of Crayfish: A Practical Guide for the Dissection of the Nerve Cord and Extracellular Recordings of the Motor Pattern
Institutions: University of Cologne.

Here we demonstrate the dissection of the crayfish abdominal nerve cord. The preparation comprises the last two thoracic ganglia (T4, T5) and the chain of abdominal ganglia (A1 to A6). This chain of ganglia includes the part of the central nervous system (CNS) that drives coordinated locomotion of the pleopods (swimmerets): the swimmeret system. It is known for over five decades that in crayfish each swimmeret is driven by its own independent pattern generating kernel that generates rhythmic alternating activity
1-3
. The motor neurons innervating the musculature of each swimmeret comprise two anatomically and functionally distinct populations
4
. One is responsible for the retraction (power stroke, PS) of the swimmeret. The other drives the protraction (return stroke, RS) of the swimmeret. Motor neurons of the swimmeret system are able to produce spontaneously a fictive motor pattern, which is identical to the pattern recorded
in vivo
1
. The aim of this report is to introduce an interesting and convenient model system for studying rhythm generating networks and coordination of independent microcircuits for students' practical laboratory courses. The protocol provided includes step-by-step instructions for the dissection of the crayfish's abdominal nerve cord, pinning of the isolated chain of ganglia, desheathing the ganglia and recording the swimmerets fictive motor pattern extracellularly from the isolated nervous system. Additionally, we can monitor the activity of swimmeret neurons recorded intracellularly from dendrites. Here we also describe briefly these techniques and provide some examples. Furthermore, the morphology of swimmeret neurons can be assessed using various staining techniques. Here we provide examples of intracellular (by iontophoresis) dye filled neurons and backfills of pools of swimmeret motor neurons. In our lab we use this preparation to study basic functions of fictive locomotion, the effect of sensory feedback on the activity of the CNS, and coordination between microcircuits on a cellular level.
Neurobiology, Issue 93, crustacean, dissection, extracellular recording, fictive locomotion, motor neurons, locomotion
52109
A Procedure for Implanting Organized Arrays of Microwires for Single-unit Recordings in Awake, Behaving Animals
Institutions: Rutgers, the State University of New Jersey, National Institute on Drug Abuse.
In vivo
electrophysiological recordings in the awake, behaving animal provide a powerful method for understanding neural signaling at the single-cell level. The technique allows experimenters to examine temporally and regionally specific firing patterns in order to correlate recorded action potentials with ongoing behavior. Moreover, single-unit recordings can be combined with a plethora of other techniques in order to produce comprehensive explanations of neural function. In this article, we describe the anesthesia and preparation for microwire implantation. Subsequently, we enumerate the necessary equipment and surgical steps to accurately insert a microwire array into a target structure. Lastly, we briefly describe the equipment used to record from each individual electrode in the array. The fixed microwire arrays described are well-suited for chronic implantation and allow for longitudinal recordings of neural data in almost any behavioral preparation. We discuss tracing electrode tracks to triangulate microwire positions as well as ways to combine microwire implantation with immunohistochemical techniques in order to increase the anatomical specificity of recorded results.
Neuroscience, Issue 84, Single-unit Recordings, Electrophysiology, Microwire, Neurophysiology, Neural signaling
51004
Psychophysiological Stress Assessment Using Biofeedback
Institutions: Cambridge Health Alliance, Harvard Medical School.

In the last half century, research in biofeedback has shown the extent to which the human mind can influence the functioning of the autonomic nervous system, previously thought to be outside of conscious control. By letting people observe signals from their own bodies, biofeedback enables them to develop greater awareness of their physiological and psychological reactions, such as stress, and to learn to modify these reactions. Biofeedback practitioners can facilitate this process by assessing people s reactions to mildly stressful events and formulating a biofeedback-based treatment plan. During stress assessment the practitioner first records a baseline for physiological readings, and then presents the client with several mild stressors, such as a cognitive, physical and emotional stressor. Variety of stressors is presented in order to determine a person's stimulus-response specificity, or differences in each person's reaction to qualitatively different stimuli. This video will demonstrate the process of psychophysiological stress assessment using biofeedback and present general guidelines for treatment planning.
Neuroscience, Issue 29, Stress, biofeedback, psychophysiological, assessment
1443
Simultaneous Electrophysiological Recording and Calcium Imaging of Suprachiasmatic Nucleus Neurons
Institutions: Oregon Health & Science University, Oregon Health & Science University.

Simultaneous electrophysiological and fluorescent imaging recording methods were used to study the role of changes of membrane potential or current in regulating the intracellular calcium concentration. Changing environmental conditions, such as the light-dark cycle, can modify neuronal and neural network activity and the expression of a family of circadian clock genes within the suprachiasmatic nucleus (SCN), the location of the master circadian clock in the mammalian brain. Excitatory synaptic transmission leads to an increase in the postsynaptic Ca
2+
concentration that is believed to activate the signaling pathways that shifts the rhythmic expression of circadian clock genes. Hypothalamic slices containing the SCN were patch clamped using microelectrodes filled with an internal solution containing the calcium indicator bis-fura-2. After a seal was formed between the microelectrode and the SCN neuronal membrane, the membrane was ruptured using gentle suction and the calcium probe diffused into the neuron filling both the soma and dendrites. Quantitative ratiometric measurements of the intracellular calcium concentration were recorded simultaneously with membrane potential or current. Using these methods it is possible to study the role of changes of the intracellular calcium concentration produced by synaptic activity and action potential firing of individual neurons. In this presentation we demonstrate the methods to simultaneously record electrophysiological activity along with intracellular calcium from individual SCN neurons maintained in brain slices.
Neuroscience, Issue 82, Synaptic Transmission, Action Potentials, Circadian Rhythm, Excitatory Postsynaptic Potentials, Life Sciences (General), circadian rhythm, suprachiasmatic nucleus, membrane potential, patch clamp recording, fluorescent probe, intracellular calcium
50794
Recordings of Neural Circuit Activation in Freely Behaving Animals
Institutions: University of Maryland.

The relationship between patterns of neural activity and corresponding behavioral expression is difficult to establish in unrestrained animals. Traditional non-invasive methods require at least partially restrained research subjects, and they only allow identification of large numbers of simultaneously activated neurons. On the other hand, small ensembles of neurons or individual neurons can only be measured using single-cell recordings obtained from largely reduced preparations. Since the expression of natural behavior is limited in restrained and dissected animals, the underlying neural mechanisms that control such behavior are difficult to identify. Here, I present a non-invasive physiological technique that allows measuring neural circuit activation in freely behaving animals. Using a pair of wire electrodes inside a water-filled chamber, the bath electrodes record neural and muscular field potentials generated by juvenile crayfish during natural or experimentally evoked escape responses. The primary escape responses of crayfish are mediated by three different types of tail-flips which move the animals away from the point of stimulation. Each type of tail-flip is controlled by its own neural circuit; the two fastest and most powerful escape responses require activation of different sets of large "command" neurons. In combination with behavioral observations, the bath electrode recordings allow unambiguous identification of these neurons and the associated neural circuits. Thus activity of neural circuitry underlying naturally occurring behavior can be measured in unrestrained animals and in different behavioral contexts.
Neuroscience, Issue 29, Electrophysiology, bath electrodes, neurons, behavior
1297