Creating Adhesive and Soluble Gradients for Imaging Cell Migration with Fluorescence Microscopy
Published: 04-04-2013
ABSTRACT
Cells can sense and migrate towards higher concentrations of adhesive cues such as the glycoproteins of the extracellular matrix and soluble cues such as growth factors. Here, we outline a method to create opposing gradients of adhesive and soluble cues in a microfluidic chamber, which is compatible with live cell imaging. A copolymer of poly-L-lysine and polyethylene glycol (PLL-PEG) is employed to passivate glass coverslips and prevent non-specific adsorption of biomolecules and cells. Next, microcontact printing or dip pen lithography are used to create tracks of streptavidin on the passivated surfaces to serve as anchoring points for the biotinylated peptide arginine-glycine-aspartic acid (RGD) as the adhesive cue. A microfluidic device is placed onto the modified surface and used to create the gradient of adhesive cues (100% RGD to 0% RGD) on the streptavidin tracks. Finally, the same microfluidic device is used to create a gradient of a chemoattractant such as fetal bovine serum (FBS), as the soluble cue in the opposite direction of the gradient of adhesive cues.
19 Related JoVE Articles!
Preparation of Complaint Matrices for Quantifying Cellular Contraction
Institutions: University of Chicago, University of Chicago, University of Chicago.

The regulation of cellular adhesion to the extracellular matrix (ECM) is essential for cell migration and ECM remodeling. Focal adhesions are macromolecular assemblies that couple the contractile F-actin cytoskeleton to the ECM. This connection allows for the transmission of intracellular mechanical forces across the cell membrane to the underlying substrate. Recent work has shown the mechanical properties of the ECM regulate focal adhesion and F-actin morphology as well as numerous physiological processes, including cell differentiation, division, proliferation and migration. Thus, the use of cell culture substrates has become an increasingly prevalent method to precisely control and modulate ECM mechanical properties. To quantify traction forces at focal adhesions in an adherent cell, compliant substrates are used in conjunction with high-resolution imaging and computational techniques in a method termed traction force microscopy (TFM). This technique relies on measurements of the local magnitude and direction of substrate deformations induced by cellular contraction. In combination with high-resolution fluorescence microscopy of fluorescently tagged proteins, it is possible to correlate cytoskeletal organization and remodeling with traction forces. Here we present a detailed experimental protocol for the preparation of two-dimensional, compliant matrices for the purpose of creating a cell culture substrate with a well-characterized, tunable mechanical stiffness, which is suitable for measuring cellular contraction. These protocols include the fabrication of polyacrylamide hydrogels, coating of ECM proteins on such gels, plating cells on gels, and high-resolution confocal microscopy using a perfusion chamber. Additionally, we provide a representative sample of data demonstrating location and magnitude of cellular forces using cited TFM protocols.
Bioengineering, Issue 46, Traction force microscopy, cellular adhesion, polyacrylamide gel, stiffness, elastic modulus
2173
Micropatterned Surfaces to Study Hyaluronic Acid Interactions with Cancer Cells
Institutions: Johns Hopkins University.

Cancer invasion and progression involves a motile cell phenotype, which is under complex regulation by growth factors/cytokines and extracellular matrix (ECM) components within the tumor microenvironment. Hyaluronic acid (HA) is one stromal ECM component that is known to facilitate tumor progression by enhancing invasion, growth, and angiogenesis
1
. Interaction of HA with its cell surface receptor CD44 induces signaling events that promote tumor cell growth, survival, and migration, thereby increasing metastatic spread
2-3
. HA is an anionic, nonsulfated glycosaminoglycan composed of repeating units of D-glucuronic acid and D-N-acetylglucosamine. Due to the presence of carboxyl and hydroxyl groups on repeating disaccharide units, native HA is largely hydrophilic and amenable to chemical modifications that introduce sulfate groups for photoreative immobilization
4-5
. Previous studies involving the immobilizations of HA onto surfaces utilize the bioresistant behavior of HA and its sulfated derivative to control cell adhesion onto surfaces
6-7
. In these studies cell adhesion preferentially occurs on non-HA patterned regions. To analyze cellular interactions with exogenous HA, we have developed patterned functionalized surfaces that enable a controllable study and high-resolution visualization of cancer cell interactions with HA. We utilized microcontact printing (uCP) to define discrete patterned regions of HA on glass surfaces. A "tethering" approach that applies carbodiimide linking chemistry to immobilize HA was used
8
. Glass surfaces were microcontact printed with an aminosilane and reacted with a HA solution of optimized ratios of EDC and NHS to enable HA immobilization in patterned arrays. Incorporating carbodiimide chemistry with mCP enabled the immobilization of HA to defined regions, creating surfaces suitable for
in vitro
applications. Both colon cancer cells and breast cancer cells implicitly interacted with the HA micropatterned surfaces. Cancer cell adhesion occurred within 24 hours with proliferation by 48 hours. Using HA micropatterned surfaces, we demonstrated that cancer cell adhesion occurs through the HA receptor CD44. Furthermore, HA patterned surfaces were compatible with scanning electron microscopy (SEM) and allowed high resolution imaging of cancer cell adhesive protrusions and spreading on HA patterns to analyze cancer cell motility on exogenous HA.
Bioengineering, Issue 46, Hyaluronic acid, microcontact printing, carbodiimide chemistry, cancer, cell adhesion
2413
Induction of Adhesion-dependent Signals Using Low-intensity Ultrasound
Institutions: University of Bristol, Smith and Nephew.

In multicellular organisms, cell behavior is dictated by interactions with the extracellular matrix. Consequences of matrix-engagement range from regulation of cell migration and proliferation, to secretion and even differentiation. The signals underlying each of these complex processes arise from the molecular interactions of extracellular matrix receptors on the surface of the cell. Integrins are the prototypic receptors and provide a mechanical link between extracellular matrix and the cytoskeleton, as well as initiating some of the adhesion-dependent signaling cascades. However, it is becoming increasingly apparent that additional transmembrane receptors function alongside the integrins to regulate both the integrin itself and signals downstream. The most elegant of these examples is the transmembrane proteoglycan, syndecan-4, which cooperates with α
5
β
1
-integrin during adhesion to fibronectin.
In vivo
models demonstrate the importance of syndecan-4 signaling, as syndecan-4-knockout mice exhibit healing retardation due to inefficient fibroblast migration
1,2
. In wild-type animals, migration of fibroblasts toward a wound is triggered by the appearance of fibronectin that leaks from damaged capillaries and is deposited by macrophages in injured tissue. Therefore there is great interest in discovering strategies that enhance fibronectin-dependent signaling and could accelerate repair processes. The integrin-mediated and syndecan-4-mediated components of fibronectin-dependent signaling can be separated by stimulating cells with recombinant fibronectin fragments. Although integrin engagement is essential for cell adhesion, certain fibronectin-dependent signals are regulated by syndecan-4. Syndecan-4 activates the Rac1 protrusive signal
3
, causes integrin redistribution
1
, triggers recruitment of cytoskeletal molecules, such as vinculin, to focal adhesions
4
, and thereby induces directional migration
3
. We have looked for alternative strategies for activating such signals and found that low-intensity pulsed ultrasound (LIPUS) can mimic the effects of syndecan-4 engagement
5
. In this protocol we describe the method by which 30 mW/cm
2
, 1.5 MHz ultrasound, pulsed at 1 kHz (
Fig. 1
) can be applied to fibroblasts in culture (
Fig. 2
) to induce Rac1 activation and focal adhesion formation. Ultrasound stimulation is applied for a maximum of 20 minutes, as this combination of parameters has been found to be most efficacious for acceleration of clinical fracture repair
6
. The method uses recombinant fibronectin fragments to engage α
5
β
1
-integrin, without engagement of syndecan-4, and requires inhibition of protein synthesis by cycloheximide to block deposition of additional matrix by the fibroblasts., The positive effect of ultrasound on repair mechanisms is well documented
7,8
, and by understanding the molecular effect of ultrasound in culture we should be able to refine the therapeutic technique to improve clinical outcomes.
Biomedical Engineering, Issue 63, Ultrasound, LIPUS, Focal Adhesion, Syndecan-4, Wound Healing, Extracellular Matrix, Rac1, bioengineering
4024
Plasma Lithography Surface Patterning for Creation of Cell Networks
Institutions: University of Arizona , University of Arizona .

Systematic manipulation of a cell microenvironment with micro- and nanoscale resolution is often required for deciphering various cellular and molecular phenomena. To address this requirement, we have developed a plasma lithography technique to manipulate the cellular microenvironment by creating a patterned surface with feature sizes ranging from 100 nm to millimeters. The goal of this technique is to be able to study, in a controlled way, the behaviors of individual cells as well as groups of cells and their interactions. This plasma lithography method is based on selective modification of the surface chemistry on a substrate by means of shielding the contact of low-temperature plasma with a physical mold. This selective shielding leaves a chemical pattern which can guide cell attachment and movement. This pattern, or surface template, can then be used to create networks of cells whose structure can mimic that found in nature and produces a controllable environment for experimental investigations. The technique is well suited to studying biological phenomenon as it produces stable surface patterns on transparent polymeric substrates in a biocompatible manner. The surface patterns last for weeks to months and can thus guide interaction with cells for long time periods which facilitates the study of long-term cellular processes, such as differentiation and adaption. The modification to the surface is primarily chemical in nature and thus does not introduce topographical or physical interference for interpretation of results. It also does not involve any harsh or toxic substances to achieve patterning and is compatible for tissue culture. Furthermore, it can be applied to modify various types of polymeric substrates, which due to the ability to tune their properties are ideal for and are widely used in biological applications. The resolution achievable is also beneficial, as isolation of specific processes such as migration, adhesion, or binding allows for discrete, clear observations at the single to multicell level. This method has been employed to form diverse networks of different cell types for investigations involving migration, signaling, tissue formation, and the behavior and interactions of neurons arraigned in a network.
Bioengineering, Issue 52, Cell Network, Surface Patterning, Self-Organization, Developmental Biology, Tissue Engineering, Nanopattern, Micropattern, Self-Assembly, Cell Guidance, Neuron
3115
Quantitative and Qualitative Examination of Particle-particle Interactions Using Colloidal Probe Nanoscopy
Institutions: University of Sydney, Dankook University.
Colloidal Probe Nanoscopy (CPN), the study of the nano-scale interactive forces between a specifically prepared colloidal probe and any chosen substrate using the Atomic Force Microscope (AFM), can provide key insights into physical interactions present within colloidal systems. Colloidal systems are widely existent in several applications including, pharmaceuticals, foods, paints, paper, soil and minerals, detergents, printing and much more.
1-3
Furthermore, colloids can exist in many states such as emulsions, foams and suspensions. Using colloidal probe nanoscopy one can obtain key information on the adhesive properties, binding energies and even gain insight into the physical stability and coagulation kinetics of the colloids present within. Additionally, colloidal probe nanoscopy can be used with biological cells to aid in drug discovery and formulation development. In this paper we describe a method for conducting colloidal probe nanoscopy, discuss key factors that are important to consider during the measurement, and show that both quantitative and qualitative data that can be obtained from such measurements.
Chemistry, Issue 89, Colloidal Probe, Nanoscopy, Suspension Stability, Adhesion Mapping, Force, Particle Interaction, Particle Kinetics
51874
A Flow Adhesion Assay to Study Leucocyte Recruitment to Human Hepatic Sinusoidal Endothelium Under Conditions of Shear Stress
Institutions: University of Birmingham.

Leucocyte infiltration into human liver tissue is a common process in all adult inflammatory liver diseases. Chronic infiltration can drive the development of fibrosis and progression to cirrhosis. Understanding the molecular mechanisms that mediate leucocyte recruitment to the liver could identify important therapeutic targets for liver disease. The key interaction during leucocyte recruitment is that of inflammatory cells with endothelium under conditions of shear stress. Recruitment to the liver occurs within the low shear channels of the hepatic sinusoids which are lined by hepatic sinusoidal endothelial cells (HSEC). The conditions within the hepatic sinusoids can be recapitulated by perfusing leucocytes through channels lined by human HSEC monolayers at specific flow rates. In these conditions leucocytes undergo a brief tethering step followed by activation and firm adhesion, followed by a crawling step and subsequent transmigration across the endothelial layer. Using phase contrast microscopy, each step of this 'adhesion cascade' can be visualized and recorded followed by offline analysis. Endothelial cells or leucocytes can be pretreated with inhibitors to determine the role of specific molecules during this process.
Immunology, Issue 85, Leucocyte trafficking, liver, hepatic sinusoidal endothelial cells, peripheral blood lymphocytes, flow adhesion assay
51330
Human Neutrophil Flow Chamber Adhesion Assay
Institutions: University of Alabama at Birmingham, Birmingham Veterans Affairs Medical Center, University of Alabama at Birmingham, University of Alabama at Birmingham, University of Alabama at Birmingham.

Neutrophil firm adhesion to endothelial cells plays a critical role in inflammation in both health and disease. The process of neutrophil firm adhesion involves many different adhesion molecules including members of the β
2
integrin family and their counter-receptors of the ICAM family. Recently, naturally occurring genetic variants in both β
2
integrins and ICAMs are reported to be associated with autoimmune disease. Thus, the quantitative adhesive capacity of neutrophils from individuals with varying allelic forms of these adhesion molecules is important to study in relation to mechanisms underlying development of autoimmunity. Adhesion studies in flow chamber systems can create an environment with fluid shear stress similar to that observed in the blood vessel environment
in vivo
. Here, we present a method using a flow chamber assay system to study the quantitative adhesive properties of human peripheral blood neutrophils to human umbilical vein endothelial cell (HUVEC) and to purified ligand substrates. With this method, the neutrophil adhesive capacities from donors with different allelic variants in adhesion receptors can be assessed and compared. This method can also be modified to assess adhesion of other primary cell types or cell lines.
Immunology, Issue 89, neutrophil adhesion, flow chamber, human umbilical vein endothelial cell (HUVEC), purified ligand
51410
Systematic Analysis of In Vitro Cell Rolling Using a Multi-well Plate Microfluidic System
Institutions: Brigham and Women's Hospital, Brigham and Women's Hospital, Harvard University, Harvard University, Harvard-MIT Division of Health Sciences and Technology, Massachusetts Institute of Technology.

A major challenge for cell-based therapy is the inability to systemically target a large quantity of viable cells with high efficiency to tissues of interest following intravenous or intraarterial infusion. Consequently, increasing cell homing is currently studied as a strategy to improve cell therapy. Cell rolling on the vascular endothelium is an important step in the process of cell homing and can be probed
in-vitro
using a parallel plate flow chamber (PPFC). However, this is an extremely tedious, low throughput assay, with poorly controlled flow conditions. Instead, we used a multi-well plate microfluidic system that enables study of cellular rolling properties in a higher throughput under precisely controlled, physiologically relevant shear flow
1,2
. In this paper, we show how the rolling properties of HL-60 (human promyelocytic leukemia) cells on P- and E-selectin-coated surfaces as well as on cell monolayer-coated surfaces can be readily examined. To better simulate inflammatory conditions, the microfluidic channel surface was coated with endothelial cells (ECs), which were then activated with tumor necrosis factor-α (TNF-α), significantly increasing interactions with HL-60 cells under dynamic conditions. The enhanced throughput and integrated multi-parameter software analysis platform, that permits rapid analysis of parameters such as rolling velocities and rolling path, are important advantages for assessing cell rolling properties
in-vitro
. Allowing rapid and accurate analysis of engineering approaches designed to impact cell rolling and homing, this platform may help advance exogenous cell-based therapy.
Bioengineering, Issue 80, Microfluidics, Endothelial Cells, Leukocyte Rolling, HL-60 cells, TNF-α, P-selectin, E-selectin
50866
Fabricating Complex Culture Substrates Using Robotic Microcontact Printing (R-µCP) and Sequential Nucleophilic Substitution
Institutions: University of Wisconsin, Madison, University of Wisconsin, Madison.
In tissue engineering, it is desirable to exhibit spatial control of tissue morphology and cell fate in culture on the micron scale. Culture substrates presenting grafted poly(ethylene glycol) (PEG) brushes can be used to achieve this task by creating microscale, non-fouling and cell adhesion resistant regions as well as regions where cells participate in biospecific interactions with covalently tethered ligands. To engineer complex tissues using such substrates, it will be necessary to sequentially pattern multiple PEG brushes functionalized to confer differential bioactivities and aligned in microscale orientations that mimic
in vivo
niches. Microcontact printing (μCP) is a versatile technique to pattern such grafted PEG brushes, but manual μCP cannot be performed with microscale precision. Thus, we combined advanced robotics with soft-lithography techniques and emerging surface chemistry reactions to develop a robotic microcontact printing (R-μCP)-assisted method for fabricating culture substrates with complex, microscale, and highly ordered patterns of PEG brushes presenting orthogonal 'click' chemistries. Here, we describe in detail the workflow to manufacture such substrates.
Bioengineering, Issue 92, Robotic microcontact printing, R-μCP, click chemistry, surface chemistry, tissue engineering, micropattern, advanced manufacturing
52186
Surface Potential Measurement of Bacteria Using Kelvin Probe Force Microscopy
Institutions: University of Guelph.

Surface potential is a commonly overlooked physical characteristic that plays a dominant role in the adhesion of microorganisms to substrate surfaces. Kelvin probe force microscopy (KPFM) is a module of atomic force microscopy (AFM) that measures the contact potential difference between surfaces at the nano-scale. The combination of KPFM with AFM allows for the simultaneous generation of surface potential and topographical maps of biological samples such as bacterial cells. Here, we employ KPFM to examine the effects of surface potential on microbial adhesion to medically relevant surfaces such as stainless steel and gold. Surface potential maps revealed differences in surface potential for microbial membranes on different material substrates. A step-height graph was generated to show the difference in surface potential at a boundary area between the substrate surface and microorganisms. Changes in cellular membrane surface potential have been linked with changes in cellular metabolism and motility. Therefore, KPFM represents a powerful tool that can be utilized to examine the changes of microbial membrane surface potential upon adhesion to various substrate surfaces. In this study, we demonstrate the procedure to characterize the surface potential of individual methicillin-resistant
Staphylococcus aureus
USA100 cells on stainless steel and gold using KPFM.
Bioengineering, Issue 93, Kelvin probe force microscopy, atomic force microscopy, surface potential, stainless steel, microbial attachment, bacterial biofilms, methicillin-resistant Staphylococcus aureus
52327
Electric Cell-substrate Impedance Sensing for the Quantification of Endothelial Proliferation, Barrier Function, and Motility
Institutions: Institute for Cardiovascular Research, VU University Medical Center, Institute for Cardiovascular Research, VU University Medical Center.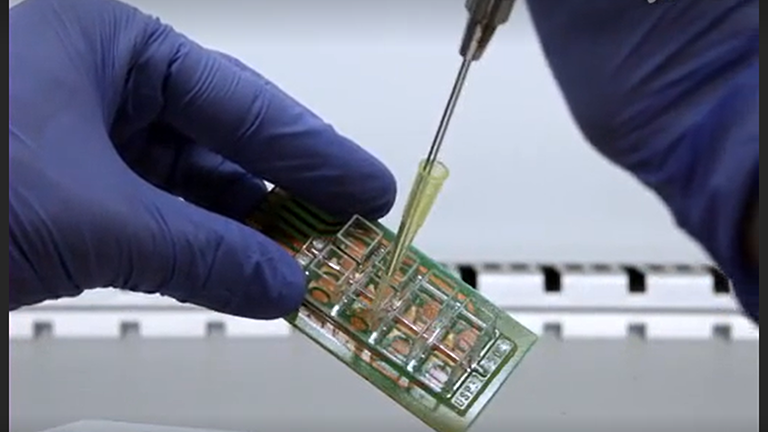 Electric Cell-substrate Impedance Sensing (ECIS) is an
in vitro
impedance measuring system to quantify the behavior of cells within adherent cell layers. To this end, cells are grown in special culture chambers on top of opposing, circular gold electrodes. A constant small alternating current is applied between the electrodes and the potential across is measured. The insulating properties of the cell membrane create a resistance towards the electrical current flow resulting in an increased electrical potential between the electrodes. Measuring cellular impedance in this manner allows the automated study of cell attachment, growth, morphology, function, and motility. Although the ECIS measurement itself is straightforward and easy to learn, the underlying theory is complex and selection of the right settings and correct analysis and interpretation of the data is not self-evident. Yet, a clear protocol describing the individual steps from the experimental design to preparation, realization, and analysis of the experiment is not available. In this article the basic measurement principle as well as possible applications, experimental considerations, advantages and limitations of the ECIS system are discussed. A guide is provided for the study of cell attachment, spreading and proliferation; quantification of cell behavior in a confluent layer, with regard to barrier function, cell motility, quality of cell-cell and cell-substrate adhesions; and quantification of wound healing and cellular responses to vasoactive stimuli. Representative results are discussed based on human microvascular (MVEC) and human umbilical vein endothelial cells (HUVEC), but are applicable to all adherent growing cells.
Bioengineering, Issue 85, ECIS, Impedance Spectroscopy, Resistance, TEER, Endothelial Barrier, Cell Adhesions, Focal Adhesions, Proliferation, Migration, Motility, Wound Healing
51300
In Situ SIMS and IR Spectroscopy of Well-defined Surfaces Prepared by Soft Landing of Mass-selected Ions
Institutions: Pacific Northwest National Laboratory.

Soft landing of mass-selected ions onto surfaces is a powerful approach for the highly-controlled preparation of materials that are inaccessible using conventional synthesis techniques. Coupling soft landing with
in situ
characterization using secondary ion mass spectrometry (SIMS) and infrared reflection absorption spectroscopy (IRRAS) enables analysis of well-defined surfaces under clean vacuum conditions. The capabilities of three soft-landing instruments constructed in our laboratory are illustrated for the representative system of surface-bound organometallics prepared by soft landing of mass-selected ruthenium tris(bipyridine) dications, [Ru(bpy)
3
]
2+
(bpy = bipyridine), onto carboxylic acid terminated self-assembled monolayer surfaces on gold (COOH-SAMs).
In situ
time-of-flight (TOF)-SIMS provides insight into the reactivity of the soft-landed ions. In addition, the kinetics of charge reduction, neutralization and desorption occurring on the COOH-SAM both during and after ion soft landing are studied using
in situ
Fourier transform ion cyclotron resonance (FT-ICR)-SIMS measurements.
In situ
IRRAS experiments provide insight into how the structure of organic ligands surrounding metal centers is perturbed through immobilization of organometallic ions on COOH-SAM surfaces by soft landing. Collectively, the three instruments provide complementary information about the chemical composition, reactivity and structure of well-defined species supported on surfaces.
Chemistry, Issue 88, soft landing, mass selected ions, electrospray, secondary ion mass spectrometry, infrared spectroscopy, organometallic, catalysis
51344
Quantifying the Mechanical Properties of the Endothelial Glycocalyx with Atomic Force Microscopy
Institutions: University of Rochester .

Our understanding of the interaction of leukocytes and the vessel wall during leukocyte capture is limited by an incomplete understanding of the mechanical properties of the endothelial surface layer. It is known that adhesion molecules on leukocytes are distributed non-uniformly relative to surface topography
3
, that topography limits adhesive bond formation with other surfaces
9
, and that physiological contact forces (≈ 5.0 − 10.0 pN per microvillus) can compress the microvilli to as little as a third of their resting length, increasing the accessibility of molecules to the opposing surface
3, 7
. We consider the endothelium as a two-layered structure, the relatively rigid cell body, plus the glycocalyx, a soft protective sugar coating on the luminal surface
6
. It has been shown that the glycocalyx can act as a barrier to reduce adhesion of leukocytes to the endothelial surface
4
. In this report we begin to address the deformability of endothelial surfaces to understand how the endothelial mechanical stiffness might affect bond formation. Endothelial cells grown in static culture do not express a robust glycocalyx, but cells grown under physiological flow conditions begin to approximate the glycocalyx observed
in vivo
2
. The modulus of the endothelial cell body has been measured using atomic force microscopy (AFM) to be approximately 5 to 20 kPa
5
. The thickness and structure of the glycocalyx have been studied using electron microscopy
8
, and the modulus of the glycocalyx has been approximated using indirect methods, but to our knowledge, there have been no published reports of a direct measurement of the glycocalyx modulus in living cells. In this study, we present indentation experiments made with a novel AFM probe on cells that have been cultured in conditions to maximize their glycocalyx expression to make direct measurements of the modulus and thickness of the endothelial glycocalyx.
Biomedical Engineering, Issue 72, Bioengineering, Cellular Biology, Biophysics, Molecular Biology, Endothelium, Vascular, Membrane Glycoproteins, Receptors, Leukocyte-Adhesion, bioengineering (general), glycocalyx, mechanical properties, atomic force microscopy, ATM, Endothelial cells, leukocytes, cell wall, cell culture, microscopy, imaging
50163
Adhesion Frequency Assay for In Situ Kinetics Analysis of Cross-Junctional Molecular Interactions at the Cell-Cell Interface
Institutions: Georgia Institute of Technology .

The micropipette adhesion assay was developed in 1998 to measure two-dimensional (2D) receptor-ligand binding kinetics
1
. The assay uses a human red blood cell (RBC) as adhesion sensor and presenting cell for one of the interacting molecules. It employs micromanipulation to bring the RBC into contact with another cell that expresses the other interacting molecule with precisely controlled area and time to enable bond formation. The adhesion event is detected as RBC elongation upon pulling the two cells apart. By controlling the density of the ligands immobilized on the RBC surface, the probability of adhesion is kept in mid-range between 0 and 1. The adhesion probability is estimated from the frequency of adhesion events in a sequence of repeated contact cycles between the two cells for a given contact time. Varying the contact time generates a binding curve. Fitting a probabilistic model for receptor-ligand reaction kinetics
1
to the binding curve returns the 2D affinity and off-rate. The assay has been validated using interactions of Fcγ receptors with IgG Fc
1-6
, selectins with glycoconjugate ligands
6-9
, integrins with ligands
10-13
, homotypical cadherin binding
14
, T cell receptor and coreceptor with peptide-major histocompatibility complexes
15-19
. The method has been used to quantify regulations of 2D kinetics by biophysical factors, such as the membrane microtopology
5
, membrane anchor
2
, molecular orientation and length
6
, carrier stiffness
9
, curvature
20
, and impingement force
20
, as well as biochemical factors, such as modulators of the cytoskeleton and membrane microenvironment where the interacting molecules reside and the surface organization of these molecules
15,17,19
. The method has also been used to study the concurrent binding of dual receptor-ligand species
3,4
, and trimolecular interactions
19
using a modified model
21
. The major advantage of the method is that it allows study of receptors in their native membrane environment. The results could be very different from those obtained using purified receptors
17
. It also allows study of the receptor-ligand interactions in a sub-second timescale with temporal resolution well beyond the typical biochemical methods. To illustrate the micropipette adhesion frequency method, we show kinetics measurement of intercellular adhesion molecule 1 (ICAM-1) functionalized on RBCs binding to integrin α
L
β
2
on neutrophils with dimeric E-selectin in the solution to activate α
L
β
2
.
Bioengineering, Issue 57, Two-dimensional binding, affinity and kinetics, micropipette manipulation, receptor-ligand interaction
3519
Preparation of Hydroxy-PAAm Hydrogels for Decoupling the Effects of Mechanotransduction Cues
Institutions: Université de Mons.
It is now well established that many cellular functions are regulated by interactions of cells with physicochemical and mechanical cues of their extracellular matrix (ECM) environment. Eukaryotic cells constantly sense their local microenvironment through surface mechanosensors to transduce physical changes of ECM into biochemical signals, and integrate these signals to achieve specific changes in gene expression. Interestingly, physicochemical and mechanical parameters of the ECM can couple with each other to regulate cell fate. Therefore, a key to understanding mechanotransduction is to decouple the relative contribution of ECM cues on cellular functions. Here we present a detailed experimental protocol to rapidly and easily generate biologically relevant hydrogels for the independent tuning of mechanotransduction cues
in vitro
. We chemically modified polyacrylamide hydrogels (PAAm) to surmount their intrinsically non-adhesive properties by incorporating hydroxyl-functionalized acrylamide monomers during the polymerization. We obtained a novel PAAm hydrogel, called hydroxy-PAAm, which permits immobilization of any desired nature of ECM proteins. The combination of hydroxy-PAAm hydrogels with microcontact printing allows to independently control the morphology of single-cells, the matrix stiffness, the nature and the density of ECM proteins. We provide a simple and rapid method that can be set up in every biology lab to study
in vitro
cell mechanotransduction processes. We validate this novel two-dimensional platform by conducting experiments on endothelial cells that demonstrate a mechanical coupling between ECM stiffness and the nucleus.
Bioengineering, Issue 90, hydrogels, mechanotransduction, polyacrylamide, microcontact printing, cell shape, stiffness, durotaxis, cell-ligand density
51010
Setting-up an In Vitro Model of Rat Blood-brain Barrier (BBB): A Focus on BBB Impermeability and Receptor-mediated Transport
Institutions: VECT-HORUS SAS, CNRS, NICN UMR 7259.

The blood brain barrier (BBB) specifically regulates molecular and cellular flux between the blood and the nervous tissue. Our aim was to develop and characterize a highly reproducible rat syngeneic
in vitro
model of the BBB using co-cultures of primary rat brain endothelial cells (RBEC) and astrocytes to study receptors involved in transcytosis across the endothelial cell monolayer. Astrocytes were isolated by mechanical dissection following trypsin digestion and were frozen for later co-culture. RBEC were isolated from 5-week-old rat cortices. The brains were cleaned of meninges and white matter, and mechanically dissociated following enzymatic digestion. Thereafter, the tissue homogenate was centrifuged in bovine serum albumin to separate vessel fragments from nervous tissue. The vessel fragments underwent a second enzymatic digestion to free endothelial cells from their extracellular matrix. The remaining contaminating cells such as pericytes were further eliminated by plating the microvessel fragments in puromycin-containing medium. They were then passaged onto filters for co-culture with astrocytes grown on the bottom of the wells. RBEC expressed high levels of tight junction (TJ) proteins such as occludin, claudin-5 and ZO-1 with a typical localization at the cell borders. The transendothelial electrical resistance (TEER) of brain endothelial monolayers, indicating the tightness of TJs reached 300 ohm·cm
2
on average. The endothelial permeability coefficients (Pe) for lucifer yellow (LY) was highly reproducible with an average of 0.26 ± 0.11 x 10
-3
cm/min. Brain endothelial cells organized in monolayers expressed the efflux transporter P-glycoprotein (P-gp), showed a polarized transport of rhodamine 123, a ligand for P-gp, and showed specific transport of transferrin-Cy3 and DiILDL across the endothelial cell monolayer. In conclusion, we provide a protocol for setting up an
in vitro
BBB model that is highly reproducible due to the quality assurance methods, and that is suitable for research on BBB transporters and receptors.
Medicine, Issue 88, rat brain endothelial cells (RBEC), mouse, spinal cord, tight junction (TJ), receptor-mediated transport (RMT), low density lipoprotein (LDL), LDLR, transferrin, TfR, P-glycoprotein (P-gp), transendothelial electrical resistance (TEER),
51278
Microwave-assisted Functionalization of Poly(ethylene glycol) and On-resin Peptides for Use in Chain Polymerizations and Hydrogel Formation
Institutions: University of Rochester, University of Rochester, University of Rochester Medical Center.

One of the main benefits to using poly(ethylene glycol) (PEG) macromers in hydrogel formation is synthetic versatility. The ability to draw from a large variety of PEG molecular weights and configurations (arm number, arm length, and branching pattern) affords researchers tight control over resulting hydrogel structures and properties, including Young's modulus and mesh size. This video will illustrate a rapid, efficient, solvent-free, microwave-assisted method to methacrylate PEG precursors into poly(ethylene glycol) dimethacrylate (PEGDM). This synthetic method provides much-needed starting materials for applications in drug delivery and regenerative medicine. The demonstrated method is superior to traditional methacrylation methods as it is significantly faster and simpler, as well as more economical and environmentally friendly, using smaller amounts of reagents and solvents. We will also demonstrate an adaptation of this technique for on-resin methacrylamide functionalization of peptides. This on-resin method allows the N-terminus of peptides to be functionalized with methacrylamide groups prior to deprotection and cleavage from resin. This allows for selective addition of methacrylamide groups to the N-termini of the peptides while amino acids with reactive side groups (
e.g.
 primary amine of lysine, primary alcohol of serine, secondary alcohols of threonine, and phenol of tyrosine) remain protected, preventing functionalization at multiple sites. This article will detail common analytical methods (proton Nuclear Magnetic Resonance spectroscopy (
;
H-NMR) and Matrix Assisted Laser Desorption Ionization Time of Flight mass spectrometry (MALDI-ToF)) to assess the efficiency of the functionalizations. Common pitfalls and suggested troubleshooting methods will be addressed, as will modifications of the technique which can be used to further tune macromer functionality and resulting hydrogel physical and chemical properties. Use of synthesized products for the formation of hydrogels for drug delivery and cell-material interaction studies will be demonstrated, with particular attention paid to modifying hydrogel composition to affect mesh size, controlling hydrogel stiffness and drug release.
Chemistry, Issue 80, Poly(ethylene glycol), peptides, polymerization, polymers, methacrylation, peptide functionalization, 1H-NMR, MALDI-ToF, hydrogels, macromer synthesis
50890
Capillary Force Lithography for Cardiac Tissue Engineering
Institutions: University of Washington, University of Washington.
Cardiovascular disease remains the leading cause of death worldwide
1
. Cardiac tissue engineering holds much promise to deliver groundbreaking medical discoveries with the aims of developing functional tissues for cardiac regeneration as well as
in vitro
screening assays. However, the ability to create high-fidelity models of heart tissue has proven difficult. The heart's extracellular matrix (ECM) is a complex structure consisting of both biochemical and biomechanical signals ranging from the micro- to the nanometer scale
2
. Local mechanical loading conditions and cell-ECM interactions have recently been recognized as vital components in cardiac tissue engineering
3-5
. A large portion of the cardiac ECM is composed of aligned collagen fibers with nano-scale diameters that significantly influences tissue architecture and electromechanical coupling
2
. Unfortunately, few methods have been able to mimic the organization of ECM fibers down to the nanometer scale. Recent advancements in nanofabrication techniques, however, have enabled the design and fabrication of scalable scaffolds that mimic the
in vivo
structural and substrate stiffness cues of the ECM in the heart
6-9
. Here we present the development of two reproducible, cost-effective, and scalable nanopatterning processes for the functional alignment of cardiac cells using the biocompatible polymer poly(lactide-co-glycolide) (PLGA)
8
and a polyurethane (PU) based polymer. These anisotropically nanofabricated substrata (ANFS) mimic the underlying ECM of well-organized, aligned tissues and can be used to investigate the role of nanotopography on cell morphology and function
10-14
. Using a nanopatterned (NP) silicon master as a template, a polyurethane acrylate (PUA) mold is fabricated. This PUA mold is then used to pattern the PU or PLGA hydrogel via UV-assisted or solvent-mediated capillary force lithography (CFL), respectively
15,16
. Briefly, PU or PLGA pre-polymer is drop dispensed onto a glass coverslip and the PUA mold is placed on top. For UV-assisted CFL, the PU is then exposed to UV radiation (λ = 250-400 nm) for curing. For solvent-mediated CFL, the PLGA is embossed using heat (120 °C) and pressure (100 kPa). After curing, the PUA mold is peeled off, leaving behind an ANFS for cell culture. Primary cells, such as neonatal rat ventricular myocytes, as well as human pluripotent stem cell-derived cardiomyocytes, can be maintained on the ANFS
2
.
Bioengineering, Issue 88, Nanotopography, Anisotropic, Nanofabrication, Cell Culture, Cardiac Tissue Engineering
50039
Quantitative In vitro Assay to Measure Neutrophil Adhesion to Activated Primary Human Microvascular Endothelial Cells under Static Conditions
Institutions: University of California, San Francisco, University of California, San Francisco.

The vascular endothelium plays an integral part in the inflammatory response. During the acute phase of inflammation, endothelial cells (ECs) are activated by host mediators or directly by conserved microbial components or host-derived danger molecules. Activated ECs express cytokines, chemokines and adhesion molecules that mobilize, activate and retain leukocytes at the site of infection or injury. Neutrophils are the first leukocytes to arrive, and adhere to the endothelium through a variety of adhesion molecules present on the surfaces of both cells. The main functions of neutrophils are to directly eliminate microbial threats, promote the recruitment of other leukocytes through the release of additional factors, and initiate wound repair. Therefore, their recruitment and attachment to the endothelium is a critical step in the initiation of the inflammatory response. In this report, we describe an
in vitro
neutrophil adhesion assay using calcein AM-labeled primary human neutrophils to quantitate the extent of microvascular endothelial cell activation under static conditions. This method has the additional advantage that the same samples quantitated by fluorescence spectrophotometry can also be visualized directly using fluorescence microscopy for a more qualitative assessment of neutrophil binding.
Immunology, Issue 78, Cellular Biology, Infection, Molecular Biology, Medicine, Biomedical Engineering, Biophysics, Endothelium, Vascular, Neutrophils, Inflammation, Inflammation Mediators, Neutrophil, Leukocyte Adhesion, Endothelial cells, assay
50677