Laser Capture Microdissection of Neurons from Differentiated Human Neuroprogenitor Cells in Culture
Published: 09-16-2013
ABSTRACT
Neuroprogenitor cells (NPCs) isolated from the human fetal brain were expanded under proliferative conditions in the presence of epidermal growth factor (EGF) and fibroblast growth factor (FGF) to provide an abundant supply of cells. NPCs were differentiated in the presence of a new combination of nerve growth factor (NGF), brain-derived neurotrophic factor (BDNF), dibutyryl cAMP (DBC) and retinoic acid on dishes coated with poly-L-lysine and mouse laminin to obtain neuron-rich cultures. NPCs were also differentiated in the absence of neurotrophins, DBC and retinoic acid and in the presence of ciliary neurotrophic factor (CNTF) to yield astrocyte-rich cultures. Differentiated NPCs were characterized by immunofluorescence staining for a panel of neuronal markers including NeuN, synapsin, acetylcholinesterase, synaptophysin and GAP43. Glial fibrillary acidic protein (GFAP) and STAT3, astrocyte markers, were detected in 10-15% of differentiated NPCs. To facilitate cell-type specific molecular characterization, laser capture microdissection was performed to isolate neurons cultured on polyethylene naphthalate (PEN) membrane slides. The methods described in this study provide valuable tools to advance our understanding of the molecular mechanism of neurodegeneration.
22 Related JoVE Articles!
Progenitor-derived Oligodendrocyte Culture System from Human Fetal Brain
Institutions: National Institute of Neurological Disorders and Stroke, National Institutes of Health, National Institute of Neurological Disorders and Stroke, National Institutes of Health.

Differentiation of human neural progenitors into neuronal and glial cell types offers a model to study and compare molecular regulation of neural cell lineage development.
In vitro
expansion of neural progenitors from fetal CNS tissue has been well characterized. Despite the identification and isolation of glial progenitors from adult human sub-cortical white matter and development of various culture conditions to direct differentiation of fetal neural progenitors into myelin producing oligodendrocytes, acquiring sufficient human oligodendrocytes for
in vitro
experimentation remains difficult. Differentiation of galactocerebroside
+
(GalC) and O4
+
oligodendrocyte precursor or progenitor cells (OPC) from neural precursor cells has been reported using second trimester fetal brain. However, these cells do not proliferate in the absence of support cells including astrocytes and neurons, and are lost quickly over time in culture. The need remains for a culture system to produce cells of the oligodendrocyte lineage suitable for
in vitro
experimentation. Culture of primary human oligodendrocytes could, for example, be a useful model to study the pathogenesis of neurotropic infectious agents like the human polyomavirus, JCV, that
in vivo
infects those cells. These cultured cells could also provide models of other demyelinating diseases of the central nervous system (CNS). Primary, human fetal brain-derived, multipotential neural progenitor cells proliferate
in vitro
while maintaining the capacity to differentiate into neurons (progenitor-derived neurons, PDN) and astrocytes (progenitor-derived astrocytes, PDA) This study shows that neural progenitors can be induced to differentiate through many of the stages of oligodendrocytic lineage development (progenitor-derived oligodendrocytes, PDO). We culture neural progenitor cells in DMEM-F12 serum-free media supplemented with basic fibroblast growth factor (bFGF), platelet derived growth factor (PDGF-AA), Sonic hedgehog (Shh), neurotrophic factor 3 (NT-3), N-2 and triiodothyronine (T3). The cultured cells are passaged at 2.5e6 cells per 75cm flasks approximately every seven days. Using these conditions, the majority of the cells in culture maintain a morphology characterized by few processes and express markers of pre-oligodendrocyte cells, such as A2B5 and O-4. When we remove the four growth factors (GF) (bFGF, PDGF-AA, Shh, NT-3) and add conditioned media from PDN, the cells start to acquire more processes and express markers specific of oligodendrocyte differentiation, such as GalC and myelin basic protein (MBP). We performed phenotypic characterization using multicolor flow cytometry to identify unique markers of oligodendrocyte.
Neuroscience, Issue 70, Developmental Biology, Medicine, Stem Cell Biology, Molecular Biology, Cellular Biology, Physiology, lineage characterization, neural progenitors, differentiation, cell culture model
4274
Analysis of Schwann-astrocyte Interactions Using In Vitro Assays
Institutions: University of Cambridge.

Schwann cells are one of the commonly used cells in repair strategies following spinal cord injuries. Schwann cells are capable of supporting axonal regeneration and sprouting by secreting growth factors
1,2
and providing growth promoting adhesion molecules
3
and extracellular matrix molecules
4
. In addition they myelinate the demyelinated axons at the site of injury
5
. However following transplantation, Schwann cells do not migrate from the site of implant and do not intermingle with the host astrocytes
6,7
. This results in formation of a sharp boundary between the Schwann cells and astrocytes, creating an obstacle for growing axons trying to exit the graft back into the host tissue proximally and distally. Astrocytes in contact with Schwann cells also undergo hypertrophy and up-regulate the inhibitory molecules
8-13
.
In vitro
assays have been used to model Schwann cell-astrocyte interactions and have been important in understanding the mechanism underlying the cellular behaviour. These
in vitro
assays include boundary assay, where a co-culture is made using two different cells with each cell type occupying different territories with only a small gap separating the two cell fronts. As the cells divide and migrate, the two cellular fronts get closer to each other and finally collide. This allows the behaviour of the two cellular populations to be analyzed at the boundary. Another variation of the same technique is to mix the two cellular populations in culture and over time the two cell types segregate with Schwann cells clumped together as islands in between astrocytes together creating multiple Schwann-astrocyte boundaries. The second assay used in studying the interaction of two cell types is the migration assay where cellular movement can be tracked on the surface of the other cell type monolayer
14,15
. This assay is commonly known as inverted coverslip assay. Schwann cells are cultured on small glass fragments and they are inverted face down onto the surface of astrocyte monolayers and migration is assessed from the edge of coverslip. Both assays have been instrumental in studying the underlying mechanisms involved in the cellular exclusion and boundary formation. Some of the molecules identified using these techniques include N-Cadherins 15, Chondroitin Sulphate proteoglycans(CSPGs)
16,17
, FGF/Heparin
18
, Eph/Ephrins
19
. This article intends to describe boundary assay and migration assay in stepwise fashion and elucidate the possible technical problems that might occur.
Cellular Biology, Issue 47, Schwann cell, astrocyte, boundary, migration, repulsion
2214
Imaging Analysis of Neuron to Glia Interaction in Microfluidic Culture Platform (MCP)-based Neuronal Axon and Glia Co-culture System
Institutions: Tufts University, Tufts Sackler School of Graduate Biomedical Sciences.
Proper neuron to glia interaction is critical to physiological function of the central nervous system (CNS). This bidirectional communication is sophisticatedly mediated by specific signaling pathways between neuron and glia
1,2
. Identification and characterization of these signaling pathways is essential to the understanding of how neuron to glia interaction shapes CNS physiology. Previously, neuron and glia mixed cultures have been widely utilized for testing and characterizing signaling pathways between neuron and glia. What we have learned from these preparations and other
in vivo
tools, however, has suggested that mutual signaling between neuron and glia often occurred in specific compartments within neurons (
i.e.
, axon, dendrite, or soma)
3
. This makes it important to develop a new culture system that allows separation of neuronal compartments and specifically examines the interaction between glia and neuronal axons/dendrites. In addition, the conventional mixed culture system is not capable of differentiating the soluble factors and direct membrane contact signals between neuron and glia. Furthermore, the large quantity of neurons and glial cells in the conventional co-culture system lacks the resolution necessary to observe the interaction between a single axon and a glial cell. In this study, we describe a novel axon and glia co-culture system with the use of a microfluidic culture platform (MCP). In this co-culture system, neurons and glial cells are cultured in two separate chambers that are connected through multiple central channels. In this microfluidic culture platform, only neuronal processes (especially axons) can enter the glial side through the central channels. In combination with powerful fluorescent protein labeling, this system allows direct examination of signaling pathways between axonal/dendritic and glial interactions, such as axon-mediated transcriptional regulation in glia, glia-mediated receptor trafficking in neuronal terminals, and glia-mediated axon growth. The narrow diameter of the chamber also significantly prohibits the flow of the neuron-enriched medium into the glial chamber, facilitating probing of the direct membrane-protein interaction between axons/dendrites and glial surfaces.
Neuroscience, Issue 68, Molecular Biology, Cellular Biology, Biophysics, Microfluidics, Microfluidic culture platform, Compartmented culture, Neuron to glia signaling, neurons, glia, cell culture
4448
A Neuronal and Astrocyte Co-Culture Assay for High Content Analysis of Neurotoxicity
Institutions: Millipore Inc.

High Content Analysis (HCA) assays combine cells and detection reagents with automated imaging and powerful image analysis algorithms, allowing measurement of multiple cellular phenotypes within a single assay. In this study, we utilized HCA to develop a novel assay for neurotoxicity. Neurotoxicity assessment represents an important part of drug safety evaluation, as well as being a significant focus of environmental protection efforts. Additionally, neurotoxicity is also a well-accepted
in vitro
marker of the development of neurodegenerative diseases such as Alzheimer's and Parkinson's diseases. Recently, the application of HCA to neuronal screening has been reported. By labeling neuronal cells with βIII-tubulin, HCA assays can provide high-throughput, non-subjective, quantitative measurements of parameters such as neuronal number, neurite count and neurite length, all of which can indicate neurotoxic effects. However, the role of astrocytes remains unexplored in these models. Astrocytes have an integral role in the maintenance of central nervous system (CNS) homeostasis, and are associated with both neuroprotection and neurodegradation when they are activated in response to toxic substances or disease states. GFAP is an intermediate filament protein expressed predominantly in the astrocytes of the CNS. Astrocytic activation (gliosis) leads to the upregulation of GFAP, commonly accompanied by astrocyte proliferation and hypertrophy. This process of reactive gliosis has been proposed as an early marker of damage to the nervous system. The traditional method for GFAP quantitation is by immunoassay. This approach is limited by an inability to provide information on cellular localization, morphology and cell number. We determined that HCA could be used to overcome these limitations and to simultaneously measure multiple features associated with gliosis - changes in GFAP expression, astrocyte hypertrophy, and astrocyte proliferation - within a single assay. In co-culture studies, astrocytes have been shown to protect neurons against several types of toxic insult and to critically influence neuronal survival. Recent studies have suggested that the use of astrocytes in an
in vitro
neurotoxicity test system may prove more relevant to human CNS structure and function than neuronal cells alone. Accordingly, we have developed an HCA assay for co-culture of neurons and astrocytes, comprised of protocols and validated, target-specific detection reagents for profiling βIII-tubulin and glial fibrillary acidic protein (GFAP). This assay enables simultaneous analysis of neurotoxicity, neurite outgrowth, gliosis, neuronal and astrocytic morphology and neuronal and astrocytic development in a wide variety of cellular models, representing a novel, non-subjective, high-throughput assay for neurotoxicity assessment. The assay holds great potential for enhanced detection of neurotoxicity and improved productivity in neuroscience research and drug discovery.
Neuroscience, Issue 27, high content screening, high content analysis, neurotoxicity, toxicity, drug discovery, neurite outgrowth, astrocytes, neurons, co-culture, immunofluorescence
1173
Assembly of Nucleosomal Arrays from Recombinant Core Histones and Nucleosome Positioning DNA
Institutions: Colorado State University .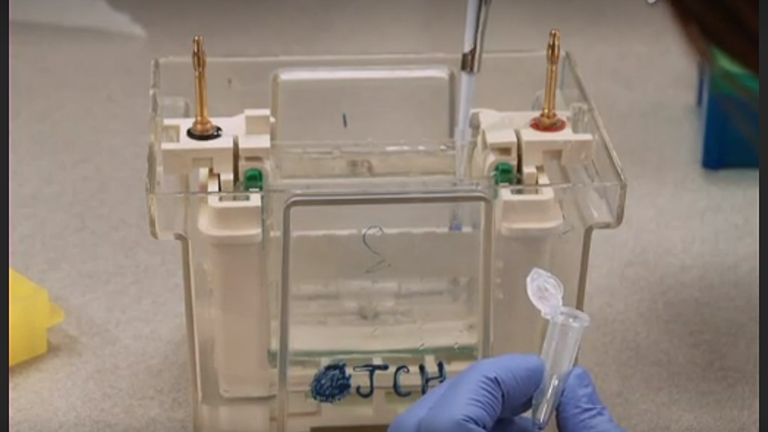 Core histone octamers that are repetitively spaced along a DNA molecule are called nucleosomal arrays. Nucleosomal arrays are obtained in one of two ways: purification from
in vivo
sources, or reconstitution
in vitro
from recombinant core histones and tandemly repeated nucleosome positioning DNA. The latter method has the benefit of allowing for the assembly of a more compositionally uniform and precisely positioned nucleosomal array. Sedimentation velocity experiments in the analytical ultracentrifuge yield information about the size and shape of macromolecules by analyzing the rate at which they migrate through solution under centrifugal force. This technique, along with atomic force microscopy, can be used for quality control, ensuring that the majority of DNA templates are saturated with nucleosomes after reconstitution. Here we describe the protocols necessary to reconstitute milligram quantities of length and compositionally defined nucleosomal arrays suitable for biochemical and biophysical studies of chromatin structure and function.
Cellular Biology, Issue 79, Chromosome Structures, Chromatin, Nucleosomes, Histones, Microscopy, Atomic Force (AFM), Biochemistry, Chromatin, Nucleosome, Nucleosomal Array, Histone, Analytical Ultracentrifugation, Sedimentation Velocity
50354
Recombinant Protein Expression for Structural Biology in HEK 293F Suspension Cells: A Novel and Accessible Approach
Institutions: University of Leicester.
The expression and purification of large amounts of recombinant protein complexes is an essential requirement for structural biology studies. For over two decades, prokaryotic expression systems such as
E. coli
have dominated the scientific literature over costly and less efficient eukaryotic cell lines. Despite the clear advantage in terms of yields and costs of expressing recombinant proteins in bacteria, the absence of specific co-factors, chaperones and post-translational modifications may cause loss of function, mis-folding and can disrupt protein-protein interactions of certain eukaryotic multi-subunit complexes, surface receptors and secreted proteins. The use of mammalian cell expression systems can address these drawbacks since they provide a eukaryotic expression environment. However, low protein yields and high costs of such methods have until recently limited their use for structural biology. Here we describe a simple and accessible method for expressing and purifying milligram quantities of protein by performing transient transfections of suspension grown HEK (Human Embryonic Kidney) 293F cells.
Biochemistry, Issue 92, structural biology, protein expression, recombinant protein, mammalian cell, transfection, polyethylenimine, suspension culture, affinity purification.
51897
Ex vivo Culture of Drosophila Pupal Testis and Single Male Germ-line Cysts: Dissection, Imaging, and Pharmacological Treatment
Institutions: Philipps-Universität Marburg, Philipps-Universität Marburg.

During spermatogenesis in mammals and in
Drosophila melanogaster,
male germ cells develop in a series of essential developmental processes. This includes differentiation from a stem cell population, mitotic amplification, and meiosis. In addition, post-meiotic germ cells undergo a dramatic morphological reshaping process as well as a global epigenetic reconfiguration of the germ line chromatin—the histone-to-protamine switch. Studying the role of a protein in post-meiotic spermatogenesis using mutagenesis or other genetic tools is often impeded by essential embryonic, pre-meiotic, or meiotic functions of the protein under investigation. The post-meiotic phenotype of a mutant of such a protein could be obscured through an earlier developmental block, or the interpretation of the phenotype could be complicated. The model organism
Drosophila melanogaster
offers a bypass to this problem: intact testes and even cysts of germ cells dissected from early pupae are able to develop
ex vivo
in culture medium. Making use of such cultures allows microscopic imaging of living germ cells in testes and of germ-line cysts. Importantly, the cultivated testes and germ cells also become accessible to pharmacological inhibitors, thereby permitting manipulation of enzymatic functions during spermatogenesis, including post-meiotic stages. The protocol presented describes how to dissect and cultivate pupal testes and germ-line cysts. Information on the development of pupal testes and culture conditions are provided alongside microscope imaging data of live testes and germ-line cysts in culture. We also describe a pharmacological assay to study post-meiotic spermatogenesis, exemplified by an assay targeting the histone-to-protamine switch using the histone acetyltransferase inhibitor anacardic acid. In principle, this cultivation method could be adapted to address many other research questions in pre- and post-meiotic spermatogenesis.
Developmental Biology, Issue 91, Ex vivo culture, testis, male germ-line cells, Drosophila, imaging, pharmacological assay
51868
Chromatin Interaction Analysis with Paired-End Tag Sequencing (ChIA-PET) for Mapping Chromatin Interactions and Understanding Transcription Regulation
Institutions: Agency for Science, Technology and Research, Singapore, A*STAR-Duke-NUS Neuroscience Research Partnership, Singapore, National University of Singapore, Singapore.

Genomes are organized into three-dimensional structures, adopting higher-order conformations inside the micron-sized nuclear spaces
7, 2, 12
. Such architectures are not random and involve interactions between gene promoters and regulatory elements
13
. The binding of transcription factors to specific regulatory sequences brings about a network of transcription regulation and coordination
1, 14
. Chromatin Interaction Analysis by Paired-End Tag Sequencing (ChIA-PET) was developed to identify these higher-order chromatin structures
5,6
. Cells are fixed and interacting loci are captured by covalent DNA-protein cross-links. To minimize non-specific noise and reduce complexity, as well as to increase the specificity of the chromatin interaction analysis, chromatin immunoprecipitation (ChIP) is used against specific protein factors to enrich chromatin fragments of interest before proximity ligation. Ligation involving half-linkers subsequently forms covalent links between pairs of DNA fragments tethered together within individual chromatin complexes. The flanking MmeI restriction enzyme sites in the half-linkers allow extraction of paired end tag-linker-tag constructs (PETs) upon MmeI digestion. As the half-linkers are biotinylated, these PET constructs are purified using streptavidin-magnetic beads. The purified PETs are ligated with next-generation sequencing adaptors and a catalog of interacting fragments is generated via next-generation sequencers such as the Illumina Genome Analyzer. Mapping and bioinformatics analysis is then performed to identify ChIP-enriched binding sites and ChIP-enriched chromatin interactions
8
. We have produced a video to demonstrate critical aspects of the ChIA-PET protocol, especially the preparation of ChIP as the quality of ChIP plays a major role in the outcome of a ChIA-PET library. As the protocols are very long, only the critical steps are shown in the video.
Genetics, Issue 62, ChIP, ChIA-PET, Chromatin Interactions, Genomics, Next-Generation Sequencing
3770
The ChroP Approach Combines ChIP and Mass Spectrometry to Dissect Locus-specific Proteomic Landscapes of Chromatin
Institutions: European Institute of Oncology.

Chromatin is a highly dynamic nucleoprotein complex made of DNA and proteins that controls various DNA-dependent processes. Chromatin structure and function at specific regions is regulated by the local enrichment of histone post-translational modifications (hPTMs) and variants, chromatin-binding proteins, including transcription factors, and DNA methylation. The proteomic characterization of chromatin composition at distinct functional regions has been so far hampered by the lack of efficient protocols to enrich such domains at the appropriate purity and amount for the subsequent in-depth analysis by Mass Spectrometry (MS). We describe here a newly designed chromatin proteomics strategy, named ChroP (
Chromatin Proteomics
), whereby a preparative chromatin immunoprecipitation is used to isolate distinct chromatin regions whose features, in terms of hPTMs, variants and co-associated non-histonic proteins, are analyzed by MS. We illustrate here the setting up of ChroP for the enrichment and analysis of transcriptionally silent heterochromatic regions, marked by the presence of tri-methylation of lysine 9 on histone H3. The results achieved demonstrate the potential of
ChroP
in thoroughly characterizing the heterochromatin proteome and prove it as a powerful analytical strategy for understanding how the distinct protein determinants of chromatin interact and synergize to establish locus-specific structural and functional configurations.
Biochemistry, Issue 86, chromatin, histone post-translational modifications (hPTMs), epigenetics, mass spectrometry, proteomics, SILAC, chromatin immunoprecipitation , histone variants, chromatome, hPTMs cross-talks
51220
Gene-environment Interaction Models to Unmask Susceptibility Mechanisms in Parkinson's Disease
Institutions: SRI International, University of California-Santa Cruz.

Lipoxygenase (LOX) activity has been implicated in neurodegenerative disorders such as Alzheimer's disease, but its effects in Parkinson's disease (PD) pathogenesis are less understood. Gene-environment interaction models have utility in unmasking the impact of specific cellular pathways in toxicity that may not be observed using a solely genetic or toxicant disease model alone. To evaluate if distinct LOX isozymes selectively contribute to PD-related neurodegeneration, transgenic (
i.e.
5-LOX and 12/15-LOX deficient) mice can be challenged with a toxin that mimics cell injury and death in the disorder. Here we describe the use of a neurotoxin, 1-methyl-4-phenyl-1,2,3,6-tetrahydropyridine (MPTP), which produces a nigrostriatal lesion to elucidate the distinct contributions of LOX isozymes to neurodegeneration related to PD. The use of MPTP in mouse, and nonhuman primate, is well-established to recapitulate the nigrostriatal damage in PD. The extent of MPTP-induced lesioning is measured by HPLC analysis of dopamine and its metabolites and semi-quantitative Western blot analysis of striatum for tyrosine hydroxylase (TH), the rate-limiting enzyme for the synthesis of dopamine. To assess inflammatory markers, which may demonstrate LOX isozyme-selective sensitivity, glial fibrillary acidic protein (GFAP) and Iba-1 immunohistochemistry are performed on brain sections containing substantia nigra, and GFAP Western blot analysis is performed on striatal homogenates. This experimental approach can provide novel insights into gene-environment interactions underlying nigrostriatal degeneration and PD.
Medicine, Issue 83, MPTP, dopamine, Iba1, TH, GFAP, lipoxygenase, transgenic, gene-environment interactions, mouse, Parkinson's disease, neurodegeneration, neuroinflammation
50960
A cGMP-applicable Expansion Method for Aggregates of Human Neural Stem and Progenitor Cells Derived From Pluripotent Stem Cells or Fetal Brain Tissue
Institutions: Cedars-Sinai Medical Center.

A cell expansion technique to amass large numbers of cells from a single specimen for research experiments and clinical trials would greatly benefit the stem cell community. Many current expansion methods are laborious and costly, and those involving complete dissociation may cause several stem and progenitor cell types to undergo differentiation or early senescence. To overcome these problems, we have developed an automated mechanical passaging method referred to as "chopping" that is simple and inexpensive. This technique avoids chemical or enzymatic dissociation into single cells and instead allows for the large-scale expansion of suspended, spheroid cultures that maintain constant cell/cell contact. The chopping method has primarily been used for fetal brain-derived neural progenitor cells or neurospheres, and has recently been published for use with neural stem cells derived from embryonic and induced pluripotent stem cells. The procedure involves seeding neurospheres onto a tissue culture Petri dish and subsequently passing a sharp, sterile blade through the cells effectively automating the tedious process of manually mechanically dissociating each sphere. Suspending cells in culture provides a favorable surface area-to-volume ratio; as over 500,000 cells can be grown within a single neurosphere of less than 0.5 mm in diameter. In one T175 flask, over 50 million cells can grow in suspension cultures compared to only 15 million in adherent cultures. Importantly, the chopping procedure has been used under current good manufacturing practice (cGMP), permitting mass quantity production of clinical-grade cell products.
Neuroscience, Issue 88, neural progenitor cell, neural precursor cell, neural stem cell, passaging, neurosphere, chopping, stem cell, neuroscience, suspension culture, good manufacturing practice, GMP
51219
Isolation and Culture of Mouse Cortical Astrocytes
Institutions: University of Freiburg , University of Freiburg .

Astrocytes are an abundant cell type in the mammalian brain, yet much remains to be learned about their molecular and functional characteristics.
In vitro
astrocyte cell culture systems can be used to study the biological functions of these glial cells in detail. This video protocol shows how to obtain pure astrocytes by isolation and culture of mixed cortical cells of mouse pups. The method is based on the absence of viable neurons and the separation of astrocytes, oligodendrocytes and microglia, the three main glial cell populations of the central nervous system, in culture. Representative images during the first days of culture demonstrate the presence of a mixed cell population and indicate the timepoint, when astrocytes become confluent and should be separated from microglia and oligodendrocytes. Moreover, we demonstrate purity and astrocytic morphology of cultured astrocytes using immunocytochemical stainings for well established and newly described astrocyte markers. This culture system can be easily used to obtain pure mouse astrocytes and astrocyte-conditioned medium for studying various aspects of astrocyte biology.
Neuroscience, Issue 71, Neurobiology, Cellular Biology, Medicine, Molecular Biology, Anatomy, Physiology, brain, mouse, astrocyte culture, astrocyte, fibroblast, fibrinogen, chondroitin sulfate proteoglycan, neuronal regeneration, cell culture, animal model
50079
Nucleofection of Rodent Neuroblasts to Study Neuroblast Migration In vitro
Institutions: King's College London, King's College London.
The subventricular zone (SVZ) located in the lateral wall of the lateral ventricles plays a fundamental role in adult neurogenesis. In this restricted area of the brain, neural stem cells proliferate and constantly generate neuroblasts that migrate tangentially in chains along the rostral migratory stream (RMS) to reach the olfactory bulb (OB). Once in the OB, neuroblasts switch to radial migration and then differentiate into mature neurons able to incorporate into the preexisting neuronal network. Proper neuroblast migration is a fundamental step in neurogenesis, ensuring the correct functional maturation of newborn neurons. Given the ability of SVZ-derived neuroblasts to target injured areas in the brain, investigating the intracellular mechanisms underlying their motility will not only enhance the understanding of neurogenesis but may also promote the development of neuroregenerative strategies. This manuscript describes a detailed protocol for the transfection of primary rodent RMS postnatal neuroblasts and the analysis of their motility using a 3D
in vitro
migration assay recapitulating their mode of migration observed
in vivo
. Both rat and mouse neuroblasts can be quickly and efficiently transfected via nucleofection with either plasmid DNA, small hairpin (sh)RNA or short interfering (si)RNA oligos targeting genes of interest. To analyze migration, nucleofected cells are reaggregated in 'hanging drops' and subsequently embedded in a three-dimensional matrix. Nucleofection
per se
does not significantly impair the migration of neuroblasts. Pharmacological treatment of nucleofected and reaggregated neuroblasts can also be performed to study the role of signaling pathways involved in neuroblast migration.
Neuroscience, Issue 81, Cellular Biology, Cell Migration Assays, Transfection, Neurogenesis, subventricular zone (SVZ), neural stem cells, rostral migratory stream (RMS), neuroblast, 3D migration assay, nucleofection
50989
Setting-up an In Vitro Model of Rat Blood-brain Barrier (BBB): A Focus on BBB Impermeability and Receptor-mediated Transport
Institutions: VECT-HORUS SAS, CNRS, NICN UMR 7259.

The blood brain barrier (BBB) specifically regulates molecular and cellular flux between the blood and the nervous tissue. Our aim was to develop and characterize a highly reproducible rat syngeneic
in vitro
model of the BBB using co-cultures of primary rat brain endothelial cells (RBEC) and astrocytes to study receptors involved in transcytosis across the endothelial cell monolayer. Astrocytes were isolated by mechanical dissection following trypsin digestion and were frozen for later co-culture. RBEC were isolated from 5-week-old rat cortices. The brains were cleaned of meninges and white matter, and mechanically dissociated following enzymatic digestion. Thereafter, the tissue homogenate was centrifuged in bovine serum albumin to separate vessel fragments from nervous tissue. The vessel fragments underwent a second enzymatic digestion to free endothelial cells from their extracellular matrix. The remaining contaminating cells such as pericytes were further eliminated by plating the microvessel fragments in puromycin-containing medium. They were then passaged onto filters for co-culture with astrocytes grown on the bottom of the wells. RBEC expressed high levels of tight junction (TJ) proteins such as occludin, claudin-5 and ZO-1 with a typical localization at the cell borders. The transendothelial electrical resistance (TEER) of brain endothelial monolayers, indicating the tightness of TJs reached 300 ohm·cm
2
on average. The endothelial permeability coefficients (Pe) for lucifer yellow (LY) was highly reproducible with an average of 0.26 ± 0.11 x 10
-3
cm/min. Brain endothelial cells organized in monolayers expressed the efflux transporter P-glycoprotein (P-gp), showed a polarized transport of rhodamine 123, a ligand for P-gp, and showed specific transport of transferrin-Cy3 and DiILDL across the endothelial cell monolayer. In conclusion, we provide a protocol for setting up an
in vitro
BBB model that is highly reproducible due to the quality assurance methods, and that is suitable for research on BBB transporters and receptors.
Medicine, Issue 88, rat brain endothelial cells (RBEC), mouse, spinal cord, tight junction (TJ), receptor-mediated transport (RMT), low density lipoprotein (LDL), LDLR, transferrin, TfR, P-glycoprotein (P-gp), transendothelial electrical resistance (TEER),
51278
Functional Interrogation of Adult Hypothalamic Neurogenesis with Focal Radiological Inhibition
Institutions: California Institute of Technology, Johns Hopkins University School of Medicine, Johns Hopkins University School of Medicine, University Of Washington Medical Center, Johns Hopkins University School of Medicine.

The functional characterization of adult-born neurons remains a significant challenge. Approaches to inhibit adult neurogenesis via invasive viral delivery or transgenic animals have potential confounds that make interpretation of results from these studies difficult. New radiological tools are emerging, however, that allow one to noninvasively investigate the function of select groups of adult-born neurons through accurate and precise anatomical targeting in small animals. Focal ionizing radiation inhibits the birth and differentiation of new neurons, and allows targeting of specific neural progenitor regions. In order to illuminate the potential functional role that adult hypothalamic neurogenesis plays in the regulation of physiological processes, we developed a noninvasive focal irradiation technique to selectively inhibit the birth of adult-born neurons in the hypothalamic median eminence. We describe a method for
C
omputer tomography-guided
f
ocal
ir
radiation (CFIR) delivery to enable precise and accurate anatomical targeting in small animals. CFIR uses three-dimensional volumetric image guidance for localization and targeting of the radiation dose, minimizes radiation exposure to nontargeted brain regions, and allows for conformal dose distribution with sharp beam boundaries. This protocol allows one to ask questions regarding the function of adult-born neurons, but also opens areas to questions in areas of radiobiology, tumor biology, and immunology. These radiological tools will facilitate the translation of discoveries at the bench to the bedside.
Neuroscience, Issue 81, Neural Stem Cells (NSCs), Body Weight, Radiotherapy, Image-Guided, Metabolism, Energy Metabolism, Neurogenesis, Cell Proliferation, Neurosciences, Irradiation, Radiological treatment, Computer-tomography (CT) imaging, Hypothalamus, Hypothalamic Proliferative Zone (HPZ), Median Eminence (ME), Small Animal Radiation Research Platform (SARRP)
50716
Growing Neural Stem Cells from Conventional and Nonconventional Regions of the Adult Rodent Brain
Institutions: University of Dresden, Center for Regerative Therapies Dresden.
Recent work demonstrates that central nervous system (CNS) regeneration and tumorigenesis involves populations of stem cells (SCs) resident within the adult brain. However, the mechanisms these normally quiescent cells employ to ensure proper functioning of neural networks, as well as their role in recovery from injury and mitigation of neurodegenerative processes are little understood. These cells reside in regions referred to as "niches" that provide a sustaining environment involving modulatory signals from both the vascular and immune systems. The isolation, maintenance, and differentiation of CNS SCs under defined culture conditions which exclude unknown factors, makes them accessible to treatment by pharmacological or genetic means, thus providing insight into their
in vivo
behavior. Here we offer detailed information on the methods for generating cultures of CNS SCs from distinct regions of the adult brain and approaches to assess their differentiation potential into neurons, astrocytes, and oligodendrocytes
in vitro
. This technique yields a homogeneous cell population as a monolayer culture that can be visualized to study individual SCs and their progeny. Furthermore, it can be applied across different animal model systems and clinical samples, being used previously to predict regenerative responses in the damaged adult nervous system.
Neuroscience, Issue 81, adult neural stem cells, proliferation, differentiation, cell culture, growth factors
50880
Modeling Astrocytoma Pathogenesis In Vitro and In Vivo Using Cortical Astrocytes or Neural Stem Cells from Conditional, Genetically Engineered Mice
Institutions: University of North Carolina School of Medicine, University of North Carolina School of Medicine, University of North Carolina School of Medicine, University of North Carolina School of Medicine, University of North Carolina School of Medicine, Emory University School of Medicine, University of North Carolina School of Medicine.

Current astrocytoma models are limited in their ability to define the roles of oncogenic mutations in specific brain cell types during disease pathogenesis and their utility for preclinical drug development. In order to design a better model system for these applications, phenotypically wild-type cortical astrocytes and neural stem cells (NSC) from conditional, genetically engineered mice (GEM) that harbor various combinations of floxed oncogenic alleles were harvested and grown in culture. Genetic recombination was induced
in vitro
using adenoviral Cre-mediated recombination, resulting in expression of mutated oncogenes and deletion of tumor suppressor genes. The phenotypic consequences of these mutations were defined by measuring proliferation, transformation, and drug response
in vitro
. Orthotopic allograft models, whereby transformed cells are stereotactically injected into the brains of immune-competent, syngeneic littermates, were developed to define the role of oncogenic mutations and cell type on tumorigenesis
in vivo
. Unlike most established human glioblastoma cell line xenografts, injection of transformed GEM-derived cortical astrocytes into the brains of immune-competent littermates produced astrocytomas, including the most aggressive subtype, glioblastoma, that recapitulated the histopathological hallmarks of human astrocytomas, including diffuse invasion of normal brain parenchyma. Bioluminescence imaging of orthotopic allografts from transformed astrocytes engineered to express luciferase was utilized to monitor
in vivo
tumor growth over time. Thus, astrocytoma models using astrocytes and NSC harvested from GEM with conditional oncogenic alleles provide an integrated system to study the genetics and cell biology of astrocytoma pathogenesis
in vitro
and
in vivo
and may be useful in preclinical drug development for these devastating diseases.
Neuroscience, Issue 90, astrocytoma, cortical astrocytes, genetically engineered mice, glioblastoma, neural stem cells, orthotopic allograft
51763
Inducing Plasticity of Astrocytic Receptors by Manipulation of Neuronal Firing Rates
Institutions: University of California Riverside, University of California Riverside, University of California Riverside.

Close to two decades of research has established that astrocytes
in situ
and
in vivo
express numerous G protein-coupled receptors (GPCRs) that can be stimulated by neuronally-released transmitter. However, the ability of astrocytic receptors to exhibit plasticity in response to changes in neuronal activity has received little attention. Here we describe a model system that can be used to globally scale up or down astrocytic group I metabotropic glutamate receptors (mGluRs) in acute brain slices. Included are methods on how to prepare parasagittal hippocampal slices, construct chambers suitable for long-term slice incubation, bidirectionally manipulate neuronal action potential frequency, load astrocytes and astrocyte processes with fluorescent Ca
2+
indicator, and measure changes in astrocytic Gq GPCR activity by recording spontaneous and evoked astrocyte Ca
2+
events using confocal microscopy. In essence, a "calcium roadmap" is provided for how to measure plasticity of astrocytic Gq GPCRs. Applications of the technique for study of astrocytes are discussed. Having an understanding of how astrocytic receptor signaling is affected by changes in neuronal activity has important implications for both normal synaptic function as well as processes underlying neurological disorders and neurodegenerative disease.
Neuroscience, Issue 85, astrocyte, plasticity, mGluRs, neuronal Firing, electrophysiology, Gq GPCRs, Bolus-loading, calcium, microdomains, acute slices, Hippocampus, mouse
51458
Propagation of Human Embryonic Stem (ES) Cells
Institutions: MGH - Massachusetts General Hospital.

Cellular Biology, Issue 1, ES, embryonic stem cells, tissue culture
119
Cortical Neurogenesis: Transitioning from Advances in the Laboratory to Cell-Based Therapies
Institutions: University of California, San Francisco - UCSF.

Neuroscience, Issue 6, neurogenesis, cortex, electroporation, injection, stem cells, brain, Translational Research
241
Culture of Mouse Neural Stem Cell Precursors
Institutions: University of California, Irvine (UCI), University of California, Irvine (UCI), University of California, Irvine (UCI).

Primary neural stem cell cultures are useful for studying the mechanisms underlying central nervous system development. Stem cell research will increase our understanding of the nervous system and may allow us to develop treatments for currently incurable brain diseases and injuries. In addition, stem cells should be used for stem cell research aimed at the detailed study of mechanisms of neural differentiation and transdifferentiation and the genetic and environmental signals that direct the specialization of the cells into particular cell types. This video demonstrates a technique used to disaggregate cells from the embryonic day 12.5 mouse dorsal forebrain. The dissection procedure includes harvesting E12.5 mouse embryos from the uterus, removing the "skin" with fine dissecting forceps and finally isolating pieces of cerebral cortex. Following the dissection, the tissue is digested and mechanically dissociated. The resuspended dissociated cells are then cultured in "stem cell" media that favors growth of neural stem cells.
Developmental Biology, Issue 2, brain, neuron, stem cells
152
ES Cell-derived Neuroepithelial Cell Cultures
Institutions: Harvard Medical School.

ES cells have the potential to differentiate into cells from all germ layers, which makes them an attractive tool for the development of new therapies. In general, the differentiation of ES cells follows the concept to first generate immature progenitor cells, which then can be propagated and differentiated into mature cellular phenotypes. This also applies for ES cell-derived neurogenesis, in which the development of neural cells follows two major steps: First, the derivation and expansion of immature neuroepithelial precursors and second, their differentiation into mature neural cells. A common method to produce neural progenitors from ES cells is based on embryoid body (EB) formation, which reveals the differentiation of cells from all germ layers including neuroectoderm. An alternative and more efficient method to induce neuroepithelial cell development uses stromal cell-derived inducing activity (SDIA), which can be achieved by co-culturing ES cells with skull bone marrow-derived stromal cells (1). Both, EB formation and SDIA, reveal the development of rosette-like structures, which are thought to resemble neural tube- and/or neural crest-like progenitors. The neural precursors can be isolated, expanded and further differentiated into specific neurons and glia cells using defined culture conditions. Here, we describe the generation and isolation of such rosettes in co-culture experiments with the stromal cell line MS5 (2-5).
Cellular Biology, issue 1, embryonic stem (ES) cells, rosettes, neuroepithelial precursors, stromal cells, differentiation
118