Compact Quantum Dots for Single-molecule Imaging
Published: 10-09-2012
ABSTRACT
Single-molecule imaging is an important tool for understanding the mechanisms of biomolecular function and for visualizing the spatial and temporal heterogeneity of molecular behaviors that underlie cellular biology 1-4. To image an individual molecule of interest, it is typically conjugated to a fluorescent tag (dye, protein, bead, or quantum dot) and observed with epifluorescence or total internal reflection fluorescence (TIRF) microscopy. While dyes and fluorescent proteins have been the mainstay of fluorescence imaging for decades, their fluorescence is unstable under high photon fluxes necessary to observe individual molecules, yielding only a few seconds of observation before complete loss of signal. Latex beads and dye-labeled beads provide improved signal stability but at the expense of drastically larger hydrodynamic size, which can deleteriously alter the diffusion and behavior of the molecule under study. Quantum dots (QDs) offer a balance between these two problematic regimes. These nanoparticles are composed of semiconductor materials and can be engineered with a hydrodynamically compact size with exceptional resistance to photodegradation 5. Thus in recent years QDs have been instrumental in enabling long-term observation of complex macromolecular behavior on the single molecule level. However these particles have still been found to exhibit impaired diffusion in crowded molecular environments such as the cellular cytoplasm and the neuronal synaptic cleft, where their sizes are still too large 4,6,7. Recently we have engineered the cores and surface coatings of QDs for minimized hydrodynamic size, while balancing offsets to colloidal stability, photostability, brightness, and nonspecific binding that have hindered the utility of compact QDs in the past 8,9. The goal of this article is to demonstrate the synthesis, modification, and characterization of these optimized nanocrystals, composed of an alloyed HgxCd1-xSe core coated with an insulating CdyZn1-yS shell, further coated with a multidentate polymer ligand modified with short polyethylene glycol (PEG) chains (Figure 1). Compared with conventional CdSe nanocrystals, HgxCd1-xSe alloys offer greater quantum yields of fluorescence, fluorescence at red and near-infrared wavelengths for enhanced signal-to-noise in cells, and excitation at non-cytotoxic visible wavelengths. Multidentate polymer coatings bind to the nanocrystal surface in a closed and flat conformation to minimize hydrodynamic size, and PEG neutralizes the surface charge to minimize nonspecific binding to cells and biomolecules. The end result is a brightly fluorescent nanocrystal with emission between 550-800 nm and a total hydrodynamic size near 12 nm. This is in the same size range as many soluble globular proteins in cells, and substantially smaller than conventional PEGylated QDs (25-35 nm).
18 Related JoVE Articles!
Solubilization and Bio-conjugation of Quantum Dots and Bacterial Toxicity Assays by Growth Curve and Plate Count
Institutions: McGill University, Montreal, QC Canada.

Quantum dots (QDs) are fluorescent semiconductor nanoparticles with size-dependent emission spectra that can be excited by a broad choice of wavelengths. QDs have attracted a lot of interest for imaging, diagnostics, and therapy due to their bright, stable fluorescence
1,2 3,4,5
. QDs can be conjugated to a variety of bio-active molecules for binding to bacteria and mammalian cells
6
. QDs are also being widely investigated as cytotoxic agents for targeted killing of bacteria. The emergence of multiply-resistant bacterial strains is rapidly becoming a public health crisis, particularly in the case of Gram negative pathogens
7
. Because of the well-known antimicrobial effect of certain nanomaterials, especially Ag, there are hundreds of studies examining the toxicity of nanoparticles to bacteria
8
. Bacterial studies have been performed with other types of semiconductor nanoparticles as well, especially TiO
2
9,10-11
, but also ZnO
12
and others including CuO
13
. Some comparisons of bacterial strains have been performed in these studies, usually comparing a Gram negative strain with a Gram positive. With all of these particles, mechanisms of toxicity are attributed to oxidation: either the photogeneration of reactive oxygen species (ROS) by the particles or the direct release of metal ions that can cause oxidative toxicity. Even with these materials, results of different studies vary greatly. In some studies the Gram positive test strain is reportedly more sensitive than the Gram negative
10
; in others it is the opposite
14
. These studies have been well reviewed
15
. In all nanoparticle studies, particle composition, size, surface chemistry, sample aging/breakdown, and wavelength, power, and duration of light exposure can all dramatically affect the results. In addition, synthesis byproducts and solvents must be considered
16 17
. High-throughput screening techniques are needed to be able to develop effective new nanomedicine agents. CdTe QDs have anti-microbial effects alone
18
or in combination with antibiotics. In a previous study, we showed that coupling of antibiotics to CdTe can increase toxicity to bacteria but decrease toxicity to mammalian cells, due to decreased production of reactive oxygen species from the conjugates
19
. Although it is unlikely that cadmium-containing compounds will be approved for use in humans, such preparations could be used for disinfection of surfaces or sterilization of water. In this protocol, we give a straightforward approach to solubilizing CdTe QDs with mercaptopropionic acid (MPA). The QDs are ready to use within an hour. We then demonstrate coupling to an antimicrobial agent. The second part of the protocol demonstrates a 96-well bacterial inhibition assay using the conjugated and unconjugated QDs. The optical density is read over many hours, permitting the effects of QD addition and light exposure to be evaluated immediately as well as after a recovery period. We also illustrate a colony count for quantifying bacterial survival.
Biomedical Engineering, Issue 65, Bioengineering, Molecular Biology, Quantum dots, solubilization, conjugation, cytotoxicity, phototoxicity, growth curve, plate count
3969
Production and Targeting of Monovalent Quantum Dots
Institutions: University of California, San Francisco, University of California, Berkeley, Lawrence Berkeley National Laboratory, University of California, San Francisco, University of California, San Francisco, University of California, San Francisco, University of California, San Francisco.

The multivalent nature of commercial quantum dots (QDs) and the difficulties associated with producing monovalent dots have limited their applications in biology, where clustering and the spatial organization of biomolecules is often the object of study. We describe here a protocol to produce monovalent quantum dots (mQDs) that can be accomplished in most biological research laboratories via a simple mixing of CdSe/ZnS core/shell QDs with phosphorothioate DNA (ptDNA) of defined length. After a single ptDNA strand has wrapped the QD, additional strands are excluded from the surface. Production of mQDs in this manner can be accomplished at small and large scale, with commercial reagents, and in minimal steps. These mQDs can be specifically directed to biological targets by hybridization to a complementary single stranded targeting DNA. We demonstrate the use of these mQDs as imaging probes by labeling SNAP-tagged Notch receptors on live mammalian cells, targeted by mQDs bearing a benzylguanine moiety.
Bioengineering, Issue 92, monovalent quantum dots, single particle tracking, SNAP tag, steric exclusion, phosphorothioate, DNA, nanoparticle bioconjugation, single molecule imaging
52198
Real-time Imaging of Axonal Transport of Quantum Dot-labeled BDNF in Primary Neurons
Institutions: University of California, San Diego, Shanghai Jiao Tong University, University of California, San Diego, VA San Diego Healthcare System.

BDNF plays an important role in several facets of neuronal survival, differentiation, and function. Structural and functional deficits in axons are increasingly viewed as an early feature of neurodegenerative diseases, including Alzheimer's disease (AD) and Huntington's disease (HD). As yet unclear is the mechanism(s) by which axonal injury is induced. We reported the development of a novel technique to produce biologically active, monobiotinylated BDNF (mBtBDNF) that can be used to trace axonal transport of BDNF. Quantum dot-labeled BDNF (QD-BDNF) was produced by conjugating quantum dot 655 to mBtBDNF. A microfluidic device was used to isolate axons from neuron cell bodies. Addition of QD-BDNF to the axonal compartment allowed live imaging of BDNF transport in axons. We demonstrated that QD-BDNF moved essentially exclusively retrogradely, with very few pauses, at a moving velocity of around 1.06 μm/sec. This system can be used to investigate mechanisms of disrupted axonal function in AD or HD, as well as other degenerative disorders.
Neuroscience, Issue 91, live imaging, brain-derived neurotrophic factor (BDNF), quantum dot, trafficking, axonal retrograde transport, microfluidic chamber
51899
Formulation of Diblock Polymeric Nanoparticles through Nanoprecipitation Technique
Institutions: University of North Carolina School of Medicine, University of North Carolina .
Nanotechnology is a relatively new branch of science that involves harnessing the unique properties of particles that are nanometers in scale (nanoparticles). Nanoparticles can be engineered in a precise fashion where their size, composition and surface chemistry can be carefully controlled. This enables unprecedented freedom to modify some of the fundamental properties of their cargo, such as solubility, diffusivity, biodistribution, release characteristics and immunogenicity. Since their inception, nanoparticles have been utilized in many areas of science and medicine, including drug delivery, imaging, and cell biology
1-4
. However, it has not been fully utilized outside of "nanotechnology laboratories" due to perceived technical barrier. In this article, we describe a simple method to synthesize a polymer based nanoparticle platform that has a wide range of potential applications. The first step is to synthesize a diblock co-polymer that has both a hydrophobic domain and hydrophilic domain. Using PLGA and PEG as model polymers, we described a conjugation reaction using EDC/NHS chemistry
5
(Fig 1). We also discuss the polymer purification process. The synthesized diblock co-polymer can self-assemble into nanoparticles in the nanoprecipitation process through hydrophobic-hydrophilic interactions. The described polymer nanoparticle is very versatile. The hydrophobic core of the nanoparticle can be utilized to carry poorly soluble drugs for drug delivery experiments6. Furthermore, the nanoparticles can overcome the problem of toxic solvents for poorly soluble molecular biology reagents, such as wortmannin, which requires a solvent like DMSO. However, DMSO can be toxic to cells and interfere with the experiment. These poorly soluble drugs and reagents can be effectively delivered using polymer nanoparticles with minimal toxicity. Polymer nanoparticles can also be loaded with fluorescent dye and utilized for intracellular trafficking studies. Lastly, these polymer nanoparticles can be conjugated to targeting ligands through surface PEG. Such targeted nanoparticles can be utilized to label specific epitopes on or in cells
7-10
.
Bioengineering, Issue 55, Nanoparticles, nanomedicine, drug delivery, polymeric micelles, polymeric nanoparticles, diblock co-polymers, nanoplatform, nanoparticle molecular imaging, polymer conjugation.
3398
Nanofabrication of Gate-defined GaAs/AlGaAs Lateral Quantum Dots
Institutions: Université de Sherbrooke.
A quantum computer is a computer composed of quantum bits (qubits) that takes advantage of quantum effects, such as superposition of states and entanglement, to solve certain problems exponentially faster than with the best known algorithms on a classical computer. Gate-defined lateral quantum dots on GaAs/AlGaAs are one of many avenues explored for the implementation of a qubit. When properly fabricated, such a device is able to trap a small number of electrons in a certain region of space. The spin states of these electrons can then be used to implement the logical 0 and 1 of the quantum bit. Given the nanometer scale of these quantum dots, cleanroom facilities offering specialized equipment- such as scanning electron microscopes and e-beam evaporators- are required for their fabrication. Great care must be taken throughout the fabrication process to maintain cleanliness of the sample surface and to avoid damaging the fragile gates of the structure. This paper presents the detailed fabrication protocol of gate-defined lateral quantum dots from the wafer to a working device. Characterization methods and representative results are also briefly discussed. Although this paper concentrates on double quantum dots, the fabrication process remains the same for single or triple dots or even arrays of quantum dots. Moreover, the protocol can be adapted to fabricate lateral quantum dots on other substrates, such as Si/SiGe.
Physics, Issue 81, Nanostructures, Quantum Dots, Nanotechnology, Electronics, microelectronics, solid state physics, Nanofabrication, Nanoelectronics, Spin qubit, Lateral quantum dot
50581
Fluorescence Imaging with One-nanometer Accuracy (FIONA)
Institutions: University of Illinois at Urbana-Champaign, University of Illinois at Urbana-Champaign, University of Illinois at Urbana-Champaign.

Fluorescence imaging with one-nanometer accuracy (FIONA) is a simple but useful technique for localizing single fluorophores with nanometer precision in the x-y plane. Here a summary of the FIONA technique is reported and examples of research that have been performed using FIONA are briefly described. First, how to set up the required equipment for FIONA experiments,
i.e.
, a total internal reflection fluorescence microscopy (TIRFM), with details on aligning the optics, is described. Then how to carry out a simple FIONA experiment on localizing immobilized Cy3-DNA single molecules using appropriate protocols, followed by the use of FIONA to measure the 36 nm step size of a single truncated myosin Va motor labeled with a quantum dot, is illustrated. Lastly, recent effort to extend the application of FIONA to thick samples is reported. It is shown that, using a water immersion objective and quantum dots soaked deep in sol-gels and rabbit eye corneas (>200 µm), localization precision of 2-3 nm can be achieved.
Molecular Biology, Issue 91, FIONA, fluorescence imaging, nanometer precision, myosin walking, thick tissue
51774
Mapping Molecular Diffusion in the Plasma Membrane by Multiple-Target Tracing (MTT)
Institutions: Parc scientifique de Luminy, Parc scientifique de Luminy, Aix-Marseille University, Technopôle de Château-Gombert, Aix-Marseille University, Aix-Marseille University.

Our goal is to obtain a comprehensive description of molecular processes occurring at cellular membranes in different biological functions. We aim at characterizing the complex organization and dynamics of the plasma membrane at single-molecule level, by developing analytic tools dedicated to
Single-Particle Tracking
(SPT) at high density:
Multiple-Target Tracing
(MTT)
1
. Single-molecule videomicroscopy, offering millisecond and nanometric resolution
1-11
, allows a detailed representation of membrane organization
12-14
by accurately mapping descriptors such as cell receptors localization, mobility, confinement or interactions. We revisited SPT, both experimentally and algorithmically. Experimental aspects included optimizing setup and cell labeling, with a particular emphasis on reaching the highest possible labeling density, in order to provide a dynamic snapshot of molecular dynamics as it occurs within the membrane. Algorithmic issues concerned each step used for rebuilding trajectories: peaks detection, estimation and reconnection, addressed by specific tools from image analysis
15,16
. Implementing deflation after detection allows rescuing peaks initially hidden by neighboring, stronger peaks. Of note, improving detection directly impacts reconnection, by reducing gaps within trajectories. Performances have been evaluated using Monte-Carlo simulations for various labeling density and noise values, which typically represent the two major limitations for parallel measurements at high spatiotemporal resolution. The nanometric accuracy
17
obtained for single molecules, using either successive on/off photoswitching or non-linear optics, can deliver exhaustive observations. This is the basis of nanoscopy methods
17
such as STORM
18
, PALM
19,20
, RESOLFT
21
or STED
22,23
, which may often require imaging fixed samples. The central task is the detection and estimation of diffraction-limited peaks emanating from single-molecules. Hence, providing adequate assumptions such as handling a constant positional accuracy instead of Brownian motion, MTT is straightforwardly suited for nanoscopic analyses. Furthermore, MTT can fundamentally be used at any scale: not only for molecules, but also for cells or animals, for instance. Hence, MTT is a powerful tracking algorithm that finds applications at molecular and cellular scales.
Physics, Issue 63, Single-particle tracking, single-molecule fluorescence microscopy, image analysis, tracking algorithm, high-resolution diffusion map, plasma membrane lateral organization
3599
Absolute Quantum Yield Measurement of Powder Samples
Institutions: Hitachi High Technologies America.

Measurement of fluorescence quantum yield has become an important tool in the search for new solutions in the development, evaluation, quality control and research of illumination, AV equipment, organic EL material, films, filters and fluorescent probes for bio-industry. Quantum yield is calculated as the ratio of the number of photons absorbed, to the number of photons emitted by a material. The higher the quantum yield, the better the efficiency of the fluorescent material. For the measurements featured in this video, we will use the Hitachi F-7000 fluorescence spectrophotometer equipped with the Quantum Yield measuring accessory and Report Generator program. All the information provided applies to this system. Measurement of quantum yield in powder samples is performed following these steps: Generation of instrument correction factors for the excitation and emission monochromators. This is an important requirement for the correct measurement of quantum yield. It has been performed in advance for the full measurement range of the instrument and will not be shown in this video due to time limitations. Measurement of integrating sphere correction factors. The purpose of this step is to take into consideration reflectivity characteristics of the integrating sphere used for the measurements. Reference and Sample measurement using direct excitation and indirect excitation. Quantum Yield calculation using Direct and Indirect excitation. Direct excitation is when the sample is facing directly the excitation beam, which would be the normal measurement setup. However, because we use an integrating sphere, a portion of the emitted photons resulting from the sample fluorescence are reflected by the integrating sphere and will re-excite the sample, so we need to take into consideration indirect excitation. This is accomplished by measuring the sample placed in the port facing the emission monochromator, calculating indirect quantum yield and correcting the direct quantum yield calculation. Corrected quantum yield calculation. Chromaticity coordinates calculation using Report Generator program. The Hitachi F-7000 Quantum Yield Measurement System offer advantages for this application, as follows: High sensitivity (S/N ratio 800 or better RMS). Signal is the Raman band of water measured under the following conditions: Ex wavelength 350 nm, band pass Ex and Em 5 nm, response 2 sec), noise is measured at the maximum of the Raman peak. High sensitivity allows measurement of samples even with low quantum yield. Using this system we have measured quantum yields as low as 0.1 for a sample of salicylic acid and as high as 0.8 for a sample of magnesium tungstate. Highly accurate measurement with a dynamic range of 6 orders of magnitude allows for measurements of both sharp scattering peaks with high intensity, as well as broad fluorescence peaks of low intensity under the same conditions. High measuring throughput and reduced light exposure to the sample, due to a high scanning speed of up to 60,000 nm/minute and automatic shutter function. Measurement of quantum yield over a wide wavelength range from 240 to 800 nm. Accurate quantum yield measurements are the result of collecting instrument spectral response and integrating sphere correction factors before measuring the sample. Large selection of calculated parameters provided by dedicated and easy to use software. During this video we will measure sodium salicylate in powder form which is known to have a quantum yield value of 0.4 to 0.5.
Molecular Biology, Issue 63, Powders, Quantum, Yield, F-7000, Quantum Yield, phosphor, chromaticity, Photo-luminescence
3066
Easy Measurement of Diffusion Coefficients of EGFP-tagged Plasma Membrane Proteins Using k-Space Image Correlation Spectroscopy
Institutions: Aarhus University, McGill University.
Lateral diffusion and compartmentalization of plasma membrane proteins are tightly regulated in cells and thus, studying these processes will reveal new insights to plasma membrane protein function and regulation. Recently, k-Space Image Correlation Spectroscopy (kICS)
1
 was developed to enable routine measurements of diffusion coefficients directly from images of fluorescently tagged plasma membrane proteins, that avoided systematic biases introduced by probe photophysics. Although the theoretical basis for the analysis is complex, the method can be implemented by nonexperts using a freely available code to measure diffusion coefficients of proteins. kICS calculates a time correlation function from a fluorescence microscopy image stack after Fourier transformation of each image to reciprocal (k-) space. Subsequently, circular averaging, natural logarithm transform and linear fits to the correlation function yields the diffusion coefficient. This paper provides a step-by-step guide to the image analysis and measurement of diffusion coefficients via kICS. First, a high frame rate image sequence of a fluorescently labeled plasma membrane protein is acquired using a fluorescence microscope. Then, a region of interest (ROI) avoiding intracellular organelles, moving vesicles or protruding membrane regions is selected. The ROI stack is imported into a freely available code and several defined parameters (see Method section) are set for kICS analysis. The program then generates a "slope of slopes" plot from the k-space time correlation functions, and the diffusion coefficient is calculated from the slope of the plot. Below is a step-by-step kICS procedure to measure the diffusion coefficient of a membrane protein using the renal water channel aquaporin-3 tagged with EGFP as a canonical example.
Biophysics, Issue 87, Amino Acids, Peptides and Proteins, Computer Programming and Software, Diffusion coefficient, Aquaporin-3, k-Space Image Correlation Spectroscopy, Analysis
51074
Generation of Alginate Microspheres for Biomedical Applications
Institutions: Illinois Institute of Technology, Illinois Institute of Technology, University of California at Irvine, Wake Forest University Health Sciences, Hines Veterans Administration Hospital.

Alginate-based materials have received considerable attention for biomedical applications because of their hydrophilic nature, biocompatibility, and physical architecture. Applications include cell encapsulation, drug delivery, stem cell culture, and tissue engineering scaffolds. In fact, clinical trials are currently being performed in which islets are encapsulated in PLO coated alginate microbeads as a treatment of type I diabetes. However, large numbers of islets are required for efficacy due to poor survival following transplantation. The ability to locally stimulate microvascular network formation around the encapsulated cells may increase their viability through improved transport of oxygen, glucose and other vital nutrients. Fibroblast growth factor-1 (FGF-1) is a naturally occurring growth factor that is able to stimulate blood vessel formation and improve oxygen levels in ischemic tissues. The efficacy of FGF-1 is enhanced when it is delivered in a sustained fashion rather than a single large-bolus administration. The local long-term release of growth factors from islet encapsulation systems could stimulate the growth of blood vessels directly towards the transplanted cells, potentially improving functional graft outcomes. In this article, we outline procedures for the preparation of alginate microspheres for use in biomedical applications. In addition, we describe a method we developed for generating multilayered alginate microbeads. Cells can be encapsulated in the inner alginate core, and angiogenic proteins in the outer alginate layer. The release of proteins from this outer layer would stimulate the formation of local microvascular networks directly towards the transplanted islets.
Medicine, Issue 66, Biomedical Engineering, Bioengineering, Chemical Engineering, Molecular Biology, Alginate, angiogenesis, FGF-1, encapsulation
3388
Combining QD-FRET and Microfluidics to Monitor DNA Nanocomplex Self-Assembly in Real-Time
Institutions: Johns Hopkins University, Duke University, Johns Hopkins University.

Advances in genomics continue to fuel the development of therapeutics that can target pathogenesis at the cellular and molecular level. Typically functional inside the cell, nucleic acid-based therapeutics require an efficient intracellular delivery system. One widely adopted approach is to complex DNA with a gene carrier to form nanocomplexes via electrostatic self-assembly, facilitating cellular uptake of DNA while protecting it against degradation. The challenge lies in the rational design of efficient gene carriers, since premature dissociation or overly stable binding would be detrimental to the cellular uptake and therapeutic efficacy. Nanocomplexes synthesized by bulk mixing showed a diverse range of intracellular unpacking and trafficking behavior, which was attributed to the heterogeneity in size and stability of nanocomplexes. Such heterogeneity hinders the accurate assessment of the self-assembly kinetics and adds to the difficulty in correlating their physical properties to transfection efficiencies or bioactivities. We present a novel convergence of nanophotonics (i.e. QD-FRET) and microfluidics to characterize the real-time kinetics of the nanocomplex self-assembly under laminar flow. QD-FRET provides a highly sensitive indication of the onset of molecular interactions and quantitative measure throughout the synthesis process, whereas microfluidics offers a well-controlled microenvironment to spatially analyze the process with high temporal resolution (~milliseconds). For the model system of polymeric nanocomplexes, two distinct stages in the self-assembly process were captured by this analytic platform. The kinetic aspect of the self-assembly process obtained at the microscale would be particularly valuable for microreactor-based reactions which are relevant to many micro- and nano-scale applications. Further, nanocomplexes may be customized through proper design of microfludic devices, and the resulting QD-FRET polymeric DNA nanocomplexes could be readily applied for establishing structure-function relationships.
Biomedical Engineering, Issue 30, microfluidics, gene delivery, quantum dots, fluorescence resonance energy transfer, self-assembly, nanocomplexes
1432
Therapeutic Gene Delivery and Transfection in Human Pancreatic Cancer Cells using Epidermal Growth Factor Receptor-targeted Gelatin Nanoparticles
Institutions: Northeastern University.

More than 32,000 patients are diagnosed with pancreatic cancer in the United States per year and the disease is associated with very high mortality
1
. Urgent need exists to develop novel clinically-translatable therapeutic strategies that can improve on the dismal survival statistics of pancreatic cancer patients. Although gene therapy in cancer has shown a tremendous promise, the major challenge is in the development of safe and effective delivery system, which can lead to sustained transgene expression. Gelatin is one of the most versatile natural biopolymer, widely used in food and pharmaceutical products. Previous studies from our laboratory have shown that type B gelatin could physical encapsulate DNA, which preserved the supercoiled structure of the plasmid and improved transfection efficiency upon intracellular delivery. By thiolation of gelatin, the sulfhydryl groups could be introduced into the polymer and would form disulfide bond within nanoparticles, which stabilizes the whole complex and once disulfide bond is broken due to the presence of glutathione in cytosol, payload would be released
2-5
. Poly(ethylene glycol) (PEG)-modified GENS, when administered into the systemic circulation, provides long-circulation times and preferentially targets to the tumor mass due to the hyper-permeability of the neovasculature by the
enhanced permeability and retention
effect
6
. Studies have shown over-expression of the epidermal growth factor receptor (EGFR) on Panc-1 human pancreatic adenocarcinoma cells
7
. In order to actively target pancreatic cancer cell line, EGFR specific peptide was conjugated on the particle surface through a PEG spacer.
8
Most anti-tumor gene therapies are focused on administration of the tumor suppressor genes, such as wild-type p53 (wt-p53), to restore the pro-apoptotic function in the cells
9
. The p53 mechanism functions as a critical signaling pathway in cell growth, which regulates apoptosis, cell cycle arrest, metabolism and other processes
10
. In pancreatic cancer, most cells have mutations in p53 protein, causing the loss of apoptotic activity. With the introduction of wt-p53, the apoptosis could be repaired and further triggers cell death in cancer cells
11
. Based on the above rationale, we have designed EGFR targeting peptide-modified thiolated gelatin nanoparticles for wt-p53 gene delivery and evaluated delivery efficiency and transfection in Panc-1 cells.
Bioengineering, Issue 59, Gelatin Nanoparticle, Gene Therapy, Targeted Delivery, Pancreatic Cancer, Epidermal Growth Factor Receptor, EGFR
3612
Live Cell Imaging of Primary Rat Neonatal Cardiomyocytes Following Adenoviral and Lentiviral Transduction Using Confocal Spinning Disk Microscopy
Institutions: Max-Planck-Institute for Molecular Biomedicine and Institute of Cell Biology, Yale Cardiovascular Research Center and Section of Cardiovascular Medicine.

Primary rat neonatal cardiomyocytes are useful in basic
in vitro
cardiovascular research because they can be easily isolated in large numbers in a single procedure. Due to advances in microscope technology it is relatively easy to capture live cell images for the purpose of investigating cellular events in real time with minimal concern regarding phototoxicity to the cells. This protocol describes how to take live cell timelapse images of primary rat neonatal cardiomyocytes using a confocal spinning disk microscope following lentiviral and adenoviral transduction to modulate properties of the cell. The application of two different types of viruses makes it easier to achieve an appropriate transduction rate and expression levels for two different genes. Well focused live cell images can be obtained using the microscope's autofocus system, which maintains stable focus for long time periods. Applying this method, the functions of exogenously engineered proteins expressed in cultured primary cells can be analyzed. Additionally, this system can be used to examine the functions of genes through the use of siRNAs as well as of chemical modulators.
Cellular Biology, Issue 88, live cell imaging, cardiomyocyte, primary cell culture, adenovirus, lentivirus, confocal spinning disk microscopy
51666
Analysis of Nephron Composition and Function in the Adult Zebrafish Kidney
Institutions: University of Notre Dame.

The zebrafish model has emerged as a relevant system to study kidney development, regeneration and disease. Both the embryonic and adult zebrafish kidneys are composed of functional units known as nephrons, which are highly conserved with other vertebrates, including mammals. Research in zebrafish has recently demonstrated that two distinctive phenomena transpire after adult nephrons incur damage: first, there is robust regeneration within existing nephrons that replaces the destroyed tubule epithelial cells; second, entirely new nephrons are produced from renal progenitors in a process known as neonephrogenesis. In contrast, humans and other mammals seem to have only a limited ability for nephron epithelial regeneration. To date, the mechanisms responsible for these kidney regeneration phenomena remain poorly understood. Since adult zebrafish kidneys undergo both nephron epithelial regeneration and neonephrogenesis, they provide an outstanding experimental paradigm to study these events. Further, there is a wide range of genetic and pharmacological tools available in the zebrafish model that can be used to delineate the cellular and molecular mechanisms that regulate renal regeneration. One essential aspect of such research is the evaluation of nephron structure and function. This protocol describes a set of labeling techniques that can be used to gauge renal composition and test nephron functionality in the adult zebrafish kidney. Thus, these methods are widely applicable to the future phenotypic characterization of adult zebrafish kidney injury paradigms, which include but are not limited to, nephrotoxicant exposure regimes or genetic methods of targeted cell death such as the nitroreductase mediated cell ablation technique. Further, these methods could be used to study genetic perturbations in adult kidney formation and could also be applied to assess renal status during chronic disease modeling.
Cellular Biology, Issue 90, zebrafish; kidney; nephron; nephrology; renal; regeneration; proximal tubule; distal tubule; segment; mesonephros; physiology; acute kidney injury (AKI)
51644
Evaluation of Polymeric Gene Delivery Nanoparticles by Nanoparticle Tracking Analysis and High-throughput Flow Cytometry
Institutions: Johns Hopkins University School of Medicine, Johns Hopkins University School of Medicine, Johns Hopkins University School of Medicine, Johns Hopkins University School of Medicine.

Non-viral gene delivery using polymeric nanoparticles has emerged as an attractive approach for gene therapy to treat genetic diseases
1
and as a technology for regenerative medicine
2
. Unlike viruses, which have significant safety issues, polymeric nanoparticles can be designed to be non-toxic, non-immunogenic, non-mutagenic, easier to synthesize, chemically versatile, capable of carrying larger nucleic acid cargo and biodegradable and/or environmentally responsive. Cationic polymers self-assemble with negatively charged DNA via electrostatic interaction to form complexes on the order of 100 nm that are commonly termed polymeric nanoparticles. Examples of biomaterials used to form nanoscale polycationic gene delivery nanoparticles include polylysine, polyphosphoesters, poly(amidoamines)s and polyethylenimine (PEI), which is a non-degradable off-the-shelf cationic polymer commonly used for nucleic acid delivery
1,3
. Poly(beta-amino ester)s (PBAEs) are a newer class of cationic polymers
4
that are hydrolytically degradable
5,6
and have been shown to be effective at gene delivery to hard-to-transfect cell types such as human retinal endothelial cells (HRECs)
7
, mouse mammary epithelial cells
8
, human brain cancer cells
9
and macrovascular (human umbilical vein, HUVECs) endothelial cells
10
. A new protocol to characterize polymeric nanoparticles utilizing nanoparticle tracking analysis (NTA) is described. In this approach, both the particle size distribution and the distribution of the number of plasmids per particle are obtained
11
. In addition, a high-throughput 96-well plate transfection assay for rapid screening of the transfection efficacy of polymeric nanoparticles is presented. In this protocol, poly(beta-amino ester)s (PBAEs) are used as model polymers and human retinal endothelial cells (HRECs) are used as model human cells. This protocol can be easily adapted to evaluate any polymeric nanoparticle and any cell type of interest in a multi-well plate format.
Biomedical Engineering, Issue 73, Bioengineering, Tissue Engineering, Cellular Biology, Medicine, Genetics, Biocompatible Materials, Biopolymers, Drug Delivery Systems, Nanotechnology, bioengineering (general), Therapeutics, Nanoparticle, poly(beta-amino ester), high-throughput, transfection, nanoparticle tracking analysis, biomaterial, gene delivery, flow cytometry
50176
A Step Beyond BRET: Fluorescence by Unbound Excitation from Luminescence (FUEL)
Institutions: Institut Pasteur, Stanford School of Medicine, Institut d'Imagerie Biomédicale, Vanderbilt School of Medicine, The Walter & Eliza Hall Institute of Medical Research, Institut Pasteur, Institut Pasteur.

Fluorescence by Unbound Excitation from Luminescence (FUEL) is a radiative excitation-emission process that produces increased signal and contrast enhancement
in vitro
and
in vivo
. FUEL shares many of the same underlying principles as Bioluminescence Resonance Energy Transfer (BRET), yet greatly differs in the acceptable working distances between the luminescent source and the fluorescent entity. While BRET is effectively limited to a maximum of 2 times the Förster radius, commonly less than 14 nm, FUEL can occur at distances up to µm or even cm in the absence of an optical absorber. Here we expand upon the foundation and applicability of FUEL by reviewing the relevant principles behind the phenomenon and demonstrate its compatibility with a wide variety of fluorophores and fluorescent nanoparticles. Further, the utility of antibody-targeted FUEL is explored. The examples shown here provide evidence that FUEL can be utilized for applications where BRET is not possible, filling the spatial void that exists between BRET and traditional whole animal imaging.
Bioengineering, Issue 87, Biochemical Phenomena, Biochemical Processes, Energy Transfer, Fluorescence Resonance Energy Transfer (FRET), FUEL, BRET, CRET, Förster, bioluminescence, In vivo
51549
Synthesis and Operation of Fluorescent-core Microcavities for Refractometric Sensing
Institutions: University of Alberta.

This paper discusses fluorescent core microcavity-based sensors that can operate in a microfluidic analysis setup. These structures are based on the formation of a fluorescent quantum-dot (QD) coating on the channel surface of a conventional microcapillary. Silicon QDs are especially attractive for this application, owing in part to their negligible toxicity compared to the II-VI and II-VI compound QDs, which are legislatively controlled substances in many countries. While the ensemble emission spectrum is broad and featureless, an Si-QD film on the channel wall of a capillary features a set of sharp, narrow peaks in the fluorescence spectrum, corresponding to the electromagnetic resonances for light trapped within the film. The peak wavelength of these resonances is sensitive to the external medium, thus permitting the device to function as a refractometric sensor in which the QDs never come into physical contact with the analyte. The experimental methods associated with the fabrication of the fluorescent-core microcapillaries are discussed in detail, as well as the analysis methods. Finally, a comparison is made between these structures and the more widely investigated liquid-core optical ring resonators, in terms of microfluidic sensing capabilities.
Physics, Issue 73, Microfluidics, Optics, Quantum Dots, Optics and Photonics, fluid flow sensors (general), luminescence (optics), optical waveguides, photonics, condensed matter physics, microcavities, whispering gallery modes, refractometric sensor, fluorescence, microcapillary, quantum dots
50256
The Generation of Higher-order Laguerre-Gauss Optical Beams for High-precision Interferometry
Institutions: University of Birmingham.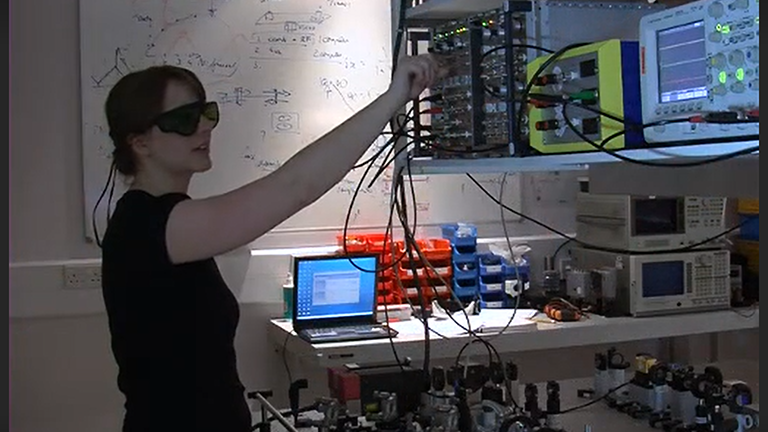 Thermal noise in high-reflectivity mirrors is a major impediment for several types of high-precision interferometric experiments that aim to reach the standard quantum limit or to cool mechanical systems to their quantum ground state. This is for example the case of future gravitational wave observatories, whose sensitivity to gravitational wave signals is expected to be limited in the most sensitive frequency band, by atomic vibration of their mirror masses. One promising approach being pursued to overcome this limitation is to employ higher-order Laguerre-Gauss (LG) optical beams in place of the conventionally used fundamental mode. Owing to their more homogeneous light intensity distribution these beams average more effectively over the thermally driven fluctuations of the mirror surface, which in turn reduces the uncertainty in the mirror position sensed by the laser light. We demonstrate a promising method to generate higher-order LG beams by shaping a fundamental Gaussian beam with the help of diffractive optical elements. We show that with conventional sensing and control techniques that are known for stabilizing fundamental laser beams, higher-order LG modes can be purified and stabilized just as well at a comparably high level. A set of diagnostic tools allows us to control and tailor the properties of generated LG beams. This enabled us to produce an LG beam with the highest purity reported to date. The demonstrated compatibility of higher-order LG modes with standard interferometry techniques and with the use of standard spherical optics makes them an ideal candidate for application in a future generation of high-precision interferometry.
Physics, Issue 78, Optics, Astronomy, Astrophysics, Gravitational waves, Laser interferometry, Metrology, Thermal noise, Laguerre-Gauss modes, interferometry
50564