Video-rate Scanning Confocal Microscopy and Microendoscopy
Published: 10-20-2011
ABSTRACT
Confocal microscopy has become an invaluable tool in biology and the biomedical sciences, enabling rapid, high-sensitivity, and high-resolution optical sectioning of complex systems. Confocal microscopy is routinely used, for example, to study specific cellular targets1, monitor dynamics in living cells2-4, and visualize the three dimensional evolution of entire organisms5,6. Extensions of confocal imaging systems, such as confocal microendoscopes, allow for high-resolution imaging in vivo7 and are currently being applied to disease imaging and diagnosis in clinical settings8,9. Confocal microscopy provides three-dimensional resolution by creating so-called "optical sections" using straightforward geometrical optics. In a standard wide-field microscope, fluorescence generated from a sample is collected by an objective lens and relayed directly to a detector. While acceptable for imaging thin samples, thick samples become blurred by fluorescence generated above and below the objective focal plane. In contrast, confocal microscopy enables virtual, optical sectioning of samples, rejecting out-of-focus light to build high resolution three-dimensional representations of samples. Confocal microscopes achieve this feat by using a confocal aperture in the detection beam path. The fluorescence collected from a sample by the objective is relayed back through the scanning mirrors and through the primary dichroic mirror, a mirror carefully selected to reflect shorter wavelengths such as the laser excitation beam while passing the longer, Stokes-shifted fluorescence emission. This long-wavelength fluorescence signal is then passed to a pair of lenses on either side of a pinhole that is positioned at a plane exactly conjugate with the focal plane of the objective lens. Photons collected from the focal volume of the object are collimated by the objective lens and are focused by the confocal lenses through the pinhole. Fluorescence generated above or below the focal plane will therefore not be collimated properly, and will not pass through the confocal pinhole1, creating an optical section in which only light from the microscope focus is visible. (Fig 1). Thus the pinhole effectively acts as a virtual aperture in the focal plane, confining the detected emission to only one limited spatial location. Modern commercial confocal microscopes offer users fully automated operation, making formerly complex imaging procedures relatively straightforward and accessible. Despite the flexibility and power of these systems, commercial confocal microscopes are not well suited for all confocal imaging tasks, such as many in vivo imaging applications. Without the ability to create customized imaging systems to meet their needs, important experiments can remain out of reach to many scientists. In this article, we provide a step-by-step method for the complete construction of a custom, video-rate confocal imaging system from basic components. The upright microscope will be constructed using a resonant galvanometric mirror to provide the fast scanning axis, while a standard speed resonant galvanometric mirror will scan the slow axis. To create a precise scanned beam in the objective lens focus, these mirrors will be positioned at the so-called telecentric planes using four relay lenses. Confocal detection will be accomplished using a standard, off-the-shelf photomultiplier tube (PMT), and the images will be captured and displayed using a Matrox framegrabber card and the included software.
20 Related JoVE Articles!
High-resolution Fiber-optic Microendoscopy for in situ Cellular Imaging
Institutions: Rice University, The Univeristy of Texas M. D. Anderson Cancer Center.

Many biological and clinical studies require the longitudinal study and analysis of morphology and function with cellular level resolution. Traditionally, multiple experiments are run in parallel, with individual samples removed from the study at sequential time points for evaluation by light microscopy. Several intravital techniques have been developed, with confocal, multiphoton, and second harmonic microscopy all demonstrating their ability to be used for imaging
in situ
1
. With these systems, however, the required infrastructure is complex and expensive, involving scanning laser systems and complex light sources. Here we present a protocol for the design and assembly of a high-resolution microendoscope which can be built in a day using off-the-shelf components for under US$5,000. The platform offers flexibility in terms of image resolution, field-of-view, and operating wavelength, and we describe how these parameters can be easily modified to meet the specific needs of the end user. We and others have explored the use of the high-resolution microendoscope (HRME) in
in vitro
cell culture
2-5
, in excised
6
and living animal tissues
2,5
, and in human tissues
in vivo
2,7
. Users have reported the use of several different fluorescent contrast agents, including proflavine
2-4
, benzoporphyrin-derivative monoacid ring A (BPD-MA)
5
, and fluoroscein
6,7
, all of which have received full, or investigational approval from the FDA for use in human subjects. High-resolution microendoscopy, in the form described here, may appeal to a wide range of researchers working in the basic and clinical sciences. The technique offers an effective and economical approach which complements traditional benchtop microscopy, by enabling the user to perform high-resolution, longitudinal imaging
in situ
.
Bioengineering, Issue 47, Optical imaging, intravital microscopy, in vivo microscopy, endoscopic microscopy, fiber bundle
2306
Three-dimensional Optical-resolution Photoacoustic Microscopy
Institutions: Washington University in St. Louis.

Optical microscopy, providing valuable insights at the cellular and organelle levels, has been widely recognized as an enabling biomedical technology. As the mainstays of
in vivo
three-dimensional (3-D) optical microscopy, single-/multi-photon fluorescence microscopy and optical coherence tomography (OCT) have demonstrated their extraordinary sensitivities to fluorescence and optical scattering contrasts, respectively. However, the optical absorption contrast of biological tissues, which encodes essential physiological/pathological information, has not yet been assessable. The emergence of biomedical photoacoustics has led to a new branch of optical microscopy optical-resolution photoacoustic microscopy (OR-PAM)
1
, where the optical irradiation is focused to the diffraction limit to achieve cellular
1
or even subcellular
2
level lateral resolution. As a valuable complement to existing optical microscopy technologies, OR-PAM brings in at least two novelties. First and most importantly, OR-PAM detects optical absorption contrasts with extraordinary sensitivity (i.e., 100%). Combining OR-PAM with fluorescence microscopy
3
or with optical-scattering-based OCT
4
(or with both) provides comprehensive optical properties of biological tissues. Second, OR-PAM encodes optical absorption into acoustic waves, in contrast to the pure optical processes in fluorescence microscopy and OCT, and provides background-free detection. The acoustic detection in OR-PAM mitigates the impacts of optical scattering on signal degradation and naturally eliminates possible interferences (i.e., crosstalks) between excitation and detection, which is a common problem in fluorescence microscopy due to the overlap between the excitation and fluorescence spectra. Unique for optical absorption imaging, OR-PAM has demonstrated broad biomedical applications since its invention, including, but not limited to, neurology
5, 6
, ophthalmology
7, 8
, vascular biology
9
, and dermatology
10
. In this video, we teach the system configuration and alignment of OR-PAM as well as the experimental procedures for
in vivo
functional microvascular imaging.
Bioengineering, Issue 51, Optical-resolution photoacoustic microscopy, in vivo functional imaging, label-free imaging, noninvasive imaging, hemoglobin oxygen saturation, total hemoglobin concentration
2729
Thinned-skull Cortical Window Technique for In Vivo Optical Coherence Tomography Imaging
Institutions: University of California, Riverside , University of California, Riverside .

Optical coherence tomography (OCT) is a biomedical imaging technique with high spatial-temporal resolution. With its minimally invasive approach OCT has been used extensively in ophthalmology, dermatology, and gastroenterology
1-3
. Using a thinned-skull cortical window (TSCW), we employ spectral-domain OCT (SD-OCT) modality as a tool to image the cortex
in vivo
. Commonly, an opened-skull has been used for neuro-imaging as it provides more versatility, however, a TSCW approach is less invasive and is an effective mean for long term imaging in neuropathology studies. Here, we present a method of creating a TSCW in a mouse model for
in vivo
OCT imaging of the cerebral cortex.
Neuroscience, Issue 69, Bioengineering, Medicine, Biomedical Engineering, Anatomy, Physiology, Thinned-skull cortical window (TSCW), Optical coherence tomography (OCT), Spectral-domain OCT (SD-OCT), cerebral cortex, brain, imaging, mouse model
50053
Photoconversion of Purified Fluorescent Proteins and Dual-probe Optical Highlighting in Live Cells
Institutions: Vanderbilt University.

Photoconvertible fluorescent proteins (pc-FPs) are a class of fluorescent proteins with "optical highlighter" capability, meaning that the color of fluorescence can be changed by exposure to light of a specific wavelength. Optical highlighting allows noninvasive marking of a subpopulation of fluorescent molecules, and is therefore ideal for tracking single cells or organelles. Critical parameters for efficient photoconversion are the intensity and the exposure time of the photoconversion light. If the intensity is too low, photoconversion will be slow or not occur at all. On the other hand, too much intensity or too long exposure can photobleach the protein and thereby reduce the efficiency of photoconversion. This protocol describes a general approach how to set up a confocal laser scanning microscope for pc-FP photoconversion applications. First, we describe a procedure for preparing purified protein droplet samples. This sample format is very convenient for studying the photophysical behavior of fluorescent proteins under the microscope. Second, we will use the protein droplet sample to show how to configure the microscope for photoconversion. And finally, we will show how to perform optical highlighting in live cells, including dual-probe optical highlighting with mOrange2 and Dronpa.
Cellular Biology, Issue 40, mOrange, Dronpa, photoconversion, photoactivation, octanol, droplet, confocal, imaging
1995
Lensfree On-chip Tomographic Microscopy Employing Multi-angle Illumination and Pixel Super-resolution
Institutions: University of California, Los Angeles , University of California, Los Angeles , University of California, Los Angeles .

Tomographic imaging has been a widely used tool in medicine as it can provide three-dimensional (3D) structural information regarding objects of different size scales. In micrometer and millimeter scales, optical microscopy modalities find increasing use owing to the non-ionizing nature of visible light, and the availability of a rich set of illumination sources (such as lasers and light-emitting-diodes) and detection elements (such as large format CCD and CMOS detector-arrays). Among the recently developed optical tomographic microscopy modalities, one can include optical coherence tomography, optical diffraction tomography, optical projection tomography and light-sheet microscopy.
1-6
These platforms provide sectional imaging of cells, microorganisms and model animals such as
C. elegans
, zebrafish and mouse embryos. Existing 3D optical imagers generally have relatively bulky and complex architectures, limiting the availability of these equipments to advanced laboratories, and impeding their integration with lab-on-a-chip platforms and microfluidic chips. To provide an alternative tomographic microscope, we recently developed lensfree optical tomography (LOT) as a high-throughput, compact and cost-effective optical tomography modality.
7
LOT discards the use of lenses and bulky optical components, and instead relies on multi-angle illumination and digital computation to achieve depth-resolved imaging of micro-objects over a large imaging volume. LOT can image biological specimen at a spatial resolution of <1 μm x <1 μm x <3 μm in the x, y and z dimensions, respectively, over a large imaging volume of 15-100 mm
3
, and can be particularly useful for lab-on-a-chip platforms.
Bioengineering, Issue 66, Electrical Engineering, Mechanical Engineering, lensfree imaging, lensless imaging, on-chip microscopy, lensfree tomography, 3D microscopy, pixel super-resolution, C. elegans, optical sectioning, lab-on-a-chip
4161
Patterned Photostimulation with Digital Micromirror Devices to Investigate Dendritic Integration Across Branch Points
Institutions: University of Maryland School of Medicine.

Light is a versatile and precise means to control neuronal excitability. The recent introduction of light sensitive effectors such as channel-rhodopsin and caged neurotransmitters have led to interests in developing better means to control patterns of light in space and time that are useful for experimental neuroscience. One conventional strategy, employed in confocal and 2-photon microscopy, is to focus light to a diffraction limited spot and then scan that single spot sequentially over the region of interest. This approach becomes problematic if large areas have to be stimulated within a brief time window, a problem more applicable to photostimulation than for imaging. An alternate strategy is to project the complete spatial pattern on the target with the aid of a digital micromirror device (DMD). The DMD approach is appealing because the hardware components are relatively inexpensive and is supported by commercial interests. Because such a system is not available for upright microscopes, we will discuss the critical issues in the construction and operations of such a DMD system. Even though we will be primarily describing the construction of the system for UV photolysis, the modifications for building the much simpler visible light system for optogenetic experiments will also be provided. The UV photolysis system was used to carryout experiments to study a fundamental question in neuroscience, how are spatially distributed inputs integrated across distal dendritic branch points. The results suggest that integration can be non-linear across branch points and the supralinearity is largely mediated by NMDA receptors.
Bioengineering, Issue 49, DMD, photolysis, dendrite, photostimulation, DLP, optogenetics
2003
Visualization of Endosome Dynamics in Living Nerve Terminals with Four-dimensional Fluorescence Imaging
Institutions: Washington University School of Medicine.

Four-dimensional (4D) light imaging has been used to study behavior of small structures within motor nerve terminals of the thin transversus abdominis muscle of the garter snake. Raw data comprises time-lapse sequences of 3D z-stacks. Each stack contains 4-20 images acquired with epifluorescence optics at focal planes separated by 400-1,500 nm. Steps in the acquisition of image stacks, such as adjustment of focus, switching of excitation wavelengths, and operation of the digital camera, are automated as much as possible to maximize image rate and minimize tissue damage from light exposure. After acquisition, a set of image stacks is deconvolved to improve spatial resolution, converted to the desired 3D format, and used to create a 4D "movie" that is suitable for variety of computer-based analyses, depending upon the experimental data sought. One application is study of the dynamic behavior of two classes of endosomes found in nerve terminals-macroendosomes (MEs) and acidic endosomes (AEs)-whose sizes (200-800 nm for both types) are at or near the diffraction limit. Access to 3D information at each time point provides several advantages over conventional time-lapse imaging. In particular, size and velocity of movement of structures can be quantified over time without loss of sharp focus. Examples of data from 4D imaging reveal that MEs approach the plasma membrane and disappear, suggesting that they are exocytosed rather than simply moving vertically away from a single plane of focus. Also revealed is putative fusion of MEs and AEs, by visualization of overlap between the two dye-containing structures as viewed in each three orthogonal projections.
Neuroscience, Issue 86, Microscopy, Fluorescence, Endocytosis, nerve, endosome, lysosome, deconvolution, 3D, 4D, epifluorescence
51477
Examination of Synaptic Vesicle Recycling Using FM Dyes During Evoked, Spontaneous, and Miniature Synaptic Activities
Institutions: University of Iowa Carver College of Medicine, University of Bath.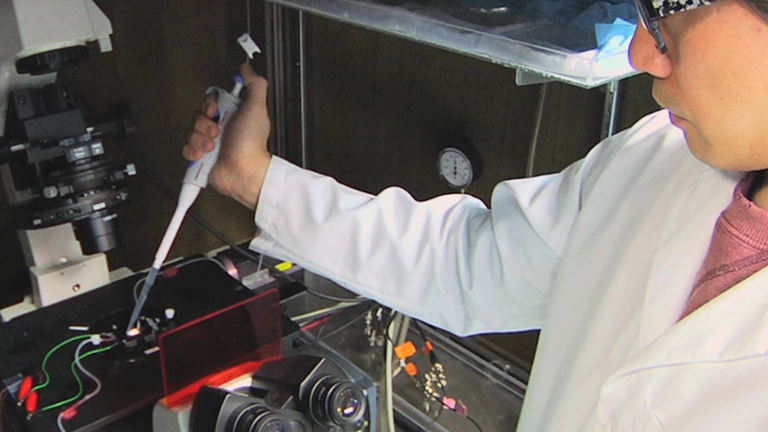 Synaptic vesicles in functional nerve terminals undergo exocytosis and endocytosis. This synaptic vesicle recycling can be effectively analyzed using styryl FM dyes, which reveal membrane turnover. Conventional protocols for the use of FM dyes were designed for analyzing neurons following stimulated (evoked) synaptic activity. Recently, protocols have become available for analyzing the FM signals that accompany weaker synaptic activities, such as spontaneous or miniature synaptic events. Analysis of these small changes in FM signals requires that the imaging system is sufficiently sensitive to detect small changes in intensity, yet that artifactual changes of large amplitude are suppressed. Here we describe a protocol that can be applied to evoked, spontaneous, and miniature synaptic activities, and use cultured hippocampal neurons as an example. This protocol also incorporates a means of assessing the rate of photobleaching of FM dyes, as this is a significant source of artifacts when imaging small changes in intensity.
Neuroscience, Issue 85, Presynaptic Terminals, Synaptic Vesicles, Microscopy, Biological Assay, Nervous System, Endocytosis, exocytosis, fluorescence imaging, FM dye, neuron, photobleaching
50557
Probe-based Confocal Laser Endomicroscopy of the Urinary Tract: The Technique
Institutions: Stanford University School of Medicine , Veterans Affairs Palo Alto Health Care System.
Probe-based confocal laser endomicroscopy (CLE) is an emerging optical imaging technology that enables real-time
in vivo
microscopy of mucosal surfaces during standard endoscopy. With applications currently in the respiratory
1
and gastrointestinal tracts,
2-6
CLE has also been explored in the urinary tract for bladder cancer diagnosis.
7-10
Cellular morphology and tissue microarchitecture can be resolved with micron scale resolution in real time, in addition to dynamic imaging of the normal and pathological vasculature.
7
The probe-based CLE system (Cellvizio, Mauna Kea Technologies, France) consists of a reusable fiberoptic imaging probe coupled to a 488 nm laser scanning unit. The imaging probe is inserted in the working channels of standard flexible and rigid endoscopes. An endoscope-based CLE system (Optiscan, Australia), in which the confocal endomicroscopy functionality is integrated onto the endoscope, is also used in the gastrointestinal tract. Given the larger scope diameter, however, application in the urinary tract is currently limited to
ex vivo
use.
11
Confocal image acquisition is done through direct contact of the imaging probe with the target tissue and recorded as video sequences. As in the gastrointestinal tract, endomicroscopy of the urinary tract requires an exogenenous contrast agent—most commonly fluorescein, which can be administered intravenously or intravesically. Intravesical administration is a well-established method to introduce pharmacological agents locally with minimal systemic toxicity that is unique to the urinary tract. Fluorescein rapidly stains the extracellular matrix and has an established safety profile.
12
Imaging probes of various diameters enable compatibility with different caliber endoscopes. To date, 1.4 and 2.6 mm probes have been evaluated with flexible and rigid cystoscopy.
10
Recent availability of a < 1 mm imaging probe
13
opens up the possibility of CLE in the upper urinary tract during ureteroscopy. Fluorescence cystoscopy (
i.e.
photodynamic diagnosis) and narrow band imaging are additional endoscope-based optical imaging modalities
14
that can be combined with CLE to achieve multimodal imaging of the urinary tract. In the future, CLE may be coupled with molecular contrast agents such as fluorescently labeled peptides
15
and antibodies for endoscopic imaging of disease processes with molecular specificity.
Medicine, Issue 71, Anatomy, Physiology, Cancer Biology, Surgery, Basic Protocols, Confocal laser endomicroscopy, microscopy, endoscopy, cystoscopy, human bladder, bladder cancer, urology, minimally invasive, cellular imaging
4409
Constructing a Low-budget Laser Axotomy System to Study Axon Regeneration in C. elegans
Institutions: University of Utah.

Laser axotomy followed by time-lapse microscopy is a sensitive assay for axon regeneration phenotypes in
C. elegans
1
. The main difficulty of this assay is the perceived cost ($25-100K) and technical expertise required for implementing a laser ablation system
2,3
. However, solid-state pulse lasers of modest costs (<$10K) can provide robust performance for laser ablation in transparent preparations where target axons are "close" to the tissue surface. Construction and alignment of a system can be accomplished in a day. The optical path provided by light from the focused condenser to the ablation laser provides a convenient alignment guide. An intermediate module with all optics removed can be dedicated to the ablation laser and assures that no optical elements need be moved during a laser ablation session. A dichroic in the intermediate module allows simultaneous imaging and laser ablation. Centering the laser beam to the outgoing beam from the focused microscope condenser lens guides the initial alignment of the system. A variety of lenses are used to condition and expand the laser beam to fill the back aperture of the chosen objective lens. Final alignment and testing is performed with a front surface mirrored glass slide target. Laser power is adjusted to give a minimum size ablation spot (<1um). The ablation spot is centered with fine adjustments of the last kinematically mounted mirror to cross hairs fixed in the imaging window. Laser power for axotomy will be approximately 10X higher than needed for the minimum ablation spot on the target slide (this may vary with the target you use). Worms can be immobilized for laser axotomy and time-lapse imaging by mounting on agarose pads (or in microfluidic chambers
4
). Agarose pads are easily made with 10% agarose in balanced saline melted in a microwave. A drop of molten agarose is placed on a glass slide and flattened with another glass slide into a pad approximately 200 um thick (a single layer of time tape on adjacent slides is used as a spacer). A "Sharpie" cap is used to cut out a uniformed diameter circular pad of 13mm. Anesthetic (1ul Muscimol 20mM) and Microspheres (Chris Fang-Yen personal communication) (1ul 2.65% Polystyrene 0.1 um in water) are added to the center of the pad followed by 3-5 worms oriented so they are lying on their left sides. A glass coverslip is applied and then Vaseline is used to seal the coverslip and prevent evaporation of the sample.
Neuroscience, Issue 57, laser axotomy, regeneration, growth cone, time lapse, C. elegans, neuroscience, Nd:Yag laser
3331
Simultaneous Multicolor Imaging of Biological Structures with Fluorescence Photoactivation Localization Microscopy
Institutions: University of Maine.

Localization-based super resolution microscopy can be applied to obtain a spatial map (image) of the distribution of individual fluorescently labeled single molecules within a sample with a spatial resolution of tens of nanometers. Using either photoactivatable (PAFP) or photoswitchable (PSFP) fluorescent proteins fused to proteins of interest, or organic dyes conjugated to antibodies or other molecules of interest, fluorescence photoactivation localization microscopy (FPALM) can simultaneously image multiple species of molecules within single cells. By using the following approach, populations of large numbers (thousands to hundreds of thousands) of individual molecules are imaged in single cells and localized with a precision of ~10-30 nm. Data obtained can be applied to understanding the nanoscale spatial distributions of multiple protein types within a cell. One primary advantage of this technique is the dramatic increase in spatial resolution: while diffraction limits resolution to ~200-250 nm in conventional light microscopy, FPALM can image length scales more than an order of magnitude smaller. As many biological hypotheses concern the spatial relationships among different biomolecules, the improved resolution of FPALM can provide insight into questions of cellular organization which have previously been inaccessible to conventional fluorescence microscopy. In addition to detailing the methods for sample preparation and data acquisition, we here describe the optical setup for FPALM. One additional consideration for researchers wishing to do super-resolution microscopy is cost: in-house setups are significantly cheaper than most commercially available imaging machines. Limitations of this technique include the need for optimizing the labeling of molecules of interest within cell samples, and the need for post-processing software to visualize results. We here describe the use of PAFP and PSFP expression to image two protein species in fixed cells. Extension of the technique to living cells is also described.
Basic Protocol, Issue 82, Microscopy, Super-resolution imaging, Multicolor, single molecule, FPALM, Localization microscopy, fluorescent proteins
50680
Highly Resolved Intravital Striped-illumination Microscopy of Germinal Centers
Institutions: Leibniz Institute, Max-Delbrück Center for Molecular Medicine, Leibniz Institute, LaVision Biotec GmbH, Charité - University of Medicine.
Monitoring cellular communication by intravital deep-tissue multi-photon microscopy is the key for understanding the fate of immune cells within thick tissue samples and organs in health and disease. By controlling the scanning pattern in multi-photon microscopy and applying appropriate numerical algorithms, we developed a striped-illumination approach, which enabled us to achieve 3-fold better axial resolution and improved signal-to-noise ratio,
i.e.
contrast, in more than 100 µm tissue depth within highly scattering tissue of lymphoid organs as compared to standard multi-photon microscopy. The acquisition speed as well as photobleaching and photodamage effects were similar to standard photo-multiplier-based technique, whereas the imaging depth was slightly lower due to the use of field detectors. By using the striped-illumination approach, we are able to observe the dynamics of immune complex deposits on secondary follicular dendritic cells – on the level of a few protein molecules in germinal centers.
Immunology, Issue 86, two-photon laser scanning microscopy, deep-tissue intravital imaging, germinal center, lymph node, high-resolution, enhanced contrast
51135
Super-resolution Imaging of the Cytokinetic Z Ring in Live Bacteria Using Fast 3D-Structured Illumination Microscopy (f3D-SIM)
Institutions: University of Technology, Sydney.

Imaging of biological samples using fluorescence microscopy has advanced substantially with new technologies to overcome the resolution barrier of the diffraction of light allowing super-resolution of live samples. There are currently three main types of super-resolution techniques – stimulated emission depletion (STED), single-molecule localization microscopy (including techniques such as PALM, STORM, and GDSIM), and structured illumination microscopy (SIM). While STED and single-molecule localization techniques show the largest increases in resolution, they have been slower to offer increased speeds of image acquisition. Three-dimensional SIM (3D-SIM) is a wide-field fluorescence microscopy technique that offers a number of advantages over both single-molecule localization and STED. Resolution is improved, with typical lateral and axial resolutions of 110 and 280 nm, respectively and depth of sampling of up to 30 µm from the coverslip, allowing for imaging of whole cells. Recent advancements (fast 3D-SIM) in the technology increasing the capture rate of raw images allows for fast capture of biological processes occurring in seconds, while significantly reducing photo-toxicity and photobleaching. Here we describe the use of one such method to image bacterial cells harboring the fluorescently-labelled cytokinetic FtsZ protein to show how cells are analyzed and the type of unique information that this technique can provide.
Molecular Biology, Issue 91, super-resolution microscopy, fluorescence microscopy, OMX, 3D-SIM, Blaze, cell division, bacteria, Bacillus subtilis, Staphylococcus aureus, FtsZ, Z ring constriction
51469
Test Samples for Optimizing STORM Super-Resolution Microscopy
Institutions: National Physical Laboratory.

STORM is a recently developed super-resolution microscopy technique with up to 10 times better resolution than standard fluorescence microscopy techniques. However, as the image is acquired in a very different way than normal, by building up an image molecule-by-molecule, there are some significant challenges for users in trying to optimize their image acquisition. In order to aid this process and gain more insight into how STORM works we present the preparation of 3 test samples and the methodology of acquiring and processing STORM super-resolution images with typical resolutions of between 30-50 nm. By combining the test samples with the use of the freely available rainSTORM processing software it is possible to obtain a great deal of information about image quality and resolution. Using these metrics it is then possible to optimize the imaging procedure from the optics, to sample preparation, dye choice, buffer conditions, and image acquisition settings. We also show examples of some common problems that result in poor image quality, such as lateral drift, where the sample moves during image acquisition and density related problems resulting in the 'mislocalization' phenomenon.
Molecular Biology, Issue 79, Genetics, Bioengineering, Biomedical Engineering, Biophysics, Basic Protocols, HeLa Cells, Actin Cytoskeleton, Coated Vesicles, Receptor, Epidermal Growth Factor, Actins, Fluorescence, Endocytosis, Microscopy, STORM, super-resolution microscopy, nanoscopy, cell biology, fluorescence microscopy, test samples, resolution, actin filaments, fiducial markers, epidermal growth factor, cell, imaging
50579
Fluorescence Imaging with One-nanometer Accuracy (FIONA)
Institutions: University of Illinois at Urbana-Champaign, University of Illinois at Urbana-Champaign, University of Illinois at Urbana-Champaign.

Fluorescence imaging with one-nanometer accuracy (FIONA) is a simple but useful technique for localizing single fluorophores with nanometer precision in the x-y plane. Here a summary of the FIONA technique is reported and examples of research that have been performed using FIONA are briefly described. First, how to set up the required equipment for FIONA experiments,
i.e.
, a total internal reflection fluorescence microscopy (TIRFM), with details on aligning the optics, is described. Then how to carry out a simple FIONA experiment on localizing immobilized Cy3-DNA single molecules using appropriate protocols, followed by the use of FIONA to measure the 36 nm step size of a single truncated myosin Va motor labeled with a quantum dot, is illustrated. Lastly, recent effort to extend the application of FIONA to thick samples is reported. It is shown that, using a water immersion objective and quantum dots soaked deep in sol-gels and rabbit eye corneas (>200 µm), localization precision of 2-3 nm can be achieved.
Molecular Biology, Issue 91, FIONA, fluorescence imaging, nanometer precision, myosin walking, thick tissue
51774
From Fast Fluorescence Imaging to Molecular Diffusion Law on Live Cell Membranes in a Commercial Microscope
Institutions: Scuola Normale Superiore, Instituto Italiano di Tecnologia, University of California, Irvine.

It has become increasingly evident that the spatial distribution and the motion of membrane components like lipids and proteins are key factors in the regulation of many cellular functions. However, due to the fast dynamics and the tiny structures involved, a very high spatio-temporal resolution is required to catch the real behavior of molecules. Here we present the experimental protocol for studying the dynamics of fluorescently-labeled plasma-membrane proteins and lipids in live cells with high spatiotemporal resolution. Notably, this approach doesn't need to track each molecule, but it calculates population behavior using all molecules in a given region of the membrane. The starting point is a fast imaging of a given region on the membrane. Afterwards, a complete spatio-temporal autocorrelation function is calculated correlating acquired images at increasing time delays, for example each 2, 3, n repetitions. It is possible to demonstrate that the width of the peak of the spatial autocorrelation function increases at increasing time delay as a function of particle movement due to diffusion. Therefore, fitting of the series of autocorrelation functions enables to extract the actual protein mean square displacement from imaging (iMSD), here presented in the form of apparent diffusivity vs average displacement. This yields a quantitative view of the average dynamics of single molecules with nanometer accuracy. By using a GFP-tagged variant of the Transferrin Receptor (TfR) and an ATTO488 labeled 1-palmitoyl-2-hydroxy-
sn
-glycero-3-phosphoethanolamine (PPE) it is possible to observe the spatiotemporal regulation of protein and lipid diffusion on µm-sized membrane regions in the micro-to-milli-second time range.
Bioengineering, Issue 92, fluorescence, protein dynamics, lipid dynamics, membrane heterogeneity, transient confinement, single molecule, GFP
51994
Construction and Characterization of External Cavity Diode Lasers for Atomic Physics
Institutions: The Australian National University.

Since their development in the late 1980s, cheap, reliable external cavity diode lasers (ECDLs) have replaced complex and expensive traditional dye and Titanium Sapphire lasers as the workhorse laser of atomic physics labs
1,2
. Their versatility and prolific use throughout atomic physics in applications such as absorption spectroscopy and laser cooling
1,2
makes it imperative for incoming students to gain a firm practical understanding of these lasers. This publication builds upon the seminal work by Wieman
3
, updating components, and providing a video tutorial. The setup, frequency locking and performance characterization of an ECDL will be described. Discussion of component selection and proper mounting of both diodes and gratings, the factors affecting mode selection within the cavity, proper alignment for optimal external feedback, optics setup for coarse and fine frequency sensitive measurements, a brief overview of laser locking techniques, and laser linewidth measurements are included.
Physics, Issue 86, External Cavity Diode Laser, atomic spectroscopy, laser cooling, Bose-Einstein condensation, Zeeman modulation
51184
Studying DNA Looping by Single-Molecule FRET
Institutions: Georgia Institute of Technology.
Bending of double-stranded DNA (dsDNA) is associated with many important biological processes such as DNA-protein recognition and DNA packaging into nucleosomes. Thermodynamics of dsDNA bending has been studied by a method called cyclization which relies on DNA ligase to covalently join short sticky ends of a dsDNA. However, ligation efficiency can be affected by many factors that are not related to dsDNA looping such as the DNA structure surrounding the joined sticky ends, and ligase can also affect the apparent looping rate through mechanisms such as nonspecific binding. Here, we show how to measure dsDNA looping kinetics without ligase by detecting transient DNA loop formation by FRET (Fluorescence Resonance Energy Transfer). dsDNA molecules are constructed using a simple PCR-based protocol with a FRET pair and a biotin linker. The looping probability density known as the J factor is extracted from the looping rate and the annealing rate between two disconnected sticky ends. By testing two dsDNAs with different intrinsic curvatures, we show that the J factor is sensitive to the intrinsic shape of the dsDNA.
Molecular Biology, Issue 88, DNA looping, J factor, Single molecule, FRET, Gel mobility shift, DNA curvature, Worm-like chain
51667
Integrated Photoacoustic Ophthalmoscopy and Spectral-domain Optical Coherence Tomography
Institutions: Northwestern University, Harbin Institute of Technology, University of Southern California, Northwestern University.

Both the clinical diagnosis and fundamental investigation of major ocular diseases greatly benefit from various non-invasive ophthalmic imaging technologies. Existing retinal imaging modalities, such as fundus photography
1
, confocal scanning laser ophthalmoscopy (cSLO)
2
, and optical coherence tomography (OCT)
3
, have significant contributions in monitoring disease onsets and progressions, and developing new therapeutic strategies. However, they predominantly rely on the back-reflected photons from the retina. As a consequence, the optical absorption properties of the retina, which are usually strongly associated with retinal pathophysiology status, are inaccessible by the traditional imaging technologies. Photoacoustic ophthalmoscopy (PAOM) is an emerging retinal imaging modality that permits the detection of the optical absorption contrasts in the eye with a high sensitivity
4-7
. In PAOM nanosecond laser pulses are delivered through the pupil and scanned across the posterior eye to induce photoacoustic (PA) signals, which are detected by an unfocused ultrasonic transducer attached to the eyelid. Because of the strong optical absorption of hemoglobin and melanin, PAOM is capable of non-invasively imaging the retinal and choroidal vasculatures, and the retinal pigment epithelium (RPE) melanin at high contrasts
6,7
. More importantly, based on the well-developed spectroscopic photoacoustic imaging
5,8
, PAOM has the potential to map the hemoglobin oxygen saturation in retinal vessels, which can be critical in studying the physiology and pathology of several blinding diseases
9
such as diabetic retinopathy and neovascular age-related macular degeneration. Moreover, being the only existing optical-absorption-based ophthalmic imaging modality, PAOM can be integrated with well-established clinical ophthalmic imaging techniques to achieve more comprehensive anatomic and functional evaluations of the eye based on multiple optical contrasts
6,10
. In this work, we integrate PAOM and spectral-domain OCT (SD-OCT) for simultaneously
in vivo
retinal imaging of rat, where both optical absorption and scattering properties of the retina are revealed. The system configuration, system alignment and imaging acquisition are presented.
Biomedical Engineering, Issue 71, Bioengineering, Medicine, Anatomy, Physiology, Opthalmology, Physics, Biophysics, Photoacoustic ophthalmology, ophthalmoscopy, optical coherence tomography, retinal imaging, spectral-domain, tomography, rat, animal model, imaging
4390
Mesoscopic Fluorescence Tomography for In-vivo Imaging of Developing Drosophila
Institutions: Massachusetts General Hospital, Technical University of Munich and Helmholtz Center Munich, Harvard Medical School and Howard Hughes Medical Institute.

Visualizing developing organ formation as well as progession and treatment of disease often heavily relies on the ability to optically interrogate molecular and functional changes in intact living organisms. Most existing optical imaging methods are inadequate for imaging at dimensions that lie between the penetration limits of modern optical microscopy (0.5-1mm) and the diffusion-imposed limits of optical macroscopy (>1cm) [1]. Thus, many important model organisms, e.g. insects, animal embryos or small animal extremities, remain inaccessible for in-vivo optical imaging. Although there is increasing interest towards the development of nanometer-resolution optical imaging methods, there have not been many successful efforts in improving the imaging penetration depth. The ability to perform in-vivo imaging beyond microscopy limits is in fact met with the difficulties associated with photon scattering present in tissues. Recent efforts to image entire embryos for example [2,3] require special chemical treatment of the specimen, to clear them from scattering, a procedure that makes them suitable only for post-mortem imaging. These methods however evidence the need for imaging larger specimens than the ones usually allowed by two-photon or confocal microscopy, especially in developmental biology and in drug discovery. We have developed a new optical imaging technique named Mesoscopic Fluorescence Tomography [4], which appropriate for non-invasive in-vivo imaging at dimensions of 1mm-5mm. The method exchanges resolution for penetration depth, but offers unprecedented tomographic imaging performance and it has been developed to add time as a new dimension in developmental biology observations (and possibly other areas of biological research) by imparting the ability to image the evolution of fluorescence-tagged responses over time. As such it can accelerate studies of morphological or functional dependencies on gene mutations or external stimuli, and can importantly, capture the complete picture of development or tissue function by allowing longitudinal time-lapse visualization of the same, developing organism. The technique utilizes a modified laboratory microscope and multi-projection illumination to collect data at 360-degree projections. It applies the Fermi simplification to Fokker-Plank solution of the photon transport equation, combined with geometrical optics principles in order to build a realistic inversion scheme suitable for mesoscopic range. This allows in-vivo whole-body visualization of non-transparent three-dimensional structures in samples up to several millimeters in size. We have demonstrated the in-vivo performance of the technique by imaging three-dimensional structures of developing
Drosophila
tissues in-vivo and by following the morphogenesis of the wings in the opaque Drosophila pupae in real time over six consecutive hours.
Developmental Biology, Issue 30, fluorescence tomography, mesoscopic imaging, Drosophila, optical imaging, diffusion tomography, scattering
1510