ABSTRACT
To date, the lack of a suitable human cardiac cell source has been the major setback in regenerating the human myocardium, either by cell-based transplantation or by cardiac tissue engineering1-3. Cardiomyocytes become terminally-differentiated soon after birth and lose their ability to proliferate. There is no evidence that stem/progenitor cells derived from other sources, such as the bone marrow or the cord blood, are able to give rise to the contractile heart muscle cells following transplantation into the heart1-3. The need to regenerate or repair the damaged heart muscle has not been met by adult stem cell therapy, either endogenous or via cell delivery1-3. The genetically stable human embryonic stem cells (hESCs) have unlimited expansion ability and unrestricted plasticity, proffering a pluripotent reservoir for in vitro derivation of large supplies of human somatic cells that are restricted to the lineage in need of repair and regeneration4,5. Due to the prevalence of cardiovascular disease worldwide and acute shortage of donor organs, there is intense interest in developing hESC-based therapies as an alternative approach. However, how to channel the wide differentiation potential of pluripotent hESCs efficiently and predictably to a desired phenotype has been a major challenge for both developmental study and clinical translation. Conventional approaches rely on multi-lineage inclination of pluripotent cells through spontaneous germ layer differentiation, resulting in inefficient and uncontrollable lineage-commitment that is often followed by phenotypic heterogeneity and instability, hence, a high risk of tumorigenicity6-8 (see a schematic in Fig. 1A). In addition, undefined foreign/animal biological supplements and/or feeders that have typically been used for the isolation, expansion, and differentiation of hESCs may make direct use of such cell-specialized grafts in patients problematic9-11. To overcome these obstacles, we have resolved the elements of a defined culture system necessary and sufficient for sustaining the epiblast pluripotence of hESCs, serving as a platform for de novo derivation of clinically-suitable hESCs and effectively directing such hESCs uniformly towards clinically-relevant lineages by small molecules12 (see a schematic in Fig. 1B). After screening a variety of small molecules and growth factors, we found that such defined conditions rendered nicotinamide (NAM) sufficient to induce the specification of cardiomesoderm direct from pluripotent hESCs that further progressed to cardioblasts that generated human beating cardiomyocytes with high efficiency (Fig. 2). We defined conditions for induction of cardioblasts direct from pluripotent hESCs without an intervening multi-lineage embryoid body stage, enabling well-controlled efficient derivation of a large supply of human cardiac cells across the spectrum of developmental stages for cell-based therapeutics.
21 Related JoVE Articles!
Directed Dopaminergic Neuron Differentiation from Human Pluripotent Stem Cells
Institutions: Stanford University School of Medicine, Stanford University School of Medicine.

Dopaminergic (DA) neurons in the substantia nigra pars compacta (also known as A9 DA neurons) are the specific cell type that is lost in Parkinson's disease (PD). There is great interest in deriving A9 DA neurons from human pluripotent stem cells (hPSCs) for regenerative cell replacement therapy for PD. During neural development, A9 DA neurons originate from the floor plate (FP) precursors located at the ventral midline of the central nervous system. Here, we optimized the culture conditions for the stepwise differentiation of hPSCs to A9 DA neurons, which mimics embryonic DA neuron development. In our protocol, we first describe the efficient generation of FP precursor cells from hPSCs using a small molecule method, and then convert the FP cells to A9 DA neurons, which could be maintained
in vitro
for several months. This efficient, repeatable and controllable protocol works well in human embryonic stem cells (hESCs) and human induced pluripotent stem cells (hiPSCs) from normal persons and PD patients, in which one could derive A9 DA neurons to perform
in vitro
disease modeling and drug screening and
in vivo
cell transplantation therapy for PD.
Neuroscience, Issue 91, dopaminergic neuron, substantia nigra pars compacta, midbrain, Parkinson's disease, directed differentiation, human pluripotent stem cells, floor plate
51737
Preparation of Mouse Embryonic Fibroblast Cells Suitable for Culturing Human Embryonic and Induced Pluripotent Stem Cells
Institutions: Max Planck Institute for Molecular Genetics.

In general, human embryonic stem cells (hESCs) and human induced pluripotent stem cells (hiPSCs)
1
can be cultured under variable conditions. However, it is not easy to establish an effective system for culturing these cells. Since the culture conditions can influence gene expression that confers pluripotency in hESCs and hiPSCs, the optimization and standardization of the culture method is crucial. The establishment of hESC lines was first described by using MEFs as feeder cells and fetal bovine serum (FBS)-containing culture medium
2
. Next, FBS was replaced with knockout serum replacement (KSR) and FGF2, which enhances proliferation of hESCs
3
. Finally, feeder-free culture systems enable culturing cells on Matrigel-coated plates in KSR-containing conditioned medium (medium conditioned by MEFs)
4
. Subsequently, hESCs culture conditions have moved towards feeder-free culture in chemically defined conditions
5-7
. Moreover, to avoid the potential contamination by pathogens and animal proteins culture methods using xeno-free components have been established
8
. To obtain improved conditions mouse feeder cells have been replaced with human cell lines (e.g. fetal muscle and skin cells
9
, adult skin cells
10
, foreskin fibroblasts
11-12
, amniotic mesenchymal cells
13
). However, the efficiency of maintaining undifferentiated hESCs using human foreskin fibroblast-derived feeder layers is not as high as that from mouse feeder cells due to the lower level of secretion of Activin A
14
. Obviously, there is an evident difference in growth factor production by mouse and human feeder cells. Analyses of the transcriptomes of mouse and human feeder cells revealed significant differences between supportive and non-supportive cells. Exogenous FGF2 is crucial for maintaining self-renewal of hESCs and hiPSCs, and has been identified as a key factor regulating the expression of Tgfβ1, Activin A and Gremlin (a BMP antagonist) in feeder cells. Activin A has been shown to induce the expression of OCT4, SOX2, and NANOG in hESCs
15-16
. For long-term culture, hESCs and hiPSCs can be grown on mitotically inactivated MEFs or under feeder-free conditions in MEF-CM (MEF-Conditioned Medium) on Matrigel-coated plates to maintain their undifferentiated state. Success of both culture conditions fully depends on the quality of the feeder cells, since they directly affect the growth of hESCs. Here, we present an optimized method for the isolation and culture of mouse embryonic fibroblasts (MEFs), preparation of conditioned medium (CM) and enzyme-linked immunosorbent assay (ELISA) to assess the levels of Activin A within the media.
Stem Cell Biology, Issue 64, Molecular Biology, Developmental Biology, mouse embryonic fibroblasts (MEFs), human embryonic stem cells (hESCs), human induced pluripotent stem cells (hiPSCs), Activin A -conditioned medium (CM), cell culture
3854
In vitro and in vivo Bioluminescence Reporter Gene Imaging of Human Embryonic Stem Cells
Institutions: Stanford University School of Medicine.

The discovery of human embryonic stem cells (hESCs) has dramatically increased the tools available to medical scientists interested in regenerative medicine. However, direct injection of hESCs, and cells differentiated from hESCs, into living organisms has thus far been hampered by significant cell death, teratoma formation, and host immune rejection. Understanding the in vivo hESC behavior after transplantation requires novel imaging techniques to longitudinally monitor hESC localization, proliferation, and viability. Molecular imaging has given investigators a high-throughput, inexpensive, and sensitive means for tracking in vivo cell proliferation over days, weeks, and even months. This advancement has significantly increased the understanding of the spatio-temporal kinetics of hESC engraftment, proliferation, and teratoma-formation in living subjects. A major advance in molecular imaging has been the extension of noninvasive reporter gene assays from molecular and cellular biology into in vivo multi-modality imaging platforms. These reporter genes, under control of engineered promoters and enhancers that take advantage of the host cell s transcriptional machinery, are introduced into cells using a variety of vector and non-vector methods. Once in the cell, reporter genes can be transcribed either constitutively or only under specific biological or cellular conditions, depending on the type of promoter used. Transcription and translation of reporter genes into bioactive proteins is then detected with sensitive, noninvasive instrumentation (e.g., CCD cameras) using signal-generating probes such as D-luciferin. To avoid the need for excitatory light to track stem cells in vivo as is required for fluorescence imaging, bioluminescence reporter gene imaging systems require only an exogenously administered probe to induce light emission. Firefly luciferase, derived from the firefly Photinus pyralis, encodes an enzyme that catalyzes D-luciferin to the optically active metabolite, oxyluciferin. Optical activity can then be monitored with an external CCD camera. Stably transduced cells that carry the reporter construct within their chromosomal DNA will pass the reporter construct DNA to daughter cells, allowing for longitudinal monitoring of hESC survival and proliferation in vivo. Furthermore, because expression of the reporter gene product is required for signal generation, only viable parent and daughter cells will create bioluminescence signal; apoptotic or dead cells will not. In this video, the specific materials and methods needed for tracking stem cell proliferation and teratoma formation with bioluminescence imaging will be described.
Cell Biology, Issue 14, molecular imaging, firefly luciferase, bioluminescence, reporter gene, human embryonic stem cells, teratoma, stem cell transplantation.
740
Selecting and Isolating Colonies of Human Induced Pluripotent Stem Cells Reprogrammed from Adult Fibroblasts
Institutions: University of Texas M.D. Anderson Cancer Center, Poznan University of Medical Sciences, The Scripps Research Institute.

Herein we present a protocol of reprogramming human adult fibroblasts into human induced pluripotent stem cells (hiPSC) using retroviral vectors encoding Oct3/4, Sox2, Klf4 and c-myc (OSKM) in the presence of sodium butyrate
1-3
. We used this method to reprogram late passage (>p10) human adult fibroblasts derived from Friedreich's ataxia patient (GM03665, Coriell Repository). The reprogramming approach includes highly efficient transduction protocol using repetitive centrifugation of fibroblasts in the presence of virus-containing media. The reprogrammed hiPSC colonies were identified using live immunostaining for Tra-1-81, a surface marker of pluripotent cells, separated from non-reprogrammed fibroblasts and manually passaged
4,5
. These hiPSC were then transferred to Matrigel plates and grown in feeder-free conditions, directly from the reprogramming plate. Starting from the first passage, hiPSC colonies demonstrate characteristic hES-like morphology. Using this protocol more than 70% of selected colonies can be successfully expanded and established into cell lines. The established hiPSC lines displayed characteristic pluripotency markers including surface markers TRA-1-60 and SSEA-4, as well as nuclear markers Oct3/4, Sox2 and Nanog. The protocol presented here has been established and tested using adult fibroblasts obtained from Friedreich's ataxia patients and control individuals
6
, human newborn fibroblasts, as well as human keratinocytes.
Developmental Biology, Issue 60, stem cells, induced pluripotent stem cells, iPSC, somatic cell reprogramming, pluripotency, retroviral transduction
3416
Reprogramming Human Somatic Cells into Induced Pluripotent Stem Cells (iPSCs) Using Retroviral Vector with GFP
Institutions: Yale School of Medicine.

Human embryonic stem cells (hESCs) are pluripotent and an invaluable cellular sources for
in vitro
disease modeling and regenerative medicine
1
. It has been previously shown that human somatic cells can be reprogrammed to pluripotency by ectopic expression of four transcription factors (
Oct4, Sox2, Klf4
and
Myc
) and become induced pluripotent stem cells (iPSCs)
2-4
. Like hESCs, human iPSCs are pluripotent and a potential source for autologous cells. Here we describe the protocol to reprogram human fibroblast cells with the four reprogramming factors cloned into GFP-containing retroviral backbone
4
. Using the following protocol, we generate human iPSCs in 3-4 weeks under human ESC culture condition. Human iPSC colonies closely resemble hESCs in morphology and display the loss of GFP fluorescence as a result of retroviral transgene silencing. iPSC colonies isolated mechanically under a fluorescence microscope behave in a similar fashion as hESCs. In these cells, we detect the expression of multiple pluripotency genes and surface markers.
Stem Cell Biology, Issue 62, Human iPS cells, iPSCs, Reprogramming, Retroviral vectors and Pluripotency
3804
Generation of Human Cardiomyocytes: A Differentiation Protocol from Feeder-free Human Induced Pluripotent Stem Cells
Institutions: Humanitas Clinical and Research Center, Italy, National Research Council (CNR).

In order to investigate the events driving heart development and to determine the molecular mechanisms leading to myocardial diseases in humans, it is essential first to generate functional human cardiomyocytes (CMs). The use of these cells in drug discovery and toxicology studies would also be highly beneficial, allowing new pharmacological molecules for the treatment of cardiac disorders to be validated pre-clinically on cells of human origin. Of the possible sources of CMs, induced pluripotent stem (iPS) cells are among the most promising, as they can be derived directly from readily accessible patient tissue and possess an intrinsic capacity to give rise to all cell types of the body
1
. Several methods have been proposed for differentiating iPS cells into CMs, ranging from the classical embryoid bodies (EBs) aggregation approach to chemically defined protocols
2,3
. In this article we propose an EBs-based protocol and show how this method can be employed to efficiently generate functional CM-like cells from feeder-free iPS cells.
Stem Cell Biology, Issue 76, Developmental Biology, Molecular Biology, Cellular Biology, Medicine, Bioengineering, Biomedical Engineering, Genetics, Cardiology, Stem Cell Research, Cardiovascular Diseases, Human cardiomyocytes, iPS cells, induced pluripotent stem cells, stem cells, cardiac differentiation, disease modeling, embryoid bodies, cell lines, cell culture
50429
Capillary Force Lithography for Cardiac Tissue Engineering
Institutions: University of Washington, University of Washington.
Cardiovascular disease remains the leading cause of death worldwide
1
. Cardiac tissue engineering holds much promise to deliver groundbreaking medical discoveries with the aims of developing functional tissues for cardiac regeneration as well as
in vitro
screening assays. However, the ability to create high-fidelity models of heart tissue has proven difficult. The heart's extracellular matrix (ECM) is a complex structure consisting of both biochemical and biomechanical signals ranging from the micro- to the nanometer scale
2
. Local mechanical loading conditions and cell-ECM interactions have recently been recognized as vital components in cardiac tissue engineering
3-5
. A large portion of the cardiac ECM is composed of aligned collagen fibers with nano-scale diameters that significantly influences tissue architecture and electromechanical coupling
2
. Unfortunately, few methods have been able to mimic the organization of ECM fibers down to the nanometer scale. Recent advancements in nanofabrication techniques, however, have enabled the design and fabrication of scalable scaffolds that mimic the
in vivo
structural and substrate stiffness cues of the ECM in the heart
6-9
. Here we present the development of two reproducible, cost-effective, and scalable nanopatterning processes for the functional alignment of cardiac cells using the biocompatible polymer poly(lactide-co-glycolide) (PLGA)
8
and a polyurethane (PU) based polymer. These anisotropically nanofabricated substrata (ANFS) mimic the underlying ECM of well-organized, aligned tissues and can be used to investigate the role of nanotopography on cell morphology and function
10-14
. Using a nanopatterned (NP) silicon master as a template, a polyurethane acrylate (PUA) mold is fabricated. This PUA mold is then used to pattern the PU or PLGA hydrogel via UV-assisted or solvent-mediated capillary force lithography (CFL), respectively
15,16
. Briefly, PU or PLGA pre-polymer is drop dispensed onto a glass coverslip and the PUA mold is placed on top. For UV-assisted CFL, the PU is then exposed to UV radiation (λ = 250-400 nm) for curing. For solvent-mediated CFL, the PLGA is embossed using heat (120 °C) and pressure (100 kPa). After curing, the PUA mold is peeled off, leaving behind an ANFS for cell culture. Primary cells, such as neonatal rat ventricular myocytes, as well as human pluripotent stem cell-derived cardiomyocytes, can be maintained on the ANFS
2
.
Bioengineering, Issue 88, Nanotopography, Anisotropic, Nanofabrication, Cell Culture, Cardiac Tissue Engineering
50039
The Specification of Telencephalic Glutamatergic Neurons from Human Pluripotent Stem Cells
Institutions: The University of Connecticut Health Center, The University of Connecticut Health Center, The University of Connecticut Health Center.

Here, a stepwise procedure for efficiently generating telencephalic glutamatergic neurons from human pluripotent stem cells (PSCs) has been described. The differentiation process is initiated by breaking the human PSCs into clumps which round up to form aggregates when the cells are placed in a suspension culture. The aggregates are then grown in hESC medium from days 1-4 to allow for spontaneous differentiation. During this time, the cells have the capacity to become any of the three germ layers. From days 5-8, the cells are placed in a neural induction medium to push them into the neural lineage. Around day 8, the cells are allowed to attach onto 6 well plates and differentiate during which time the neuroepithelial cells form. These neuroepithelial cells can be isolated at day 17. The cells can then be kept as neurospheres until they are ready to be plated onto coverslips. Using a basic medium without any caudalizing factors, neuroepithelial cells are specified into telencephalic precursors, which can then be further differentiated into dorsal telencephalic progenitors and glutamatergic neurons efficiently. Overall, our system provides a tool to generate human glutamatergic neurons for researchers to study the development of these neurons and the diseases which affect them.
Stem Cell Biology, Issue 74, Neuroscience, Neurobiology, Developmental Biology, Cellular Biology, Molecular Biology, Stem Cells, Embryonic Stem Cells, ESCs, Pluripotent Stem Cells, Induced Pluripotent Stem Cells, iPSC, neural differentiation, forebrain, glutamatergic neuron, neural patterning, development, neurons
50321
Cell Surface Marker Mediated Purification of iPS Cell Intermediates from a Reprogrammable Mouse Model
Institutions: Monash University, Monash University.

Mature cells can be reprogrammed to a pluripotent state. These so called induced pluripotent stem (iPS) cells are able to give rise to all cell types of the body and consequently have vast potential for regenerative medicine applications. Traditionally iPS cells are generated by viral introduction of transcription factors Oct-4, Klf-4, Sox-2, and c-Myc (OKSM) into fibroblasts. However, reprogramming is an inefficient process with only 0.1-1% of cells reverting towards a pluripotent state, making it difficult to study the reprogramming mechanism. A proven methodology that has allowed the study of the reprogramming process is to separate the rare intermediates of the reaction from the refractory bulk population. In the case of mouse embryonic fibroblasts (MEFs), we and others have previously shown that reprogramming cells undergo a distinct series of changes in the expression profile of cell surface markers which can be used for the separation of these cells. During the early stages of OKSM expression successfully reprogramming cells lose fibroblast identity marker Thy-1.2 and up-regulate pluripotency associated marker Ssea-1. The final transition of a subset of Ssea-1 positive cells towards the pluripotent state is marked by the expression of Epcam during the late stages of reprogramming. Here we provide a detailed description of the methodology used to isolate reprogramming intermediates from cultures of reprogramming MEFs. In order to increase experimental reproducibility we use a reprogrammable mouse strain that has been engineered to express a transcriptional transactivator (m2rtTA) under control of the Rosa26 locus and OKSM under control of a doxycycline responsive promoter. Cells isolated from these mice are isogenic and express OKSM homogenously upon addition of doxycycline. We describe in detail the establishment of the reprogrammable mice, the derivation of MEFs, and the subsequent isolation of intermediates during reprogramming into iPS cells via fluorescent activated cells sorting (FACS).
Stem Cell Biology, Issue 91, Induced pluripotent stem cells; reprogramming; intermediates; fluorescent activated cells sorting; cell surface marker; reprogrammable mouse model; derivation of mouse embryonic fibroblasts
51728
Efficient Generation Human Induced Pluripotent Stem Cells from Human Somatic Cells with Sendai-virus
Institutions: Johns Hopkins University School of Medicine.

A few years ago, the establishment of human induced pluripotent stem cells (iPSCs) ushered in a new era in biomedicine. Potential uses of human iPSCs include modeling pathogenesis of human genetic diseases, autologous cell therapy after gene correction, and personalized drug screening by providing a source of patient-specific and symptom relevant cells. However, there are several hurdles to overcome, such as eliminating the remaining reprogramming factor transgene expression after human iPSCs production. More importantly, residual transgene expression in undifferentiated human iPSCs could hamper proper differentiations and misguide the interpretation of disease-relevant
in vitro
phenotypes. With this reason, integration-free and/or transgene-free human iPSCs have been developed using several methods, such as adenovirus, the piggyBac system, minicircle vector, episomal vectors, direct protein delivery and synthesized mRNA. However, efficiency of reprogramming using integration-free methods is quite low in most cases. Here, we present a method to isolate human iPSCs by using Sendai-virus (RNA virus) based reprogramming system. This reprogramming method shows consistent results and high efficiency in cost-effective manner.
Stem Cell Biology, Issue 86, Induced pluripotent stem cells, Human embryonic stem cells, Sendai-virus
51406
Live Cell Imaging of Primary Rat Neonatal Cardiomyocytes Following Adenoviral and Lentiviral Transduction Using Confocal Spinning Disk Microscopy
Institutions: Max-Planck-Institute for Molecular Biomedicine and Institute of Cell Biology, Yale Cardiovascular Research Center and Section of Cardiovascular Medicine.

Primary rat neonatal cardiomyocytes are useful in basic
in vitro
cardiovascular research because they can be easily isolated in large numbers in a single procedure. Due to advances in microscope technology it is relatively easy to capture live cell images for the purpose of investigating cellular events in real time with minimal concern regarding phototoxicity to the cells. This protocol describes how to take live cell timelapse images of primary rat neonatal cardiomyocytes using a confocal spinning disk microscope following lentiviral and adenoviral transduction to modulate properties of the cell. The application of two different types of viruses makes it easier to achieve an appropriate transduction rate and expression levels for two different genes. Well focused live cell images can be obtained using the microscope's autofocus system, which maintains stable focus for long time periods. Applying this method, the functions of exogenously engineered proteins expressed in cultured primary cells can be analyzed. Additionally, this system can be used to examine the functions of genes through the use of siRNAs as well as of chemical modulators.
Cellular Biology, Issue 88, live cell imaging, cardiomyocyte, primary cell culture, adenovirus, lentivirus, confocal spinning disk microscopy
51666
High Efficiency Differentiation of Human Pluripotent Stem Cells to Cardiomyocytes and Characterization by Flow Cytometry
Institutions: Medical College of Wisconsin, Stanford University School of Medicine, Medical College of Wisconsin, Hong Kong University, Johns Hopkins University School of Medicine, Medical College of Wisconsin.

There is an urgent need to develop approaches for repairing the damaged heart, discovering new therapeutic drugs that do not have toxic effects on the heart, and improving strategies to accurately model heart disease. The potential of exploiting human induced pluripotent stem cell (hiPSC) technology to generate cardiac muscle "in a dish" for these applications continues to generate high enthusiasm. In recent years, the ability to efficiently generate cardiomyogenic cells from human pluripotent stem cells (hPSCs) has greatly improved, offering us new opportunities to model very early stages of human cardiac development not otherwise accessible. In contrast to many previous methods, the cardiomyocyte differentiation protocol described here does not require cell aggregation or the addition of Activin A or BMP4 and robustly generates cultures of cells that are highly positive for cardiac troponin I and T (TNNI3, TNNT2), iroquois-class homeodomain protein IRX-4 (IRX4), myosin regulatory light chain 2, ventricular/cardiac muscle isoform (MLC2v) and myosin regulatory light chain 2, atrial isoform (MLC2a) by day 10 across all human embryonic stem cell (hESC) and hiPSC lines tested to date. Cells can be passaged and maintained for more than 90 days in culture. The strategy is technically simple to implement and cost-effective. Characterization of cardiomyocytes derived from pluripotent cells often includes the analysis of reference markers, both at the mRNA and protein level. For protein analysis, flow cytometry is a powerful analytical tool for assessing quality of cells in culture and determining subpopulation homogeneity. However, technical variation in sample preparation can significantly affect quality of flow cytometry data. Thus, standardization of staining protocols should facilitate comparisons among various differentiation strategies. Accordingly, optimized staining protocols for the analysis of IRX4, MLC2v, MLC2a, TNNI3, and TNNT2 by flow cytometry are described.
Cellular Biology, Issue 91, human induced pluripotent stem cell, flow cytometry, directed differentiation, cardiomyocyte, IRX4, TNNI3, TNNT2, MCL2v, MLC2a
52010
Alternative Cultures for Human Pluripotent Stem Cell Production, Maintenance, and Genetic Analysis
Institutions: National Institutes of Health, National Institutes of Health.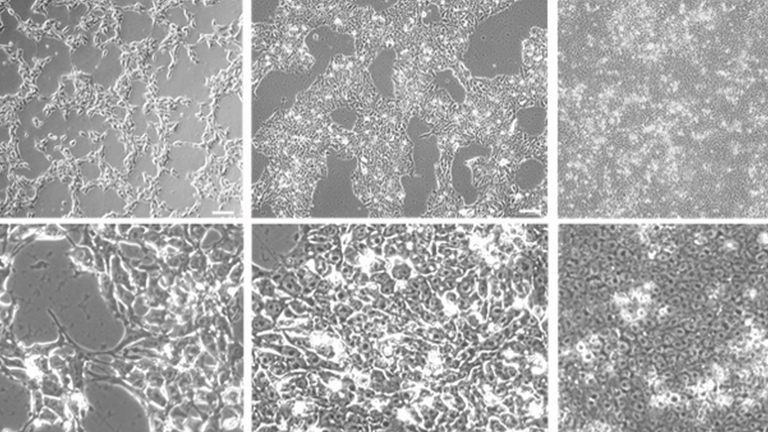 Human pluripotent stem cells (hPSCs) hold great promise for regenerative medicine and biopharmaceutical applications. Currently, optimal culture and efficient expansion of large amounts of clinical-grade hPSCs are critical issues in hPSC-based therapies. Conventionally, hPSCs are propagated as colonies on both feeder and feeder-free culture systems. However, these methods have several major limitations, including low cell yields and generation of heterogeneously differentiated cells. To improve current hPSC culture methods, we have recently developed a new method, which is based on non-colony type monolayer (NCM) culture of dissociated single cells. Here, we present detailed NCM protocols based on the Rho-associated kinase (ROCK) inhibitor Y-27632. We also provide new information regarding NCM culture with different small molecules such as Y-39983 (ROCK I inhibitor), phenylbenzodioxane (ROCK II inhibitor), and thiazovivin (a novel ROCK inhibitor). We further extend our basic protocol to cultivate hPSCs on defined extracellular proteins such as the laminin isoform 521 (LN-521) without the use of ROCK inhibitors. Moreover, based on NCM, we have demonstrated efficient transfection or transduction of plasmid DNAs, lentiviral particles, and oligonucleotide-based microRNAs into hPSCs in order to genetically modify these cells for molecular analyses and drug discovery. The NCM-based methods overcome the major shortcomings of colony-type culture, and thus may be suitable for producing large amounts of homogeneous hPSCs for future clinical therapies, stem cell research, and drug discovery.
Stem Cell Biology, Issue 89, Pluripotent stem cells, human embryonic stem cells, induced pluripotent stem cells, cell culture, non-colony type monolayer, single cell, plating efficiency, Rho-associated kinase, Y-27632, transfection, transduction
51519
Intramyocardial Cell Delivery: Observations in Murine Hearts
Institutions: Imperial College London, Imperial College London, Monash University.

Previous studies showed that cell delivery promotes cardiac function amelioration by release of cytokines and factors that increase cardiac tissue revascularization and cell survival. In addition, further observations revealed that specific stem cells, such as cardiac stem cells, mesenchymal stem cells and cardiospheres have the ability to integrate within the surrounding myocardium by differentiating into cardiomyocytes, smooth muscle cells and endothelial cells. Here, we present the materials and methods to reliably deliver noncontractile cells into the left ventricular wall of immunodepleted mice. The salient steps of this microsurgical procedure involve anesthesia and analgesia injection, intratracheal intubation, incision to open the chest and expose the heart and delivery of cells by a sterile 30-gauge needle and a precision microliter syringe. Tissue processing consisting of heart harvesting, embedding, sectioning and histological staining showed that intramyocardial cell injection produced a small damage in the epicardial area, as well as in the ventricular wall. Noncontractile cells were retained into the myocardial wall of immunocompromised mice and were surrounded by a layer of fibrotic tissue, likely to protect from cardiac pressure and mechanical load.
Medicine, Issue 83, intramyocardial cell injection, heart, grafting, cell therapy, stem cells, fibrotic tissue
51064
Derivation and Characterization of a Transgene-free Human Induced Pluripotent Stem Cell Line and Conversion into Defined Clinical-grade Conditions
Institutions: University of California, Los Angeles (UCLA), University of California, Los Angeles (UCLA).

Human induced pluripotent stem cells (hiPSCs) can be generated with lentiviral-based reprogramming methodologies. However, traces of potentially oncogenic genes remaining in actively transcribed regions of the genome, limit their potential for use in human therapeutic applications
1
. Additionally, non-human antigens derived from stem cell reprogramming or differentiation into therapeutically relevant derivatives preclude these hiPSCs from being used in a human clinical context
2
. In this video, we present a procedure for reprogramming and analyzing factor-free hiPSCs free of exogenous transgenes. These hiPSCs then can be analyzed for gene expression abnormalities in the specific intron containing the lentivirus. This analysis may be conducted using sensitive quantitative polymerase chain reaction (PCR), which has an advantage over less sensitive techniques previously used to detect gene expression differences
3
. Full conversion into clinical-grade good manufacturing practice (GMP) conditions, allows human clinical relevance. Our protocol offers another methodology—provided that current safe-harbor criteria will expand and include factor-free characterized hiPSC-based derivatives for human therapeutic applications—for deriving GMP-grade hiPSCs, which should eliminate any immunogenicity risk due to non-human antigens. This protocol is broadly applicable to lentiviral reprogrammed cells of any type and provides a reproducible method for converting reprogrammed cells into GMP-grade conditions.
Stem Cell Biology, Issue 93, Human induced pluripotent stem cells, STEMCCA, factor-free, GMP, xeno-free, quantitative PCR
52158
Enrichment and Purging of Human Embryonic Stem Cells by Detection of Cell Surface Antigens Using the Monoclonal Antibodies TG30 and GCTM-2
Institutions: CSIRO.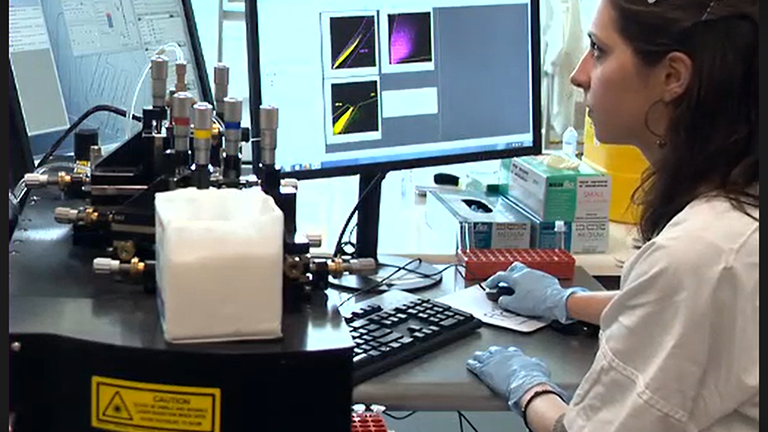 Human embryonic stem cells (hESC) can self-renew indefinitely
in vitro
, and with the appropriate cues can be induced to differentiate into potentially all somatic cell lineages. Differentiated hESC derivatives can potentially be used in transplantation therapies to treat a variety of cell-degenerative diseases. However, hESC differentiation protocols usually yield a mixture of differentiated target and off-target cell types as well as residual undifferentiated cells. For the translation of differentiated hESC-derivatives from the laboratory to the clinic, it is important to be able to discriminate between undifferentiated (pluripotent) and differentiated cells, and generate methods to separate these populations. Safe application of hESC-derived somatic cell types can only be accomplished with pluripotent stem cell-free populations, as residual hESCs could induce tumors known as teratomas following transplantation. Towards this end, here we describe a methodology to detect pluripotency associated cell surface antigens with the monoclonal antibodies TG30 (CD9) and GCTM-2 via fluorescence activated cell sorting (FACS) for the identification of pluripotent TG30
Hi
-GCTM-2
Hi
hESCs using positive selection. Using negative selection with our TG30/GCTM-2 FACS methodology, we were able to detect and purge undifferentiated hESCs in populations undergoing very early-stage differentiation (TG30
Neg
-GCTM-2
Neg
). In a further study, pluripotent stem cell-free samples of differentiated TG30
Neg
-GCTM-2
Neg
cells selected using our TG30/GCTM-2 FACS protocol did not form teratomas once transplanted into immune-compromised mice, supporting the robustness of our protocol. On the other hand, TG30/GCTM-2 FACS-mediated consecutive passaging of enriched pluripotent TG30
Hi
-GCTM-2
Hi
hESCs did not affect their ability to self-renew
in vitro
or their intrinsic pluripotency. Therefore, the characteristics of our TG30/GCTM-2 FACS methodology provide a sensitive assay to obtain highly enriched populations of hPSC as inputs for differentiation assays and to rid potentially tumorigenic (or residual) hESC from derivative cell populations.
Stem Cell Biology, Issue 82, Stem cells, cell surface antigens, antibodies, FACS, purging stem cells, differentiation, pluripotency, teratoma, human embryonic stem cells (hESC)
50856
Feeder-free Derivation of Neural Crest Progenitor Cells from Human Pluripotent Stem Cells
Institutions: Sloan-Kettering Institute for Cancer Research, The Rockefeller University.

Human pluripotent stem cells (hPSCs) have great potential for studying human embryonic development, for modeling human diseases in the dish and as a source of transplantable cells for regenerative applications after disease or accidents. Neural crest (NC) cells are the precursors for a large variety of adult somatic cells, such as cells from the peripheral nervous system and glia, melanocytes and mesenchymal cells. They are a valuable source of cells to study aspects of human embryonic development, including cell fate specification and migration. Further differentiation of NC progenitor cells into terminally differentiated cell types offers the possibility to model human diseases
in vitro
, investigate disease mechanisms and generate cells for regenerative medicine. This article presents the adaptation of a currently available
in vitro
differentiation protocol for the derivation of NC cells from hPSCs. This new protocol requires 18 days of differentiation, is feeder-free, easily scalable and highly reproducible among human embryonic stem cell (hESC) lines as well as human induced pluripotent stem cell (hiPSC) lines. Both old and new protocols yield NC cells of equal identity.
Neuroscience, Issue 87, Embryonic Stem Cells (ESCs), Pluripotent Stem Cells, Induced Pluripotent Stem Cells (iPSCs), Neural Crest, Peripheral Nervous System (PNS), pluripotent stem cells, neural crest cells, in vitro differentiation, disease modeling, differentiation protocol, human embryonic stem cells, human pluripotent stem cells
51609
Rapid Fibroblast Removal from High Density Human Embryonic Stem Cell Cultures
Institutions: University of California, Merced.

Mouse embryonic fibroblasts (MEFs) were used to establish human embryonic stem cells (hESCs) cultures after blastocyst isolation
1
. This feeder system maintains hESCs from undergoing spontaneous differentiation during cell expansion. However, this co-culture method is labor intensive, requires highly trained personnel, and yields low hESC purity
4
. Many laboratories have attempted to minimize the number of feeder cells in hESC cultures (
i.e.
incorporating matrix-coated dishes or other feeder cell types
5-8
). These modified culture systems have shown some promise, but have not supplanted the standard method for culturing hESCs with mitomycin C-treated mouse embyronic fibroblasts in order to retard unwanted spontaneous differentiation of the hESC cultures. Therefore, the feeder cells used in hESC expansion should be removed during differentiation experiments. Although several techniques are available for purifying the hESC colonies (FACS, MACS, or use of drug resistant vectors) from feeders, these techniques are labor intensive, costly and/or destructive to the hESC. The aim of this project was to invent a method of purification that enables the harvesting of a purer population of hESCs. We have observed that in a confluent hESC culture, the MEF population can be removed using a simple and rapid aspiration of the MEF sheet. This removal is dependent on several factors, including lateral cell-to-cell binding of MEFs that have a lower binding affinity to the styrene culture dish, and the ability of the stem cell colonies to push the fibroblasts outward during the generation of their own "niche". The hESC were then examined for SSEA-4, Oct3/4 and Tra 1-81 expression up to 10 days after MEF removal to ensure maintenance of pluripotency. Moreover, hESC colonies were able to continue growing from into larger formations after MEF removal, providing an additional level of hESC expansion.
Cellular Biology, Issue 68, Human Embryonic Stem Cells, Cell Culture, Cell Isolation, Oct, Cell Purification, MEF Removal, SSEA-4
3951
From MEFs to Matrigel 3: Passaging hESCs from Matrigel onto Matrigel
Institutions: University of California, Los Angeles.

This video demonstrates how to maintain the growth of human embryonic stem cells (hESCs) in feeder cell-free conditions and how to continuously passage hESCs in feeder cell-free conditions. Confirmation of hESC pluripotency grown in feeder cell-free conditions by immunofluorescence microscopy is also demonstrated.
Cellular Biology, Issue 16, human embryonic stem cell (hESC), mouse embryonic fibroblast (MEF), matrigel, conditioned-media, feeder cell, pluripotency
832
From MEFs to Matrigel 2: Splitting hESCs from MEFs onto Matrigel
Institutions: University of California, Los Angeles.

This video demonstrates how to grow human embryonic stem cells (hESCs) on mouse embryonic fibroblast (MEF) feeder cells, how to passage hESCs from MEF plates to feeder cell-free Matrigel plates.
Cellular Biology, Issue 16, human embryonic stem cell (hESC), mouse embryonic fibroblast (MEF), matrigel, conditioned-media, feeder cell, pluripotency
831
From MEFs to Matrigel I: Passaging hESCs in the Presence of MEFs
Institutions: University of California, Los Angeles.

This video demonstrates how to grow human embryonic stem cells (hESCs) on mouse embryonic fibroblast (MEF) feeder cells.
Cellular Biology, Issue 16, human embryonic stem cell (hESC), mouse embryonic fibroblast (MEF), matrigel, conditioned-media, feeder cell, pluripotency
722